Calendar for Aug. 27
Friday, Aug. 27, to Thursday, Sept. 3

Friday, Aug. 27
Official 2011 Ripped Genes Calendar Release Party tonight at the Engineer's Club at the Garrett-Jacobs Mansion, 11 W. Mount Vernon Pl., Baltimore, tonight at 8 p.m. View the work of renowned photographer, Robert Mercer Jr. and the swimwear fashion show.
AFI Silver Theatre, 8633 Colesville Rd., Silver Spring, Md., will be showing the D.C.-area premiere of "All About Evil" at 9:30 p.m. The directorial debut of Joshua Grannell (better known as Peaches Christ), "All About Evil" is a twisted black comedy with performances by Natasha Lyonne, Thomas Dekker, Noah Segan, cult icon Mink Stole, and Cassandra Peterson (better known as Elvira).
Michael Jackson Birthday Celebration tonight at 9:30 club, 815 V St., N.W., with a marathon DJ set by DJ Dredd and a video tribute. Doors open at 8 p.m. Tickets are $15 and can be purchased at 930.com.
Gay District, a weekly, non-church affiliated discussion and social group for GBTQ men between 18 and 35, meets tonight from 8:30-10:30 p.m. at St. Margaret's Episcopal Church, 1820 Connecticut Ave., N.W. For more information, e-mail [email protected]
The DC Gurly Show is gonna give this summer ending thing one more go
with a GooGoo for GaGa show tonight at Phase 1, 525 8th St., S.E. There will be a $5 cover and doors open at 9 p.m.
Apex Drag Search tonight at Apex, 1415 22nd St., N.W., hosted by Big Daddy and Arione DeCardeza with the winner being picked by audience participation. Grand prize includes $50 cash and a booking with Kristina Kelly and her Girls of Glamour. Showtime is 11 p.m. There will be a $10 cover charge and you must be 18 or older to enter and 21 and older to drink.
Saturday, Aug. 28
Join Burgundy Crescent Volunteers help prep for Books Plus, the nonprofit library store at MLK Jr. Memorial D.C. Public Library, 901 G St., N.W., 8th Annual DCPL fall book sale. Volunteers will be unpacking boxes, selecting interesting titles and sorting them by category on book carts. Volunteers will get special pricing and dibs on books they would like to purchase.
NOVA GL Professionals, the Straight Eights Car Club, DCthirtysomething, DC Lambda Squares, and DC Ice Breakers co-host the 3rd Annual Lazy River Tubing with optional picnic and dinner on the Shenandoah near Harper's Ferry. Bring-your-own picnic is at noon, tubing is at 2 p.m. and dinner at Bugaboo Creek Steakhouse in Gaithersburg is at approximately 5:30 p.m. Visit dcicebreakers.com for more information.
The Official Birthday Party for the Godfather of Go Go Chuck Brown featuring D Floyd, Ms. Kim, Lissen, and Be'la Dona, an all female Go-Go Band, will be at the 9:30 club, 815 V St., N.W., at 9 p.m. Tickets are $25 and can be purchased at 930.com
Electrik at Green Lantern, 1335 Green Ct., N.W., hosted by Timur Tugberk at 10 p.m. This new dance party features the best in dance, electro, deep and dirty house, trance, and circuit music provided by DJ Tom from Prague. Arrive early and enjoy an open rail vodka bar and no cover from 10 to 11:30 p.m. The party continues with a $5 cover. Enjoy a $17 all-you-can-drink Bacardi buffet from 10 p.m. to closing.
Sunday, Aug. 29
CAMP Rehoboth and the Seashore Striders will host the inaugural Sundance 5k: Run, Walk, or Sashay! in Rehoboth Beach, Del., to kick off Sundance Week. The race starts at 7:30 a.m. with pre-registration starting at 6 a.m.
Rock the Bells with Snoop Dogg, A Tribe Called Quest, Wu-Tang Clan, Rakim, KRS-One, Lauryn Hill, Slick Rick, and more will be at Meriweather Post Pavilion, 10475 Little Patuxent Pkwy., Columbia, Md. Doors open at 11 a.m. Tickets range from $66 to $150.50 and can be purchased at merriweathermusic.com.
Inspired by the queer tea dances of the San Francisco area, OverEasy: A Tea Dance for Ladies and Their Friends will be at Little Miss Whiskey's Golden Dollar, 1104 H St., N.E., from 3 to 9 p.m. On the back patio, Chef Kywon'll be grilling up perfect summer afternoon fare and Leslie will be serving oversized Bloody Mary's and mimosas to chase the Sunday blues away at the bar. There is no cover for this event but remember that Miss Whiskey's is cash only.
Monday, Aug. 30
The Distant Relatives Tour featuring NAS and Damian "Jr. Gong" Marley with Gyptian will be at the 9:30 club, 815 V St., N.W. Doors open at 7 p.m. Tickets are $44 and can be purchased at 930.com.
Tuesday, Aug. 31
Join Burgundy Crescent Volunteers to help pack safer sex kits from 7-9 p.m. at FUK!T's new packing location, The Green Lantern, 1335 Green Ct., N.W.
Wednesday, Sept. 1
The Art Gallery at the University of Maryland presents the exhibition, "The Very Queer Portraits of Heyd Fontenot" by Austin, Texas-based artist Heyd Fontenot. There will be an opening reception from 5 to 7 p.m. There will be a discussion with the artist at a later date.
"Gray Pride" fundraiser to support Vincent Gray for Mayor from 7 to 8:30 p.m. at the rooftop pool at the Donovan house.
The Tom Davaron Social Bridge Club will meet at 7:30 p.m., at the Dignity Center, 721 8th St., S.E., (across from Marine Barracks) for Social Bridge. No partner is needed. Visit lambdabridge.com and click on "Social Bridge in Washington, D.C."
DC Ice Breakers Skating and Social at the Kettler Capitals Iceplex, on the top of the Ballston Common Mall parking garage, 627 N. Glebe Rd., Arlington, Va. Skating is $8 plus $3 for skate rental and goes from 7:45 to 8:45 p.m with a social at a local bar from 9 p.m. to whenever.
Thursday, Sept. 2
Kele of Bloc Party with Does It Offend You Yeah? and Innerpartysystem will be at the 9:30 club, 815 V St., N.W., at 6:30 p.m. This is a new date and all Aug. 7 tickets will be honored. Tickets are $25 and can be purchased at 930.com.
The DC Center Fall Reception will be held at the Artists Inn Residence, 1824 R St., N.W., from 6:30 to 8:30 p.m. For more information, visit thedccenter.org.
The Atlas Performing Arts Center presents Summer Film Series: Gay 101 showing "Steel Magnolias" starring Julia Roberts, Dolly Parton and Sally Field at the Paul Sprenger Theatre, 1333 H St., N.E., at 8 p.m. Buy tickets at atlasarts.org or at the box office one hour prior to the movie.
PHOTOS: GMCW Holiday Show
Chorus performs at Lincoln Theatre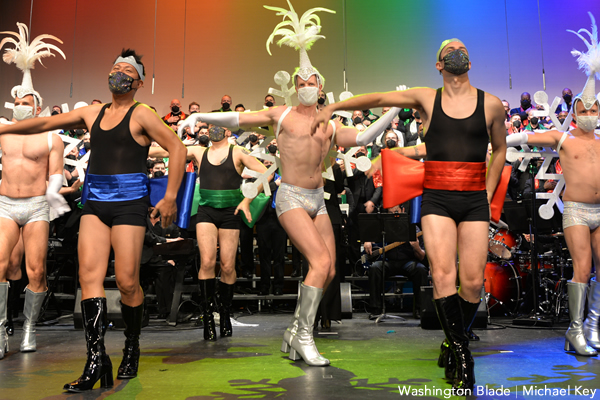 The Gay Men's Chorus of Washington performed its "Holiday Show" at Lincoln Theatre on Saturday. The Chorus has performances on Dec. 11 and 12. For tickets and showtimes, visit gmcw.org.
(Washington Blade photos by Michael Key)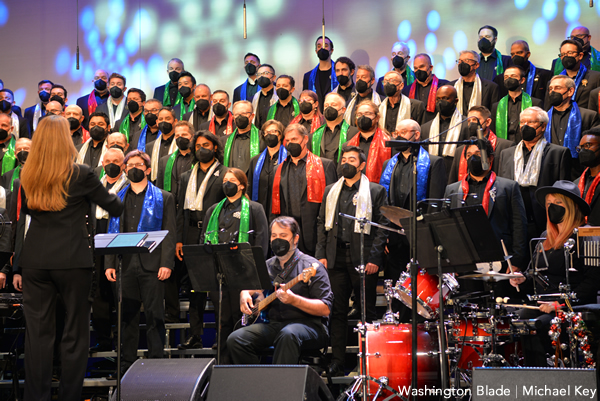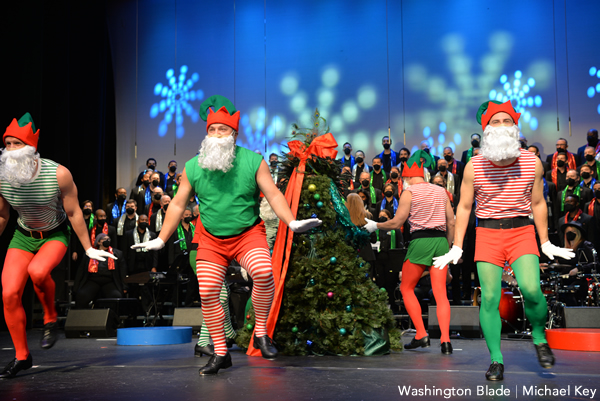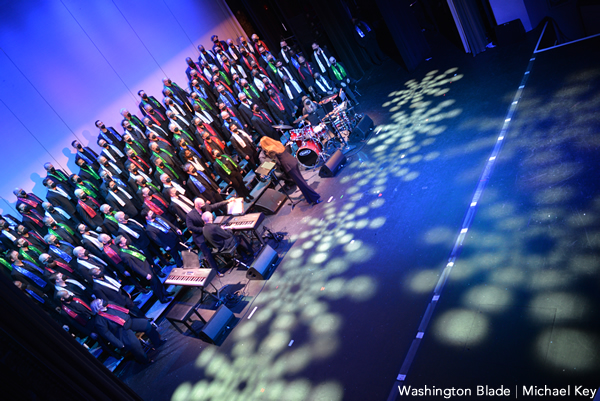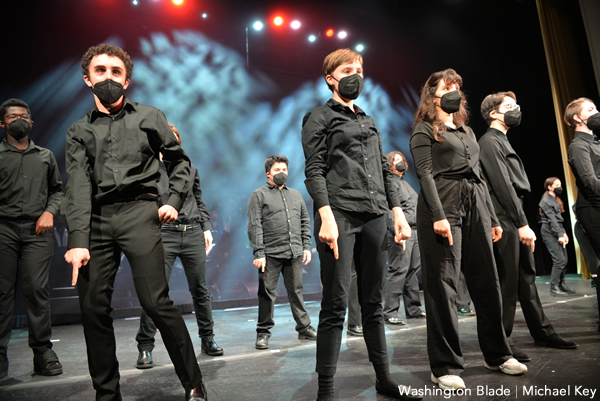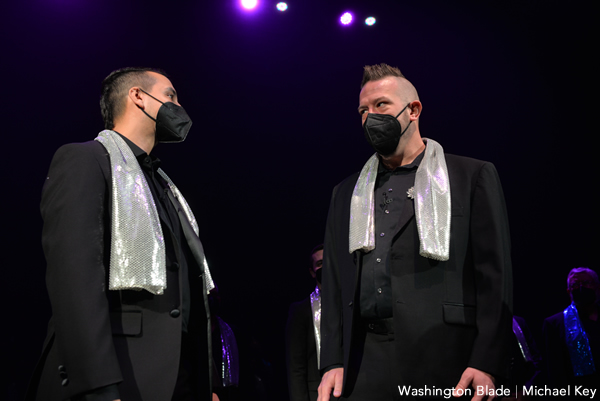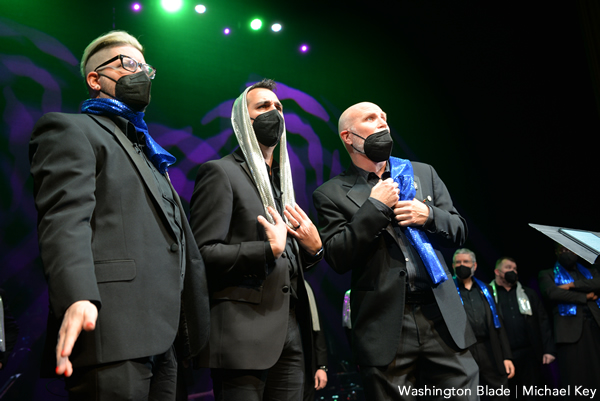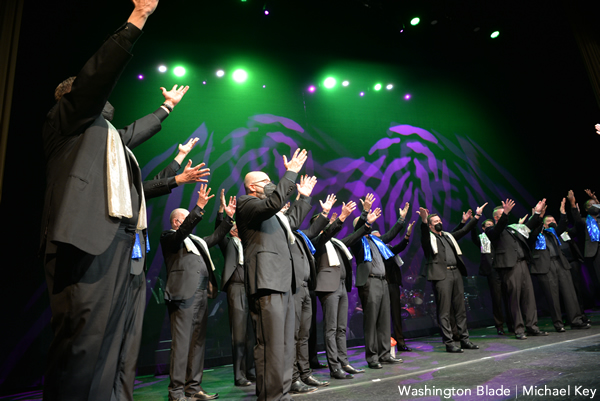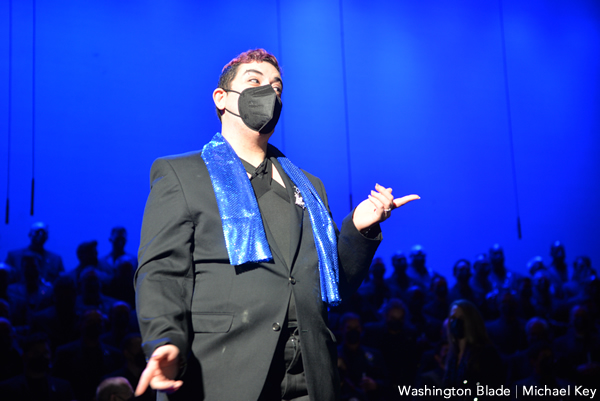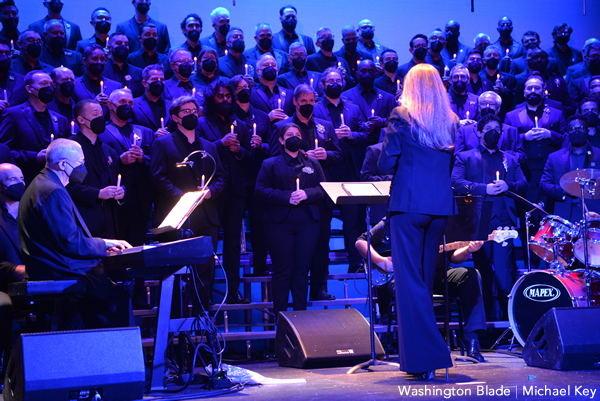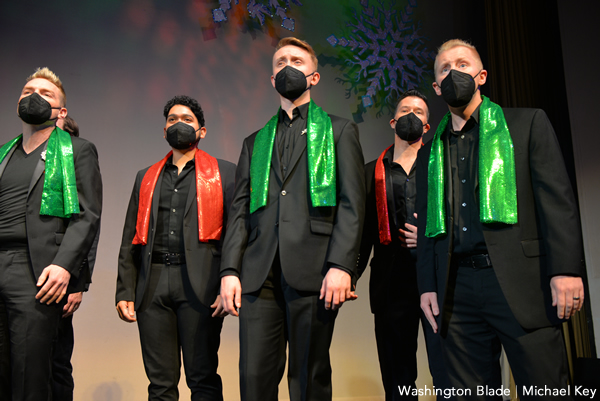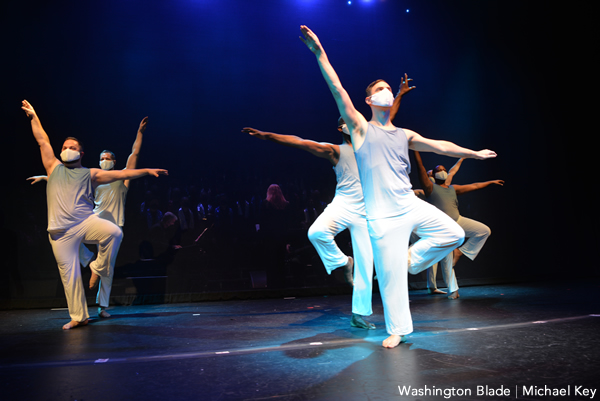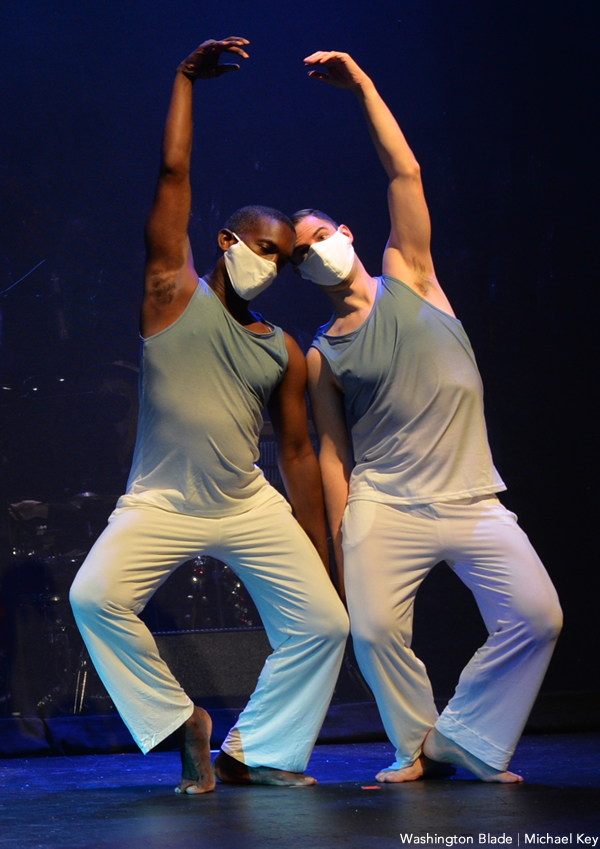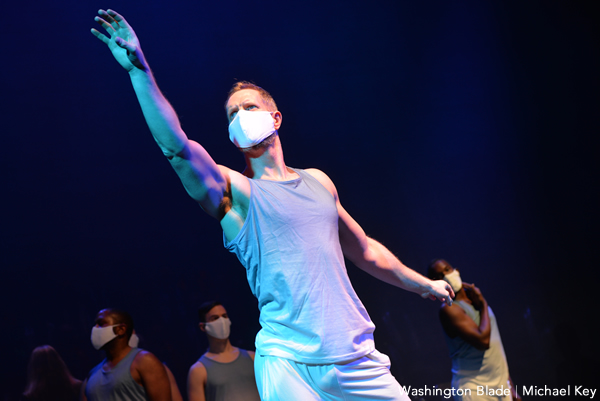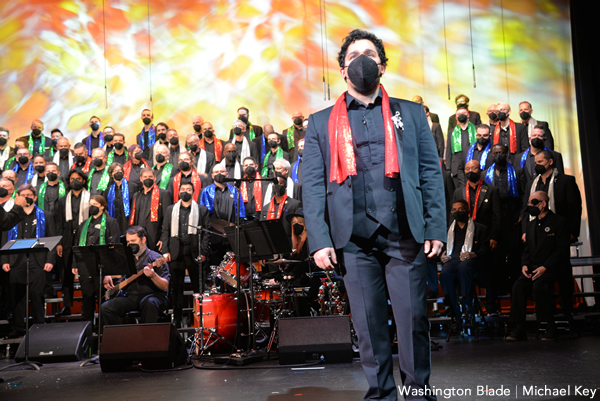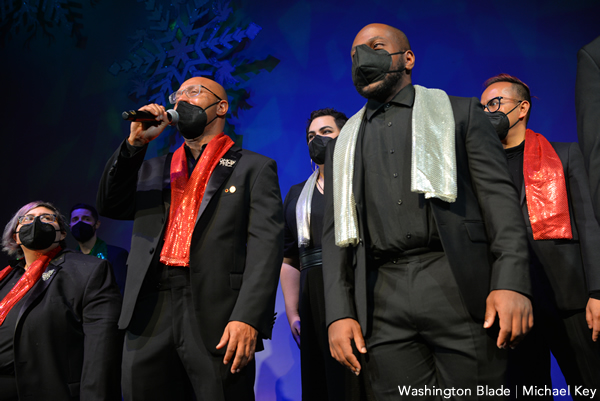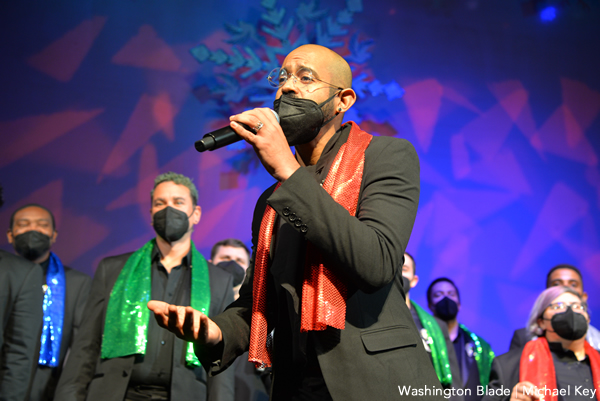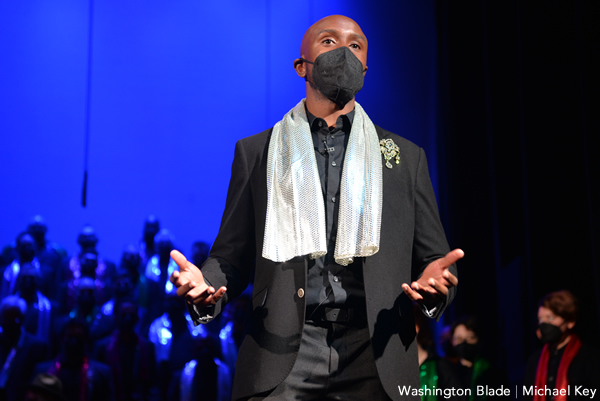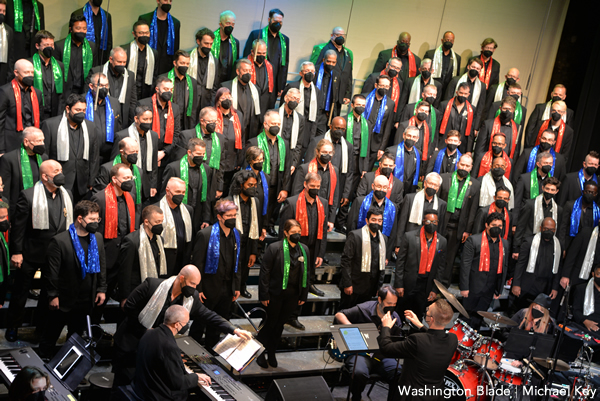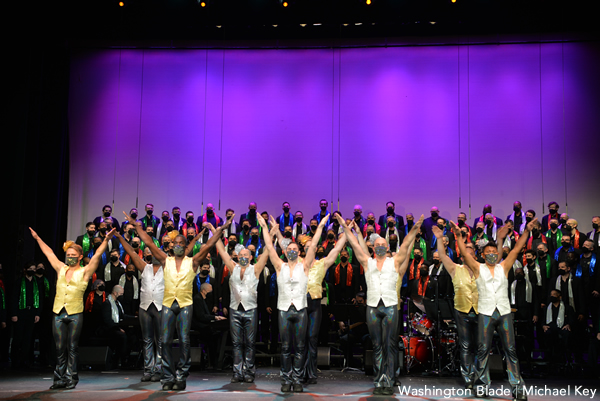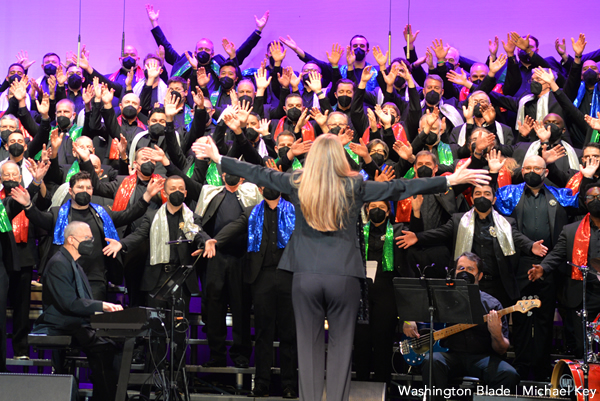 PHOTOS: International LGBTQ Leaders Conference opening reception
Politicians and activists from around the world met and mingled at the JW Marriott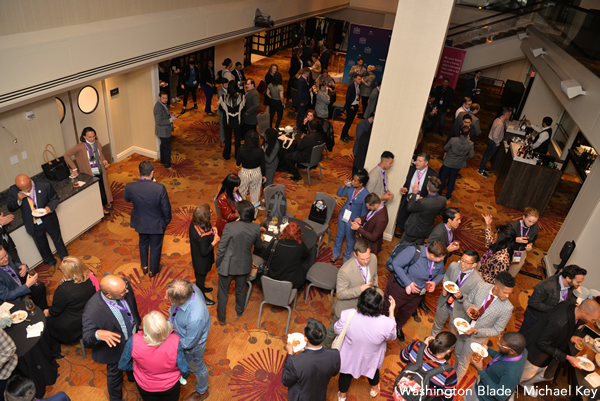 The LGBTQ Victory Institute held an opening reception for the 2021 International LGBTQ Leaders Conference at the JW Marriott on Thursday.
(Washington Blade photos by Michael Key)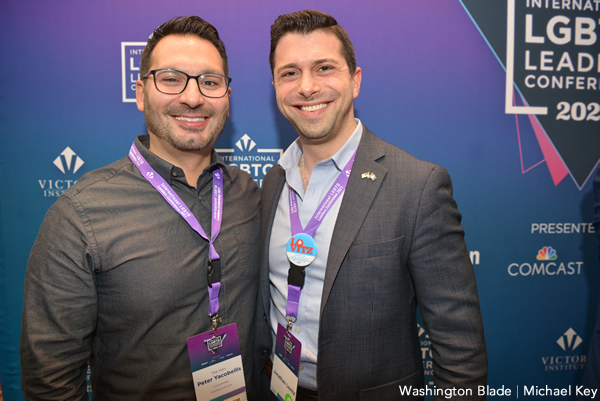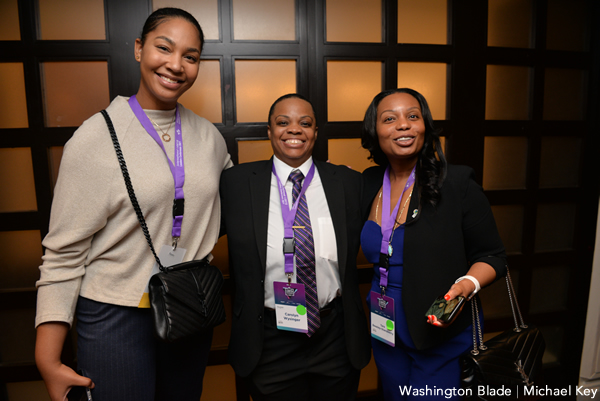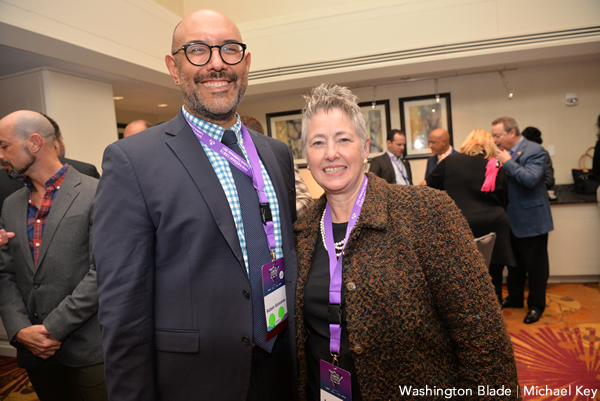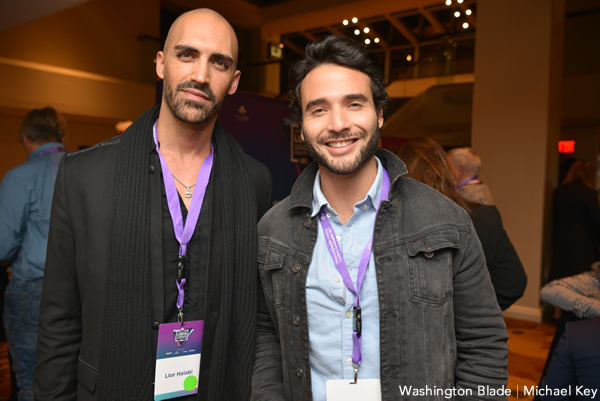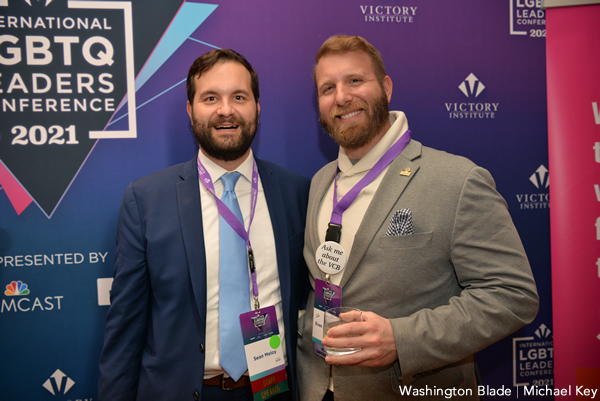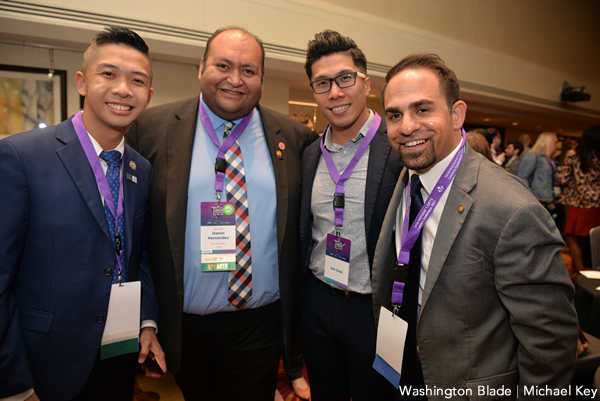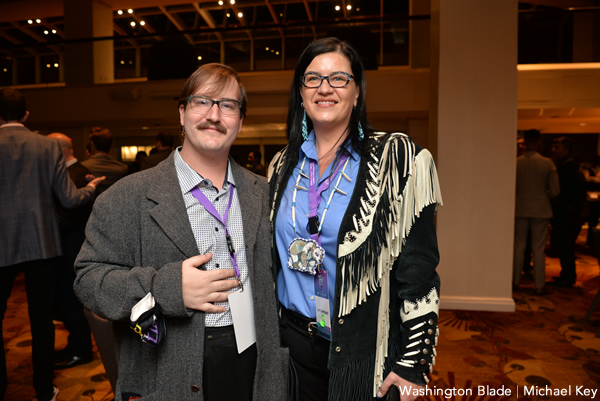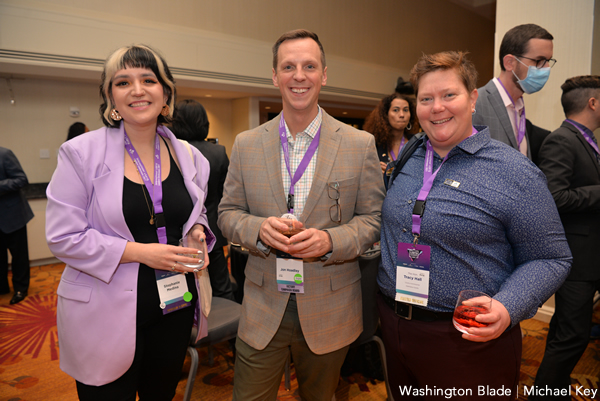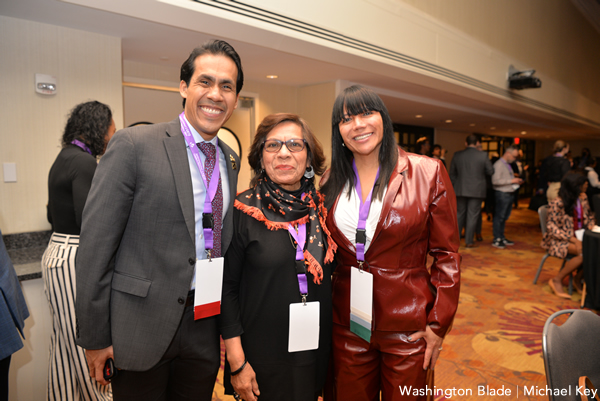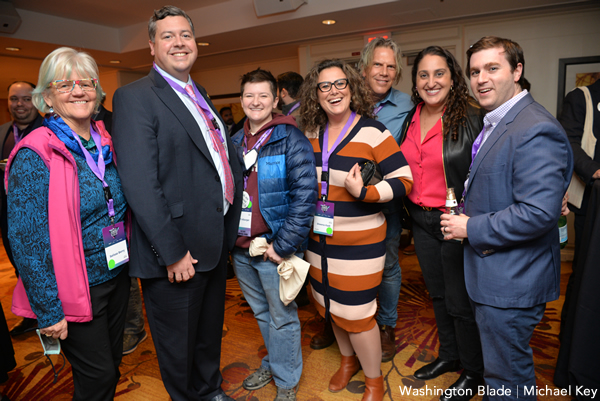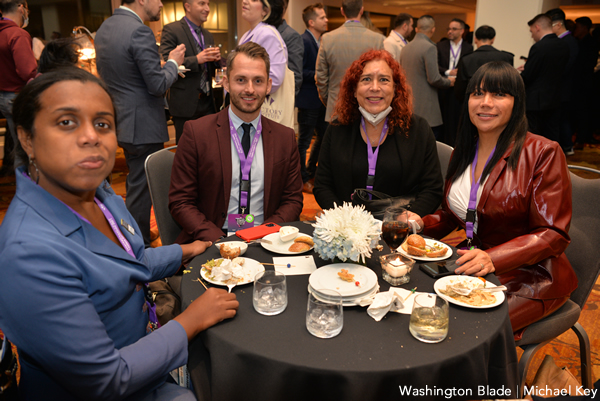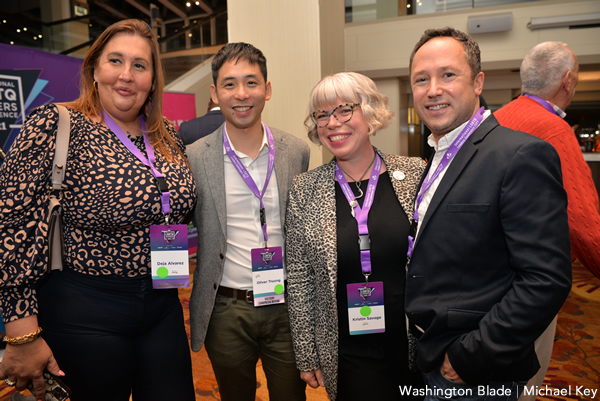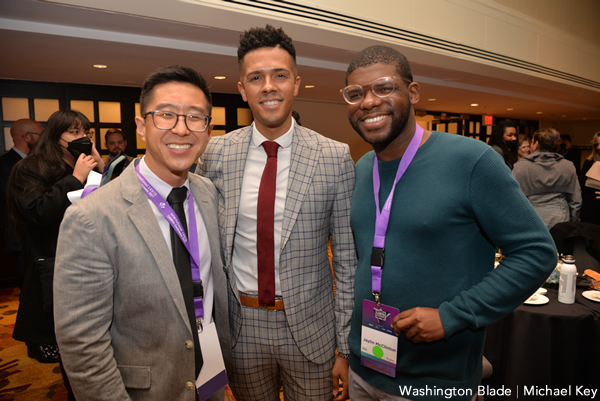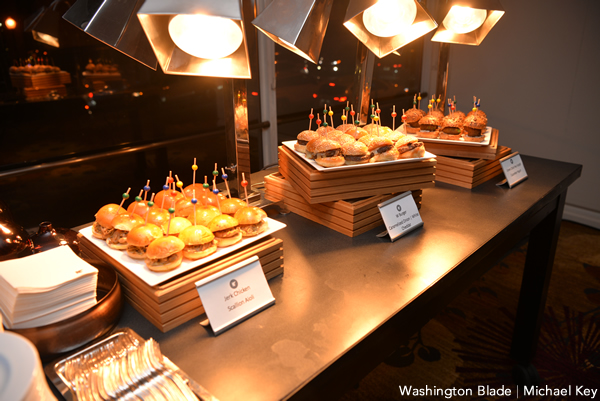 Meet the husbands and creative partners behind 'Christmas Angel'
A funny, redemptive world premiere with a diverse cast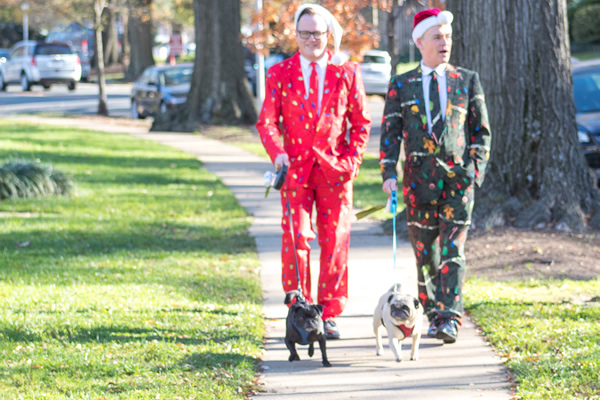 'The Christmas Angel'
Dec. 9-19
Creative Cauldron
410 South Maple Avenue
Falls Church, VA 22046
Tickets:  $35. Students $20.
Masks and proof of vaccination are required
creativecauldron.org
"Ours is like a lava lamp," says composer Matt Conner describing the collaborative creative process he shares with musical writing partner and husband Stephen Gregory Smith. "We move together in motion in a continual ebb and flow."
A couple for 23 years, married for eight, and making musicals together for 11, the talented pair's current offering is "The Christmas Angel," opening on Dec. 9 at Creative Cauldron in Fairfax.
A musical adaptation of the same-named 1910 novel by Abbie Farwell Brown, it's the story of Angelina Terry (Kanysha Williams), a wealthy embittered recluse who learns the lessons of Christmas from a box of old toys that she casts into the street. Also featured in the hour-long one-act are Ryan Sellers as Horton, Angelina's butler, and Carl Williams who plays her brother. The angel and toys are brought to life by an ensemble of a dozen teens plucked from the company's musical theater training program.
Via phone from their home in Arlington, Smith and Conner shared thoughts on their new show and working style. In attendance are pug dogs Edgar Allan Pug and Lord Byron, whom they call Eddie and Byron in public – otherwise "it's just too much," says Conner whose ultimate fantasy involves living on a pug farm where he'd write music and present the occasional show.
Rather than finish each other's sentences, the duo (both Helen Hayes Award winners – Smith for acting and Conner for directing) expound on one another's thoughts.
While Conner composes the music, Smith writes the book and lyrics, and together they co-direct. "But there's no end and beginning where my job ends and his begins," says Smith. "What we do complements each other's work."
Still, there are differences. Smith's approach is focused. He writes pages at night and edits in the morning. Conner's method is more relaxed, preferring to sit at the keyboard and talk rather than writing things down. But throughout the creative process, there's never a moment when the project isn't on their mind. They can be watching TV or buying milk when an exciting idea pops up, says Conner.
A clever nod to Dickens, the novel is more than just a female "Christmas Carol," says Smith. And in some spots, he's beefed up the 55-page book, fleshing out both storyline and characters including the toys whose shabby appearance belies a youthful confidence.
He adds, "Every holiday season you go to the attic and pull down the box, or boxes in my case, of holiday decorations and it's all old but it's new. That's the nostalgic feeling of toys from the attic that we're trying to find through the show."
The music is a combination of traditional carols performed by a hand bell chorus, and original Christmas songs that intentionally sound very familiar. The score includes songs "Don't Hide Your Light," "The Sweetest Gift," and "Yestermore" – the moment when the past, present, and future come together.
Also, there's Angelina's Bah! Humbug! number "Fiddlesticks," her great renunciation of the holidays. She believes the world a disappointing place to be, and the sooner realized the better.
Conner and Smith aren't new to Creative Cauldron. Through the company's Bold New Works project, the team was commissioned to write five world premiere musicals in just five years. The result was "The Turn of the Screw," "Monsters of the Villa Diodati," "Kaleidoscope," "Witch" and "On Air."
Judging from some of the titles and their slightly macabre content, it seems the duo was better poised to write for Halloween than Christmas, but nonetheless, they were commissioned. Creative Cauldron's producing director Laura Connors Hull brought them the obscure yet charming book that surprisingly had never before been reworked for stage or celluloid, and the pair got to work last spring.
Conner and Smith agree, "The show is a lot of things rolled up into one."
Not only is it a funny, redemptive world premiere with a diverse cast, but it's also a story largely unknown to today's audiences. Additionally, the show boasts intergenerational appeal while holding messages about Christmas, family, and finding light when you're in a darker place.
More information about Conner and Smith, including links to their music and popular podcast "The Conner & Smith Show," can be found on their terrific website at connersmithmusicals.com.