GetEQUAL continues actions to promote ENDA passage
The LGBT organization responsible for acts of civil disobedience across the country is planning additional actions on Thursday to encourage passage of the Employment Non-Discrimination Act.
Activists affiliated with GetEQUAL were set to protest U.S. House Speaker Nancy Pelosi (D-Calif), who has yet to schedule a vote on ENDA, and Rep. Chris Carney (D-Pa.), who hasn't signed on as a co-sponsor to the legislation.
Actions against Pelosi were planned in her home district in San Francisco. Protesters intended to start with a rally in Harvey Milk Plaza and proceed with shutting down traffic on Market and Castro streets.
One Struggle One Fight, another civil disobedience organization; and Pride at Work, an LGBT constituency group of the AFL-CIO, were set to assist in the protest.
In a statement, Gabriel Haaland, spokesperson for Pride at Work, emphasized the need for Pelosi to bring ENDA to a vote.
"Why is the Speaker of the House, who hails from the gayest city in America, blocking legislation that protects lesbian, gay, bisexual, and transgender workers from workplace discrimination?" Haaland said. "Every day we live without the passage of ENDA is another day Congress turns a blind eye to discrimination against the LGBT community."
Pelosi has said a House vote on ENDA won't take place until Congress finishes legislative action on repealing "Don't Ask, Don't Tell."
Sit-in scheduled for Carney's office
Also on Thursday, activists affiliated with GetEQUAL were set to stage a sit-in protest at Carney's office in Pennsylvania to encourage him to support ENDA publicly.
Carney has a history of voting against pro-LGBT measures in Congress. He voted against hate crimes protections legislation and against an amendment that would lead to repeal of "Don't Ask, Don't Tell," according to GetEQUAL.
Working with GetEQUAL on the protest is Justice League-Activate!, a Pennsylvania based LGBT equality group.
Audrey Smith, co-founder of Justice League-Activate!, emphasized in a statement the importance of Carney supporting ENDA.
"While Rep. Carney is out on the campaign trail worried about his own job, he continues to leave his LGBT constituents unprotected and without any form of federal employment protections," she said. "Like all Americans, we are worried about our job security and Rep. Carney's votes based on discrimination are completely unacceptable."
Actions against Pelosi and Carney come on the heels of another action taken against Rep. George Miller (D-Calif.) on Wednesday.
GetEQUAL interrupted a debate between Rep. George Miller (D-Calif.) and his Republican opponent Rick Tubbs to call for passage of ENDA. Miller is chair of the House Education & Labor Committee, where the legislation currently sits.
UPDATE: Blogger Zack Ford reports that the sit-in protest in Carney's office proceded as planned.
McCarthy dealt another blow by far-right members seeking to replace him
Rep. Emmer denies he's interested in becoming next Speaker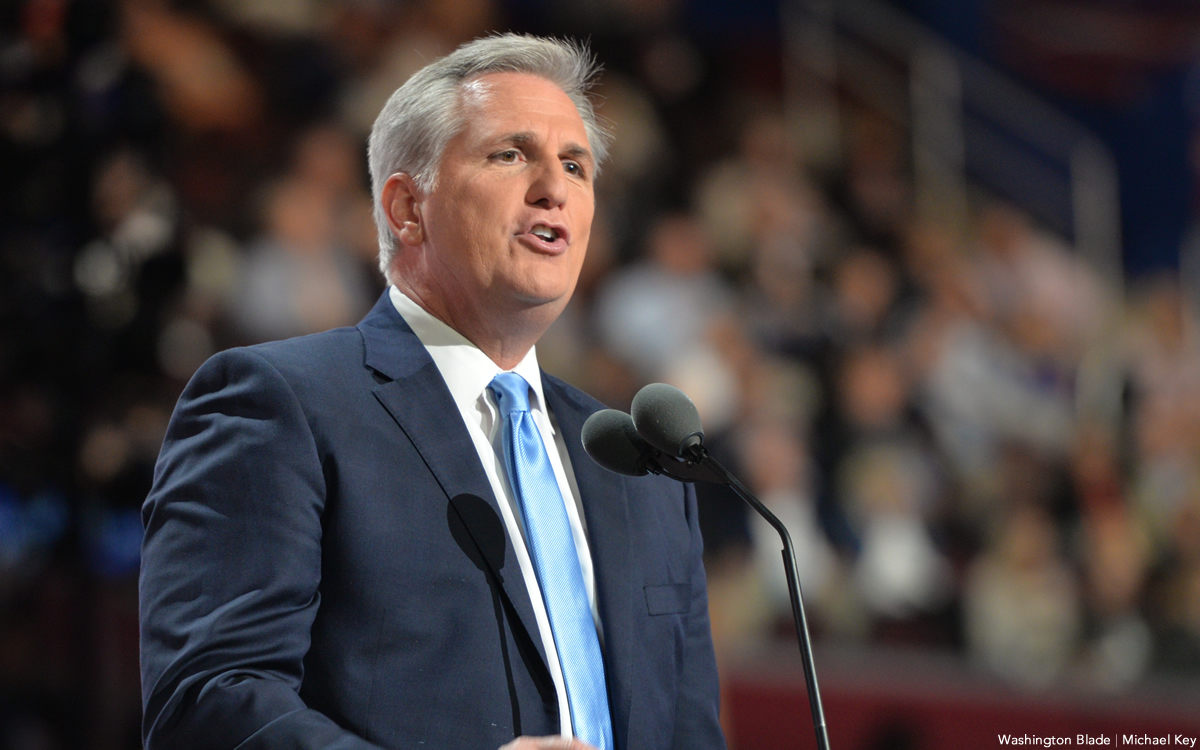 After joining with the Democrats on Friday to sabotage House Speaker Kevin McCarthy's (Calif.) plan to forestall a government shutdown with a last-ditch spending package, a group of far-right members are now focused on replacing him.
The stop-gap funding bill was defeated 232-198 with more than 20 Republicans voting against the measure.
House GOP sources tell the Washington Blade that removing McCarthy from the speaker's chair is now a top priority, along with resisting pressure from Senate Republicans seeking to broker a deal to avoid allowing funding to lapse.
These sources confirmed reporting in the Washington Post about discussions of tapping U.S. Rep. Tom Emmer (Minn.) to become the chamber's top Republican, though the congressman told CBS Minnesota/WCCO News, "I fully support Speaker McCarthy. He knows that and I know that. I have zero interest in palace intrigue. End of discussion."
While Emmer was among the 39 House Republicans who voted with the Democrats in support of the Respect for Marriage Act, which protects the rights of couples in same-sex marriages, in April he was among the more vocal members pushing for a federal ban to prohibit transgender women and girls from competing on sports teams consistent with their gender identity.
In January, McCarthy narrowly secured his bid for the speakership after an unprecedented 15 votes from his caucus. Many of the same members now calling for his replacement demanded concessions, including conditioning their votes on McCarthy's agreement to allow any member to call for a motion to vacate the chair at any time.
During the votes, which were held over a period of five days, other members like U.S. Rep. Byron Donalds (R-Fla.) were nominated for the position.
Dianne Feinstein dies at 90
Calif. Democrat elected to U.S. Senate in 1992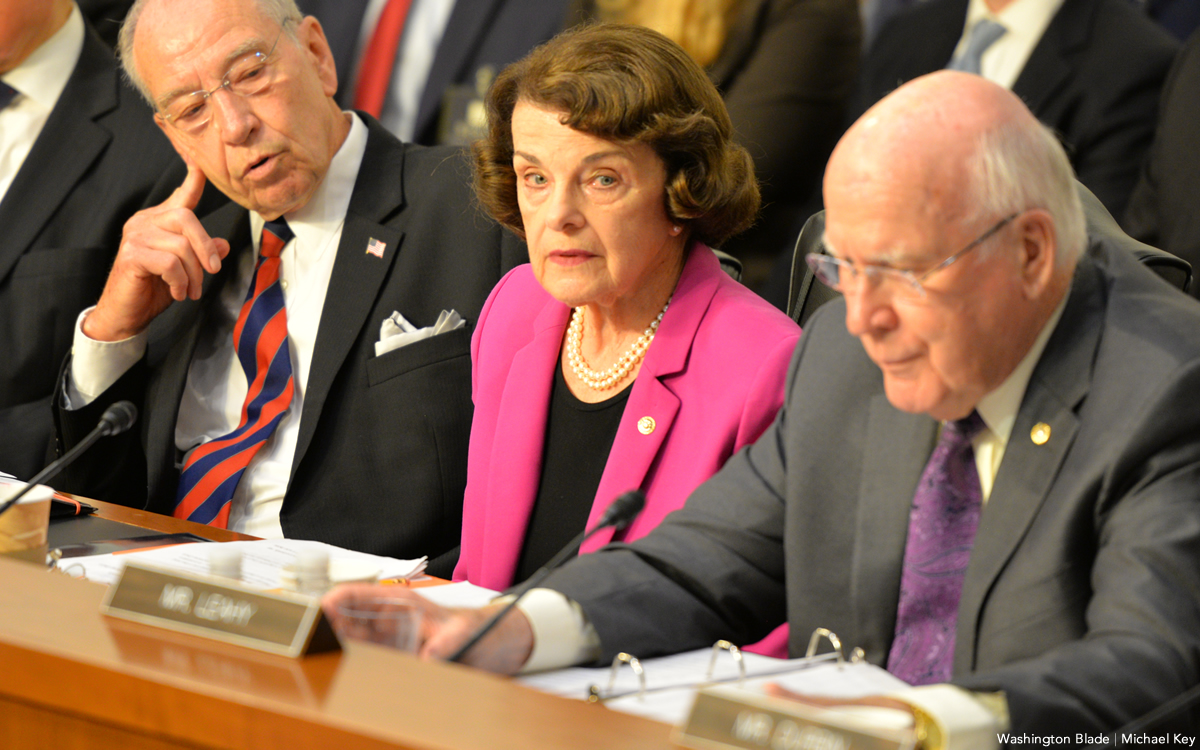 U.S. Sen. Dianne Feinstein (D-Calif.) has died at the age of 90.
Her office in a statement said the California Democrat, who has served in the U.S. Senate since 1992, passed away at her Washington home on Thursday night.
Feinstein in 1978 became San Francisco's mayor after the assassination of Mayor George Moscone and openly gay Supervisor Harvey Milk.
"Her passing is a great loss for so many, from those who loved and cared for her to the people of California that she dedicated her life to serving," reads the statement that Feinstein's office released.
"Senator Feinstein never backed away from a fight for what was just and right," it added. "At the same time, she was always willing to work with anyone, even those she disagreed with, if it meant bettering the lives of Californians or the betterment of our nation."
President Joe Biden, who served alongside Feinstein in the Senate from 1992 to 2009, released a statement calling her "a pioneering American," "a true trailblazer," and "for Jill and me, a cherished friend."

"In San Francisco, she showed enormous poise and courage in the wake of tragedy, and became a powerful voice for American values. Serving in the Senate together for more than 15 years, I had a front row seat to what Dianne was able to accomplish. It's why I recruited her to serve on the Judiciary Committee when I was Chairman – I knew what she was made of, and I wanted her on our team.
"There's no better example of her skillful legislating and sheer force of will than when she turned passion into purpose, and led the fight to ban assault weapons. Dianne made her mark on everything from national security to the environment to protecting civil liberties. She's made history in so many ways, and our country will benefit from her legacy for generations.

"Often the only woman in the room, Dianne was a role model for so many Americans – a job she took seriously by mentoring countless public servants, many of whom now serve in my Administration. She had an immense impact on younger female leaders for whom she generously opened doors. Dianne was tough, sharp, always prepared, and never pulled a punch, but she was also a kind and loyal friend, and that's what Jill and I will miss the most.

As we mourn with her daughter Katherine and the Feinstein family, her team in the Senate, and the people of California, we take comfort that Dianne is reunited again with her beloved Richard. May God Bless Dianne Feinstein."
Vice President Kamala Harris, who served alongside Feinstein as U.S. Senator for California from 2017 to 2021 and, previously, was California attorney general and San Francisco district attorney, issued the following statement:
"Senator Dianne Feinstein was one of the greatest public servants that California and our nation has ever known.
"As the first woman president of the San Francisco Board of Supervisors, the first woman to serve as mayor of San Francisco, and the longest-tenured woman to serve in the United States Senate, Dianne Feinstein broke barriers, inspired generations of women to run for office, and improved the lives of millions of Americans through her vision, courage, and leadership.
"From her work to help pass the Assault Weapons Ban in 1994, to her work to safeguard California's public lands, and her longstanding advocacy for reproductive rights, marriage equality, and LGBTQ+ rights, Senator Feinstein helped build a better America.
"For years, I witnessed Senator Feinstein's leadership, when the cameras were on and when they were off. In 2008, when I was re-elected District Attorney of San Francisco, it was Senator Feinstein who swore me in. As a United States Senator, it was my honor to serve the people of California alongside Senator Feinstein.
"On the Senate Intelligence Committee, we spent a great deal of time together—in classified, bipartisan briefings and hearings—working on issues critical to America's national security and the stability of the world. Senator Feinstein and I shared a fundamental belief in the importance of strong American leadership. And I saw firsthand how she worked courageously to ensure that our leadership was guided by our nation's values.
"In the tradition of so many great Senators from California, she was not only a leader for our state, but for our nation and our world. Through her long career, Senator Feinstein worked across the aisle to help our nation live up to its promise.
"Doug and I send our prayers to Senator Feinstein's family."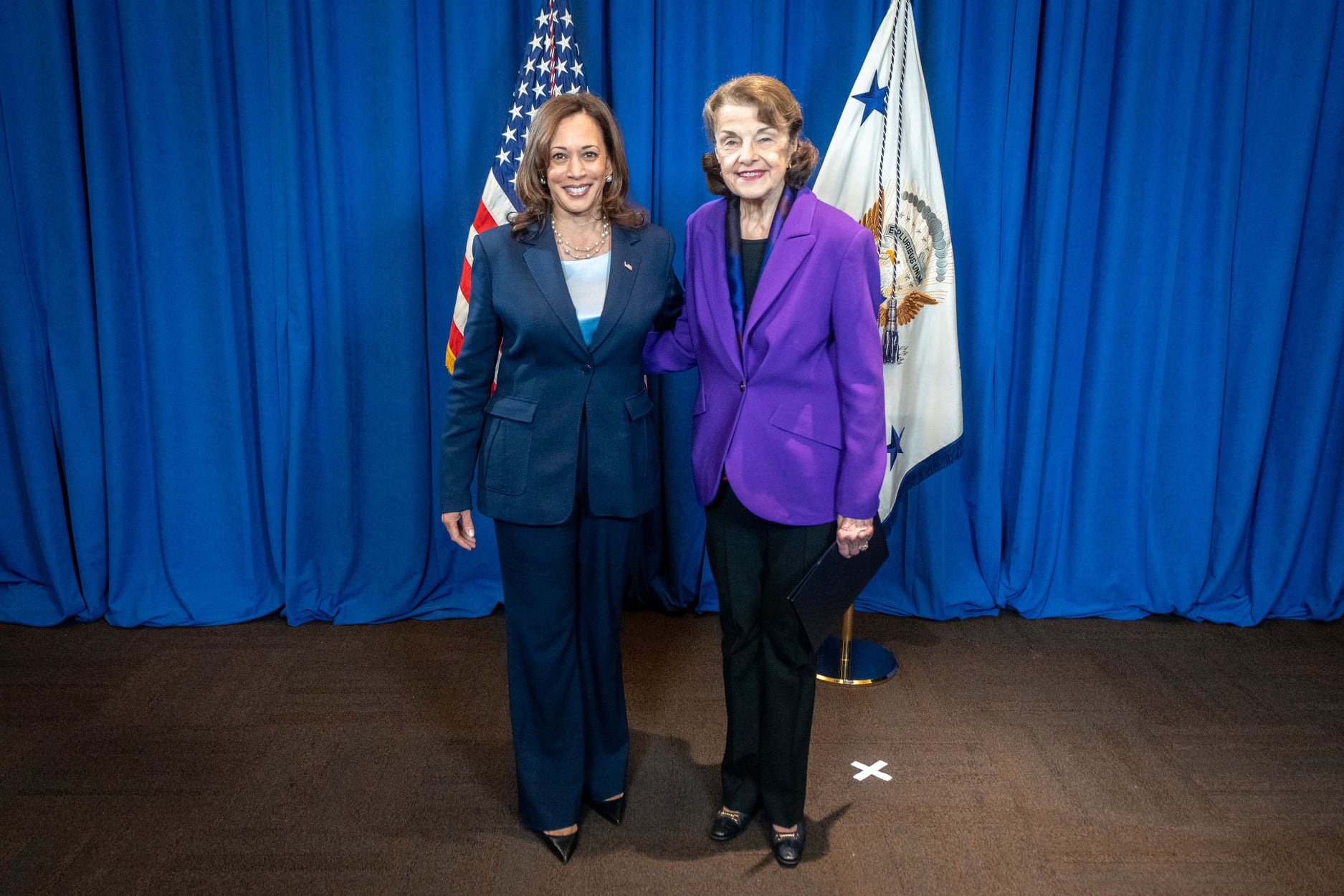 California Gov. Gavin Newsom shared a statment on X.
Governor @GavinNewsom's statement on the passing of U.S. Senator Dianne Feinstein. pic.twitter.com/9EBazueURA

— Office of the Governor of California (@CAgovernor) September 29, 2023
Addressing the Senate floor on Friday, California Sen. Alex Padilla (D) said, "long before being able to serve together here in the Senate, Diane gave me one of my first jobs in politics in her Los Angeles office. At a time early in my career, when I was looking to make a difference for my community, and for our state. It's in part thanks to her groundbreaking career that a Latino son of immigrants could one day not just work for her but work alongside her to keep up the fight for the American dream."
Padilla also shared an anecdote about how Feinstein showed him a photograph, from her archives, of the AIDS Walk San Francisco in 1987, which she had inscribed with a handwritten note.
Also speaking from the floor in tribute to their late colleague following an address from the Senate Chaplain and a moment of silence were Senate Majority Leader Chuck Schumer (D-Calif.), Senate Minority Leader Mitch McConnell (R-Ky.), Senate President Pro Tempore Patty Murray (D-Wash.), Sen. Susan Collins (R-Maine), Senate Majority Whip Dick Durbin (D-Ill.), and Sens. Lisa Murkowski (R-Alaska), Maria Cantwell (D-Wash.), Amy Klobuchar (D-Minn.), Sheldon Whitehouse (D-R.I.), and Mazie Hirono (D-Hawaii).
The statement by U.S. House Speaker Emerita Nancy Pelosi (D-Calif.) touched on the senator's early career in Democratic politics: "Dianne was a pioneering woman leader, who served as San Francisco's first female Mayor with unmatched courage, poise and grace. Standing strong amid horror and heartbreak – from the brutal murders of Harvey Milk and George Moscone to the deadly HIV/AIDs epidemic – she offered our City a beacon of strength and hope."
"Personally, it was a great honor to serve alongside Dianne for decades – from the hilly streets of San Francisco to the hallowed halls of Congress," Pelosi said. "We were not only colleagues, but neighbors and friends."
She added, "My daughter, Nancy Corinne, has long been an admirer and devoted friend of Senator Feinstein, and we were all close friends with her and her late husband, Richard."
LGBTQ groups issue statements on Feinstein's passing
"Senator Dianne Feinstein's passing is a loss for us all," tweeted Human Rights Campaign President Kelley Robinson. "Her steadfast support for the LGBTQ+ community and the fight for justice will be remembered. We carry her legacy forward in our relentless pursuit of equality without exception."
Equality California, the nation's largest statewide LGBTQ+ civil rights organization, released a statement from Executive Director Tony Hoang on Friday. "Senator Feinstein devoted her life to serving the people of California and our nation, championing LGBTQ+ civil rights, reproductive freedom, gun safety reform and democracy throughout her remarkable career. Senator Feinstein stood with our community back when few others did, fighting for funding and action to combat the AIDS crisis when most elected officials chose to look away."
"On the Board of Supervisors and then as Mayor, she played a crucial role in uniting San Francisco after the horrific assassinations of Supervisor Harvey Milk and Mayor George Moscone, demonstrating exceptional leadership and compassion at a time when our LGBTQ+ community needed it most," the group wrote.
"Her role in American history is unmistakably intertwined with LGBTQ+ history and the assassination of Supervisor Harvey Milk," Brian K. Bond, CEO of PFLAG National, said. "She had been a constant and strident advocate for LGBTQ+ rights ever since, supporting marriage equality, military service for LGBTQ+ people, the Equality Act, and so much more.
"PFLAG families in California and across the country mourn the loss of this stalwart advocate who worked to make our laws just and equitable so every LGBTQ+ person could live with dignity and respect."
"Harvey Milk's nephew Stuart Milk posted "After the assassination of Uncle Harvey – Senator Feinstein rose to national attention – determined, unwavering champion on women's rights, gun control & eventually a consistent supporter of LGBTQ inclusion," Stuart Milk, co-founder and president of the Harvey Milk Foundation, posted on X. "She is the patron of the USNS Harvey Milk -deep condolences Godspeed Dianne," he wrote, referring to the U.S. Navy ship named for the late gay rights pioneer.
National LGBTQ Task Force Executive Director Kierra Johnson said, "The loss of Senator Feinstein's voice as an advocate and champion is immeasurable. Our hearts are with her family during this time. She was a champion for those who call California home and those seeking justice everywhere."
"She was a trailblazer who paved the way for so many. Her deep roots in the queer community, forged as a city councilmember in San Francisco and shaped by her relationship with Harvey Milk, contributed to her unwavering supporting for LGBTQ people," Johnson said.

She added that Feinstein was "a leader who took risks. She was an original cosponsor of the Equality Act and a key champion for legislation like the Violence Against Women Act. She is succeeded by and undoubtedly inspired a deep bench of congress people like Tammy Baldwin who are bold and  unapologetic freedom fighters who are unrelenting in their quest for freedom and justice for all! She will be deeply missed."
A look back at Feinstein's career
A native San Franciscan born in the city on June 22, 1933, she first attended San Francisco public schools and then graduated from the Convent of the Sacred Heart High School in 1951.
She earned her degree at Stanford University in Palo Alto in 1955 and became actively involved in government service first serving as a member of the California Women's Board of Terms and Parole 1960-1966.
In her first foray into city politics she won a seat on the San Francisco Board of Supervisors representing the Marina neighborhood, serving from 1970-1978, and as president 1970-1971, 1974-1975, 1978.
In 1978 Feinstein was thrust into the state and national political spotlight when on November 27, 1978 she became the mayor of San Francisco, after disgruntled former city supervisor Dan White entered City Hall and assassinated Mayor George Moscone after Moscone refused to appoint White back into his seat he had resigned from days before. White then also murdered openly gay city supervisor Harvey Milk who had sparred with White over gay rights and had opposed White getting his seat back.
Feinstein served as mayor for ten years from 1978-1988 then she served on the board as a director of the Bank of California 1988-1989 at which point she made an unsuccessful run as a candidate for Governor of California in 1990.
After losing that race for governor in 1990, Feinstein later won a special election on November 3, 1992, as a Democrat to the U.S. Senate. The special election was triggered by the resignation of Pete Wilson, who had defeated her in the 1990 gubernatorial election. She took office on November 4, 1992, and was subsequently reelected in 1994, 2000, 2006, 2012, and again in 2018 for the term ending January 3, 2025.
Feinstein's record on LGBTQ+ rights was mixed
Senator Feinstein's record on LGBTQ+ rights was mixed as reported on by San Francisco's LGBTQ+ newspaper The Bay Area Reporter's Assistant Editor John Ferrannini who noted:
Earlier in that campaign [1979] she'd faced some opposition from members of the LGBTQ community after she made remarks to Ladies' Home Journal perceived as homophobic, but later won community support after gay candidate David Scott endorsed her in a runoff against independent Quentin Kopp. Scott endorsed Feinstein after she committed to appoint a gay person to the police oversight panel, which Feinstein followed through on with her appointment of lesbian Jo Daly.
Feinstein's veto of city employee benefits for domestic partners led to a recall effort in 1983, though she won 81% to 18%.
[…]
In the Senate she was one of the few Democratic members who voted against the Defense of Marriage Act in 1996, which had been supported by then-senator and current President Joe Biden (D). The last vestiges of DOMA were formally repealed in December when Biden signed the Respect for Marriage Act. DOMA had key provisions struck down by the U.S. Supreme Court in 2013 (Section 3, U.S. v. Windsor) and 2015 (Section 2, Obergefell v. Hodges).
Feinstein was never without controversy though, and in 2004 upset more progressive Democrats when she said then-mayor and now Governor Gavin Newsom's decision to order San Francisco officials to issue marriage licenses to same-sex couples was "too much, too fast, too soon."
[…]
She was criticized in 2020 when she said U.S. Supreme Court Justice Amy Coney Barrett's confirmation hearing was "one of the best" and hugged Senator Lindsay Graham (R-South Carolina), then the chair of the Senate Judiciary Committee. Barrett's vote last June on the Supreme Court was key for the overturning of Roe v. Wade, which had protected abortion as a constitutional right, a key issue for Feinstein.
In 2017 the Senator openly criticized then President Trump's ban on trans military service.
Feinstein in February announced her decision to retire at the end of her term. "I am announcing today I will not run for reelection in 2024 but intend to accomplish as much for California as I can through the end of next year when my term ends," she said in a statement.
Out gay California state Senator Scott Wiener (D-San Francisco) wrote on Twitter:
"Dianne Feinstein has been a trailblazer for more than 50 years," he stated. "Her accomplishments are legion. We're so proud of her in San Francisco & grateful for her service to our city & our state."
Dianne Feinstein has been a trailblazer for more than 50 years. Her accomplishments are legion. We're so proud of her in San Francisco & grateful for her service to our city & our state.

— Senator Scott Wiener (@Scott_Wiener) February 14, 2023
Equality California released a statement from Hoang:
"Throughout her storied political career, Dianne Feinstein has been a champion for LGBTQ+ rights – from her early days on the San Francisco Board of Supervisors serving alongside Harvey Milk, to her historic service as the first woman Mayor of San Francisco and the first woman to represent California in the United States Senate.
"From being one of only 14 Senators to oppose the discriminatory Defense of Marriage Act (DOMA) in 1996 to being the lead Senate sponsor on the recently-signed Respect for Marriage Act, which repealed DOMA, Senator Feinstein has worked tirelessly to improve the lives of not only her constituents, but all LGBTQ+ Americans.
"She has supported landmark federal hate crime legislation, fought for access to life-saving treatment for people living with HIV, sponsored the Equality Act, spoken out in support of LGBTQ+ service members before and after 'Don't Ask, Don't Tell', and has stood up for our community – even before it was popular to do so and when it presented significant political risks. Senator Feinstein has also been a leading champion in the fight against gun violence, recently reintroducing legislation to ban high-capacity magazines in the wake of deadly mass shootings like those at Club Q – an LGBTQ+ nightclub in Colorado. Equality California has been proud to call her a friend and ally –we are eternally grateful for her service and will continue to work with her as she finishes out her term."
Additional reporting by Michael Lavers and Brody Levesque
House passes Boebert's amendment targeting LGBTQ workers at USDA
Democrats call measure 'blatantly homophobic'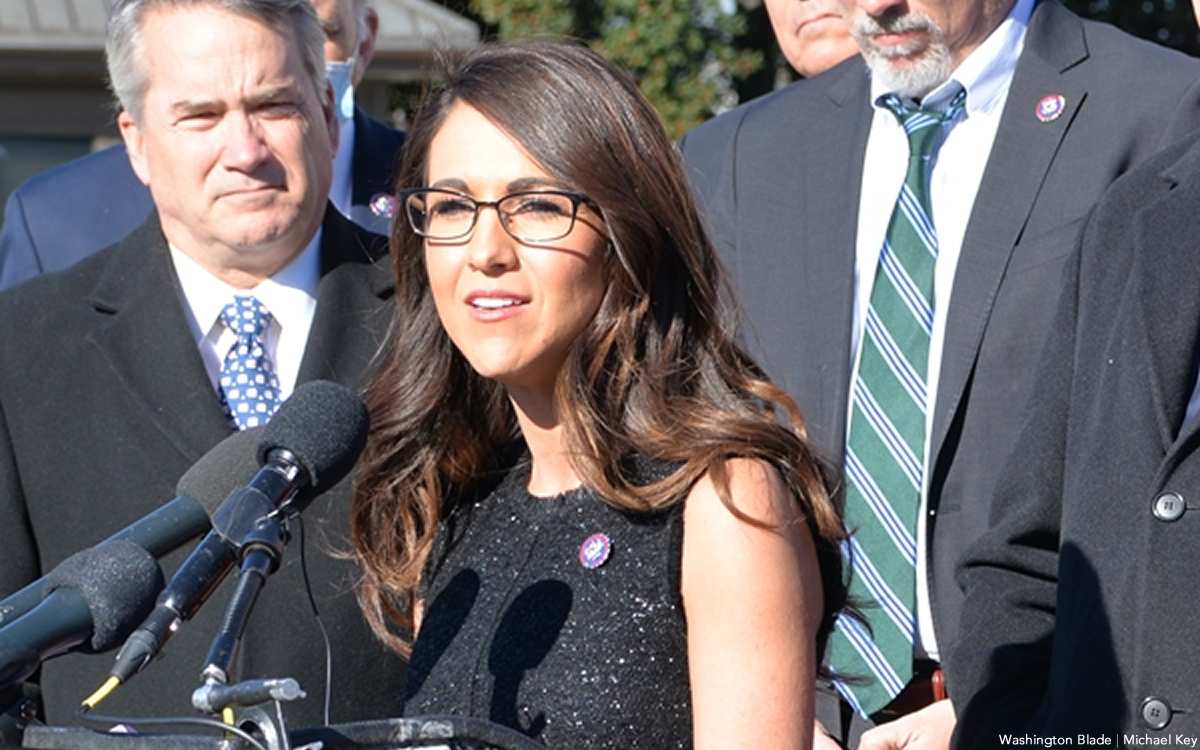 House Republicans on Wednesday pushed through a proposal by U.S. Rep. Lauren Boebert (R-Colo.) that would prohibit the U.S. Department of Agriculture from using federally appropriated funds for materials supporting the agency's LGBTQ employees.
Passing by just three votes in the face of unified opposition from Democrats, along with one GOP member, U.S. Rep. Brian Fitzpatrick (Pa.), the measure will never be signed into law amid Democratic control of the Senate and White House.
For weeks, Boebert and her ideological allies in the lower chamber have dashed hopes of forestalling a government shutdown by insisting on ladening must-pass spending bills with far-right demands, often targeting the LGBTQ community and initiatives promoting diversity, equity, and inclusion.
Even so, the aim and scope of the Colorado congresswoman's amendment to the agriculture appropriations bill was striking.
Among the 17 types of "courses, books, or study guides" circumscribed in the measure are those concerning "approaching LGBT issues in the workplace," "understanding and supporting LGBTQ+ employees," "becoming an ally to all," "conversations with LGBTQ+ leaders on the power of identity," and "creating an inclusive work community" for transgender employees.
Democratic Congressional Campaign Committee Spokesperson Viet Shelton condemned House Republicans' passage of the amendment in a statement shared with the Washington Blade:
"In a clear indication that so-called moderate Republicans are now completely controlled by their extreme fringes, they are now passing such blatantly homophobic legislation that mandates federal employees be discriminated against in the workplace," he said. "Their focus on these hateful policies while ignoring middle class families struggling with rising costs is why they will lose their majority in Congress next year."
The USDA did not immediately respond to a request for comment.