Looking forward to the Vince Gray years
Education, safety and economic development should be priorities

Lots of people have been offering advice to Vince Gray since his victory in the Democratic primary — and he isn't even mayor-elect until after Nov. 2.
I had the opportunity during the campaign to share my thoughts on a number of issues with Gray, including on the LGBT community, on education, economic development and public safety and reviewed his policy papers before they were released. The fear mongering that I have seen in columns and on blogs about Gray turning back the clock in D.C. are just that — fear mongering of the worst kind. Nothing in Gray's history would lead anyone to think he will turn back the clock on progress. He has spent a career moving people and our city forward as evidenced by his work in the non-profit sector and his leading the D.C. Council to pass education reform, civil marriage equality and universal early childhood education. Why anyone would think he now wants to go backwards makes no sense at all.
Gray will have the chance to make a real difference in people's lives. He has already met with and is committed to working with GLOV and the Rainbow Response Coalition. He has proven he will speak out on issues of equality and fairness. But he will also have work to do to heal the divide in our city exacerbated by the last administration.
There is a great opportunity for the teachers union to show that they want to be partners in education reform with Gray, who has said he will move forward aggressively on school reform. That can be done without the antagonism created by Michelle Rhee. Gray will continue the work begun by Anthony Williams and carried on by Adrian Fenty to modernize city agencies and have them become truly responsive to the citizens of the District. Gray can do this and still not fire employees circumventing due process and then being forced to hire them back. We can right-size the government in a fair way. Even the private sector has to do that.
Gray will lead us away from the notion that everything in this city must be viewed against a backdrop of race. Martin Luther King, Jr., once said "I have a dream that my four children will one day live in a nation where they will not be judged by the color of their skin but by the content of their character." We are not there yet but Gray can move us closer to that dream. We need to look at the economic disparities in the District and take those into account as we set our policies and priorities.
The priorities of the new administration must be education, public safety and economic development. We need to continue to rebuild our school system for all the children now in it, and to attract new taxpaying residents to move here. We must make our streets safer and revamp our juvenile justice system as well as provide programs for young people that will keep them out of the system. We should restructure our tax system and regulatory structure to make D.C. business friendly and attract taxpaying businesses and jobs to the District. Let's be creative and maybe not build a new recreation center and library on each block, but a recreation center with an education component or mini-library/computer center incorporated so that people can swim, play ball and learn in the same building.
I look forward to the Vincent Gray years. His undergraduate and graduate degrees in psychology may be helpful as he navigates the rough waters of discontent in the District. I hope that some of the editors of the Washington Post and the D.C. Examiner, and those few self-serving columnists always looking for something nasty or outrageous to say, will allow him the time to prove he can succeed before talking gloom and doom.
National Gay & Lesbian Chamber of Commerce Certifies Brown, Naff, Pitts Omnimedia, Inc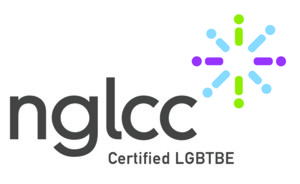 Washington, D.C. — Brown, Naff, Pitts Omnimedia, Inc, the parent company of the Washington Blade and Azer Creative, announced today it has been certified by the National Gay and Lesbian Chamber of Commerce (NGLCC) as an LGBT Business Enterprise. The NGLCC supports and advocates for diversity and inclusion for LGBT-owned businesses. With this certification the Blade's parent company joins more than 510 business and 134 corporate partners of the NGLCC.
Brown, Naff, Pitts Omnimedia, Inc. owns and operates the Washington Blade, the oldest and most acclaimed LGBT newspaper in the country. In 2012, the company launched Azer Creative, a full-service design firm. The company employs more than a dozen full-time LGBT staff.
"We are excited to become one of the 500 LGBT businesses across the country certified by NGLCC," said Lynne Brown, the Blade's publisher and a co-owner of the company. "The LGBT community has been part of our company from the beginning and we look forward to continue that for many years to come."
The Washington Blade was founded in 1969 and is known as the "newspaper of record" for the LGBT community both locally and nationally. Visit washingtonblade.com for more information. Azer Creative is a full-service graphic design firm based in Washington, D.C. Visit azercreative.com for more information. 
Vote now for the 2013 Best of Gay DC!
Choose in dozens of categories among hundreds of nominees, and make your voice heard!
Nominate the 'Best of Gay D.C.' now!
Dozens of categories cover all the best for LGBT Washington. Who deserves the prize this year?