Calendar: event listings through Oct. 21
Friday, Oct. 15
Raging Stallion adult star Adam Killian will be live and nude on stage tonight at Secrets. Cover is $5 before 10:30 p.m. and $10 after. Doors open at 9 p.m. For more information, visit secretsdc.com.
Baltimore Black Pride starts today with a meet and greet with the Board of Directors at Club Bunns (608 W. Lexington St., Baltimore) from 7 to 9 p.m.
Dakshina Dance Company presents Mallika Sarabhai and the Darpana Dance Company's performance of Sampradayam (Traditions) at the Lincoln Theatre (1215 U St., N.W.) tonight at 7:30 p.m. This event is part of D.C.'s seventh annual Fall Festival of Indian Arts. Visit dakshina.org for more information and to purchase tickets.
The VelocityDC Dance Festival returns for a second year at the Shakespeare Theatre Company's Sidney Harman Hall (610 F St., N.W.) at 8 p.m. featuring CityDance Ensemble, Urban Artistry, the Washington Ballet and more. Tickets are $18 and can be purchased at Shakespearetheatre.org.
Factory 449 presents "The Saint Plays" by Erik Ehn tonight at 8 p.m. at the Church Street Theatre (1742 Church St., N.W.).
The Black Squirrel (2427 18th St., N.W.) hosts its weekly LGBT night tonight at 9 p.m. There's no cover charge. Must be 21 or older to enter. Visit blacksquirreldc.com to see a menu.
Sugarloft CraftsFestival starts today at the Montgomery County Fairgrounds in Gaithersburg from 10 a.m. to 6 p.m.. For more information, visit sugarloafcrafts.com.
This is the last weekend for Ganymede's production of the gay-themed "Falsettos" at Noi's Nook on 14th Street. Final performances are tonight and Saturday at 8 p.m. and Sunday at 7. Tickets are $30. Go to www.ganymedearts.org for more information.
Saturday, Oct. 9
Cotton Candy, a new 18-and-up gay dance party from event planner Jacob Pring, is tonight from 10 p.m. to 3 a.m. at Green Lantern. It will continue on the second Saturday of each month. Admission is $5 but is free for those with a college or military ID. Vodka drinks are free from 10 to 11 p.m. DJs David Merrill and Bryan Yamasaki will spin. Ten percent of proceeds go to the D.C. Center.
Baltimore Black Pride continues with the Living Red Ribbon Campaign from 9 a.m. to noon, rain or shine, at Rash Field, at the base of Federal Hill park, in Baltimore. Representatives from the Guinness World Records are expected to attend as attendees attempt to create the largest living red ribbon ever.
The 14th annual Human Rights Campaign national dinner is tonight at the Walter E. Washington Convention Center (801 Mount Vernon Place, N.W.). The dinner is sold out but people who still want to attend can be added to the wait list. Visit hrcnationaldinner.org for more information.
The VelocityDC Dance Festival continues today at the Shakespeare Theatre Company's Sidney Harman Hall (610 F St., N.W.) at 2 and 8 p.m. The 8 p.m. event includes performances by EDGEWORKS, Erica Rebollar, Furia Flamenca and more. The 2 p.m. event features the same performances as Friday night.
The eighth annual Cultural Affair, a part of Baltimore Black Pride, will be at the Eubie Blake National Jazz Institute and Cultural Center (847 N. Howard St.) from 7 to 11 p.m. tonight.
Logo and RCN present Morgan McMiachels and Shannel from "RuPaul's Drag Race" and "Drag U" tonight at Town (2009 8th St., N.W.) as part of the drag show starting at 10:30 p.m. Doors open at 10 p.m. Cover is $8 before 11 and $12 after. Attendees must be 21 or older.
Sunday, Oct. 10
LAMBDA SCI-FI will be holding its monthly meeting and social of LGBT science fiction, fantasy and horror fans at Brunswick House (1414 17th St., N.W.) at 1:30 p.m. for the meeting and 2 p.m. for the social. For more information call James at 202.232.3141 or e-mail to [email protected]
COLAGE celebrates its 20th anniversary today from 2 to 5 p.m. at the Mansion (O St., N.W.) Wilson Cruz, Angel from "Rent" will be emceeing the event.
Baltimore Black Pride will be having a National Coming Out Day party at the Comfort Inn Downtown Baltimore (8 E. Pleasant St.) from 2 to 4 p.m. Dress is casual and comfortable.
Pocket Gays hosts Sour Patch Sunday School today from 3 to 9 p.m. on the rooftop of Local 16 (1602 U St., N.W.). There will be drink specials and raffles including list spots to the "WTF" (What The Fuck?) party at Town the same night.
The fall festival ends Baltimore Black Pride at Club Bunns (608 W. Lexington St.) from 4 to 11 p.m. There is a $3 cover charge.
Women of Color Productions presents 10-10-10 The Unveiling of Epiphany Toi Williams from 6 p.m. to midnight tonight at Remington's (639 Pennsylvania Ave., S.E.). This event is the true life account of Williams shared through spoken word, musical performances, dance ensemble and more.
Monday, Oct. 11
Zoom presents a picnic brunch at the National Arboretum (3501 New York Ave., N.E.) today from 1 to 4 p.m. There will be garden games including, twister, tug of war and more. Attendees are to bring their own picnic baskets. Well-trained pets are welcome. This event is free.
West Coast Swing Flash Mob choreography will be taught at Remington's (639 Pennsylvania Ave., S.E.) tonight at 8:30 p.m. The choreography will be used to join a group from the D.C. area doing a flash mob on Oct. 16.
Hope Operas, whose founder is openly gay, has its second week of five new shows tonight to raise money for charity. The shows are at 8 p.m. at the Comedy Spot, in Ballston Mall (4238 Wilson, Blvd.), in Arlington. Each show benefits a different charity. Tickets are $12 per show. For more information call 323.788.8970 or e-mail [email protected]
Tuesday, Oct. 12
SpeakeasyDC will be at Town (2009 8th St., N.W.) tonight at 8 p.m. with "Coming Out: Stories about revelations, debuts and proclamations" in honor of National Coming Out Day. There is a $10 cover and attendees must be 21 or older. Doors open at 6:30 p.m.
Mautner Project presents a stress relief workshop tonight from 7 to 8 p.m. at Metropolitan Community Church (474 Ridge St., N.W.). Vanita Leatherwood will lead a small group through six sessions of ways to relieve stress. There is a $30 registration fee. E-mail to [email protected] or call 202-332-5536 for more information and to register.
Masters and Slaves Together will be holding its monthly meeting tonight from 7:30 to 9 p.m. at the D.C. Center (1318 U St., N.W.). For more information about the group, visit its website, mastwashington.org.
Wednesday, Oct. 13
Rainbow Response will be holding its monthly meeting tonight from 7 to 8 p.m. at D.C. Coalition Against Domestic Violence (5 Thomas Circle, N.W.). The meeting is open to all who are interested.
Green Lantern (1331 Green Court, N.W.) will host the weekly Poz D.C. happy hour upstairs from 8 p.m. to midnight. DJs, C-Dubz, Keith Hoffman, Jason Horswill and T-N-T Music factory will be spinning. Jacob Nathaniel Pring will host and bartend.
Thursday, Oct. 14
A new party dubbed "Homolicious" is at MOVA tonight from 7 p.m. to 2 a.m. from MAG 7 Productions. Drag queen Stormy Vain and Allen Sexton will host. Downstairs from 7 to midnight, Jacob Pring and Justin Croft will bartend. Erik Lars Evans and Bryan Yamasaki will spin. Upstairs Mr. Gay D.C. 2010 Aaron Alexander will bartend and David Merrill will spin. "Homo" snow cones will be served. Those with birthdays the week of Oct. 10 to 16 will get a free drink.
DCBiWomen will be having its monthly dinner at Café Luna (1633 P St., N.W.) tonight from 7 to 8 p.m For more information, visit dcbiwomen.org.
Zenith Gallery (1111 Pennsylvania Ave., N.W.) has extended its Transparency exhibit of glass sculptures by Jackie L. Braitman. The gallery is open weekdays from 8 am to 7 p.m. For more information, visit zenithallery.com.
Valentine's gifts for the queers you love
Elevated chocolates, top-shelf liquors, and more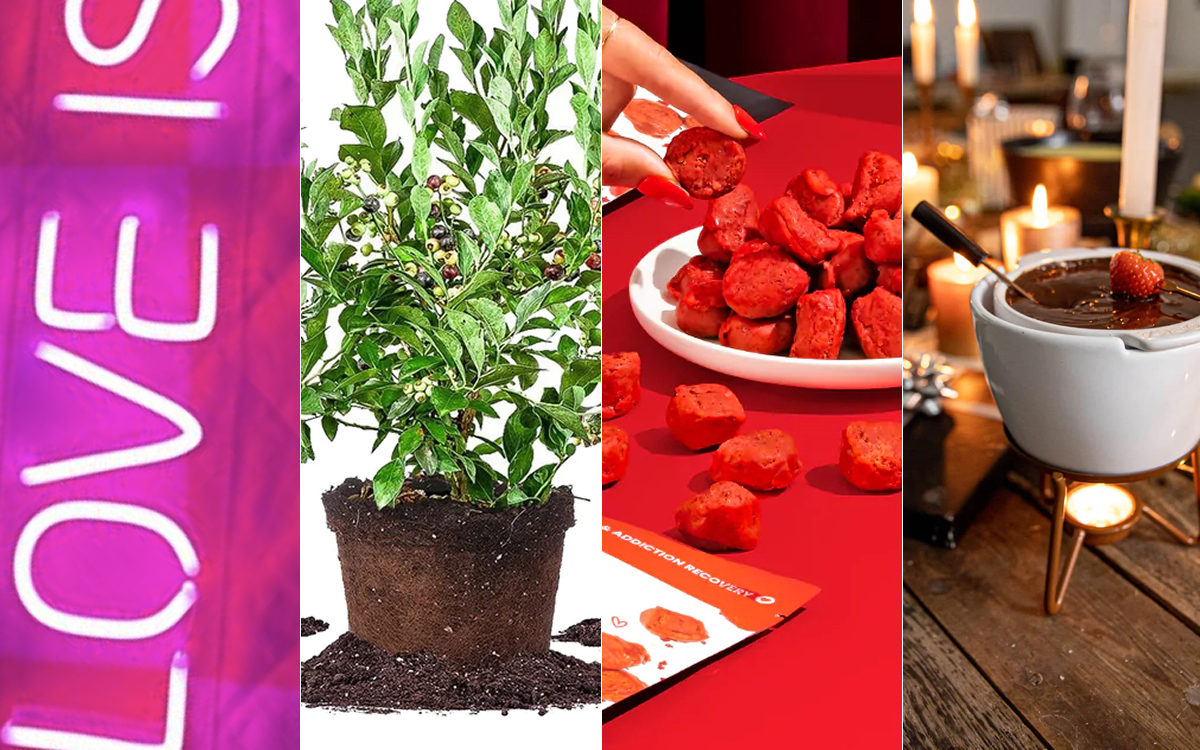 Spread the love this Valentine's Day with these festive, fun, and sometimes frisky gifts to fill all your special someone's hearts with happiness and appreciation.
Love Script Pillows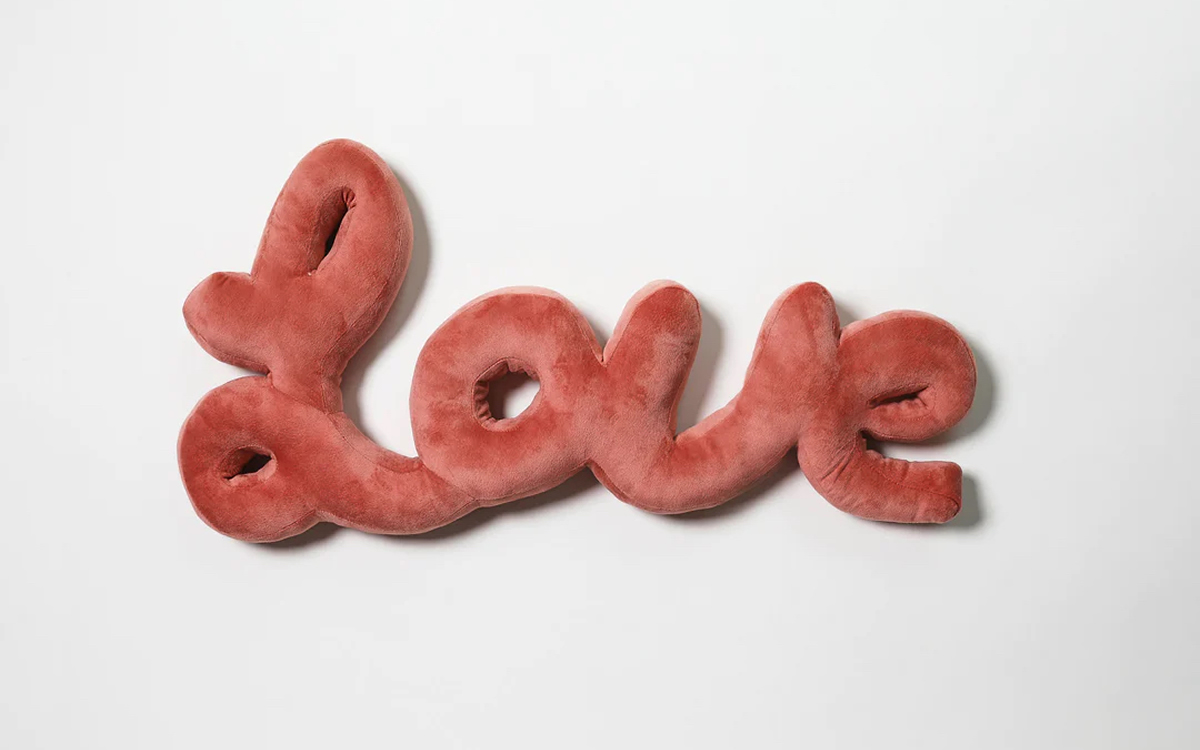 PillowScript's royal-hued love script pillows – in muted green, red, blue or gray – imbue your personal space with optimism, openness and a velvety softness smoother than Cupid's bare bottom. $50, PillowScript.com
Tale as Old as Time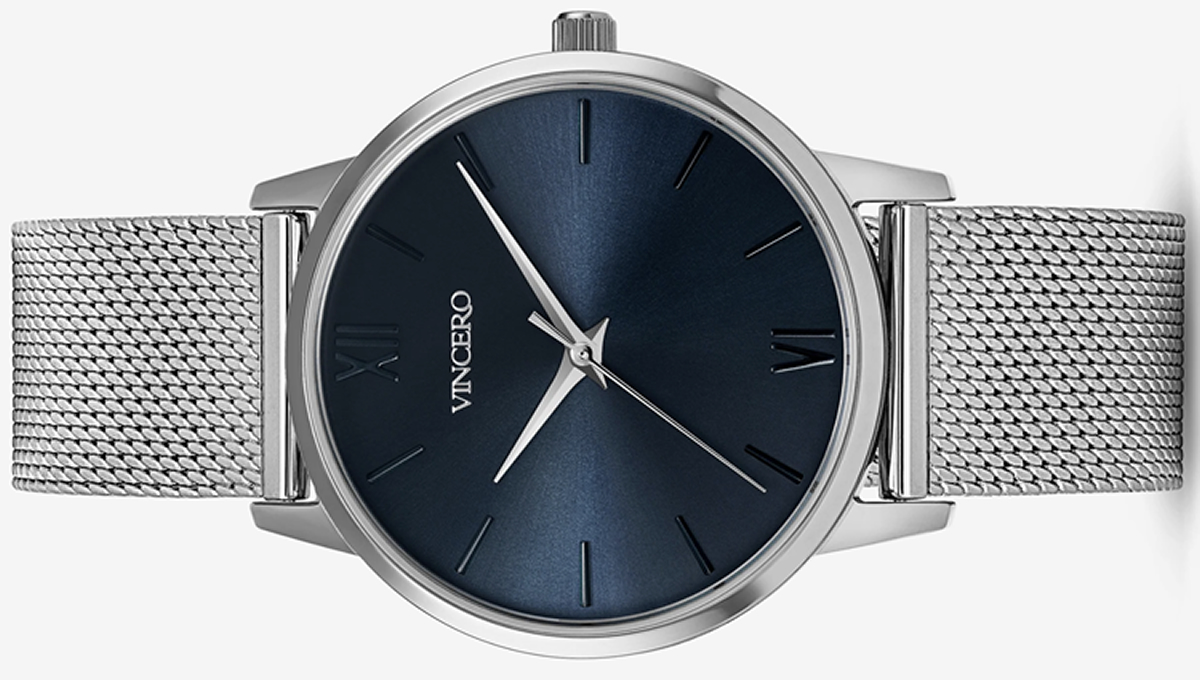 At once slim and sleek, the Vincero Kairos and Eros Petite mesh and leather-banded watches look stunning on a beauty or a beast. $99-$178, VinceroCollective.com
Fondue Feasts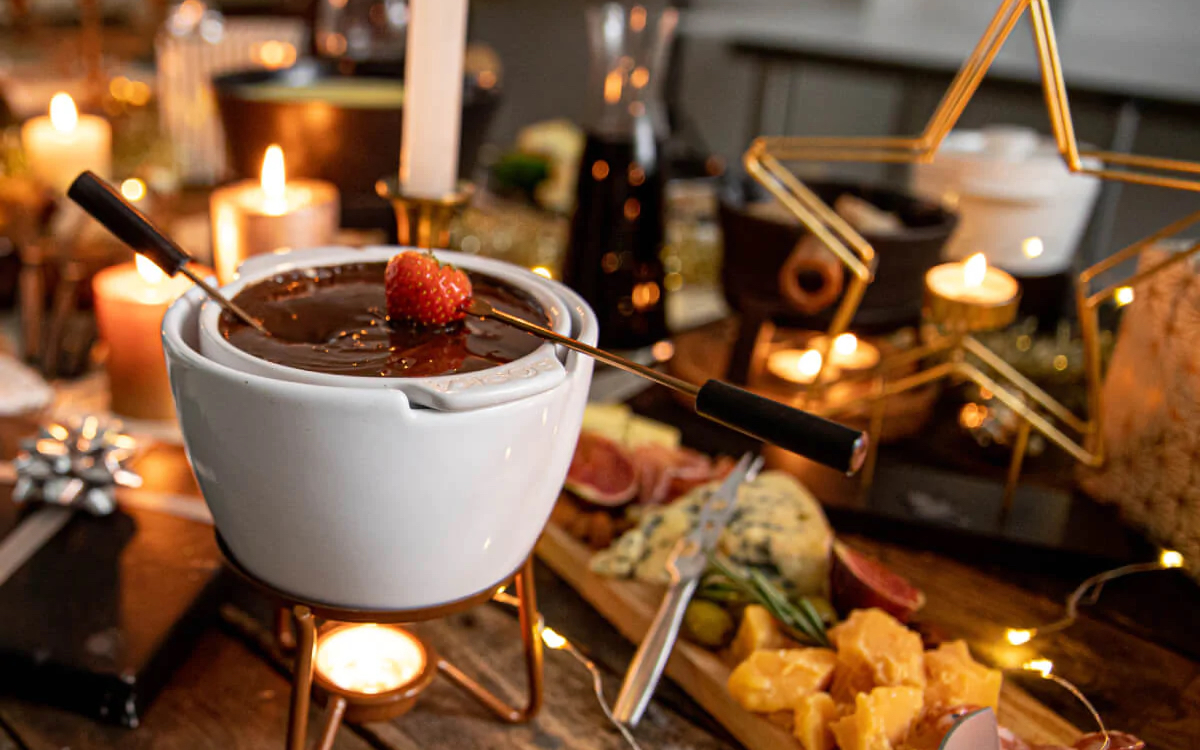 You dip, she dips, they dip bite-size savories and sweets into BOSKA's cheese and chocolate fondue sets equally suited for a sophisticated date night at home or as the centerpiece of a '70s-inspired Galentine's party. Better dust off the orgy lamp. $33-$44, USA.Boska.com
Covered in Love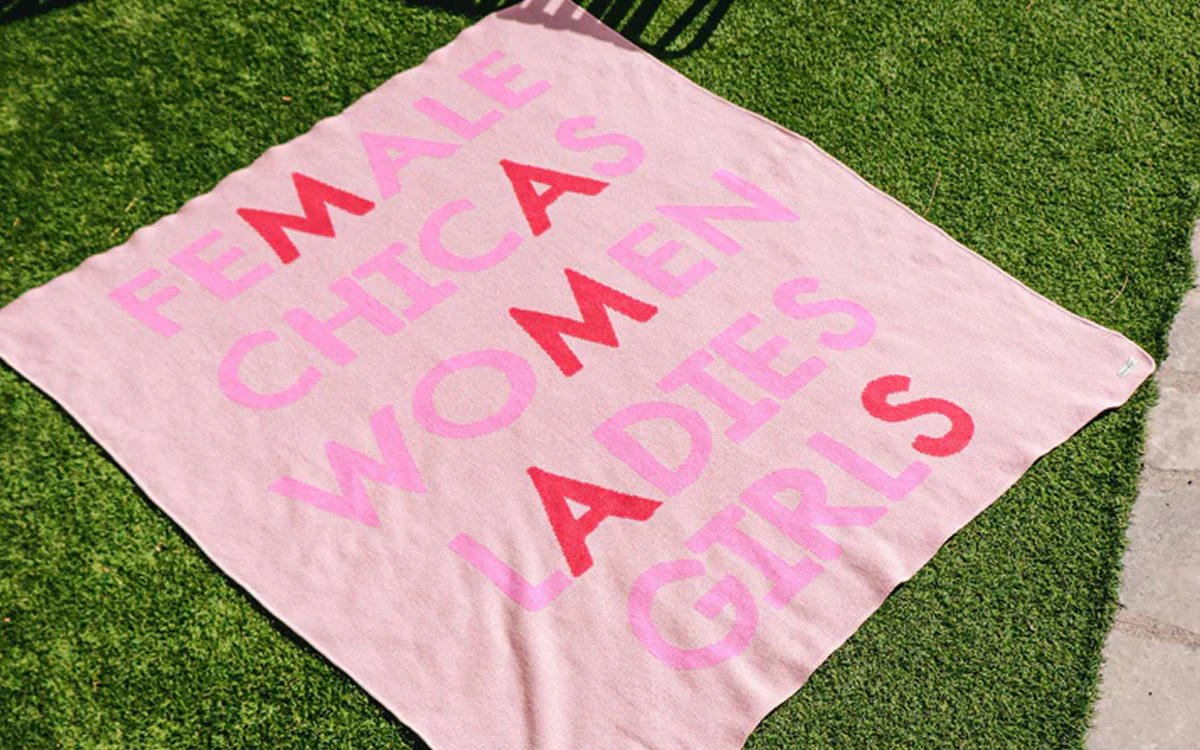 Kisses and hugs and on-the-couch snugs are instantly cozier in Sunday Citizen's XOXO throw or the Mamas Blanket x Calhoun & Co.'s pink-and-red girl-power blanket for wrapping up near-and-dear babes and broads. $170, SundayCitizen.co; $138, AustinMotelStore.com
Playboy Pleasure
You might assume that a synonymous-with-sex brand like Playboy would already have a leg (or two) up on the adult-toy industry, but its recently launched, first-foray Playboy Pleasure line couldn't be rushed: The inaugural collection includes vibrators with heating, tapping, and thrusting functions; a spinning butt plug; multi-motor cock rings; toys with flickering tongues; solo strokers, and a first-of-its-kind flapper shaft for the G-spot. You're gonna need a bigger tarp. $26-$200, LoversStores.com
Chinola x Vesta Chocolate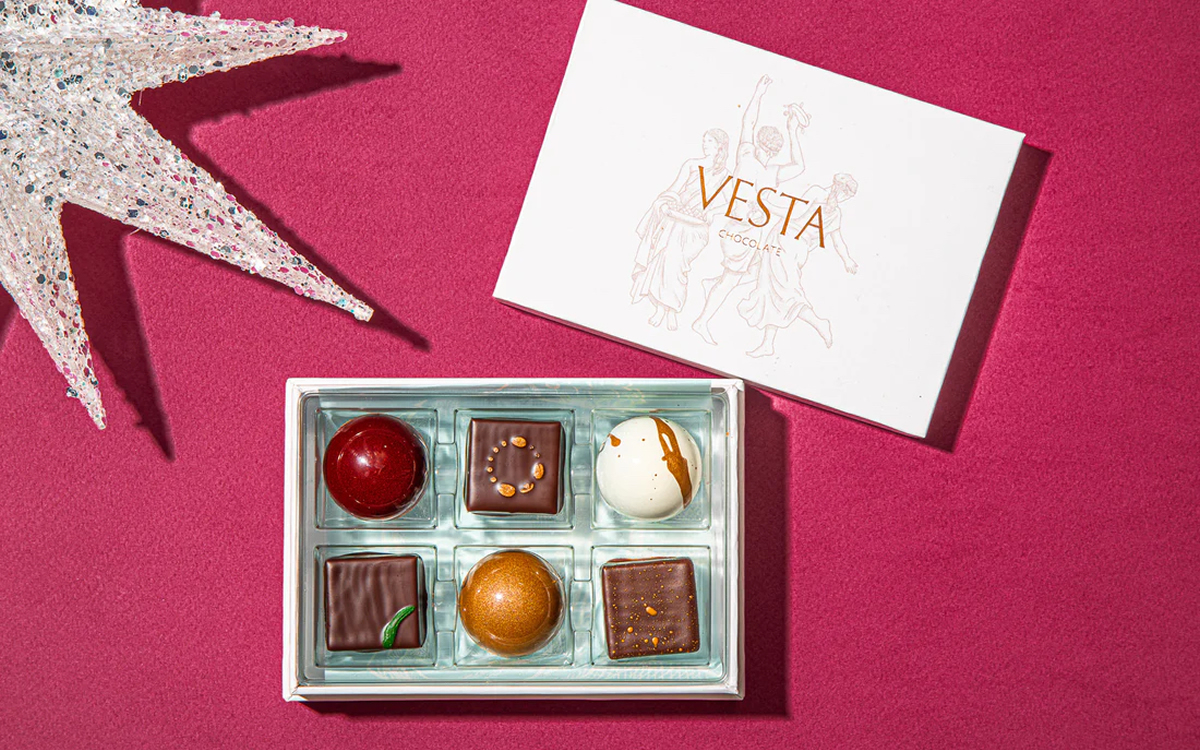 Skip the Stover's and improve your chocolate-gifting game with limited-edition Chinola bonbon and ganache chocolates, the melt-in-your-mouth collab between Dominican-sourced Chinola Passion Fruit Liqueur and Vesta Chocolate, co-founded by Chef Roger Rodriguez. $25-$48, VestaChocolate.com
Lace Charms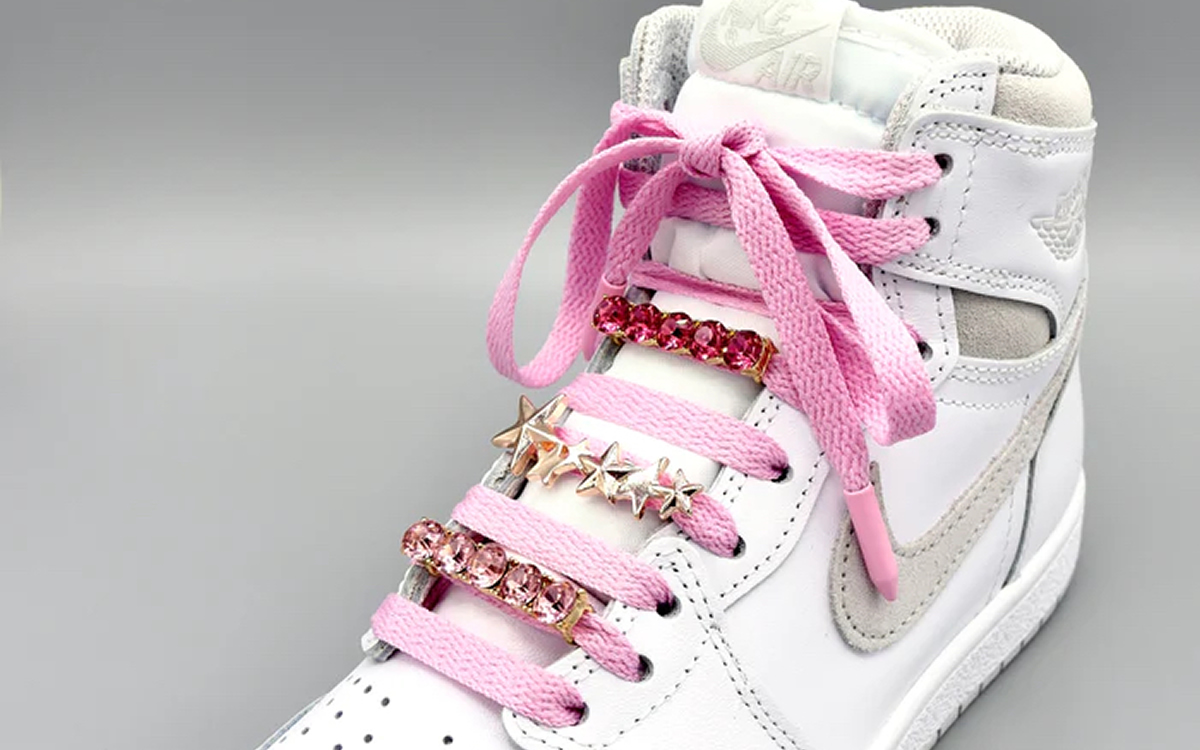 Customize your kicks with splashes of sparkle when you outfit their laces with burnished beads and baubles – like Lace Charms' Digital Pink Bundle, featuring gold stars and rosy bling-blings – fit for sneakerhead kweens and king-kings. $30-$75, LaceCharms.com
Happy Juice
You'll get your lips kissed when you twirl a Sunkist on the stylish Verve Culture artisan citrus juicer (available in gold, rose gold, and black), your new go-to hand-operated appliance that gilds the lily of an already decadent holiday brunch in bed. $98-$150, VerveCulture.com
Power Flowers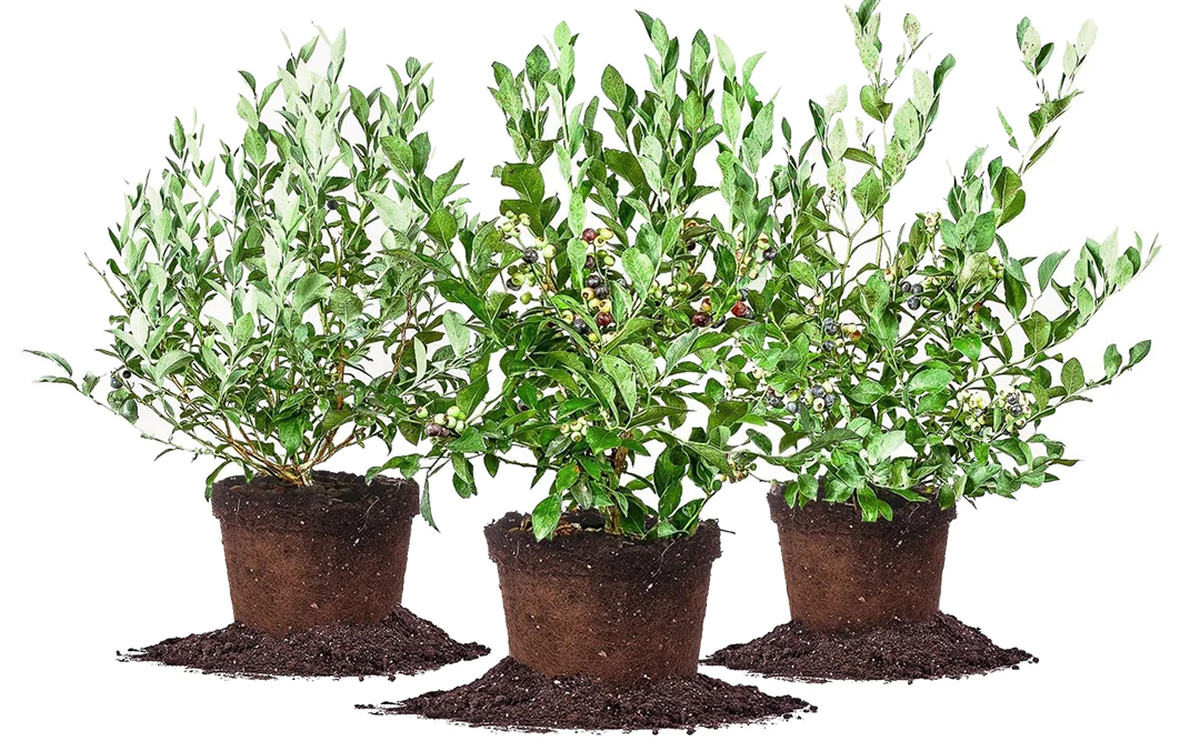 If Miley can buy herself flowers, so can you: Treat your resilient self to Perfect Plants' bounty of blooms – including houseplants, trees, shrubs, hedges and a wide selection of coveted Drift rose bushes – that'll keep your space fresh long after love stales. $40+, MyPerfectPlants.com
Gas You Up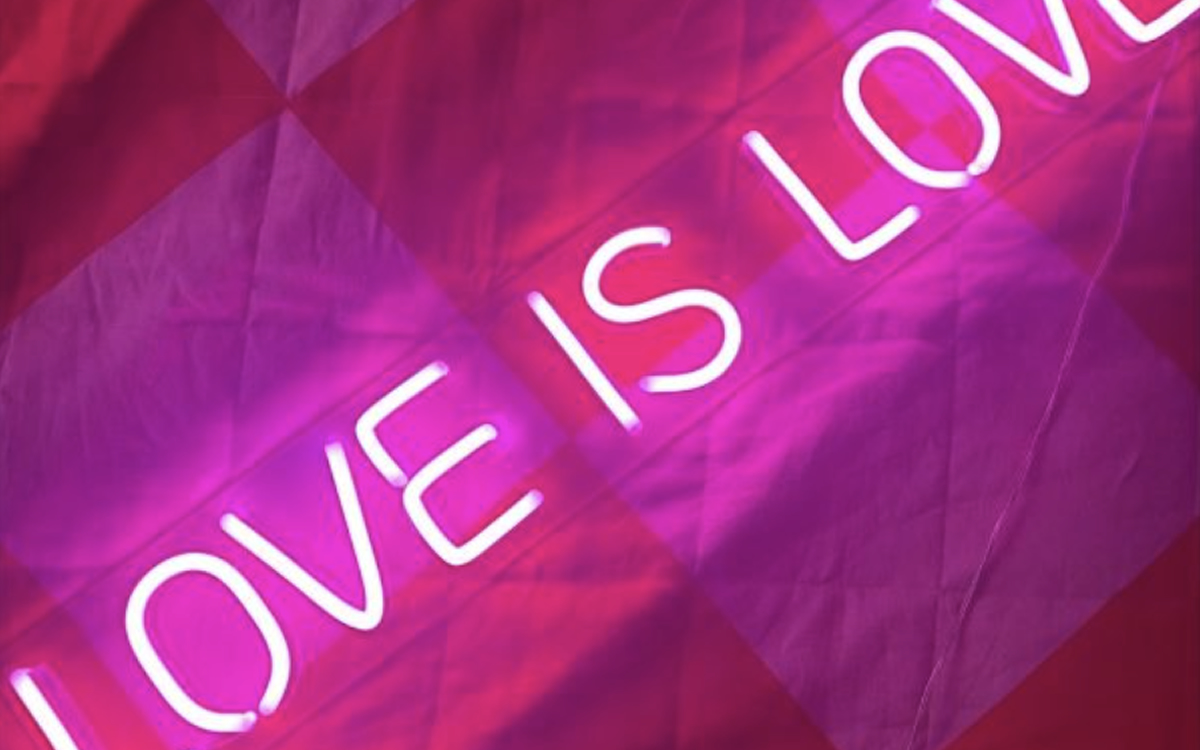 Motivational neon signs that empower you to "Rise & Grind," "LISTEN TO YOUR HEART," "Hu$tle," and "BE A BAD ASS WITH A GOOD ASS" not only add pops of radiating light and liveliness to your home and office, but they just might reduce your therapy bill too. $200-$600, CustomNeon.com
Big AND Beautiful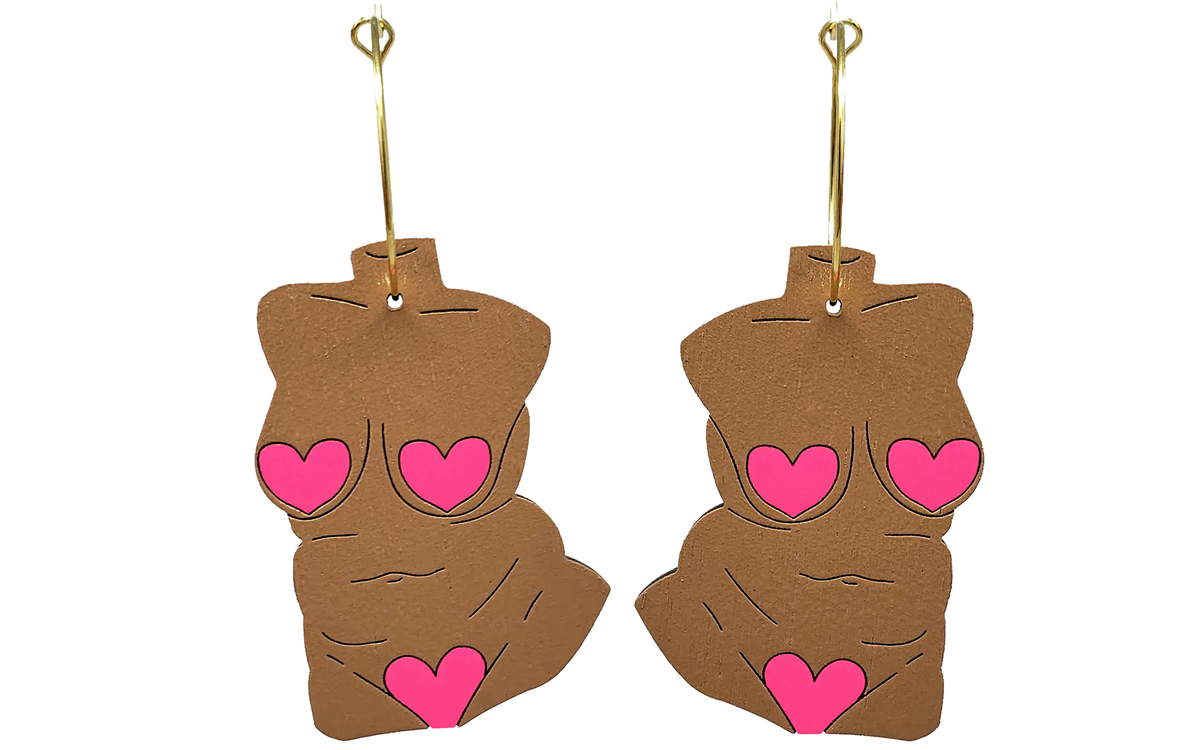 Lizzo launched a thousand hips with her body-positive lyrics and lifestyle, and you can continue that self-satisfying trend with Le Chic Miami's hand-painted, more-to-love basswood Venus hoop earrings, available in three everywoman skin tones. $27, LeChicMiami.store
All the Restaurants
Former New Yorker magazine editor turned self-taught artist John Donohue recognizes that most Americans' first dates take place at restaurants (Starbucks is #1 while In-N-Out Burger clocks in at #2, according to a survey of Clover app users), which is why he's made it his mission to commemorate the occasion with signed, limited-edition prints of your fave romantic dining destinations, including Manhattan's 12 Chairs Café and Abilene Bar, Jaleo in D.C., and London's Noble Rot. $95, AllTheRestaurants.com
Bye-Bye Dry January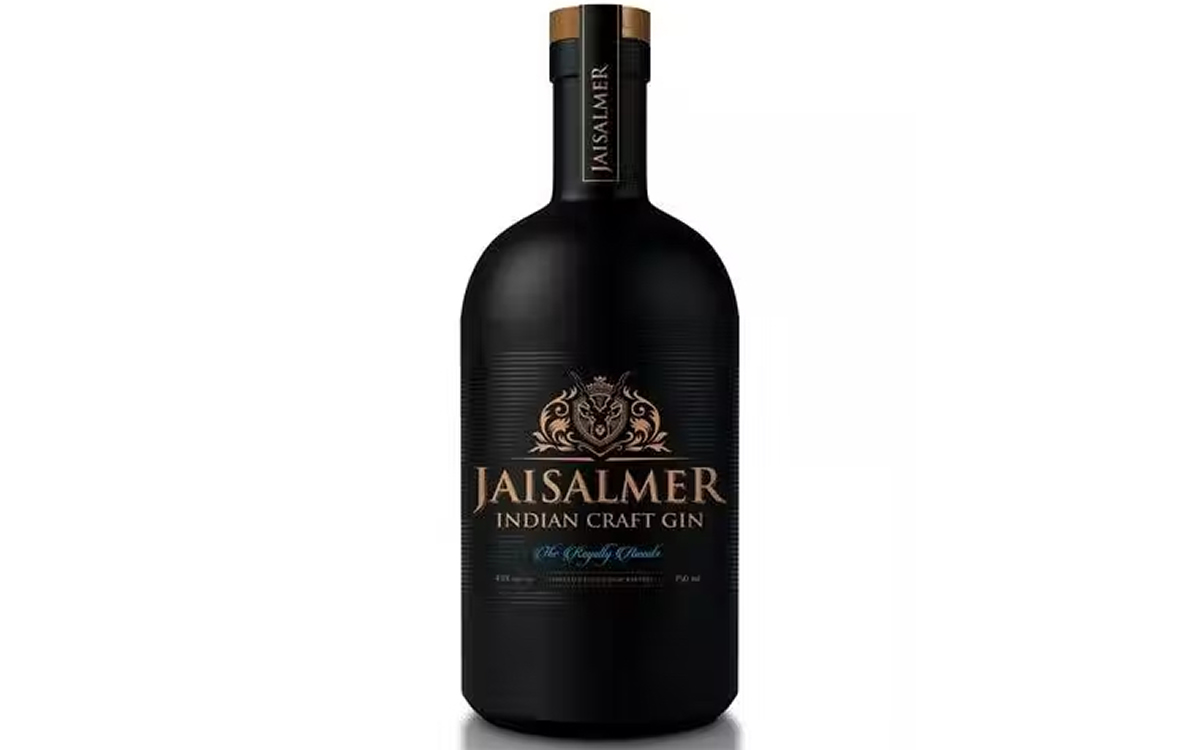 Build a more discerning home bar in 2023 with a curated selection of luxury liquors, including Empress 1908 and Jaisalmer gins, Rampur Double Cask and Bearface Triple Oak whiskies, Tequila Ocho Plata, and L'etoile du Nord vodka. Prices vary, Drizly.com; TotalWine.com
Jaisalmer Gin Negroni
1.25 oz Jaisalmer Indian Craft Gin
1 oz Camapri
.75 oz Cocchi Torino Vermouth
Combine all ingredients in a mixing glass. Add ice and stir until proper chill and dilution are achieved. Strain into a double rocks glass. Add a few large pieces of clear ice. Garnish with an orange twist.
One Love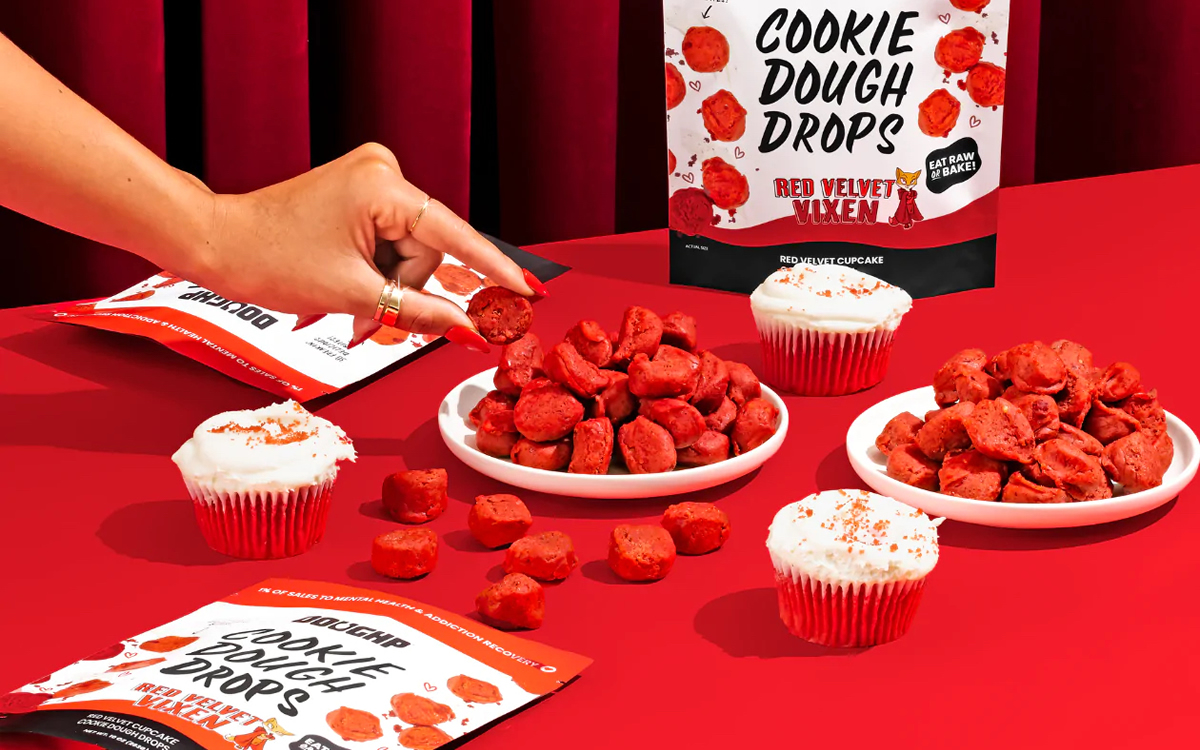 Dateless for V-Day? Toast your single status – self-imposed independence should be celebrated (just ask Shakira) – with a bottle of Beau Joie Rosé Champagne and poppable Doughp cookie dough bites, in upbeat flavors like Cinnamood, Brownie Beast, Cookie Monsta, and Red Velvet Vixen. $135, TotalWine.com; $12-$16, Doughp.com
Mikey Rox is an award-winning journalist and LGBTQ lifestyle expert whose work has been published in more than 100 outlets. Connect with Mikey on Instagram @mikeyroxtravels.
New York Rangers forgo Pride jerseys and stick tape for team Pride night
NYC Pride organizers responded to omission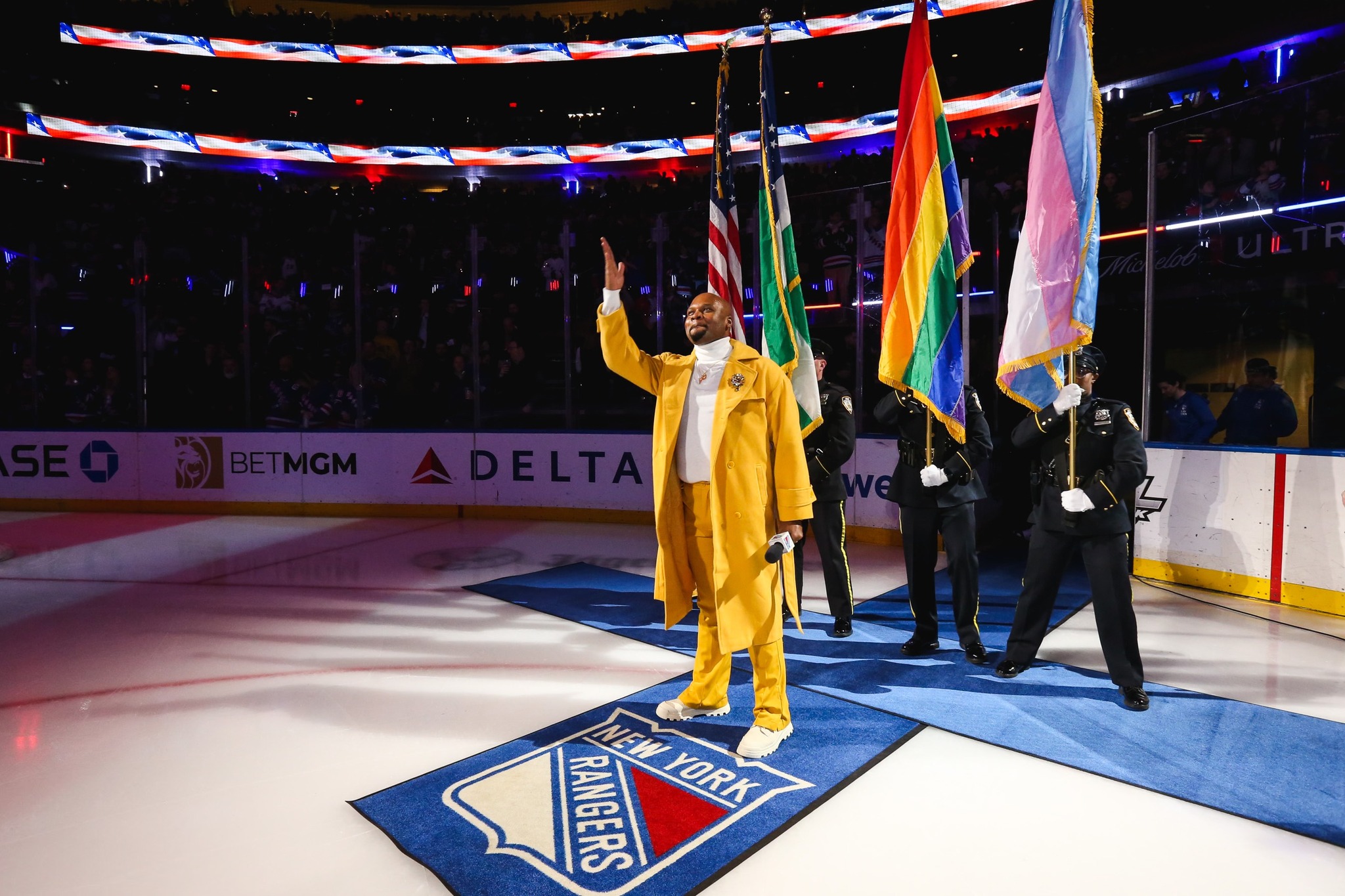 New York LGBTQ Rangers fans were disappointed after the National Hockey League team forwent wearing the team's special warm-up jerseys and using Pride stick tape during the team's 7th annual Pride Night Friday.
The Rangers had promoted Friday night's Madison Square Garden home game against Vegas Golden Knights, saying players "will be showing their support by donning pride-themed warm-up jerseys and tape in solidarity with those who continue to advocate for inclusivity." But ultimately the team wore their "Liberty Head" jerseys in warmups instead.
The Rangers scrapped plans to wear rainbow-themed warmup jerseys for Friday's "Pride Night" at Madison Square Garden, prompting confusion and disappointment from the LGBTQ community. https://t.co/8vQEkz838f

— 97.1 The Ticket: (@971theticketxyt) January 29, 2023
After the game, a 4-1 win over the Vegas Golden Knights, the Rangers released a statement: "Our organization respects the LGBTQ+ community and we are proud to bring attention to important local community organizations as part of another great Pride Night. In keeping with our organization's core values, we support everyone's individual right to respectfully express their beliefs."
In an emailed statement to the Washington Blade Sunday Dan Dimant, media director for NYC Pride | Heritage of Pride, Inc. said:
"In recent years, numerous National Hockey League (NHL) franchises including the New York Rangers have introduced a series of 'Pride Nights' to engage the LGBTQ+ community. NYC Pride has been honored to take part in these celebrations, including as recently as last night at Madison Square Garden.
NYC Pride was not made aware in advance of our participation in last night's ceremonial puck drop that Pride jerseys and rainbow tape would not be worn as advertised. We understand and appreciate that this has been a major disappointment to the LGBTQ+ community in New York and beyond. We are communicating these concerns with NY Rangers and NHL leadership as we continue to discuss the ways these organizations can work toward inclusion.
NYC Pride has a duty to both support our partners and hold them accountable. We are committed to continuing our relationships with the NY Rangers and the NHL and maintaining substantive dialogue with them about meaningful allyship with the LGBTQ+ community."
ESPN reported that the team's annual Pride Night was celebrated throughout the game in other ways. Fans were given a pride-themed fanny pack as a giveaway. The exterior and interior lights at Madison Square Garden were illuminated in rainbow colors. The Rangers also made a charitable donation to the Ali Forney Center on Pride Night, the largest agency dedicated to LGBTQ homeless youths in the country.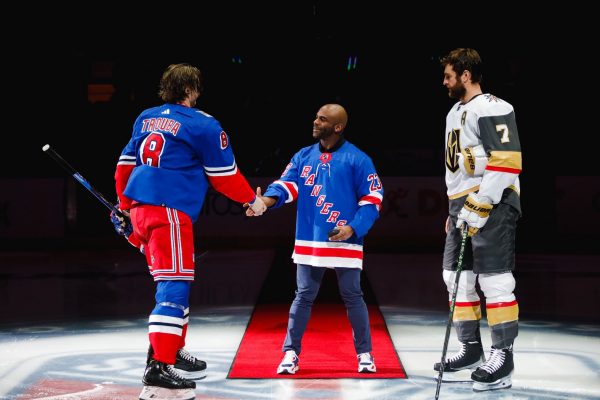 The Rangers' Pride Night was held 10 days after Ivan Provorov, the alternate captain for the National Hockey League's Philadelphia Flyers, opted out of participating in the team's Pride Night charity event before the game Tuesday, claiming a religious exemption based on his Russian Orthodox faith.
Provorov, 26, was the only member of the Flyers to not take part in the pre-game exercise on the ice. A video tweeted by the team's official account shows the rest of the players wore special Pride Night-themed black jerseys with the traditional Flyers logo on the front and rainbow-colored names and numbers on the back; many of the players practiced using hockey sticks wrapped in rainbow-colored tape known as Pride tape. Both the sticks and the jerseys were auctioned off after the game with the Anaheim Ducks, to raise money for local LGBTQ charities. 
The defenseman, who was born in Russia, told reporters after their victory, "I respect everybody and respect everybody's choices," adding that he declined to take part in the warmup "to stay true to myself and my religion."
After Provorov opted out of participating in the Flyer's Pride Night charity event the NHL put out a statement that said players can decide which team and league initiatives to support.
"Hockey is for Everyone is the umbrella initiative under which the league encourages Clubs to celebrate the diversity that exists in their respective markets, and to work to achieve more welcoming and inclusive environments for all fans," the league said. "Clubs decide whom to celebrate, when and how — with League counsel and support. Players are free to decide which initiatives to support, and we continue to encourage their voices and perspectives on social and cultural issues."
10 LGBTQ events this week
Howard hosts first Pride Night, GMCW performs 'Judy' among highlights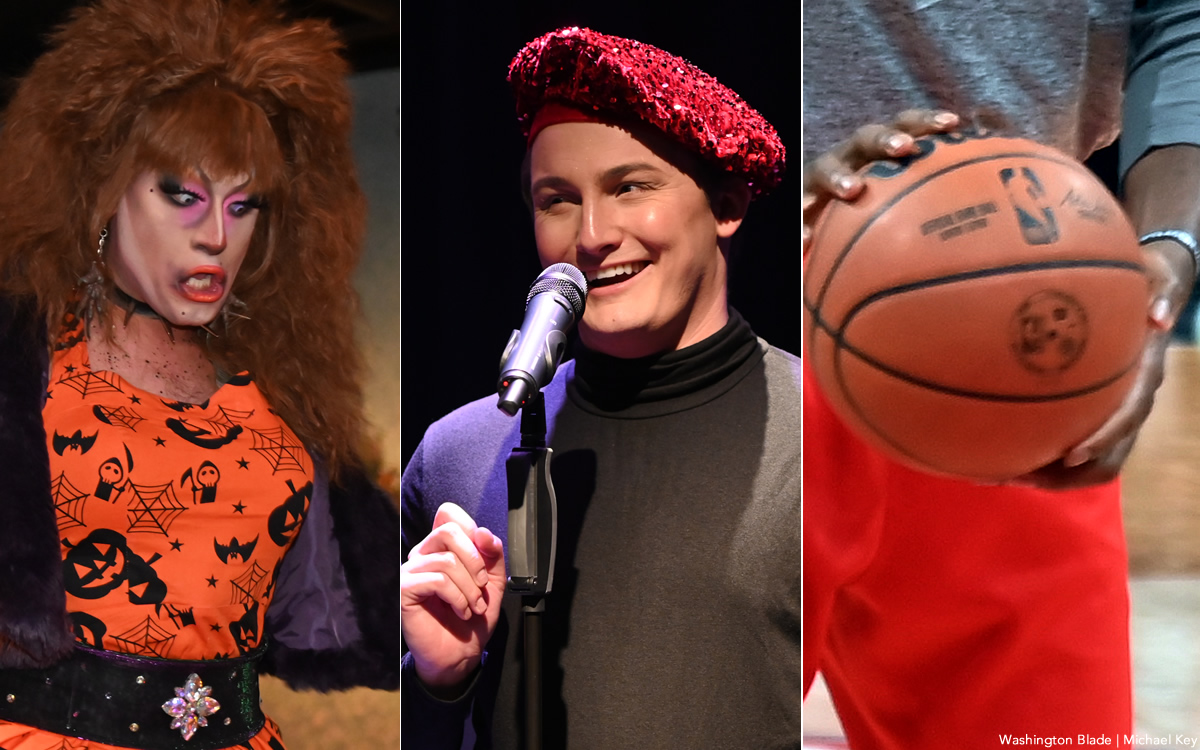 Below are our picks for some of the most fun and creative things to do this week in the DMV that are of special interest to the LGBTQ community.
---
Howard University Basketball Pride Night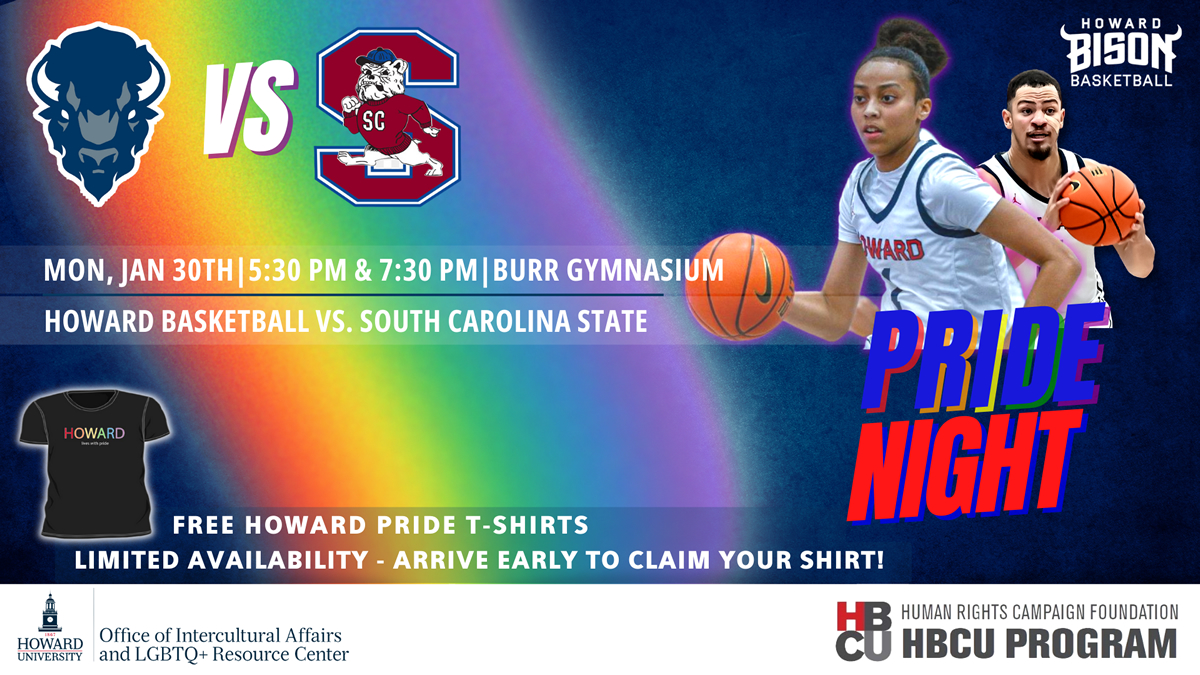 Monday, January 30
5:30 p.m. and 7:30 p.m.
Burr Gymnasium
Howard University
$25
Tickets
The Bison hold their first Pride Night game on Monday as they face off against South Carolina State University.
---
JR.'s Showtunes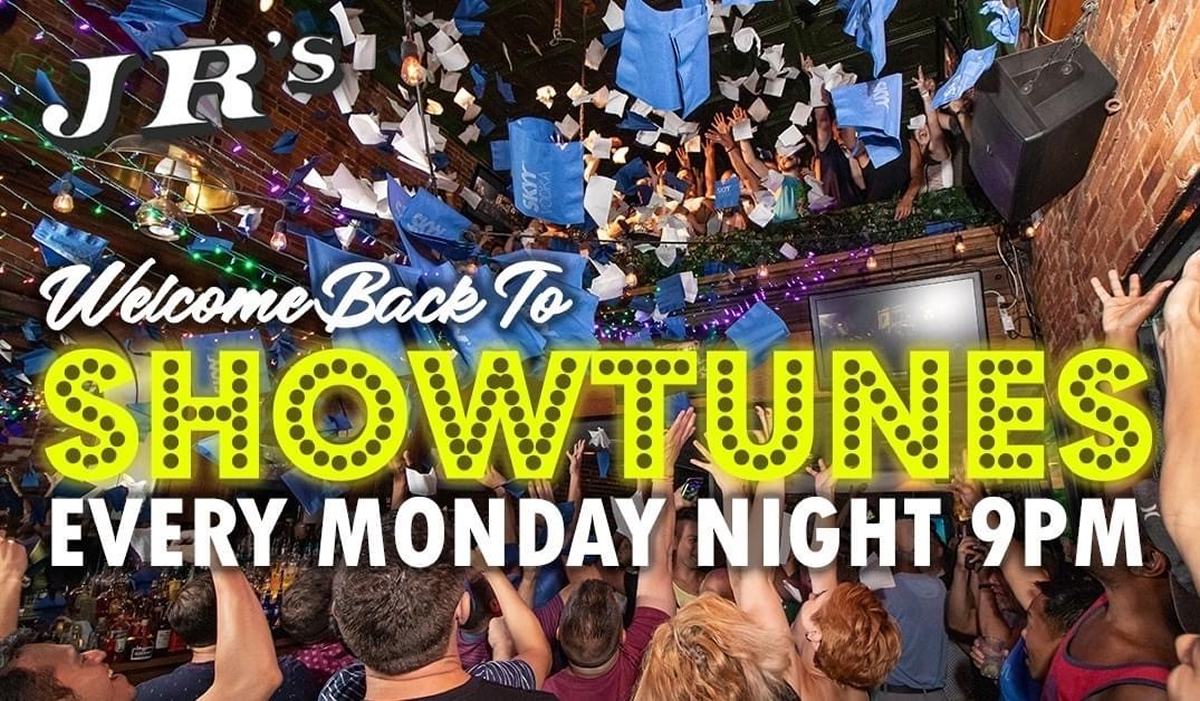 Monday, January 30
9 p.m.
JR.'s Bar
1519 17th Street, N.W.
Facebook
JR.'s holds its weekly Monday Night Showtunes event, so dust off those pipes and sing along.
---
Meaningful Networking for LGBTQ Professionals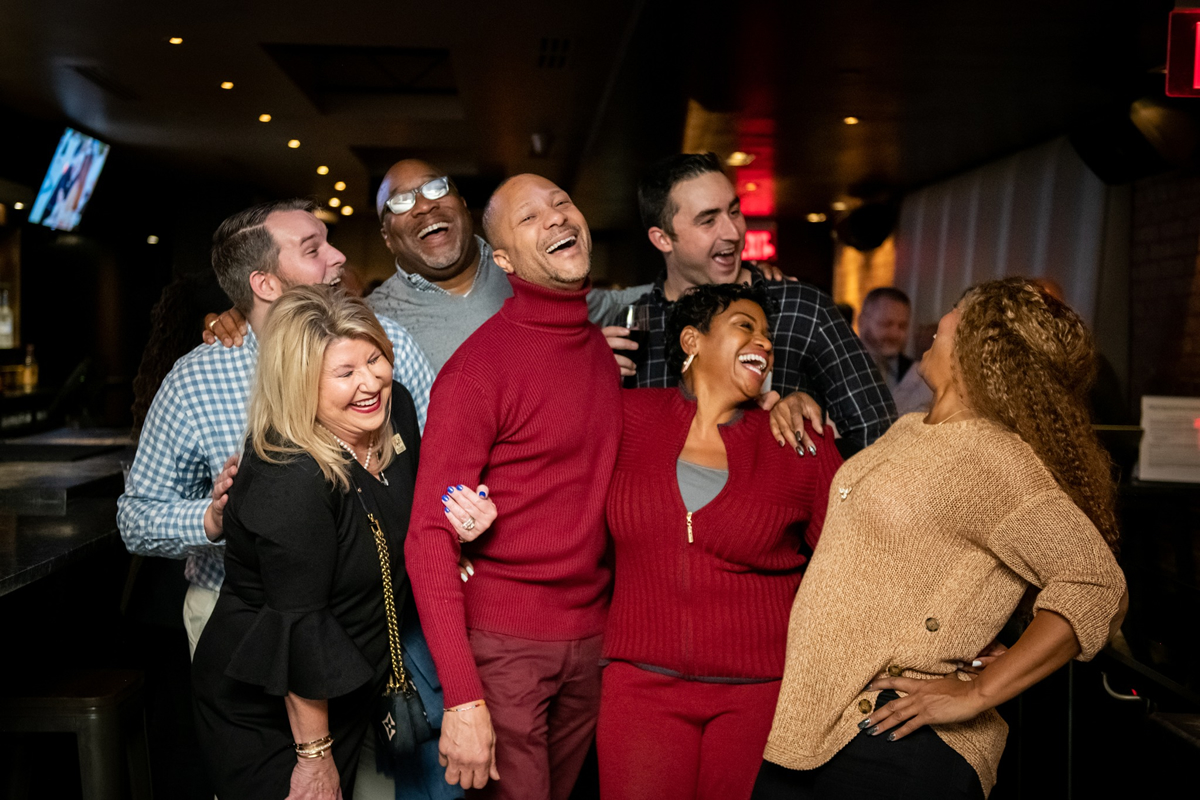 Tuesday, January 31
6 p.m.
Number Nine
1435 P Street, N.W.
$0-$85
Facebook | Eventbrite
Out Professionals holds a networking event at Number Nine on Tuesday. Come by to make business and social connections with fellow LGBTQ professionals.
---
Sleaze: Poundhog Day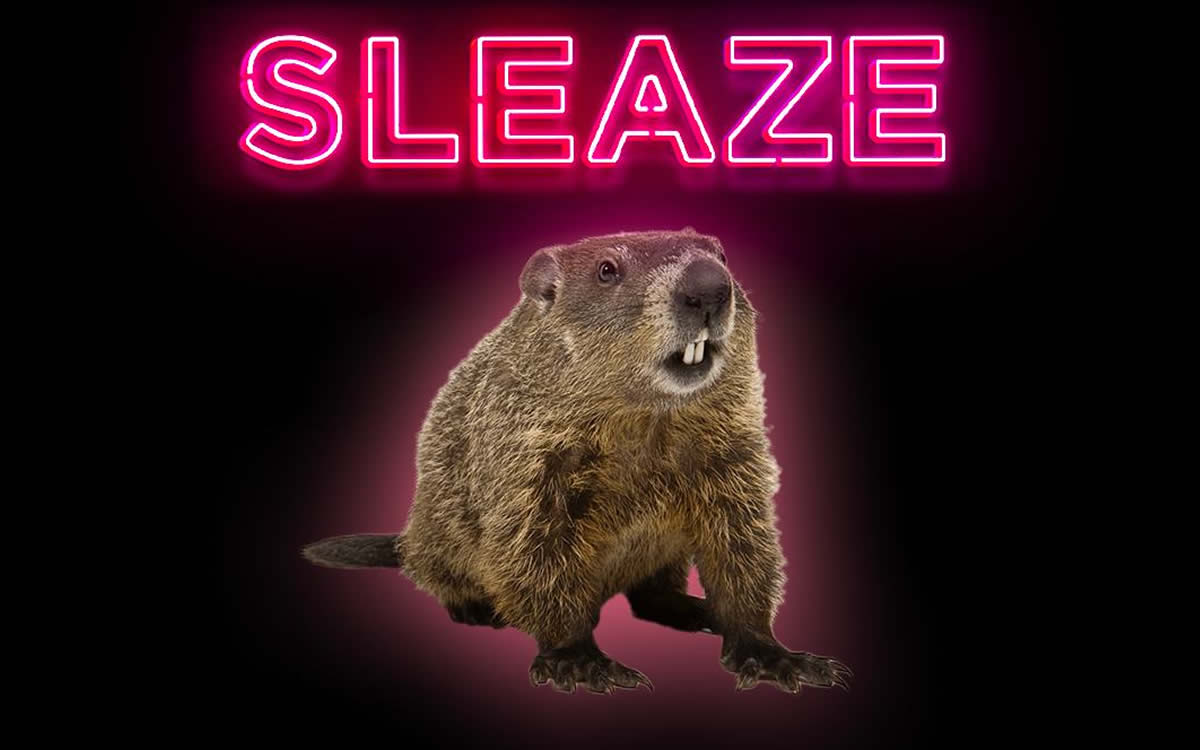 Thursday, February 2
Doors 9 p.m.
DC9 Nightclub
1940 9th Street, N.W.
$10
Facebook | Eventbrite
Whether Phil sees his shadow or not, dance the night away at the monthly LGBTQ+ party. Performances by Sirene Noir Sidora Jackson and Jane Saw with DJs THABLACKGOD, Lemz and Kennan Orr.
---
Kinky Bears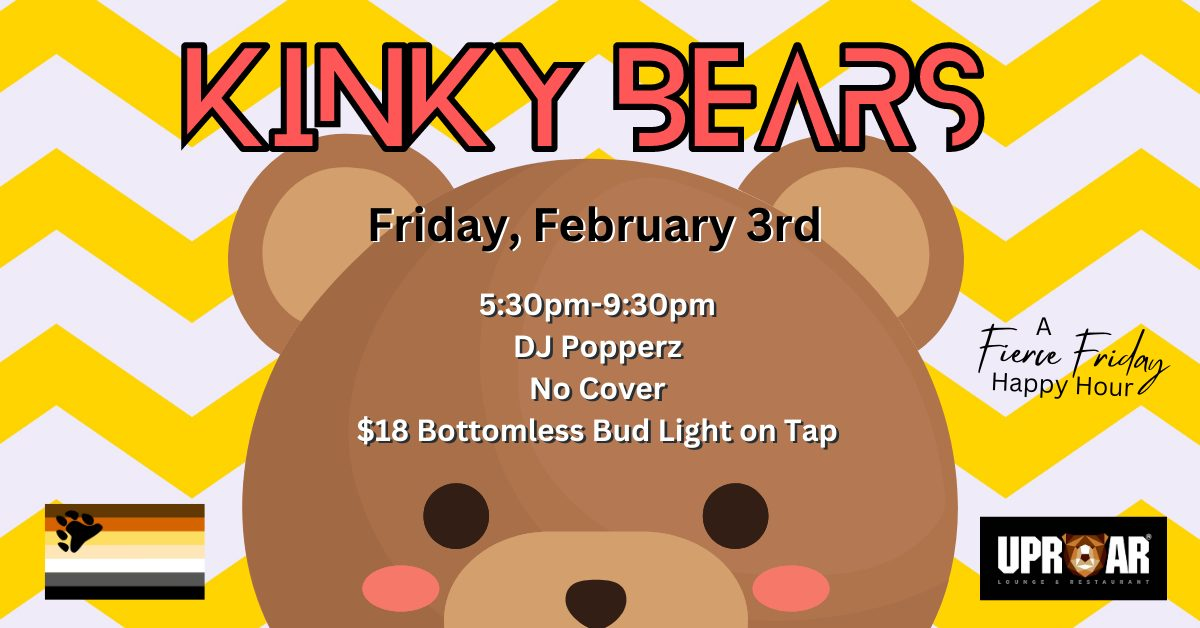 Friday, February 3
5:30 p.m.-9:30 p.m.
UPROAR Lounge & Nightclub
639 Florida Avenue, N.W.
No cover
Facebook
DC Social and UPROAR present Kinky Bears happy hour featuring DJ Popperz.
---
Desiree's Dirty 30!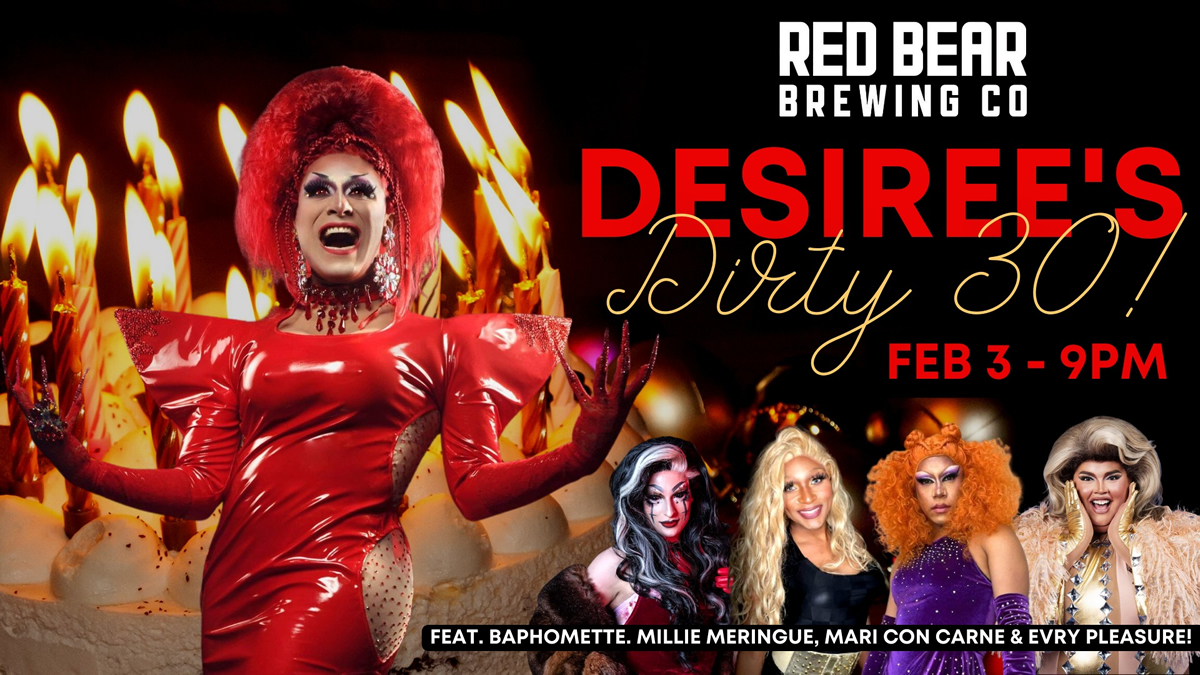 Friday, February 3
9 p.m.
Red Bear Brewing Co.
209 M Street, N.E.
Facebook
Award winning drag queen Desiree Dik celebrates her Dirty 30 with a show on Friday at Red Bear Brewing with Baphomette, Millie Meringue, Mari Con Carne and Evry Pleasure.
---
District 1st Friday: Traffic Light Underwear Party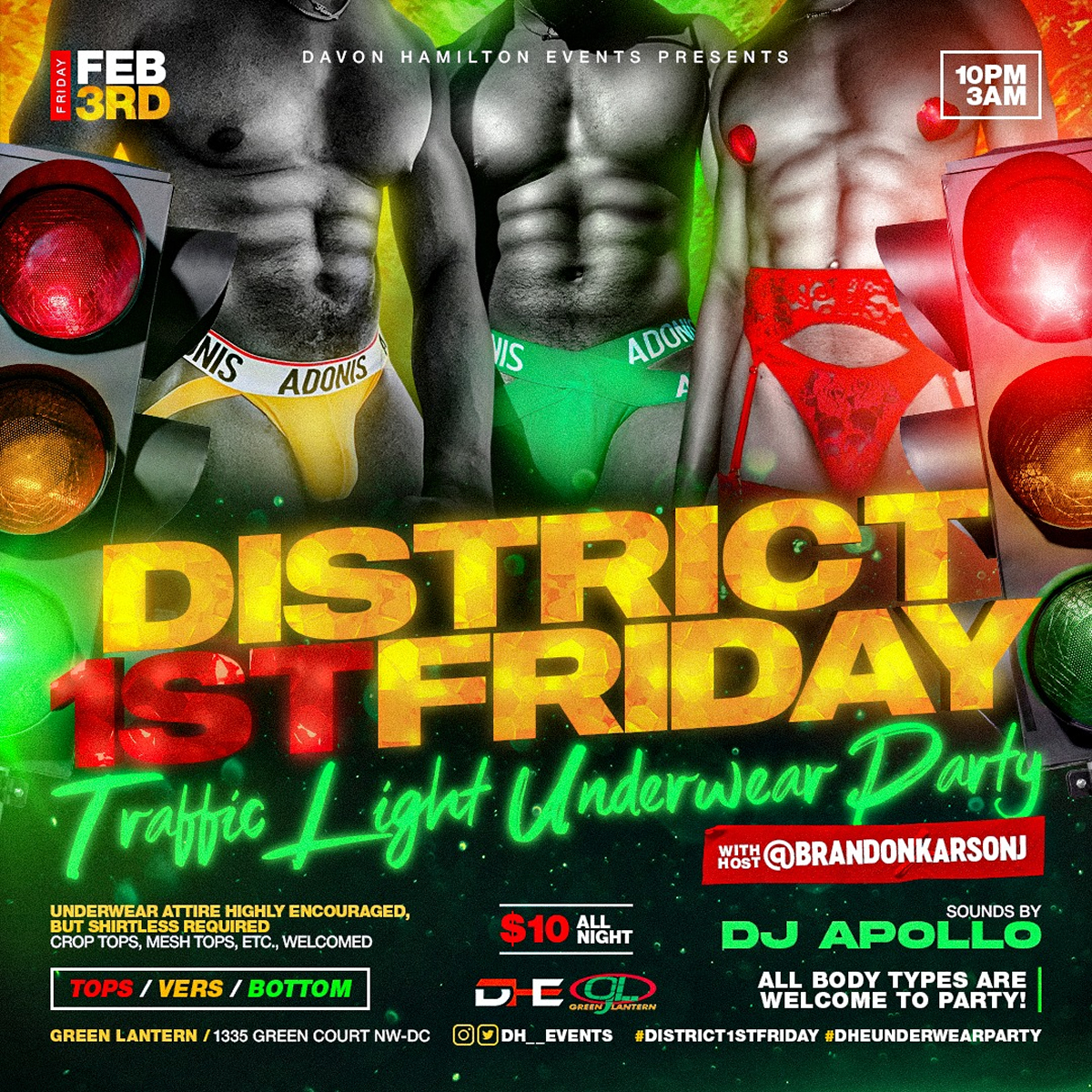 Friday, February 3
10 p.m.
Green Lantern
1335 Green Court, N.W.
$10
Facebook
Be naughty with an all-body-types-welcome underwear attire party.
---
'JUDY' Cabaret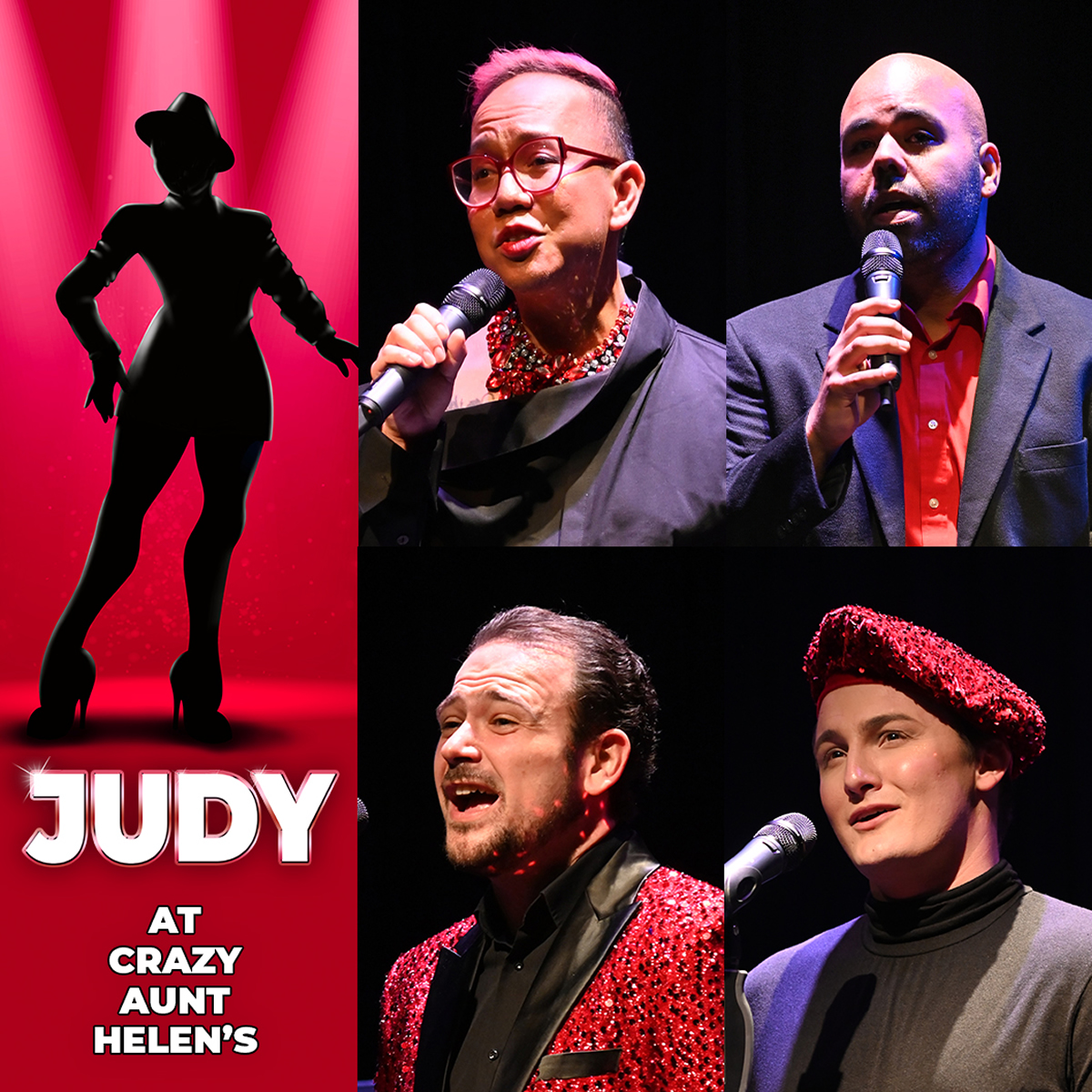 Saturday, February 4
5 p.m. and 7:30 p.m.
Crazy Aunt Helen's
713 8th Street, S.E.
$45
Eventbrite
Members of the Gay Men's Chorus of Washington perform "JUDY" celebrating the music of Judy Garland at Crazy Aunt Helen's with two cabaret shows on Saturday.
---
Avalon Saturdays: ElectroPOP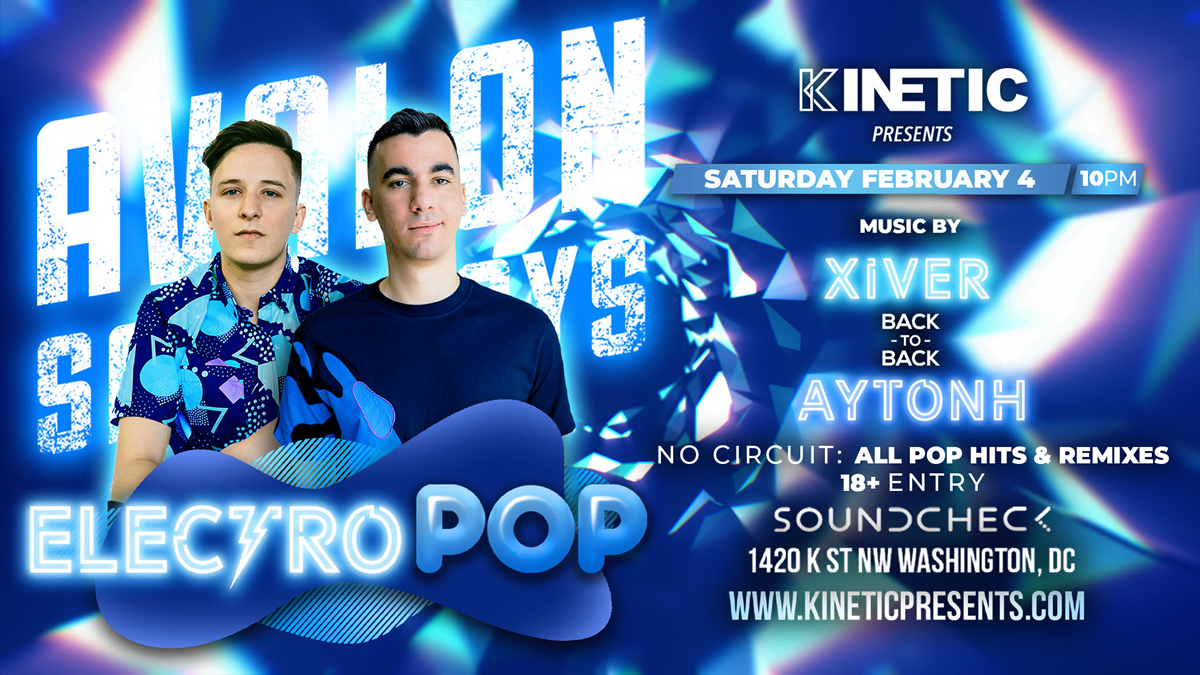 Saturday, February 4
10 p.m.
Soundcheck
1420 K Street, N.W.
$25-$30 / 18+
Facebook | Tickets
DJ Xiver and DJ AytonH spin high energy, pop hits and remixes all night long on Saturday at Soundcheck.
---
Oddball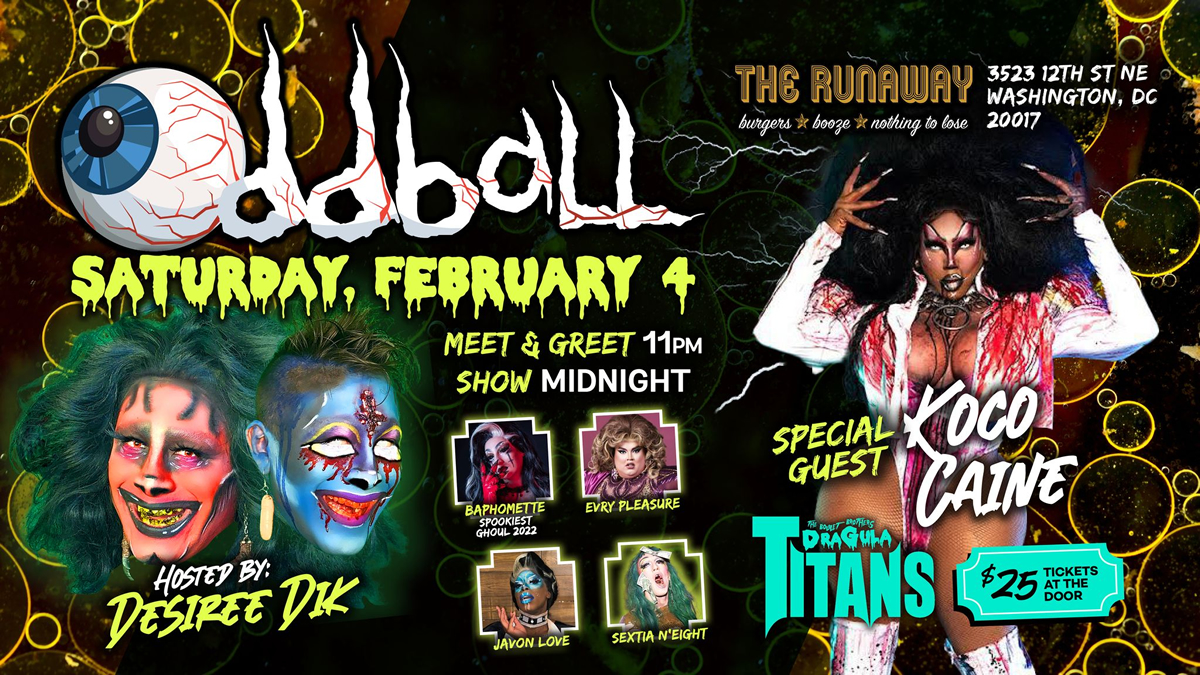 Saturday, February 4
Meet & Greet 11 p.m. / Show at midnight
The Runway DC
3523 12th Street, N.E.
$25
Facebook | Eventbrite
Join special guest Koco Caine for an Oddball show hosted by Desiree Dik. Performers include Baphomette, Evry Pleasure, Javon Love and Sextia N'Eight.