'Change their minds and change the world!'
Saturday's AIDS Walk to feature Lynda Carter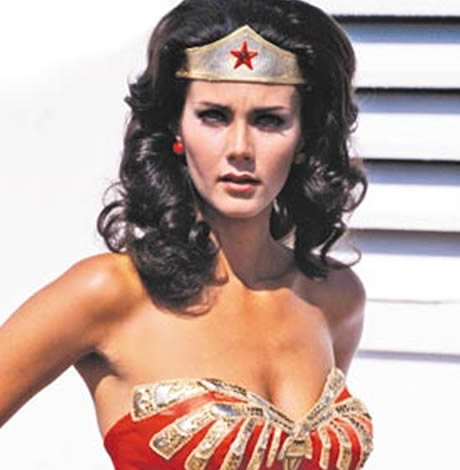 Whitman-Walker Clinic has a little magic up its sleeve for this year's AIDS Walk Washington this weekend. Lynda Carter — and does she really need an introduction? — is this year's celebrity grand marshal.
"We felt that as a long-time D.C. resident and as someone who has had a substantial following in the LGBT community since the 1970s, Lynda Carter would be a great choice to lead this year's Walk," says Chip Lewis, Whitman-Walker's director of communications. "And she has brought a tremendous amount of energy and excitement to this year's event already."
The Walk, in its 24th year, is Whitman-Walker's biggest fundraiser of the year and typically accounts for about 5 percent of its total operating funds. Walkers and runners secure sponsors for their participation. Last year the Clinic set a $1 million goal and raised about $900,000 with 6,028 walkers, 1,108 runners, 484 teams and 450 volunteers. A thank-you ad that from Whitman-Walker that ran in the Blade the week after last year's event mentioned the importance of the Walk.
Thanking participants, the Clinic's director, Don Blanchon, and board chair, June Crenshaw, wrote, "You have brought more than just medical care to our patients. You have brought hope back to their lives."
NBC Channel 4 anchor Craig Melvin will emcee. The Gay Men's Chorus will perform the national anthem and gay singer Peter Fox will perform a new song, "Change the World," that he's selling to benefit the walk. The National Danish Performance Team and Kaution Dance Kru will perform after the walk. Registrations for runners will be taken until 1 p.m. online Friday. Walkers can register online until 8 p.m. Friday. After that, registrations will be taken at the Warner Building (12th and E, N.W.) beginning at 7 a.m. Saturday.
During an interview with the Blade, Carter talked about why she's participating, her longtime popularity with gays and lesbians and, oh yeah, she also graciously indulged us with some behind-the-scenes details of a certain famous TV show she did back in the '70s.
"I'm just a big believer in civil rights and you know, civil rights are civil rights and it's really as simple as that," the actress/singer says during a phone chat from the office of her Potomac, Md., home. "We are all what we are. I can't ever make myself a small person. Unless I cut off my feet, I will never be under 5 feet. I have blue eyes. I will never have dark brown eyes. I am what I am and that's that. I just think, 'Get over yourselves.' Not the gay and lesbian community, but the supposedly straight community — who are as kinky as all get out — I'm just astounded that [someone's sexual orientation] matters to anybody. It's such a non-issue in my own heart and mind … That's part of who you are and it's such a small part of your life. You've got family and friends, a job, dreams. You also happen to be gay. So what?"
Carter, who's lent her name to everything from irritable bowel syndrome to breast cancer, says there are lots of reasons she agreed to participate this year — she considers the Washington area, where she's lived for decades, home.
"Oh yeah, I'm definitely supporting my home territory," she says. "One in 20 people in D.C. have HIV. That's shocking. But it's not exclusive to my feelings to D.C. If I can bring even one person to this event who would not have come to the table otherwise, then at least I've contributed something. But hopefully I'll bring a lot more."
She also says she's been touched by the gay adulation and devotion she's enjoyed for many years.
"The AIDS Walk, well, sadly, it has been so tied to the gay and lesbian community," Carter says. "They've been so vilified and this vilification that's been heaped upon them in connection with HIV has really led to the belief among many heterosexuals and many young people that it doesn't apply to them. They think, 'Oh, I don't lead a dangerous life.' But that's really a great disservice. There are great strides being made in treating HIV, but there's also a false sense that maybe it really isn't a big deal anymore or even a certain degree of complacency."
Carter says supporting AIDS and gay causes resonates with her because of her strong belief in equal rights for everyone.
"I'm very outspoken and justice issues just get to me," she says. "I'm for equal rights and AIDS and HIV is an equal opportunity disease. However people with AIDS are discriminated against even though AIDS itself doesn't discriminate. It'll get anybody."
Looking back on 'Wonder Woman'
Though it's been more than 30 years since "Wonder Woman's" original run, Carter embraces the show and its legion of gay fans. It's so popular with gays, there was even a 2008 book ("The Q Guide to Wonder Woman") by gay author Mike Pingel that explored the show's queer appeal and sensitivities. Carter, still stunning at 59, talked at length with the Blade about the show, its legacy and how she remembers it now.
WASHINGTON BLADE: You did a few voiceovers and appeared in some of the "making of" featurettes when the show came out on DVD a few years ago. Did you watch it again?
LYNDA CARTER: No, I didn't really. I tried to show my kids once in awhile and my niece and nephew, but I didn't sit down and watch it myself, not that at all. I really love her and I really think she's great and I particularly love the idea of her. So there's so many things I like about it but I'm busy living my life now, so I don't think about it a lot. It's a little like something really outstanding in your life that everybody talks about and that is wonderful and you loved doing it, whether it was graduating at the top of your class or getting a big grant or winning the race or whatever and people admire it so much about you, but within yourself, even though you acknowledge it, you're busy doing other things so you only really think about it when somebody else brings it up.
BLADE: Did you keep many of the dolls and TV Guide covers and that kind of stuff?
CARTER: I have a few things here in the house. A phone and I'm looking right now in my den at a pillow the cameraman's wife hand stitched. It really doesn't look like her, but it's such a cool thing and I've kept it all these years. I'm trying to preserve some things for my children. They might want to look at them or sell them, but it certainly is a big piece of my life and continues to be.
BLADE: But a lot of it is in storage?
CARTER: Yes. I have hired some wonderful people who work for me and one of their jobs was to try to consolidate all the "Wonder Woman" memorabilia and get it all in one place. Some of the really valuable stuff, I have someplace else.
BLADE: So did you feel after three seasons the concept had run its course or would you have liked the show to have run longer? Were you ready to move on to other things after three seasons?
CARTER: No, no, no. We all thought it would go on a lot longer. It came as a big surprise because we were doing fine in the ratings. I only found this out later, many years ago, but I heard a CBS producer say he was tired of being teased and that they were calling it the "super hero" network so he canceled everything that was of that genre. I think there might have been three or four. I think the "Hulk" was the only one they kept. I think it was really an arbitrary decision.
BLADE: Your hair got quite a bit longer over the run. Did you intentionally grow it out?
CARTER: Oh yeah, that was on purpose. Your hair takes quite a beating, actually, on a show, so we also started putting pieces on. This was before the age of extensions but we used to have a wonderful wig maker, Renata, and she made specific pieces for specific things. So it saved me some time in the makeup chair.
BLADE: When did you realize the show had so many gay fans? During its run or later?
CARTER: It was quite a while ago. My children were small. There was this wonderful young woman. She was talking to me. Very enthused. She started calling up her girlfriends saying, 'She doesn't even know.' We had a great laugh about it. I really had no idea for a long time. And also that it's big with both gay men and lesbians, which I understand is somewhat unusual and I think that's very cool as well. They're just the most loyal people. Just great. And I totally get why they feel that way about the character. It's the secret self. The part of them that no one understands. There's this powerful person just waiting to get out, to be accepted and acknowledged.
BLADE: Watching the shows again on DVD, it's obvious you played it straight, unlike the old "Batman" show where it was obviously played as camp. Was that a conscious decision you made right at the beginning?
CARTER: Oh absolutely. I believed in her. It was that simple. If I was making fun of her, no one would believe it. She was just a regular girl. She didn't think all that much of it. But I just loved the character and I treated her with dignity.
BLADE: What are your memories of working with Lyle Waggoner?
CARTER: Oh, he was great. Just a great guy. A wonderful person. Both he and his wife, Sharon. He was a pro. I having nothing but great things to say.
BLADE: Would he have stayed for a fourth season? It seems he was being phased out toward the end of the third season. As if maybe they were re-launching the show with another new setting.
CARTER: Yeah, I don't really know what that was about. I wasn't part of any of [those decisions]. That wasn't anything I really knew about. You're working so many long hours, there isn't a lot of time to think about those things. I know it was tough and we were all in a state of shock [when it wasn't renewed].
BLADE: Who was your favorite of the mothers? (Wonder Woman's mother was played by Cloris Leachman, Carolyn Jones and Beatrice Straight at various times during the series' run.) That was quite a group of actresses — two Academy Award winners.
CARTER: I think Cloris was my all-time favorite. And I also loved Red Buttons when he did the show.
BLADE: Was Cloris not available the second time they wrote her into the series?
CARTER: I think that was correct. She may have been doing Mary's show or there was some reason she couldn't do it.
BLADE: How about a trivia question?
CARTER: OK.
BLADE: Do you know who was the only actor who played a villain on both "Batman" and "Wonder Woman"?
CARTER: Hmmm. Not sure.
BLADE: Frank Gorshin. He was in your Christmas episode and also was the Riddler on "Batman."
CARTER: Oh, interesting. I also did another film with him. Just a small little film that didn't do anything. But he was a great guy.
BLADE: What do you think of Wonder Woman's new look in the comics? Have you seen it?
CARTER: Yes, they showed it to me before it came out. You know, people don't really like change but she was gonna get hip and put on a little jacket and leggings but not look like a Barbie doll. When we did our show, they had me jumping around in different outfits so it's fine. She may stay in it or it may just be for the time being, but overall I take it with a very good attitude.
BLADE: Yes, and your costume changed significantly when it went from ABC to CBS.
CARTER: Right.
BLADE: It appears the years have been very kind to you. Just great genes or do you have a certain moisturizer you swear by or what?
CARTER: Thank you. It's really smoke and mirrors. I'm always working on it and I try to keep my weight down and I'm kind of terrified of going under the knife. I'm not saying I never will but I just know so many amazing women who have all the money they could ever want and now they don't even look like themselves. I don't know why that is. Back in the early days there was this nose doctor in Hollywood and all of a sudden it seemed like everybody had the same nose. It was kind of scary.
BLADE: Are you planning more recording and singing?
CARTER: Yes. I'm already booked for the Jazz and Lincoln Center and the Kennedy Center next year. And we have a new album in the can but we probably won't release it till after the first of the year.
BLADE: Jazz standards, covers or what?
CARTER: Covers but they're really trying to sing the music I'm attracted to with a different, unique approach. I have a great producer, Kyle Lehning, who brings a lot of imagination to it. It takes you awhile to realize you know the song. The feel might have changed, the tempo or it's just got a different groove.
BLADE: Like you did with "Where Did Our Love Go," that old Supremes song? It was a few lines before I realized I knew what you were singing.
CARTER: Right. Because otherwise what's the point of even doing it?
Editor's note: Carter's album "At Last" is available here.
Disco Funk Brunch at Crazy Aunt Helen's
Tara Hoot and DJ Phil Reese perform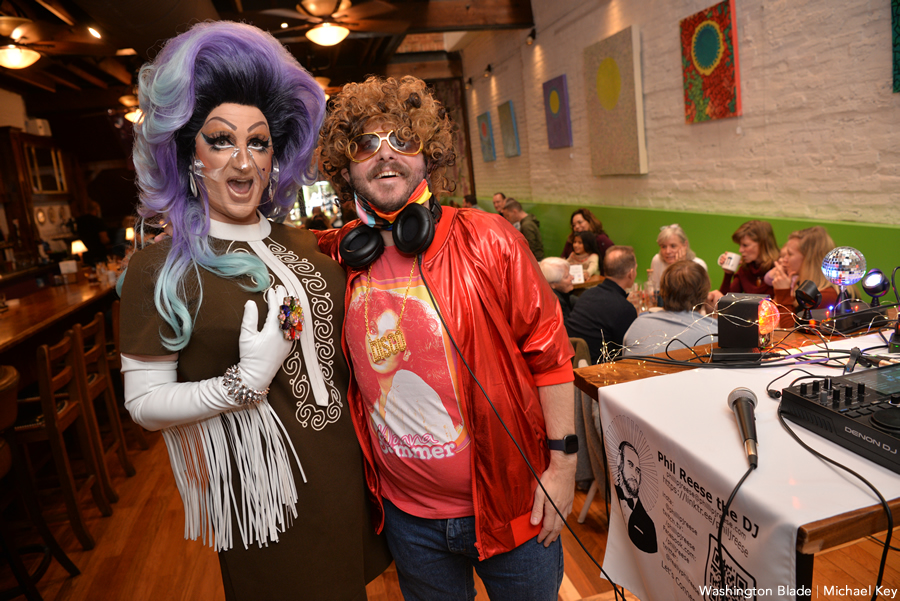 Drag queen Tara Hoot and DJ Phil Reese perform at the biweekly Disco Funk Brunch at the LGBT-owned Crazy Aunt Helen's on Sunday. For future showtimes, go to crazyaunthelens.com. (Blade photo by Michael Key)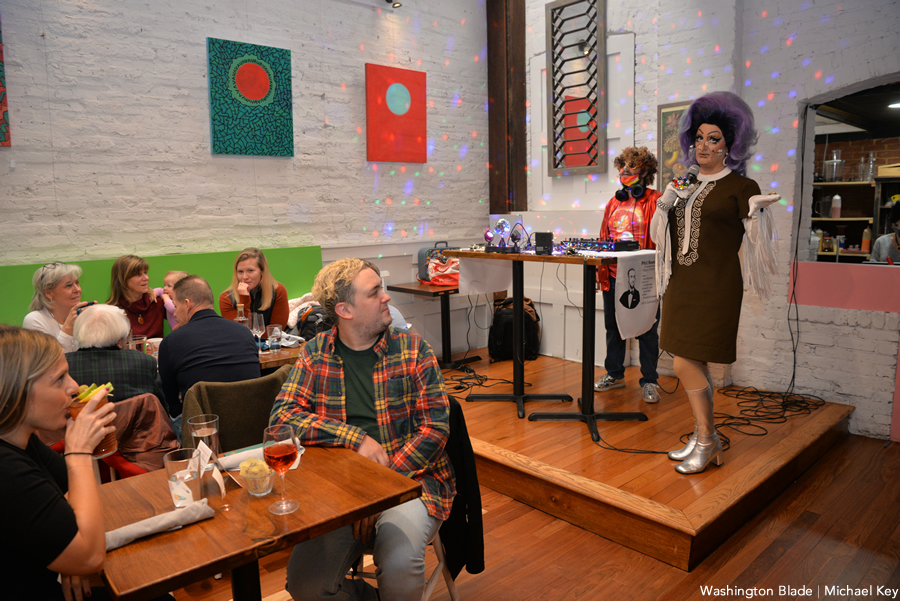 Blade's summer closing party set for Sept. 17 in Rehoboth
Benefits journalism scholarship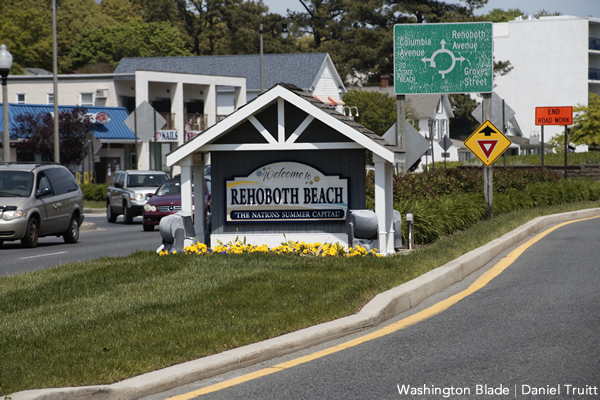 The Washington Blade's 15-year tradition of hosting a summer kickoff party in Rehoboth Beach was disrupted due to COVID restrictions. In lieu of that May event, the Blade is hosting a summer closing party on Friday, Sept. 17 at 6 p.m. at The Pines (56 Baltimore Ave., Rehoboth Beach, Del.).
Tickets are $20, which includes two drinks and appetizers. The event benefits the Blade Foundation's Steve Elkins Memorial Journalism Fellowship, a 12-week program in which an LGBTQ student journalist covers stories of interest to Delaware's queer community each summer.
All COVID safety protocols will be followed, including a requirement that attendees furnish proof of vaccination to gain entry.
If you are unable to attend you can make a donation to the Blade Foundation at BladeFoundation.org. Sponsors of the event include Delmarva Power and The Pines.
Rehoboth to close out summer with SunFest
Series of events to replace long-running Sundance due to pandemic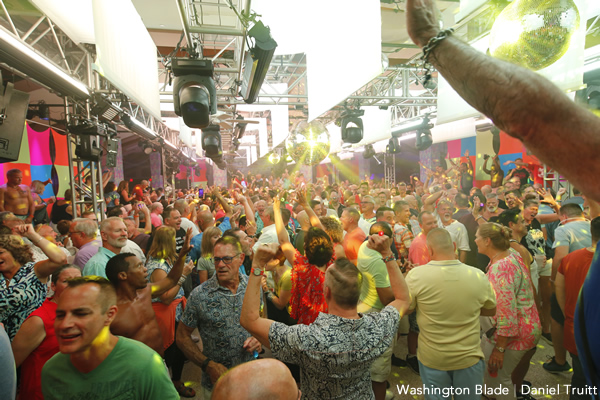 SunFest will feature a week of live performances, dances, and a live auction, sponsored by non-profit LGBTQ+ center CAMP Rehoboth.
The weeklong festival runs from Aug. 29 to Sept. 5 and is a change from the annual SunDance that CAMP Rehoboth has sponsored since 1988. This transformation began last year when the event was forced to go digital due to the coronavirus and the in-person events scheduled this year are important, according to development director and co-coordinator of SunFest Anita Broccolino.
"We love that community feel and the in-person makes all the difference in the world for us. Not being able to do it last year just reminded everyone how important we all are to one another," Broccolino said. "I think that bringing back these events this year is just huge for us and it will be extra celebratory as a result."
The festival begins with a 5k race and online auction opening on Sunday. Monday night features a give-back event at Iron Hill Brewery while Tuesday's agenda is still to be determined, said Broccolino. Diego's will host a Studio 54 give-back dance party on Wednesday and Thursday is the Port 251 women's give-back.
Live performances featuring the Skivvies, Randy Harrison and Diane Huey are scheduled for Friday night and Jennifer Holiday will follow with a performance on Saturday night, both at the Rehoboth Beach Convention Center. The festival closes out Sunday with auction pick-ups and Fun in the Sand and Sun, according to the CAMP Rehoboth website.
This event is also important to the organization's contributions to the community, said Broccolino.
"The essential services we provide for free to the community, which is a huge amount of health and wellness activities, as well as arts programming, a lot of youth programming and the community counts on us for those things. We never stopped during COVID, we made as much as we could virtual, but we took quite a hit not being able to raise those funds and awareness of the programs," Broccolino said. "We invite the entire community to come celebrate with us and make it to Rehoboth Beach, and let's make it joyful, and wonderful and make sure we're living up to the standards of all the people who helped found CAMP Rehoboth and live up to their legacy and beyond."