Stop the silence, Bernice King
Daughter of MLK should renounce connections to Eddie Long

If the charges against Bishop Eddie Long are true, now would be a perfect time for Rev. Bernice King, the sole surviving daughter of Martin Luther King, Jr., to renounce her belief that the bishop is her "spiritual father" and to rethink her own campaign against homosexuality and gay rights.
Because of the close alliance that she has built with Bishop Long, such a renunciation would no doubt be difficult. But it would certainly offer hope to those of us who are deeply concerned that she will continue to express anti-gay themes as she moves into the top leadership position of the Southern Christian Leadership Conference, the civil rights organization begun by her father in 1957.
In December 2004, King joined Bishop Long — who is now facing lawsuits alleging that he used his riches and Episcopal authority to lure men into sexual encounters — in leading a march that opposed gay marriage and supported a constitutional amendment defining marriage as between a man and woman.
This was not their first public statement on gay rights. Three months before the march, King and Long had traveled together to Auckland, New Zealand, to offer support to a church-affiliated political party whose primary purpose was to defeat legislative efforts to establish civil unions for gays.
Speaking before an audience filled with conservative Christians, King stated: "I know deep down in my sanctified soul that [Dr. King] did not take a bullet for same-sex unions." And shortly after this anti-gay speech, Long delivered a sermon in which he described homosexuality as "spiritual abortion." It was just one of a number of anti-gay sermons he has preached through the years, sometimes with young men surrounding him in the altar area immediately below the pulpit.
Predictably, the anti-gay themes of King and Bishop Long were very popular among their followers. When King spoke in New Zealand, audience members leaped to their feet, shouting "Hallelujiah!" Long's church members at New Birth Missionary Baptist Church, just outside Atlanta, did virtually the same thing, but replacing the shouts of praise with loud laughs, when he spoke with a lisp that mocked effeminate men during one of his anti-gay sermons.
Of course, no one is laughing today, and no one is shouting praises from on high. The bishop stands accused in three separate lawsuits and King has been silent. Too silent. Her silence is understandable, though; she must be shocked at the allegations against a man in whom she has reposed so much trust.
But if the charges are true, King would do well to return to the one of the themes of her 2004 march — Stop the Silence! — and speak out about her misplaced trust so that we can be assured that she no longer identifies herself so closely with a man who has built his ministry on a regular practice of mocking gays, lesbians, bisexual and transgendered folks.
Better yet, King would do well to use this crisis as an occasion to rethink the credibility of her own longtime conviction that gays are sinners and that gay rights are merely special privileges sought by individuals who have wrongly chosen a sinful lifestyle.
I'm not optimistic. Unlike her father, King is theologically conservative and reads the Bible literally and chances are that if the lawsuits are true, she will see them simply as additional fodder for continuing to label homosexual acts as sinful and gay rights as socially destructive.
So let me make a modest proposal: If King is still not willing to see gays as citizens deserving of all the rights and privileges identified by our founding documents and legal precedence, if she is still opposed to entertaining the notion that gay rights are civil rights, and if she is still unable even to conceive of the thought that marriage is a civil institution that all citizens should have the right to access, perhaps King — and all of us — would be better served if she were to refuse the open leadership post at her father's civil rights organization and, instead, actively offer herself for what may turn out to be a brand new job opening at New Birth Missionary Baptist Church.
National Gay & Lesbian Chamber of Commerce Certifies Brown, Naff, Pitts Omnimedia, Inc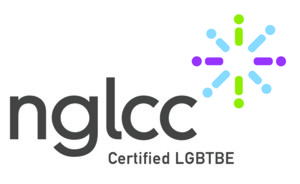 Washington, D.C. — Brown, Naff, Pitts Omnimedia, Inc, the parent company of the Washington Blade and Azer Creative, announced today it has been certified by the National Gay and Lesbian Chamber of Commerce (NGLCC) as an LGBT Business Enterprise. The NGLCC supports and advocates for diversity and inclusion for LGBT-owned businesses. With this certification the Blade's parent company joins more than 510 business and 134 corporate partners of the NGLCC.
Brown, Naff, Pitts Omnimedia, Inc. owns and operates the Washington Blade, the oldest and most acclaimed LGBT newspaper in the country. In 2012, the company launched Azer Creative, a full-service design firm. The company employs more than a dozen full-time LGBT staff.
"We are excited to become one of the 500 LGBT businesses across the country certified by NGLCC," said Lynne Brown, the Blade's publisher and a co-owner of the company. "The LGBT community has been part of our company from the beginning and we look forward to continue that for many years to come."
The Washington Blade was founded in 1969 and is known as the "newspaper of record" for the LGBT community both locally and nationally. Visit washingtonblade.com for more information. Azer Creative is a full-service graphic design firm based in Washington, D.C. Visit azercreative.com for more information. 
Vote now for the 2013 Best of Gay DC!
Choose in dozens of categories among hundreds of nominees, and make your voice heard!
Nominate the 'Best of Gay D.C.' now!
Dozens of categories cover all the best for LGBT Washington. Who deserves the prize this year?