Gay diplomat presses LGBT issues at int'l conference
Guest focuses on hate crimes, Pride celebrations in remarks

A gay diplomat led a U.S. delegation at an international conference earlier this month that touched on the importance of LGBT rights as a human rights issue.
Michael Guest, former U.S. ambassador to Romania, headed a delegation of about 25 U.S. diplomats during the human rights portion of an annual review conference for the Organization for Security & Cooperation in Europe. The review conference took place between Sept. 30 and Oct. 8 in Warsaw, Poland.
The Warsaw Review Conference was a primer engagement for trans-Atlantic countries to discuss human rights principles — including hate crimes against LGBT people and the freedom to association to have Pride celebrations across the globe — in anticipation of a later OSCE summit that this year is set to take place in December in Astana, Kazakhstan.
In an interview with the Washington Blade, Guest said that his sexual orientation made his designation as head of the delegation representational of the Obama administration's stated principle that international LGBT rights are human rights.
"I also think that it made an impact with other delegations," Guest added. "It was clearly a prominent feature of my biography, so there were a number of delegation members that come and it's representative in their eyes as a sense of progress that an openly gay man would be appointed."
Still, Guest said he thinks his 26-year service as a diplomat was the primary reason he was selected for the position and noted that during much of his career he focused on OSCE policy.
"I dealt with it at the time when all these changes were happening in Europe in 1989, 1990 and 1991 and when most of the commitments on fundamental freedoms and human rights were signed by the newly independent countries of the former Soviet Union and the new democracies of Central and Eastern Europe," he said.
Guest attained notoriety in 2007 when he retired from the State Department in protest because it didn't offer certain benefits — such as security training and free medical care — to the same-sex partners of Foreign Service officers. The situation has since been rectified by Secretary of State Hillary Clinton.
Mark Bromley, chair of the Council for Global Equality, which took part in the review conference as an non-governmental organization, said the selection of an out gay man to lead the U.S. delegation was significant because previous administrations have been reluctant to incorporate LGBT issues in foreign policy.
"The United States in the past has been reluctant to address LGBT concerns within this forum," Bromley said. "I think the fact that they selected Michael Guest as someone who is openly gay and works with organizations that promote issues on the basis of sexual orientation and gender identity was an important statement."
The OSCE was established in 1975 after 35 trans-Atlantic countries, including the United States and the Soviet Union, signed the Helsinki Accords and agreed to take part in annual meetings. During the Cold War, the OSCE served as a forum where the United States could raise human rights and security issues with Warsaw Pact countries.
But Guest said the tone of the conference has changed since the collapse of the Soviet Union in 1991 to become less of an East-West dialogue and more of a pan-Atlantic conversation.
"It's an opportunity to look at what has been done and is being done on human rights issues ranging from migration to freedoms of assembly and freedom of religion, to human trafficking, to capital punishment, to gender balance to hate crimes and intolerance — the whole range of human rights related issues," Guest said.
During the course of the discussion on human rights, Guest impressed upon the 56 participating states in the conference the importance of inclusion of LGBT rights as human rights issues.
The former ambassador mentioned LGBT issues during his opening statement at the conference's plenary session, including bias-motivated violence against LGBT people and the right to freedom of association at Pride celebrations. Such activities in Eastern Europe, where the conference took place, are often the targets of hostility and violence.
Guest lamented human rights abuses such as "when civil society assemblies are denied permits on spurious grounds, or police allow bigots to attack Gay Pride parades." The former ambassador also acknowledged the United States has more to accomplish on human rights issues because "equality under the law continues to elude those of us who are gay or transgender."
During a later discussion, Guest also appealed to governments in attendance to implement hate crimes protections measures and recalled his own personal experience as the victim of bias-motivated violence.
After a hostile non-governmental organization equated homosexuality to pedophilia and necrophilia at the end of the meeting, Guest responded that the connection was offensive and such inflammatory allegations can be responsible for hate crimes.
Guest told the Blade he raised LGBT issues during the conference because he believes they should be brought up in any comprehensive discussion of human rights.
"We raised it in questions of freedom to assembly, freedom of association and in the course of the discussions on hate crimes and tolerance," he said. "We had some good news stories to tell from the standpoint of the United States, such as the passage of the Matthew Shepard Act and the overall trend in hate crimes going down, but the negative, of course, being that the reported number of LGBT hate crimes and hate crimes against immigrants has, in fact, gone up."
LGBT issues were also raised by non-governmental institutions at the conference, including the Council for Global Equality.
Bromley delivered a statement at the conference on behalf of his organization — as well as two European international LGBT right groups — that called for passage of hate crimes protections in other countries as well as the decriminalization of sodomy.
Emphasizing the importance of accurate documentation and effective prosecution of bias-motivated violence against LGBT people, Bromley said hate crimes won't go away as long as countries have anti-gay statutes on the books.
"As a first step, we call on all participating states in the OSCE region to remove any laws that continue to criminalize homosexual conduct or identity or the public dissemination of scientifically supported information on homosexuality and sexual health," Bromley said.
Bromley told the Blade that discussion of LGBT rights at the conference was significant because the U.S. delegation had only begun to bring up such issues last year after the start of the Obama administration.
"We're very pleased to see that level of emphasis from the head of the delegation, but a number of other governments also spoke to the issue, so it's certainly gaining ground and giving additional attention to LGBT hate crimes," Bromley said.
The delegations from other countries and other non-governmental organizations at the conference responded to the U.S. delegation's promotion of LGBT rights in varied ways. Guest said the session in which he spoke personally about hate crimes issues caused delegations from other countries to take note.
"It was a very quiet session," Guest said. "People were listening very quietly, and a lot of people did respond specifically to what I said including non-governmental organizations. A number of delegations told us afterwards — either to me directly or others on the team — how that more personal approach really had resonated with them."
Guest said a representative from the Catholic Church in Vatican City was among those that approached him afterward and mentioned that talking about hate crimes in a personal manner was "a way that we could build bridges."
But Guest said the outcome was different for discussions of freedom of association and the right to hold Pride celebrations. The former ambassador speculated these talks made less of an impact on the delegation because they had already come up at last year's conference.
"I think it's just that because Gay Pride issues have come up before, there were some delegations that maybe expected it and maybe didn't really reflect as much as might otherwise be the case," Guest said.
So-called "ex-gay" groups and other organizations hostile to LGBT rights were also present.
Bromley said Redeemed Lives, a Christian ministry, spoke out at the conference about bias-motivated violence against "ex-gay" people for giving up what the ministry called a "homosexual lifestyle."
"That was somewhat alarming to see a strong showing of ex-gay activists who were waving issues that were, as far as I know, not legitimate concerns," Bromley said. "I don't doubt that there could be violence directed at ex-gay individuals, but I never heard of any reports to that effect."
Reparative therapy programs that seek to change sexual orientation have been widely discredited by major medical and psychiatric associations around the world.
A spokesperson for Redeemed Lives deferred comment to a statement the organization made at the conference, which was published on the OSCE website. In the statement, Mario Bergner, director of Redeemed Lives, stresses the importance passing legislation to protect the free speech of Christian academics and clerics to "teach the sexual morality of their faith traditions" so that they can help those with "unwanted sexual desires."
"Such people include Christians with sexual addictions for whom freedom means living free of internet pornography, Christians with compulsive sexual behaviours for whom freedom is fidelity in marriage, and Christians, like myself, with unwanted same sex attractions for whom freedom is the self emancipation that comes through effective pastoral care or psychological treatment for homosexuality," Berger said.
Bromley said the organization's concern about hate crimes against people who identify as "ex-gay" is ironic because the Matthew Shepard Act already protects them.
"It would actually be covered under our current hate crime law because it would still be violence on the basis of sexual orientation," Bromley said.
But the conference nonetheless provided a forum to discuss international LGBT rights as a human rights issue.
Guest noted progress was made at the conference, although he said more work is needed.
"I think there are moments like that where you feel that you are making headway in getting people to understand that these are issues that governments have to take seriously," Guest said. "And then, there are other times where it seems to go right past — certainly on some the freedom of association things."
LGBTQ groups largely praise Biden's State of the Union speech
HRC president attended with House Minority Leader Hakeem Jeffries (D-N.Y.)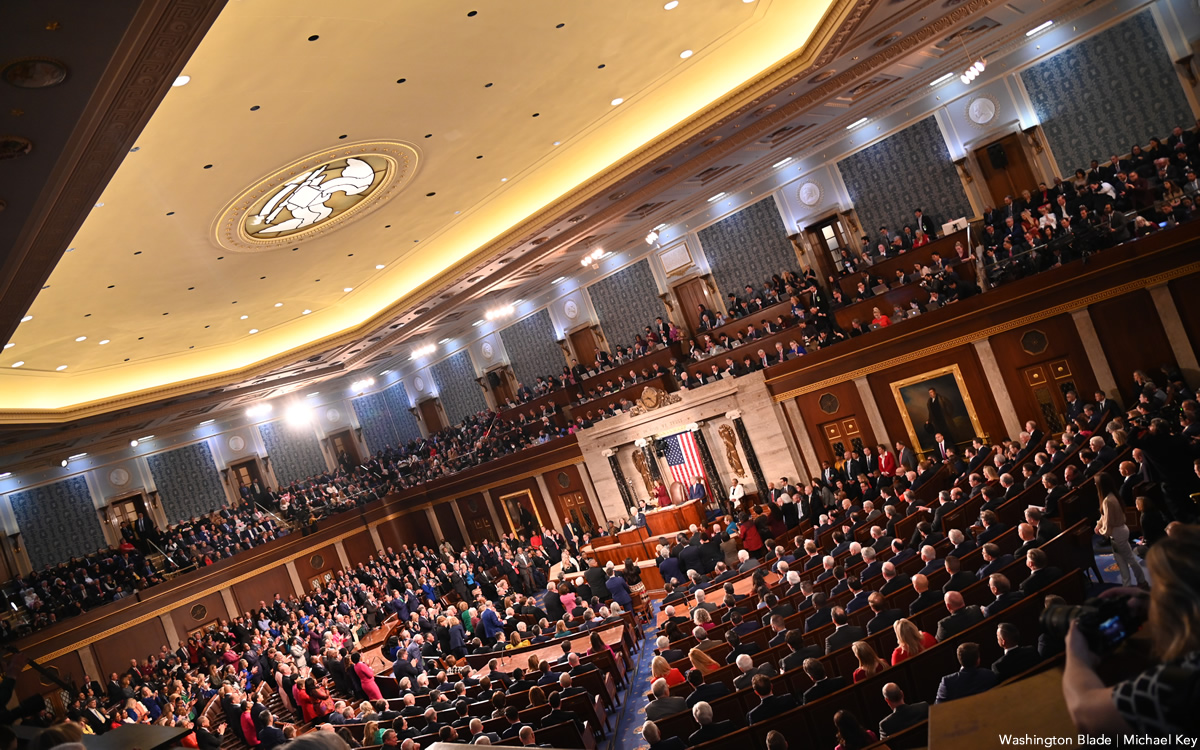 LGBTQ rights groups have largely praised President Joe Biden's State of the Union speech that he delivered on Tuesday.
"It's our duty to protect all the people's rights and freedoms," said Biden. "Make no mistake: If Congress passes a national abortion ban, I will veto it. Let's also pass the bipartisan Equality Act to ensure LGBTQ Americans, especially transgender young people, can live with safety and dignity."
The Equality Act would add sexual orientation and gender identity to federal civil rights law. The bill has passed the U.S. House of Representatives in two previous Congresses, but did not come up for a vote in the U.S. Senate.
"In re-upping his call for Congress to pass the Equality Act and protect transgender youth, the president is leading by example to expand freedom so no one is left behind," GLAAD President Sarah Kate Ellis commented on Twitter.
Likewise, Equality PAC, the political arm of the Congressional LGBTQ Equality Caucus, was committed to the president's vision of a safer U.S. for LGBTQ+ people.
"At a time where LGBTQ Americans, especially those who are trans, are increasingly under attack by right wing extremists, these [legal] protections have never been more dire," remarked U.S. Reps. Mark Takano (D-Calif.) and David Cicilline (D-R.I.), who co-chair Equality PAC. "We remain committed to working with President Biden and members of Congress to pass the Equality Act and enshrine additional LGBTQ rights into law."
The National LGBTQ Task Force in its response to the State of the Union noted how all of the issues on which Biden touched — Social Security, fair wages, Medicaid expansion, access to education, reproductive rights and police reform — have the LGBTQ community "at the center of all the issues."
"LGBTQ people are often disproportionately impacted because of the discrimination our community faces every single day. LGBTQ people are not fully able to participate or benefit from all that our country has to offer. For too many queer people, the American dream is out of reach," said National LGBTQ Task Force Executive Director Kierra Johnson.
Research from the Trevor Project notes 36 percent of LGBTQ youth have reported they have been physically threatened or harmed due to either their sexual orientation or gender identity. Sixty percent of LGBTQ youth who wanted mental health care in the past year were not able to get it, and 89 percent of them said seeing LGBTQ representation in the media made them feel good about being LGBTQ.
Human Rights Campaign President Kelley Robinson, who attended the State of the Union alongside House Minority Leader Hakeem Jeffries (D-N.Y.), said "we appreciate that President Biden is making a point to focus national attention on this urgent topic and stand up for transgender kids, because we need our nation's leaders to show up and prove that, collectively, we are greater than hate."
Log Cabin Republicans President Charles Moran had a far different take.
"Last night, all Americans heard from President Biden was a laundry list of expensive new spending bills and tired campaign slogans, couched between a series of lies about Republicans and the U.S. economy. Meanwhile, inflation is still wrecking American families, our debt is skyrocketing out of control, and nearly half of American families — including LGBT ones — are worse off financially than they were just a year ago," said Moran in a statement. "Not surprisingly, we heard nothing from Biden condemning the woke, race-and-gender-obsessed forces coddled by his administration. LGBT conservatives are thankful that we now have a Republican House to put a stop to the Democrats' radical policies and look forward to working with Republican leadership to advance our own pro-America, pro-equality and pro-freedom agenda."
Rachel Levine tackles bad information on COVID, gender-affirming care
Assistant health secretary is highest ranking transgender person in Biden administration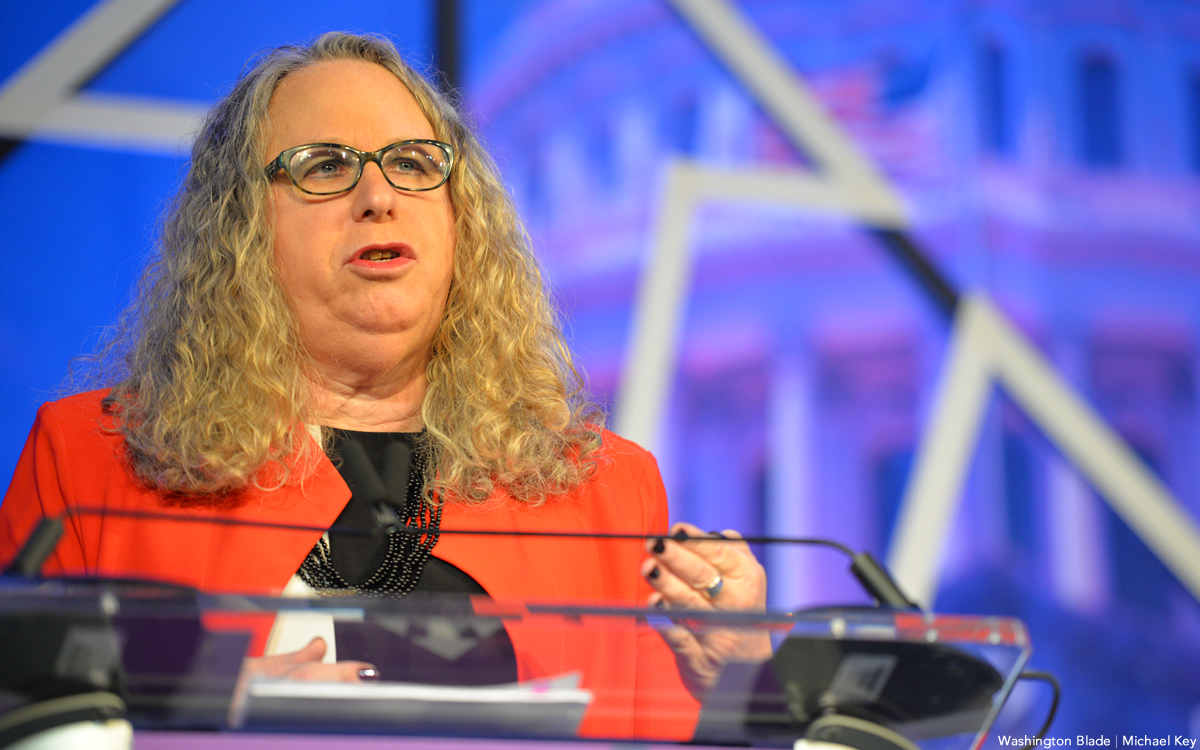 In a visit to one of America's most prestigious institutions of higher learning, Adm. Rachel Levine answered questions and offered insight about two of the most controversial healthcare issues of this decade, long COVID-19 and gender-affirming care.
Long COVID is the mysterious phenomenon in which patients endure debilitating, long-term effects from being infected by the coronavirus and gender-affirming care, treatments for transgender youth that are being targeted by lawmakers nationwide.
"Long COVID is real," said Levine, the assistant secretary for health at the U.S. Department of Health and Human Services, and the highest-ranking transgender official in the Biden administration. "We heard from patients who have suffered heart issues, lung issues, issues of fatigue and brain fog, after their COVID-19 infection. And we heard from providers at Yale who are forming a multidisciplinary clinic in order to evaluate and treat these patients."
In a public session held Monday at the Yale Law School, four of these "long haulers" shared their challenges with the admiral: Shortness of breath, pulmonary disorders, lifestyle and work limitations and disabilities that are hidden to most observers.
"Hearing the patients tell their stories is so meaningful," she said, calling it a privilege to better understand the challenges they face.
"That helps us drive policy as well as research," Levine said.
"I was very active," said Hannah Hurtenbach of Wethersfield, Conn., a 30-year-old registered nurse who was diagnosed with post-COVID cardiomyopathy, cognitive brain fog and pulmonary issues. "I loved hiking and being outside. I was constantly on the move and now I barely leave my couch. I barely leave my house and I can't really handle even a part time job now when I used to work full time. So that has been really difficult at age 30 to be facing those sorts of issues that I never really anticipated feeling."
Hurtenbach told the Washington Blade she appreciated Levine's visit.
"Sharing my experience today with the admiral was probably one of the more highlight moments of this experience," she said. "Knowing that the federal government is taking action, is paying attention, and listening to these stories means more to me than anything else, and especially knowing that what I've gone through over the last couple of years can be led and used into the future research and help others just like myself."
A woman named Christine told the Blade that even though she is so impacted by long COVID that she needs assistance to walk and has to pause as she speaks because of her shortness of breath, she felt attending this event was worth all the struggle to get there.
"I'm so glad I came. I learned a lot from hearing from the others," she said, who like her are trying to recover from long COVID.
Levine told the Blade that so far, she herself has not contracted COVID, and that she is double-vaccinated and double-boosted. With the president announcing the end of emergency COVID declarations on May 11, she said the administration is pushing Congress to approve extra funding for long COVID and other related needs. But how can she expect to get that through a House of Representatives full of anti-vaxxers, anti-maskers and COVID-deniers, including in GOP leadership?
"Long COVID is real and we hear you," she said. "We plan to engage Congress to talk about the funding that we need. And we'll continue to work. We do have to get past misinformation in this country, but we are here to give the correct information about COVID-19 and long COVID, and we'll continue to engage Congress on that."
Hurtenbach expressed disappointment in those colleagues in healthcare who came out publicly in opposing vaccines and mask mandates.
"I just wish they had paid better attention in school and learned more of the science," the nurse said. "I wish they would trust the science that they are supposed to be promoting for their patients as well."
Following Monday morning's public meeting, Levine held a private session with long COVID patients and Yale doctors, researchers, counselors, physical therapists and other providers. Then in the afternoon, the admiral spoke at another event, held at Yale Medical School: "A Conversation on LGBTQI+ Health and Gender-Affirming Care." Although it was closed to press, Yale Asstistant Professor of Medicine Diane Bruessow attended the event and shared with the Blade what Levine told those gathered, which is that she remains positive and optimistic.
"I think over time, things will change, and things will get better," said Levine, adding the caveats, "I don't know if they will get better everywhere in the United States. I also don't know if it's going to be quick. I think the next two years will be really, really hard." Especially with more than 270 anti-trans pieces of legislation moving their way through state legislatures.
"But I am going to stay positive. I'm going to think that over time, things will improve," Levine said, pledging that both she and the Biden administration would do everything they can to help families with trans kids. "I think the tide will turn."
Levine: Long COVID is real
Patrons of The Eagle NYC robbed of thousands
NYPD investigators believe the criminals used facial recognition to access the victims' phones and funds once they were incapacitated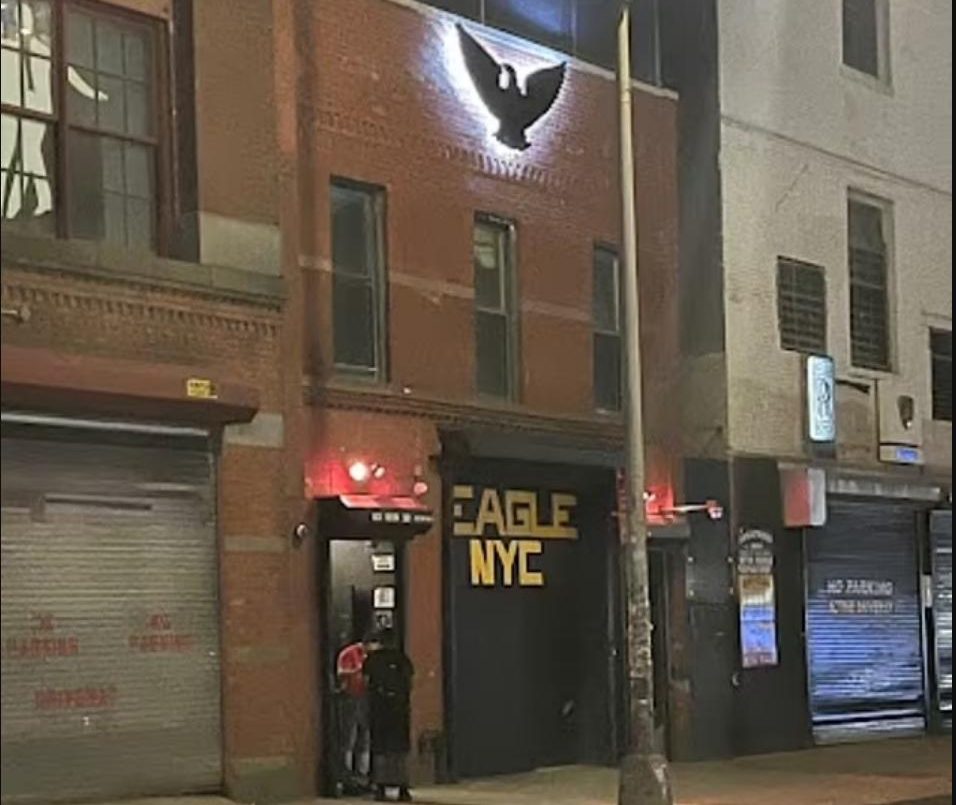 The New York City Police Department, (NYPD) confirmed that a series of robberies committed at The Eagle NYC, a Chelsea gay leather bar last Fall, had the three victims losing thousands of dollars after the criminals used facial recognition to access the victims' phones.
NBC News Out correspondent Matt Lavietes reported the three men, who were in their late 30s and 40s, visited The Eagle NYC, on separate nights in October and November and were each robbed of $1,000 to $5,000, according to the NYPD's deputy commissioner of public information.
No arrests have been made and the investigation is ongoing, authorities said.
Capt. Robert Gault of the city's 10th Precinct, who spoke about the incidents at a police community council meeting last week, told NBC News that NYPD investigators believe the criminals used facial recognition to access the victims' phones and funds once they were incapacitated.
"What we think is happening with this scheme is they're being lured away from the club, maybe to say, 'Hey, you wanna come with me? I got some good drugs,' or something like that,'" Gault said. "And then, once they get into a car to do whatever it is that they're going to do, at some point or another, they don't know what happened when they wake up."
Criminals use facial recognition to patrons at NYC gay bar: