It gets better — except with GOProud
Conservative gay group making things worse

GOProud, a group that claims to "represent gay conservatives and their allies," has certainly tried their best to stir the pot. First came their opposition to the candidacy of Palm Springs Mayor Steve Pougnet, who would be the first openly gay married dad elected to Congress. Then came their support for the anti-equality challenger to Rep. Barney Frank. These moves didn't surprise me, as I always considered GOProud to be an arm of the Tea Party, just with gay staffers. They're obsessed with worshipping at the altar of free-market conservatism, but without a coherent strategy to win equality for LGBT Americans.
But then came their invitation to Ann Coulter to appear at their "Homocon" convention in late September. Yes, the same Ann Coulter who said sexually active gay men should "feel guilty about it," and "once [scientists] find the gay gene, guess who's getting aborted?" She showed up in fine form. While referring to the freedom to marry for same-sex couples, she said, "it's not a civil right. You're not black," and that the ideal for raising children is "a mother and a father."
Here's the part that gets me: not only was Coulter invited, but the attendees laughed at her jokes. GOProud paid her for her hate speech. They actually defended it, too. GOProud Board Chair Chris Barron said Coulter "was exactly who we thought she was when we invited her. Ann is someone who we disagree with on issues like marriage, but is also one of the funniest, most provocative, and — yes — controversial conservatives out there." He went on to tell the New York Times, "it's a branding opportunity." What are they branding themselves as? The only organization that hosts mixers for self-loathing gays?
Worse, Coulter's appearance came in the middle of a series of gay teens tragically taking their own lives — bullied because of hate speech from people like Coulter, who has millions upon millions of followers. She's one of the best-selling authors in the country and appears regularly on television and radio. Coulter didn't just speak to a room full of people paying $2,500 to hear her spew homophobia-fueling hate speech — what she said broadcasted out on the airwaves. It probably didn't occur to Barron and GOProud that these fans might actually know gay people, or even have closeted gay children. But that's OK, because she's funny and provocative, right?
Then, an even odder thing happened. New York Republican gubernatorial candidate Carl Paladino got himself into hot water, saying children shouldn't be "brainwashed into thinking that homosexuality is an equally valid or successful option." And to my surprise, GOProud actually criticized him. Barron, whose acerbic Twitter tongue has sometimes gotten him into trouble, tweeted "Moral judgments from Carl Paladino, the NY version of John Edwards, should be ignored." Pretty ironic, considering that Ann Coulter once called John Edwards a "faggot" (a fact conveniently ignored by Barron).
What I have trouble understanding is what the difference is between Carl Paladino and Ann Coulter. Oh, wait, I know. To GOProud, one is a homophobe, while the other isn't because she raised money for GOProud.
Hey, maybe they're more interested in branding and cocktail parties than worrying about the consequences. After all, it was Barron who said of Coulter, "We could not think of anyone who we would want to party with more." He likes to talk about his delight in pissing off the "gay left." It's all in good fun for GOProud and Barron, because they got $2,500 a head. The rest of us got more people teaching their kids to bully other kids because they're gay.
I've got news for Chris: this isn't a gay "left" or "right" issue. If gay people pay for and promote this behavior, there is no reason Coulter or Paladino should ever change. And it gets harder to change the minds of those who listen to them.
This past month's tragic events have presented an opportunity. Thanks to the hard work of Dan Savage, supportive allies and perhaps you, we're making headway in communicating "It Gets Better" to troubled LGBT youth.
The problem is, with GOProud on the loose, it gets worse.
National Gay & Lesbian Chamber of Commerce Certifies Brown, Naff, Pitts Omnimedia, Inc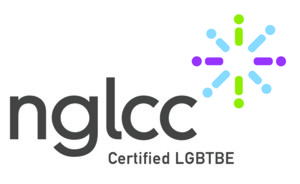 Washington, D.C. — Brown, Naff, Pitts Omnimedia, Inc, the parent company of the Washington Blade and Azer Creative, announced today it has been certified by the National Gay and Lesbian Chamber of Commerce (NGLCC) as an LGBT Business Enterprise. The NGLCC supports and advocates for diversity and inclusion for LGBT-owned businesses. With this certification the Blade's parent company joins more than 510 business and 134 corporate partners of the NGLCC.
Brown, Naff, Pitts Omnimedia, Inc. owns and operates the Washington Blade, the oldest and most acclaimed LGBT newspaper in the country. In 2012, the company launched Azer Creative, a full-service design firm. The company employs more than a dozen full-time LGBT staff.
"We are excited to become one of the 500 LGBT businesses across the country certified by NGLCC," said Lynne Brown, the Blade's publisher and a co-owner of the company. "The LGBT community has been part of our company from the beginning and we look forward to continue that for many years to come."
The Washington Blade was founded in 1969 and is known as the "newspaper of record" for the LGBT community both locally and nationally. Visit washingtonblade.com for more information. Azer Creative is a full-service graphic design firm based in Washington, D.C. Visit azercreative.com for more information. 
Vote now for the 2013 Best of Gay DC!
Choose in dozens of categories among hundreds of nominees, and make your voice heard!
Nominate the 'Best of Gay D.C.' now!
Dozens of categories cover all the best for LGBT Washington. Who deserves the prize this year?