55 years later, 'Howl' remains relevant
Iconic Ginsberg work reminds us of poetry's importance

Few things seem to many of us as useless, ethereal and, at times, incomprehensible as poetry.  I can say this; I'm a poet. You have to memorize boring poems at school. applaud sappy poems from unwanted lovers and admire your friend's cat haiku. No wonder Plato blamed poets for the troubles in his republic.
Yet, as the movie "Howl," playing nationally and at the West End Cinema in Washington attests, contrary to misperceptions, poetry, far from being ephemeral, matters. The superb genre-blending hybrid, reviewed previously in the Blade by David Hoffman, is about iconic gay poet Allen Ginsberg and his groundbreaking poem "Howl," a manifesto for open queer sexuality and free speech, now an American literary classic. I bet my dog-eared copy of "Howl and Other Poems" that no one can leave the cinema after seeing the film and not go away believing what we poets know: poetry is essential to the heart and soul of all of us and to our republic.
Today, "Howl" is taught not only in colleges but at some military academies. In 1998, a year after Ginsberg died at 70 in 1997, I visited City Lights bookstore, co-founded by poet Lawrence Ferlinghetti, in San Francisco. I'd hoped to actually set eyes on Ferlinghetti, who was arrested on obscenity charges in 1956 after he published "Howl." (In 1957, after a widely publicized trial, Judge W. J. Clayton Horn ruled that "Howl" had "redeeming social importance" and wasn't obscene.) I was disappointed to learn that Ferlinghetti, newly appointed Poet Laureate of San Francisco, couldn't greet "Howl" aficionados because he was being interviewed by Newsweek.
Fifty-five years after Ginsberg first read "Howl" at the Six Gallery in San Francisco in 1955, it's easy to forget how breathtakingly revolutionary the poem was to those hearing it for the first time. Written in the McCarthy era when you could lose your job, be arrested or institutionalized (being gay was considered to be a mental illness until 1973 by the American Psychiatric Association) if you were openly queer, "Howl" is a Whitmanesque work replete with open, explicit gay sexuality and anti-capitalist, anti-military sentiments.
Shock waves went through the literary community and the wider society in the mid 1950s when Ginsberg recited from "Howl," "who let themselves be fucked in the ass by saintly motorcyclists, and screamed with joy …" and "who were burned alive in their innocent flannel suits on Madison Avenue amid blasts of leaden verse & the tanked-up clatter of the iron regiments of fashion …."
Poetry too often is in the province of the literary elite rather than for the general public.  Ginsberg made poetry more inclusive. "Allen Ginsberg busted poetry open for everyone to enjoy," Matthew Rothschild, editor of "The Progressive," told me.
Too frequently, we poets are more obsessed with getting published, winning prizes — with the Po Biz, than we are with the true aims of poetry — being engaged with art and with the personal and political aspects of the world. Ginsberg tirelessly used his art to engage the world.   "He … never stopped believing in the power of the word to move people," Sarah Browning, executive director of Split This Rock, an organization working to integrate poetry of witness into public life, e-mailed me.
Ginsberg was an opponent of the Vietnam War as well as a gay activist. "He threw his life into opposing authoritarianism here and abroad," Rothschild said.
Things are much better for queers now than they were for Ginsberg when he wrote "Howl" and the McCarthy era is over. Yet, the world is still troubled. At a time when gay youth are committing suicide; the economy is tanking and our country is involved in two wars, Ginsberg still speaks to us.
Ginsberg "continues to be a … role model as a poet deeply engaged in the moral and political issues of his times," Browning, author of "Whiskey in the Garden of Eden," said, "[his] poetry is still … important, asserting the erotic as resistance, … declaring the sanctity of lived experience in all its messy particulars."
There will always be "messy particulars" from homophobia to war to poverty to unrequited love. Thankfully, there will always be poets and poetry to engage us in the vital issues of our times.
National Gay & Lesbian Chamber of Commerce Certifies Brown, Naff, Pitts Omnimedia, Inc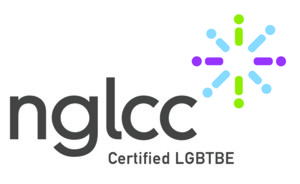 Washington, D.C. — Brown, Naff, Pitts Omnimedia, Inc, the parent company of the Washington Blade and Azer Creative, announced today it has been certified by the National Gay and Lesbian Chamber of Commerce (NGLCC) as an LGBT Business Enterprise. The NGLCC supports and advocates for diversity and inclusion for LGBT-owned businesses. With this certification the Blade's parent company joins more than 510 business and 134 corporate partners of the NGLCC.
Brown, Naff, Pitts Omnimedia, Inc. owns and operates the Washington Blade, the oldest and most acclaimed LGBT newspaper in the country. In 2012, the company launched Azer Creative, a full-service design firm. The company employs more than a dozen full-time LGBT staff.
"We are excited to become one of the 500 LGBT businesses across the country certified by NGLCC," said Lynne Brown, the Blade's publisher and a co-owner of the company. "The LGBT community has been part of our company from the beginning and we look forward to continue that for many years to come."
The Washington Blade was founded in 1969 and is known as the "newspaper of record" for the LGBT community both locally and nationally. Visit washingtonblade.com for more information. Azer Creative is a full-service graphic design firm based in Washington, D.C. Visit azercreative.com for more information. 
Vote now for the 2013 Best of Gay DC!
Choose in dozens of categories among hundreds of nominees, and make your voice heard!
Nominate the 'Best of Gay D.C.' now!
Dozens of categories cover all the best for LGBT Washington. Who deserves the prize this year?