January 19, 2018 at 9:49 am EST | by Kathi Wolfe
Resist Trump's attacks on the media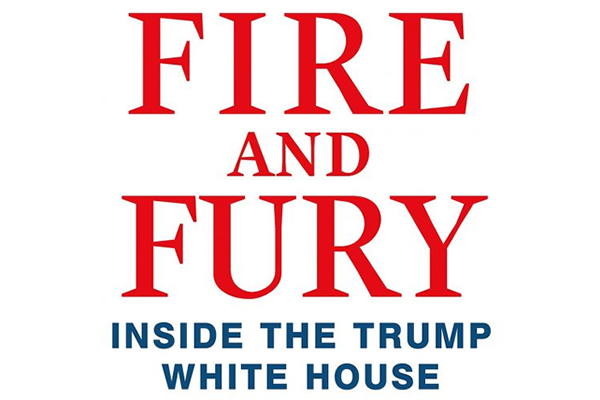 Forget Star Wars. "Fire and Fury: Inside the Trump White House" by Michael Wolff is the new stand-in-line-at-midnight sensation. It's full of gossip about President Donald J. Trump – from how Trump's hair is coiffed to the First Couple's sleeping arrangements (separate rooms, Wolff says) to his scarfing down cheeseburgers in bed. Not to mention more serious reporting on Trump's apparent inability to focus on policy or the warring, chaotic factions in his administration. If only Trump were in a "galaxy far, far away."
His reporting for "Fire and Fury" was based, Wolff writes in an author's note, on conversations over 18 months that he had "with the president, with most members of his senior staff – some of whom talked to me dozens of times–and with many people who they in turn spoke to."
"I have conducted more than two hundred interviews," Wolff adds.
Yet, his reporting methods have been questioned.  "Wolff has been accused of not just re-creating scenes in his books and columns, but of creating them wholesale," Paul Farhi wrote in the Washington Post.
Still, Wolff's reporting on Trump and his administration doesn't seem out of line with that of news outlets from the New York Times to NPR to NBC to the Blade. "Fire and Fury" offers no reassurance to those of us (the majority of Americans – as Trump's approval ratings hover in the 30-some percentage range) who fear that Trump is spectacularly unqualified to be president.
Given the reporting that's already been done on the Trump administration from its anti-gay agenda to its efforts to reduce healthcare for poor and vulnerable people, why should we care about "Fire and Fury?" Because Wolff gives us a "fly on the wall" picture of the dysfunction of the Trump presidency. He writes of "having accepted no rules nor having made any promises about what I might or might not write."
From the start of his presidency, Trump has lied to the press and the public beginning with his exaggeration of his inauguration crowds.  "Fire and Fury," though somewhat flawed, illuminates an administration that frequently misrepresents reality.
The most disturbing thing though about "Fire and Fury" has been Trump's reaction to it.  It's not surprising that Trump doesn't like the book. Presidents generally don't like books that are critical of them, and Trump is notoriously thin skinned. But the president went well beyond this.  Trump tried to stop Henry Holt and Company, the publisher of "Fire and Fury" from releasing the book. Fortunately, Trump's "cease and desist" letter not only didn't stop the book's publication, it sent the book to No. 1 on the New York Times bestseller list.
Yet, all of us from journalists to news consumers should be alarmed about Trump's effort to thwart the First Amendment.  The president's attacks on the press as "fake news" and his distortions of reality to the media should frighten everyone. On Jan. 17, Trump says he'll bestow "Fake News" awards to news outlets he doesn't like. Earlier this month, in response to Trump's announcement, the Committee to Protect Journalists announced its awards to world leaders who've done the most to undermine press freedom. Trump won the award for Overall Achievement in Undermining Global Press Freedom.
It's easy to be complacent. To think that freedom of expression is well protected and not likely to be endangered in the United States. Yet, historically, LGBTQ publications have been suppressed. Queer poet Allen Ginsberg was arrested when he read his groundbreaking poem "Howl." Today, Trump tries to stop "Fire and Fury." What's to prevent Trump or a future president from trying to stop the next "Howl," new politico tell-all book or the Blade if he or she doesn't like its content? The First Amendment.
Thankfully, we have the First Amendment. Let's do all we can to protect it.
Kathi Wolfe, a writer and a poet, is a regular contributor to the Blade.