Everything's coming up Sondheim
Legendary composer helps us survive 'Being Alive'

With my first love I listened to Ethel Merman sing "Everything's Coming Up Roses" in Gypsy. I learned there's "Tragedy tomorrow, Comedy Tonight" from seeing "A Funny Thing Happened on the Way to the Forum" and discovered the irony of "Being Alive" when I, then 20-something, heard the cast album of "Company."
I bet my old vinyl Judy Collins album that you sing "Send in the Clowns" in the shower. I'm not alone. Stephen Sondheim's lyrics and music are etched onto the DNA of many of our lives. Even tone-deaf aficionados like me. Especially, those of us who are queer.
This year the gay Tony Award and Pulitzer Prize winner turned 80 and everything's coming up Sondheim. "Finishing the Hat," a coffee table book of Sondheim's collected lyrics from 1954 to 1981 ("with Attendant Comments, Principles, Heresies, Grudges, Whines and Anecdotes") is just out, his 1966 TV musical "Evening Primrose" is now on DVD for the first time, and his 1971 musical "Follies" will be performed at the Kennedy Center this spring.
Why does Sondheim matter?  Because his lyrics, his music, have been instrumental (forgive the pun) in shaping not only musical theater but the sensibility of queers.
Before Sondheim began composing, in most shows, including his mentor Oscar Hammerstein II's musicals, "the characters are not much more than collections of characteristics — verbal tics and quirks, like Southern accents or bad grammar, which individualize a character  only the way a black hat signifies a villain," he writes in the introduction to "Finishing the Hat."
Along with "Songwriters like Kander and Ebb — we all explored the new territory with playwrights who happily accepted the notion that musicals could be more than constructs of block comedy scenes and novelty songs leavened by the occasional ballad … Thus 'West Side Story,' etc.," Sondheim said.
In addition to creating characters with inner lives who were more than mannerisms, Sondheim injected irony into musicals. "Company," centered around the birthday party for a single 35-year-old man named Bobby who ruminates on marriage, is one of his most ironic shows.  "… Many plays from Restoration comedy onward have been purveyors of irony," Sondheim writes, "Brecht built a body of work on it — and a number of musicals like 'Cabaret' contained ironic moments — but 'Company' was suffused with it."
"Company" is the first Broadway musical to be defined not by satire or sentiment, but by irony, Sondheim, who calls himself "the romantic," says. This irony, underscored with the bittersweet and romantic, takes the form of characters' observations — on themselves, other characters — life's ambiguities.
Recently, a gay friend told me, "I can't sit through many musicals unless they're [by] Stephen Sondheim."
I'd wager that my pal, like many of us queer folk, is impatient with the sentimentality and lack of character development in more traditional shows, but in love with the sophisticated intelligence and emotionally satisfying irony of Sondheim's musicals. There's nothing as delicious as the "meat" pies in "Sweeney Todd."
Sondheim didn't come out as queer until he was 40 when "Company" opened on Broadway and didn't have a long-term relationship until he was 61. Before starting work on "Company," he talked at length with his friend Mary Rodgers, Richard Rodgers' daughter, about what being married was like. Their conversation "gave me the confidence to go ahead and write the score," Sondheim writes.
"The outsider feeling — somebody who people want to both kiss and kill — occurred quite early in my life," Sondheim told an interviewer.
I wouldn't want to say that Sondheim's feeling of being an "outsider" is based solely on his sexual orientation. Many creative artists feel as if they're outsiders in a culture that often devalues the arts. Yet, Sondheim, born in 1930, came of age at a time when queers had to be closeted, and I can't help but think being gay played a key role in forming his sensibility.
Sondheim's irony has helped us cope with homophobia in the past and will toughen our hides in future battles. "I'll always be there/As frightened as you,/To help us survive/Being Alive, being alive," he wrote in "Being Alive," a song from "Company."
Thank you Mr. Sondheim for always being there and for helping us survive "Being Alive."
National Gay & Lesbian Chamber of Commerce Certifies Brown, Naff, Pitts Omnimedia, Inc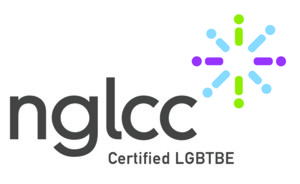 Washington, D.C. — Brown, Naff, Pitts Omnimedia, Inc, the parent company of the Washington Blade and Azer Creative, announced today it has been certified by the National Gay and Lesbian Chamber of Commerce (NGLCC) as an LGBT Business Enterprise. The NGLCC supports and advocates for diversity and inclusion for LGBT-owned businesses. With this certification the Blade's parent company joins more than 510 business and 134 corporate partners of the NGLCC.
Brown, Naff, Pitts Omnimedia, Inc. owns and operates the Washington Blade, the oldest and most acclaimed LGBT newspaper in the country. In 2012, the company launched Azer Creative, a full-service design firm. The company employs more than a dozen full-time LGBT staff.
"We are excited to become one of the 500 LGBT businesses across the country certified by NGLCC," said Lynne Brown, the Blade's publisher and a co-owner of the company. "The LGBT community has been part of our company from the beginning and we look forward to continue that for many years to come."
The Washington Blade was founded in 1969 and is known as the "newspaper of record" for the LGBT community both locally and nationally. Visit washingtonblade.com for more information. Azer Creative is a full-service graphic design firm based in Washington, D.C. Visit azercreative.com for more information. 
Vote now for the 2013 Best of Gay DC!
Choose in dozens of categories among hundreds of nominees, and make your voice heard!
Nominate the 'Best of Gay D.C.' now!
Dozens of categories cover all the best for LGBT Washington. Who deserves the prize this year?