The following was submitted as a letter to the editor. Go here to join the discussion.
Re: "Md. attorney gen'l: No marriage bill in 2011" (news, Nov. 11)
I am writing in response to Maryland Attorney General Doug Gansler's recent comments regarding the fight for marriage equality in the Free State. While I appreciate his leadership on preserving fair treatment for LGBT citizens under Maryland law through his groundbreaking legal opinion that has provided enhanced rights to couples with valid out-of-state marriage licenses, I must respectfully disagree with his claim that marriage for same-sex couples is not likely to win in the upcoming legislative session.
Gansler claimed that the courts are more likely to advance equal marriage rights.  While we welcome the opportunity for the legal implications of discrimination against loving and committed couples to be considered in the courts, the time for equality is now.
According to a comprehensive poll released by the Washington Post in the spring, a clear majority of Marylanders support marriage equality. The State of Maryland recently updated the Employee and Retiree Health and Welfare Benefits Program to be inclusive of same-sex couples and we have seen several advances through relationship recognition laws in recent years. Furthermore, this January will see the return of a large number of pro-equality incumbents and the addition of new legislative leaders ready to stand up for fairness. The governor has also committed to signing the marriage bill when it reaches his desk.
But we are not just relying on lawmakers to do the right thing. We are working hard for every single vote. Over the past six months, we have identified thousands of new volunteers and supportive voters through our statewide postcard drive. We have built on the ground power through volunteer trainings, phone banks and our community Action Teams. We re-launched our Pride in Faith program to engage clergy and faith communities who believe in social justice.
We have also built incredibly strong partnerships with local, state and national organizations that are ready to stand with us. It is only through these types of organized, focused initiatives that we will pass the Religious Freedom and Civil Marriage Protection Act.
We have a plan in place through the end of the year to shore up our co-sponsors so that we kick off the session stronger than ever. We also have a detailed, comprehensive plan for every week of the session to secure the votes we will need to make marriage equality a reality.
We have what it takes to make it happen. We simply need every Marylander who believes in fairness from the attorney general to the neighbor next door to be there with us in words and in actions. —Morgan Meneses-Sheets, executive director, Equality Maryland
National Gay & Lesbian Chamber of Commerce Certifies Brown, Naff, Pitts Omnimedia, Inc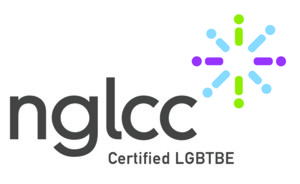 Washington, D.C. — Brown, Naff, Pitts Omnimedia, Inc, the parent company of the Washington Blade and Azer Creative, announced today it has been certified by the National Gay and Lesbian Chamber of Commerce (NGLCC) as an LGBT Business Enterprise. The NGLCC supports and advocates for diversity and inclusion for LGBT-owned businesses. With this certification the Blade's parent company joins more than 510 business and 134 corporate partners of the NGLCC.
Brown, Naff, Pitts Omnimedia, Inc. owns and operates the Washington Blade, the oldest and most acclaimed LGBT newspaper in the country. In 2012, the company launched Azer Creative, a full-service design firm. The company employs more than a dozen full-time LGBT staff.
"We are excited to become one of the 500 LGBT businesses across the country certified by NGLCC," said Lynne Brown, the Blade's publisher and a co-owner of the company. "The LGBT community has been part of our company from the beginning and we look forward to continue that for many years to come."
The Washington Blade was founded in 1969 and is known as the "newspaper of record" for the LGBT community both locally and nationally. Visit washingtonblade.com for more information. Azer Creative is a full-service graphic design firm based in Washington, D.C. Visit azercreative.com for more information. 
Vote now for the 2013 Best of Gay DC!
Choose in dozens of categories among hundreds of nominees, and make your voice heard!
Nominate the 'Best of Gay D.C.' now!
Dozens of categories cover all the best for LGBT Washington. Who deserves the prize this year?