Smithsonian puts LGBT people in the picture
'Hide/Seek' exhibit offers 100 same-sex portraits

A picture is worth a thousand words.
Queers know not only the truth of this cliché, but that we're usually out of the picture.  Historically (even often now) openly queer subjects have seldom been found in class pictures, family photo albums — let alone in portraits on museum walls.
Thankfully, we're becoming part of the picture. A new exhibition "Hide/Seek: Difference and Desire in American Portraiture," at the Smithsonian Institution's National Portrait Gallery, containing 100 works from the late 19th century until today, is the first major museum exhibit of same-sex portraits. At a cultural moment when same-sex marriage and gender identity are the cutting edge issues of the day, the exhibit couldn't be more timely.
Growing up, like many of us, I rarely saw pictures of people like myself — in the domain of the personal or in the realm of art. As a teen who liked girls but didn't dare tell anyone, I didn't view photos of girlfriends holding hands in my high school yearbook. I loved looking at paintings and reading about the lesbian scene in Paris in the early 20th century, yet I discovered no photographs of lesbian salons on my visits to the Philadelphia Museum of Art.
If we don't see images of people like ourselves in art, it's hard for us to look within ourselves — to know who we truly are — to discover our historical context. If we're not in the picture, we wonder, "Why aren't we there? Shouldn't we be straight like that boy and girl holding hands in that painting?"
"Portraiture … permits us to enter into the lives of others and explore how identities were forged in the past in ways that connect with our own search for meaning," says a brochure for the "Hide/Seek" exhibit. "By looking at others across the course of history, we ultimately end up looking at ourselves through portraiture."
It's thrilling to view the many, varied, stirring portraits of "Hide/Seek," as I did one recent afternoon. Perusing the work of well-known gay artists such as Andy Warhol, closeted queer artists such as photographer Carl Van Vechten, Romaine Brooks and other lesbian painters, and straight artists, including, Andrew Wyeth (whose 1979 portrait "The Clearing" of a young blonde-haired hunk will make any gay male's mouth water), I realized we present-day queers are part of an historical context, our history has helped shape our art, and art has helped shape us.
Until recently, LGBTQ people have had to be largely closeted. Even now, though things have greatly improved in parts of the United States and other countries, many of us still encounter many forms of homophobia from hate crimes to same-sex marriage bans to employment discrimination to anti-gay "jokes." As a result of this prejudice, queer artists, like other queers, historically have been outsiders. They've had to be closeted in their work — to allude to same-sex subjects in code.
"Much of the work in this exhibition necessarily trades in subtext, indirection and code, artifacts of a time when sexual difference was actively policed & prosecuted," wrote Jonathan D. Katz, co-curator of "Hide/Seek, " in an e-mail to the Blade. "Learning to survive under this regime meant learning codes, ways of signaling sexuality that, very often, entailed talking out of both sides of one's mouth, addressing different languages to queer and non-queer populations at the same time."
One of the more striking examples of this in "Hide/Seek" is a Carl Van Vechten photo of choreographer Antony Taylor and his partner (and dance protégée) Hugh Laing. I had to look twice before realizing they were lovers.
Another example of coded same-sex imagery in the exhibit is a 1914 ad. In it are two men, advertising Arrow shirts. Only at second glance, do you get that they're queer.
"Those who see themselves as outsiders often have the most informed perspective on the language of power — for it is a matter of survival," Katz, director of the visual studies doctoral program at the State University of New York at Buffalo, added in his e-mail.
In 1989, the Corcoran Gallery of Art, bowing to political pressure, canceled a Robert Mapplethorpe retrospective. Today, our "outsider," queer perspective is so welcomed that our art is on view in our nation's capital.
The "Hide/Seek" exhibit runs through Feb. 13 at the National Portrait Gallery. Go here for more information.
National Gay & Lesbian Chamber of Commerce Certifies Brown, Naff, Pitts Omnimedia, Inc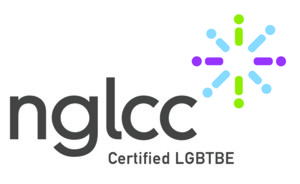 Washington, D.C. — Brown, Naff, Pitts Omnimedia, Inc, the parent company of the Washington Blade and Azer Creative, announced today it has been certified by the National Gay and Lesbian Chamber of Commerce (NGLCC) as an LGBT Business Enterprise. The NGLCC supports and advocates for diversity and inclusion for LGBT-owned businesses. With this certification the Blade's parent company joins more than 510 business and 134 corporate partners of the NGLCC.
Brown, Naff, Pitts Omnimedia, Inc. owns and operates the Washington Blade, the oldest and most acclaimed LGBT newspaper in the country. In 2012, the company launched Azer Creative, a full-service design firm. The company employs more than a dozen full-time LGBT staff.
"We are excited to become one of the 500 LGBT businesses across the country certified by NGLCC," said Lynne Brown, the Blade's publisher and a co-owner of the company. "The LGBT community has been part of our company from the beginning and we look forward to continue that for many years to come."
The Washington Blade was founded in 1969 and is known as the "newspaper of record" for the LGBT community both locally and nationally. Visit washingtonblade.com for more information. Azer Creative is a full-service graphic design firm based in Washington, D.C. Visit azercreative.com for more information. 
Vote now for the 2013 Best of Gay DC!
Choose in dozens of categories among hundreds of nominees, and make your voice heard!
Nominate the 'Best of Gay D.C.' now!
Dozens of categories cover all the best for LGBT Washington. Who deserves the prize this year?