Democrats must put up or shut up
Time is running out for 'Don't Ask' repeal

The frustration among those wanting to see repeal of "Don't Ask, Don't Tell" this year is palpable. It is difficult to listen to the nonsense spouted from those like Sen. John McCain (R-Ariz.), about whom Rachel Maddow recently said: "John McCain's positions on every major policy issue that he has faced in the Senate are now utterly incoherent … if you wait five minutes, John McCain is likely to have a totally different stance on the same issue."
Stances on LGBT issues often depend on the age of the person talking. We know that young people today generally have no problem working and interacting with lesbian and gay people. One reads about girl-on-girl kissing and even boy-on-boy kissing among college youth and young adults and it doesn't mean they are gay. They just have no hang-ups about interacting with a person of the same sex. There isn't the fear that my generation had that if you looked at another man for too long, or shook his hand for too long, someone would think you are gay.
Listening to McCain, it becomes immediately apparent that he is from that older generation whose views are slowly dying out.
Then there is General Amos, the newly appointed Marine Corps commandant, who recently spoke of his support for "Don't Ask, Don't Tell." My frustration isn't with him but with President Obama and Secretary Gates. How could they appoint someone who disagrees with them and then allow him to speak out on those differences? Isn't there a chain of command? Wasn't this discussed before his appointment?
Congress must repeal the gay ban in the lame duck session. I thank Majority Leader Harry Reid (D-Nev.) for his recent supportive statements and want to see him work out a deal with Republicans like Sens. Olympia Snowe (Maine), John Ensign (Nev.), Lisa Murkowski (Ala.) and Susan Collins (Maine) and wavering Democrats like Sen. Jim Webb (Va.). We should thank the president for finally making the calls needed to rally support.
The Department of Defense report leaked to the Washington Post shows that 70 percent of service members don't have a problem serving with gays and lesbians. It shouldn't matter that McCain doesn't like this result. It is time for someone in power to remind McCain he is no longer serving so this is not about him and his generation. It is about the young men and women volunteering today. It is about what they think even if we should never have needed to ask them. It is about civil and human rights and dignity. It is about letting those who want to serve our nation do so honestly. It is about those who are already serving and giving their lives for our country.
President Obama says he is on our side and has asked us to hold his feet to the fire. We have and it now appears he is beginning to act. Maybe the GetEqual demonstrations helped. Who can tell? But he needs to continue to say: "I want this done now and let's cut the deal needed to make it happen!" Harry Reid now needs to get this done. We need to call our senators and demand they act.
Letters arrive regularly from the DNC, DCCC and the DSCC asking for money. They say what they will do if only we keep giving them more. Well this is their chance to prove what they can do with their congressional majorities in the lame duck session. The kind of majorities they may not see again for years to come.
Maybe the president will tell Sen. Blanche Lincoln that if she doesn't vote yes on repeal he won't consider offering her, or anyone she recommends, a job. Maybe he will tell the others who just eked out their reelections that if you don't come along on this, don't expect anything in the next two years. And just maybe the DNC, DCCC and DSCC will tell these men and women the same thing. Democrats must stand up for equality now; otherwise, don't come to us for support next time.
The time is now for Democrats to "put up or shut up." Time is running out to convince supporters you really mean what you say.
National Gay & Lesbian Chamber of Commerce Certifies Brown, Naff, Pitts Omnimedia, Inc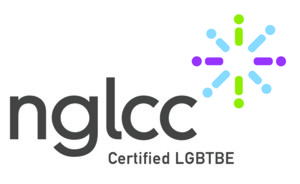 Washington, D.C. — Brown, Naff, Pitts Omnimedia, Inc, the parent company of the Washington Blade and Azer Creative, announced today it has been certified by the National Gay and Lesbian Chamber of Commerce (NGLCC) as an LGBT Business Enterprise. The NGLCC supports and advocates for diversity and inclusion for LGBT-owned businesses. With this certification the Blade's parent company joins more than 510 business and 134 corporate partners of the NGLCC.
Brown, Naff, Pitts Omnimedia, Inc. owns and operates the Washington Blade, the oldest and most acclaimed LGBT newspaper in the country. In 2012, the company launched Azer Creative, a full-service design firm. The company employs more than a dozen full-time LGBT staff.
"We are excited to become one of the 500 LGBT businesses across the country certified by NGLCC," said Lynne Brown, the Blade's publisher and a co-owner of the company. "The LGBT community has been part of our company from the beginning and we look forward to continue that for many years to come."
The Washington Blade was founded in 1969 and is known as the "newspaper of record" for the LGBT community both locally and nationally. Visit washingtonblade.com for more information. Azer Creative is a full-service graphic design firm based in Washington, D.C. Visit azercreative.com for more information. 
Vote now for the 2013 Best of Gay DC!
Choose in dozens of categories among hundreds of nominees, and make your voice heard!
Nominate the 'Best of Gay D.C.' now!
Dozens of categories cover all the best for LGBT Washington. Who deserves the prize this year?