A momentous achievement
The process wasn't pretty, but 'Don't Ask, Don't Tell' is history

Dec. 18, 2010 will be remembered as the day the U.S. Congress passed its first stand-alone pro-LGBT piece of legislation, repealing the discriminatory "Don't Ask, Don't Tell" law that has ruined thousands of lives and careers during nearly 20 years on the books.
The progress on gay acceptance in those 17 years is truly remarkable. In 1993, the images in the mainstream media around gays in the military were dominated by a homophobic Sen. Sam Nunn, touring a cramped submarine to dramatize just how closely straight sailors would be forced to bunk with their gay colleagues.
Fast forward to 2010 and Nunn supports repeal and the chief opponent of lifting the ban — an increasingly irrelevant Sen. John McCain — is widely demonized in the media as out-of-touch and bigoted. The dominant images in the debate this time around consist of brave men and women cruelly kicked out of the military who are merely asking for their jobs back. What a difference 17 years makes.
So many brave individuals and hard-working organizations deserve credit for this momentous victory — from all the discharged service members who spoke out, to President Obama, Sen. Harry Reid, SLDN, HRC, GETEqual, Servicemembers United, Palm Center and more.
This win took too long and the 11th hour desperation of it all raises serious doubts about the viability of future pro-LGBT legislation. If an issue backed by nearly 80 percent of Americans is this difficult, imagine the fight over trans-inclusive ENDA or relationship recognition.
For many LGBT Americans, the past two years represented a period of hope and optimism after the dark days of President George W. Bush's administration, which sought to enshrine anti-gay discrimination in the U.S. Constitution. After playing defense for eight long years, President Obama promised to be our "fierce advocate." He has now delivered on two key legislative promises — repeal of "Don't Ask, Don't Tell" and inclusion of sexual orientation and gender identity in the federal hate crimes law. It's not a perfect record and Obama and the Democrats have been rightly criticized for not moving faster and earlier on LGBT priorities, given the short window of opportunity to act.
As gay Rep. Barney Frank told the Blade last month about the prospects for pro-LGBT legislation: "Next year there's no chance of anything happening, there's zero chance." He added, "It will be a status quo. They don't have the votes to hurt us but we don't have the votes to advance anything in the cause."
It was humbling and an honor to attend the "Don't Ask, Don't Tell" bill signing this week. After more than eight years editing this newspaper, I've met far too many brave service members whose careers and livelihoods and dreams were dashed because of the discriminatory law. We've written about many gay and lesbian service members who died in the closet because of "Don't Ask, Don't Tell."
So although we're disappointed that ENDA, UAFA, domestic partner benefits for federal workers' partners and other priorities weren't achieved in this Congress, we celebrate this week's victory. And we remember all those brave service members — like Maj. Alan Rogers — who can't be here to share in this historic moment.
National Gay & Lesbian Chamber of Commerce Certifies Brown, Naff, Pitts Omnimedia, Inc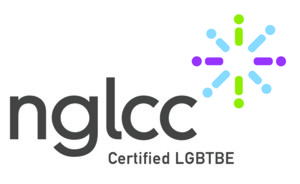 Washington, D.C. — Brown, Naff, Pitts Omnimedia, Inc, the parent company of the Washington Blade and Azer Creative, announced today it has been certified by the National Gay and Lesbian Chamber of Commerce (NGLCC) as an LGBT Business Enterprise. The NGLCC supports and advocates for diversity and inclusion for LGBT-owned businesses. With this certification the Blade's parent company joins more than 510 business and 134 corporate partners of the NGLCC.
Brown, Naff, Pitts Omnimedia, Inc. owns and operates the Washington Blade, the oldest and most acclaimed LGBT newspaper in the country. In 2012, the company launched Azer Creative, a full-service design firm. The company employs more than a dozen full-time LGBT staff.
"We are excited to become one of the 500 LGBT businesses across the country certified by NGLCC," said Lynne Brown, the Blade's publisher and a co-owner of the company. "The LGBT community has been part of our company from the beginning and we look forward to continue that for many years to come."
The Washington Blade was founded in 1969 and is known as the "newspaper of record" for the LGBT community both locally and nationally. Visit washingtonblade.com for more information. Azer Creative is a full-service graphic design firm based in Washington, D.C. Visit azercreative.com for more information. 
Vote now for the 2013 Best of Gay DC!
Choose in dozens of categories among hundreds of nominees, and make your voice heard!
Nominate the 'Best of Gay D.C.' now!
Dozens of categories cover all the best for LGBT Washington. Who deserves the prize this year?