A new administration taking shape
Gray's picks inspire confidence in mayor-elect

As a political junkie, I am always fascinated at how new administrations take shape. Whether it is a president, governor or mayor, the process is similar. Some chief executives are more public and float names around to get a response, or just to make people who were never under consideration for a position think they were. Others work less publicly.
But whatever the process the pundits who predicted a return to the old days of Marion Barry in D.C. are now eating their words. Mayor-elect Vincent Gray is remaining true to his word to appoint only competent people to his administration who will help move the District forward.
First, it was Allen Lew as city administrator. Lew is respected across the District as a can-do administrator open to input from the community. Since then Gray has added to his administration Cathy Lanier, who will continue as chief of police; Irvin Nathan the current general counsel to the U.S. House of Representatives, as the next attorney general; and Paul A. Quander, Jr., the well respected head of the Criminal Justice Coordinating Council, as deputy mayor for public safety. Gray will keep Kaya Henderson as interim schools chancellor and as the administration is filled out we will continue to see qualified new people named. In addition, he is keeping the current leadership at the Department of Motor Vehicles, Department of Public Works and Planning Office. By the time you read this we should know most of the rest of his administration.
Being a qualified person doesn't necessarily mean that everyone will approve the appointment. There are those in the LGBT community who have had issues with Chief Lanier. But it is important to recognize that above all Chief Lanier is dedicated to all the people of the District and the LGBT community has a commitment from Mayor-elect Gray to work with the Chief on issues of concern to us.
Also of note is that in the midst of preparing the budget and appointing his administration, Gray took the time to have his transition spokesperson issue the following statement on the charges against a police officer accused of attacking a member of the transgender community: "We've made inquiries about the incident, in light of the serious issues raised. Mayor-elect Gray is sensitive to the concerns of the LGBT community and is fully committed to ending sexual identity bias…"
In addition, Stephen Glaude, the newly appointed director of the Mayor's Office of Community Affairs in which the Mayor's Office of GLBT Affairs is located, was on top of this issue within hours and has said that this administration will be sensitive to and committed to working with all the diverse communities in the District.
Ronald Collins, a gay seasoned administrator, will head the Office of Boards and Commissions. This is an office he ran successfully during the Anthony Williams administration when he helped to ensure that qualified members of the LGBT community were well represented on boards and commissions in every area.
The District of Columbia is facing tough economic times as are all state and local governments. We must deal with the reality that not every wish will be granted — that when there is an economic impact to the things we ask for they will have to be weighed against other needs. But much of what our community needs doesn't have a cost associated with it. As the Gray administration begins on Jan. 2, I am confident our community will be heard and our unique needs will be addressed.
As I write this column I have one eye on the TV where the United States Senate is debating repeal of DADT. As the vote tally is announced my eyes are welling with tears and I give silent thanks to so many who have fought for this over the years. I take a moment to remember my friends in the military today and those brave gay and lesbian men and women who have died for our country without the right to be open about who they really are.
I know that Congress would not vote in favor of another issue that is important to our community: marriage equality. We and our allies will have to be vigilant over the next few years to protect marriage equality in the District of Columbia. I am heartened that our next mayor is a committed ally. He and his administration will be standing with us, on the battle lines if necessary, to protect our rights and to fight for the rights of all the people of the District of Columbia for self-determination.
Shawna Hachey of Celebrity APEX on what makes a good cruise director
A love of people is a must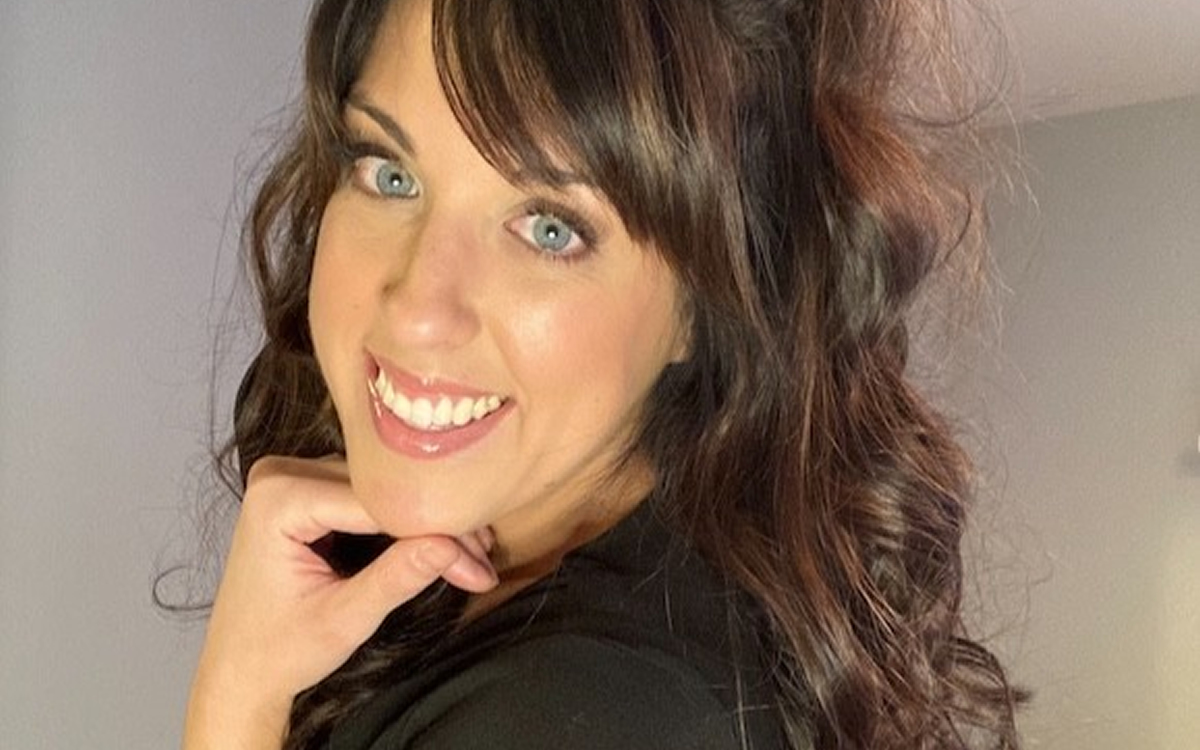 The position of cruise director on any ship is one of the most important, especially on a transatlantic voyage, like the recent one I took on the Celebrity APEX. So much of what people remember is the entertainment. Shawna Hachey is a great Cruise Director and I had the opportunity to sit and chat with her during the cruise. The job keeps her jumping and she is one of the busiest people on the ship. Shawna has a great bubbly personality. She likes people, which is a requirement for that position.
Shawna shared she is from New Brunswick, Canada, and has come a long way from there. She has now been with Celebrity for nearly thirteen years. I kidded her that meant she must have begun when she was ten. She is actually a very young looking thirty-five. She graduated from the University of New Brunswick with a degree in fashion design, a passion of hers. Shawna told me when she graduated, she had the options of a job in the fashion industry, or working on a cruise ship. Her dad was the one who suggested she go see the world and she ended up falling in love with cruise ships.
It is not an easy job. Her schedule is four months on and four off. The recent pandemic had her off the ship for a year and a half, during which time she worked in a government job back in Canada until Celebrity called her back. Her first contract after the pandemic, because of staff shortages, was eight months on and two off. But she loves the job.
Shawna did the usual for someone in her position and worked her way up the ranks from activity host, to activity manager, to cruise director. At one point she did something different and had a stint as a school teacher in London for a year, teaching kindergarten, but came back to cruising. I can just see her with those kids and am sure she was great.
As Cruise Director she is responsible for organizing all the entertainment on the ship. That includes lectures, Zumba, game shows, silent disco's, evening parties, resort deck parties and other games, as well as the back of house and theater tours. She works to ensure every traveler has something to keep them busy and having fun. As Shawna told me, that is always a little harder on a transatlantic cruise with so many sea days. But judging by the comments on the ship by so many of the people I met, she was doing a great job.
The Cruise Director doesn't get to choose all the talent, as Celebrity does the booking, but Shawna can and did request some approved acts. She loves working with those like the incredibly talented, Andrew Derbyshire. Many of us were excited he was going to be on our cruise. I first met Andrew, and wrote about him, last year when I was on APEX. He is an amazing entertainer. Shawna explained to me with the big shows like Crystalize and Tree of Life, Celebrity now produces those themselves and interviews talent for them around the world. One of the cast members in those shows, Nate Promkul, I predict will end up a star on Broadway. With the individual artists, their agents submit them to Celebrity, who then hires them for all their different ships. 
Before working on APEX Shawna has worked on a number of other Celebrity ships including Solstice, Reflection, Equinox and Silhouette. Shawna shared a story with me about Celebrity. They have always had a lot of crew from the Ukraine. Apparently, after the war began any crew members from Ukraine still working, were able to bring their families who could get out of Ukraine on board to live with them. This is a wonderful humanitarian thing to do.
I enjoyed talking to Shawna and urge any cruiser on the APEX to say hello when you are onboard. She will always have a big smile for you.
Meet Captain Nikolaos Christodoulakis of the Celebrity APEX
Reflecting on life aboard a ship during COVID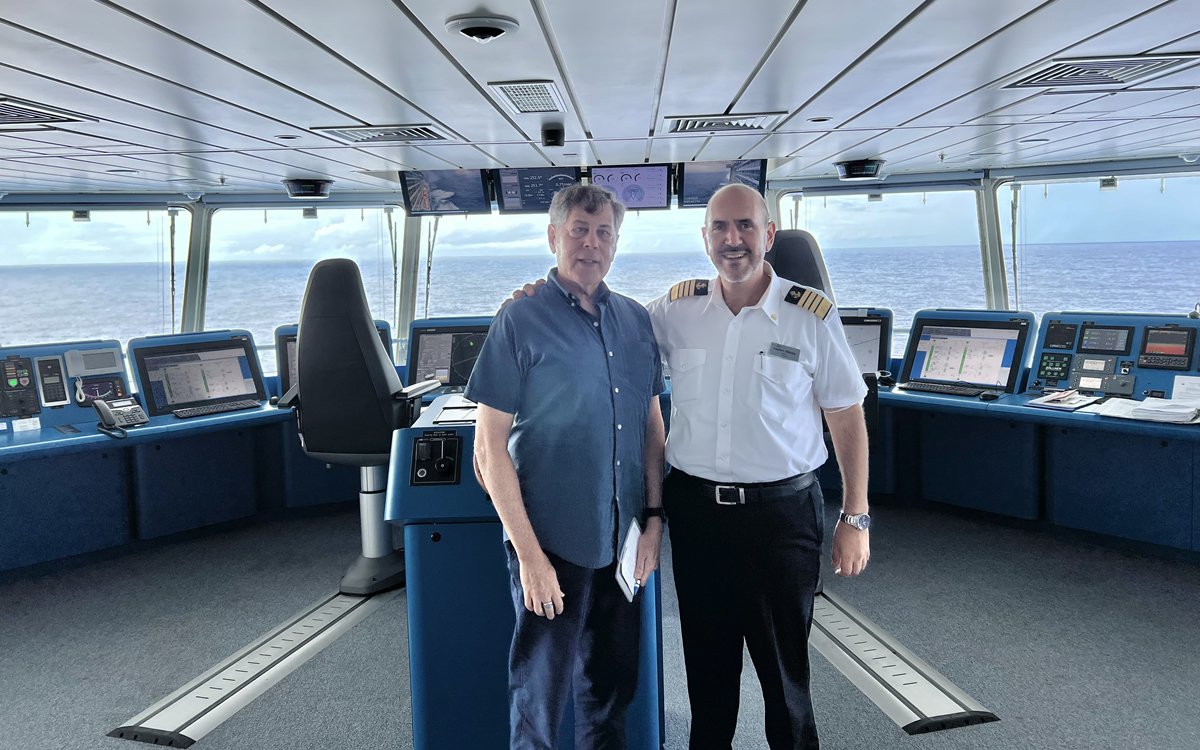 It really was a pleasure to chat with Celebrity APEX Captain Nikolaos Christodoulakis who invited me to the bridge for a conversation. I learned he is quite an amazing man.
Captain Christodoulakis told me Celebrity is the only cruise company he has ever been with and joined them twenty-eight years ago in 1994. While still a young man of 47 he has already been a captain for 12 years. In one of the many interesting lectures during the cruise, we were given a talk on how one can become a captain. How one moves up the ranks at Celebrity. We were told about all the education and testing required. The speaker, who was not yet a captain, kidded he would reach that goal by 2080. He then told us jokingly about the exception for those of Greek extraction. He said they received their captain's certificate along with their birth certificate. When I mentioned this to the captain during our conversation he laughed and assured me he did have all the needed education and tests.
Captain Christodoulakis told me proudly he is from the Island of Crete, and still lives there with his wife and eight-year-old daughter. A captain with Celebrity is on a schedule of three months on, and three months off. He said he loves those three months off when he can be with his wife and daughter, and the rest of his family, back on Crete. I told him I had been to Crete many years ago and thought it was beautiful and asked him if he had ever walked down the famous Samariá Gorge and he said he hadn't.
Over his years with Celebrity, he worked on many ships, including Horizon and Century among others. His most recent ship was the Reflection, which he captained during the COVID pandemic. That was not an easy time for the cruise line. He was with Reflection for three years and during the pandemic spent part of the time with the ship sitting in the Bahamas, with a crew of less than 100. Just enough to keep the ship ready to sail again when he could welcome passengers back. I told him I was on the APEX last year on a transatlantic cruise out of Barcelona with only had 1250 passengers and a crew of about 1,000. He told me on this cruise there were 2340 passengers and a crew of close to 1200. The APEX can accommodate up to 3,400 passengers with a crew of 1,250. The captain agreed staffing back up has been difficult and complimented the Celebrity HR department who he said has been working overtime recruiting crew.
I asked him about protections for the crew during the pandemic and continuing today. He said Celebrity has been really good about that and all crew on the APEX have been vaccinated and boosted against Covid and during this transatlantic cruise they were all getting flu shots. On this trip the crew was required to wear masks for their safety. During the sea days they were allowed to take them off when outdoors, so we could see their smiles.
I then asked him what he wants to do next after he stops being a Captain. He told me he loves being a Captain and really can't see another career. He did tell me once he retires, years from now, maybe when his daughter is in college, he wants to get an RV, and drive across Europe with his wife, seeing all the sites at a slow and leisurely pace. Then would like to do the same going across the United States stopping at all the national parks. Sounds like a great retirement. I asked if he often leaves the ship in the ports where it stops. He says he does if his wife and daughter are on board visiting, and anticipates them joining him for the upcoming holidays. When they aren't with him, he gets off if he can get to a beach, or a place to swim and dive, which he loves.
I then mentioned there was a party that afternoon my friends and travel agents, Scott and Dustin, with My Lux Cruise, were hosting in the Iconic suite. He said he would enjoy coming to that. I thanked him for taking the time to chat, said I hope to see him at the party, and left the bridge.
I didn't say anything to Scott or Dustin about inviting him. Not only did he come but brought the Hotel Director, Christophe, with him. They were incredibly open and gracious, taking selfies. Christophe told us he would be on the BEYOND when we do our next transatlantic cruise in October 2023.
On the high seas: Rome and transatlantic cruise
Parts three, four, and five of my journey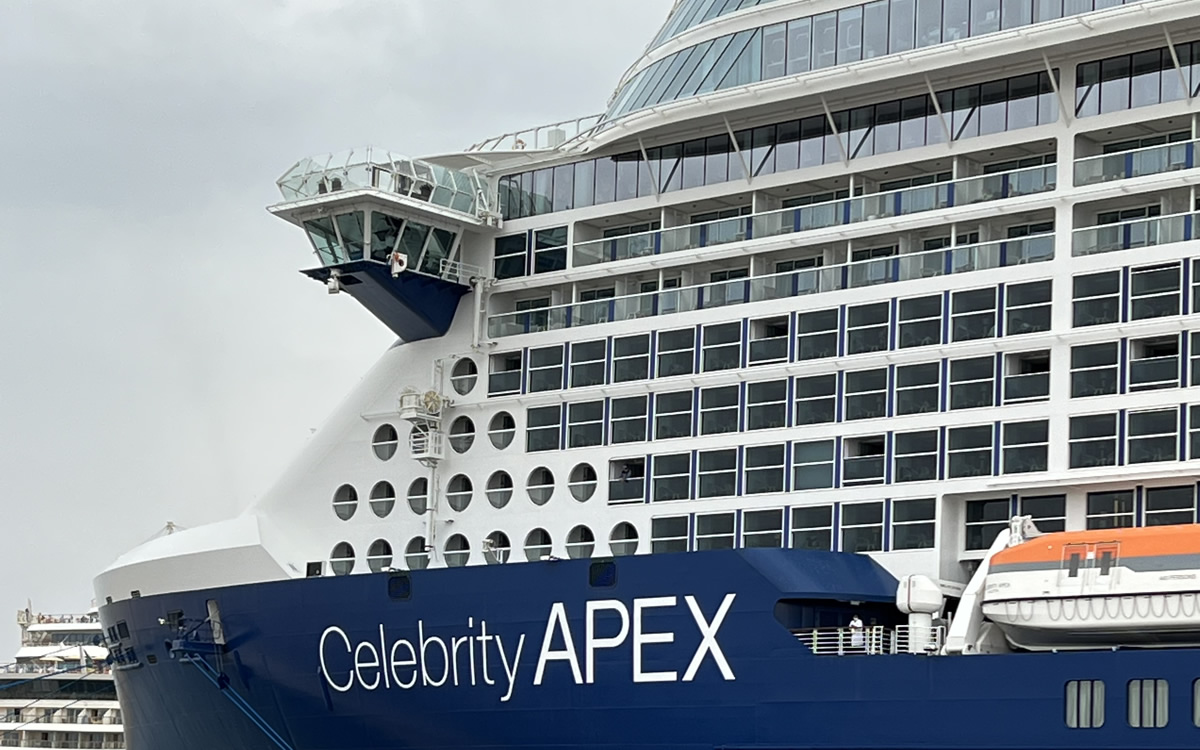 Woke up with a phone call telling me my coffee, juice and bagel were being delivered to the room on day 3 of my trip. My shore excursions begin today. I was scheduled to leave the ship at 10:00am for five hours in Valencia for a tour of the city and a taste of some Spanish food. We had a knowledgeable guide who regaled us with the history of the city. The food stops were a little messed up as there were other tour groups stopping before us at the same places and the timing was off. But that didn't stop us appreciating the city. My first time in Valencia had been nearly 50 years ago during a three-month sojourn in Spain. It was a lot more crowded today and it has been urbanized like so many cities. But I think they have done a great job in keeping the wonderful feeling of the city. What was beautiful to see was the new science center with the beautiful architecture by Santiago Calatrava. After a two-hour walk-in town, we met the bus and headed back to the ship. I decided it was time to head to the gym for a little time on the lifecycle and some weights. My trainers at FIT, Naldo and Juan, would have been proud.
Then it was off to a Halloween Party hosted by Scott and Dustin in the Iconic suite. The costumes were great. I was lazy and not being a big costume person just wore a Hawaiian shirt and sunglasses and went as an old tourist. It was a fun party, then dinner at Luminae, the restaurant in the Retreat. Then the highlight of the evening the incredible show in the APEX theater with Andrew Derbyshire. I will talk more about Andrew in a later blog. I interviewed him during my cruise last year and he is just a fun person, aside from being a brilliant talent.
Day four dawned bright and sunny and we headed into the Port of Malaga. Since we weren't scheduled to leave the ship until 1:00pm I headed to the gym early and then sat on the retreat terrace and sipped a cappuccino. A really tough life, but then someone has to lead it, so why not me?
Malaga is a beautiful city on the Costa del Sol. We toured the Alhambra and cathedral. I realized I had forgotten my phone on our bus and had to wait until after the tour to retrieve it. It was weird not having it in my hand but in a way kind of liberating. Any pictures I wanted friends were taking and would share. We didn't have to be back on the ship until 9:30pm so after the official tour we stayed in Malaga and had great drinks and tapas, enough for dinner, at a restaurant owned by Antonio Banderas called Bodega El Pimpi. 
Then back to the APEX for two great shows that evening. The entertainment onboard is really great. One show in the theater with dueling guitarists and then to the CLUB for Caravan, a carnival extravaganza with singers, dancers and acrobats of Cirque du Soleil caliber. Then off to bed to prepare for tomorrow's visit to Gibraltar.
Part IV
Day five of my cruise again dawned bright and sunny. Today was exciting for me as it was the first stop on my trip to a place I hadn't been before, Gibraltar. It wasn't as if I hadn't tried to go once before. In 1972 while on the Costa del Sol, I traveled down to Algeciras only to find that Franco, who was still ruling Spain, had dug up the road to Gibraltar over a fight with the British. So, it has taken me this long to go see the Rock and the wild Barbary Macaques. They didn't disappoint.
It was a great day traveling the Rock and seeing the siege tunnels and the monkeys. A ride on the cable car to the top of the Rock was also great and the view spectacular. Then back to the ship for another evening of food and entertainment. The daily schedule given out each evening in every cabin lists an LGBTQ+ get together at 6 pm in Eden; one of the better bars and lounges on the ship. Each evening I meet more and more members of the community, those traveling in my group and so many others.
There is now another sea day to look forward to before our final stop in the Azores. Then we head to sea for seven days. Sea days are lazy days for me. Writing, reading, the gym and just sitting with friends drinking and eating. I enjoyed the retreat bar and headed there with a group for a burger for lunch. That evening we saw Andrew Derbyshire's second show, and then headed to Le Petite Chef for dinner. It is a fun meal with a story playing out on video on your plate, and on the table in front of you. I hear they will open a place in DC and it is worth a visit for the fun of it. Then it was an early night for me and we turned our clocks back an hour, so I was actually in bed by 11.
Friday, day seven of the cruise, dawned bright but we understood the weather would begin to change as we headed to the Azores. We docked late in San Miguel, it was 3:00pm, and the fog was rolling in and it would be dark by 6:00pm. So while we had hoped to see the lakes, one green and one blue, from the top of the crater, all we saw was fog. A reminder one doesn't control the weather. We did have a nice stop to taste Azorean wines and cheeses at a beautiful hotel in Ponta Delgada. Then back to the ship to begin our long sea voyage across the Atlantic. It was a little disconcerting to arrive back on the ship and find 'barf' bags all over as they were anticipating rough seas for a couple of days. All the balcony furniture had been moved into the room. The Captain explained how he would try to avoid the worst of the storm. As it turned out the night wasn't bad at all and the morning brought clearing skies.
Part V
The past six sea days are really the most fun of my transatlantic voyage. Days of just looking out at the beautiful ocean. I would start each day with a room service breakfast. I would put my breakfast order on the order form, out on the door handle before I went to bed and my butler, Simon, would deliver it at the time in the morning I requested. For me that was 7:00am. I would have a bagel, juice, fruit and coffee each morning. I will miss Simon's knock on the door my first day home, which won't come.
And before you ask, yes everyone in the Retreat is assigned a butler to help with any little issue you may have. After breakfast I would write for two hours. These blogs, my columns for the Blade which I had a hard time sending because of the terrible internet, and a final edit of my book before it is due at the editor on Nov. 15.
Now there is plenty to do on sea days on the Celebrity APEX if you want to be active. You can attend lectures on various topics, play bingo, run on the track or head to the fully equipped gym for a workout on your own, or go to exercise classes of various kinds. I actually have gone to the gym every day for about an hour split between the lifecycle and weights. Then there is the casino if you are so inclined. One of the group I am traveling with told us he won nearly $1,000. He didn't mention if he lost much before he won, but then that doesn't count.
Each day after the gym I would spend an hour at the Retreat lounge with a cappuccino and some good conversation.
One day I went to an interesting session "behind the scenes of the APEX theater." It was there I met Nate Promkul, an incredible singer and actor who told me his dream is to be on Broadway. I predict his dream will come true. The APEX theater is the most advanced of any ship with a multi-million-dollar screen that provides amazing backgrounds for all their shows.
Most afternoons I would head to the Retreat sun deck to read but would end up in some interesting conversations, often about politics. Remember, we were in the middle of the Atlantic during the election and yes, everyone had voted before they left home. Then I had the opportunity to do an interview with the Captain on the bridge, and another with the cruise director, both of which will be in future columns.
One can't forget all the food and drink consumed. The food onboard is generally good and there is a great variety to choose from. Anything from bar-b-que at the Rooftop Garden Grill to sushi at Raw On 5. There are four regular restaurants where you can eat your meals and they are included in your cruise fare. There are specialty restaurants for which you pay a little more for a meal. There is one restaurant reserved for guests in the Retreat, Luminae and I ate there a number of times. One of the specialty restaurants I really enjoyed last year on the APEX was Eden. We ate there a number of times this year but I give it mixed reviews.
Last year's chef was no longer there. Then there is the Oceanview Café, the huge buffet, open all day. If you can't find food you like there, everything under the sun including pizza, you are hopeless.
Sea days have gone by quickly with great entertainment every night in multiple venues. Last night there was 'silent disco' in the Martini Bar. This morning I woke to calm seas as we approached our last stop, Nassau. I will stay on the ship and enjoy it for a final day. Tomorrow morning when I wake up, we will be docked in Ft. Lauderdale and my transatlantic cruise will be over. I will definitely miss the Celebrity APEX and its wonderful crew, and all the friends, new and old, who traveled with me. But I can look forward to seeing them all again next October when we embark on the Celebrity BEYOND for our 2023 transatlantic voyage.