March 17, 2011 at 3:32 pm EST | by Terry-Ann Gardemal
Tips on paying for college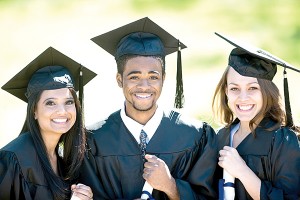 Does this story sound familiar?  You started saving for college when your son or daughter was very young and you thought you were on track to prepare for their college tuition payments.
You also assumed that your income would keep growing over the years to help you save even more. But now you realize the stock market is still off its October 2007 peak and your investments have not caught up either. With all the current volatility, it may seem that your investments are going nowhere. However, your kids are going somewhere — off to college, at a cost of anywhere from $20,000 to $55,000 a year (according to the website savingsforcollege.com).
Current wisdom suggests that 529 plans are the answer to all college funding needs. Those are education savings plans operated by a state or educational institution. These plans or programs allow you to save for qualified college-related expenses with after-tax dollars and then withdraw the funds and earnings tax-free. In addition, many states offer the owner of the 529 plan full or partial state income tax deductions for their contributions to the state's section 529 plans.
In this area, Maryland, Virginia and D.C. all offer the state income tax deductions. How valuable these are depends on the amount of the deduction and your overall income tax bracket. The contributions to the 529 plans are invested and are therefore subject to the returns of the stock and bond markets and, therefore, the principal invested could suffer a loss. If your child has many years before college, there may be time to ride out volatility and the benefits of the tax-free compounding will make the 529 plans an appropriate vehicle for college savings.
However, especially for those whose children are going to college in the next few years, it is usually a good idea not to devote all college savings to one savings vehicle such as a 529 plan. Current cash flow will be your go-to source at this stage. If you have been paying for private school and other pricey activities, you can simply redirect your disposable income.
If you were planning to use this freed-up cash flow for other expenses such as a dream vacation or a holiday home, you may have to put those dreams on hold if paying for college is your priority. Even if you have not been laying out the amount of cash needed for college but you still need to boost those college funds, you could probably find part of the money needed by adjusting your other expenses.
Depending on your tolerance for risk, there may be some short-term investments to consider, but keep in mind there will always be the risk that you will lose principal. Don't put all your eggs in one basket. You can always share the cost with your children or ask grandparents or other relatives to consider helping out. You can also apply for a loan and hope for at least a partial scholarship.
Some people consider diverting their retirement savings into college expenses or even borrow from their retirement accounts such as a 401(k) (although they should be aware that limitations and penalties could apply). While this may free up cash flow and seem like a good idea, it is important not to forget your priorities. Remember, you can borrow from retirement savings to pay for other needs but you cannot borrow for retirement!
(The examples provided above are hypothetical and for illustrative purposes only. Actual results and your situation will vary. This material is for informational purposes only and is not intended to provide specific advice to any individual.  Please talk to a financial adviser prior to purchasing any investments.)