Protesters gather to support Manning
Gay service member accused in Wikileaks scandal; Quantico demonstration held
There were many memorable images from last Sunday's protest aimed at calling attention to the plight of a gay service member accused of treason by the federal government, but two images stood out above all others.
The line of riot police, hooded with glass visors and carrying truncheons and heavy shields, standing silent at first, shoulder to shoulder, buffed out with padded body armor, flanked by other riot police with lunging dogs, and other hulking men carrying automatic weapons, and even an armored Humvee, its engine running, and the full line now several hundred strong.
The other image appeared peaceful. A line of demonstrators walking forward, toward the police, linking their arms also, but singing while walking down Virginia Route 1, not carrying weapons but bouquets, to deliver flowers to the foot of the Iwo Jima monument there, the replica statue at the gates of the Quantico Marine Corps Base.
MORE IN THE BLADE: SUPPORTERS WORTY ABOUT TORTURE IN BRADLEY MANNING DETENTION
That's where PFC Bradley Manning has been held in solitary confinement for eight months in pre-trial detention, waiting for the charges against him to be presented, including one carrying the death penalty. Manning is the accused whistleblower, the alleged source of the explosive Wikileaks revelations from secret documents released by Julian Assange, that detail case after case of alleged U.S. government misconduct.
Manning, a gay man, is accused of "aiding the enemy," and has been "tortured" while in custody, according to his attorney, in an alleged attempt to wring a confession from him. A court martial could lead to life in prison or possibly execution.
About 500 protesters chanting "Free Bradley Manning" had met several hours earlier on a muddy field a few hundred yards away from the monument and the gate, now both walled off by police barriers to prevent the crowd from entering the base.
It began as demonstrations usually do, with a raised platform, and microphones and speakers, amid banners and placards. Speakers included Marine Corps veteran and famed Vietnam War-era whistleblower Daniel Ellsberg, who released to Richard Nixon's great embarrassment the Pentagon Papers; retired Marine Corps Captain David McMichael, now 83 but still ramrod straight, whose last post was as a company commander at Quantico; Army Colonel, retired after 29 years in uniform, and former State Department official, Ann Wright; and Manning's close personal friend, David House, an expert on information economics, who met Manning  in January 2010 at an open-house meeting of a group of computer technology enthusiasts at Boston University.
Manning's arrest as a suspect accused of handing over 250,000 U.S. diplomatic cables to Wikileaks, came in May 2010 when he had returned to his duty station as an Army intelligence analyst stationed with a combat team near Baghdad. Those charges came in July last year, updated this month with further charges including the capital one of "aiding the enemy." The first of the Wikileaks cables were published in February 2010, with newspapers including the New York Times publishing the rest from November onward.
Manning has never said he was the source for the documents, written by 250 embassies and consulates in 180 countries, which had been downloaded from SIPRNet, the classified State Department computer deposit for diplomatic cables. But he is alleged to have contacted a former computer hacker, Adrian Lamo, and sent him several encrypted e-mails and then chatted with Lamo online. Lamo later told the FBI that Manning had basically said that he was the Wikileaks source.
Those documents included military war logs and documents from both the Iraq and Afghanistan wars as well as the so-called "Collateral Murder" video, shot from a U.S. military Apache helicopter gunship in July 2007 of an airstrike and published by Wikileaks in April 2010, showing the deaths of civilians including two journalists for the Reuters news agency.
Below are excerpts from some of Sunday's speeches.
ELLSBERG:
"I feel shame as a Marine myself that members of the Marine Corps are torturing Bradley Manning by keeping him in solitary confinement 23 hours a day, and sometimes forcing him to sleep naked and stand in the nude for inspection …
"President Obama could stop that with one phone call," continued the 72-year-old Ellsberg, as cries from the crowd of "yes, he can" echoed among other shouts of "shame."
While saying that the burden of proof is on the authorities to prove that Manning passed the classified documents to Wikileaks, something Manning hasn't admitted, Ellsberg declared of Manning that "if he did do what he's charged with, then Bradley Manning is an American hero," noting of himself, that "while this may sound self-serving or boastful, but I was the Bradley Manning of my day … I was called a traitor, as he is, and Bradley Manning is no more of a traitor than I was, and he's not, and I'm not!"
McMICHAEL:
"Thank you all for being here, this has become a notorious event and cause celebre around the world." He then expressed his personal "outrage at the way the prosecution of Bradley Manning is being conducted, and the harsh conditions in which he is being held, so severe as to violate both U.S. and international law, and you could call it torture."
McMicheal read further from his letter to the president about Manning that "the lesser evil is not a good enough reason to support you again," and that in 2012 he would, though "a loyal Democrat," oppose Obama for re-election.
WRIGHT:
"I'm horrified at how a member of the U.S. military is being treated, right here at Quantico, and we want this stuff to stop! Let's get Bradley Manning fair treatment while he's in pre-trial detention, so he can get an honest trial, and he should be treated with respect" until his trial, instead of with "cruel and unusual punishment."
HOUSE:
"It's stuff like this that gives Bradley Manning hope, and when I tell him there are people like you in the 'transparency' movement, his eyes light up. If he's guilty of the things he's charged with, if he's the man who released the Wikileaks documents, I consider him a hero of the highest order  … and he is not an exception, as a whistleblower, but he is a herald of things to come. … I hope Barack Obama is listening to this!"
Later, House told the Blade that Manning "considers himself to be a very ethical person and an American patriot," and that "he's a very humble, intelligent and kind individual."
After the speakers finished and the rally ended, an event orchestrated beforehand with police authorities, including those from the Virginia State Police and the Prince William County Police, allowed six activists, including Ellsberg, McMichael and Wright, to pass through police barriers, cross Route 1, and approach the Iwo Jima statue. However, they were kept back from entering Marine Corps Base property and were forced to toss their bouquets of red and white carnations through an opening onto the base of the statue.
Then they sat down, in the middle of the highway, and then, at the mournful sound of a bugler, the assembled crowd burst through the barriers and thronged onto the highway joining the six, and many of them also sat down. And for two hours the chants and songs and prayers were heard, until finally, after the protesters refused to vacate the intersection, the police moved in and arrested one by one about 30 of those still seated, including Ellsberg and Wright, on misdemeanor charges of unlawful assembly, and impeding access to the road.
Marine Col. Thomas V. Johnson, a spokesperson for the base, said access to the Iwo Jima memorial was denied because protest activity is not permitted on base grounds. But he also said that, "we're pleased that people were able to express their First Amendment rights in a manner that did not infringe upon base property."
Biden administration uses IDAHOBiT to highlight LGBTQ rights support
WHO on May 17, 1990, declassified homosexuality as mental disorder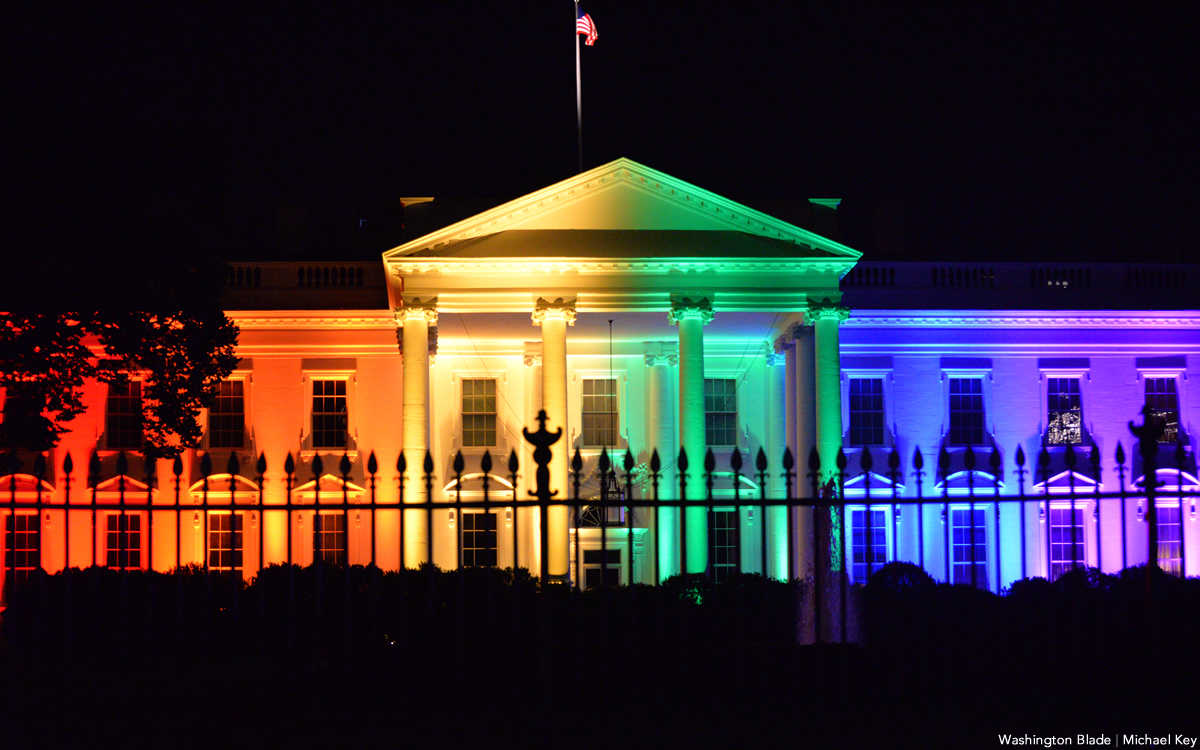 The Biden administration on Tuesday publicly acknowledged the International Day Against Homophobia, Biphobia and Transphobia.
"Jill and I stand in support and solidarity with lesbian, gay, bisexual, transgender, queer and intersex (LGBTQI+) people in the United States and around the world," said President Biden in a statement the White House released. "We join with Americans across the country to reaffirm our commitment to the ongoing work of upholding human dignity for all people and advancing equality globally."
Biden in his statement noted there "has been much progress" since the World Health Organization on May 17, 1990, declassified homosexuality as a mental disorder. Biden also highlighted "we continue to witness disturbing setbacks and rising hate and violence targeting LGBTQI+ people in the United States and around the world."
"This is wrong," he said. "LGBTQI+ people are entitled to all the rights, opportunities, and protections that belong to every human on this planet. LGBTQI+ people are an essential part of families and communities—teachers, first responders, public officials, doctors, lawyers, front-line workers and friends who enrich and strengthen every single country." 

"And make no mistake: Hateful legislative attacks against members of our own LGBTQI+ community cannot be tolerated in America or anywhere else," added Biden. "They spur discrimination and can stoke violence. And they are rooted in the same ignorance and intolerance that we see around the world. Hate is hate—and all of us have a responsibility to speak out against hate wherever we find it."
Secretary of State Antony Blinken on Tuesday issued his own IDAHOBiT statement.
"The United States affirms today, on the International Day Against Homophobia, Biphobia, Interphobia and Transphobia (IDAHOBIT), that the human rights of lesbian, gay, bisexual, transgender, queer and intersex (LGBTQI+) persons are the same human rights to which all persons are entitled," said Blinken. "As enshrined in Article 1 of the Universal Declaration of Human Rights, '[a]ll human beings are born free and equal in dignity and rights.'"
Bliken further noted that "too many LGBTQI+ persons live under the shadow of discrimination, violence and fear."
"Global data makes clear that the dehumanization of LGBTQI+ persons is systemic, pervasive, and often violent," he said. "Homophobia, biphobia, interphobia and transphobia are deeply entrenched in societies across the world, including here in the United States. Countless persons are at extreme risk for being themselves."
Biden shortly after he took office in 2021 issued a memorandum that committed the U.S. to promoting LGBTQ rights abroad.
The administration last June appointed Jessica Stern as the special U.S. envoy for the promotion of LGBTQ rights abroad.
The U.S. Senate earlier this year in a bipartisan vote confirmed Chantale Wong, the U.S. director of the Asian Development Bank, as the first openly lesbian American ambassador. The State Department on April 11 began to issue passports with "X" gender markers.
The State Department on April 28 released a report that details the federal government's implementation of Biden's foreign policy memo.
"We remain committed to ending this intolerance. Everyone deserves to live with respect, dignity, and safety," said Blinken in his IDAHOBiT statement. "The United States affirms that all LGBTQI+ individuals, couples, and their families are valid and valuable."
Biden in his statement also referred to the report.
"By openly reporting on our own progress, the United States hopes to inspire other governments to take similar action to address the needs of their LGBTQI+ communities," he said.

"To the LGBTQI+ community, my administration sees you," added Biden. "We stand with you. And we will continue to defend human rights and dignity, at home and around the world."
Spanish Prime Minister Pedro Sánchez, Cuban President Miguel Díaz-Canel and Council of Europe Human Rights Commissioner Dunja Mijatović are among the other world leaders who have publicly acknowledged IDAHOBiT.
Victor Madrigal-Borloz, the independent U.N. expert on LGBTQ rights, and other U.N. human rights experts in a statement they released on Monday highlighted the plight of LGBTQ people who have been forcibly displaced from their homes.
"With the number of forcibly displaced persons continuing to rise, States, businesses and humanitarian and civil society organizations must invest in developing human rights-based policies and programs that take into full account the intersectional dimensions of forced displacement and sexual orientation and gender identity, fostering stronger collaboration and coordination among all actors responsible for the protection of displaced LGBT individuals," reads the statement.
Advocacy groups around the world also commemorated IDAHOBiT.
"Today I want to thank my incredible team of Insight public organization who still works for LGBTQI+ people in Ukraine, saving life's (sic) of our community during the war," tweeted Olena Shevchenko, chair of Insight, a Ukrainian LGBTQ rights group. "We are here for equality."
Today I want to thank my incredible team of Insight public organization, who still works for LGBTQI + people in Ukraine, saving life's of our community during the war!#IDAHOBIT2022 We are here for equality pic.twitter.com/wOMholwaOv

— Olena Shevchenko (@InsightOlena) May 17, 2022
Sexual Minorities Uganda in a tweet said IDAHOBiT "is a significant day for the LGBTIQ+ community because it serves as a reminder of the ongoing violence and prejudice that our communities face."
"The struggle for equality still continues," added SMUG.
The 17th of May (IDAHOBIT) is a significant day for the LGBTIQ+ community because it serves as a reminder of the ongoing violence and prejudice that our communities face. The struggle for equality still continues. 🌈
Happy IDAHOBIT22 #ourbodies #ourlives #ourrights pic.twitter.com/h5moRos4VH

— Sexual Minorities Uganda | SMUG (@SMUG2004) May 17, 2022
Pride House Tokyo in Japan also acknowledged IDAHOBiT.
May 17th is the International Day Against Homophobia, Transphobia & Biphobia (IDAHOTB or "YES to Diversity Day" in Japan). 32 years ago in 1990, the World Health Organization removed "homosexuality" from the list of mental disorders & finally stopped being considered a disease. pic.twitter.com/rQK6pn65b5

— Pride House Tokyo(プライドハウス東京)🏳️‍🌈 (@PrideHouseTokyo) May 17, 2022
WNBA players back petition for White House to 'prioritize' Brittney Griner's release
Phoenix Mercury center detained in Russia in February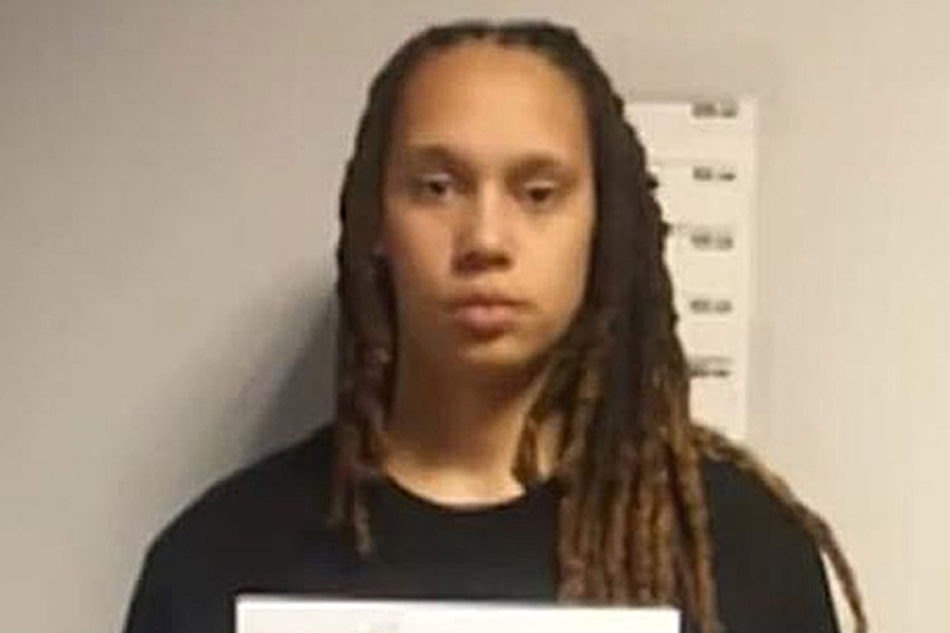 The Women's National Basketball Players Association has endorsed a petition that urges the Biden administration to "prioritize" WNBA star Brittney Griner's release.
"It is imperative that the U.S. government immediately address this human rights issue and do whatever is necessary to return Brittney home quickly and safely," reads the Change.org petition that Tamryn Spruill, a freelance journalist and author, created.
"The WNBPA and its members proudly join Tamryn Spruill, the creator of this petition, in demanding that lawmakers prioritize Griner's return," it continues. "White House and Biden adminsitration, we ask that you take action today—doing whatever is necessary—to bring Brittney Griner home swiftly and safely."
More than 135,000 people have signed the petition.
Spruill on Saturday in a tweet said the WNBPA, a union that represents WNBA players, partnered with them and Change.org "in demanding that our elected officials work urgently to gain BG's swift and safe release."
A new phase in the Brittney Griner/Change.org petition is underway! @TheWNBPA has partnered with me and @Change in demanding that our elected officials work urgently to gain BG's swift and safe release.

Details here:https://t.co/AHtb1DYcSI#WeAreBG

— Tamryn Spruill (@tamrynspruill) May 14, 2022
Griner — a center for the Phoenix Mercury and a two-time Olympic gold medalist who is a lesbian and married to her wife — was taken into custody at Moscow's Sheremetyevo Airport in February. Russian officials said customs inspectors found hashish oil in her luggage.
The State Department earlier this month determined Russia "wrongfully detained" Griner. A Russian court on Friday extended her detention for another month.
"The Russian system wrongfully detained Ms. Griner," then-White House Press Secretary Jen Psaki told reporters on Friday during her last White House briefing. "We take our responsibility to assist U.S. citizens seriously. And we will continue to press for fair and transparent treatment for all U.S. citizens when they are subject to legal processes overseas."

"Now, because the State Department recategorized her as wrongfully detained, it means that our Special Presidential Envoy for Hostage Affairs — it's quite a title but a well-deserved one — is going to be overseeing this case and leading the effort," added Psaki. "Because it's a deliberative process and we know from experience of bringing other Americans home, we're just not going to detail what those efforts look like at this point in time."
Griner faces up to 10 years in prison.
GOP Sen. Cynthia Lummis issues 'apology' after transphobic comments during graduation speech
"My reference to the existence of two sexes was intended to highlight the times- times in which the metric of biological sex is under debate"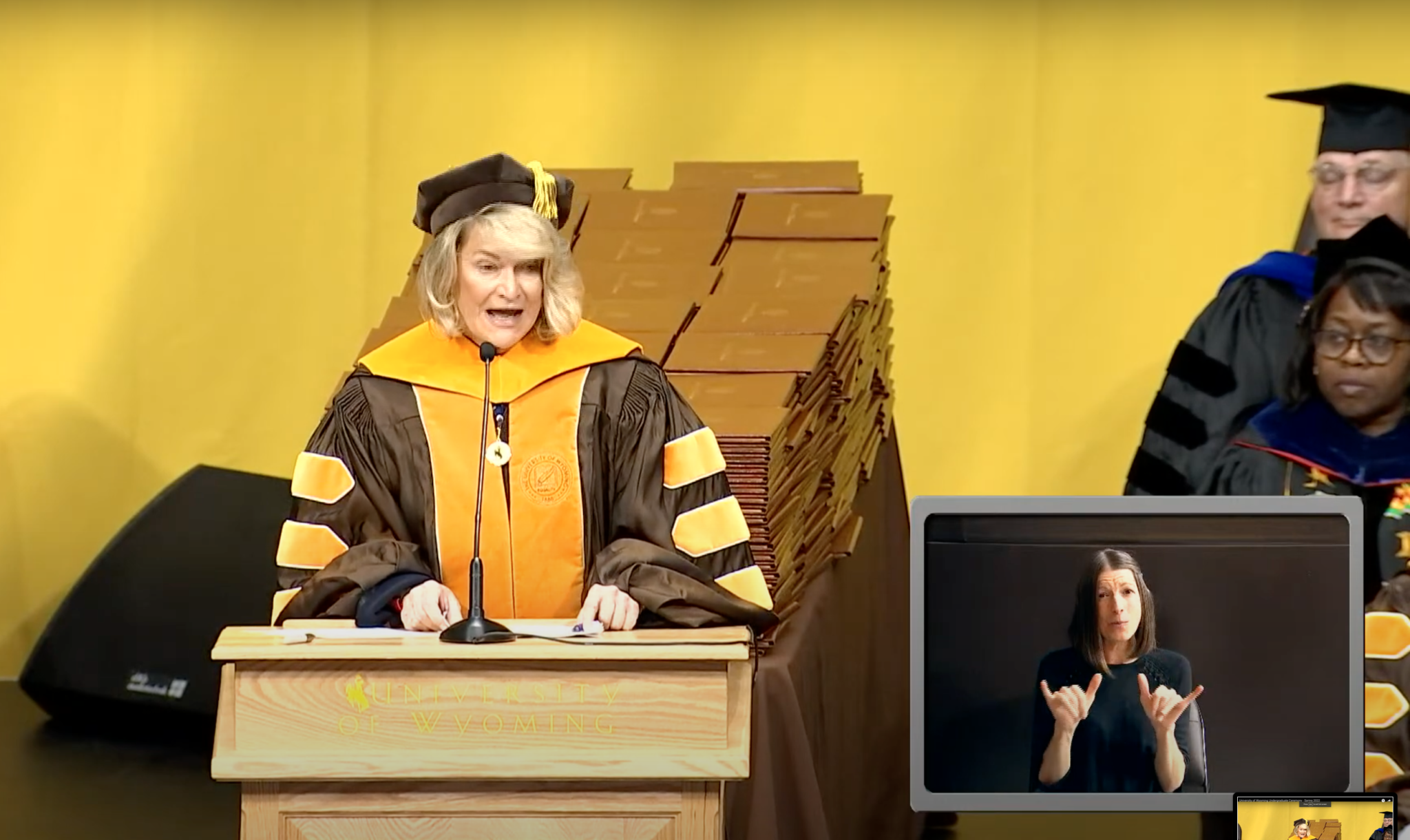 During her speech delivered to the University of Wyoming's College of Arts and Sciences and the College of Education commencement Saturday afternoon, Republican U.S. Senator Cynthia Lummis told graduates that "the existence of two sexes, male and female" was a "fundamental scientific truth."
The audience's immediate reaction to her transphobic remarks were loud expressions of disapproval including jeering, boos, and demands she leave the podium.
The senator's remarks came in the latter third of her twenty-minute address which had primarily focused on the critical need for teachers and in the fields of agriculture and other endeavors she noted were Wyoming hallmarks.
In a statement released by her office Sunday, a spokesperson noted that Lummis was apologizing to those who felt "un-welcomed or disrespected" by the comments.
"My reference to the existence of two sexes was intended to highlight the times in which we find ourselves, times in which the metric of biological sex is under debate with potential implications for the shared Wyoming value of equality," the statement read.
"I share the fundamental belief that women and men are equal, but also acknowledge that there are biological differences and circumstances in which these differences need to be recognized. That being said, it was never my intention to make anyone feel un-welcomed or disrespected, and for that I apologize. I have appreciated hearing from members of the University of Wyoming community on this issue, and I look forward to continuing this dialogue."
An Assistant Professor in the University of Wyoming's Sociology Program in the College of Arts and Sciences tweeted pointing out the graduate's reactions along with the fact that the UW campus community had recently lost a Trans student to suicide, making the senator's remarks more hurtful.
The university's president also issued a statement Sunday expressing support for all members of the UW campus and community:
May 15, 2022
To the UW community:
On Saturday, the university celebrated spring 2022 commencement with a series of events that showcased the best of what makes us special: our students, our staff, our faculty and our ability to openly embrace and debate complex issues. One of our speakers made remarks regarding biological sex that many on campus take issue with. While we respect the right of all to express their views, from students to elected officials, we unequivocally state that UW is an institution that supports and celebrates its diverse communities that collectively make us the wonderful place that we are.
Thank you to the many students and families who celebrated with us this weekend. We welcome the incredible individuality and intellect of all our dynamic and diverse students and never want you to feel otherwise.
Sincerely,
Ed Seidel, President
Being overtly anti-trans at graduation in the same year we lost a trans student to suicide (even if she was oblivious) is beyond cruel.

— Jenni Tabler, PhD (@jenni_tabler) May 14, 2022
Hi 👋. If you are interested in the response of our university. There is a lot of reflection required to support students and the broader state. But we are also people. I'm just a person who lost a student this year. I want all my students to feel seen and to live and thrive. pic.twitter.com/otSXPcc0WE

— Jenni Tabler, PhD (@jenni_tabler) May 16, 2022
Senator Cynthia Lummis' remarks are at the 50:11 time mark: