The personal cost of getting equal
How much are we willing to sacrifice for justice?

"… And so this social revolution taking place can be summarized in three little words. They are not big words. One does not need an extensive vocabulary to understand them. They are the words 'all,' 'here,' and 'now.' We want all of our rights, we want them here, and we want them now.
"Now the other thing that we must see about this struggle is that by and large it has been a nonviolent struggle. Let nobody make you feel that those who are engaged or who are engaging in the demonstrations in communities all across the South are resorting to violence; these are few in number.
" … You see, this method has a way of disarming the opponent. It exposes his moral defenses. It weakens his morale, and at the same time it works on his conscience, and he just doesn't know what to do. If he doesn't beat you, wonderful. If he beats you, you develop the quiet courage of accepting blows without retaliating. If he doesn't put you in jail, wonderful. Nobody with any sense likes to go to jail.
"But if he puts you in jail, you go in that jail and transform it from a dungeon of shame to a haven of freedom and human dignity. And even if he tries to kill you, you'll develop the inner conviction that there are some things so dear, some things so precious, some things so eternally true, that they are worth dying for. And I submit to you that if a man has not discovered something that he will die for, he isn't fit to live."  (Martin Luther King Jr., Speech at the Great March on Detroit, June 23,1963)
On March 18, 12 of the 13 activists who came together for a direct action on the White House fence met for a court date in Washington. The 13 of us who handcuffed ourselves to the White House fence on Nov. 13, 2010, were a group of LGBT military service veterans and activists who wanted to see "Don't Ask, Don't Tell" repealed.
The 12 of us who were at the courthouse (one was ill and couldn't make it) and our two attorneys agreed, before going into court, to go to trial over our arrest. We, as a group, perceive that the U.S. District Attorney representing the federal government is too aggressively prosecuting this case. There is a free speech issue at play here and the zealous prosecution by the federal government appears to us to be one of message censorship.
The facts of our case aren't in dispute. The 13 of us handcuffed ourselves to the White House fence, chanting "I am somebody" to send the message that the president and Congress needed to act to repeal "Don't Ask, Don't Tell," and allow lesbian, gay, and bisexual service members to serve openly.
The bottom line for the 13 of us was that in unanimity we were ready to go to trial but that decision has been postponed until May because we still aren't sure what the final charge against us will be. If there is a trial — or even if we end up pleading to lesser charges that have us ending up with no federal record — the next court date set for either of those two outcomes will be Sept. 19.
The 13 of us who went to jail spent time in what has become to us and others "a haven of freedom and human dignity." I believe our efforts helped move the LGBT community closer to ordinary equality. Do we in the LGBT community believe "some things are so dear, some things so precious, some things so eternally true, that they are worth dying for?"
Ordinary equality for members of the LGBT community is going to take sacrifice. We should all already know that it's going to take more effort than just lobbying alone to see the Employment Non-Discrimination Act and the repeal of the Defense of Marriage Act pass into law. The question has really become how much we, as a community, as well as individual community members, are willing to sacrifice for ordinary equality.
National Gay & Lesbian Chamber of Commerce Certifies Brown, Naff, Pitts Omnimedia, Inc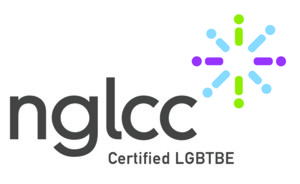 Washington, D.C. — Brown, Naff, Pitts Omnimedia, Inc, the parent company of the Washington Blade and Azer Creative, announced today it has been certified by the National Gay and Lesbian Chamber of Commerce (NGLCC) as an LGBT Business Enterprise. The NGLCC supports and advocates for diversity and inclusion for LGBT-owned businesses. With this certification the Blade's parent company joins more than 510 business and 134 corporate partners of the NGLCC.
Brown, Naff, Pitts Omnimedia, Inc. owns and operates the Washington Blade, the oldest and most acclaimed LGBT newspaper in the country. In 2012, the company launched Azer Creative, a full-service design firm. The company employs more than a dozen full-time LGBT staff.
"We are excited to become one of the 500 LGBT businesses across the country certified by NGLCC," said Lynne Brown, the Blade's publisher and a co-owner of the company. "The LGBT community has been part of our company from the beginning and we look forward to continue that for many years to come."
The Washington Blade was founded in 1969 and is known as the "newspaper of record" for the LGBT community both locally and nationally. Visit washingtonblade.com for more information. Azer Creative is a full-service graphic design firm based in Washington, D.C. Visit azercreative.com for more information. 
Vote now for the 2013 Best of Gay DC!
Choose in dozens of categories among hundreds of nominees, and make your voice heard!
Nominate the 'Best of Gay D.C.' now!
Dozens of categories cover all the best for LGBT Washington. Who deserves the prize this year?