March 31, 2011 at 4:18 pm EDT | by Joey DiGuglielmo
Queery: James Decker
James Decker moved to Washington 10 years ago after a three-year stint in Flagstaff, Ariz. He came, he says, "to change the world."
"That really was it," the Lansing, Mich., native says. "I'm not sure I believe that anymore, but I'd always been an activist with my hand in a lot of different pots. Civil rights, the environment. It just seems like if you're into acting and film, you go to L.A. If you're into the financial industry, you go to New York. But politics is really the action here in Washington."
Decker worked as a graphics designer at Human Rights Campaign for six years, then had a stint with Ralph Nader's Public Citizen. He's freelance now (thinkdamnit.com).
Decker started attending Cherry as soon as he came to D.C. The nightlife/dance music fan joined the board this year to help "put D.C. back on the map" as a destination spot for nightlife enthusiasts.
"It's certainly been bigger in the past and kind of ebbed and flowed," he says of Cherry attendance. "There were a few years where it wasn't quite where it needed to be. When you think of Miami, New York, Dallas, L.A., Montreal — the places where people travel to hear world-class DJs, I wanted to help D.C. be part of that circle again."
He's excited about the crop Cherry — which runs all weekend with a bounty of events (go to page 25 or cherryfund.org for more information) — has attracted this year. He says Oscar G., who'll be at the main event Saturday night at Town, is one of the biggest talents who's been in the region "in years."
"I have a saying among my friends — it's really all about the music for me," Decker says. "That it's also a charity, all the better, but for me it's really to showcase the quality DJs. As far as the wow factor, Cherry really has no equal in Washington. If there is anytime to go dancing here, it's this weekend."
Decker is single and lives in Dupont Circle. He enjoys hiking, camping, working out, biking, dancing, film, art, painting and beer.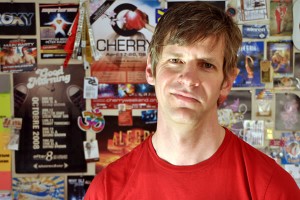 How long have you been out and who was the hardest person to tell?
18 years; my brother.
Who's your LGBT hero?
Harvey Milk
What's Washington's best nightspot, past or present?
Nation
Describe your dream wedding.
White, honeymoon in Ibiza.
What non-LGBT issue are you most passionate about?
The abuse of corporate power
What historical outcome would you change?
Citizens United v. FEC
What's been the most memorable pop culture moment of your lifetime?
Lorena Bobbitt
On what do you insist?
Justice
What was your last Facebook post or Tweet?
"Serving my Muse pretty well lately"
If your life were a book, what would the title be?
"Queerly Quirky"
If science discovered a way to change sexual orientation, what would you do?
Buy a shotgun.
What do you believe in beyond the physical world?
Ineffable, but hearing is believing.
What's your advice for LGBT movement leaders?
Keep it up.
What would you walk across hot coals for?
True love
What LGBT stereotype annoys you most?
We're obsessed with having sex all the time.
What's your favorite LGBT movie?
"Chop Suey," by Bruce Weber
What's the most overrated social custom?
Karaoke
What trophy or prize do you most covet?
My dog, Boo
What do you wish you'd known at 18?
I was perfect the way I am.
Why Washington?
Beautiful, conveniently located, the seat of power for the greatest nation in human history.