April 15, 2011 at 2:58 pm EDT | by Joey DiGuglielmo
Arngrim a hoot last night at Nellie's
I — any many other local gays — had a blast last night at Nellie's with "Little House on the Prairie" actress Alison Arngrim (Nellie). She was hilarious, down to earth and self-deprecating.
I'd interviewed her Saturday on the phone and found her equally delightful. She was very generous with her time, indulged all my archaic "Little House" questions (like "Were the Mercantile and Nellie's buildings just facades or did you shoot interiors there too?") and spent nearly an hour with me.
I felt bad — I committed one of the reporter's greatest sins: I hadn't done my homework in reading her 2010 autobiography "Confessions of a Prairie Bitch" before the call. But the interview was pretty last minute so I was in a time crunch. I DID, however, buy the book last night at Nellie's and she graciously signed it for me. She signed a copy of the article as well — even though the Blade's publication date is today, you can almost always find early copies in D.C. boxes Thursday evening.
I was a huge "Prairie" fan as a kid. I vaguely remember it in its original run, but I really fell in love with it in syndication. My sisters and I watched it religiously every day after school. I even skipped a basketball game once — my lone attempt at athletics — because I didn't want to miss seeing the blind school burn down, quite a harrowing episode. Melissa Sue Anderson (Mary) holding her dead baby in the grass is an image seared into my memory. There doesn't seem to be any love lost between Anderson and Arngrim today, though. Arngrim says Anderson was "the real bitch of the show."
Mostly, though, I found the Ingalls too sickening. I tried a season of it on DVD a few years ago, as I've done with many of my childhood faves, and found it too maudlin to stomach. The Olesons, though, made the show for me. They weren't in every episode but they were on a lot. I used to watch the opening credits with an eagle eye to see if it would be an Olesons episode — they were only credited if they were gonna be on. I anticipated their appearances with the same vigor I hoped each "Batman" would be a Catwoman (Julie Newmar, of course!) episode.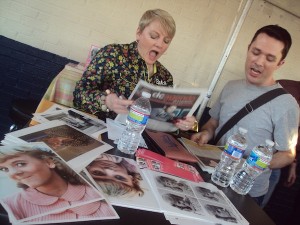 Nellie and Harriet (the underrated Katherine MacGregor) made the show for me so what a thrill to meet Arngrim after all these years. I admire her a great deal — like Elizabeth Taylor, she used her platform to become an AIDS activist. Those are the best kind of celebrities — those who entertain us but also use their fame for the greater good.
And she doesn't take herself too seriously at all. She gamely donned a Nellie-esque wig for photos last night — it's somewhere between Mary Pickford and Baby Jane. And even brought a bonnet too. I think it's awesome that she's up for such antics. It's gotta be a bit frustrating as an actor to be so heavily identified with somewhat cheesy '70s show. Maureen McCormack talks about this in her great book "Here's the Story" and her love/hate relationship with Marcia Brady. And Eve Plumb is even more ambivalent. Don't dare ask her for her famous "Marcia, Marcia, Marcia" line if you ever meet her! Though there've been tons of reunion movies over the years, each of the Brady sister actresses sat one out meaning the only time the full cast reunited was way back in 1981! Sad. They should take a note from Arngrim, embrace their alter egos and have fun with it!
Kudos to Nellie's owner Doug Schantz for inviting Arngrim — in town for a PFLAG dinner Saturday night — to his bar. It was a brilliantly conceived move and quite funny to see Arngrim there making change in a cash bag with the Nellie's logo on it.
Though about 45 minutes late, she took her time signing as many things and posing for as many photos as anyone wanted. And the dollar vodka happy hour special made the time fly. Several gay "Little House" geeks compared favorite episodes to pass the time.
One thing I didn't get in my story — Arngrim says her favorite episode is when Laura pushed her down the hill in the wheelchair. Mine? Hmmmm, I haven't watched it in years but the first one that comes to mind is "The Return of Nellie" — it was great to see all the Olesons together for once and I loved it that "Little House" embraced Arngrim again even though she'd left the show. A far cry from "Alice" where they wouldn't even mention Flo's name (Polly Holliday) after she left for her own short-lived spinoff, much less invite her back for a visit. Just for the record — the only reason the "Flo" spin-off failed was because CBS kept moving its time slot. Nobody in those pre-TIVO days could find it! Yeah, I know, too much TV as a kid!