Tough questioning for Gallagher at marriage hearing
Democratic lawmakers hammer anti-gay activist

Democratic lawmakers on Friday hammered anti-gay activist Maggie Gallagher during a congressional hearing with questions on why same-sex couples should be excluded from marriage and the extent to which the National Organization for Marriage participated in campaigns to rescind state marriage laws.
In testimony before the House Judiciary subcommittee on the Constitution, Gallagher, NOM's chair and co-founder, said marriage should restricted to one man and one woman because such unions are the only kind that can produce children and because state voters by referenda have affirmed 31 times that marriage shouldn't be extended to gay couples.
"Marriage is the union of husband and wife for a reason: these are the only unions that create new life and connect those children in love to their mother and father," Gallagher said. "This is not necessarily the reason why individuals marry; this is the great reason, the public reason why government gets involved in the first place."
The hearing, which was titled "Defending Marriage," took place on the heels of President Obama's announcement on Feb. 23 that the Defense of Marriage Act is unconstitutional and that his administration would no longer defend the anti-gay law against litigation in court. Following a 3-2 party-line vote in March by the Bipartisan Legal Advisory Council, U.S. House Speaker John Boehner (R-Ohio) directed the House general counsel to take up defense of DOMA in place of the administration.
Gallagher said the need to raise children by married parents of opposite genders affirms the rationale for having in place DOMA, the 1996 law that prohibits recognition of same-sex marriage, and criticized the Justice Department for dropping defense of the law.
"This is the rationale for the national definition of marriage proposed by Congress in passing DOMA: 'civil society has an interest in maintaining and protecting the institution of heterosexual marriage because it has a deep and abiding interest in encouraging responsible procreation and child-rearing,'" Gallagher said. "If we accept, as DOMA explicitly does, that this is a core public purpose of marriage, then treating same-sex unions as marriage makes little sense."
Following her opening statement, Gallagher bore the brunt of tough questioning from Democratic lawmakers during the question-and-answer session of the hearing.
Rep. Jerrold Nadler (D-N.Y.), ranking Democrat on the subcommittee, asked Gallagher if the children of Jen and Dawn BarbouRouske, a married same-sex couple from Iowa who were present during the hearing, should have parents who can receive the full protections of marriage or if she considers these children "expendable."
"I think no children are expendable," Gallagher replied. "Gay people have families that are not marital families, but they are families. I myself was an unwed mother, so I have firsthand experience with being in a family that's not a marital family. I don't think you need to have a message of stigmatization and exclusion to protect to an ideal."
Nadler, sponsor of DOMA repeal legislation in the House, interrupted Gallagher, saying "the whole point" of DOMA is stigmatization and exclusion, and pressed Gallagher further on why the institution of marriage benefits when same-sex couples are excluded.
"Because including same-sex unions as marriages denies at a public level that marriage is about an important way for getting together mothers and fathers and children," Gallagher said.
Nadler continued to question Gallagher on NOM's involvement in 2010 Iowa campaign that successfully ousted three justices from the state Supreme Court who ruled in favor of same-sex marriage. The lawmaker asked Gallagher, who estimated that NOM contributed between $600,000 and $650,000 to the campaign, why she would criticize the Justice Department for allegedly making a political decision while her organization politicized the judicial process.
"The National Organization of Marriage is political advocacy organization, and so I think it's appropriate for us to be politically involved in ways that Department of Justice is not," Gallagher replied.
Rep. John Conyers (D-Mich.), a co-sponsor of the DOMA repeal bill, asked Gallagher whether reports were true that her organization contributed $1.9 million to the 2009 campaign in Maine to abrogate the states's same-sex marriage law. Opponents of same-sex marriage succeeded in nullifying the marriage law in the state before gay couples could marry there.
"I don't have those figures in front of me, but we were involved in the [effort]," Gallagher said. "But that's probably on the order [of our contributions]."
NOM has repeatedly come under fire for failing to disclose their donors during the campaign against the Maine marriage law. State courts have ordered the organization to reveal their donors in accordance with the law, but NOM has yet to do so.
Following the hearing, Dan Fotou, eastern regional field director for GetEQUAL, praised Democratic lawmakers for hammering Gallagher with tough questions after her testimony.
"I think it was good to hear the Democrats standing up and challenging Maggie Gallagher's position," Fotou said. "Fifty-two percent of Americans think that marriage equality is OK, so I think today was good in terms of putting a face on hate once again, and Maggie does a really great job of that."
Democratic lawmakers' criticisms during the hearing weren't limited to Gallagher. Conyers questioned Rep. Trent Franks (R-Ariz.), chair of the subcommittee, why no witnesses from the Justice Department were present to defend Obama's decision to drop defense of DOMA.
"What bothers me about this hearing at this subcommittee is that the Department of Justice is not present," Conyers said. "I was informed that they were not invited. … We have one of the leaders of the country, Ms. Gallagher, who's raised hundreds of thousands of dollars against judges … but there's nobody here from the Justice Department."
In response, Franks said the Justice Department would be invited to come during an upcoming hearing in May before the House Oversight & Government Reform Committee on the DOMA decision. Upon further questioning, Franks maintained the panel was fair because its makeup included witnesses on both sides of the issue.
But Franks' response apparently didn't allay the concerns of Conyers, who said he hopes Congress can hear the Justice Department to respond to the criticisms of Gallagher.
"There's a political tone in this hearing that I want to diminish as much as possible," Conyers said. "The fact of the matter is this is not in regular order and I do not approve the way that we're starting out this subcommittee [hearing]."
Despite the general tone in favor of DOMA during the hearing, several panel members known for having anti-gay views — including Rep. Steve King (R-Iowa), who's railed against same-sex marriage in home state, and Rep. Jim Jordan (R-Ohio), who's leading the effort to eliminate gay nuptials in D.C. — didn't make an appearance. Neither the office for King nor Jordan responded to the Washington Blade's request to comment on why the lawmakers didn't attend the hearing.
Ian Thompson, who's gay and legislative representative for the American Civil Liberties Union, said the lack of presence by anti-gay lawmakers was telling that the they were uncomfortable with their positions.
"The thing that was particularly striking to me was the fact that so few DOMA supporters on the committee actually were in attendance," Thompson said. "So, from my perspective, if the hearing was intended to demonstrate the support of the House of Representatives for DOMA, from the attendance alone, it was a complete and total flop."
But a few anti-gay Republicans did make an appearance to rebuke the notion of extending marriage rights to gay couples and to criticize the Justice Department for dropping defense of DOMA.
Franks called Obama's decision to discontinue defense of the anti-gay law an "edict" that "failed to show the caution and respect for Congress and the courts."
"When the President unilaterally declares a duly enacted law unconstitutional, he cuts Congress and the American people out of the lawmaking process," Franks said. "Such heavy-handed presidential action undermines the separation of powers and the principle that America is a constitutional republic predicated on the rule of law."
Franks continued that the arguments in favor of DOMA are "reasonable and right" because marriage between one man and one woman is the best union for raising children.
"Traditional marriage has proven to be the most successful institution in humanity's history for the propagation and preparation of the next generation," Franks said. "The traditional family has proven to be the best department of welfare, the best department of education, the best department of crime prevention, and the best department of economic security that there has ever been."
Rep. Lamar Smith (R-Texas), a lawmaker known for anti-gay views, also made an appearance at the hearing and railed against what he called the government altering the definition of marriage. Smith, chair of the full House Judiciary Committee, offered an opening statement during the hearing even though he's not a member of the subcommittee.
"If we tamper with the definition of marriage, harmful unintended consequences could follow," Smith said. "The ability of religious institutions to define marriage for themselves to promote their sincerely held beliefs could be threatened."
Smith said the will the people is for continued definition of marriage between one man and one woman — noting the 31 successful ballot initiatives that restricted marriage to such unions — and said the U.S. Constitution doesn't provide protections for same-sex couples seeking to marry.
"No one can seriously believe that the Constitution's founders intended to create a right to same-sex marriage," Smith said. "By refusing to defend the Defense of Marriage Act against legal challenges, the administration has allowed the courts to overrule that popular law."
Franks and Smith's opening statements were countered by initial remarks from Nadler, who called arguments that Justice Department acted inappropriately by dropping defense of DOMA a "red herring" and said the real question should be whether anyone — either the Obama administration or Congress — should defend the law.
"Far from demeaning, trivializing or destroying the institution of marriage, [gay] couples have embraced this time-honored tradition and the commitment and serious legal duties of marriage," Nadler said. "Rather than defending DOMA in court, Congress should be working to repeal it."
Two legal experts on the panel presented opposing views on whether the administration acted within bounds in its decision to discontinue defense of DOMA in court.
Edward Whelan, president of the Ethics & Public Policy Center, said the Justice Department's decision is in violation of its policy.
"The Obama administration's decision to abandon defense of DOMA — or more precisely, to abandon its charade of pretending to defend DOMA — departs sharply from the Department of Justice's long-standing practice," Whelan said.
Whelan said Obama dropped defense of the anti-gay law to appease a political constituency and to induce the courts to "invent the constitutional right to same-sex marriage."
"With the exception of laws that intrude on the executive branch's power, the long-standing practice of the Department of Justice is to vigorously defend the constitutionality of any law where a reasonable may be made," Whelan said. "This 'reasonable standard' is a very low bar. It basically means that the Department of Justice will defend a federal law against constitutional challenge when it can offer non-frivolous grounds in support of the law."
But Carlos Ball, a gay law professor from Rutgers Law School, testified that Obama acted within his authority because another statute exists saying that the attorney general must inform Congress if the administration decides to no longer defend a law.
"The existence of that statute seems to be a recognition by the Congress of the reality that the executive branch sometimes, in rare cases, can not defend the constitutionality of a law," Ball said. "The executive branch, as a co-equal branch of government, has the authority and obligation to make independent assessment's regarding a law's constitutionality."
Ball noted precedent for an administration declaring an existing law unconstitutional and dropping defense of the statute in court — the 1990 case of Metro Broadcasting v. FCC. Then-acting U.S. Solicitor General John Roberts, now Chief Justice of the U.S. Supreme Court, argued that a law providing for minority preferences in broadcast licensing was unconstitutional. Despite the position of the Bush administration, the Supreme Court later upheld the law.
What to watch for during an open house
Check condition of kitchen, flooring, windows, and more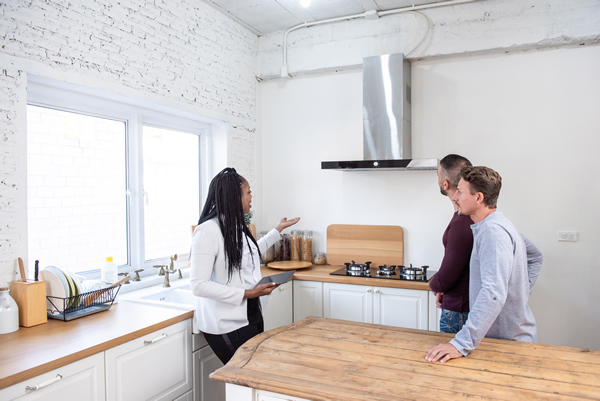 Anyone who knows me might say that I am detail obsessed. This has proven to be an amazing asset when looking at real estate. When I scour through listings for clients I am analyzing the photos, floor plans, and square feet of each property to ensure that everything flows properly into what my clients are looking for in their home. These items I search for also tell the tale of how recently renovated a property is, how well loved it was and a general idea of how much will be needed to make improvements and get it into the condition and aesthetic of which my clients are dreaming. When the time comes to see property in person, the fun begins and I am going to provide a few simple tips that you can use on your Sunday open house strolls that we all love to do.
The following is by no means an exhaustive list of things that I, and other individuals, keep an eye out for when touring homes, but these are perhaps the most noticeable and least controversial. Let me state here (for my lawyer warned me) I am by no means a home inspector, contractor, interior designer, etc.
• The kitchen truly is the heart of the home, especially with the holidays approaching. Some obvious items to identify are the cabinets. Are they soft close or can you slam them shut in an argument and really get your point across? If they are not soft close this means that likely they are on the older side and as such most items in the kitchen are also on the older side. In the kitchen I focus mainly on items that are difficult to remove, like cabinetry and counter surfaces. Appliances, while sometimes costly, can easily be replaced due to wear and tear.
• Moving through the house I take note of windows. What material are they made out of? Are they operational or painted shut? And how many are there? This last piece is CRUCIAL. This not only comes to mind when you need to replace windows but more immediately for the purpose of window coverings — it all adds up quickly.
Flooring is next on the list. Not so much that the warm wood tones will clash with my client's furniture, but more so the condition of the flooring and how much there is. Again, similar to the windows, coming from a place of utility and replacement. What condition is the flooring in and what type? If I'm lucky enough to find original wood floors my clients have been searching for, how many times have they been refinished and can they be refinished again? If not, then how large is the home and what's the cost to replace the flooring. As I pointed out earlier, on behalf of my lawyer, I am not a structural engineer either. I would take note of any low points or dips in the flooring and if needed, consult an engineer to take a look at the support pieces of the home.
Moving onto electrical components. An easy thing to look for is outlets. Identify the type of outlets a home has. We are fortunate here in the DMV to have a plethora of older homes. This comes with its own set of challenges. If you see an outlet that only accepts a two-prong plug then likely the electrical system is older and will need to be upgraded. Looking at the electrical panel for the home is also a very important step. If there are two prong outlets and glass fuses in the electrical panel then this is a great time to call Chip and Joanna Gaines as this home will likely need a massive overhaul.
Again, this is in no way an exhaustive list of things to identify as you are house hunting but rather some items that I always look for and point out when advising clients with perhaps one of the most expensive and scariest purchases of their lives. These items above are not meant to condemn a home but instead identify if a home is a good fit for you based on a more in-depth look. Paint and light fixtures can be changed, similar to hair color, but it's a bit harder to change one's heart. Ensuring the overall structure of the home and the more expensive components are in working order and have several useful years left is paramount. 
Justin Noble is a Realtor with Sotheby's International Realty licensed in D.C., Maryland, and Delaware for your DMV and Delaware Beach needs. Specializing in first time homebuyers, development and new construction as well as estate sales, Justin is a well versed agent, highly regarded, and provides white glove service at every price point. Reach him at 202-503-4243 or [email protected]. 
Investing in real estate: What you need to know
From REITs to flips, tips for getting started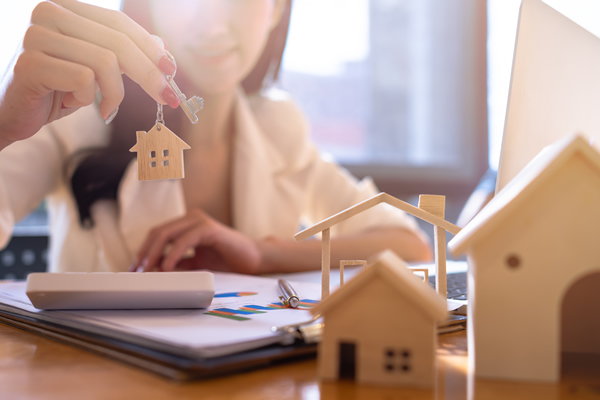 In many cases, buying or selling a home is a very personal experience. Many people buy a home with the intention of living there – making memories, building a family, becoming part of a community. The same is true of sellers. Selling a home, in many cases, is simultaneously difficult and exciting – it means the ending of one chapter and the beginning of another. While the majority of buying and selling experiences may be personal – increasingly, others in the market are interested in real estate not just to find a home, but also to make a great investment.
In our current market, it's easy to see why real estate can often end up being quite a profitable investment. In 2021, sellers often saw huge profits on the sale of real estate – but even in years where profits aren't quite as significant as this year, real estate has often proven to be a sound and reliable long-term investment strategy. Real estate investments can add diversification to your portfolio, and a very successful venture, particularly if you buy and sell when the circumstances are right.
Over the last several years, many gay neighborhoods around the country have shown steady appreciation, leading investors, and particularly LGBTQ investors, to consider whether the time is right to consider adding real estate to their investment portfolio. For those considering real estate as an investment strategy, here are a few helpful tips:
• Consider REITs: For those just getting started with real estate investment, Real Estate Investment Trusts, or "REITs" for short, might be a good option. These provide the opportunity to invest in real estate without owning the physical real estate yourself. They are often compared to mutual funds, and you invest in a company, a REIT, which owns commercial real estate like office buildings, apartments, hotels, and retail spaces. Generally, REITs pay high dividends, which make them a popular investment in retirement, as well as for investors not wanting to own one particular piece of property.
• Consider investing in rental properties: Rental income can often be a steady, reliable source of income if you do your due diligence researching the property itself, the surrounding neighborhood, and the potential community of renters. While maintaining a rental property will certainly require some investment of time and energy on your part, it can be a profitable long-term investment and one that is appealing to many people.
• Put your skills to work: If you have a skill set that includes being able to renovate and upgrade homes – or if you know a trusted person or team of people who does, flipping a home that could use some renovation can be quite a profitable investment indeed. Getting a home that could use some extra TLC at a good price and updating it can result in a sales price that is significantly higher than the purchase price. This can certainly be a very good investment – and a fulfilling project too.
• Be willing to listen and learn: When trying something new, it is almost always helpful to talk to those with experience in that area. Investing in real estate is no different. Having a mentor who can give you some tips and advice from their own experience is invaluable.
• Get to know the neighborhood: When making any real estate decision, whether you're going to live in a home yourself or purchase property for investment purposes, knowing the neighborhood and community you're interested in is important. A key part of that will be finding a real estate agent who knows and loves the community that you're interested in, and who understands the market in that area. This can make all the difference between a smooth and successful process, and a stressful one.

(At GayRealEstate.com, we are dedicated to our mission of connecting LGBTQ home buyers and sellers with talented, knowledgeable, and experienced real estate agents across the country who can help them to achieve their real estate goals. Whether you're interested in buying or selling a home that you live in personally, or buying and selling for investment purposes, we can connect you with an agent who knows and loves the community, and who can help you achieve your goals. Contact us at any time. We look forward to helping you soon.)
Jeff Hammerberg is founding CEO of Hammerberg & Associates, Inc. Reach him at
303-378-5526 or [email protected].
Bistro du Jour transports you from Wharf to Seine
New casually sophisticated restaurant a welcoming, inclusive space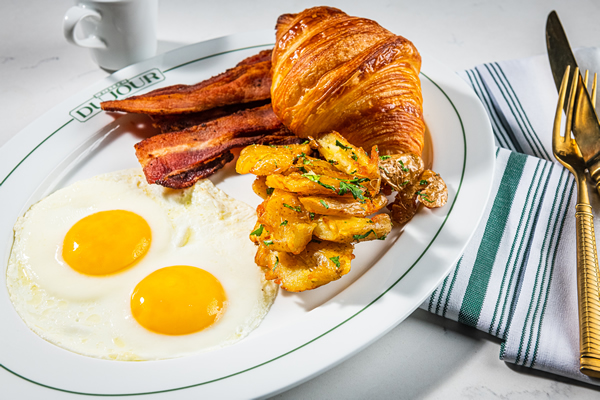 Delights run morning to night at The Wharf's new Bistro du Jour, a casually sophisticated French outpost sliding into a prime waterfront space.
Courtesy of gay-owned KNEAD Hospitality + Design, this new restaurant flaunts a menu born from a Seine-side bistro, serving coffee in the morning hours to Champagne in the evening. Its all-day culinary oeuvre begins with coffee (from La Colombe) and omelettes, and ends with items like a towering and meaty bi-patty cheeseburger L'Americain.
Taking over the sweet spot vacated by Dolcezza, Bistro du Jour is a sister to Mi Vida and The Grill, KNEAD group's two other Southwest waterfront locales. The group also runs several other formal and large-format restaurants they have populated across the city.
Why bring French to the Wharf?
"We have been here for almost four years and we knew what the area was missing and acted on it," says one of the co-owners, Jason Berry. "We wanted something where people could come in at all hours of the day and find something they wanted, from coffee and pastry to a full-on sit down at night."
The Bistro opens at 7:30 a.m. serving that local La Colombe coffee, plus flaky, buttery pastries from KNEAD's partner Mah-Ze-Dahr Bakery. Breakfast service starts at 8 a.m. with brioche doughnuts, quiches, a "massive" Belgian waffle, and French toast topped with a blueberry compote and sweetened whipped cream.
Executive Chef Treveen Dove – transferred after three years at another KNEAD spot, Succotash Prime) – oversees the offerings, a tour of the "greatest hits" of a typical Parisian bistro.
"Oeufs Sur Le Plat is to die for, with the griddled buttered bread topped with a sunny side up egg, sautéed mushrooms and a Mornay sauce… It's so rich and delicious."
By 11 a.m., the Bistro transitions to other traditional French fare, like French onion soup, tuna Niçoise salad, steak frites, mussels in a white wine and garlic butter, and a croque madame sandwich dripping with gruyere and creamy Bechamel. One unique offering is whipped brown butter with radishes and crostinis. There are also gougeres, warm cheese puffs shot through with gruyere.
Come 4 p.m., the dinner menu fills out even more, with additional dinner items confit de canard (duck leg with green lentils and red wine shallots); and a robust, earthy coq au vin (braised chicken with bacon, mushrooms and mashed potatoes); and a lamb shepherd's pie with mashed potatoes that would be at home on a French Alps farm.
Due to space limitations, the Bistro lacks a sit-down bar. Yet beverage director Darlin Kulla, who has been a part of the KNEAD family for more than four years, has put together a focused menu of six craft cocktails. You'll find not only a French 75 (gin, lemon verbena, lemon, bubbles), but also a Manhattan and a "Champs Elysees" with cognac, chartreuse, lemon, and bitters.
The bar itself carries only one brand of each liquor: one gin, rum, and vodka. " If you want vodka, you're having Grey Goose," notes Reg with a smile.
Given the cuisine, there is a considerable French wine list topping 60 bottles, leaning heavily on Champagne and sparkling wine. There are almost 20 red, white, rose, and Champagne options by the glass and carafe, as well. The bar rounds out its stock with French aperitifs and bottled beer.
Notably, the majority of the restaurant's seating is situated on the building's exterior, in a newly constructed all-season patio enclosure with almost 70 seats. The owners designed the space to maximize waterfront views, capacity, and flexibility. During warmer days, the Potomac breeze is welcome to flutter around coffee-sippers; in the colder months, the windows roll down for a fully enclosed and conditioned space. The patio's banquettes arrived directly from France, and twinkling strung lights sway from the ceiling.
The interior is done up in Mediterranean greens, pinks, and creams. Big windows welcome in daytime natural light, but allow for a dim, mood-lit atmosphere in the evening. Traditional bentwood bistro chairs dot the space and antique-style tin tiles reflect a classic Parisian flair. Over at the bar, the glassware display was created from a single panel of antiqued brass. At the rear, a daytime counter offers coffee, pastries, and drinks.
As Bistro du Jour's owners are both gay men, they note that, "Our restaurants are intended to be welcoming to all guests of all backgrounds, beliefs and demographics. We cater to everyone, which is the only way to lead a hospitality organization."
"When you're part of a minority group in society," they say, "the only way to lead your restaurants is as inclusive, welcoming, and hospitable leaders."
Though smaller than their other ventures, a French bistro right on the teeming, pedestrian-heavy Wharf "was the perfect fit," they say.