Consider a vote for Josh Lopez

I just voted this morning in today's D.C. City Council special election, to fill the vacant at-large seat.
I voted for Josh Lopez, and you should consider doing so today — polls remain open until 8 p.m. — also.
Here's why.
He's the youngest candidate, at age 27 but he is also seasoned — having worked for Adrian Fenty on his Council staff and later in his campaigns for mayor, and also as an ANC member — and he can speak for the largely disenfranchised and growing youth population in D.C.
He is also the ONLY Latino/Latina candidate among the nine candidates seeking victory today, and it is a scandal — wrong on so many levels and for so many reasons — that there is no Hispanic serving on the Council, despite the large and growing Hispanic population in D.C.
He will also be an independent voice and vote for reform on the 13-member Council — as he says, "to go downtown and shake things up!" He is NOT party of the city's discredited mayoral and Council power base, in the self-perpetuating "machine" that is rooted in corruption and the old ways of getting things done.
In Josh's own words, "If we keep electing the same people, we will get the same results. It is time for a change!" I agree.
True, the power brokers at the Washington Post endorsed someone else, the Republican Patrick Mara, who despite being progressive on some issues is nevertheless tied to his party and Mara's victory will rightly be seen as a vote for Republican values in a city deeply Democratic and progressive.
But the Post also said of Lopez that he is "an engaging newcomer … who would be the first Hispanic on the Council if elected," and that Lopez "is running an energetic, forthright campaign."
"There's no doubt that he would be an independent voice on the Council," said the Post's editorial on this race. I agree.
He is also totally sensitized to the concerns of the city's LGBT population, as he told me recently, in part because he knows that it's simply right to stand with those who have been oppressed, and in part because his own brother is gay. He will be a strong and proud voice for the LGBT agenda, including, he says, for transgender persons who he feels are still mostly excluded from realizing the rights of being citizens who will be treated fairly in every way.
I could recite his stands on the issues — to continue reforms in the D.C. public schools and also for a more progressive approach to income taxes so more revenue is raised from the rich and those with high incomes, and to shield the poor and vulnerable from crushing cuts to city social services under the mayor's new budget.
But the existential reason to vote for Lopez today is because he is young and has energy as well as vision. He is young and fresh, when almost everyone else, however decent, is tired. He will bring new and needed perspectives to city government. Your vote is precious surely. Today is a chance to make it count!
National Gay & Lesbian Chamber of Commerce Certifies Brown, Naff, Pitts Omnimedia, Inc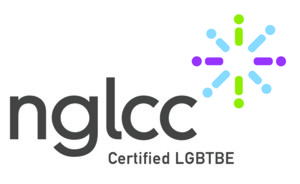 Washington, D.C. — Brown, Naff, Pitts Omnimedia, Inc, the parent company of the Washington Blade and Azer Creative, announced today it has been certified by the National Gay and Lesbian Chamber of Commerce (NGLCC) as an LGBT Business Enterprise. The NGLCC supports and advocates for diversity and inclusion for LGBT-owned businesses. With this certification the Blade's parent company joins more than 510 business and 134 corporate partners of the NGLCC.
Brown, Naff, Pitts Omnimedia, Inc. owns and operates the Washington Blade, the oldest and most acclaimed LGBT newspaper in the country. In 2012, the company launched Azer Creative, a full-service design firm. The company employs more than a dozen full-time LGBT staff.
"We are excited to become one of the 500 LGBT businesses across the country certified by NGLCC," said Lynne Brown, the Blade's publisher and a co-owner of the company. "The LGBT community has been part of our company from the beginning and we look forward to continue that for many years to come."
The Washington Blade was founded in 1969 and is known as the "newspaper of record" for the LGBT community both locally and nationally. Visit washingtonblade.com for more information. Azer Creative is a full-service graphic design firm based in Washington, D.C. Visit azercreative.com for more information. 
Vote now for the 2013 Best of Gay DC!
Choose in dozens of categories among hundreds of nominees, and make your voice heard!
Nominate the 'Best of Gay D.C.' now!
Dozens of categories cover all the best for LGBT Washington. Who deserves the prize this year?