NYC Mayor Bloomberg: 'The time has come' for marriage equality
Mayor Michael Bloomberg of New York City weighs in on the debate over a same-sex marriage equality bill in the New York state senate in a speech urging lawmakers to pass the bill, today.

The Mayor of New York City, Michael Bloomberg, today delivered an address calling for the swift passage of the marriage equality bill that would allow same-sex couples marry in the state of New York.
The New York state senate defeated the 2009 bill after a very eventful legislative session saw shifts in party control of the Senate, changes in leadership, and more. In the end, the bill–which advocates had high hopes of passing earlier in the legislative session–was voted down 38-24. The defeat of that bill led to leadership shake-ups in that state's LGBT advocacy community, and generated controversy and commentary across the country, with pundits in the gay media speculating 'what went wrong,' for months.
With a new Governor in place in the state, and some new faces in the Senate, LGBT advocates are expecting to fare much better this time around. The mayor of America's largest city now lends his hand in attempting to sway what promises to be very capricious legislative debate.
The text of the speech, as released by the Governor's office, follows.
MAYOR BLOOMBERG DELIVERS MAJOR ADDRESS ON URGENT NEED FOR MARRIAGE EQUALITY

The following are Mayor Michael R. Bloomberg's remarks as prepared for delivery at the Cooper Union for the Advancement of Science and Art. Please check against delivery.

"I want to thank Rachel and our hosts here at The Cooper Union for the Advancement of Science and Art.

"I think it's fair to say that no institute of higher learning has had a more profound impact on the course of American history than Cooper Union. By opening the doors of its Great Hall to Abraham Lincoln, Frederick Douglass, Susan B. Anthony, Elizabeth Cady Stanton and so many other pioneering leaders, and by hosting the founding of the NAACP, Cooper Union has helped push American freedom ever higher, and ever wider.

"Today, we gather in this innovative and striking new academic building – a symbol of how Cooper Union has always looked forward and always championed progress. We gather – in the tradition of those who came before us – to discuss a momentous question before our nation and our great State of New York: Should government permit men and women of the same sex to marry?

"It is a question that cuts to the core of who we are as a country – and as a city. It is a question that deserves to be answered here in New York – which was the birthplace of the gay rights movement, more than 40 years ago. And it is a question that requires us to step back from the platitudes and partisanship of the everyday political debate and consider the principles that must lead us forward.

"The principles that have guided our nation since its founding – freedom, liberty, equality – are the principles that have animated generations of Americans to expand opportunity to an ever wider circle of our citizenry. At our founding, African-Americans were held in bondage. Catholics in New York could not hold office. Those without property could not vote. Women could not vote or hold office. And homosexuality was, in some places, a crime punishable by death.

"One by one, over many long years, the legal prohibitions to freedom and equality were overcome: Some on the battlefield, some at the State House and some in the courthouse. Throughout our history, each and every generation has expanded upon the freedoms won by their parents and grandparents. Each and every generation has removed some barrier to full participation in the American dream. Each and every generation has helped our country take another step on the road to a more perfect union for all our citizens. That is the arc of American history. That is the march of freedom. That is the journey that we must never stop traveling. And that is the reason we are here today.

"The next great barrier standing before our generation is the prohibition on marriage for same-sex couples. The question is: Why now? And why New York? I believe both answers start at the Stonewall Inn. When the Village erupted in protest 42 years ago next month, New York – and every other state in the union, save one – still had laws on the books that made same-sex relationships a crime. A couple could go to prison for years, just for being intimate in the privacy of their own home. For men and women of that era, an era many of us remember well, being in a gay relationship meant living in fear:

"Fear of police harassment.

"Fear of public humiliation

"Fear of workplace discrimination.

"Fear of physical violence.

"Today, in some places, those fears still linger. But as a nation, we have come a long way since Stonewall. Today, two women in a committed relationship – who years ago would have hidden their relationship from family and friends – will instead take part in a wedding ceremony in front of their family and friends. Today, two men who are long-time partners – who years ago would never even have entertained the idea – will adopt a child and begin a family.

"Both events are possible because thousands of courageous individuals risked everything to come out and speak out. And because they did – because they organized and protested, because they poured their hearts out to friends and family and neighbors, because they stood up for their rights and marched for equality and ran for office – laws banning same-sex relationships have been struck down by the Supreme Court. More than 20 states have adopted laws that prohibit discrimination based on sexual orientation. And beginning this year, patriotic men and women will be able to enlist in the U.S. military without having to hide their identity.

"We owe all of those pioneers a deep debt of gratitude. And although the work is far from over, there is no doubt that we have passed the tipping point.

"Today, a majority of Americans support marriage equality – and young people increasingly view marriage equality in much the same way as young people in the 1960s viewed civil rights. Eventually, as happened with civil rights for African-Americans, they will be a majority of voters. And they will pass laws that reflect their values and elect presidents who personify them.

"It is not a matter of if – but when.

"And the question for every New York State lawmaker is: Do you want to be remembered as a leader on civil rights? Or an obstructionist? On matters of freedom and equality, history has not remembered obstructionists kindly.

"Not on abolition.

"Not on women's suffrage.

"Not on workers' rights.

"Not on civil rights.

"And it will be no different on marriage rights.

"So the question really is: So, why now? Because this is our time to stand up for equality. This is our time to conquer the next frontier of freedom. This is our time to be as bold and brave as the pioneers who came before us. And this is our time to lead the American journey forward.

"It's fitting that the gay rights movement began in our City, because New Yorkers have always been at the forefront of movements to expand American freedoms – and guarantee American liberties. Long before our founding fathers wisely decided to separate church from state, leading citizens of our City petitioned their colonial rulers for religious freedom. Long before Lincoln signed the Emancipation Proclamation, many New Yorkers – including the founder of this college, Peter Cooper – crusaded against slavery. Long before the nation adopted the 19th Amendment, New Yorkers helped lead the movement for women's suffrage. And long before the Civil Rights Act of 1964, New Yorkers played a pivotal role in advancing a color-blind society.

"So why should New York now lead on marriage equality? Because we have always led the charge for freedom – and we have always led by example. No place in the world is more committed to freedom of expression – religious, artistic, political, social, personal – than New York City. And no place in the world is more welcoming of all people, no matter what their ethnicity or orientation.

"That has always been what sets us apart. In our city, there is no shame in being true to yourself. There is only pride. We take you as you are – and we let you be who you wish to be. That is the essence of New York City!

"That is what makes us a safe haven for people of every background and orientation… and a magnet for talented and creative people. It's the reason why we are the economic engine for the country and the greatest city in the world.

"But it's up to us to keep it that way. As other states recognize the rights of same-sex couples to marry, we cannot stand by and watch. To do so would be to betray our civic values and history – and it would harm our competitive edge in the global economy. This is an issue of democratic principles – but make no mistake, it carries economic consequences.

"We are the freest city in the freest country in the world – but freedom is not frozen in time. And if we are to remain the freest city, with the most dynamic and innovative economy, we must lead on this issue – just as we have on so many other matters of fundamental civil rights.

"In talking to State legislators who do not yet support marriage equality, I can sense that many of them are searching their souls for answers – and they are torn. Like all of us, they have friends and family and colleagues who are gay and lesbian. They know gay and lesbian couples who are deeply in love with each other – many of whom are loving and devoted parents, too. They know those couples yearn to be seen and treated as equal to all other couples. And they often hear from their own families – especially their children – that this is a civil rights issue. I hope they listen to their kids carefully and make them proud with their foresight and courage.

"Now, I understand the desire by some to seek guidance from their religious teachings. But this is not a religious issue. It is a civil issue. And that is why, under the bill proposed in Albany, no church or synagogue or mosque would be required to perform or sanction a same-sex wedding – as is the case in every state that has legalized marriage equality.

"Some faith communities would perform them; others would not. That is their right. I have enormous respect for religious leaders on both sides of the issue, but government has no business taking sides in these debates – none!

"As private individuals, we may be part of a faith community that forbids divorce or birth control or alcohol. But as public citizens, we do not impose those prohibitions on society. We may place our personal faith in the Torah, or the New Testament, or the Koran, or anything else. But as a civil society, we place our public faith in the U.S. Constitution: the principles and protections that define it, and the values that have guided its evolution. And as elected officials, our responsibility is not to any one creed or congregation, but to all citizens.

"It is my hope that members of the State Senate majority will recognize that supporting marriage equality is not only consistent with our civic principles – it is consistent with conservative principles. Conservatives believe that government should not intrude into people's personal lives – and it's just none of government's business who you love!

"Conservatives also believe that government should not stand in the way of free markets and private associations – including contracts between consenting parties. And that's exactly what marriage is: a contract, a legal bond, between two adults who vow to support one another, in sickness and in health.

"There is no State interest in denying one class of couples a right to that contract. Just the opposite, in fact. Marriage has always been a force for stability in families and communities – because it fosters responsibility. That's why conservatives promote marriage – and that's why marriage equality would be healthy for society, healthy for couples and healthy for children.

"Right now, sadly, children of same-sex couples often ask their parents: 'Why haven't you gotten married like all our friends' parents?' That's a heartbreaking question to answer.

"And it's an early expression of the profound principle that sets our country apart: that all people are created equal, with equal rights to life, liberty, and the pursuit of happiness. That is the American dream – but for gay and lesbian couples, it is still only that: A dream.

"The plain reality is, if we are to recognize same-sex and opposite sex couples as equals, that equality must extend to obtaining civil marriage licenses. Now, some people ask: Why not just grant gay couples civil unions?

"That is a fair and honest question. But the answer is simple and unavoidable: Long ago, the Supreme Court declared that 'separate but equal' opportunities are inherently unequal. It took the U.S. Supreme Court nearly 60 years after Plessy vs. Ferguson, which upheld disparate treatment of non-whites, to come to that conclusion.

"But justice finally prevailed. It took the Supreme Court another 13 years to strike down laws barring inter-racial marriage and another 36 years after that to strike down laws criminalizing same-sex relationships. The march for equality and tolerance in America has sometimes been slow, but it has never stopped.

"Since our nation's earliest days, when the first Congress adopted the Bill of Rights, the Constitution's protections of liberty have grown broader and stronger, and the law of the land has grown increasingly neutral on matters of race, nationality, gender, and sexual orientation.

"That inexorable progress is the genius of our constitutional system. In fact, we have had major social change without violence because the revolution we seek is contained within our founding documents. We have no king to overthrow – only our own ideals to live up to.

"In the weeks ahead, I will continue doing everything I can to convince our state legislators to take the long view and consider their place in history – and consider the kind of world they want to leave their children.

"Governor Cuomo and Governor Paterson both deserve great credit for advancing this issue in Albany, and I strongly believe that just as New Yorkers are discussing and debating it openly – so should both houses of the State Legislature.

"That's democracy. And the essence of democracy is a public debate and a public vote. New Yorkers have a right to know where their elected officials stand – and make no mistake about it, avoiding a vote is the same as a no vote on this historic issue – and New Yorkers deserve better.

"We deserve a vote not next year, or after the 2012 elections, but in this legislative session.

"There's a reason I'm so passionate about this issue – and so determined to push for change. I see the pain the status quo causes – and I cannot defend it. When I meet a New Yorker who is gay, when I speak with friends and members of my staff who are gay, or when I look into the eyes of my niece, Rachel, I cannot tell them that their government is correct in denying them the right to marry. I cannot tell them that marriage is not for them. I cannot tell them that a civil union is good enough.

"In our democracy, near equality is no equality. Government either treats everyone the same, or it doesn't. And right now, it doesn't.

"Tonight, two New Yorkers who are in a committed relationship will come home, cook dinner, help their kids with their homework and turn in for the night. They want desperately to be married – not for the piece of paper they will get. Not for the ceremony or the reception or the wedding cake. But for the recognition that the lifelong commitment they have made to each other is not less than anyone else's and not second-class in any way. And they want it not just for themselves – but for their children. They want their children to know that their family is as healthy and legitimate as all other families.

"That desire for equal standing in society is extraordinarily powerful and it has led to extraordinary advances in American freedom.

"It has never been defeated.

"It cannot be defeated.

"And on marriage equality, it will not be defeated.

"There is no retreating to a past that has disappeared. There is no holding back a wave that has crested. And there is no denying a freedom that belongs to us all.

"The time has come for us to fulfill the dreams that exploded onto Sheridan Square 42 years ago: to allow thousands of men and women to become full members of the American family, and to take the next step on the inspired journey our founding fathers first began.

"Together, we can work across the aisle to pass a bill allowing all New Yorkers to walk down the aisle and lead our state and country toward a more perfect union. Thank you."
Florida House committee passes "Don't Say Gay" bill
Equality Florida quickly condemned the measure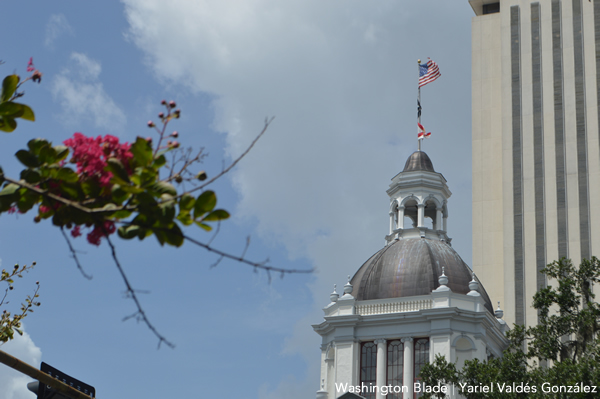 The Republican majority Florida House Education and Employment Committee on Thursday passed House Bill 1557, the Parental Rights in Education bill, colloquially referred to as the "Don't Say Gay" bill advancing the measure to the full House.
HB 1557 and its companion bill, Senate Bill 1834, would ban classroom discussions about sexual orientation and gender identity in schools, erasing LGBTQ identity, history, and culture — as well as LGBTQ students themselves.
The bill also has provisions that appear to undermine LGBTQ support in schools and include vague parental notification requirements which could effectively "out" LGBTQ-identifying students to their parents without their consent.
"The Trevor Project's research has found that LGBTQ youth who learned about LGBTQ issues or people in classes at school had 23 percent lower odds of reporting a suicide attempt in the past year. This bill will erase young LGBTQ students across Florida, forcing many back into the closet by policing their identity and silencing important discussions about the issues they face," said Sam Ames, director of advocacy and government affairs at the Trevor Project. "LGBTQ students deserve their history and experiences to be reflected in their education, just like their peers."
In an email to the Los Angeles Blade, Brandon J. Wolf, the press secretary for Equality Florida noted; "Governor DeSantis' march toward his own personal surveillance state continues. Today, the Don't Say Gay bill, a piece of legislation to erase discussion of LGBTQ people from schools in Florida, passed its first committee and became another component of an agenda designed to police us in our classrooms, doctor's offices, and workplaces. Make no mistake — LGBTQ people are your neighbors, family members, and friends. We are a normal, healthy part of society and we will not be erased."
This will kill kids, @RonDeSantisFL. You are purposefully making your state a harder place for LGBTQ kids to survive in. In a national survey (@TrevorProject), 42% of LGBTQ youth seriously considered attempting suicide last year. Now they can't talk to their teachers? https://t.co/VtfFLPlsn3

— Chasten Buttigieg (@Chasten) January 20, 2022
The Trevor Project's 2021 National Survey on LGBTQ Youth Mental Health found that more than 42 percent of LGBTQ youth seriously considered attempting suicide in the past year, including more than half of transgender and non-binary youth.
According to a recent poll conducted by Morning Consult on behalf of The Trevor Project, 85 percent of transgender and non-binary youth — and two-thirds of all LGBTQ youth (66 percent) — say recent debates about state laws restricting the rights of transgender people have negatively impacted their mental health.
When asked about proposed legislation that would require schools to tell a student's parent or guardian if they request to use a different name/pronoun or if they identify as LGBTQ at school, 56 percent of transgender and non-binary youth said it made them feel angry, 47 percent felt nervous and/or scared, 45 percent felt stressed, and more than 1 in 3 felt sad.
If you or someone you know needs help or support, the Trevor Project's trained crisis counselors are available 24/7 at 1-866-488-7386, via chat at TheTrevorProject.org/Get-Help, or by texting START to 678678.
NCAA adopts new policy amid fervor over transgender athletes
Sport-by-sport approach requires certain levels of testosterone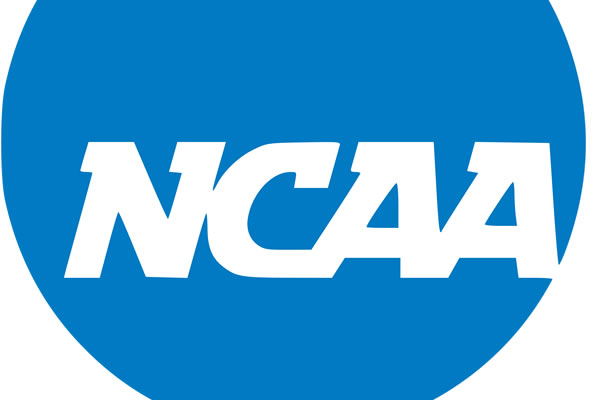 The National Collegiate Athletic Association has announced it has adopted new procedures on competition of transgender athletes, creating a "sport-by-sport" approach that also requires documentation of testosterone levels across the board amid a fervor of recently transitioned swimmers breaking records in women's athletics.
The NCAA said in a statement its board of governors voted on Wednesday in support of the "sport-by-sport" approach, which the organization says "preserves opportunity for transgender student-athletes while balancing fairness, inclusion and safety for all who compete."
Although the policy defers to the national governing bodies for individual sports, it also requires transgender athletes to document sport-specific testosterone levels beginning four weeks before their sport's championship selections. The new policy, which consistent with rules for the U.S. Olympics, is effective 2022, although implementation is set to begin with the 2023-24 academic year, the organization says.
John DeGioia, chair of the NCAA board and Georgetown president, said in a statement the organization is "steadfast in our support of transgender student-athletes and the fostering of fairness across college sports."
"It is important that NCAA member schools, conferences and college athletes compete in an inclusive, fair, safe and respectful environment and can move forward with a clear understanding of the new policy," DeGioia said.
More specifically, starting with the 2022-23 academic year, transgender athletes will need to document sport-specific testosterone levels beginning four weeks before their sport's championship selections, the organizational. These athletes, according to the NCAA, are also required to document testosterone levels four weeks before championship selections.
In terms of jurisdiction, the national governing bodies for individual sports are charged determines policies, which would be under ongoing review and recommendation by the NCAA, the organizational says. If there is no policy for a sport, that sport's international federation policy or previously established International Olympics Committee policy criteria would be followed.
The NCAA adopts the policy amid controversy over University of Pennsylvania swimmer Lia Thomas smashing records in women's swimming. Thomas, which once competed as a man, smashed two national records and in the 1,650-yard freestyle placed 38 seconds ahead of closest competition. The new NCAA policy appears effectively to sideline Thomas, who has recently transitioned and unable to show consistent levels of testosterone.
Prior to the NCAA announcement, a coalition of 16 LGBTQ groups, including the Human Rights Campaign and Athlete Ally, this week sent to a letter to the collegiate organization, urging the organizations strengthen non-discrimination protections as opposed to weakening them. The new policy, however, appears to head in other direction, which the LGBTQ groups rejected in the letter.
"While decentralizing the NCAA and giving power to conferences and schools has its benefits, we are concerned that leaving the enforcement of non-discrimination protections to schools will create a patchwork of protections rather than a comprehensive policy that would protect all athletes, no matter where they play," the letter says. "This would be similar to the patchwork of non-discrimination policies in states, where marginalized groups in some states or cities are protected while others are left behind by localities that opt not to enact inclusive policies."
JoDee Winterhof, vice president of policy and political affairs for the Human Rights Campaign, said in a statement after the NCAA announcement the new policy was effectively passing the buck.
"If the NCAA is committed to ensuring an environment of competition that is safe, healthy, and free from discrimination, they cannot dodge the question of how to ensure transgender athletes can participate safely," Winterhof said. "That is precisely why we and a number of organizations across a wide spectrum of advocates are urging them to readopt and strengthen non-discrimination language in their constitution to ensure the Association is committed to enforcing the level playing field and inclusive policies they say their values require. Any policy language is only as effective as it is enforceable, and with states passing anti-transgender sports bans, any inclusive policy is under immediate threat. We are still reviewing the NCAA's new policy on transgender inclusion and how it will impact each and every transgender athlete."
Transgender rights group's Los Angeles office receives bomb threat
[email protected] Coalition evacuated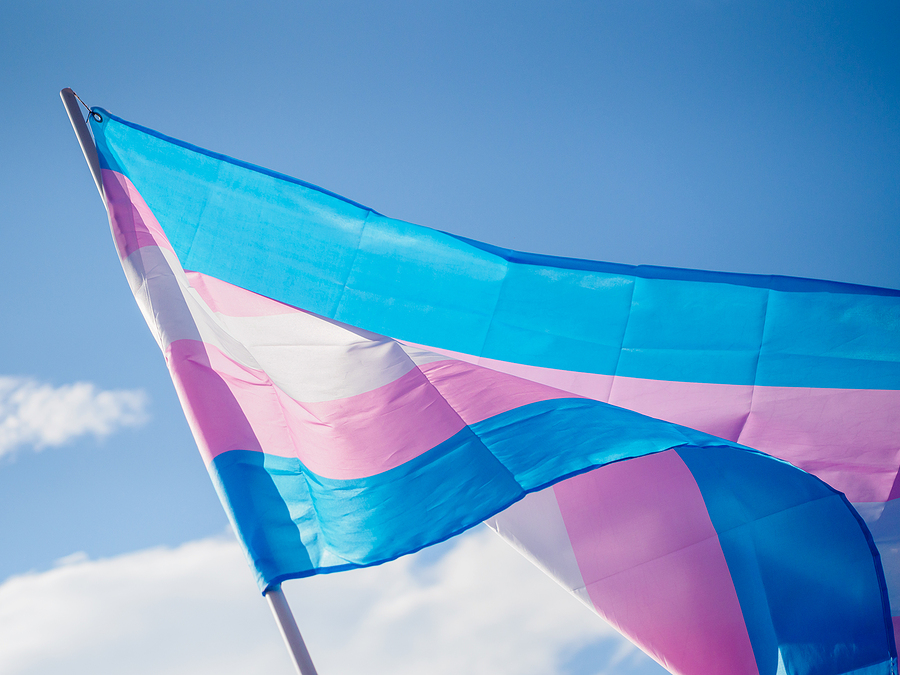 A bomb threat was phoned in Wednesday afternoon to the Wilshire Boulevard Koreatown offices of the [email protected] Coalition, Bamby Salcedo, the president and CEO of the non-profit organization told the Los Angeles Blade.
According to Salcedo, an unidentified male caller told the staff person who answered at approximately 3 p.m., while delivering the threat said; "You're all going to die." The staff immediately evacuated everyone from their offices and then contacted the Los Angeles Police Department for assistance.
Officers, specialists and detectives from the Rampart Division of the LAPD responded and swept the building. A spokesperson for the LAPD confirmed that the incident is under active investigation but would make no further comment.
On a Facebook post immediately after the incident the non-profit wrote; "To ensure the safety of our clients and staff members, we ask that you please NOT come to our office."
In a follow-up post, Salcedo notified the organization and its clientele that the LAPD had given the all-clear and that their offices would resume normal operations Thursday at 9:00 a.m. PT.
"Thank you for your messages and concern for our staff and community," Salcedo said.
"No amount of threats can stop us from our commitment to the TGI community," she added.
The [email protected] Coalition was founded in 2009 by a group of transgender and gender non-conforming and intersex (TGI) immigrant women in Los Angeles as a grassroots response to address the specific needs of TGI Latino immigrants who live in the U.S.
Since then, the agency has become a nationally recognized organization with representation in 10 different states across the U.S. and provides direct services to TGI individuals in Los Angeles.
In 2015, the [email protected] Coalition identified the urgent need to provide direct services to empower TGI people in response to structural, institutional, and interpersonal violence, and the Center for Violence Prevention and Transgender Wellness was born.
Since then, the organization has secured funding from the state and local government sources as well as several private foundations and organizations to provide direct services to all TGI individuals in Los Angeles County.
The [email protected] Coalition's primary focus is to change the landscape of access to services for TGI people and provide access to comprehensive resource and services that will improve the quality of life of TGI people.