It gets better by coming out
From the GOP to professional sports, attitudes are changing fast
Reading the 10,000 or so words of coming out stories in this week's Blade, two things become apparent: Aquaman played an unexpectedly prominent role in some of your young gay lives (ahem, John Berry and John Klenert) and the only way it truly "gets better" is by coming out.
In considering topics for this year's special Pride edition, we asked ourselves: What is the ultimate act of pride? The answer, quite simply, is coming out. Living an honest life free of fear is something many of us take for granted but you don't have to venture far outside of D.C.'s bubble to realize just how hard it is for LGBT people to do that. And after reading the moving stories from those who contributed to this project, it's clear that many of us endured hardships on the road to coming out, including rejection by family, friends and churches.
It would hardly be fair to ask these folks to share their stories without a little quid pro quo. My own coming out story resembles many of those told in this issue: growing up Catholic, always knowing I was "different," living in fear of being found out and rejected.
I couldn't wait for college, assuming it would be an easier place to come out. But when I arrived at Penn State University in rural Pennsylvania in 1988, with its hyper-masculine football culture and proximity to dens of KKK activity, my dreams of coming out were quickly dashed. In a sign of just how much things have changed in a relatively short period, Penn State is now home to the country's leading LGBTA student resource center on campus. I'm very proud to sit on its board and to assure other alumni that the Penn State we knew has changed dramatically.
I didn't come out until after college and am lucky to have supportive parents and siblings. They may watch Fox News and vote Republican, but they support same-sex marriage and my full equality under the law. The GOP needs them — and other pro-gay voices — particularly now as we gear up for the 2012 election. Leading candidate Mitt Romney promised to be a stronger gay rights supporter than Sen. Edward Kennedy in a 1994 letter to the Log Cabin Republicans.
"We must make equality for gays and lesbians a mainstream concern," he wrote back then. Of course, Romney reverted to type in 2006 and endorsed a state constitutional amendment banning same-sex marriage, in an outrageous flip-flop. We must continue to hold these Republicans accountable as 2012 draws near and those best equipped to do it are LGBT Republicans like Ken Mehlman, who can speak their language.
The visibility of prominent LGBT people like Mehlman is what will push conservative institutions like the GOP, the faith community and the world of professional sports to open their ranks to the openly gay. The recent trend of Major League Baseball teams creating "It Gets Better" videos will help pave the way for the sport's first openly gay active player. The revelation from Charles Barkley that he played with numerous gay basketball players will help encourage that sport's first openly gay active player to come out.
The voices of Mehlman, gay ally Ted Olson and Sen. John McCain's daughter Meghan will push the Republican Party away from an anti-LGBT agenda. The visibility of Bishop Gene Robinson will lead the Episcopal Church away from an anti-gay past and inspire spiritual leaders of other denominations to do the same.
And LGBT people aren't the only ones who need to come out. Our straight allies must speak up. The most powerful example of that I've seen this year came from Maryland State Sen. Allan Kittleman, who came out in support of a marriage equality bill. He sacrificed a prominent role in the Republican Senate leadership to take a stand for our equality. He should be serving as grand marshal of Pride celebrations across the state for his bravery.
The power of coming out cannot be overstated. It's the ultimate goal of the LGBT rights movement and the ultimate act of pride.
National Gay & Lesbian Chamber of Commerce Certifies Brown, Naff, Pitts Omnimedia, Inc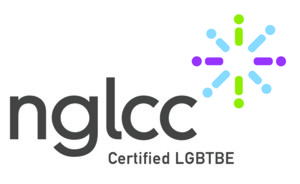 Washington, D.C. — Brown, Naff, Pitts Omnimedia, Inc, the parent company of the Washington Blade and Azer Creative, announced today it has been certified by the National Gay and Lesbian Chamber of Commerce (NGLCC) as an LGBT Business Enterprise. The NGLCC supports and advocates for diversity and inclusion for LGBT-owned businesses. With this certification the Blade's parent company joins more than 510 business and 134 corporate partners of the NGLCC.
Brown, Naff, Pitts Omnimedia, Inc. owns and operates the Washington Blade, the oldest and most acclaimed LGBT newspaper in the country. In 2012, the company launched Azer Creative, a full-service design firm. The company employs more than a dozen full-time LGBT staff.
"We are excited to become one of the 500 LGBT businesses across the country certified by NGLCC," said Lynne Brown, the Blade's publisher and a co-owner of the company. "The LGBT community has been part of our company from the beginning and we look forward to continue that for many years to come."
The Washington Blade was founded in 1969 and is known as the "newspaper of record" for the LGBT community both locally and nationally. Visit washingtonblade.com for more information. Azer Creative is a full-service graphic design firm based in Washington, D.C. Visit azercreative.com for more information. 
Vote now for the 2013 Best of Gay DC!
Choose in dozens of categories among hundreds of nominees, and make your voice heard!
Nominate the 'Best of Gay D.C.' now!
Dozens of categories cover all the best for LGBT Washington. Who deserves the prize this year?