Will the real Mitt Romney please stand up?
GOP frontrunner supports 'equal rights in employment'

Former Massachusetts Gov. Mitt Romney's recently stated support for "equal rights in employment" for gays is raising questions about whether he supports the Employment Non-Discrimination Act — as well as the extent to which he would back other LGBT rights issues.
The current front-runner for the Republican presidential nomination said he backs employment protections last week during an interview with CNN's Piers Morgan as he noted gay appointments made during his time as governor of Massachusetts from 2003 to 2007.
Asked which gay rights he favors, Romney replied, "Well, equal rights in employment, equal rights in — for instance, as the governor, I had members of my team that were gay, I appointed a couple of judges, who, apparently, I find later, were gay."
Romney didn't say whether he thinks these protections should be instituted through legislation or some other manner.
A Romney campaign spokesperson didn't immediately respond to the Washington Blade's request for comment on whether the remarks mean that the the candidate supports ENDA, pending legislation that would bar job discrimination in most situations for LGBT Americans in the public and private workforce.
Romney's support for employment rights  — through ENDA or otherwise — is unusual for Republican presidential candidates early on during the primary season. Candidates usually veer hard right to win support among social conservatives who participate in Republican primaries. Former Minnesota Gov. Tim Pawlenty and former U.S. Senator Rick Santorum, for example, have said they would reinstitute "Don't Ask, Don't Tell" if elected.
Still, support for ENDA from Romney would be consistent with a previously articulated position he held in 1994 when he was running against the late Sen. Edward Kennedy for his seat representing Massachusetts in the U.S. Senate.
In a letter to the Log Cabin Republicans, Romney recalled earlier conversations he's had with the group and said he would be a co-sponsor of ENDA and would seek to expand the provisions in the legislation.
Additionally, Romney pledged to "make equality for gays and lesbians a mainstream concern" and said Kennedy, who was known as a champion of LGBT rights in the Senate, would be unable to make that promise to the LGBT community.
"We have discussed a number of important issues such as the Federal Employment Non-Discrimination Act (ENDA), which I have agreed to co-sponsor, and if possible broaden to include housing and credit, and the bill to create a federal panel to find ways to reduce gay and lesbian youth suicide, which I also support," Romney wrote.
It should be noted that the version of ENDA that was pending before Congress at the time offered protections based only on sexual orientation and didn't include language protecting transgender people in employment.
Romney also said the then-recently enacted "Don't Ask, Don't Tell" law was the compromise that was a step in the right direction and "the first in a number of steps" that will ultimately lead to open service in the U.S. military.
According to a 1994 article from Bay Windows, Romney also articulated support for ENDA during a public meeting of the Massachusetts Log Cabin Club with his then-Republican opponent, John Lakian. The meeting between Republican candidates and the gay group was hailed as a milestone for LGBT rights in Massachusetts.
"I will fight against discrimination of any kind throughout our system," Romney was quoted as saying. "I don't know exactly where you legislate and where you don't legislate or how you make that work and where you don't. But I am not limiting my support of equal rights for all people just to [U.S. Rep.] Barney Frank's legislation in the area of employment. I would be happy to continue the fight in other areas such as credit and housing."
Romney reportedly touted that Bain & Company, a Boston-based management consulting firm whose board he chaired, had explicit directions regarding equal employment opportunity in hiring and promotions.
But Kara Suffredini, executive director of MassEquality, said the support that Romney expressed for ENDA in 1994 doesn't square with his later actions as governor and predicted he wouldn't keep his promise to support the legislation.
"That's all the same stuff that he said when he ran for governor in 2002, and then once he was governor, I mean, do a Google search, and you'll find out how quickly he positioned himself as anti-LGBT in order to benefit his own political career," she said.
Suffredini predicted that Romney would be "pretty bad" for the LGBT community as a whole as president because of the inconsistency with which he addressed LGBT issues as governor.
"I would say based on his record as governor here that the only thing consistent about Romney's relationship with the LGBT community is how inconsistent he is," Suffredini said.
Suffredini said during his campaign as governor, Romney pledged to sign a civil rights bill for the LGBT community. However upon taking office, she said he took several anti-gay actions, such as abolishing a governor's commission on LGBT youth, which the legislature later reinstated; rescinding an executive order prohibiting discrimination based on sexual orientation; and discouraging the Massachusetts Department of Public Health from releasing data on public health disparities.
Romney also struck a markedly different tone on "Don't Ask, Don't Tell" on Monday during the Republican presidential debate compared to what he expressed in his 1994 letter to Log Cabin.
"I believe it should have been kept in place until conflict was over," Romney said, invoking an argument that opponents of repeal employed when legislation that would end the military's gay ban was pending before Congress.
Romney's position on ENDA could become a more prominent issue as he advances through the Republican primaries.
Romney remains the front-runner in the Republican presidential field among potential participants in the early primaries. According to recent polls from Public Policy Polling, Romney leads by six points in Iowa, 23 in New Hampshire, nine in South Carolina and 15 in Nevada.
Further, Romney could be the Republican presidential candidate who has the strongest chance against President Obama in 2012. According to a Washington Post/ABC News poll published last week, Romney leads Obama in a head-to-head contest by a margin of 49-46.
R. Clarke Cooper, executive director of the National Log Cabin Republicans, said his organization would hold Romney to his promises on ENDA should he win the Republican nomination and go on to challenge President Obama in 2012.
"Gov. Romney recently stated on CNN he opposes discrimination and supports equal rights in employment," Cooper said. "We hope he would stand by his pledge from 17 years ago to prevent discrimination in the workplace and support ENDA."
While Romney's position on most LGBT issues may have changed over the years, on one issue he has maintained consistent opposition: same-sex marriage.
During his interview on CNN last week, Romney reiterated his previously stated opposition to same-sex marriage.
"What happened was that the gay community changed as to what they wanted," Romney said during the CNN interview. "When I ran for governor, one of the big issues was marriage, gay marriage. My opponent said she would sign a bill in favor of gay marriage. I said I would not, that I opposed same-sex marriage. At the same time, I would advance the — if you will — the efforts not to discriminate against people who are gay."
According to Bay WIndows, Romney stated his opposition to same-sex marriage at the Log Cabin forum 17 years ago when he was seeking the Republican nomination in the U.S Senate race.
"I stand with Gov. [Bill] Weld on that," he was quoted as saying, "and say that in my view it is not appropriate to authorize legally same-sex marriages and I will continue to endorse that view."
In 2003, After the Massachusetts State Supreme Court ruled in favor of marriage rights for gay couples, Romney backed various state measures that would have rolled back marriage rights for gay couples in the Bay State. Romney also voiced support for a U.S. constitutional amendment known as the Federal Marriage Amendment, which would ban same-sex marriages throughout the country.
Additionally, Romney renewed enforcement of a 1913 law preventing out-of-state couples from marrying in Massachusetts to prevent gay couples from coming into the Bay State to wed. The law has since been repealed by the state Legislature.
Suffredini recalled that as governor, Romney "positioned himself as a national leader" during this time when the first state in the nation was attempting to advance marriage rights for gay couples.
"He did everything he could here to prevent marriage equality — even going so far as to resurrect what we call here the 1913 law, basically an anti-miscegnation law, which hadn't been enforced in decades," Suffredini said. "He resurrected it specifically in his words to prevent the spread of same-sex marriage to other states, and what it did was it prevented gays and lesbians from other states from coming here and marrying."
Fred Sainz, the Human Rights Campaign's vice president of communications, said Romney's frequent position changes on LGBT issues make it difficult to predict how friendly to the LGBT community he'd be as president.
"It's hard to know which Mitt Romney will show up," Sainz said. "He's gone back and forth more on issues of equality than a revolving door at a hotel and appears willing to say whatever the audience in front of him will want to hear."
Still, some remain hopeful that Romney will continue his support for ENDA. Sainz said the decision for Republican candidates on whether or not to support ENDA should be easy.
"It should be a no-brainer for Republican presidential candidates to support legislation that allows all Americans to work and support their families," Sainz said.
Calif. school district meeting over LGBTQ studies turns violent
Police officers and protestors clashed outside Glendale Unified School Board meeting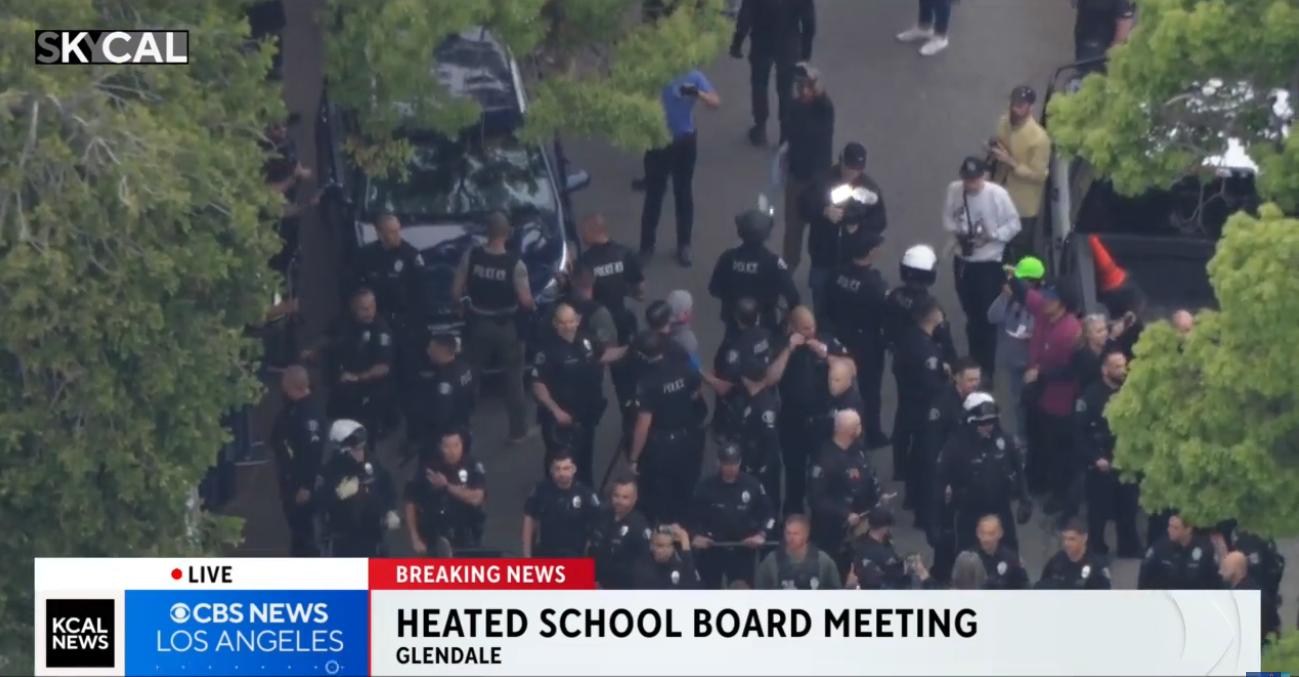 Police officers and protestors clashed outside a meeting of the Glendale Unified School Board over LGBTQ studies and the GUSD polices on addressing LGBTQ related issues.
News footage from CBS Los Angeles KCAL showed approximately 50 Glendale police officers attempting to keep the two groups separated and then fists were thrown as both sides engaged in physical assaults. A Glendale police spokesperson confirmed that some arrests had been made but wouldn't comment further.
Witnesses and news crews noted that many of those protesting against the LGBTQ community were from the same group that had protested at Saticoy Elementary School in North Hollywood, angered over a Pride month assembly. Officers from the LAPD's North Hollywood Community Station responded and there were physical assaults as well.
The situation in Glendale has become increasingly acrimonious. Last year during Pride month, a third grade teacher at Thomas Jefferson Elementary, Tammy Tiber, had enraged some parents after speaking to her students about LGBTQ topics on Zoom. The GUSD officials later transferred her because Tiber had told them she no longer felt safe.
A spokesperson for the district said that all materials are vetted by the GUSD, and are in full compliance with curriculum that deals with LGBTQ history, mandated under California's FAIR Education Act, which was signed into law on July 14, 2011, and went into effect on Jan. 1, 2012.
It amends the California Education Code to include the Fair, Accurate, Inclusive and Respectful reference to contributions by people with disabilities and members of the LGBTQ community in history and social studies curriculum.
Last month on May 18, a man who is not the parent of a child in the district, accused GUSD school board vice president Jennifer Freemon of concealing consistent attempts to "indoctrinate" students on LGBTQ issues.
"They are saying boys can be girls and girls can be boys," Henry said during the board meeting. "If you believe in that, that is your opinion, and if that is your official policy, Jennifer, that is indoctrination because it offends a lot of people's actual doctrine."
As an example of instructing students to "behave inappropriately," Henry referenced an alleged recent incident involving a student with special needs. GUSD student Thelma Gonzalez, who spoke later in the meeting, was allegedly asked to provide the definition of "scissoring" during a health lesson, despite her mother requesting that she be excused.
"A violation of their doctrine, their Christian doctrine," Henry said, referring to Gonzalez and her mother. "Regardless of what you think, what I think, what the community thinks about any faith, you violated that. And if you don't condemn that today, Jennifer, you are a hypocrite and a liar."
He then mounted an attack on district polices regarding its transgender students.
"If you think they value your children, you're more than entitled to think that," Henry said. "They will not lie to you about your child, they will lie to these parents. They will conceal that private information from parents. You have enshrined that into doctrine, into policy, which is a misinterpretation of the law."
It is not immediately clear what policy Henry was referring to. However, GUSD's anti-discrimination policy states the district will only disclose a student's "transgender or gender-nonconforming status" with their consent. It also mandates that a district official may discuss with that same student "any need" to confide in their parents or guardians.
#BREAKING: The protest outside the Glendale Unified School Board meeting has turned violent, with protesters clashing. @GlendalePD trying to regain control now. @RoadSageLA overhead in #SKYCAL. @kcalnews pic.twitter.com/g0YWp1KVWI

— Mike Rogers (@MikeRogersTV) June 7, 2023
Inside the Tuesday GUSD board meeting, pro- and anti-LGBTQ protesters faced off over how schools teach gender and sexuality, attendees were suddenly told to shelter in place as the violence outside escalated. The interruption came after about an hour of public comments, most of them in defense of the LGBTQ community and the district's handling of materials and policies.
A mob of anti-LGBTQ bigots in Glendale engaged in violence outside a school board meeting while protesting against teaching about LGBTQ people

This violence flows from the anti-LGBTQ rhetoric sweeping the U.S. It's why @HRC declared a national state of emergency for LGBTQ people https://t.co/2jrMBCx2pJ

— Senator Scott Wiener (@Scott_Wiener) June 7, 2023
New video from last night in Glendale shows far right extremists pepper spraying a religious clergy member who was there in support of LGBTQ families. pic.twitter.com/9DtSvcZztu

— Alejandra Caraballo (@Esqueer_) June 7, 2023
Protesters fight outside Glendale school district meeting about LGBTQ studies:
Related:
Anti-LGBTQ laws, drag bans loom over Pride celebrations
Organizers in Florida, Texas, Montana, Tennessee coping with new restrictions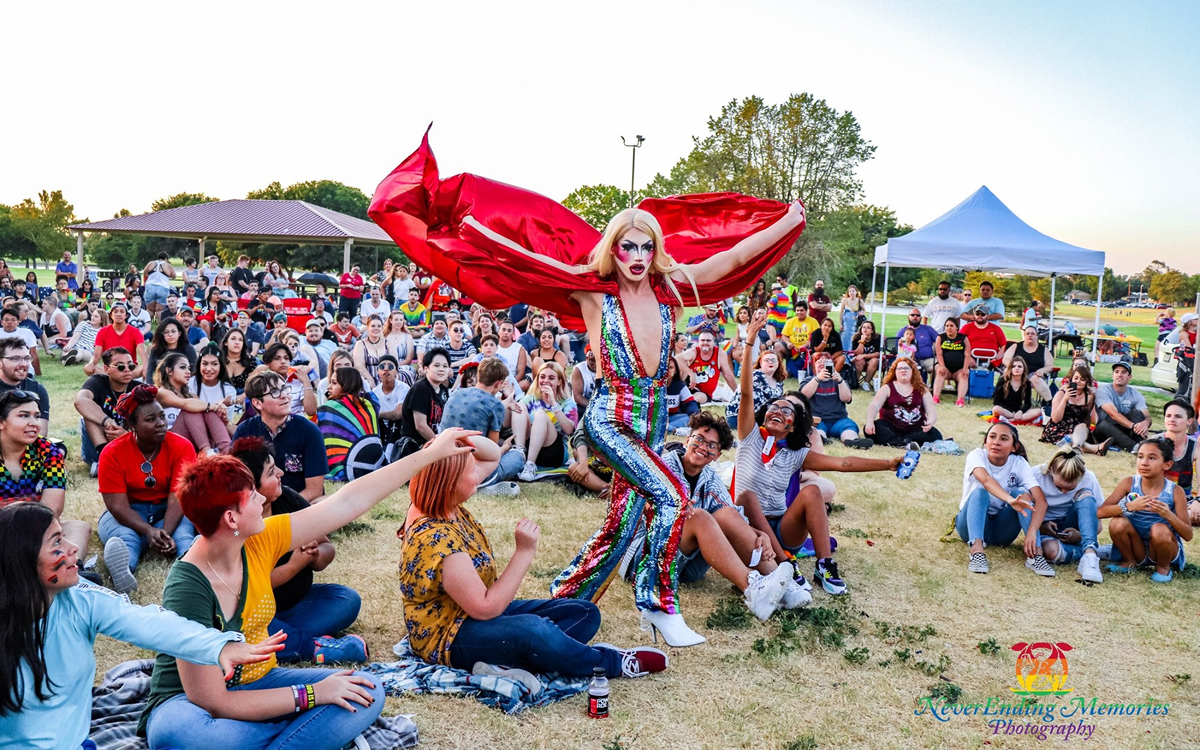 Anti-LGBTQ and anti-drag laws that Republican governors have signed have prompted Pride organizers to reconsider or even cancel their events this year.
The Bozanich Photography Collaborative, which organizes St. Cloud Pride in Florida, in its statement that announced the cancellation of its June 10 event noted the state "has recently passed a number of laws that target the LGBTQIA+ community" and they have "created a climate of fear and hostility for LGBTQIA+ people."
Florida Gov. Ron DeSantis on May 17 — the International Day Against Homophobia, Biphobia and Transphobia — signed bills that ban gender-affirming health care for minors, restrict pronoun usage in schools and require public buildings and other facilities' restrooms and locker rooms to have "separate facilities for men and women based on biological sex." DeSantis on that day also signed House Bill 1438, which "protects children from explicitly adult performances in all venues — including drag shows and strip clubs" and "imposes fines and license suspension for hotels and restaurants that admit a child into an adult performance."
The Republican presidential candidate last year filed a complaint against a Miami restaurant after LibsofTikTok broadcast a video of children attending a drag show.
The DeSantis administration this year has sought to revoke the liquor license of the Hyatt Regency Miami and filed a complaint against the Orlando Philharmonic Plaza Foundation after children attended drag shows at the respective locations.
Tampa Pride on May 18 announced the cancellation of its "Pride on the River" event. Organizers of Pridefest in Port St. Lucie only allowed those who were at least 21 years old to attend their annual event that took place in April.
Hamburger Mary's in Orlando has sued DeSantis over HB 1438.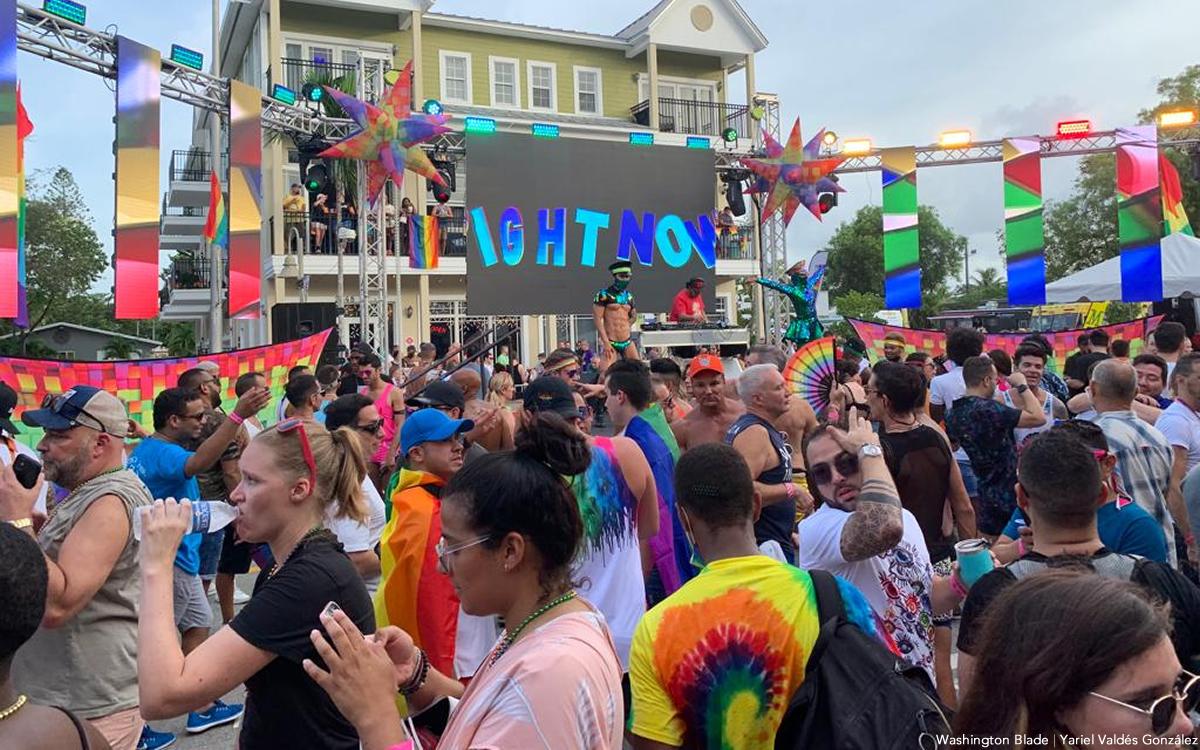 The annual Stonewall Pride Parade and Street Festival is scheduled to take place in Wilton Manors on June 17.
Stonewall Pride CEO Jeffrey Sterling on Monday during a telephone interview with the Washington Blade pointed out Wilton Drive, the road on which the parade and festival will take place, is a state road.
He said performers and vendors will have to abide by a series of rules that include no nudity, no lewd conduct and no vulgarity or overtly sexual language. Sterling admitted HB 1438 and the other anti-LGBTQ bills that DeSantis signed "indirectly" prompted Stonewall Pride to implement them, but he stressed they do not apply to those who attend the parade and festival.
Sterling denied reports that suggest drag queens will not be allowed to perform.
"We need to be proud of the beauty of our culture while keeping in mind who we are entertaining," he said. "Our standards should be that which we would use around our own children or our families' nieces or nephews. We are performing for all ages, so the youngest in the audience should dictate the minimum standards we should adhere to."
Miami Beach Pride took place on April 16, less than a week after Equality Florida and the Florida Immigrant Coalition issued a travel advisory for the state. The event took place before DeSantis signed HB 1438 and the three other anti-LGBTQ laws.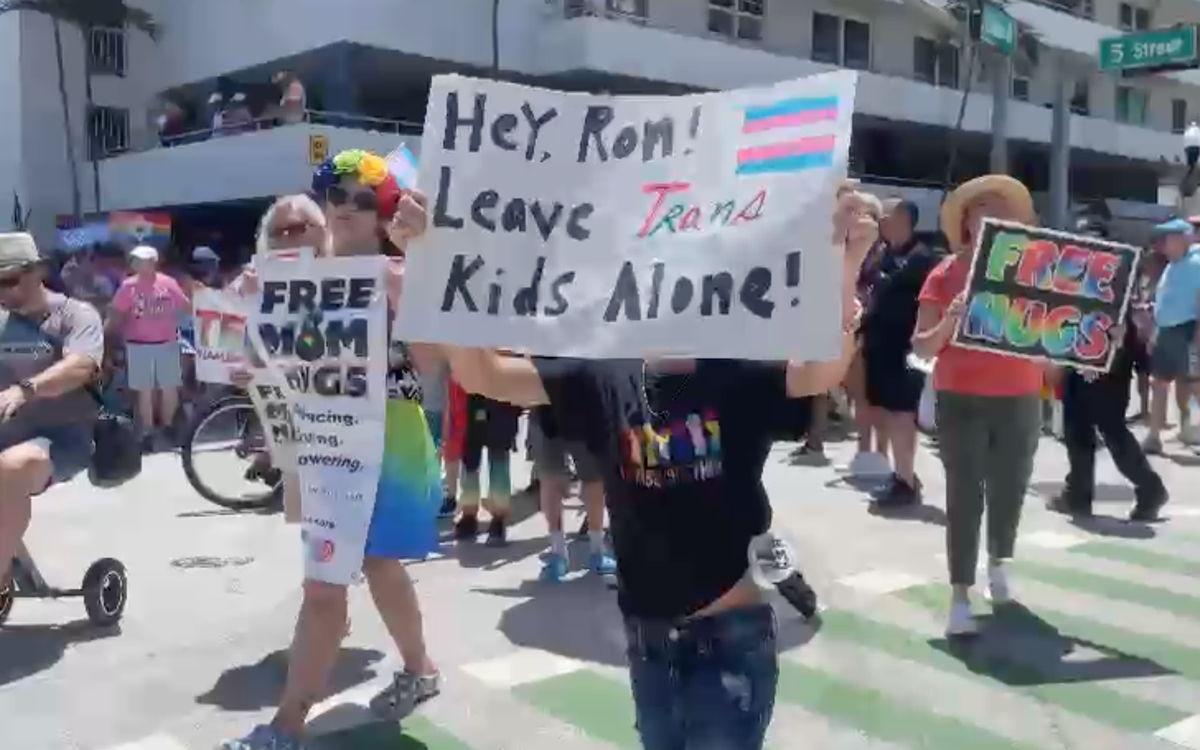 The third annual PensaPride will take place in Pensacola in Florida's Panhandle on June 24.
Sydney Robinson, who is a member of PensaPride's board of directors, during a June 1 telephone interview with the Blade noted the all-day festival is a sober event and "family-friendly, open to all ages."
She noted drag queens typically perform at PensaPride, but organizers are "still sort of grappling to try and do something or if we want to avoid it altogether because of the new law." Robinson was nevertheless adamant that Pride events should continue to take place in Florida, despite DeSantis and the anti-drag bill he signed.
"I'm really disappointed with any Pride events that cancel for that reason because I think there is a way to have a vibrant Pride event that doesn't have drag," she said. "If you really want to follow the law, if that's your main concern, you could easily do a wonderful Pride event and just not have that element involved."
"On the other end it's like well Pride is a protest," added Robinson. "That was the basis of Pride from the start."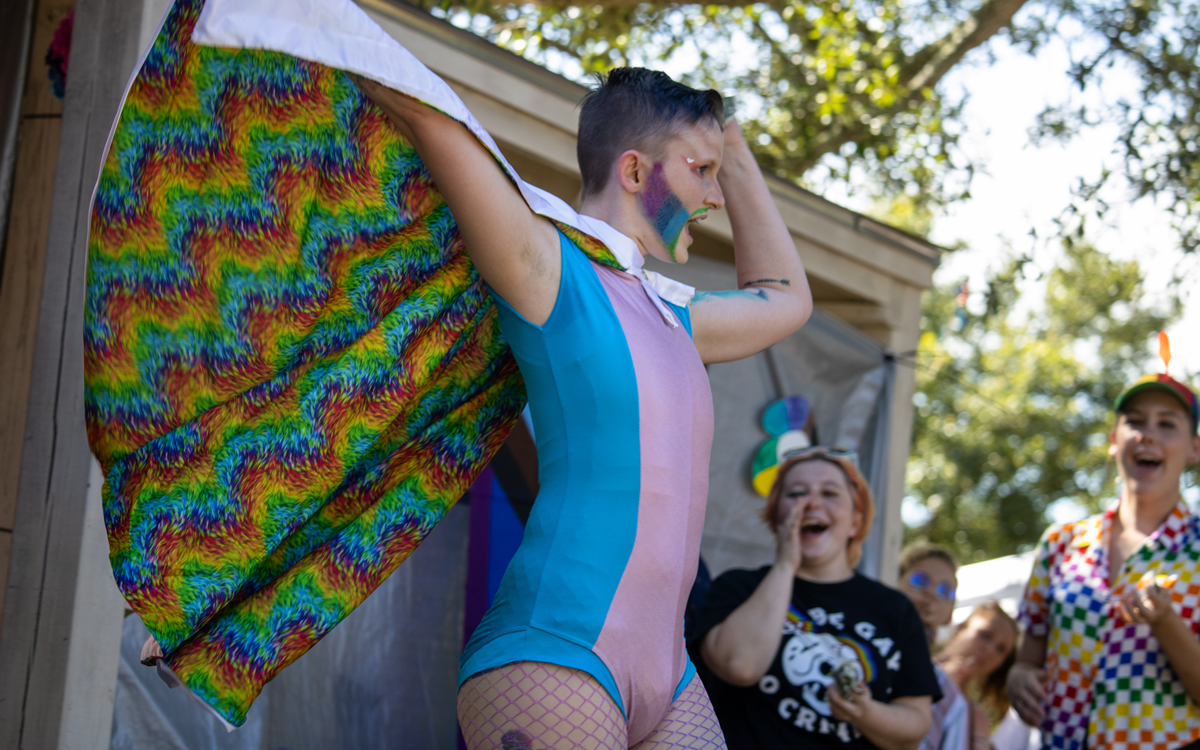 'We're more motivated than ever'
Montana Gov. Greg Gianforte on May 22 signed a bill that bans drag story hours in public schools and libraries and restricts "sexually oriented performances" on public property. (His nonbinary child urged him to veto anti-LGBTQ bills that reached his desk during this year's legislative session.)
Missoula Pride will take place from June 16-18.
"We're more motivated than ever to put on just one big hell of a Pride festival," Andy Nelson, executive director of the Western Montana LGBTQ+ Community Center, which organizes Missoula Pride, told the Blade on June 2 during a telephone interview. "This legislative session here in Montana has been devastating and we just need to come together as a community more than ever."
Nelson noted the bill that Gianforte signed is specific to public libraries and schools. Nelson said drag queens will perform at Missoula Pride as they normally do.
"As far as drag performers performing at our street party in downtown Missoula, we're good to go," Nelson told the Blade. "And so we're going to have a bunch of queens up there, like usual, doing their thing. They'll be in the parade and we're still going to have multiple drag events throughout the weekend."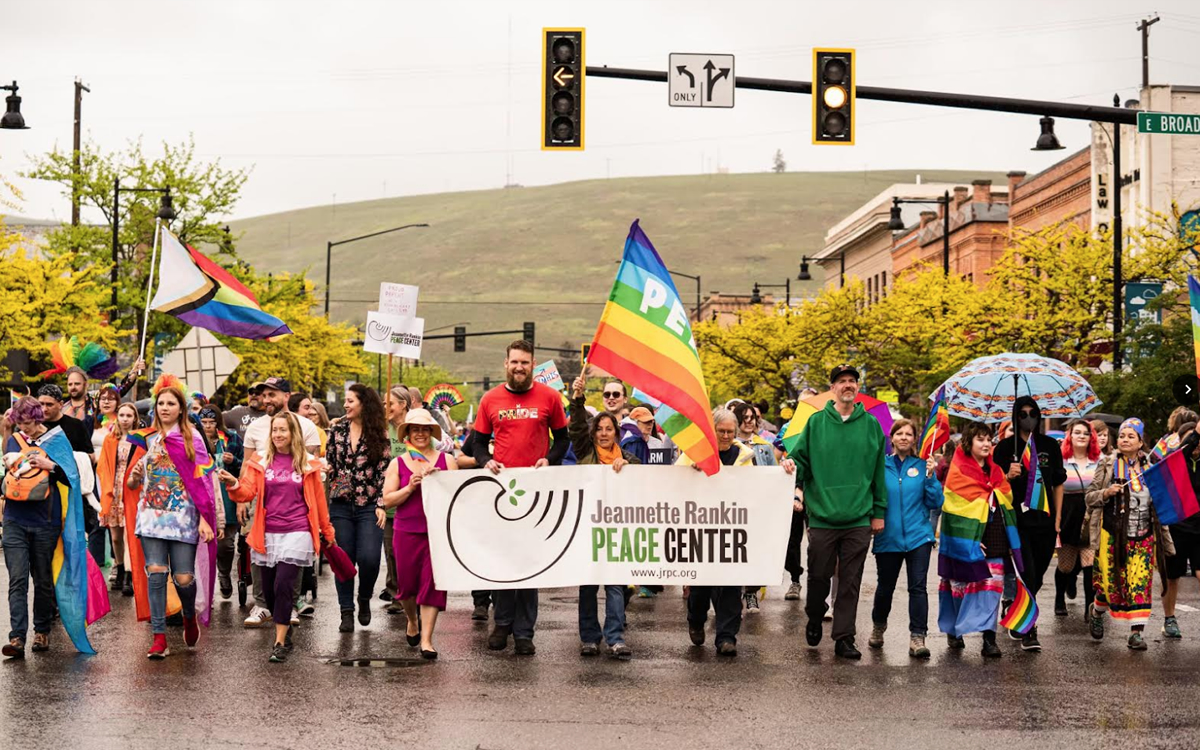 A document the Department of Homeland Security shared with law enforcement and government agencies on May 11 notes anti-LGBTQ threats are increasing and are linked to "drag-themed events, gender-affirming care and LGBTQIA+ curricula in schools." The document also warns of the potential increase in attacks against health care providers and businesses that specifically cater to LGBTQ people.
Police in Coeur d'Alene, Idaho last June arrested 31 armed white nationalists who were protesting a Pride event
"We were definitely on edge," said Nelson, who noted Coeur d'Alene is less than three hours from Missoula and the arrests took place days after Missoula Pride. "What happened there is not out of the question, that it could happen here as well."
Nelson noted a small group of neo-Nazis with AR-15s in March protested an International Trans Day of Visibility event that took place at Missoula's courthouse. He said a private security team and members of the Missoula Police Department will be on hand during Pride.
"We're definitely keeping safety and security top of mind," said Nelson.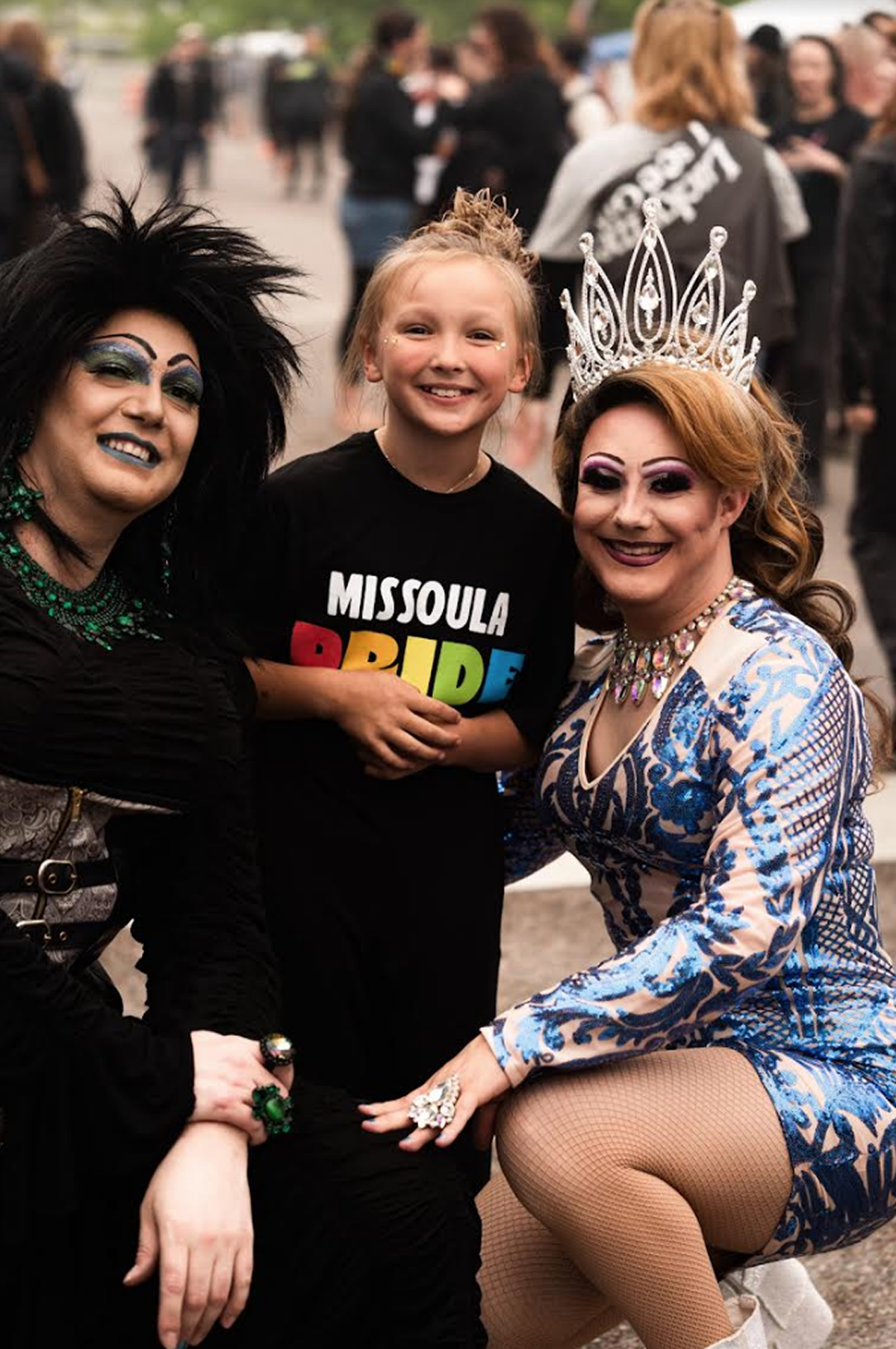 Tennessee Gov. Bill Lee on March 2 signed Senate Bill 2, which imposes fines and even jail time for "male or female impersonators who provide entertainment that appeals to a prurient interest" on public property or where children are present.
Friends of George's, a Memphis-based LGBTQ theater company, challenged SB 2 in federal court.
U.S. District Court Judge Thomas L. Parker of the U.S. District Court for the Western District of Tennessee on June 2 declared SB 2, which is also known as the Adult Entertainment Act, unconstitutional. The same federal judge temporarily blocked the law hours before it was to have taken effect.
Tennessee Equality Project Executive Director Chris Sanders on Monday noted to the Blade that Pride events took place in Memphis, Cookeville and in other cities across the state over the past weekend.
Sanders said drag queens performed in a public park during Columbia Pride that took place on Sunday. He noted some Pride celebrations "probably did make some contingency plans or change the way their celebration went on, but many continued to have drag as part of their celebrations."
Sanders told the Blade that activists in Tennessee remain "extremely stressed, particularly about the anti-trans laws."
The American Civil Liberties Union has filed a lawsuit against the state law that bans gender-affirming care for anyone who is under 18 years old. Sanders noted that statute "continues to hang over everything," but Parker's ruling was something to celebrate.
"People got a bit of relief, obviously, because of the drag ruling and people are very excited about that," said Sanders.
Texas anti-drag bill has 'broad and vague wording'
Texas Gov. Greg Abbott on June 2 signed a law that bans gender-affirming health care for minors in his state. Senate Bill 12 — which would "regulate sexually oriented performances" and "those performances on the premises of a commercial enterprise, on public property, or in the presence of an individual younger than 18 years of age" — is currently awaiting the Republican governor's signature.
Nick Harpster, the public relations and advocacy coordinator of Lubbock Pride, on June 1 noted to the Blade during a telephone interview that SB 12 would take effect after his city's Pride events if Abbott were to sign it into law.
He said SB 12 has "such a broad and vague wording and it's left up to so much interpretation," and questioned how it may specficially impact the Dallas Cowboy cheerleaders. Harpster said Texas lawmakers have definitely targeted drag queens with SB 12 and another bill that sought to defund public libraries that host drag queen story hours.
"That's been the goal from the get go," said Harpster.
Harpster said Lubbock Pride "may have to do some things differently" next year if Abbott signs SB 12. In the meantime, drag performances and drag story times are among the events that will take place during this year's Lubbock Pride that will take place on June 10.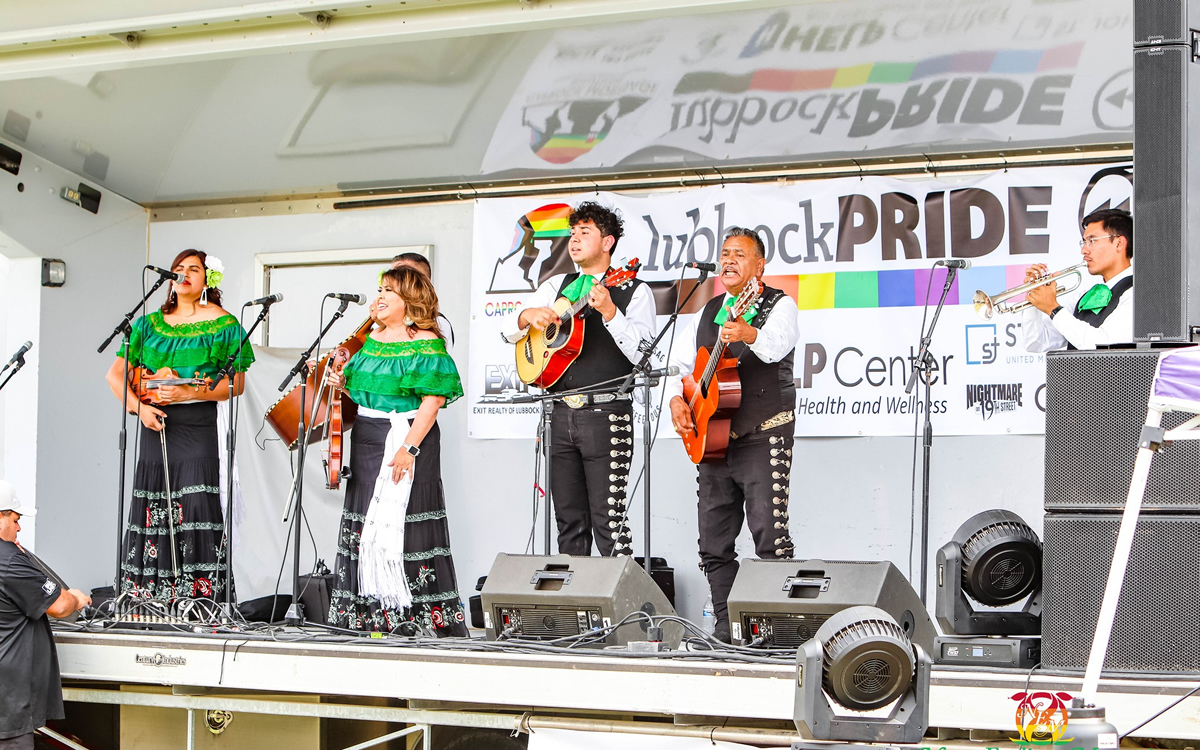 Dawn Ennis, Christopher Kane, Michael Key and Brody Levesque contributed to this story.
Federal judge halts enforcement of Fla. trans healthcare ban
Advocacy groups challenged Senate Bill 254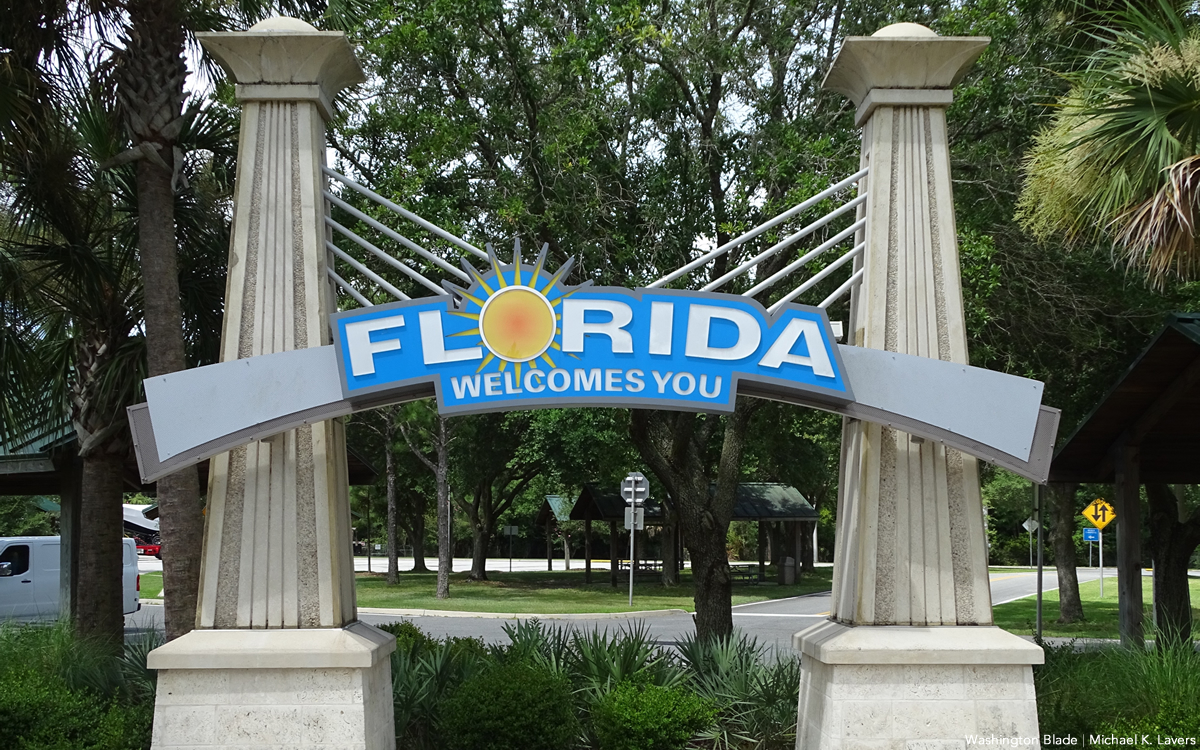 In his 44 page ruling, Judge Robert Hinkle of the U. S. District Court for the Northern District of Florida has barred the state from any further enforcement action against transgender youth or their parents from seeking appropriate gender-affirming care.
Hinkle's ruling allows Florida parents challenging the ban to access necessary medical care for their trans children while the legal challenge to the bans continues. The ruling blocks enforcement of Florida state Boards of Medicine and Osteopathic Medicine rules banning established medical care for trans adolescents as well as provisions in Senate Bill 254 that codify those rules into state law with added criminal and civil penalties.
In his summary Hinkle wrote: "Gender identity is real. Those whose gender identity does not match their natal sex often suffer gender dysphoria. The widely accepted standard of care calls for evaluation and treatment by a multidisciplinary team. Proper treatment begins with mental health therapy and is followed in appropriate cases by GnRH agonists and cross-sex hormones. Florida has adopted a statute and rules that prohibit these treatments even when medically appropriate."
In today's ruling the court indicated that the plaintiff parents are likely to succeed in their claims that SB 254 and the Boards of Medicine rules unconstitutionally strip them of the right to make informed decisions about their children's medical treatment and violate the equal protection rights of trans youth by denying them medically necessary, doctor-recommended healthcare.
The challenge to the Boards of Medicine and SB 254 healthcare bans is likely to proceed quickly to trial.
The families are represented by Southern Legal Counsel, GLBTQ Legal Advocates and Defenders, the National Center for Lesbian Rights and the Human Rights Campaign, which issued the following statement:
"Today's ruling is a powerful affirmation of the humanity of transgender people, the efficacy of well-established, science-based medical care, and of the rights of parents to make informed healthcare decisions for their children. The court recognized the profound harm the state of Florida is causing by forcing parents to watch their kids suffer rather than provide them with safe and effective care that will allow them to thrive. We are incredibly relieved that these Florida parents can continue to get healthcare for their children while we proceed to challenge these bans and eventually see them fully overturned."
Read the ruling: