NETROOTS: Bloggers, activists discuss LGBT issues at pre-conference
Greater trans inclusion, more accurate representation of LGBT people in media among topics mentioned
MINNEAPOLIS — More complete representation of the LGBT people in the media and greater attention to transgender issues were among the issues bloggers and activists discussed on Wednesday during an LGBT pre-conference for the annual Netroots Nation convention.
About 115 activists and bloggers were registered for the pre-conference — organized by gay D.C. blogger Mike Rogers — to facilitate greater cooperation for shared goals in the LGBT movement.
During an opening session of pre-conference, LGBT bloggers and activists aired concerns and made observations about issues that they felt weren't receiving enough national attention.
* Pam Spaulding, lesbian blogger for Pam's House Blend, said too much national attention is focused on advancing marriage rights in states where they don't exist or retaining marriage equality in states where it may be taken away.
Meanwhile other states, such as North Carolina and Minnesota, face the possibility of passing marriage amendments even though they have statutes prohibiting same-sex marriage. Minnesota voters face a ballot measure in 2012 and North Carolina will also likely face one in 2012.
"I've heard people say that it's a lost cause to do anything in the South, but North Carolina staved off an amendment six times in a row," Spaulding said. "So, I think that there is a lot of … people who have 'blue' state protections who ignore places where there's a lot of activism going on and the distinct possibility that we could stave this off."
* Jillian Weiss, a transgender blogger for the Bilerico Project, urged for greater emphasis on transgender inclusion. Even for LGBT issues that primarily affect gay, lesbian and bisexual people, Weiss said there should an effort to show how the issue affects transgender people.
"To use a prime example is 'Don't Ask, Don't Tell,' where [we're] concentrated specifically on gay and lesbian soldiers, which is definitely very important, and I'm behind that 100 percent, but very few people talk about the fact that it's leaving transgender and transsexual veterans behind," Weiss said. "If we don't speak about these other portions of the community, they get completely lost."
* Daniel Villarreal, a gay blogger for Queerty, said greater pressure should be placed on media to include representation for all parts of the LGBT community, including LGBT people of color.
"GLAAD just released a report that looks mainly at cable and networks' depictions of queer people," Villarreal said. "The number of bisexual, lesbian and transgender people are incredibly low, depressing low. Not only that, the numbers of minorities are incredibly low."
Villarreal said all media — even LGBT media — should be "taken to task" for not accurately representing the LGBT community as a whole.
"The only time I ever see a black guy outside of RuPaul's Drag Race on Logo is in an HIV commercial, and that's pretty fucking sad," Villarreal said.
* Felipe Matos, a gay Miami-based strategist, said more attention should focused on the pressures LGBT immigrant youths face. Matos said after coming out, LGBT immigrant youths are often ostracized from their communities, and, if they're undocumented, could be apprehended by the police and deported.
"When you come out, many times you are, in your community and outside your community, you are hurt and then you don't have any recourse [or] anyone to go to because you are afraid the police is going to deport you," Matos said.
As part of his work with an youth group in Florida, Matos said these situations happen "over and over again." LGBT youths, he said, are afraid to talk about their sexual orientation or gender identity for fear of being cast aside and potentially deported.
* Christopher Edwards, communications manager for Immigration Equality, said there should be greater emphasis on the impacts that state immigration laws have on LGBT people. Pending legislation in Utah, Edwards said, would increase the penalty for harboring undocumented immigrants and prevent bi-national couples from staying together in the state.
"A lot of bi-national families include a partner who is undocumented, so you could basically be arrested for living with your partner," Edwards said.
Edwards also said his organization is having "a horrible time" convincing Sen. Amy Klobuchar (D-Minn.) to sign on as a co-sponsor of the Uniting American Families Act, which would enable gay Americans to sponsor their foreign spouses for residency in the United States.
* Zack Ford, a gay blogger with Think Progress, said activists should devise a better way to present the sexuality of LGBT people as more mainstream. In the fight for same-sex marriage, Ford said LGBT people have moved away from presenting themselves as sexual beings.
"We've hidden our sexuality from the mainstream world, but I think as long as that ick factor works against us, we need to find ways to show we're not just people that deserve to be married, but whole, healthy, happy human beings," Ford said. "I think finding some better approaches to talking about queer sexuality in a positive, affirmative way will be very helpful."
* Jeremy Hooper, the gay blogger for Good as You, said LGBT activists could do better with the way they talk about same-sex marriage and how it wouldn't impact religious freedom.
"From my experience, LGBT people and progressives are better at understanding true religious freedom than the opposition, yet we let them work the idea that we're seeking something more … than [what] we deserve," Hooper said. "We don't want churches to marry us. We're not asking for that. What we're seeking is civil marriage."
Several breakouts sessions followed the opening sessions of the LGBT pre-conference and hit on topics including the intersection of immigration and LGBT issues as well as fitting the fight for same-sex marriage into the broader LGBT movement.
For the immigration session, activists working for passage of the DREAM Act, an immigration bill that would provide a path to U.S. citizenship for young, undocumented youths, called on the LGBT community for greater supporter.
* Tania Unzueta, advocacy co-ordinator for the Association of Latino Men for Action's LGBTQ Immigration Rights Project, said LGBT rights supporters should have been made last year when Sen. Mark Kirk (R-Ill.) voted for "Don't Ask, Don't Tell" repeal, but against the Development, Relief and Education for Alien Minors Act.
"There really wasn't anything from the LGBT community that was like, 'This was bad,'" Unzueta said. "It was always, 'Thank you, thank you, thank you.'"
Unzueta said her organization has been devising ways to change the discussion on LGBT issues and immigration issues to demonstrate that they are, in fact, both part of the larger struggle for human rights.
In the marriage session, activists and bloggers talked about whether the fight for same-sex marriage had become too much of a priority for the LGBT community and making other issues secondary.
* Andy Szekeres, a gay activist and progressive political consultant, said the fundraising that groups undertake to win same-sex marriage can be used for the fights to win other battles.
"Marriage is where the money is," Szekeres said. "Look at the trans groups, look at the adoption groups, look at the immigration groups. The marriage world is 10-1 fundraising over them, so we need to figure out a way to sort of spread the wealth."
* Carisa Cunningham, director of public affairs and education for Gay & Lesbian Advocates & Defenders, said the fight for marriage came about to address fundamental issues facing the LGBT community.
"I think the question of whether it's strategic is kind of neither here nor there," Cunningham said. "It's here because we went through the AIDS epidemic and gay men found that at the end of their lives, they could not have their partners come and see them in the hospital [or] make medical decisions for them. Gsy men found that they could not have any say over their partner's bodies when they died and their partner's families could come, swoop in and take everything away."
Cunningham continued, "The other thing was the lesbian baby boom. Women were leaving straight marriages and finding out that they had no rights vis-a-vis their children or they were creating families with their partners and finding again that rights that come to you vis-a-vis your children automatically by marriage have to fought for. There is a real sense that the marriage movement has demand-driven; it has been driven by the bottom up."
CORRECTION: An earlier version of this article underestimated the number of attendees at the LGBT pre-conference. The Washington Blade regrets the error.
U.S. Conference on HIV/AIDS to be held virtually Dec. 2-3
Fauci, Levine, Pelosi to speak at opening session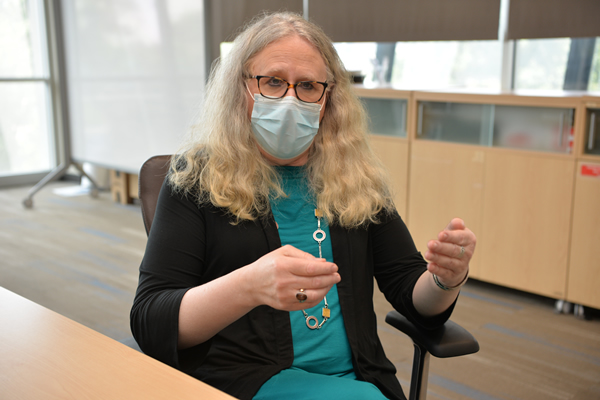 Dr. Anthony Fauci, director of the National Institute of Allergy and Infectious Diseases; and Dr. Rachel Levine, the U.S. Assistant Secretary of Health who became the nation's highest-ranking transgender public official earlier this year, are among dozens of experts scheduled to participate in the 25th Annual U.S. Conference on HIV/AIDS scheduled to take place virtually Dec. 2-3.
Fauci and Levine were scheduled to join Harold Phillips, director of the White House Office of National AIDS Policy; and Rep. Nancy Pelosi (D-Calif.), speaker of the U.S. House of Representatives, as speakers at the conference's opening plenary session at noon on Thursday, Dec. 2.
Phillips and Levine were expected to provide information about President Joe Biden's plans for updating the National HIV/AIDS Strategy, which Biden was scheduled to announce on Dec. 1 at a White House World AIDS Day event.
Members of the U.S. People Living With HIV Caucus were also expected to discuss the federal policy agenda on HIV/AIDS at the opening plenary session.
In addition to the opening plenary and three other plenary sessions, one more on Thursday, Dec. 2, and two on Friday, Dec. 3, the conference was scheduled to include 140 workshop sessions on a wide variety of HIV/AIDS related topics.
The annual United States Conference on HIV/AIDS is organized by the D.C.-based national HIV/AIDS advocacy organization NMAC, which was formerly known as the National Minority AIDS Council before it changed its name to that of its widely known initials NMAC.
"NMAC leads with race to urgently fight for health equity and racial justice to end the HIV epidemic in America," the organization states on its website. "Health equity with communities of color is everyone's challenge."
Several of the workshop sessions cover the topic of expanding the local, state, and national efforts of using pre-exposure prophylaxis drugs known as PrEP as a means of preventing HIV infection.
Other workshop sessions include: HIV CURE – Hot Topics in HIV Cure Research; A Town Hall on Aging and HIV; COVID, HIV, and Racism – How Providers Can Make a Difference; Expanding the Pleasure and HIV Prevention Toolkit: Kink As Harm Reduction; It's About Time – HIV Research Just For Transgender Women; and Impact of COVID-19 on HIV Prevention Services Among U.S. Centers for Disease Control and Prevention-Funded Community Based Organizations.
The conference's fourth and closing plenary session, Foundation Stones to Building the EHE Effort in Indian County, "will highlight the work of those addressing HIV and COVID in Indian Country, rural states and among Alaska Natives with limited infrastructure," according to a conference agenda statement.
"This plenary addresses these challenges and provides innovative solutions by the Indian Country – making the case to support Native HIV care by providing essential building blocks," the agenda statement says.
Paul Kawata, NMAC's executive director, says in a statement in the conference's agenda booklet that he and his NMAC team are disappointed that the 2021 conference is being held virtually for the second year in a row.
"But we felt the issue of safety was simply too critical to ignore," Kawata said in his statement. "I've been very concerned about our loved ones over 50 living with HIV through the whole COVID pandemic," he said, noting that people in that category were dealing with isolation as well as a higher risk for COVID.
"I hope this conference, even though it is virtual, will help alleviate some of that isolation," Kawata said. "We've worked very hard to make this conference not just an opportunity for training and education, but a chance to connect with others, reinforce those strands in your support net, and hopefully, establish some new connections."
More information about the U.S. Conference on HIV/AIDS and instructions on registering to attend can be obtained at nmac.org.
N.C. lieutenant governor compares gays to cow feces, maggots
"If homosexuality is of God, what purpose does it serve? What does it make? What does it create? It creates nothing," Robinson said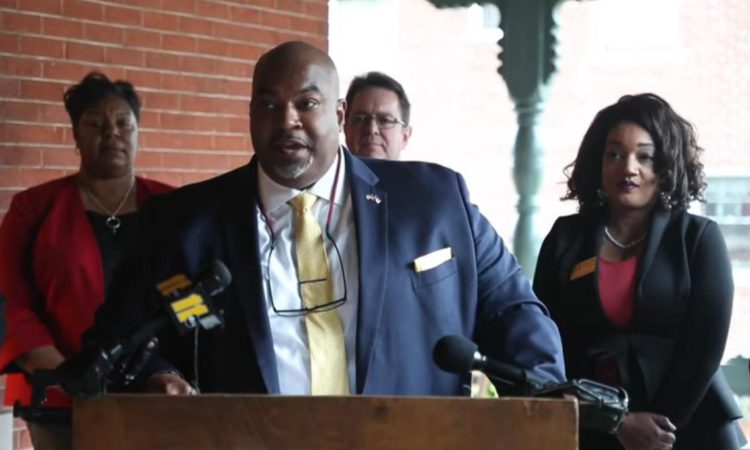 WINSTON-SALEM – Speaking to parishioners at the Berean Baptist Church in Winston-Salem last Sunday, November 14, North Carolina Lt. Governor Mark Robinson attacked the LGBTQ+ community in remarks caught on the church's livestreaming video on YouTube.
Robinson said in his sermon that he questioned the "purpose" of being gay; said heterosexual couples are "superior" to gay couples; and that he didn't want to explain to his grandchildren why two men are kissing if they see that on television the Charlotte Observer reported.
The state's Republican Lt. Governor then went on to compare being gay to "what the cows leave behind" as well as maggots and flies, who he said all serve a purpose in God's creation. "If homosexuality is of God, what purpose does it serve? What does it make? What does it create? It creates nothing," Robinson said.
Democratic lawmakers expressed their outrage on Twitter:
"This man's theology and religious practices are not only flawed and a perversion of the Christian tenets; he places countless people at risk of violent attacks and even murder every time he opens his mouth." #ncpol https://t.co/Uw8jeiqx7A

— NC House Democrats (@NCHouseDems) November 20, 2021
According to the Observer, "The video was distributed Friday by a pastor at St. John's Metropolitan Community Church in Raleigh, the day before the Transgender Day of Remembrance. A protest rally was held Friday in front of Robinson's office, but organizers also read the names of transgender people who have been killed.
"This man's theology and religious practices are not only flawed and a perversion of the Christian tenets; he places countless people at risk of violent attacks and even murder every time he opens his mouth," said Vance Haywood, senior pastor at St. John's, in a statement.
Robinson is expected to run for the governor's chair in 2024. In another video of the sermon captured the Lt. Governor ranting in transphobic terms his opinion of the Trans community:
North Carolina Lt. Gov. Mark Robinson (Twitter Video)
Video of remarks made by North Carolina Lt. Gov. Mark Robinson courtesy of the Charlotte Observer.
LGBTQ elder care facilities open nationwide, but discrimination persists
Advocates say seniors face challenges despite groundbreaking advances
Marsha Wetzel, an out lesbian, shared her life with her partner of 30 years, Judith Kahn, at the couple's home in Illinois until Kahn died in 2013 of colon cancer.
As is the case with some same-sex couples who never married, Kahn's family took legal possession of the couple's home several years later, forcing Wetzel, who suffered from severe arthritis, to move into the Glen St. Andrew Living Community, a retirement and assisted living facility in Niles, Ill.
According to a lawsuit filed on her behalf in 2016 by the LGBTQ litigation group Lambda Legal, when word got out that Wetzel was a lesbian after she disclosed her sexual orientation to a fellow resident, she was called homophobic slurs, spat on, and assaulted on several occasions by other residents of the facility. The lawsuit, which later resulted in a court ruling in Wetzel's favor, charged that officials at the Glen St. Andrew facility illegally failed to take action to prevent Wetzel from being subjected to abuse and threats by fellow residents and retaliated against her when she complained.
Lambda Legal announced one year ago, on Nov. 20, 2020, that Wetzel passed away at the age of 73 of natural causes after a landmark 2018 appeals court ruling in her favor affirmed that residential facilities such as the one in which she lived are legally responsible for the safety of tenant residents.
"Marsha spent the rest of her days in a senior living community where she was out and affirmed," said Lambda Legal attorney Karen Loewy, who represented Wetzel in the lawsuit.
Advocates for LGBTQ seniors were hopeful that the 2018 U.S. Court of Appeals for the Seventh Circuit ruling in the Wetzel case would speed up the gradual but steady advances in the rights of LGBTQ elders in long-term care facilities and in society in general.
A short time later, the New York City-based national LGBTQ elder advocacy group SAGE expanded its programs providing cultural competency training for the nation's long-term care residential facilities. And in some cities, including New York, Los Angeles, and San Francisco, LGBTQ specific retirement and long-term care facilities began to open to provide LGBTQ elders with a wide range of "wrap around" services in addition to a safe place to live.
But LGBTQ elder advocates were taken aback in October of this year when news surfaced that transgender U.S. Army veteran Lisa Oakley, 68, was denied placement in more than two-dozen long-term care facilities in Colorado in 2020 and earlier this year.
"When they found out I was transgender, a lot of the facilities didn't want me," Oakley told USA Today. "A lot of transgender people, I'm sure, face the same thing," she said. "We're humans, just like everybody else."
Oakley told other media outlets her ordeal in trying to gain admission to a residential care facility began in October 2020, when she became unable to care for herself due to complications from diabetes. Her first choice was a facility in her hometown in rural Craig, Colo., where she had lived for the previous 25 years. She believes that facility turned her down because of her gender identity.
A social worker who assisted in Oakley's applications for long-term care facilities said the facility in Craig said Oakley would have to be placed in a private room, which was at the time unavailable, "because she still has her 'boy parts' and cannot be placed with a woman" in a shared room.
Many other Colorado facilities to which Oakley applied for admission, according to social worker Cori Martin-Crawford, cited the COVID pandemic as the reason for not accepting new residents. But as COVID related restrictions began to subside, other facilities continued to deny Oakley admission.
With Martin-Crawford's help, Oakley finally found a facility that is LGBTQ supportive in Grand Junction, Colo., which is nearly three hours away from her hometown of Craig, where she had hoped to remain.
LGBTQ activists expressed concern that the discrimination that Oakley faced took place in the state of Colorado, which has a state law that bans discrimination based on sexual orientation and gender identity. Experts familiar with long-term care facilities for older adults have said many private elder care facilities can get around state LGBTQ nondiscrimination laws by claiming other reasons for turning down an LGBTQ person.
Michael Adams, the CEO of SAGE, told the Blade that the wide range of programs and initiatives put in place by SAGE and other groups advocating for LGBTQ elders in recent years have resulted in significant changes in support of LGBTQ seniors.
"It is the case now that in almost all states there are one or more elder care facilities that have been trained through our SAGECare program," Adams said. "But it's nowhere near what it needs to be," he said. "It needs to be that there are welcoming elder care facilities in every single community in this country" for LGBTQ elders.
Adams was referring to the SAGE program started recently called SAGECare that arranges for employees and other officials at elder care facilities throughout the country to receive LGBTQ competency training. The facilities that participate in the program are designated "SAGECare credentialed," and are included in SAGE database lists available to LGBTQ elders looking for a safe facility in which to reside.
SAGE spokesperson Christina Da Costa provided the Blade with data showing there have been 136,975 professionals trained at a total of 617 SAGECare credentialed organizations nationwide. Out of 617 organizations, 172 are residential communities. Also, out of the total of 617 are 167 Area Agencies on Aging, Aging and Disability Resource Centers, Senior Centers, and senior Ombudsman offices.
Da Costa said 278 of the credentialed entities that have received the SAGECare training throughout the country are "other aging focused nonprofit and for-profit businesses."
According to SAGE, there are 12 SAGECare credentialed elder care facilities or service providers operating in the D.C. metropolitan area, with two located in D.C. One of the D.C. facilities is Ingleside at Rock Creek, located in Northwest D.C., which is a residential facility. The other is Options for Senior America, a company that provides in-home care services for seniors, including seniors living in D.C.
A SAGE list of the D.C.-area SAGECare credentialed facilities shows that three are in Rockville, Md.; two are in Gaithersburg, Md.; and one each are in Bethesda, Md.; Arlington, Va.; and Alexandria, Va. The list shows that one of them that provides services to elders in the D.C. area is based in North Carolina.
SAGE has a separate list of the 15 elder care residential facilities in the U.S. created specifically to serve LGBTQ residents.
None are in D.C., Maryland, or Virginia. However, SAGE says it has been working in cooperation with Mary's House for Older Adults, a D.C.-based LGBTQ organization that advocates for LGBTQ seniors and is in the process of opening LGBTQ elder residential facilities in D.C. and others in the surrounding suburbs.
Mary's House founder and CEO Dr. Imani Woody couldn't immediately be reached to determine when the organization expects to open its first residential facility.
While a residential LGBTQ elder facility has yet to open in the D.C. area, activists note that in addition to Mary's House, services and amenities for LGBTQ elders in the area are currently being provided by the D.C. Center for the LGBT Community and Whitman-Walker Health, the LGBTQ supportive health center, which also has a legal services branch.
Adams of SAGE said the Los Angeles LGBTQ Center opened the nation's first LGBTQ elder residential facility over eight years ago called Triangle Square. He said the L.A. Center opened a second LGBTQ elder residential facility a short time later. And this week, the L.A. Center announced it has opened a third LGBTQ elder residential facility in Hollywood that is part of a larger "intergenerational campus" that will bring together LGBTQ seniors and LGBTQ youth.
SAGE, meanwhile, operates two LGBTQ elder long-term care residential facilities in New York City, one in Brooklyn called the Stonewall House and one in the Bronx called Pride House.
The other U.S. cities with LGBTQ elder residential facilities include: Philadelphia, Minneapolis, Chicago, Cleveland, San Francisco (which has two such facilities), San Diego, Houston, Fort Lauderdale, and Islip, N.Y.
Adams said the LGBTQ elder residential facilities range in size, with the largest – New York's Stonewall House – having 143 apartments that can accommodate 200 residents. He said others vary from 40 or 50 residential units to 120.
Advocates for LGBTQ elders point to what they consider another important breakthrough for LGBTQ elders this year in the release of a joint SAGE-Human Rights Campaign Long-Term Care Equality Index report for 2021. Adams said the report is the first of what could become an annual report and rating and scorecard for long-term care elder residential facilities and other elder facilities.
The 2021 report includes a self-reporting assessment of elder care facilities that the facilities themselves completed through a questionnaire in which many disclosed they have LGBTQ nondiscrimination policies for elders around admission to the facility and for practices by staff for those residing in their facilities.
The report includes a chart showing that 158 elder care facilities in 31 states responded positively to the outreach to them by organizers of the Long-Term Care Equality Index.
"We are thrilled to be working with SAGE and to be working with the Human Rights Campaign who are developing the Long-Term Care Equality Index," said Nii-Quartelai Quartey, who serves as senior adviser and LGBTQ liaison for the American Association of Retired Persons or AARP.
"There is a great deal of work that we're doing in the area of LGBTQ older adults nationwide," Quartey told the Blade. "And AARP has been engaged with the LGBTQ community nationwide for many years now," he said.
"In recent years, we've turned up the volume in working more closely with organizations like SAGE and Lambda Legal and the Victory Fund Institute, the Center for Black Equity, the National Queer Asian Pacific Islander Alliance, and the Hispanic Federation."
According to Quartey, a recent AARP study of LGBTQ elders called Maintaining Dignity shows that longstanding concerns of discrimination remain despite the many advances in support for LGBTQ seniors in recent years.
He said a survey that was part of the study found that 67 percent of the LGBTQ elders who responded, "were concerned about neglect in a long-term care setting." Over 60 percent feared verbal or physical harassment in a long-term care setting and over half "felt forced to hide or deny their identity" as an LGBTQ person, Quartey said.
Another recent survey of LGBTQ elders conducted by SAGE asking them how they feel about the use of the word "queer" in descriptions of LGBTQ people yielded findings that came as a surprise to some, according to Adams. A large majority of those surveyed from across the country said they are "comfortable at this point using that word and reclaiming that word, which is different from what we had heard historically," Adams said.
He said in response to those findings SAGE will now as an organization gradually shift to using the term LGBTQ instead of its past practice of using LGBT.
Although Congress has yet to pass the Equality Act, last year under the Trump Administration, Congress acted in a rare bipartisan way to approve the required five-year reauthorization of the U.S. Older Americans Act with new language supportive of LGBTQ older adults. President Trump signed the legislation.
The language includes a mandate for outreach to and reporting about services provided to LGBTQ older adults in federally funded programs. It also opens the way for LGBTQ older adults to be designated in a category of "greatest social need." Under that category, older adults receive a higher priority in the allocation of resources by the federal government.
"We've come a long way, but we still have a way to go to get over the finish line," said the AARP's Quartey. "And aside from passing legislation federally and on the state and local level, we absolutely need to continue the hard work of changing hearts and minds," he said.
Longtime gay activist and writer Brian McNaught, whose latest book, "On Being Gay and Gray – Our Stories, Gifts, and the Meaning of Our Lives," was just released, says his own very informal survey of LGBTQ elders found there is a need for intimacy that may be too controversial for the establishment LGBTQ elder groups.
"I'm a SAGE volunteer and the 81-year-old man with whom I was working after his husband of 47 years died, said after his grieving process, 'I want to be hugged and kissed. Does that make me a bad person?'"
McNaught told the Blade he assured the man those feelings do not make him a bad person. McNaught said the man's comment prompted him to conduct further research, in which he found that some gay male elders in the Fort Lauderdale, Fla., area who often need assisted living support would like to patronize gay bathhouses or seek the services of an escort agency. He said he determined that any LGBTQ elder group providing such services would trigger "a huge uproar of protests" and most likely a loss of funding.
"We don't want to talk about sexuality and aging," McNaught said.