NETROOTS: Bloggers, activists discuss LGBT issues at pre-conference
Greater trans inclusion, more accurate representation of LGBT people in media among topics mentioned
MINNEAPOLIS — More complete representation of the LGBT people in the media and greater attention to transgender issues were among the issues bloggers and activists discussed on Wednesday during an LGBT pre-conference for the annual Netroots Nation convention.
About 115 activists and bloggers were registered for the pre-conference — organized by gay D.C. blogger Mike Rogers — to facilitate greater cooperation for shared goals in the LGBT movement.
During an opening session of pre-conference, LGBT bloggers and activists aired concerns and made observations about issues that they felt weren't receiving enough national attention.
* Pam Spaulding, lesbian blogger for Pam's House Blend, said too much national attention is focused on advancing marriage rights in states where they don't exist or retaining marriage equality in states where it may be taken away.
Meanwhile other states, such as North Carolina and Minnesota, face the possibility of passing marriage amendments even though they have statutes prohibiting same-sex marriage. Minnesota voters face a ballot measure in 2012 and North Carolina will also likely face one in 2012.
"I've heard people say that it's a lost cause to do anything in the South, but North Carolina staved off an amendment six times in a row," Spaulding said. "So, I think that there is a lot of … people who have 'blue' state protections who ignore places where there's a lot of activism going on and the distinct possibility that we could stave this off."
* Jillian Weiss, a transgender blogger for the Bilerico Project, urged for greater emphasis on transgender inclusion. Even for LGBT issues that primarily affect gay, lesbian and bisexual people, Weiss said there should an effort to show how the issue affects transgender people.
"To use a prime example is 'Don't Ask, Don't Tell,' where [we're] concentrated specifically on gay and lesbian soldiers, which is definitely very important, and I'm behind that 100 percent, but very few people talk about the fact that it's leaving transgender and transsexual veterans behind," Weiss said. "If we don't speak about these other portions of the community, they get completely lost."
* Daniel Villarreal, a gay blogger for Queerty, said greater pressure should be placed on media to include representation for all parts of the LGBT community, including LGBT people of color.
"GLAAD just released a report that looks mainly at cable and networks' depictions of queer people," Villarreal said. "The number of bisexual, lesbian and transgender people are incredibly low, depressing low. Not only that, the numbers of minorities are incredibly low."
Villarreal said all media — even LGBT media — should be "taken to task" for not accurately representing the LGBT community as a whole.
"The only time I ever see a black guy outside of RuPaul's Drag Race on Logo is in an HIV commercial, and that's pretty fucking sad," Villarreal said.
* Felipe Matos, a gay Miami-based strategist, said more attention should focused on the pressures LGBT immigrant youths face. Matos said after coming out, LGBT immigrant youths are often ostracized from their communities, and, if they're undocumented, could be apprehended by the police and deported.
"When you come out, many times you are, in your community and outside your community, you are hurt and then you don't have any recourse [or] anyone to go to because you are afraid the police is going to deport you," Matos said.
As part of his work with an youth group in Florida, Matos said these situations happen "over and over again." LGBT youths, he said, are afraid to talk about their sexual orientation or gender identity for fear of being cast aside and potentially deported.
* Christopher Edwards, communications manager for Immigration Equality, said there should be greater emphasis on the impacts that state immigration laws have on LGBT people. Pending legislation in Utah, Edwards said, would increase the penalty for harboring undocumented immigrants and prevent bi-national couples from staying together in the state.
"A lot of bi-national families include a partner who is undocumented, so you could basically be arrested for living with your partner," Edwards said.
Edwards also said his organization is having "a horrible time" convincing Sen. Amy Klobuchar (D-Minn.) to sign on as a co-sponsor of the Uniting American Families Act, which would enable gay Americans to sponsor their foreign spouses for residency in the United States.
* Zack Ford, a gay blogger with Think Progress, said activists should devise a better way to present the sexuality of LGBT people as more mainstream. In the fight for same-sex marriage, Ford said LGBT people have moved away from presenting themselves as sexual beings.
"We've hidden our sexuality from the mainstream world, but I think as long as that ick factor works against us, we need to find ways to show we're not just people that deserve to be married, but whole, healthy, happy human beings," Ford said. "I think finding some better approaches to talking about queer sexuality in a positive, affirmative way will be very helpful."
* Jeremy Hooper, the gay blogger for Good as You, said LGBT activists could do better with the way they talk about same-sex marriage and how it wouldn't impact religious freedom.
"From my experience, LGBT people and progressives are better at understanding true religious freedom than the opposition, yet we let them work the idea that we're seeking something more … than [what] we deserve," Hooper said. "We don't want churches to marry us. We're not asking for that. What we're seeking is civil marriage."
Several breakouts sessions followed the opening sessions of the LGBT pre-conference and hit on topics including the intersection of immigration and LGBT issues as well as fitting the fight for same-sex marriage into the broader LGBT movement.
For the immigration session, activists working for passage of the DREAM Act, an immigration bill that would provide a path to U.S. citizenship for young, undocumented youths, called on the LGBT community for greater supporter.
* Tania Unzueta, advocacy co-ordinator for the Association of Latino Men for Action's LGBTQ Immigration Rights Project, said LGBT rights supporters should have been made last year when Sen. Mark Kirk (R-Ill.) voted for "Don't Ask, Don't Tell" repeal, but against the Development, Relief and Education for Alien Minors Act.
"There really wasn't anything from the LGBT community that was like, 'This was bad,'" Unzueta said. "It was always, 'Thank you, thank you, thank you.'"
Unzueta said her organization has been devising ways to change the discussion on LGBT issues and immigration issues to demonstrate that they are, in fact, both part of the larger struggle for human rights.
In the marriage session, activists and bloggers talked about whether the fight for same-sex marriage had become too much of a priority for the LGBT community and making other issues secondary.
* Andy Szekeres, a gay activist and progressive political consultant, said the fundraising that groups undertake to win same-sex marriage can be used for the fights to win other battles.
"Marriage is where the money is," Szekeres said. "Look at the trans groups, look at the adoption groups, look at the immigration groups. The marriage world is 10-1 fundraising over them, so we need to figure out a way to sort of spread the wealth."
* Carisa Cunningham, director of public affairs and education for Gay & Lesbian Advocates & Defenders, said the fight for marriage came about to address fundamental issues facing the LGBT community.
"I think the question of whether it's strategic is kind of neither here nor there," Cunningham said. "It's here because we went through the AIDS epidemic and gay men found that at the end of their lives, they could not have their partners come and see them in the hospital [or] make medical decisions for them. Gsy men found that they could not have any say over their partner's bodies when they died and their partner's families could come, swoop in and take everything away."
Cunningham continued, "The other thing was the lesbian baby boom. Women were leaving straight marriages and finding out that they had no rights vis-a-vis their children or they were creating families with their partners and finding again that rights that come to you vis-a-vis your children automatically by marriage have to fought for. There is a real sense that the marriage movement has demand-driven; it has been driven by the bottom up."
CORRECTION: An earlier version of this article underestimated the number of attendees at the LGBT pre-conference. The Washington Blade regrets the error.
Biden administration uses IDAHOBiT to highlight LGBTQ rights support
WHO on May 17, 1990, declassified homosexuality as mental disorder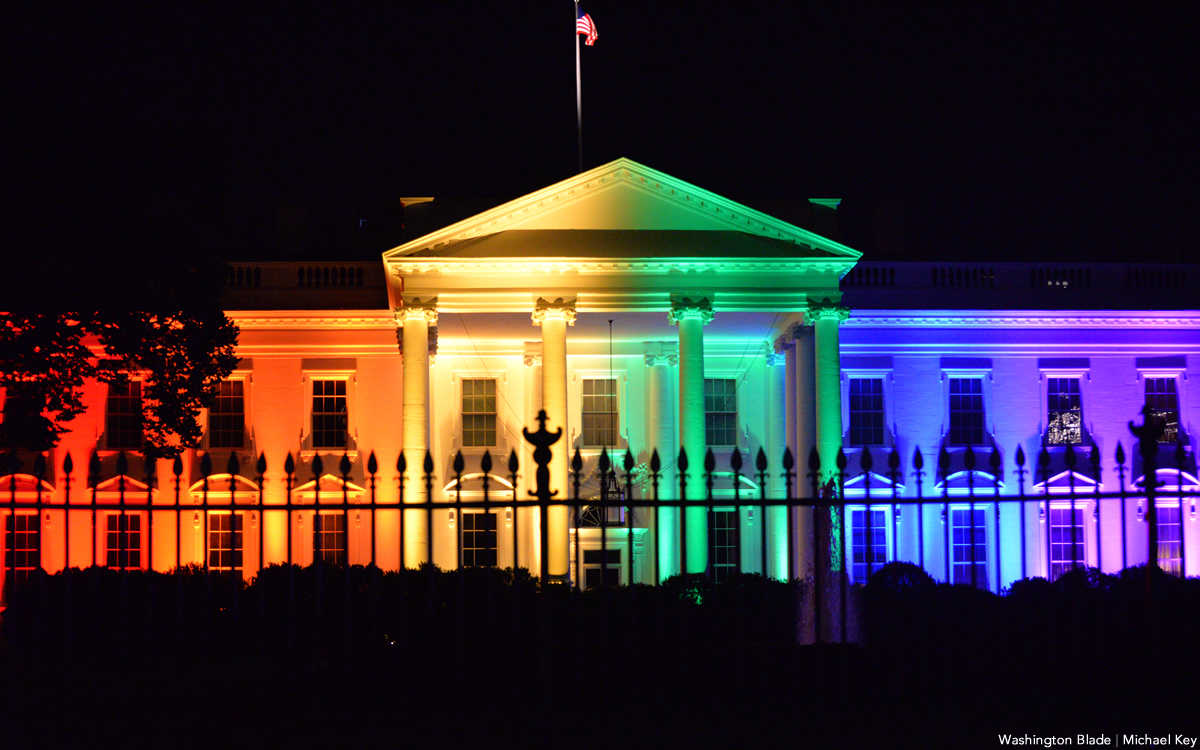 The Biden administration on Tuesday publicly acknowledged the International Day Against Homophobia, Biphobia and Transphobia.
"Jill and I stand in support and solidarity with lesbian, gay, bisexual, transgender, queer and intersex (LGBTQI+) people in the United States and around the world," said President Biden in a statement the White House released. "We join with Americans across the country to reaffirm our commitment to the ongoing work of upholding human dignity for all people and advancing equality globally."
Biden in his statement noted there "has been much progress" since the World Health Organization on May 17, 1990, declassified homosexuality as a mental disorder. Biden also highlighted "we continue to witness disturbing setbacks and rising hate and violence targeting LGBTQI+ people in the United States and around the world."
"This is wrong," he said. "LGBTQI+ people are entitled to all the rights, opportunities, and protections that belong to every human on this planet. LGBTQI+ people are an essential part of families and communities—teachers, first responders, public officials, doctors, lawyers, front-line workers and friends who enrich and strengthen every single country." 

"And make no mistake: Hateful legislative attacks against members of our own LGBTQI+ community cannot be tolerated in America or anywhere else," added Biden. "They spur discrimination and can stoke violence. And they are rooted in the same ignorance and intolerance that we see around the world. Hate is hate—and all of us have a responsibility to speak out against hate wherever we find it."
Secretary of State Antony Blinken on Tuesday issued his own IDAHOBiT statement.
"The United States affirms today, on the International Day Against Homophobia, Biphobia, Interphobia and Transphobia (IDAHOBIT), that the human rights of lesbian, gay, bisexual, transgender, queer and intersex (LGBTQI+) persons are the same human rights to which all persons are entitled," said Blinken. "As enshrined in Article 1 of the Universal Declaration of Human Rights, '[a]ll human beings are born free and equal in dignity and rights.'"
Bliken further noted that "too many LGBTQI+ persons live under the shadow of discrimination, violence and fear."
"Global data makes clear that the dehumanization of LGBTQI+ persons is systemic, pervasive, and often violent," he said. "Homophobia, biphobia, interphobia and transphobia are deeply entrenched in societies across the world, including here in the United States. Countless persons are at extreme risk for being themselves."
Biden shortly after he took office in 2021 issued a memorandum that committed the U.S. to promoting LGBTQ rights abroad.
The administration last June appointed Jessica Stern as the special U.S. envoy for the promotion of LGBTQ rights abroad.
The U.S. Senate earlier this year in a bipartisan vote confirmed Chantale Wong, the U.S. director of the Asian Development Bank, as the first openly lesbian American ambassador. The State Department on April 11 began to issue passports with "X" gender markers.
The State Department on April 28 released a report that details the federal government's implementation of Biden's foreign policy memo.
"We remain committed to ending this intolerance. Everyone deserves to live with respect, dignity, and safety," said Blinken in his IDAHOBiT statement. "The United States affirms that all LGBTQI+ individuals, couples, and their families are valid and valuable."
Biden in his statement also referred to the report.
"By openly reporting on our own progress, the United States hopes to inspire other governments to take similar action to address the needs of their LGBTQI+ communities," he said.

"To the LGBTQI+ community, my administration sees you," added Biden. "We stand with you. And we will continue to defend human rights and dignity, at home and around the world."
Spanish Prime Minister Pedro Sánchez, Cuban President Miguel Díaz-Canel and Council of Europe Human Rights Commissioner Dunja Mijatović are among the other world leaders who have publicly acknowledged IDAHOBiT.
Victor Madrigal-Borloz, the independent U.N. expert on LGBTQ rights, and other U.N. human rights experts in a statement they released on Monday highlighted the plight of LGBTQ people who have been forcibly displaced from their homes.
"With the number of forcibly displaced persons continuing to rise, States, businesses and humanitarian and civil society organizations must invest in developing human rights-based policies and programs that take into full account the intersectional dimensions of forced displacement and sexual orientation and gender identity, fostering stronger collaboration and coordination among all actors responsible for the protection of displaced LGBT individuals," reads the statement.
Advocacy groups around the world also commemorated IDAHOBiT.
"Today I want to thank my incredible team of Insight public organization who still works for LGBTQI+ people in Ukraine, saving life's (sic) of our community during the war," tweeted Olena Shevchenko, chair of Insight, a Ukrainian LGBTQ rights group. "We are here for equality."
Today I want to thank my incredible team of Insight public organization, who still works for LGBTQI + people in Ukraine, saving life's of our community during the war!#IDAHOBIT2022 We are here for equality pic.twitter.com/wOMholwaOv

— Olena Shevchenko (@InsightOlena) May 17, 2022
Sexual Minorities Uganda in a tweet said IDAHOBiT "is a significant day for the LGBTIQ+ community because it serves as a reminder of the ongoing violence and prejudice that our communities face."
"The struggle for equality still continues," added SMUG.
The 17th of May (IDAHOBIT) is a significant day for the LGBTIQ+ community because it serves as a reminder of the ongoing violence and prejudice that our communities face. The struggle for equality still continues. 🌈
Happy IDAHOBIT22 #ourbodies #ourlives #ourrights pic.twitter.com/h5moRos4VH

— Sexual Minorities Uganda | SMUG (@SMUG2004) May 17, 2022
Pride House Tokyo in Japan also acknowledged IDAHOBiT.
May 17th is the International Day Against Homophobia, Transphobia & Biphobia (IDAHOTB or "YES to Diversity Day" in Japan). 32 years ago in 1990, the World Health Organization removed "homosexuality" from the list of mental disorders & finally stopped being considered a disease. pic.twitter.com/rQK6pn65b5

— Pride House Tokyo(プライドハウス東京)🏳️‍🌈 (@PrideHouseTokyo) May 17, 2022
WNBA players back petition for White House to 'prioritize' Brittney Griner's release
Phoenix Mercury center detained in Russia in February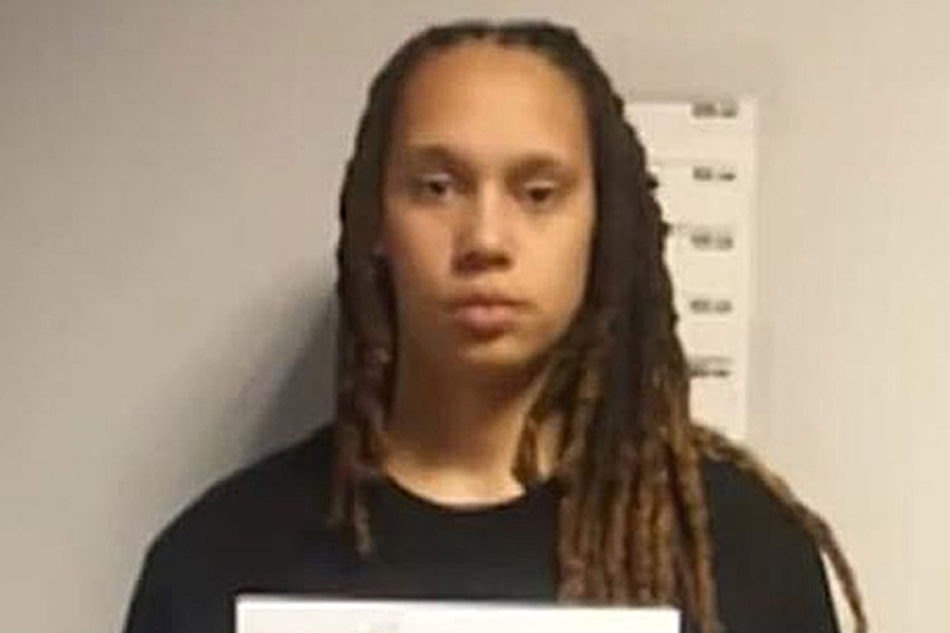 The Women's National Basketball Players Association has endorsed a petition that urges the Biden administration to "prioritize" WNBA star Brittney Griner's release.
"It is imperative that the U.S. government immediately address this human rights issue and do whatever is necessary to return Brittney home quickly and safely," reads the Change.org petition that Tamryn Spruill, a freelance journalist and author, created.
"The WNBPA and its members proudly join Tamryn Spruill, the creator of this petition, in demanding that lawmakers prioritize Griner's return," it continues. "White House and Biden adminsitration, we ask that you take action today—doing whatever is necessary—to bring Brittney Griner home swiftly and safely."
More than 135,000 people have signed the petition.
Spruill on Saturday in a tweet said the WNBPA, a union that represents WNBA players, partnered with them and Change.org "in demanding that our elected officials work urgently to gain BG's swift and safe release."
A new phase in the Brittney Griner/Change.org petition is underway! @TheWNBPA has partnered with me and @Change in demanding that our elected officials work urgently to gain BG's swift and safe release.

Details here:https://t.co/AHtb1DYcSI#WeAreBG

— Tamryn Spruill (@tamrynspruill) May 14, 2022
Griner — a center for the Phoenix Mercury and a two-time Olympic gold medalist who is a lesbian and married to her wife — was taken into custody at Moscow's Sheremetyevo Airport in February. Russian officials said customs inspectors found hashish oil in her luggage.
The State Department earlier this month determined Russia "wrongfully detained" Griner. A Russian court on Friday extended her detention for another month.
"The Russian system wrongfully detained Ms. Griner," then-White House Press Secretary Jen Psaki told reporters on Friday during her last White House briefing. "We take our responsibility to assist U.S. citizens seriously. And we will continue to press for fair and transparent treatment for all U.S. citizens when they are subject to legal processes overseas."

"Now, because the State Department recategorized her as wrongfully detained, it means that our Special Presidential Envoy for Hostage Affairs — it's quite a title but a well-deserved one — is going to be overseeing this case and leading the effort," added Psaki. "Because it's a deliberative process and we know from experience of bringing other Americans home, we're just not going to detail what those efforts look like at this point in time."
Griner faces up to 10 years in prison.
GOP Sen. Cynthia Lummis issues 'apology' after transphobic comments during graduation speech
"My reference to the existence of two sexes was intended to highlight the times- times in which the metric of biological sex is under debate"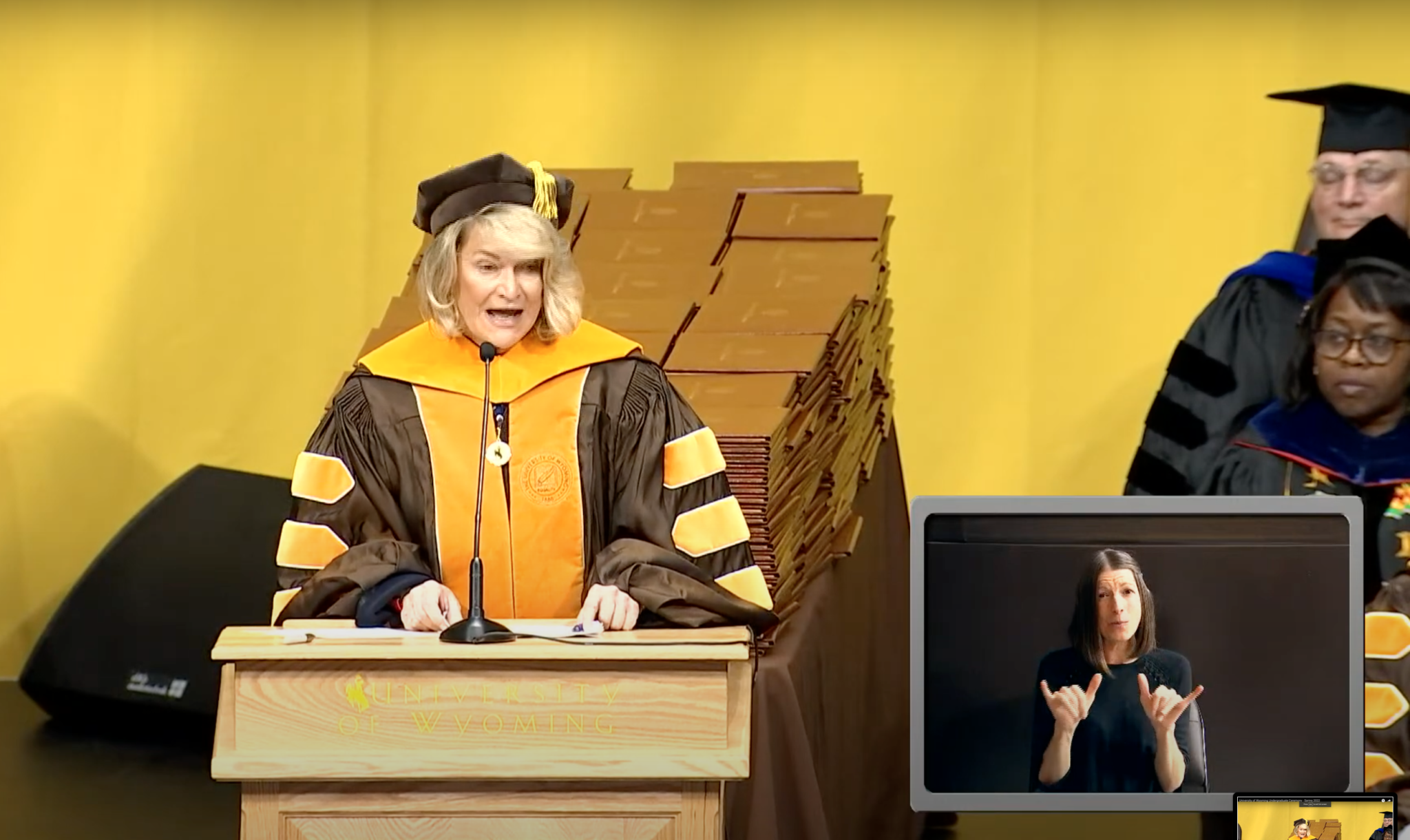 During her speech delivered to the University of Wyoming's College of Arts and Sciences and the College of Education commencement Saturday afternoon, Republican U.S. Senator Cynthia Lummis told graduates that "the existence of two sexes, male and female" was a "fundamental scientific truth."
The audience's immediate reaction to her transphobic remarks were loud expressions of disapproval including jeering, boos, and demands she leave the podium.
The senator's remarks came in the latter third of her twenty-minute address which had primarily focused on the critical need for teachers and in the fields of agriculture and other endeavors she noted were Wyoming hallmarks.
In a statement released by her office Sunday, a spokesperson noted that Lummis was apologizing to those who felt "un-welcomed or disrespected" by the comments.
"My reference to the existence of two sexes was intended to highlight the times in which we find ourselves, times in which the metric of biological sex is under debate with potential implications for the shared Wyoming value of equality," the statement read.
"I share the fundamental belief that women and men are equal, but also acknowledge that there are biological differences and circumstances in which these differences need to be recognized. That being said, it was never my intention to make anyone feel un-welcomed or disrespected, and for that I apologize. I have appreciated hearing from members of the University of Wyoming community on this issue, and I look forward to continuing this dialogue."
An Assistant Professor in the University of Wyoming's Sociology Program in the College of Arts and Sciences tweeted pointing out the graduate's reactions along with the fact that the UW campus community had recently lost a Trans student to suicide, making the senator's remarks more hurtful.
The university's president also issued a statement Sunday expressing support for all members of the UW campus and community:
May 15, 2022
To the UW community:
On Saturday, the university celebrated spring 2022 commencement with a series of events that showcased the best of what makes us special: our students, our staff, our faculty and our ability to openly embrace and debate complex issues. One of our speakers made remarks regarding biological sex that many on campus take issue with. While we respect the right of all to express their views, from students to elected officials, we unequivocally state that UW is an institution that supports and celebrates its diverse communities that collectively make us the wonderful place that we are.
Thank you to the many students and families who celebrated with us this weekend. We welcome the incredible individuality and intellect of all our dynamic and diverse students and never want you to feel otherwise.
Sincerely,
Ed Seidel, President
Being overtly anti-trans at graduation in the same year we lost a trans student to suicide (even if she was oblivious) is beyond cruel.

— Jenni Tabler, PhD (@jenni_tabler) May 14, 2022
Hi 👋. If you are interested in the response of our university. There is a lot of reflection required to support students and the broader state. But we are also people. I'm just a person who lost a student this year. I want all my students to feel seen and to live and thrive. pic.twitter.com/otSXPcc0WE

— Jenni Tabler, PhD (@jenni_tabler) May 16, 2022
Senator Cynthia Lummis' remarks are at the 50:11 time mark: