Duplex Diner pioneer hands over the keys
Hirshfield sparked an ongoing renaissance on high-profile block

Eric Hirshfield, the founder and now former owner of 18th & U Duplex Diner, has proven to be, above all else, a gracious and dedicated gentleman entrepreneur.
His recent announcement that he had sold the business spread like a wildfire among the Duplex's network of neighborhood patrons and gay community movers-and-shakers alike. An appropriate reaction for a venue attracting a bevy of local gay men and lesbians and their friends where a portion of deceased LGBT and AIDS activist and Clinton administration official Bob Hattoy's ashes are kept in a martini shaker on a shelf behind the bar.
Following a 13-year anniversary "BAR mitzvah" celebration on June 25 heralding a month-long closure to "refresh" the venue and after a series of weekly "Road Trip" signature Thursday night events currently underway at neighboring establishments, long-time Duplex Diner bartender and new owner Kevin Lee will re-open the venue at the end of the month and continue the popular and well-regarded landmark enterprise.
Referring to his decision to quit his job sporting a pocket protector as a civil engineer to open a community restaurant and bar "a seduction" that began three years prior to the Duplex Diner's June 1998 opening, Hirshfield jokes that the hospitality industry is the "world's second oldest profession" — if not the first.
Like a teenager constantly riding his bike down the street in front of a cute neighbor boy's house, Hirshfield would walk by the abandoned property just north of 18th and U streets at the intersection with Florida Avenue, N.W., on the way home from his downtown office, pressing his face against the glass and dreaming of what it would be like to feel passion, excitement and commitment in his professional life.
It didn't matter to him that the object of his affection was more than a little rough around the edges. In fact, the conjoined structures at 2002 and 2004 18th St. had seen better days. The weeds inside the building would grow to the height and thickness of trees in the summer and the hollow shell was rapidly deteriorating.
As a young man intent on chasing his desires, Hirshfield threw caution to the wind and told himself that this was the moment to make his move.
Disapproving neighbors
But the challenges involved in consummating such a relationship in the District often prove to be a cruel mistress, indeed.
Despite the fact that he was proposing to rehabilitate a prominent eyesore located at the southern gateway to the Adams Morgan neighborhood where it rubbed shoulders with Dupont Circle, a small group of area residents was quick to disapprove of this new prospective venture.
In a scene re-enacted to this day across the city, they insisted on intervening in this affair. They knew that local tradition allowed them the opportunity to interrupt the courtship and bestowed upon them the potential to call the whole thing off.
Several years later, Hirshfield would join with hundreds of other local business owners in opposition to small citizens groups and Advisory Neighborhood Commission (ANC) members advocating even more onerous restrictions on local businesses, describing the nearly two-year-long ordeal he had endured under the city's cumbersome alcohol licensing process.
First testifying before the D.C. Council in 2004 during public hearings on the proposed Alcoholic Beverage Control (ABC) law revisions, Hirshfield captured the attention of city officials by detailing the outlandish elements of a lengthy so-called "Voluntary Agreement" he was forced to sign with a small group of liquor license protestants in order to move forward with his contingency lease and property renovation, eventually opening for business.
The document stipulated, among other things, the hours he could open the front windows facing the steady stream of buses, cars and trucks filling this major transportation artery and commercial intersection lest his patrons generate too much noise. It dictated the exact location of his trash containers and required that he install an "airlock" double entrance chamber leading into the small 1,000 square foot establishment.
Confessing his 'sins'
Council members sat up in their seats in rapt attention as Hirshfield freely "confessed his sins" and announced in a characteristically devilish manner that he was in violation of a number of these stipulations.
His only defense: common sense.
Plus the fact no one had noticed, owing to the reality that these intrusive and nonsensical requirements clearly provided no real or ongoing benefit to those complaining about imagined problems in advance of their existence. Hirshfield learned first-hand that local hospitality business operators in Washington are deemed "guilty" until proven "innocent" in the eyes of the few neighborhood nannies necessary to manipulate and abuse the regulatory system and impose their will with ease, regardless of the actual merit or fairness of their supposed concerns.
Hirshfield went on to illustrate how the arbitrary sales percentage requirements dictating the amount of revenue derived from alcohol vs. food sales are counterintuitive to his business model as both a small neighborhood restaurant and bar.
Explaining that his patrons could order an entire homestyle meal for which the restaurant operation was well-known – with signature dishes like meatloaf and mac 'n cheese and its popular tater tot side, of which a large number of patrons are worried will not make the new menu version (they will) – for a modest price, Hirshfield totaled the cost of an adult beverage with the meal and, heaven forbid, another drink (or two) at the bar either before or after.
A guest enjoying the evening and visiting with friends was, in fact, making it harder for the business to comply with the law the longer they hung around. All this despite the patron wanting to support this community business and help it succeed.
Although providing a robust and popular neighborhood eatery serving a wide swath of local demographics — Hirshfield often describes the actual bar top as being "not a gay bar, not a straight bar, but a curved bar" which, in fact, it is, and will remain — to this day the business struggles, along with many others, to meet these abstract revenue formulas.
Unintended consequences
Hirshfield's impassioned public articulateness regarding the issues facing local community small business owners over the years has helped create a virtual industry standoff with alcohol licensing opponents. These efforts have contributed to a growing understanding among city residents that the entire license approval process has remained seriously out of whack.
Looking back on the licensing process he underwent, Hirshfield said that his naiveté was his most advantageous attribute, along with persistence and tenacity — otherwise, he might have just given up. After all, he now reflects, a rational businessperson would have simply moved on.
And therein lies the rub. For all the grousing about unruly crowds and late-night drunken revelers clutching pizza slices at the end of a weekend night overwhelming the sidewalks and spilling onto the streets of Adams Morgan, it is the extraordinarily obtuse and out-of-balance licensing process that discourages both sanguine and successful hospitality industry players from locating in the area.
Cumbersome licensing obstacles and hostile regulatory hoop-jumping required by groups such as the long-notorious Kalorama Citizens Association (KCA) and its miniscule active membership are the creators of these unintended consequences, according to Hirshfield. Add the small ad hoc license protest groups formed to oppose local business applicants along with neighborhood ANCs all too eager to extract their own pound of flesh — all wielding what he refers to as an "Involuntary Agreement" as their weapon of choice and demanding acquiescence to their demands — and soon seasoned and savvy community business operators begin looking elsewhere.
Hirshfield contends that it is these licensing opponents who have, in fact, "manifested what they sought to eliminate."
Without a marketplace mix of hospitality businesses contributing to each other's success and providing a blend of offerings, Hirshfield argues, those operating on the edges resort to cheap drinks, plastic cups, and college-age promotions to reap volume sales, larger margins and the ability to pay the bills.
Hirshfield points out — from his perspective as a neighborhood resident, consumer and business owner — that the diverse neighborhood enjoys a long tradition as host to a broad range of responsible establishments and a rich history offering an eclectic mix of cuisines and environments and continues to be a vibrant destination for well-regarded dining and entertainment options.
He believes that the neighborhood's best days are yet ahead, and that the community will successfully confront the problems it is currently experiencing as a result of the misguided policies of the past.
You might think that a business owner would fear the presence of alternatives in close proximity or be concerned with competition from other establishments.
Not the case in Hirshfield's mind, as he is quick to point out the long-time contribution that the also gay-owned L'Enfant Café and Bar French-inspired bistro with its comfortable outdoor seating area next door, the adjacent Bobby Lew Saloon on the opposite side, and the addition of several recently refurbished new businesses across the street, including The Blaguard and the Jack Rose Dining Saloon.
Hirshfield is proud to share in the ongoing development that has transformed this southernmost neighborhood area since those early days of entrepreneurial romance.
That is what it takes to grow a neighborhood and expand the amenities available to residents, Hirshfield said, quoting the adage "a rising tide lifts all boats."
Many would credit his vision and hard work and perseverance with being the anchor that has allowed this to happen over time along the once abandoned and neglected high-profile block that many now refer to simply as "LoMo" (for Lower Adams Morgan).
Hirshfield's future plans
After taking some time off, Hirshfield plans to expand his involvement with business development activities in the area, sharing the lessons he learned the hard way and continuing to be an important part of the neighborhood he loves.
He takes some comfort in observing both that the city government has made progress in streamlining its business permitting departments and that the ABC Board has recently begun to cast a wary eye on those who seek to stand in the way of economic development and a fair and equitable application of alcohol licensing law without undue delay due to frivolous protests.
He hopes that Mayor Vincent Gray will encourage the continuation of these advancements when appointing new members to the ABC Board.
Although not yet detailing any specifics, what most excites Hirshfield is the opportunity to continue to be a part of a dynamic urban locale with a long-irreverent spirit and business camaraderie more akin to collaboration than competition.
In the meantime, his legacy will continue at the soon-to-reopen Duplex Diner under the stewardship of proprietor Kevin Lee — along with the familiar faces that have been key to the venue's longstanding success continuing to serve appreciative "stakeholder" patrons. Both Hirshfield and Lee have been quick to assure inquiring customers that the popular and long-serving staff personalities "conveyed" with the sale.
New owner Lee has undertaken a "micro-renovation" to give the place a "Diner 2.0" facelift, some menu tweaks, and an expanded wine list. The "Tater Tot" lobby has proven as effective as any big-name K Street special interest advocacy firm, the Madonna-themed bathroom stays, and patrons are invited to submit suggestions on the diner's Facebook page for a new theme for the other bathroom. Images of the venue's renovation progress will be available on the Facebook page.
An excited Lee wants to honor the successful formula that Hirshfield introduced and nourished while adding some new touches and creating traditions of his own. Most of all he wants to continue what Hirshfield lovingly refers to as a "cool space at a great location, where a popular restaurant and bar happened along the way" — a sort of "Cheers for Queers" where everyone feels welcome and it doesn't take long for them to remember your name.
Mark Lee is a local small business manager and long-time community business advocate. Reach him at [email protected].
President Biden in command during State of the Union
Younger GOP critics were offensive, acted like children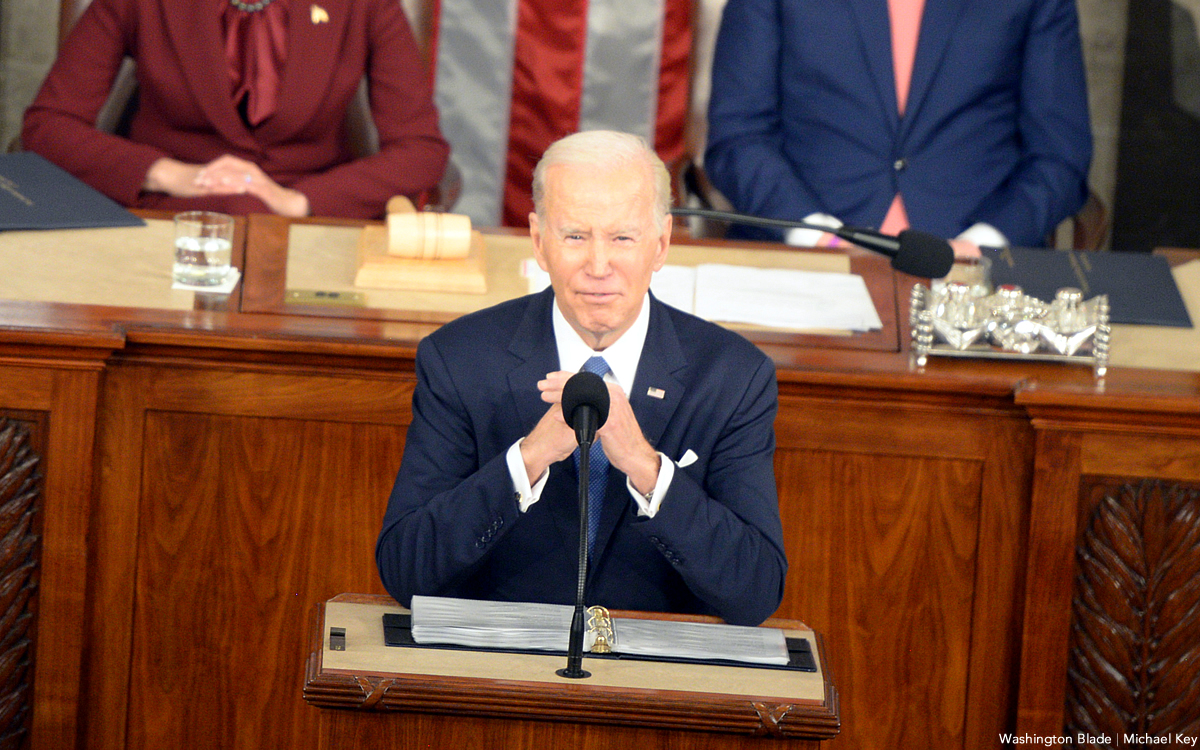 There can be real debate on whether we should turn the reins of the country over to the next generation. But on the night of the State of the Union speech, those calling for that were clearly embarrassed twice.
In the first instance, an 80-year-old president stood tall, and in full command, clearly comfortable with himself, and his message. He used humor and folksiness to get his message across. Contrary to that, many of the so-called 'younger generation' of Republicans in the room were misbehaved, and even offensive. They acted like two-year olds in nursery school, rather than members of Congress. Republicans like the always offensive Marjorie Taylor Greene (R-Ga.) couldn't hold their tongues. Others, yelling out included the boorish Rep. Good (R-Va.). They looked and sounded like fools and this after their leader, Speaker Kevin McCarthy, had asked and reminded them, to behave. He said if they acted out, they would be seen on national television and watched by the world. It clearly didn't stop them. They yelled epithets at the president like 'liar' and 'BS.' They only embarrassed themselves as they always do.
The second time a member of the younger generation embarrassed herself that evening was when Gov. Sarah Huckabee (R-Ark.) gave the Republican response. It was pathetic. She had to take to using terms like 'woke' to prove she's 'with it' because she clearly had nothing real to say. Instead of discussing real issues, she took to calling everyone who didn't agree with her 'crazy' and spouted the same old Republican mantra she had for two years as a spokesperson for Trump. It was very sad.
The president did what every president does in a State of the Union speech — he highlighted his accomplishments, and there are many, and he did it superbly. He then told the Congress what he believes they need to do for the American people in the coming year. He often used the phrase "finish the job" to highlight how far we have come in his first two years and his recognition there is much more left to do. He let people know he actually signed more than 300 bills in his first two years in office and gave Republicans credit for working with him on many of them.
The president spoke of his accomplishments by telling a story. "The story of America is a story of progress and resilience. …We are the only country that has emerged from every crisis stronger than when we entered it. That is what we are doing again. Two years ago, our economy was reeling. As I stand here tonight, we have created a record 12 million new jobs – more jobs created in two years than any president has ever created in four years. Two years ago, COVID had shut down our businesses, closed our schools, and robbed us of so much. Today, COVID no longer controls our lives. And two years ago, our democracy faced its greatest threat since the Civil War. Today, though bruised, our democracy remains unbowed and unbroken."
He showed he understood the people when he recognized his efforts had not benefitted everyone yet. He went on to say, "My economic plan is about investing in places and people that have been forgotten. Amid the economic upheaval of the past four decades too many people have been left behind or treated like they're invisible. Maybe that's you watching at home. You remember the jobs that went away. And you wonder whether a path even exists anymore for you and your children to get ahead without moving away. I get it. That's why we're building an economy where no one is left behind. Jobs are coming back; pride is coming back because of the choices we made in the last two years. This is a blue-collar blueprint to rebuild America and make a real difference in your lives."
The president then spoke of the priorities of his party, which are the goals of so many in the country. He called on Congress to pass the George Floyd Justice in Policing Act; the John Lewis Voting Rights Act; and the Equality Act, a bill for equality for the LGBTQ community first introduced by Bella S. Abzug (D-N.Y.) in 1974. He called on Congress to codify Roe v. Wade and reminded Republicans in Congress if they voted to ban abortion nationally, which many Republicans have called for, he would veto the bill. He called for moving forward the fight against climate change and for reducing the cost of drugs for Americans. He spoke to raising the minimum wage and for allowing workers to unionize. He dramatically highlighted his unwillingness to hurt seniors in any way saying he would veto any bill that would cut social security or Medicare. He actually embarrassed Republicans into standing in agreement with him on this. He was clear, concise, and strong.
He ended with what could be considered both a plea and an offer when he said, "To my Republican friends, if we could work together in the last Congress, there is no reason we can't work together in this new Congress. The people sent us a clear message. Fighting for the sake of fighting, power for the sake of power, conflict for the sake of conflict, gets us nowhere. And that's always been my vision for the country: to restore the soul of the nation, to rebuild the backbone of America: the middle class, to unite the country. We've been sent here to finish the job!"
It was a bravura performance by President Joe Biden. He made us proud.
Peter Rosenstein is a longtime LGBTQ rights and Democratic Party activist.
2024 campaign dash-for-cash is well underway
Democrats must stop funding doomed candidates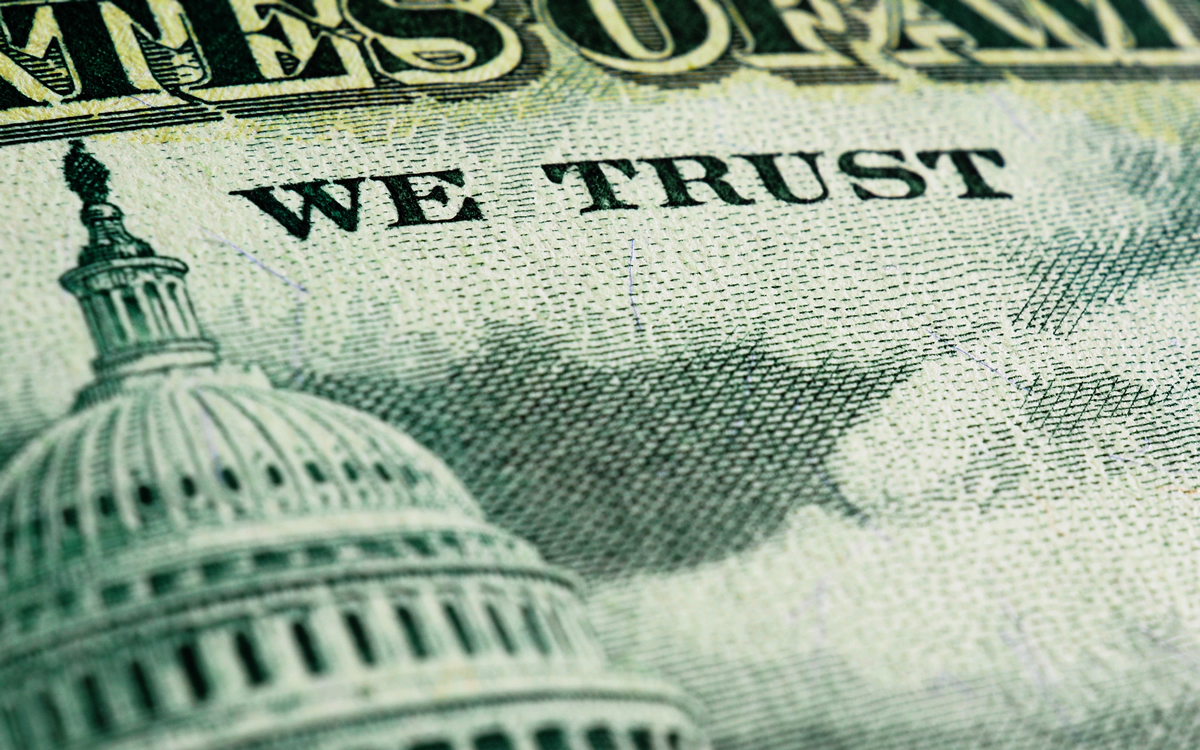 Raising money for the 2024 campaigns is already well under way. I recently received invitations to two fundraisers for the Democratic Grassroots Victory Fund sent from the Deputy National Finance Chair of the DNC. I had to look twice to see if I was reading it right. One in New York with President Biden and one in Philadelphia with both the president and Vice President Harris. The cost to attend a reception, not a meal, and have a photo opportunity, was $36,500 per person. You could become a host for $100,000.
I remember helping to arrange a fundraiser for President Obama's reelection campaign on Sept. 30, 2012. It was held at a friend's home in Georgetown. The cost to attend was $35,000 a couple, and it was for dinner and a photo op, and $5,000 per person for a reception with the president before the dinner. The reception was planned in conjunction with the Human Rights Campaign. So, in 10 years the price has more than doubled and no meal. The allowed personal contribution to an individual federal candidate has also gone up to $3,300 for a primary and $3,300 for the general election. So the same kind of reception we did would now cost $6,600 per person. Guess that is what they mean by inflation.
In the last 10 years we have seen the amount raised in small online contributions increase dramatically. Anyone who has ever given even $5 to a Nancy Pelosi email request for donations now sees hundreds of more emails in their in-box on a regular basis. I would urge anyone responding to one of those to read it very carefully. Many of them say they are for a particular candidate, but if you read the small print, you find the candidate only gets a very small percentage of what you donate. Most of it goes to a PAC, and often ends up in the pockets of consultants.
Democrats are very generous. But the reality is we end up donating millions to what are sure to be losing races. The current DNC Chair, Jamie Harrison, raised $104 million in his primary and general election for the Senate in South Carolina, which he predictably lost to Lindsay Graham by 12%. In what was called a long-shot campaign, Democratic candidate Marcus Flowers raised more than $15.6 million in his effort to defeat Marjorie Taylor Greene. He lost by 31 points. Giving money to him, thinking he could win in that District, is surely the definition of insanity.
There is also a lot of dark money going into campaigns. But with the increase in small donations, it is definitely harder for the big money people to have influence. I remember when the Clintons were attacked for inviting some big donors to sleep in the Lincoln bedroom in the White House as a thank you for donations. Surely Biden doesn't have to do that. But as the dollar requests go up for a picture with the president, those donors will at least expect an audience with someone in the administration.
Now in some ways the pandemic was a lucky break for President Biden when it came to campaigning and raising money in 2020. He had an excuse not to do photo ops, or any in-person events, and still raised incredible amounts of money. In August of 2020 alone, he raised a record-shattering $364 million, for combined Democratic committees. I did my little bit in 2020 and was on a list of 800 bundlers released by the Biden campaign — those who raised more than $100,000 for the campaign. I don't know about the others on the list, but I haven't received any special favors for this, and didn't even receive my usual Christmas card from the White House. What I do get are regular email and snail mail requests from the DNC for more money. Also, that bundler list is shared far and wide. Along with my email that list apparently has my phone number. So, when every Democratic candidate around the nation gets the list, I am inundated not only with emails but with text messages on my phone.
I recently received a phone call from a reporter I know at NBC news. She wanted to know what I got for my donation to the campaign and what I thought of how President Biden was handling his donor politics. I went off the record and said, 'terribly.' I haven't received anything and a major donor through me didn't get anything either. Recently, through friends who are working in the administration, I was invited to three events on the White House lawn. Now that the pandemic is easing this is how masses of people get to go to the White House. I guess the people who arrange them are out of practice as the two I went to were not well planned. Those there were clearly not invited based on their donation levels, except maybe the few in the front section with seats. I definitely was not one of those.
The first event was the celebration of the Deficit Reduction Act. It was a very hot day and they did have some water stations. But they didn't have any Jumbotrons, or a raised stage, so no one toward the back, and there were hundreds, could see what was happening. You could hear, but couldn't see the president, or the entertainer of the day, who happened to be James Taylor. He is of the president's and my generation, and I think he is great. But I asked many of the millennials standing around me if they knew who he was, and they all said no.
The second event was the signing of the Respect for Marriage Act. I was proud to be there based on my work for marriage equality. It was held on a very cold day. Once again, no Jumbotrons and no stage, so again anyone in the back simply saw hundreds of people in front of them holding up iPhones trying to get a picture over the heads of others. I was lucky to stand next to a tall person who could hold the phone higher. The entertainment for the mostly LGBTQ audience was more appropriate, Sam Smith and Cyndi Lauper. The third event, which some friends invited me to as their guest, was the concert by Elton John, which I didn't attend. I understand there were Jumbotrons but then the event was paid for by the A&E networks and the History Channel for possible broadcast. So maybe the time when bundlers, or bigger donors, can expect a reception in the White House for raising or giving more than $100,000, or a reception photo-op for $6,600 is over.
I am not looking for anything and I can only imagine what kind of money will be needed, and raised, for campaigns in 2024. Or what mega-donors will expect or receive for their donations. My only hope is whatever money is raised is spent wisely so Democrats win. It is clear the 2024 campaign dash-for-cash is well underway.
Peter Rosenstein is a longtime LGBTQ rights and Democratic Party activist. He writes regularly for the Blade.
To many, being referred to as 'queer' remains offensive
Washington Post erred in using the term in a recent headline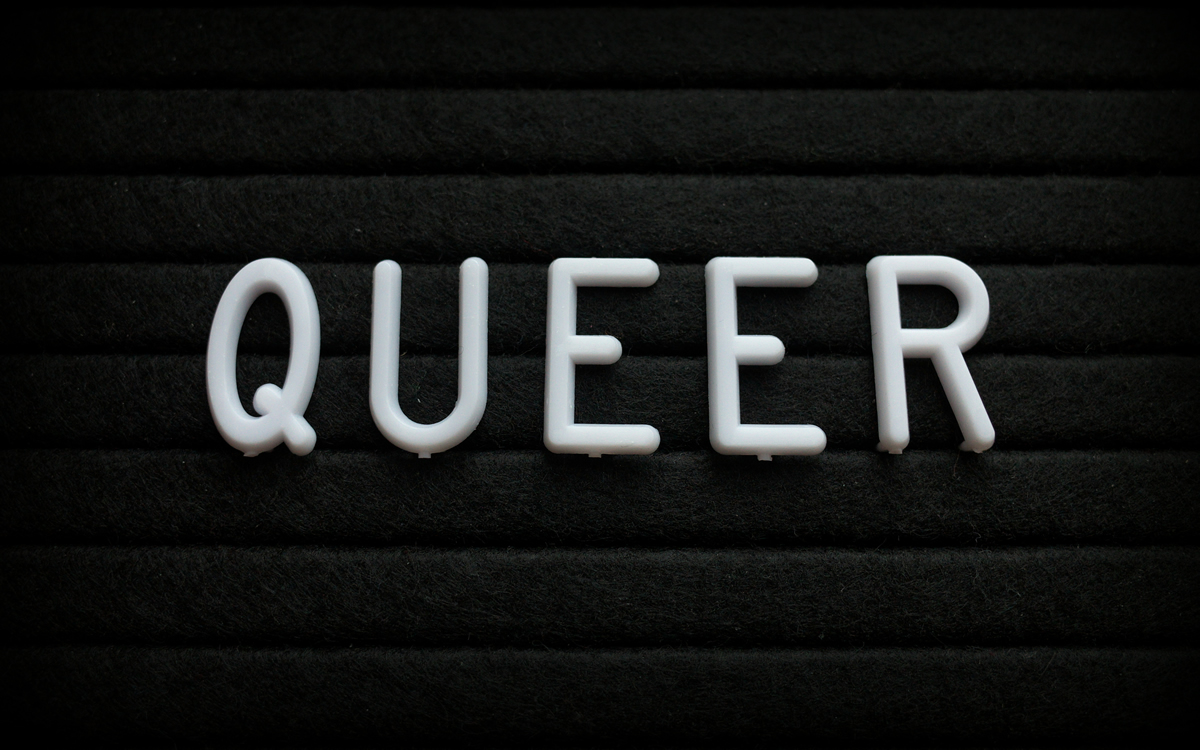 Merriam-Webster dictionary gives various definitions for the word "queer" but also notes: "The term is also prominent as a neutral term in academic contexts that deal with gender and sexuality. Current neutral and positive uses notwithstanding, the word's long history of pejorative use continued into the current century, and some people still find the word offensive in any context." I don't find the term offensive in any context, but do find it offensive when those not members of the LGBTQ community use it to refer to places I go, or to the community I am a member of.
I recently wrote a letter to the Washington Post based on my reaction to the sub-headline of a column appearing on the front-page of their Style section. It read: "After a year of intensified anti-LGBTQ attacks across the country, queer bars, community centers and gay-owned businesses are rethinking how to best protect themselves." I was offended by their use of the term 'Queer' when referring to our bars and indirectly to our community. The author of the column, Anne Branigin, used it to refer to two bars in Adams Morgan owned by a friend — Pitchers and A League of Her Own. I asked this friend if he refers to his bars that way and he said no. 
My reaction to this word may be a generational thing. But even if that is the case, I would still ask why the Washington Post would feel comfortable, and find it necessary, to use it in a headline and column, not quoting someone in the community using it, when it still offends many of their readers. I would think the majority of their LGBTQ readers, and likely all readers, are of an age who will be offended.
When growing up there were many reasons I remained closeted. One was knowing if I came out I would be branded as a "faggot" or "queer." At the time, those terms were used interchangeably. The word queer was directed in a negative way at any guy who was slightly different, maybe effeminate, even if they weren't gay. It you were gay you certainly didn't want anyone calling you that. It is a term still used today to insult members of the LGBTQ community by many who oppose any kind of equality, or acceptance, of the community. Today, with the increase in hate crimes against the LGBTQ community, it is being used and can be used, to prove a hate crime. I feel strongly the media, and those not members of the community, should not be adopting a word still used to slander the community. While it may seem cool or 'woke' to some, it is important to recognize to many it is still a very offensive word.
Hate crimes are rising against so many minorities along with the increase in anti-Semitism. The media should be careful not to use words offensive to members of the Asian community, or the African-American community. I understand younger members of the LGBTQ community are getting much more comfortable with the word queer and using it often. Recently I heard a young member of the disability community refer to himself and a friend as "gimps." Having worked in that community for many years I was amazed at its usage. But again, they were using it with each other. No media outlet would or should ever consider using such words when reporting on or writing about those communities. The same would go for words a Jewish person might consider using with another Jewish person, within the community.
Following my initial visceral reaction to the headline, I began asking some of my friends in the LGBTQ community, and some straight friends, their thoughts on the word. It led to some interesting discussions. I also found some of my younger friends never realized it had been used to debase and attack the community.
Many of my older friends, and straight friends, had a similar reaction to it that I did. They had heard younger people using it and were as surprised as I was to find some young people in our community had no idea about its history. They were willing to accept young people might use it among themselves within the community but were also appalled the Washington Post thought it was OK to use it in describing something in the LGBTQ community as they still saw it as a derogatory term and one of hate. 
Peter Rosenstein is a longtime LGBTQ rights and Democratic Party activist. He writes regularly for the Blade.