Duplex Diner pioneer hands over the keys
Hirshfield sparked an ongoing renaissance on high-profile block

Eric Hirshfield, the founder and now former owner of 18th & U Duplex Diner, has proven to be, above all else, a gracious and dedicated gentleman entrepreneur.
His recent announcement that he had sold the business spread like a wildfire among the Duplex's network of neighborhood patrons and gay community movers-and-shakers alike. An appropriate reaction for a venue attracting a bevy of local gay men and lesbians and their friends where a portion of deceased LGBT and AIDS activist and Clinton administration official Bob Hattoy's ashes are kept in a martini shaker on a shelf behind the bar.
Following a 13-year anniversary "BAR mitzvah" celebration on June 25 heralding a month-long closure to "refresh" the venue and after a series of weekly "Road Trip" signature Thursday night events currently underway at neighboring establishments, long-time Duplex Diner bartender and new owner Kevin Lee will re-open the venue at the end of the month and continue the popular and well-regarded landmark enterprise.
Referring to his decision to quit his job sporting a pocket protector as a civil engineer to open a community restaurant and bar "a seduction" that began three years prior to the Duplex Diner's June 1998 opening, Hirshfield jokes that the hospitality industry is the "world's second oldest profession" — if not the first.
Like a teenager constantly riding his bike down the street in front of a cute neighbor boy's house, Hirshfield would walk by the abandoned property just north of 18th and U streets at the intersection with Florida Avenue, N.W., on the way home from his downtown office, pressing his face against the glass and dreaming of what it would be like to feel passion, excitement and commitment in his professional life.
It didn't matter to him that the object of his affection was more than a little rough around the edges. In fact, the conjoined structures at 2002 and 2004 18th St. had seen better days. The weeds inside the building would grow to the height and thickness of trees in the summer and the hollow shell was rapidly deteriorating.
As a young man intent on chasing his desires, Hirshfield threw caution to the wind and told himself that this was the moment to make his move.
Disapproving neighbors
But the challenges involved in consummating such a relationship in the District often prove to be a cruel mistress, indeed.
Despite the fact that he was proposing to rehabilitate a prominent eyesore located at the southern gateway to the Adams Morgan neighborhood where it rubbed shoulders with Dupont Circle, a small group of area residents was quick to disapprove of this new prospective venture.
In a scene re-enacted to this day across the city, they insisted on intervening in this affair. They knew that local tradition allowed them the opportunity to interrupt the courtship and bestowed upon them the potential to call the whole thing off.
Several years later, Hirshfield would join with hundreds of other local business owners in opposition to small citizens groups and Advisory Neighborhood Commission (ANC) members advocating even more onerous restrictions on local businesses, describing the nearly two-year-long ordeal he had endured under the city's cumbersome alcohol licensing process.
First testifying before the D.C. Council in 2004 during public hearings on the proposed Alcoholic Beverage Control (ABC) law revisions, Hirshfield captured the attention of city officials by detailing the outlandish elements of a lengthy so-called "Voluntary Agreement" he was forced to sign with a small group of liquor license protestants in order to move forward with his contingency lease and property renovation, eventually opening for business.
The document stipulated, among other things, the hours he could open the front windows facing the steady stream of buses, cars and trucks filling this major transportation artery and commercial intersection lest his patrons generate too much noise. It dictated the exact location of his trash containers and required that he install an "airlock" double entrance chamber leading into the small 1,000 square foot establishment.
Confessing his 'sins'
Council members sat up in their seats in rapt attention as Hirshfield freely "confessed his sins" and announced in a characteristically devilish manner that he was in violation of a number of these stipulations.
His only defense: common sense.
Plus the fact no one had noticed, owing to the reality that these intrusive and nonsensical requirements clearly provided no real or ongoing benefit to those complaining about imagined problems in advance of their existence. Hirshfield learned first-hand that local hospitality business operators in Washington are deemed "guilty" until proven "innocent" in the eyes of the few neighborhood nannies necessary to manipulate and abuse the regulatory system and impose their will with ease, regardless of the actual merit or fairness of their supposed concerns.
Hirshfield went on to illustrate how the arbitrary sales percentage requirements dictating the amount of revenue derived from alcohol vs. food sales are counterintuitive to his business model as both a small neighborhood restaurant and bar.
Explaining that his patrons could order an entire homestyle meal for which the restaurant operation was well-known – with signature dishes like meatloaf and mac 'n cheese and its popular tater tot side, of which a large number of patrons are worried will not make the new menu version (they will) – for a modest price, Hirshfield totaled the cost of an adult beverage with the meal and, heaven forbid, another drink (or two) at the bar either before or after.
A guest enjoying the evening and visiting with friends was, in fact, making it harder for the business to comply with the law the longer they hung around. All this despite the patron wanting to support this community business and help it succeed.
Although providing a robust and popular neighborhood eatery serving a wide swath of local demographics — Hirshfield often describes the actual bar top as being "not a gay bar, not a straight bar, but a curved bar" which, in fact, it is, and will remain — to this day the business struggles, along with many others, to meet these abstract revenue formulas.
Unintended consequences
Hirshfield's impassioned public articulateness regarding the issues facing local community small business owners over the years has helped create a virtual industry standoff with alcohol licensing opponents. These efforts have contributed to a growing understanding among city residents that the entire license approval process has remained seriously out of whack.
Looking back on the licensing process he underwent, Hirshfield said that his naiveté was his most advantageous attribute, along with persistence and tenacity — otherwise, he might have just given up. After all, he now reflects, a rational businessperson would have simply moved on.
And therein lies the rub. For all the grousing about unruly crowds and late-night drunken revelers clutching pizza slices at the end of a weekend night overwhelming the sidewalks and spilling onto the streets of Adams Morgan, it is the extraordinarily obtuse and out-of-balance licensing process that discourages both sanguine and successful hospitality industry players from locating in the area.
Cumbersome licensing obstacles and hostile regulatory hoop-jumping required by groups such as the long-notorious Kalorama Citizens Association (KCA) and its miniscule active membership are the creators of these unintended consequences, according to Hirshfield. Add the small ad hoc license protest groups formed to oppose local business applicants along with neighborhood ANCs all too eager to extract their own pound of flesh — all wielding what he refers to as an "Involuntary Agreement" as their weapon of choice and demanding acquiescence to their demands — and soon seasoned and savvy community business operators begin looking elsewhere.
Hirshfield contends that it is these licensing opponents who have, in fact, "manifested what they sought to eliminate."
Without a marketplace mix of hospitality businesses contributing to each other's success and providing a blend of offerings, Hirshfield argues, those operating on the edges resort to cheap drinks, plastic cups, and college-age promotions to reap volume sales, larger margins and the ability to pay the bills.
Hirshfield points out — from his perspective as a neighborhood resident, consumer and business owner — that the diverse neighborhood enjoys a long tradition as host to a broad range of responsible establishments and a rich history offering an eclectic mix of cuisines and environments and continues to be a vibrant destination for well-regarded dining and entertainment options.
He believes that the neighborhood's best days are yet ahead, and that the community will successfully confront the problems it is currently experiencing as a result of the misguided policies of the past.
You might think that a business owner would fear the presence of alternatives in close proximity or be concerned with competition from other establishments.
Not the case in Hirshfield's mind, as he is quick to point out the long-time contribution that the also gay-owned L'Enfant Café and Bar French-inspired bistro with its comfortable outdoor seating area next door, the adjacent Bobby Lew Saloon on the opposite side, and the addition of several recently refurbished new businesses across the street, including The Blaguard and the Jack Rose Dining Saloon.
Hirshfield is proud to share in the ongoing development that has transformed this southernmost neighborhood area since those early days of entrepreneurial romance.
That is what it takes to grow a neighborhood and expand the amenities available to residents, Hirshfield said, quoting the adage "a rising tide lifts all boats."
Many would credit his vision and hard work and perseverance with being the anchor that has allowed this to happen over time along the once abandoned and neglected high-profile block that many now refer to simply as "LoMo" (for Lower Adams Morgan).
Hirshfield's future plans
After taking some time off, Hirshfield plans to expand his involvement with business development activities in the area, sharing the lessons he learned the hard way and continuing to be an important part of the neighborhood he loves.
He takes some comfort in observing both that the city government has made progress in streamlining its business permitting departments and that the ABC Board has recently begun to cast a wary eye on those who seek to stand in the way of economic development and a fair and equitable application of alcohol licensing law without undue delay due to frivolous protests.
He hopes that Mayor Vincent Gray will encourage the continuation of these advancements when appointing new members to the ABC Board.
Although not yet detailing any specifics, what most excites Hirshfield is the opportunity to continue to be a part of a dynamic urban locale with a long-irreverent spirit and business camaraderie more akin to collaboration than competition.
In the meantime, his legacy will continue at the soon-to-reopen Duplex Diner under the stewardship of proprietor Kevin Lee — along with the familiar faces that have been key to the venue's longstanding success continuing to serve appreciative "stakeholder" patrons. Both Hirshfield and Lee have been quick to assure inquiring customers that the popular and long-serving staff personalities "conveyed" with the sale.
New owner Lee has undertaken a "micro-renovation" to give the place a "Diner 2.0" facelift, some menu tweaks, and an expanded wine list. The "Tater Tot" lobby has proven as effective as any big-name K Street special interest advocacy firm, the Madonna-themed bathroom stays, and patrons are invited to submit suggestions on the diner's Facebook page for a new theme for the other bathroom. Images of the venue's renovation progress will be available on the Facebook page.
An excited Lee wants to honor the successful formula that Hirshfield introduced and nourished while adding some new touches and creating traditions of his own. Most of all he wants to continue what Hirshfield lovingly refers to as a "cool space at a great location, where a popular restaurant and bar happened along the way" — a sort of "Cheers for Queers" where everyone feels welcome and it doesn't take long for them to remember your name.
Mark Lee is a local small business manager and long-time community business advocate. Reach him at [email protected].
The future of lesbian bars
Resolve to support our queer spaces in 2022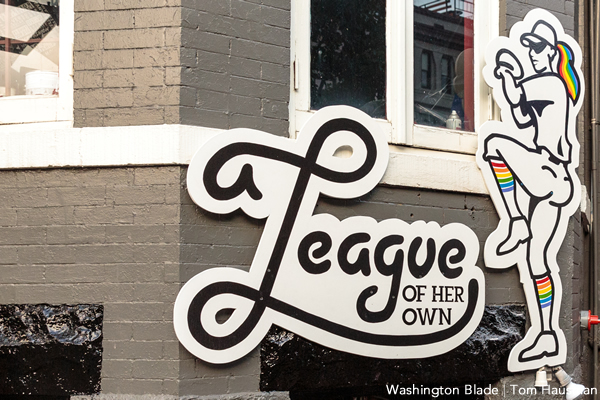 This New Year, I hope you wish for more lesbian bars across the country. The story of lesbian bars in the U.S. has been slightly tragic of late: as of January 2021, there were only 15 clubs or bars dedicated to queer women across the country.
That's right—only 15. Across all 50 states.
In Washington, D.C., my hometown, A League of Her Own stands out as the only lesbian bar in the city, dedicated to queer women. Located in Adams Morgan, A League of Her Own, also known as ALOHO, is a small mecca for queer ladies to pass through, socialize, and flirt. ALOHO is a chic gathering point for all queer folk, with posters of softball players dotting the walls and gender neutral signs lying about.
Several years ago, another lesbian bar called Phase 1 existed in Southeast, where queer women could slam eight balls in pool games and engage in raunchy yet ever-so-hot jello wrestling competitions.
Unfortunately, Phase 1 shut its doors in 2016.
So what explains the closure of so many lesbian bars, while bars for gay men continue to flourish? Perhaps many queer women view gay bars as a space for their own as well, whereas gay men view lesbian bars as less of a place for them to socialize.
Either way, we need to give support to lesbian bars now more than ever. Tokens of support can take many forms.
For one, make sure to socialize in spaces dedicated to queer ladies. There are three lesbian bars in New York City: Cubbyhole (281 W. 12th St.), Gingers in Brooklyn (363 5th Ave.), and Henrietta Hudson (438 Hudson St.). Next time you visit the Big Apple, make sure to give these three spots some love. Maybe drag your experimenting bi friend to these locations. Or your pansexual roommate.
Back in D.C., you can buy unisex shirts in A League of Her Own's merchandise store, available online.
Proceeds will go toward funding the bar, and making sure it stays afloat, especially during this COVID economy.
Most of all, I hope you encourage your queer lady friends to keep on frequenting queer lady destinations. After all, there is only one thing that will keep lesbian bars afloat—and that is attendance.
I, for one, will be frequenting many lesbian destinations this new year.  
Isaac Amend is a Yale graduate and participated in National Geographic's 'Gender Revolution' documentary. He also is a member of the LGBT Democrats of Virginia, and contributes regularly to the Blade. Follow him on Twitter and Instagram at @isaacamend.
Breaking barriers as an out trans 'Jeopardy' champion
Amy Schneider's run inspires us all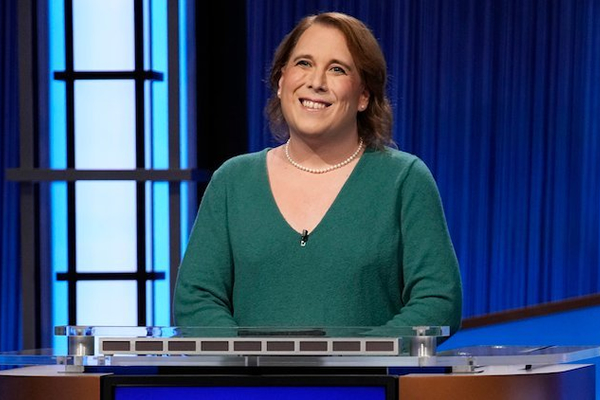 "When was the last time anybody said 'wow!'" a friend asked me.
I couldn't remember the last time anyone I know (including me) had any "Wow!" moments. Until I heard about trans woman and software engineering manager Amy Schneider's 29-game winning streak on "Jeopardy."
You wouldn't think anything could dispel our COVID exhaustion and political divisiveness. Yet, news about a champion on "Jeopardy," a quiz show that has been on TV since 1964, has broken through our gloom.
In our culture, there are few things that everyone loves. But, "Jeopardy" is beloved by many, from theater geeks to 80-year-old sports nuts. A progressive friend was over the moon when his brother was a "Jeopardy" contestant. A buddy, a hetero (non-Trump) Republican, is a "Jeopardy" fanatic and a gay librarian pal is a "Jeopardy" freak.
Many of us daydream about being on "Jeopardy." But we know that we wouldn't have a chance on this legendary quiz show with its deceptively simple format: You give the answer to the (often incredibly hard) clues in the form of a question. You have to have a strategic military commander's and a world-class athlete's coordination: so you can press the buzzer to answer the clue.
The game's categories run the gamut from opera to mountain ranges. Most of us, mere mortals, would be lucky to know even one category in the first round of the game. Let alone in the "Double Jeopardy" round or the "Final Jeopardy" clue. I might jump on clues about Katharine Hepburn movies or M&Ms. But that would be it for me.
It's exciting to watch a "Jeopardy" contestant become a long-running champion. You marvel at the player's intelligence, endurance, and nerve. It's thrilling when the contestant on a winning-streak is part of your community.
Many of us LGBTQ "Jeopardy" fans are thrilled by Schneider's record-setting winning streak. As I write this, Schneider has won more than $1 million in 29 games of "Jeopardy." She is the fifth millionaire in "Jeopardy" history, and only the fourth player to reach this milestone in the regular season. She has won more than any other female "Jeopardy" contestant.
Schneider, like so many of us, doesn't want to be defined by her gender identity or sexuality. Schneider's life is multi-faceted; she has many interests. Schneider lives with her girlfriend Genevieve. They have a cat named Meep.
Yet, Schneider doesn't want to hide that she's trans. On "Jeopardy," Schneider brilliantly dealt with this dilemma. She didn't make a big deal about being out. She just wore the trans Pride flag pin.
"It was something that I wanted to get out there and to show my pride in while not making it the focus of what I was doing there," Schneider told the New York Times. "Because I was just there to answer trivia questions and win money."
As a cisgender lesbian, I can't speak to how Schneider's record-setting "Jeopardy" streak feels to transgender people.
But, as a trans ally, I'm cheering for Schneider. Kudos for her bravery! At a time when many states are passing anti-trans laws, it takes guts to be out on TV and the Internet.
Few things are as mainstream as "Jeopardy." I bet that many "Jeopardy" viewers who are frightened at the idea of trans people, will become more comfortable with transgender people after watching Schneider on the popular quiz show. Because folks on TV come into our living and bedrooms and we feel as if we know them after watching them for a while.
"Amy looks like everybody else," my neighbor said when I told her Schneider was trans. "She doesn't act odd. She's not strange."
Transgender people encounter violence and discrimination in everything from housing to health care to employment.
I know Schneider's "Jeopardy" triumph won't end transphobia. But her winning streak will go a long way toward jumpstarting a change in hearts and minds.
Kathi Wolfe, a writer and a poet, is a regular contributor to the Blade.
SCARY: Tucker Carlson now the conscience of GOP
Cruz bows down, kisses ring of Fox host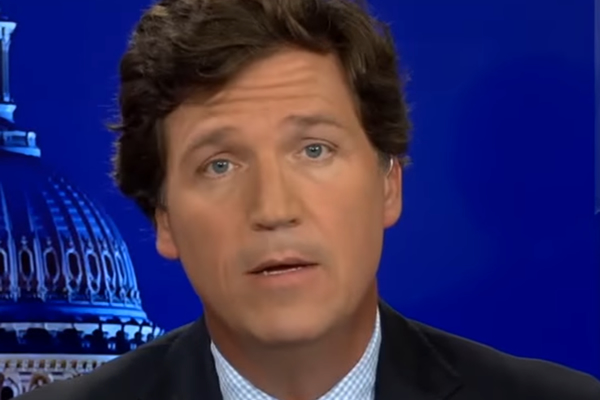 The Republican Party has sunk to a new low, hard to do, when a sleazebag like Tucker Carlson is now their conscience. Seeing Sen. Ted Cruz (R-Texas) groveling before him is laughable, disgusting, and frightening all at the same time.
As reported in Rolling Stone, Cruz said, "We are approaching a solemn anniversary this week. It is an anniversary of a violent terrorist attack on the Capitol where we saw the men and women of law enforcement demonstrate incredible courage, incredible bravery, risk their lives to defend the men and women who serve in this Capitol." Then "Cruz was lambasted by Tucker Carlson that night, prompting him to hop on Carlson's show Thursday and beg for forgiveness. "The way I phrased things yesterday, it was sloppy and it was frankly dumb," Cruz said before Carlson cut him off and said he didn't believe him. Cruz took it up a notch, stammering through an absurd bit about how he wasn't talking about the "patriots across the country supporting President Trump," only those who assaulted police officers, and that he's always described anyone who assaults a cop as a terrorist.
Carlson has made a career of being a pompous commentator. Interestingly he worked at CNN, PBS, and MSNBC, before finally landing at Fox in 2009. According to his Wikipedia page he went to Trinity College where he earned a bachelor's degree and Carlson's Trinity yearbook describes him as a member of the "Dan White Society," an apparent reference to the American political assassin who murdered San Francisco Mayor George Moscone and Supervisor Harvey Milk. After college, Carlson tried to join the CIA, but his application was denied, after which he decided to pursue a career in journalism with the encouragement of his father, who advised him that "they'll take anybody." Reading this clearly raised my opinion of the CIA and based on what we see in some media today I agree with Carlson's father on his view of journalism.
When you have a moment of silence in the House of Representatives to honor those who lost their lives on Jan. 6 and only two Republicans show up, Rep. Liz Cheney (R-Wyo.) and her father Dick Cheney, the former vice president, one understands the influence Carlson has on the GOP. The rest were afraid of being criticized on-air by him or lambasted by Trump.
Dick Cheney remarked on the GOP, "It's not a leadership that resembles any of the folks I knew when I was here for 10 years." He spoke to ABC News saying, "I'm deeply disappointed we don't have better leadership in the Republican Party to restore the Constitution."
There is a leadership void in the Republican Party today. Their so-called leaders are afraid to say what they think if it differs in any way from Trumpism or Carlson's view of the world, which requires total fealty to Trump. He found a home on Fox where he can lie with impunity and have millions believe his lies.
President Biden said, in what many think was the best speech of his presidency so far, these people are "holding a dagger to the neck of democracy." He went on to say, "For the first time in our history, a president not just lost an election, he tried to prevent the peaceful transfer of power as a violent mob breached the Capitol."
Tucker Carlson and his ilk have never bothered to answer a question the president threw at them, which is how they can accept all their down ballot victories, governors, and members of Congress, which occurred on the same ballots, cast by the same people, on the same day, as those for president. Of course, Carlson has no need to make sense, tell the truth, or speak rationally because of his platform on Fox, which doesn't require that.
My question is whether Carlson is as dumb as he makes himself sound or is he brilliant and this is all a big act? Either way the acolytes that follow Trump don't seem to care and are bowing down to Carlson's big audience. It's as if he can tell any Republican senator or congressperson, or Republican candidate for those jobs, to just 'bend over and take it' and they do. All we can do is mourn for the GOP of Lincoln and Eisenhower. Non-Trumpers will have to work hard and speak out if they ever want to resurrect a GOP that can be respected.
Peter Rosenstein is a longtime LGBTQ rights and Democratic Party activist. He writes regularly for the Blade.