O'Malley backs 2012 push for marriage equality
Bill becomes part of guv's legislative package

ANNAPOLIS, Md. — Flanked by lawmakers and members of a broad coalition of Maryland LGBT leaders, Gov. Martin O'Malley today announced that a law legalizing same-sex marriage would be part of his 2012 legislative package.
After a disappointing 2011 session for marriage equality advocates in Maryland, ending with the death of a Senate-passed marriage bill in the lower house, the governor came out in favor of a bill that he said would address "religious freedom and protect marital equality rights equally under the law."
O'Malley's press conference today signals that he may take a more active role in leading on marriage equality legislation. He was criticized earlier this year for not taking a more visible role in support of the 2011 bill.
"I'm supportive of this bill in the upcoming session, and so supportive that I've decided to make it one of the handful of bills that will be an administrative priority."
When asked by a reporter if his own views on marriage equality had changed, the governor said, "I have always believed in the dignity of every individual. I believe in our own responsibility to advance the greater good. And I also understand that there is a unity of the spirit and matter, and that what we do in our own lifetimes does matter."
He continued, "As a free and and diverse people of many faiths, we choose to be governed under the law … governed by certain principles and beliefs. Among them, equal protection of the law for every individual and the free exercise of religion free of interference from government. Other states have found a way to protect both of these fundamental beliefs. Therefore in the 2012 legislative session I will sponsor legislation that protects religious freedom and protects marital equality rights equally under the law."
"I was raised to understand that there are certain things that churches and religions dispense, and that the government should not interfere with defining those," the governor said when asked about his own evolution on marriage, after previously favoring civil unions rather than full marriage equality. "That's what we seek to protect, both of those freedoms, that is equality under the law in terms of rights conferred."
While taking questions, O'Malley emphasized that while he supported civil unions in the past, he's always believed in equal protection under the law.
"The difficulty that we face as a diverse people was how to enforce a consensus that will protect rights equally under the law," he said, "the development of that consensus, the ability to come together around marital equality is something that I think is one of the faster moving issues of opinion that we've seen in our country for some time."
He also brought up the victory for marriage equality in New York, and noted that process will influence strategy in Maryland as well.
"Each state learns from the other states," the governor said. "I would like to think that in New York, they learned from our experience, and we will learn from their experience."
He continued, "New York showed you could protect religious freedom and you can protect protect rights equally and that's what we're going to do with this bill."
When asked about the influence the momentum from New York had on his decision to hold today's press conference, O'Malley said the bill's prospects are stronger because the coalition pushing the bill is much better developed.
"I think the broad nature of this coalition is something I'm very much encouraged by and by the success in New York. It is a fundamental truth that with every accomplishment, further accomplishments appear possible. When New York was able to bring people together—and do it by the way, in a bi-partisan way—and were able to bring into their coalition… a number of religious leaders." He said, "We still have a lot to do, and this coalition is important, and this is the way to get it done, and certainly New York's success in accomplishing the marital equality bill in New York was something encouraging to everyone, including myself."
There had been some speculation within the Maryland LGBT community that a second chance for a 2011 success may surface in the state's October special session for redistricting, but the governor was quick to dismiss that strategy.
"I think most of us are focused on the upcoming regular session, and I think that time will be well used to broaden this coaltion," O'Malley said.
When asked what he thought about the possibility of opponents of marriage equality bringing a referendum to the ballot undoing any new law, O'Malley said, "It's their right under the laws," but added that he is focused on getting the law passed by a broad coalition of leaders from throughout the civil rights and religious communities so that such efforts would not gain traction.
"I'm very optimistic that if all of us work hard and all of us stay focused on the important principles at stake here, which are freedom of religion and also equal protection under the law," he continued, "that we can pull together the necessary votes for passage."
"We know that we have work to do, because it did not work the last time, and that's why we're here today. To commit ourselves to that work."
During the press conference, several lawmakers took the podium to emphasize the size and scope of the new coalition to pass a bill legalizing same-sex marriage in the Free State.
"Many during the past session said this was not a civil rights issue," said Sen. Robert J. Garagiola, (D-Montgomery Co). "I don't see how you can't look at it as a civil rights issue. You just look at our history—American history, Maryland history—we had laws on the books that discriminated between different races, and right now we have laws on the books that discriminate between two loving people. To me it's the same exact thing."
"We had a little bit of courage from one Republican in the Maryland Senate, Allan Kittleman," the senator continued. "To me this is an issue where Democrats and Republicans should come together."
"The governor is saying this is what's right," said Del. Benjamin Barnes (D-Anne Arundel & Prince George's County). "We're a nation founded on equality, and when you deny certain individuals their rights under marriage, you deny them certain fundamental equal rights. This governor is saying this is not just, and we're going to have equality in the state of Maryland."
Ezekiel Jackson of the Servicemembers Employee International Union local 1199 of Maryland and the District of Columbia was also on hand to announce the union's involvement with the coalition taking the lead on passing marriage in 2012. Jackson claims SEIU's membership on the coalition makes sense because families should not have to leave the state of Maryland in order to get married and take advantage of the benefits marriage affords.
"Anytime we look at a situation where residents are spending money outside of Maryland, we rush to find ways to keep that money in Maryland," Jackson said. "Why can't we do the same thing with families?"
Many members of the Maryland LGBT Caucus were on hand to praise the governor as well, including Sen. Richard S. Madaleno Jr. (D-Montgomery County), and Del. Maggie McIntosh.
The only openly gay member of the Senate, Madaleno enthusiastically took the microphone to praise O'Malley for pledging to lead in passing marriage equality in Maryland.
"This is probably going to be the second most exciting moment that I have had in this room," Sen. Madaleno said. "And it will only be surpassed by the moment within the next nine months that we will stand here, with [the governor], pen in hand, to sign into law the marriage equality bill."
"Maryland, in history, is the seventh state in the union to have embraced the Constitution," Madaleno pointed out. "And in the next nine months, we will be the seventh state in this country to embrace marriage equality."
Del. McIntosh, Maryland's first openly gay lawmaker, and former majority leader, has known O'Malley throughout his political career, beginning with his time on the Baltimore City Council. "All of us in the legislature who are openly gay members would like to thank you for your leadership, Gov. O'Malley," she said at the press conference. "Your sponsorship and your willingness to continue toward marriage equality in Maryland means so much to so many families in Maryland. So we're going to win!"
When asked how the LGBT Caucus is mapping out its strategy with the governor and who has taken the lead, McIntosh told the Blade that, while the members of the LGBT Caucus have yet to meet with the governor over this bill, officially, she and Madaleno have been working with the governor's chief legislative officer, Joe Bryce.
"Obviously Sen. Mandeleno and I have had conversations with the governor, and many of our colleagues have had conversations with the governor urging him to take the lead," McIntosh said. "We will work with Joe Bryce going forward, probably looking at the New York law, looking at ours—ours was only two or three votes short—so is there something we can tweak. We have to all be on the same wavelength about that. But we will introduce a bill, and I think we will absolutely work with his office hand-in-hand to get the legislation passed."
"We were working closely with members of the LGBT Caucus and other supporters of marriage equality last session earlier this year," Marty Rouse, national field director for the Human Rights Campaign, told the Blade. "And now we work very closely with the GLBT delegates, and working with Progressive Maryland and others. If there's a difference between earlier this year and today, it's a much broader and deeper coalition. And now with the support of the governor, clearly we have a much better chance of getting this passed next session."
Marylanders for Marriage Equality, a new group, announced last week a major coalition to begin a statewide effort to press for passage of a marriage equality bill in 2012. The coalition includes Progressive Maryland, 1199 Service Employees International Union, Communications Workers of America, American Federation of State, County Municipal Employees (AFSCME), American Civil Liberties Union of Maryland, Equality Maryland, the Human Rights Campaign, Pride in Faith, Maryland Black Family Alliance and Catholics for Equality.
Heather Mizeur congressional campaign raises more than $1M
Former Md. delegate challenging Andy Harris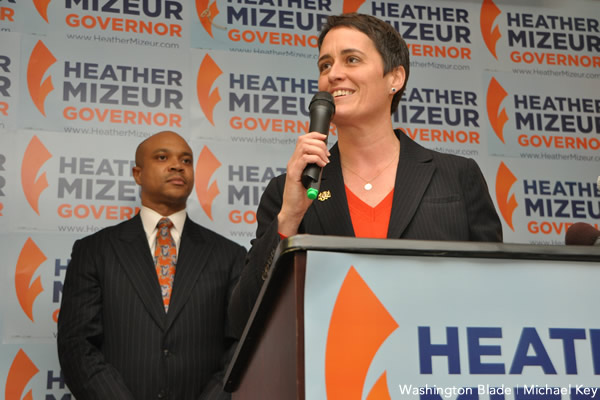 Heather Mizeur has raised more than $1 million in her campaign against anti-LGBTQ Republican Congressman Andy Harris in Maryland's 1st Congressional District.

"No candidate in #MD01 of either party, incumbent or challenger, has ever hit the $1M milestone this early in the election cycle," Mizeur tweeted on Oct. 6.

The Victory Fund in an Oct. 8 press release said 80 percent of this $1 million came from Maryland-based donors, "a sign the district is ready for new representation." And Mizeur continues to outpace Harris, according to campaign finance reports filed with the Federal Election Commission that say she raised $717,445 for the cycle ending June 30, while Harris raised $425,288.

"Andy Harris has taken every opportunity to attack and vilify trans individuals, trying to score political points with his base at the expense of the safety of some of his constituents," Mizeur told the Washington Blade.

In 2014 Harris made the Human Rights Campaign's "Hall of Shame" for proactively working "to undermine existing legal protections and promote anti-LGBT discrimination."

"In contrast, the LGBTQ community knows me for my record," Mizeur said. "And knows I'll always lead with compassion and stand up for civil and human rights. I think the 1st District will respond to my message of respect and understanding."

Mizeur, who now lives on the Eastern Shore with her wife, served on the Takoma Park City Council. Mizeur was a member of the Maryland House of Delegates for eight years.

In 2014, she launched a long-shot, grassroots campaign for governor where she finished a strong third in the Democratic primary, despite being outraised by better-known opponents.

But Mizeur also said she is aware of the challenges her team faces in taking on a well-entrenched Republican in a solidly conservative district.

The Cook Partisan Voter Index in 2017 rated the district as R +14, meaning the previous two presidential election results in the district skewed 14 percentage points more Republican than the national average.

"We have over $760,000 in the bank, and we've outraised him during our time in the race," Mizeur said. "We're raising the money we need to go toe-to-toe with Andy Harris next year."

The Baltimore Sun in February reported Harris was "flush with campaign cash" mostly due to a 2010 redistricting that "packed" the area with Republican voters to increase Democrats' chances in other district races.

"Yes, Andy Harris has over $1 million in the bank, stockpiled over a decade in office," Mizeur said. "But in the short time I've been in the race, we've cut significantly into his cash on hand advantage."

Harris has represented the 1st Congressional District—which includes Maryland's Eastern Shore and parts of Baltimore, Carroll and Harford Counties—since 2011 and easily fended off most challenges with at least 60 percent of the vote. These challengers include Mia Mason, a transgender military veteran, who ran against him in 2020.
The 2010 redistricting made Harris' seat safe enough not only to donate nearly a third of his war chest to conservative groups and candidates, such as U.S. Reps. Lauren Boebert (R-Colo.) and Marjorie Taylor Greene (R-Ga.), but to openly court controversy himself.
Harris last year openly defended then-President Trump's discredited efforts to overturn the 2020 election. And in December he signed onto an amicus brief supporting a failed lawsuit contesting the presidential election results.

This year he downplayed the violence of the Jan. 6 insurrection in which numerous police officers were attacked, members of Congress were threatened, and the U.S. Capitol was vandalized.

Mizeur told the Blade that while Harris' actions regarding the Jan. 6 insurrection were the catalyst for her challenging his seat, she feels the district is changing and he no longer represents their interests.

"Our supporters know he's been embarrassing Maryland in Congress for far too long, and that some of his actions have shown he's completely unfit to serve in public office, regardless of ideological views," Mizeur said. "They want someone who will bring compassionate leadership and innovative thinking back to the first district. And that's appealing to people across party lines."

Maryland's primary election is June 28, 2022, and its general election follows on Nov. 8.
AU student expelled over arrest in attack on gay Asian man, parents
Patrick Trebat no longer affiliated with university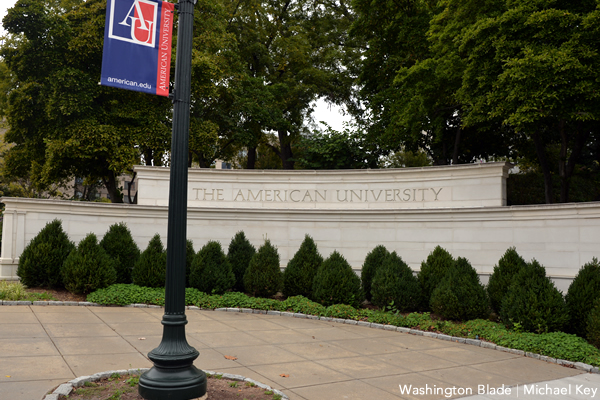 An American University graduate student who was arrested by D.C. police on Aug. 7 on charges that he assaulted a gay Asian man and the man's parents while shouting homophobic and anti-Asian slurs "is no longer affiliated with the university and will not be allowed on campus," according to a report by WTOP News.
In an Oct. 9 broadcast that it updated this week, WTOP said Patrick Trebat, 38, who had been taking a night class at the university's Kogod School of Business, was banned from returning to the campus.
Charging documents filed in D.C. Superior Court show that Trebat was charged by D.C. police with one count of felony assault, two counts of simple assault and one count of destruction of property for allegedly assaulting and injuring Sean Lai, 30, an out gay man of Chinese ancestry, and his parents on the 3700 block of Fulton Street, N.W., on Aug. 7.
The charging documents say Trebat allegedly began to follow Lai and his parents as they were walking along the street in the city's Observatory Circle neighborhood near the National Cathedral. According to a statement by a police official from the police district whose officers made the arrest, Trebat punched and kicked the three victims as he stated, "Get out of my country." The police statement says the family was taken to a hospital for treatment of non-life-threatening injuries.
A separate police report says Trebat shouted the word "faggots" at the family and shouted, "You are not Americans!"
Based on these allegations, prosecutors classified the assault charges as an anti-Asian bias related crime, but they did not add an anti-gay classification to the charges.
Court records show that Trebat was released two days after his arrest while awaiting trial under the court's High Intensity Supervision Program, which, among other things, imposed a curfew requiring him to return home by 10 p.m.
An Oct. 8 story in The Eagle, the American University student newspaper, says it learned that Trebat's attorney filed a motion in court, which the Washington Blade also discovered from court records, asking a judge to extend the curfew deadline from 10 p.m. to 11:45 p.m. so that Trebat could attend at night class at American University.
The motion, which prosecutors with the U.S. Attorney's Office did not oppose and the judge approved, identified Trebat in the public court records as an AU graduate student.
According to the Eagle, representatives of the university's Asian American and LGBTQ student groups criticized university officials for not alerting students that an AU student charged with an anti-Asian hate crime while hurling homophobic slurs had access to the campus and could pose a danger to students.
"Patrick Trebant is not affiliated with American University and is not allowed on campus," AU told the Blade on Wednesday in a statement. "While we cannot discuss details of an individual matter, when a student has been arrested, charged, convicted of, or sentenced for a felony crime, the university's student conduct code provides for an administrative adjudication process. The safety of our students and our community is our priority."
The Eagle reports that the code of conduct states that the dean of students or their designee can administratively adjudicate a case when a student has been accused of a non-academic offense "where the student has been arrested, charged, convicted of, or sentenced for a felony crime" for certain misconduct. The code of conduct applies in a situation in which a student is arrested for an off-campus allegation.
Court records show Trebat is scheduled to return to court at 9:30 a.m. on Nov. 15 for a felony status hearing before Superior Court Judge Judith Pipe.
Neither Trebat nor his attorney, Brandi Harden, could immediately be reached for comment.
Two remaining defendants in D.C. trans murder case accept plea bargain
Dee Dee Dodds murdered in Northeast Washington in 2016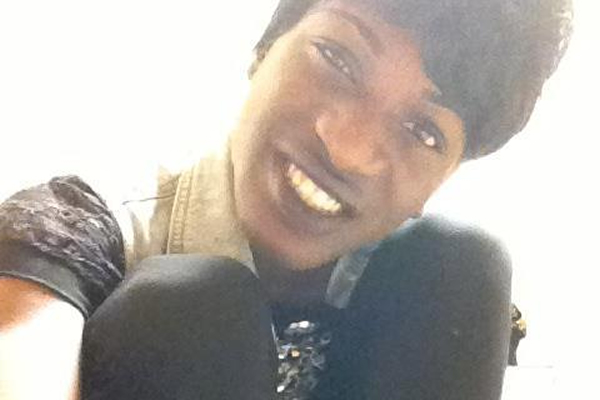 Two of the four D.C. men who were charged with first-degree murder while armed for the July 4, 2016, shooting death of transgender woman Deeniquia "Dee Dee" Dodds on a Northeast Washington street pleaded guilty on Sept. 30 to a charge of voluntary manslaughter as part of a plea bargain deal offered by prosecutors.
A four-page letter providing details of the plea bargain offer made by prosecutors with the Office of the U.S. Attorney for the District of Columbia, which was filed in D.C. Superior Court, states that the agreement accepted by defendants Jolonta Little, 30, and Monte T. Johnson, 25, includes the decision to drop the murder charge in exchange for a guilty plea to a single count of voluntary manslaughter.
It says that in exchange for the guilty plea prosecutors will also drop additional charges originally brought against Little and Johnson, including robbery while armed, possession of a firearm during a crime of violence, and unlawful possession of a firearm.
The agreement also includes a promise by prosecutors to ask Superior Court Judge Milton C. Lee, who is presiding over the case, to issue a sentence of eight years in prison for both men.
The letter spelling out the details of the plea deal makes it clear that it will be up to Lee to decide whether to accept the eight-year jail term proposed by prosecutors, and there is no guarantee that Lee will not hand down a sentence with a longer prison term.
It states that under the D.C. criminal code, a conviction on a voluntary manslaughter charge carries a maximum penalty of 30 years in prison. Attorneys and observers of the D.C. courts have said judges usually agree to a recommended sentence by prosecutors in cases involving a plea bargain agreement.
The letter describing the terms of the plea agreement in the Johnson and Little cases does not say whether prosecutors will ask Lee to deduct from the proposed eight-year jail sentence the time that the two men have already spent in jail since the time of their arrest. But in most criminal cases, judges agree to provide full credit for time served in jail prior to a conviction and sentencing.
Johnson has been held without bond for just over five years since his September 2016 arrest. Little has been held without bond for four years and eight months since his arrest in February 2017.
The plea bargain deal came two and a half years after a D.C. Superior Court jury became deadlocked and could not reach a verdict on the first-degree murder charges brought against Johnson and Little following a month-long trial, prompting Lee to declare a mistrial on March 6, 2019.
The two other men charged in Dodd's murder, Shareem Hall, 27, and his brother, Cyheme Hall, 25, accepted a separate plea bargain deal offered by prosecutors shortly before the start of the 2019 trial in which they pled guilty to second-degree murder. Both testified at the trial as government witnesses.
In dramatic testimony, Cyheme Hall told the jury that it was Johnson who fatally shot Dodds in the neck at point black range after she grabbed the barrel of his handgun as Johnson and Hall attempted to rob her on Division Avenue, N.E., near where she lived. Hall testified that the plan among the four men to rob Dodds did not include the intent to kill her.
In his testimony, Hall said that in the early morning hours of July 4, 2016, he and the other three men made plans to commit armed robberies for cash in areas of D.C. where trans women, most of whom were sex workers, congregated. He testified that the four men got into a car driven by Little and searched the streets for victims that they didn't expect to offer resistance.
D.C. police and the U.S. Attorney's Office initially designated the murder charges against Johnson and Little as a hate crime based on findings by homicide detectives that the men were targeting trans women for armed robberies. However, during Johnson and Little's trial, Lee dismissed the hate crime designation on grounds that there was insufficient evidence by prosecutors to support a hate crime designation.
At the request of prosecutors, Lee scheduled a second trial for Johnson and Little following the deadlocked jury in the first trial. But court records show that for reasons not disclosed in the public court docket, the start of the second trial was postponed several times. The most recent postponement was due to restrictions placed on the court related to the COVID pandemic.
As of August, of this year, the court records show, the second murder trial for Johnson and Little was scheduled to begin on Feb. 17, 2022. But the records show that as of Sept. 30 of this year the defense attorneys and prosecutors reached an agreement over the plea bargain deal offered by prosecutors. It was on that day, the court records show, that the two men officially agreed to plead guilty to the lower charge of voluntary manslaughter and waived their right to a trial. The following day, on Oct. 1, Lee accepted the guilty pleas and scheduled the sentencing for Dec. 10.
Meanwhile, Cyheme Hall and Shareem Hall have remained in the D.C. jail since the time of their respective arrests. Court records show they were scheduled to be sentenced by Lee on Dec. 20, 10 days after the sentencing for Johnson and Little.
It couldn't immediately be determined from the court records whether prosecutors allowed the Hall brothers to also plead guilty to voluntary manslaughter and have dropped the second- degree murder charge to which the two men pled guilty back in 2019 as part of an earlier plea bargain deal.
At the time Johnson and Little's trial ended with the deadlocked jury in March 2019, LGBTQ activists expressed alarm that the jury's action appeared to be a repeat occurrence of several previous D.C. cases in which male attackers charged with assaulting and murdering trans women of color were not convicted for those crimes.
"This is a very dangerous move on the part of the U.S. Attorney's Office," said Ruby Corado, founder and former executive director of Casa Ruby, the D.C. LGBTQ community services center, in referring to the plea deal.
"We need to be strengthening laws to ensure that the horrible epidemic of violence against LGBTQ people that we currently face ends, and not giving criminals a slap on the hand for committing murders against us," Corado told the Washington Blade. "This sends a message that our lives don't matter that much to those who already see us as easy targets; we are now becoming disposable people in the eyes of the law."
D.C. trans rights advocate Alexis Blackmon, Casa Ruby's interim executive director, called the plea bargain deal offered to Little and Johnson "very disturbing." Added Blackmon, "How it's being read across to me is if we can't convict you on murder then we're going to basically slap your wrist."
Blackmon said she will consult with other local LGBTQ activists to determine whether a representative of the LGBTQ community should request to testify at Little and Johnson's Dec. 10 sentencing hearing to ask the judge to hand down a sentence greater than eight years.
D.C. Advisory Neighborhood Commissioner and trans advocate Monika Nemeth said she too is troubled over the plea bargain agreement.
"While I am stunned by a plea that reduces the charge from first-degree murder to voluntary manslaughter, I should not be as we are still a society for whom trans people, particularly trans women of color, are not valued and are disposable," Nemeth said. "I don't see how you get to voluntary manslaughter when the victims were targeted for being trans. This is not justice."
William Miller, a spokesperson for the U.S. Attorney's Office, said he would make inquires with the office's prosecutors to obtain a response to a question from the Blade asking for an explanation of why the decision was made to issue the plea bargain offer rather than bring defendants Little and Johnson to trial on the murder charge.