Gay GOP group barred from sponsoring CPAC
GOProud denied booth space, inclusion in promotional materials

A gay Republican group that has riled critics on both the right and the left has been barred from full participation at an upcoming prominent national conservative convention.
Last week, the board for the American Conservative Union voted to deny GOProud the opportunity to co-sponsor the 2012 Conservative Political Action Conference, or CPAC, which is set to take place February in D.C. The gay group was a co-sponsor for the event in both 2010 and 2011.
The decision means GOProud won't be able to pay to have a booth at the exhibition hall, nor will the organization have its name appear on promotional materials for CPAC 2012.
Kristy Campbell, spokesperson for the American Conservative Union, said ACU Chair Al Cardenas took the issue of GOProud's participation — as well as other groups — to the board "given controversies surrounding a few CPAC 2011 co-sponsors" and "concerns raised by a number of our board members."
The board, Campbell said, voted to bar GOProud from CPAC 2012 co-sponsorship. She declined to comment on the final vote tally for the decision, nor would she comment on the board's reasoning for excluding the gay group from full participation at the event.
"As always, individual members of these organizations are welcome and encouraged to attend CPAC," Campbell added. "We look forward to hosting an extraordinarily successful CPAC 2012 in our nation's capital next February."
GOProud wasn't the only group that was excluded from full participation at CPAC. The board also voted to bar the John Birch Society, a political advocacy group that supports limited government and opposes economic interventionism and is known for holding extreme right-wing views. The Southern Poverty Law Center identifies the society as a "'Patriot Group."
Additionally, Campbell said the board also considered barring David Horowitz, a conservative author who writes about liberal political bias and indoctrination at universities. However, he was ultimately not barred from participating.
GOProud's board members said in a joint statement they were "deeply disappointed" with the ACU's decision to bar the organization from co-sponsorship at CPAC 2012 and said ACU has a "right to do so, but a decision like this will have consequences."
"For the last two years, GOProud has sought to support CPAC and keep the conservative movement united," the board members said. "Unfortunately, elements inside and outside of ACU have pushed their own narrow, divisive and sometimes personal agenda. They have done so at the expense of the conservative movement."
The board members added that the ACU's decision is "truly sad" because it comes at a time "when we should be united and focused on defeating Barack Obama" in the 2012 race for the White House.
"GOProud has been and will continue to be an outspoken proponent of conservative values and conservative policy," the board said. "This organization will continue to work to bring conservatives of all stripes together to save this country and defeat the left. Obviously, that work will no longer be done at CPAC, but it will be done."
Jimmy LaSalvia, executive director of GOProud, declined to comment further on the decision to bar his organization from co-sponsorsing CPAC 2012 beyond the statement issued by the board of directors.
GOProud's participation at CPAC had incurred the wrath of social conservative groups that pledged to boycott sponsorship of the event over the gay conservative group's involvement. These groups include Family Research Council, Concerned Women For America, Liberty Counsel and Liberty University. In 2011, Sen. Jim DeMint (R-S.C.), a social conservative and Tea Party favorite, also declined to participate at CPAC.
Also last year, GOProud board chair Chris Barron took heat from conservatives after he described Cleta Mitchell, chair of the ACU Foundation, as "a nasty bigot" in an interview. Barron apologized, but ACU chair Cardenas told FrumForum that "it's going to be difficult to continue the relationship" with GOProud and expressed disappointment in the group's reaction to the furor over its participation at the event.
"I have been disappointed with their website and their quotes in the media, taunting organizations that are respected in our movement and part of our movement, and that's not acceptable," Cardenas was quoted as saying. "And that puts them in a difficult light in terms of how I view things."
GOProud has also been criticized by many LGBT rights activists for, among other things, reaching out to Republican presidential candidate Michele Bachmann for potential support in 2012 race for the White House.
R. Clarke Cooper, executive director of the Log Cabin Republicans, said his reaction to the ACU board's vote to bar GOProud from CPAC 2012 depends on the reasoning for the decision.
"If the ACU board excluded any group based on sexual orientation, that is not OK," Cooper said. "If the ACU decision, however, was due to unprofessional behavior by a sponsor, then it is well within reason for the ACU to decline sponsorship."
Miami hotel liquor license may be revoked over a drag show
State's Division of Alcoholic Beverages and Tobacco targets business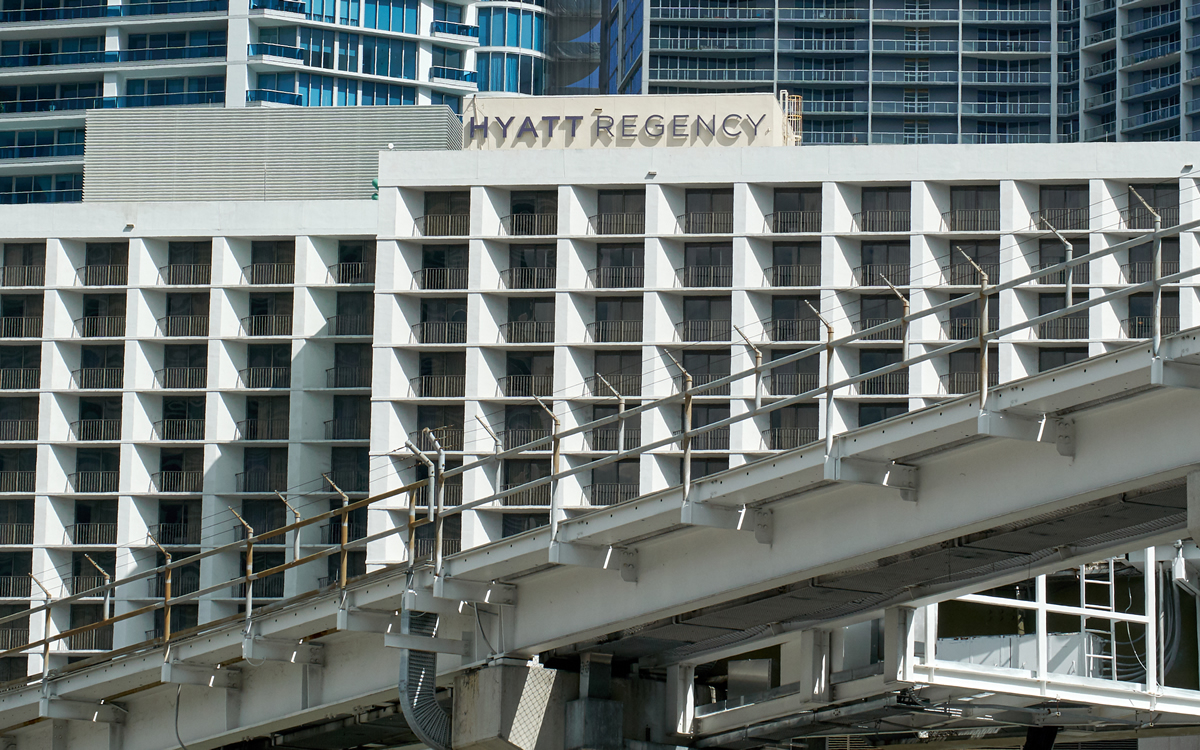 Republican Florida Gov. Ron DeSantis' administration is in the process of revoking the Hyatt Regency Miami's alcohol license after the Florida Department of Business and Professional Regulation determined that the hotel's affiliated James L. Knight Center had hosted "A Drag Queen Christmas" performed Dec. 27 with minors present in the audience.
The Knight Center is a major South Florida venue and has previously hosted the Miss Universe and Miss USA pageants. The venue's main room can seat 4,600 people.
This is the third time the state's Division of Alcoholic Beverages and Tobacco, which operates under the Department of Business and Professional Regulation, has targeted a business that hosted a drag show.
A popular restaurant and pub in Miami's Wynwood neighborhood is also under threat of losing its liquor license. The R House identifies itself on its Facebook page as "the proud home of South Florida's most popular weekend drag brunches."
The July 2022 complaint filed by the Department of Business and Professional Regulation asks for a final order that the R House restaurant is a declared a public nuisance and has its liquor license revoked.
According to the South Florida Sun Sentinel, the complaint was issued after a video of a recent performance at the bar's drag brunch went viral. A topless drag queen wearing lingerie stuffed with money can be seen in the video attempting to dance with a young girl, who the DPBR estimates is "between three and five years old." Twitter account "Libs of Tik Tok" originally found the footage on Tik Tok, posted by a user who wrote, "Children belong at drag shows!!!! Children deserve to see fun and expression & freedom."
In late December "A Drag Queen Christmas" was hosted by the Orlando non-profit Orlando Philharmonic Plaza Foundation on Dec. 28, filing a complaint alleging that children under age 18 were allowed to attend.
The complaint against the Orlando Philharmonic alleged the foundation violated Florida law in allowing for a person to "commit lewd or lascivious exhibition" in the presence of an individual who is less than 16 years old.
In this latest targeting of the show, which is a holiday-themed drag show that tours in 36 different cities and features stars from the reality show "RuPaul's Drag Race," Insider webzine journalist Kimberly Leonard reported that the DeSantis administration officials accused the Knight Center of several violations, including a prohibition of "lascivious exhibition" before people younger than 16, mirroring the December complaint against the Orlando Philharmonic.
The department's complaint said performers engaged in "acts of simulated sexual activity, and lewd, vulgar, and indecent displays" that included:
Performers forcibly penetrating or rubbing exposed prosthetic female breasts against faces of audience members
Intentionally exposing performers' prosthetic female breasts and genitalia to the audience
Intentionally exposing performers' buttocks to the audience
Simulating masturbation through performers' digitally penetrating prosthetic female genital
Graphic depictions of childbirth and/or abortion
Hyatt Regency Miami is allowed to keep selling alcohol until the department makes a final decision. The business has 21 days to request a hearing, Beth Pannell, spokeswoman for the department, told Insider.
Regulators had warned the facility to change how it marketed the show before it went live, according to a copy of the letter included in the complaint. The letter accused the marketers of putting on a performance that constitutes "public nuisances, lewd activity, and disorderly conduct" when minors are present.
News of this latest action was first reported by far-right conservative internet based outlet Florida's Voice.
As more and more Republican states target drag shows, in just the past few weeks, Tennessee became the first to ban adult performances, including drag, from public spaces such as parks and schools.
New VA mission statement recognizes commitment to all veterans
'To fulfill [Lincoln's] promise to care for those who have served in our nation's military & for their families, caregivers, & survivors'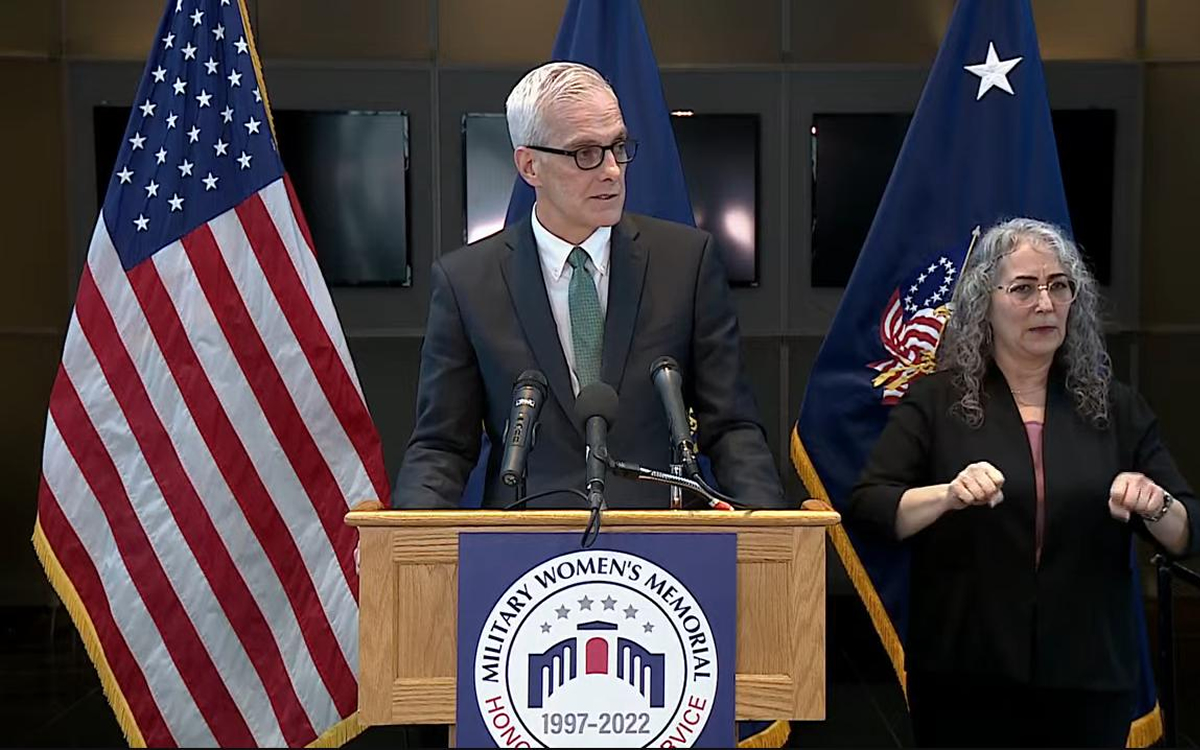 In a speech delivered Thursday at the Women in Military Service for America Memorial (WIMSA), located at the main entrance to Arlington National Cemetery in suburban Virginia, VA Secretary Denis McDonough announced the Department of Veterans Affairs has issued an updated version of its 1959 mission statement.
The new mission statement is: "To fulfill President Lincoln's promise to care for those who have served in our nation's military and for their families, caregivers, and survivors."
As the VA secretary commenced his remarks, he honored several notable women in the audience including Brenda S. "Sue" Fulton, the assistant secretary of veterans affairs for public and intergovernmental affairs.
Fulton, is a 1980 graduate of the United States Military Academy at West Point, N.Y., which was the Academy's first class to admit women. She is an out lesbian and served as a founding board member of Knights Out, the organization of LGBTQ West Point graduates, and later worked with OutServe, the association of actively-serving LGBTQ military members and SPARTA, an LGBTQ military group advocating for transgender military service.
"Whenever any veteran, family member, caregiver, or survivor walks by a VA facility, we want them to see themselves in the mission statement on the outside of the building," said Secretary McDonough. "We are here to serve all veterans, their families, caregivers and survivors — and now, our mission statement reflects exactly that."
In crafting the new mission statement, VA surveyed roughly 30,000 Veterans. Among veterans surveyed, the new version of VA's mission statement was chosen over the current version by every age group; by men and by women; by LGBTQ+ veterans; and by white, Black/African American, Hispanic/Latino, Asian and American Indian/Alaska Native Veterans.
In addition to two rounds of surveys, VA conducted dozens of small-group engagements with veterans to understand what was most important to them in a VA mission statement, then incorporated that feedback into quantitative research. The new mission statement reflects that VA serves all of the heroes who have served our country, regardless of their race, gender, background, sexual orientation, religion, zip code or identity.
The previous mission statement was: "To fulfill President Lincoln's promise 'to care for him who shall have borne the battle, and for his widow, and his orphan' by serving and honoring the men and women who are America's veterans." The previous mission statement is posted in roughly 50 percent of VA's facilities. Over the coming months, VA's new mission statement will replace the previous version.
VA announces new mission statement, recognizing sacred commitment to serve all who served:
Mich. governor signs statewide LGBTQ rights law
'Bigotry is bad for business'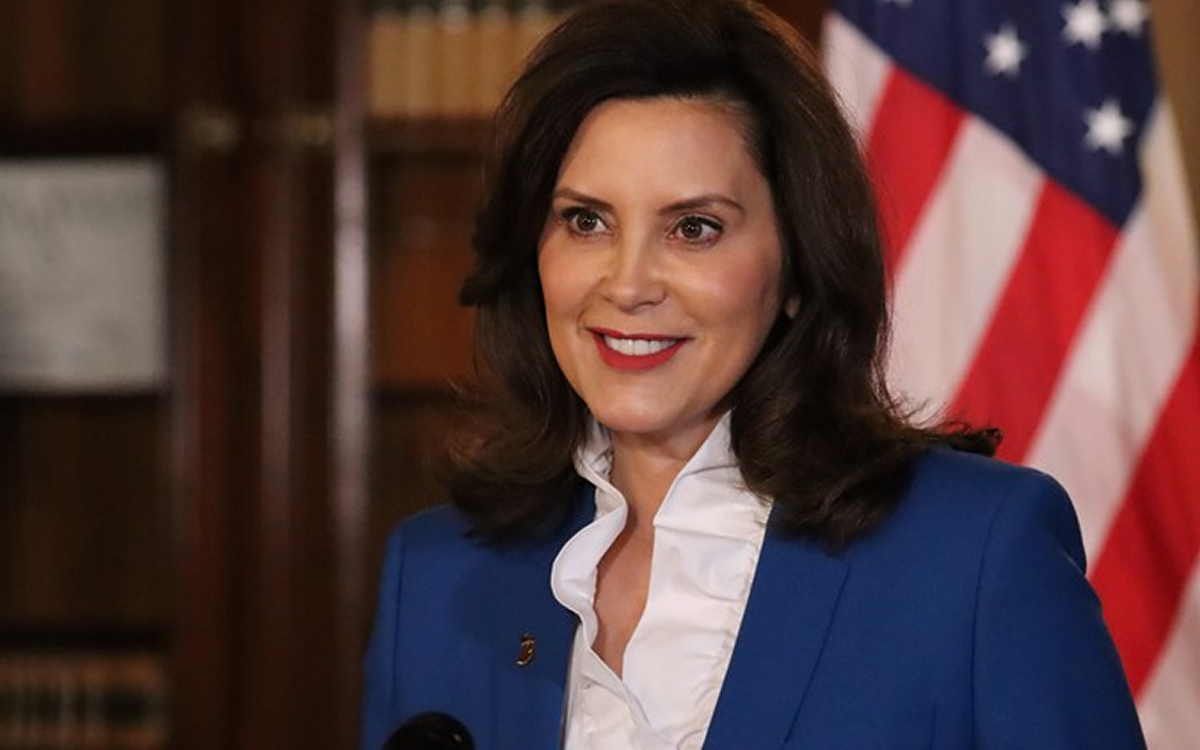 Michigan Gov. Gretchen Whitmer signed the Elliott-Larsen Civil Rights Act on Thursday, which expands basic protections for the LGBTQ community.
The measure, Senate Bill 4, was sponsored by openly gay state Sen. Jeremy Moss who less than a year previously had been shot down by the Republican majority as he attempted to have a non-binding resolution to recognize "Pride Month" adopted by the Senate.
In her signing remarks, Whitmer noted: "In the words of Detroit native Lizzo, it's about damn time! Bigotry is bad for business. Come to Michigan, you will be respected and protected under the law."
Sen @JeremyAllenMoss, the state's highest-ranking openly gay lawmaker, opening the bill signing event. He shepherded the legislation through passage.

Nearly this time last year, Moss wasn't able to get the support of a Leg leader to simply pass a resolution honoring Pride Month.

— Rachel Louise Just (@RLJnews) March 16, 2023
"As Equality Michigan celebrates this historic step forward, we are standing on the shoulders of giants. Generations of activists have inspired us to fight for justice and equality for all LGBTQ+ Michiganders, and our community has been working to update our state's civil rights law to explicitly include sexual orientation, gender identity and expression in every single legislative session since Elliott-Larsen was first adopted," Equality Michigan Executive Director Erin Knott said in a statement. "We applaud Gov. Whitmer for signing this bill into law, and are humbled by this pro-equality legislature that made amending ELCRA a top priority. Senator Jeremy Moss and Rep. Jason Hoskins introduced this legislation and championed it all the way through to the finish line."
"The victory we have today in Michigan is a great one, but it's also one we don't take lightly at this moment. Let it not be lost on us that this privilege, however hard-earned, is a unique one that exists amid a nationwide political assault on LGBTQ+ people, especially trans and non-binary youth, and their families," added Knott. "There are over 400 anti-trans bills moving across state legislatures in the US, twice the amount introduced last year."
"This bill being signed into law is a beacon of hope and sends a powerful message of acceptance to LGBTQ people across the nation. At the Trevor Project, we work every day to protect the lives of LGBTQ youth, and days like today prove that in generations to come, both their legal and lived equality will no longer be fodder for political debate," said Troy Stevenson, director of state advocacy campaigns for the Trevor Project. "Our research shows that having at least one accepting adult can reduce the risk of a suicide attempt among LGBTQ young people by 40 percent. We applaud the elected leaders, advocates and Gov. Whitmer for making this a reality, and affirming the dignity and rights of LGBTQ Michiganders by codifying these protections into law."