BREAKING: White House names interim LGBT liaison
Alvillar, from Biden's office, to replace Bond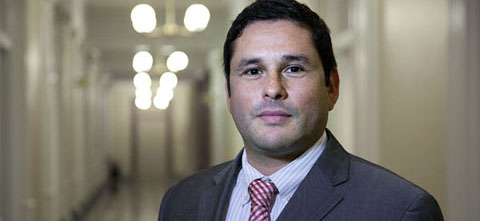 The White House has designated a gay administration official as the interim point of contact for the LGBT community until a permanent liaison is named, the Washington Blade has learned exclusively.
Shin Inouye, a White House spokesperson, said Raul Alvillar, who currently serves as associate director for public engagement at the Office of the Vice President, will serve as a temporary replacement for Brian Bond, the current LGBT liaison. Bond, who's leaving later this month for a position at the Democratic National Committee, is deputy director of the White House Office of Public Engagement and handled LGBT outreach as part of his portfolio.
"Following Brian's departure from the White House to his new position at the DNC, we will have a full-time liaison to the LGBT community in the Office of Public Engagement in October," Inouye said. "In the interim, Raul Alvillar from the Office of the Vice President will serve as the point of contact for the LGBT community for OPE."
Alvillar, 33, served for two-and-a-half years as the congressional relations officer for the Department of Housing & Urban Development. During the 2008 presidential campaign, Alvillar was western political director for Obama and assisted with LGBT outreach and LGBT super delegates at the 2008 Democratic National Convention.
David Smith, the Human Rights Campaign's vice president of programs, said in a statement HRC has heard "good things" about Alvillar.
"He has been with President Obama since the earliest days of the campaign," Smith said. "Senior Adviser Valerie Jarrett, Melody Barnes, director of the Domestic Policy Council, and Jon Carson, director of the Office of Public Engagement continue to shepherd our issues in the White House so we don't anticipate these changes to cause any problems."
Winnie Stachelberg, senior vice president for external affairs at the Center for American Progress, said she's "thrilled" the White House has selected Alvillar as the interim LGBT liaison because of his work on LGBT politics and issues.
"He's certainly got the ear of senior leadership in the White House, and it's a good step," Stachelberg said. "He's got a sense of the policy from having worked in the legislative office. He's worked in state politics, which I think is terribly important. He's worked on the campaign. So, he's someone who's absolutely worked in a range of different positions, which I think will help him, and, ultimately, help the community to navigate these times and continue the progress that we've made on LGBT issues in the past two-and-a-half years."
It's unclear from the statement given by the White House whether Alvillar, or his permanent successor, will have the same role as Bond or if the position will be modified. Some LGBT advocates have been calling for the appointment of a more senior LGBT adviser who could more directly and consistently counsel Obama on LGBT issues.
Richard Socarides, president of Equality Matters, said the opportunity for the White House to create a more senior LGBT adviser still exists in the time period before a permanent replacement for Bond is named.
"What I think the community wants and deserves is a senior, full-time White House official at the special assistant or higher level whose sole responsibility is to represent the interests of the LGBT community at the White House and in the federal government," Socarides said. "We deserve no less — and the time, the political moment calls for it. It should be clear to everyone."
But Stachelberg maintained Obama already has a circle of senior advisers who counsel him on LGBT issues — including Valerie Jarrett, senior adviser to the president; Melody Barnes, director of the Domestic Policy Council, and John Berry, who's gay and director of the U.S. Office of Personnel Management — and said the appointment of a senior LGBT adviser would be redundant.
"What the White House has with respect to LGBT issues is a senior leadership team to work on these issues," Stachelberg said. "It's important that it's not just about a person, but that it's about the senior leadership team that the president has around him that really deals with these issues all the time."
Immigrant rights groups demand ICE release transgender, HIV-positive detainees
Letter notes Roxsana Hernández case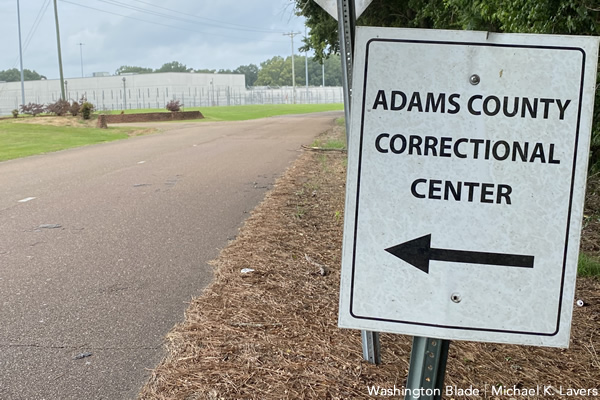 Eight immigrant advocacy groups this week demanded the release of all transgender and HIV-positive people who are in immigrant detention facilities.
Immigration Equality, the National Center for Lesbian Rights, the Transgender Law Center, the Santa Fe Dreamers Project, the Center for Victims of Torture, Familia: Trans Queer Liberation Movement, Mijente and the National Immigrant Justice Center made the request in a letter they sent to Homeland Security Secretary Alejandro Mayorkas and acting U.S. Immigration and Customs Enforcement Director Tae Johnson on June 16.
"As you know, transgender and HIV-positive people are severely suffering in U.S. immigration detention facilities," reads the letter. "Those who do not perish from mortally deficient medical negligence are regularly mistreated, isolated and sexually assaulted."
The letter notes DHS "for years" has "attempted to create conditions of confinement that are safe for these historically disenfranchised minorities."
"This has been a fool's errand," it says. "Under both Democrat and Republican leadership, DHS has wasted millions of taxpayer dollars attempting to overcome a simple and inevitable truth: It is not possible for the U.S. government to house transgender and HIV-positive asylum seekers safely. Every progressive policy, every well-meaning protocol and every specialized facility has utterly failed. This has to stop. It is in your exclusive power to put an end to this ongoing human rights atrocity."
"What makes this situation even more intolerable, is that the vast majority of the transgender and HIV-positive people suffering in immigration detention fled to the U.S. to escape persecution and torture," adds the letter. "To these asylum seekers, the U.S. is more than a symbol of liberty. It is one of the few places in the world where they may hope to build a safer future. And yet, by detaining trans and HIV-positive people in such inhumane and unsafe conditions, the U.S. government is subjecting them to some of the same kinds of mistreatment they sought to escape."
The groups in their letter demand ICE and U.S. Customs and Border Protection "to immediately release all transgender and HIV-positive people in their custody" and "review its system for identifying transgender and HIV-positive individuals, and work with stakeholders to ensure that it is effective and safe." The groups also seek the creation of a policy "that deems all transgender and HIV-positive individuals non-detainable."
The letter notes the case of Roxsana Hernández, a trans asylum seeker from Honduras with HIV who died in a New Mexico hospital on May 25, 2018, while she was in ICE custody.
Hernández's family in a lawsuit it has filed against the federal government and five private companies who were responsible for Hernández's care allege she did not have adequate access to medical care and other basic needs from the time she asked for asylum at the San Ysidro Port of Entry in San Diego on May 9, 2018, to her arrival at the Cibola County Correctional Center, a privately-run facility in Milan, N.M., a week later.
ICE in 2017 opened a unit for trans women at the Cibola County Correctional Center. It closed last year.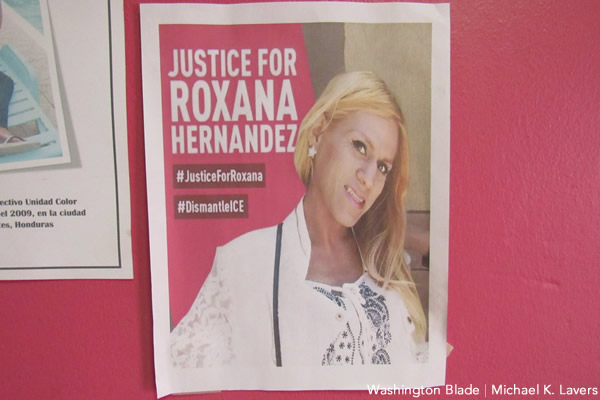 The letter also notes the case of Johana "Joa" Medina León, a trans woman with HIV from El Salvador who asked for asylum in the U.S. in 2019 after she suffered persecution in her home country because of her gender identity.
Medina was in ICE custody at the privately-run Otero County Processing Center in Chaparral, N.M., until her transfer to a hospital in nearby El Paso, Texas, on May 28, 2019. ICE on the same day released Medina from their custody.
"She became worse, worse, worse," Medina's mother, Patricia Medina de Barrientos, told the Washington Blade in an exclusive interview in the Salvadoran capital of San Salvador that took place a few weeks after Medina's death. "She asked for help because she was a nurse, but they refused. She was denied help. There was no medical attention."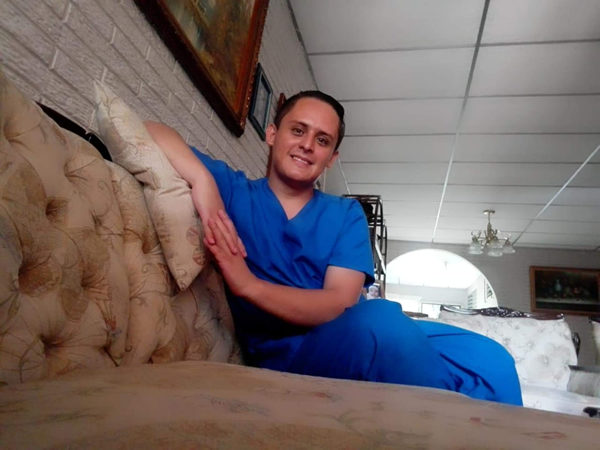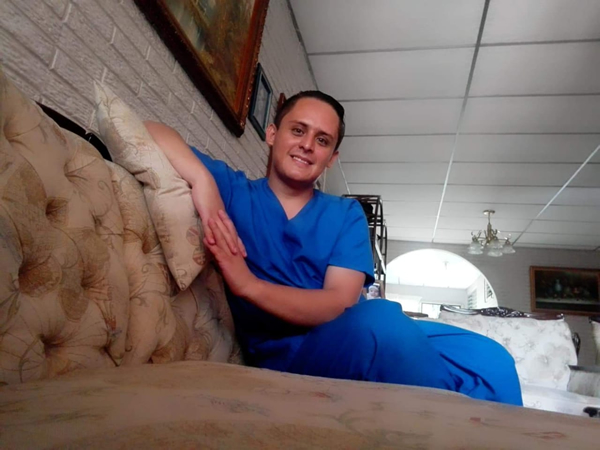 The letter also includes testimonials from dozens of other trans and/or HIV-positive people who say they suffered physical abuse and survived sexual assault while in ICE custody. They also allege they did not receive adequate health care — including access to hormones and antiretroviral drugs — while in detention.
"Throwing LGBTQ and HIV-positive asylum seekers into prison is cruel, expensive and dangerous. For transgender and HIV-positive people, it can even be deadly," said Immigration Equality Policy Director Bridget Crawford in a statement. "In response to years of consistently documented abuses against the community, the government has implemented ineffective half-measures that have utterly failed. That is why we have demanded that DHS release all transgender and HIV-positive people immediately. No one should ever be locked into prison because they fled persecution based on their sexual orientation, gender identity, or HIV status. Doing so during a pandemic is a human rights atrocity."
Immigration Equality is among the groups that have previously demanded ICE release all trans people who are in their custody. Advocacy organizations have also called for the release of people with HIV in ICE custody, especially during the COVID-19 pandemic.
DHS, which oversees ICE, has not responded to the Blade's request for comment on the June 16 letter.
Anti-LGBTQ Colorado baker loses Trans birthday cake court case
Phillips violated Colorado's ant-discrimination law citing the fact that at issue was a 'product' not freedom of speech or expression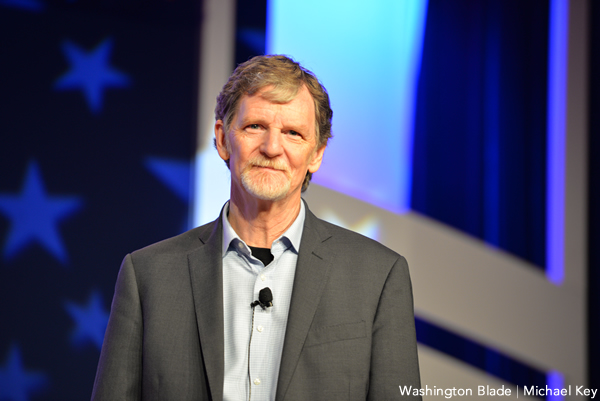 DENVER – A Colorado State District Court Judge ruled against the baker who had previously refused to bake a cake for a same-sex wedding and won at the U.S. Supreme Court a partial narrow victory in that case in 2018.
CBSN Denver reported that Denver District Judge A. Bruce Jones order that Jack Phillips violated Colorado's anti discrimination law Tuesday citing the fact that at issue was a 'product' not freedom of speech or expression.
In court documents, Jones said that Phillips refusal to make the plantiff, Autumn Scardina a cake made with blue icing on the outside and pink on the inside to celebrate her gender transition on her birthday because of her transgender status but without a written message, was in violation of the law. Phillips was ordered to pay a $500 fine.
Jones noted in his ruling that Phillips testified during a trial in March that 'he did not think someone could change their gender' and he would not celebrate "somebody who thinks that they can."
"The anti-discrimination laws are intended to ensure that members of our society who have historically been treated unfairly, who have been deprived of even the every-day right to access businesses to buy products, are no longer treated as 'others,'" the judge wrote.
The Scottsdale, Arizona based Alliance Defending Freedom, an anti-LGBTQ legal group that has been place on the Southern Poverty Law Center's Hate Watch List for spreading propaganda and lies about LGBTQ people, told CBSN that the group would appeal Jones' ruling.
"Radical activists and government officials are targeting artists like Jack because they won't promote messages on marriage and sexuality that violate their core convictions," ADF's general counsel, Kristen Waggoner, said in a media statement.
The maximum fine for each violation of Colorado's Anti-Discrimination Act is $500. But it was not clear from the ruling if the fine was for the two attempts that Scardina made to order the cake or just one.
BREAKING: A court has ruled Jack Phillips should be punished for not designing a cake celebrating a gender transition, an act that would violate his conscience.

Jack has been enduring this harassment for a decade and it must STOP.@AllianceDefends will appeal this decision.

— Kristen Waggoner (@KWaggonerADF) June 16, 2021
Supreme Court rules for religious agency seeking to reject LGBTQ families
Unanimous decision bottled up to context of city contract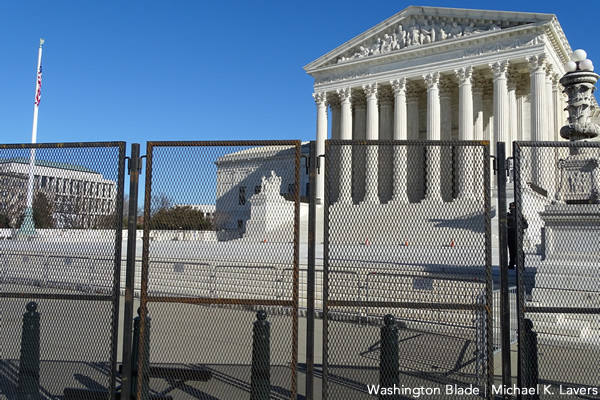 The U.S. Supreme Court ruled on Thursday in favor of a religious-affiliated foster care agency seeking to refuse child placement into LGBTQ homes, issuing a decision with limited reach that determined the City of Philadelphia's enforcement of a contract with non-discrimination provisions violates freedom of religion under the First Amendment.
In a surprise twist, the ruling was unanimous with nine justices on the court agreeing to the result in favor of Catholic Social Services, with Chief Justice John Roberts writing the opinion. As noted by SCOTUSblog, the court seemed much more divided in oral arguments, although inclined to rule for the foster care agency.
"The refusal of Philadelphia to contract with CSS for the provision of foster care services unless the agency agrees to certify same-sex couples as foster parents cannot survive strict scrutiny and violates the Free Exercise Clause of the First Amendment," Roberts writes.
Although Catholic Social Services had also contended a freedom of speech right under the First Amendment to reject same-sex couples, Roberts adds the court didn't reach a conclusion on that part of the argument.
Becket Law, which had argued in case on behalf of Catholic Social Services, crowed in a statement over its win at the Supreme Court.
"It's a beautiful day when the highest court in the land protects foster moms and the 200-year-old religious ministry that supports them," said Lori Windham, senior counsel at Becket. "Taking care of children, especially children who have been neglected and abused is a universal value that spans all ideological divides.
A key portion of the Roberts decision that could limit its reach is language specific to Philadelphia's contract with the city allowing for discretion on enforcement, which he says means the measure isn't generally applicable measure.
"Section 3.21 of the contract requires an agency to provide services defined in the contract to prospective foster parents without regard to their sexual orientation," Roberts writes. "But section 3.21 also permits exceptions to this requirement at the 'sole discretion' of the Commissioner. This inclusion of a mechanism for entirely discretionary exceptions renders the non-discrimination provision not generally applicable."
The American Civil Liberties Union, which had argued before the Supreme Court in the case and sided with the City of Philadelphia, claimed a small victory after the decision.
"The decision will not affect any foster care programs that do not have the same system for individualized exemptions that were at issue here," Leslie Cooper, deputy director of the ACLU LGBTQ & HIV Project, said in a statement. "This is good news for the more than 400,000 children in foster care across the country, who are the ones who get hurt the most if placement decisions are made based on an agency's religious beliefs rather than the child's best interest. And this decision does not allow discrimination in other taxpayer-funded government programs such as homeless shelters, disaster relief programs and health care."
Marianne Duddy-Burke, executive director of the LGBTQ Catholic group DignityUSA, initially issued a statement saying the decision opened the door to discrimination against LGBTQ families, but subsequently updated it with a reaction more attune to the decision's language.
"While we are disappointed in the specifics of today's ruling, we are relieved that the court did not allow a broad exemption to nondiscrimination provisions in foster and adoption care," Duddy-Burke said. "It remains deeply problematic that some religiously affiliated agencies continue to seek the ability to ban same-sex couples from opening their hearts and homes to children in need and undermine our hopes for expanding our families. The biases that lie at the heart of this case need to be eradicated."
David Flugman, a lawyer at the New York-based Selendy & Gay PLLC whose practice includes LGBTQ rights, said in a statement the technical nature of the Fulton is "sure to invite even more litigation."
"Today the Supreme Court held, on narrow, technical grounds, that the City of Philadelphia's attempt to ensure that Catholic Charities abide by the same non-discrimination provisions applicable to all other city contractors could not withstand Catholic Charities' religious right to refuse to screen loving same-sex couples to act as foster parents," Flugman writes. "The Court did not take up Catholic Charities' invitation to scuttle the 30 year-old test for free exercise claims that was announced in Smith v. Employment Division, which held that a neutral law of general applicability could survive even if it burdens religious practice."
The Supreme Court reversed and remanded decision of the U.S. Third Circuit of Court of Appeals, which had ruled in favor of City of Philadelphia enforcing its contract with Catholic Social Services. Both the appeals courts and the lower trial court had come to the opposite conclusion of the U.S. Supreme Court.
Notably, although the City of Philadelphia in addition to the contract it struck with Catholic Social Services has in a place LGBTQ non-discrimination ordinance, the Supreme Court determines that measure doesn't apply in the context of foster care services because it's limited to the services "made available to the public."
"Certification is not 'made available to the public' in the usual sense of the words," Roberts writes. "Certification as a foster parent is not readily accessible to the public; the process involves a customized and selective assessment that bears little resemblance to staying in a hotel, eating at a restaurant, or riding a bus."
Fatima Goss Graves, CEO of the National Women's Law Center, said in a statement the decision from the Supreme Court "is a harmful loss to the children in the foster care system in Philadelphia as well as the countless LGBTQ parents."
"Weakening the government's ability to protect their civil rights is hardly in their best interest, and we're committed to ensuring this loophole is not stretched to further justify hatred or prejudice," Graves added. "We must protect the right of every person to live without fear of discrimination because of who they are or who they love, and we must hold that value particularly close when it comes to the best interest of LGBTQ youth and the families who love them."