Kameny opened the door for gay federal workers
Pioneering activist made my security clearance possible

We lost a great American hero last Tuesday: Dr. Frank Kameny.
Fired for being gay in 1957, the man whose fight breathed life into the nascent LGBT rights movement lived just long enough to see the U.S. Armed Forces end its own discriminatory practice. His path through life was marked by his courage, intelligence, leadership and sheer determination; he made it possible for countless patriotic Americans to hold security clearances and high government positions, including me. And in so doing, he showed everyone what was possible for every employer in our country.
He set down his uniform after serving in the Army in World War II and took a civilian position as an astronomer in the Army Map Service in Washington, D.C. When he was fired from that job because of his homosexuality, Dr. Kameny fought back with the fervent passion of a true patriot. He vigorously protested his dismissal and argued his case all the way to the Supreme Court, where he wrote his own brief to the Court, describing "a persecution and discrimination not one whit more warranted or justified than those against … other minority groups."
Losing his case only strengthened his resolve to win for his community the birthright of life, liberty and the pursuit of happiness. He set out to fight a second war for his country, this one a Herculean struggle on the home front. No one at the time would have predicted that his lonely struggle would transform into the national human rights movement we recognize today.
Frank Kameny has been described as the perfect gay storm, a Harvard-trained scientist with a sharp, critical eye. The wall of resistance he encountered when he challenged his dismissal back in 1957 would have been insurmountable to most people.  With no more support than his brilliant mind and powerful lungs, he faced down the United States government, and made possible my career and many others.
Kameny co-founded the Mattachine Society of Washington, and pressed for fair and equal treatment of gay employees in the federal government by fighting security clearance denials, employment restrictions and dismissals. He declared his homosexuality a God-given blessing and coined the phrase "Gay is Good." He fought tirelessly against police entrapment, and provided legal assistance to gay servicemen and women.
I know that Dr. Kameny never viewed his lifelong fight as finished — with DOMA still on the books, bullying epidemic in schools and challenges to many state laws and amendments still underway, there is more yet to do. His eagerness to always tackle the unfinished business brought us far. Through his courage, intelligence, resourcefulness and tenacity, he brought others into the fight and over time, the seeds he planted bore fruit. Homosexuality is no longer regarded as a pathology. Civil servants cannot be fired for being gay. Security clearances cannot be denied merely on the basis of sexual orientation. Invasive laws against consensual sex acts have been ruled unconstitutional. Our best and bravest can serve their country openly and with honor.
He honored me personally by attending my swearing-in as head of the Office of Personnel Management, and showed his ability to forgive by accepting my official apology on behalf of the government for the sad and discredited termination of his federal employment by the U.S. Civil Service Commission. We presented and he accepted OPM's highest honor, the Theodore Roosevelt Award, given to those who are courageous in defense of our nation's Merit Principles. Dr. Kameny also made clear how tickled he was that John Macy, the anti-gay head of the Civil Service Commission who fired him, was eventually succeeded by a gay man.
He knew, as I know, how direct the line is between his battles and my opportunities. Frank Kameny opened the door — I and countless others are honored and humbled to pass through.
John Berry is director of the U.S. Office of Personnel Management.
Even in death we fight to be visible
Mahsa Jina Amini's death sparked protests across Iran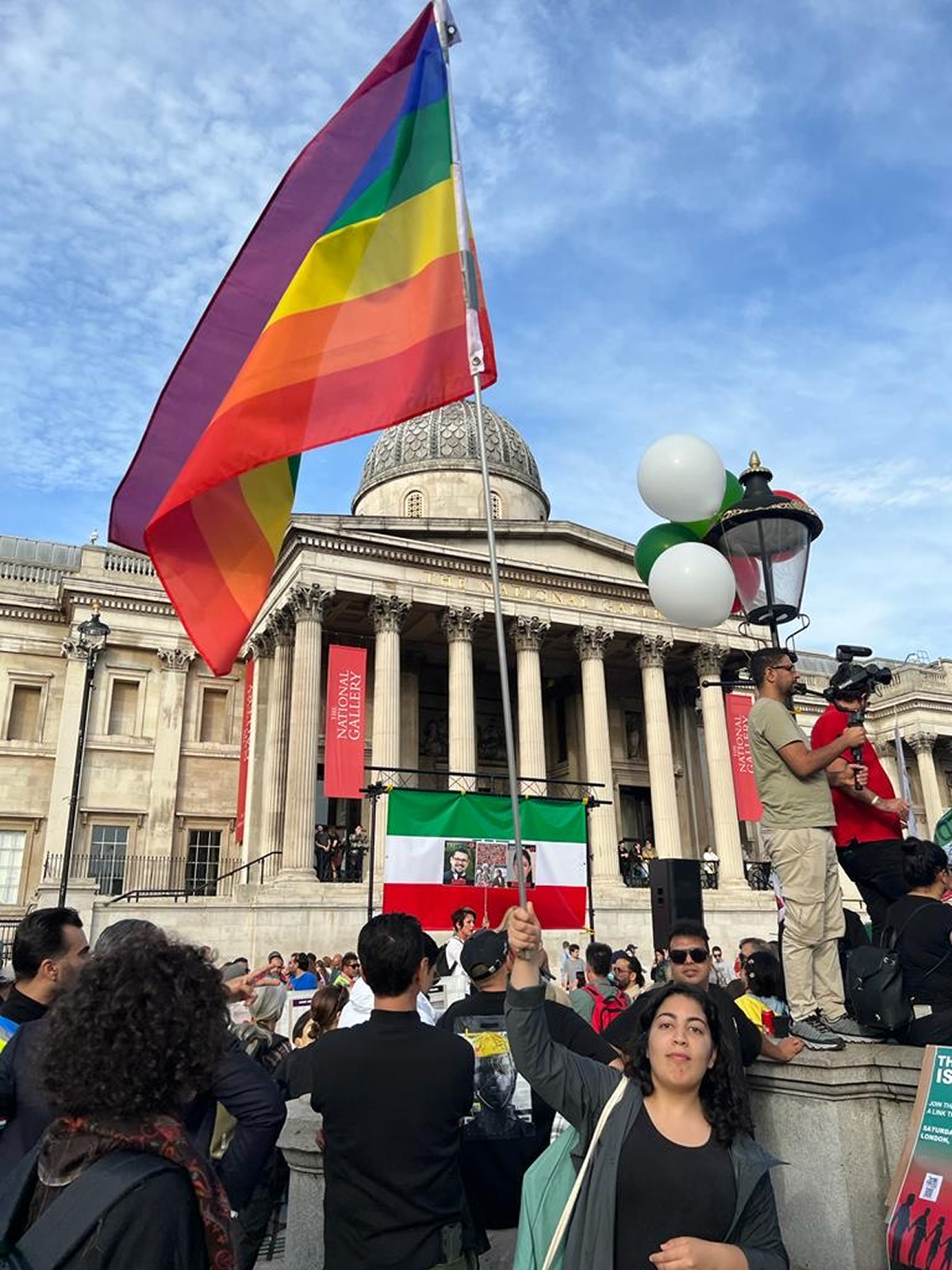 I was a lone soldier of the queer community, waving the rainbow flag in Trafalgar Square in London during one of the many protests organized by the Iranian diaspora. Most of the people shouting "woman, life, freedom," were Iranians who had lived outside Iran for years, even decades. Some were second generation immigrants; some had only just arrived.
My flag soared high among the many iterations of the Iranian flag. It was visible in its singularity. So visible, in fact, that I was stopped several times and asked who my flag represents. To say I was shocked would be an understatement. How could those who had lived in Europe for years be ignorant of such an established symbol? This was London, one of the most queer-friendly cities in the world, the host of one of the biggest Pride parades in Europe. I suddenly found a deeper understanding of the ignorance that drives homophobia and transphobia in my community and home country. If Iranians who live in London, where queer culture is present and visible, are ignorant of its existence, Iranians back home stand no chance.
After Mahsa Jina Amini's death was announced on Sept. 16, 2022, protests began nationwide and are ongoing. The regime has killed many of our young pioneers, seemingly targeting LGBTQ+ people, who are amongst the most repressed minority groups. Iran is one of seven countries that punishes same sex relationships with the death penalty. If not death, LGBTQ+ individuals who are found to have engaged in "unorthodox" relations or gender expressions can expect to be punished by lashes, beating, other forms of torture, and imprisonment. Honor killing, forced marriage and rape are also common experiences of the LGBTQ+ community in Iran.
The queer voice of Iran has been in the forefront of the current protests. From a lesbian couple kissing in public to queer people holding rainbow flags, the LGBTQ+ community has been traying to make itself visible. However, instead of support for a group who is continuously quashed, a large subset of Iranian society has resorted to online attack and hate.
The irony is that one of the symbols and martyrs of the revolution is a young queer person. 16-year-old Nika Shakrami, in her courage to fight oppression, became a household name on the day of her death. Details of her life circulated social media after she died. Her unrealized dream of being a singer brought us to tears. Her love for another 16-year-old girl, Nellie, was also revealed. However, her family has been hell-bent on erasing her identity.
The ugly homophobia of Iranian society reared its head last week on social media after the Lesbian Visibility Award was given to Shadi Amin, a prominent figure in the community and the director of the Iranian Lesbian and Transgender Network (6Rang). Amin had dedicated the award to the young LGBT+ people of Iran who had given their lives for freedom; one of these young martyrs was Nika Shakarami.
The response of the Iranian community was to berate Amin for attaching a 'dirtied' identity to their beloved Nika and offending her family, fuelled by a statement given by Nika's aunt. In the statement, Nika's aunt claimed that Shadi Amin and the LGBTQ+ community were forcing an identity on her niece, that she had not figured out her sexuality before being killed. In the same statement, her aunt insisted that Nika was straight, forcing heterosexuality onto the same niece who had not figured out her identity before dying. Although her intentions may have been to protect her late niece, Nika's aunt released an influx of death threats towards Amin and the LGBTQ+ community.
In unison, Iranian LGBTQ+ people voiced their experiences of harassment and erasure at the hands of their families. It is a tale as old as time for queer people everywhere. They spoke out about how families are not trustworthy sources on their identities, given the violence and abuse they face by being openly queer in such a homophobic society.
The controversy over Nika's identity is now driving many LGBTQ+ protestors to post their last will and testaments on social media, stating that they are not straight, and the claims of their families should not be listened to in case of their deaths. Those who are not openly out are sending their wills to LGBTQ+ organizations like 6Rang. Even in death, the Iranian LGBTQ+ community is in a constant battle for visibility.
The events of last week must have shaken the community. We are seeing more and more brave young queer people walk the streets of Iran, holding the rainbow flag high. Pro-LGBTQ+ graffities are appearing across the walls of university campuses. They risk death and imprisonment, harassment, and torture. Their fight is unjust and endless; their chants are met with batons; their flags bear the holes of bullets.
My LGBTQ+ brothers, sisters and non-conforming siblings in Iran must have had the same realization I had in Trafalgar Square that day. We are less than visible unless we stand proud, clad in our rainbow armor. Without making ourselves known, we stand no chance of having our demands met by any new government. It is fear that keeps us apart and gives the regime the chance to massacre us and our families the opportunity to erase our true selves.
Our message is clear: There is no democracy without freedom for all LGBTQ+ people.
Fight for marriage equality continues
Those who believe in the humanity of all must advocate for LGBTQ rights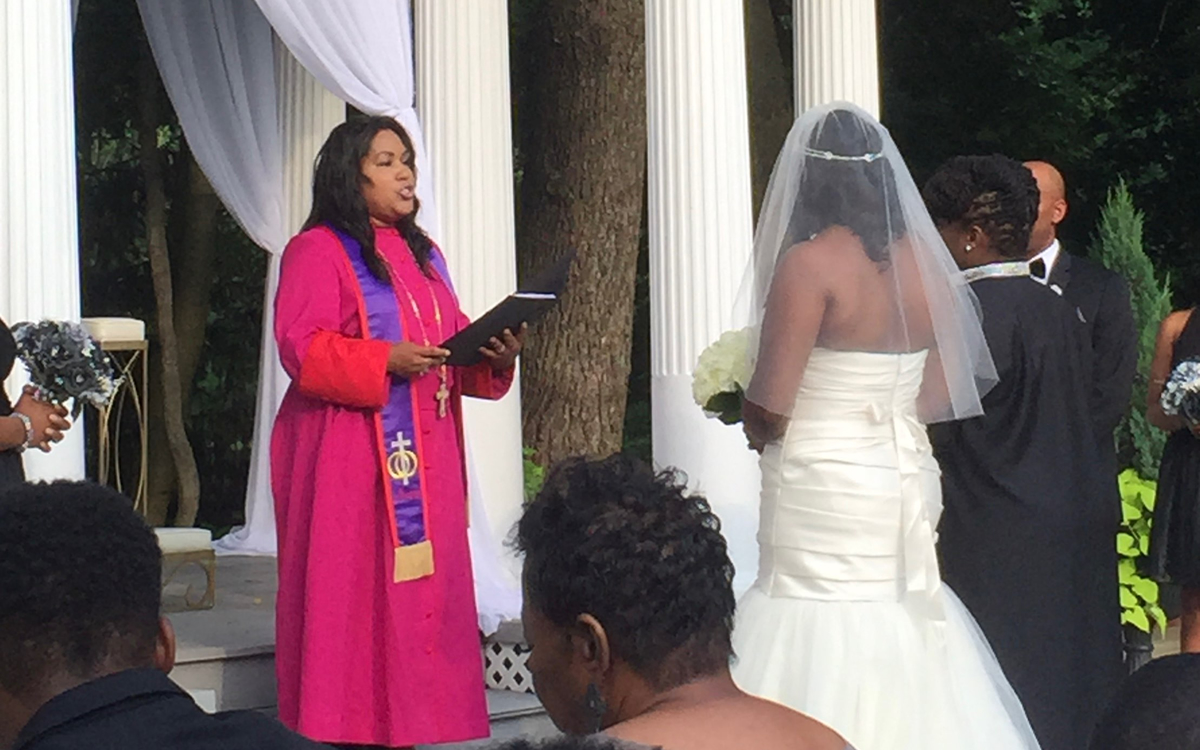 Since DOMA was struck down and we received marriage equality in the LGBTQIA+ community, I have performed numerous same-sex weddings (more than 25). Talking with a member of my congregation recently it came to my attention that many persons, including those in the LGBTQ community, have never had the wonderful privilege to attend a same-sex wedding, especially one in the church.
I remember the day DOMA was struck down and how excited I was about the freedom in the country for ALL persons to have the legal right to marry who they loved. I wrote an article years ago entitled "She deserves to be called my wife" before DOMA was struck down by the U.S. Supreme Court. I still feel very strongly about marriage today, and I don't take our progress in marriage equality for granted.
It has taken blood, sweat, and a lot of tears by campaigning grassroots nonprofits and legislative pushback to attain the human right to wed the person we love and want to spend the rest of our days loving in the DMV area. Same-sex marriage in the District of Columbia has been legal for over a decade now, since 2010, with Maryland and Virginia following in 2013 and 2014 respectively. I am happy to say that many other states were progressive on this issue also and my wife and I were blessed to marry in the State of Iowa before federal marriage equality.
The fight is not over. Many viewed the overturning of Roe vs. Wade as a gateway to further setbacks while far right conservatives continue to deny that LGBTQ rights are not still in jeopardy, but I know otherwise.
There are 13 states that still have not legalized same-sex marriage; therefore, it is imperative that federal laws protect those that are unjustly affected by not overturning what has already been recognized as legal and binding. And like many outdated laws, the 13th Amendment to the U.S. Constitution that allows slavery as a form of penal punishment, so too does the marriage act passed by 12 Republicans and all 50 Democratic senators to protect legalization of interracial marriages, another outdated law.
Does it make any sense for a couple to be turned down by 31 churches before they are allowed to marry with their family and friends present to witness their vow exchange? Well, such was the case with two men in the United Kingdom until finally they were able to marry last month in London.
Those who believe in the humanity of ALL people MUST continue to advocate for LGBTQ rights and laws. We would be best served if we would support our present administration as they continue to make advances with policies that protect LGBTQ persons and those who are marginalized. We too are America!
Bishop Allyson Nelson Abrams, Ph.D., is pastor and founder of Empowerment Liberation Cathedral in Bowie, Md.
Club Q another example of how anti-LGBTQ rhetoric leads to the death of queer, trans folks
The LGBTQ community deserves to feel safe from hate and violence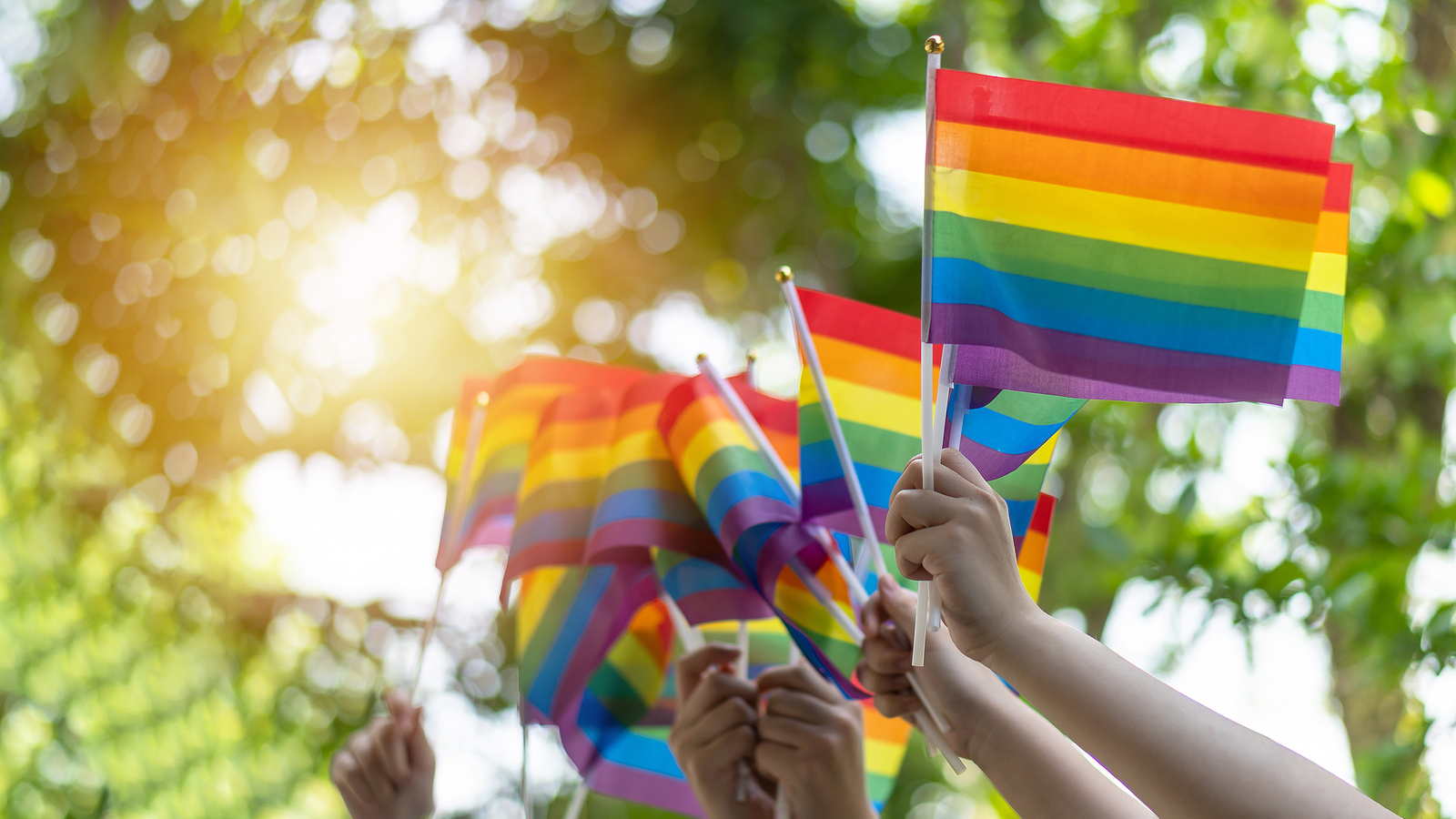 It was 7:15 a.m. and I had just landed after traveling across the country from working with my military unit. My phone started ringing. "Did you see it? and "How are you feeling?" were the messages that started pouring in. Then I saw the news: "Colorado Springs LGBTQ+ Club Q Shooting." I was struck with the same feeling I had seeing the aftermath of the 2016 Pulse nightclub shooting – fear and horror.
In 2016, I was still struggling with finding enough self-love to share my sexual identity. I vividly remember watching my parents' television as the details of the shooting rolled in. I felt like coming out would put me at risk for further hate and unfathomable violence. For those who do not have a strong support system, small online acts of hateful rhetoric can deter someone from their journey to acceptance and happiness. At that moment, I was too young to understand the full extent of these actions but one thing was perfectly clear – the LGBTQ+ community is hated for simply existing.
I'm a soldier in the U.S. Army. I choose to put on the uniform to help protect the people of our country and at times, the hateful actions committed by fellow Americans has made me feel powerless. The idea of a "war zone" should only be familiar to soldiers like myself, not children in a school or people looking to have a fun night with their friends at a bar or club.
A few times over the past 24 hours, I found myself pondering the same question: "How can the sheer existence of queer and trans people be viewed as such a threat to others that they resort to murder?" The simple answer is that our society has allowed for this type of rhetoric to receive attention and sometimes even praise. As a result, five people in Colorado Springs were killed and 25 injured at an LGBTQ nightclub, Club Q. In a heroic attack, two unarmed citizens inside the club stopped the gunman to protect others. These men were not armed with heavy weaponry, but rather a will to live and bravery in their hearts. If these civilians were able to act so quickly here, I wonder why the police had to wait for more than an hour to intervene in Uvalde.
Many Americans are now numb to the news of gun violence. For the past few years, we have watched our lawmakers stand impotently and choose their political party over protecting human beings. Sandy Hook seemed unimaginable and like a bad dream. When we saw that there was little action taken by lawmakers in the wake of six-year-old children being slaughtered in their elementary school classrooms, my heart was shattered. Today, nearly a decade later, there has been little to no movement on legislation to combat horrific gun violence. Instead of Congress taking action, American people have witnessed more than 27 additional mass shootings in schools alone and thousands more injured and/or killed.
From Pulse, to Supreme Court Justice Clarence Thomas' remarks on Obergefell vs. Hodges, to book bans (including one in my hometown), to the "Don't Say Gay" bill being proposed nationally, I am worried that we are being pushed backwards in time. More than 340 anti-LGBTQ bills were introduced this year and there have been more than a dozen attacks on our community. This mass shooting came on the eve of Transgender Day of Remembrance, directly threatening the safety and existence of those who are simply trying to be themselves. In the recent midterm elections, candidates ran on anti-LGBTQ platforms, categorized members of our community as "groomers," and directly invalidated our existence. Although they did not pull the trigger, these politicians have ignited bigotry and homophobia to the point where their words are now weaponized.
These survivors are now going to be faced with mental health struggles, likely including post-traumatic stress, which will directly affect their daily lives. Over the past few years, I have had the opportunity to work with those struggling from traumatic experiences by using sound bytes to counteract feelings of fear and anxiety. Through my work in this field, I know the mental journey that these Club Q survivors are about to endure. I hope that anyone who is struggling knows that there are resources out there to help.
Today, I use my voice as an activist to work with victims of gun violence and those in the LGBTQ+ community who have been affected by hateful actions to remind people that we are human – just like them. The families of gun violence deserve better. The LGBTQ+ community deserves to feel safe from hate and violence. Children's families deserve better. We as humans deserve better. We want effective policy and change over "thoughts and prayers." The louder we resist, the weaker hate and fear become.
Brian Femminella is a Gen-Z LGBTQ+ activist and tech entrepreneur. He is an outspoken voice in the queer and trans community, including through his work in the military as an Army Officer.