White House mum on Kameny's death
Obama had previously recognized activist's work

White House Press Secretary Jay Carney said Friday he didn't have an immediate reaction to the passing of gay rights pioneer Frank Kameny — although he said he was aware of the activist's death.
Asked by the Washington Blade for a response to the pioneering activist's death last week, Carney replied, "I'll have to take that. … I know that he passed away, but I don't have a comment on that."
The Blade has been seeking comment from the White House on Kameny's passing since his death last week. However, the White House hasn't responded to the inquiries.
Asked why a White House statement on Kameny wasn't issued upon his death, Carney replied, "I don't know, so I'll have to take the question."
Carney similarly dodged when asked if President Obama would be open to attending a public viewing for Kameny on Nov. 3. The "farewell viewing" is scheduled to take place at the Carnegie Library and civic leaders are expected to speak.
Asked if Obama would be open to attending the service, Carney replied, "I'm not his scheduler."
The White House's silence on Kameny's death raises questions because Obama is familiar with the activist's work and included him at events where the administration has advanced LGBT causes.
In 2009, Kameny appeared in a photo-op and on camera with Obama when he signed a memorandum to extend benefits to the same-sex partners of federal employees. In December, Kameny was invited and present during the signing of legislation to repeal "Don't Ask, Don't Tell."
In 2009, Obama noted Kameny's presence at the White House reception commemorating June as Pride month and called Kameny a "civil rights pioneer."
"Frank was fired from his job as an astronomer for the federal government simply because he was gay," Obama said. "And in 1965, he led a protest outside the White House, which was at the time both an act of conscience but also an act of extraordinary courage. And so we are proud of you, Frank, and we are grateful to you for your leadership."
Upon Kameny's death last week, John Berry, director of the U.S. Office of Personnel Management, issued a statement, and subsequently wrote an op-ed for the Blade in tribute to Kameny. But no statement has come directly from the White House.
"Dr. Frank Kameny was an American hero who transformed our nation's lesbian, gay, bisexual and transgender community," Berry said. "His courage, his brilliance, his force of will led to victory in a decades-long fight for equality. He helped make it possible for countless of patriotic Americans to hold security clearances and high government positions, including me. And in so doing, he showed everyone what was possible for every employer in our country."
It isn't unusual for the White House or President Obama to comment on news events relevant to the LGBT community.
When certification of "Don't Ask, Don't Tell" repeal happened in July, President Obama, Defense Secretary Leon Panetta and Chairman of the Joint Chiefs of Staff Adm. Mike Mullen each issued statements observing the importance of the event.
A transcript of the exchange between the Blade and Carney follows:
Washington Blade: Jay, last week, gay rights pioneer Frank Kameny died at the age 86. After being fired from his government job in the 1950s for being gay, he became a leader in the gay rights movement before the Stonewall riots of 1969 and many years afterwards. What reaction does the White House have to his passing?
Jay Carney: I'll have to take that. I'm not aware of — I mean, I know that he passed away, but I don't have a comment on that.
Blade: Can you tell me why the White House didn't put out a statement last week upon his death?
Carney: I don't know, so I'll have to take the question.
Blade: Just one last question, there's going to be a public viewing of Kameny on Nov. 3 at the Smithsonian and civic leaders are to expected to speak. Would the president be open to attending this ceremony?
Carney: I'm not his scheduler.
Chicago mayor describes Roe ruling as 'gut punch'
Lori Lightfoot is first Black lesbian elected to run major U.S. city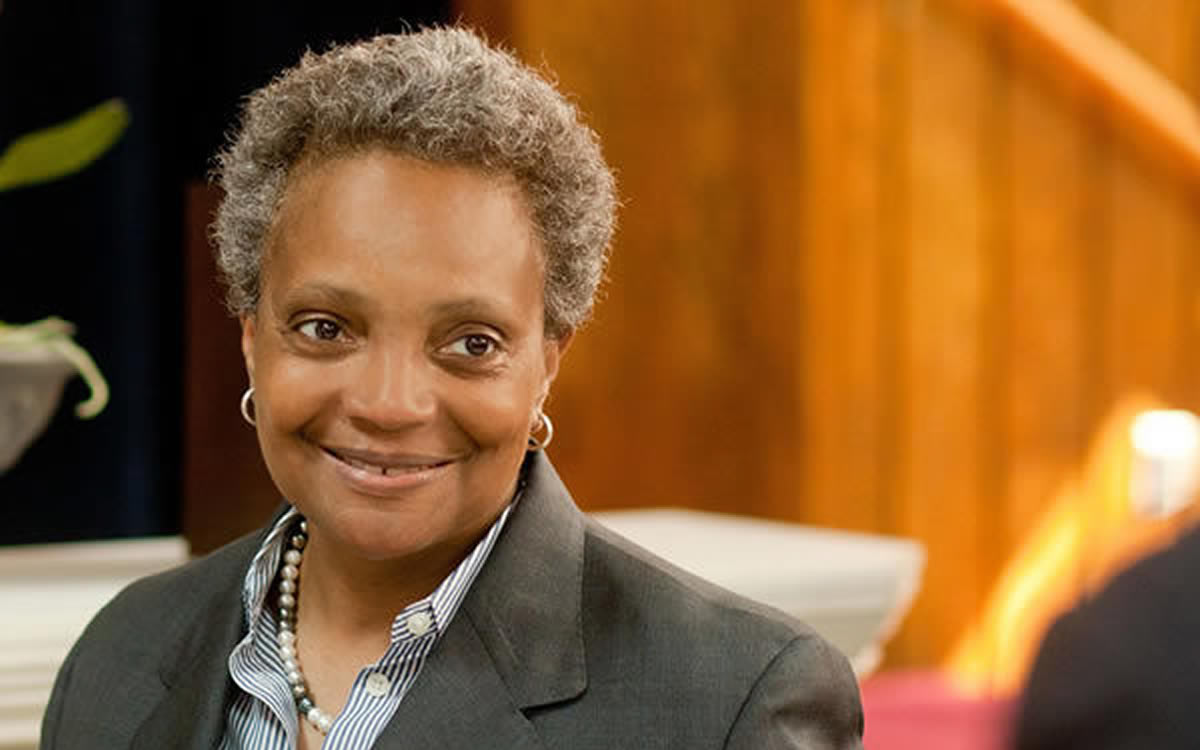 Chicago Mayor Lori Lightfoot on Monday said the U.S. Supreme Court ruling that overturned Roe v. Wade was a "gut punch."
"It wasn't a surprise," she told the Washington Blade during an exclusive interview. "This had been a 50-year quest for people who don't want to recognize our rights and want to take us back to 1950s America, when our community was pushed very decidedly into the closet because we didn't have protections — we certainly didn't have marriage. That was inconceivable back then."
"We didn't have protections on employment, on housing and the basic rights of citizenship that we've come to really embrace and expect as Americans," added Lightfoot.
Lightfoot in 2019 became the first Black lesbian woman elected mayor of a major U.S. city.
She noted Justice Clarence Thomas in his concurring opinion in the Roe decision said the Supreme Court should reconsider its decision in the Obergefell, Lawrence and Griswold cases that guarantee marriage equality and the rights to private, consensual sex and access to contraception respectively.
"Fuck Clarence Thomas," said Lightfoot on Sunday when she spoke at Chicago Pride.
"I woke up yesterday morning feeling pretty sad for all the reasons that you would expect," she told the Blade on Monday. "It was still inconceivable that we are now living in an America where all of us who have been empowered to teach and live our own authentic lives are now at risk in this country by the stroke of a pen and a radicalized right-wing majority on the court with seemingly little regard of the consequences."
Lightfoot said the ruling's "immediate impact" will be on women in "red states" and "states that have trigger laws" that ban abortion. Lightfoot added women of color and low-income women will be disproportionately impacted.
"You got to play the long game here," she said. "Clarence Thomas clearly signaled what his intent is, which is when you talk about reconsidering Griswold, that's the right to contraception access. They talk about reconsidering Lawrence in Texas. We know what that is. Well really, are gay men going to be in a position where they have to worry about cops breaking into their bedroom and try to haul them off to jail by engaging in a natural act of intimacy between consenting adults?"
"We are very much in the target, and the sights of this right-wing mob that feels like the only way that they can exercise their power is by taking ours," added Lightfoot.
'We're going to respect your rights'
Lightfoot in May announced a "Justice for All Pledge" after Politico published a leaked draft of the Roe decision.
Her administration and the Chicago Department of Public Health pledged an additional $500,000 to "support access to reproductive healthcare for Chicagoans and patients seeking safe, legal care from neighboring states that have or ultimately will ban abortion if the Supreme Court decides to strike down Roe v. Wade, as outlined in the leaked decision." The "Justice for All Pledge," among other things, reaffirms Chicago will "fight for the rights of all people regardless of race, color, sex, gender identity, age, religion, disability, national origin, ancestry, or sexual orientation."  
"We will fight to ensure that no person will be attacked, assaulted, bullied, or discriminated against because of who they are, the choices they make regarding their bodily autonomy, or who they love," reads the pledge.
"We have to be a beacon of light and hope across the country and particularly in the Midwest region," said Lightfoot.
She also encouraged LGBTQ people from Florida, Texas and other states that have passed homophobic and/or transphobic laws to consider moving to Chicago.
"We're going to respect your rights," said Lightfoot. "We're going to allow you to live in an environment where you can live your true, authentic life without the worry of some radicalized right-wing legislature cutting off your rights. People have to start making choices."
Lightfoot also challenged corporations to do more to support LGBTQ rights and their LGBTQ employees.
"Corporations have to start making choices," she said. "All those nice little value statements on a corporate website, if you value your employees and their rights, you cannot be situated in states that are attacking everyone in our community."
"When you look at the fact that many of these states are attacking children and their families, that tells you there's no floor, there's no floor to which they will sink," added Lightfoot. "It's open season on us and we've got to respond."
Mayor lacked role models 'that looked like me'
Lightfoot lives in Chicago's Logan Square neighborhood with her wife, Amy Eshleman, and their daughter.
She told the Blade that she met a transgender teenager from downstate Illinois during Chicago Pride. Lightfoot said she hugged her and her parents and she "just felt such joy."
She said she "didn't see any role models that looked like me" and "didn't see a lot of gay and lesbian leaders on a national level or even at the local level" when she was younger. Lightfoot told the Blade in response to a question about how she feels about being the first Black lesbian mayor of a major U.S. city that there are now "so many more of us who are living our authentic lives."
"One of the greatest gifts that we can give is to say to those young people, you're going to be great," she said. "Be who you are, embrace, embrace your authentic life. Because there's always going to be a home for you. There's going to be a village, a community that's going to be supportive. That's one of the things I think the most powerful statement that I can make as mayor, using my platform as mayor of the third largest city, to say to our young people, you're always going to have a home here."
Lightfoot earlier this month announced she is running for re-election in 2023.
Crime and the response to protests in the wake of George Floyd's murder in 2020 are among the issues over which Lightfoot has faced criticism.
She referenced efforts to make "real meaningful, permanent progress on public safety that we are doing here in our city against a lot of different headwinds" and economic development in low-income neighborhoods as two of her administration's accomplishments. Lightfoot said she decided to run for a second term because "the work's not done."
"We have been through a lot, as every major city in the country has in these last three years, but we've persevered and continued to do really good work on behalf of the people and made a lot of progress," she said.
"I liken it to being a gardener," added Lightfoot. "You till the soil, you plant the seeds, you want to be around to reap the harvest. And I want to make sure that the work that we put in place, that those roots are deep and strong and they continue to bear fruit for years and years to come, long after I fade from the scene."
Lesbian super PAC again endorses Lightfoot
LPAC endorsed Lightfoot's initial mayoral campaign. The super PAC that supports lesbian candidates has once again backed her.
"I am just grateful that they are ready to re-up for round two," said Lightfoot.
"When we are present in those corridors of power, we bring a life of experience that is different than traditionally the straight white men that have populated these corridors of power," she added. "We show up and we show up importantly for our community and that is critically important."
LPAC Executive Director Lisa Turner in a statement to the Blade praised Lightfoot.
"When I think of the Black LGBTQ leaders serving in office like Chicago Mayor Lori Lightfoot, I am filled with pride about the work LPAC has done to uplift women and support their campaigns," said Turner. "We were the first national organization and LGBTQ organization to endorse Mayor Lightfoot in 2019, and we are proud to be the first again as she seeks re-election. LPAC's unwavering support shows our commitment to not solely electing more LGBTQ women to office, but to elect LGBTQ women who represent the full diversity of our community."
Mixed views among U.S. adults on trans issues: Pew
Most back non-discrimination, but divided on other issues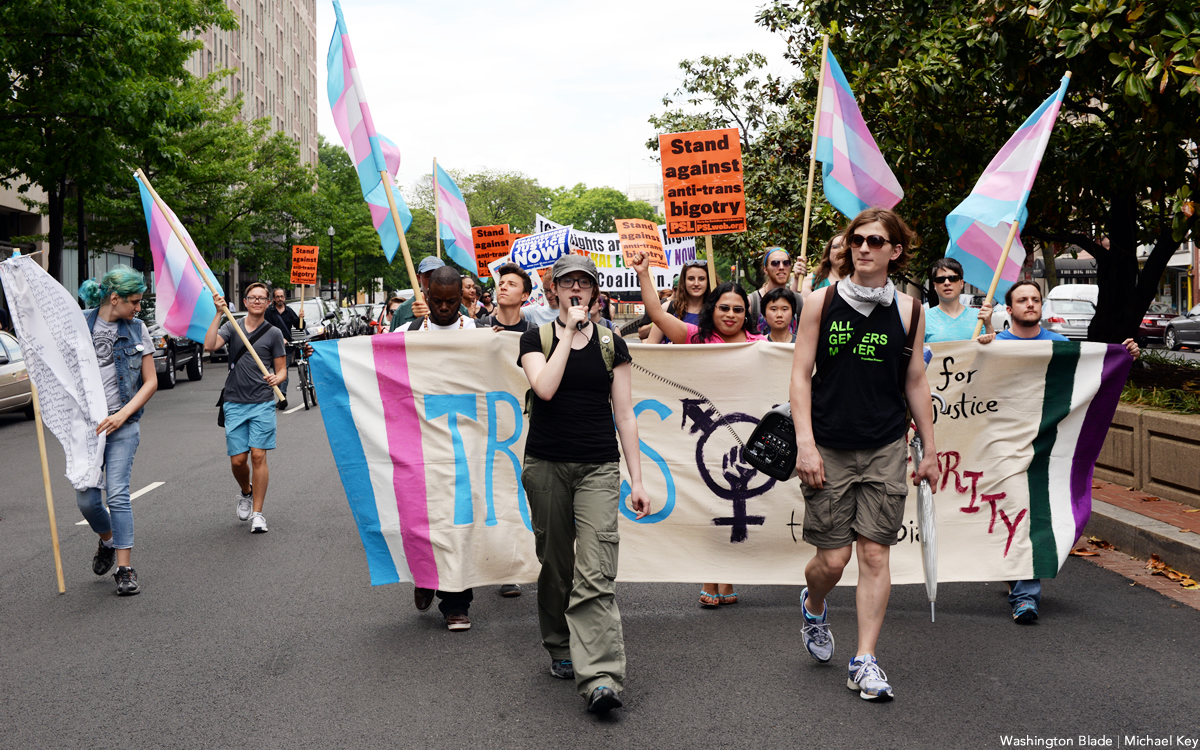 A new survey from a leading non-partisan research center reveals Americans have mixed views on transgender issues at a time when states are moving forward with measures against transgender youth, with strong majorities favoring non-discrimination protections but weaker support for access to transition-related care among minors and participation in school sports.
The Pew Research Center issued the findings on Tuesday as part of the results of its ongoing study to better understand Americans' views about gender identity and people who are transgender or non-binary. The findings are based on a survey of 10,188 U.S. adults from data collected as part of a larger survey conducted May 16-22.
A majority of respondents by wide margins favor non-discrimination protections for transgender people. A full 64 percent back laws or policies that would protect transgender people from discrimination in jobs, housing, and public spaces, while roughly 8-in-10 acknowledge transgender people face at least some discrimination in our society.
Additionally, nearly one half of Americans say it's extremely important to use a transgender person's new name after they undergo a transition, while an additional 22 percent say that is somewhat important. A smaller percentage, 34 percent, say using a transgender person's pronouns is extremely important, and 21 percent say it is somewhat important.
But other findings were less supportive:
60 percent say a person's gender is determined by sex assigned at birth, reflecting an increase from 56 percent in 2021 and 54 percent in 2017, compared to 38 percent who say gender can be different from sex assigned at birth.
54 percent say society has either gone too far or been about right in terms of acceptance, underscoring an ambivalence around transgender issues even among those who see at least some discrimination against transgender people.
About six-in-ten adults, or 58 precent, favor proposals that would require transgender athletes to compete on teams that match the sex they were assigned at birth as opposed to teams consistent with their gender identity, compared to 17 percent who oppose that and 24 percent neither favor nor oppose it.
46 percent favor making it illegal for health care professionals to provide transition-related care, such as hormones or gender reassignment surgery, to someone younger than 18, compared to 31 percent who oppose it.
Americans are more evenly split when it comes to making it illegal for public school districts to teach about gender identity in elementary schools (which is favored by 41 percent, and opposed by 38 percent) and investigating parents for child abuse if they help someone younger than 18 obtain transition-related care (37 percent are in favor and 36 percent oppose it).
Young adults took the lead in terms of supporting change and acceptance. Half of adults ages 18 to 29 say someone can be a man or a woman even if that differs from the sex they were assigned at birth, compared to about four-in-10 of those ages 30 to 49 and about one-third of respondents 50 and older.
Predictably, stark differences could be found along party lines. Democrats by 59 precent say society hasn't gone far enough in accepting people who are transgender, while 15 percent say it has gone too far and 24 percent say it's been about right. For Republicans, 10 percent say society hasn't gone far enough, while 66 percent say it's gone too far and 22 percent say it's been about right.
Read the full report here.
House passes resolution that calls for Brittney Griner's immediate release
Detained WNBA star's trial to begin on July 1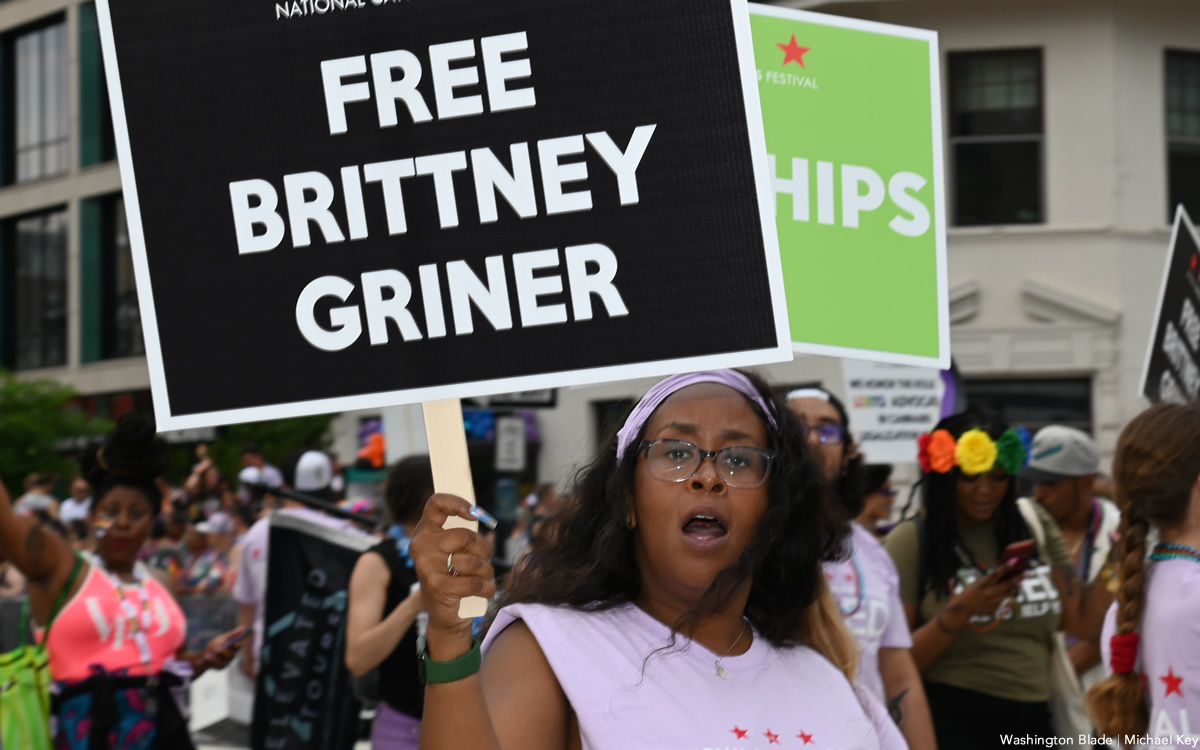 In a resolution passed on June 24 by the U.S. House of Representatives, lawmakers called on Russia to immediately release detained WNBA star Brittney Griner. 
Griner was first arrested in Russia in the days leading up to its invasion in Ukraine. Authorities have charged her with drug trafficking after claiming that she attempted to pass through Moscow's Sheremetyevo Airport while in possession of cannabis oil.
The House's resolution, introduced in May by U.S. Reps. Greg Stanton (D-Ariz.), Sheila Jackson Lee (D-Tex.) and Colin Allred (D-Texas), made multiple demands of Russia, including that the country "immediately release Brittney Griner," provide her with consular access and humane treatment and that the U.S. "raise the case of Brittney Griner and to press for her release" in all its dealings with the Russian government.
"This legislation insists on our embassy personnel having access to Ms. Griner and restates our commitment to freeing her now," Lee said in a statement after introducing the resolution. "We continue to pray for her family and we will continue to work together as three members of Congress, along with others, to spread the message that she is held wrongfully and must be freed now."
The resolution also expressed support for both Griner's family and for "all prisoners unjustly imprisoned in the Russian Federation."
Allred, a member of the House Foreign Affairs Committee, took to Twitter following the passage of the resolution.
"I'm proud the House has spoken in passing our resolution and calling for Brittney Griner's swift release," Allred wrote. "Every day an American is held abroad is a lifetime, and I will keep working with @POTUS to do all we can to bring home every American detained abroad."
Griner's WNBA team, the Phoenix Mercury, welcomed the House's passage of the resolution this past weekend.
"[Rep.] Stanton and many others are continuing to work with the White House, State Department and Brittney's family to secure her safe return home," the team wrote on Twitter.
The resolution comes after reporting revealed missteps on the part of the U.S. government in handling communication related to Griner's detention.
According to past reporting, the U.S. Embassy in Moscow failed to connect Griner with outside phone calls permitted by the Russian government when Griner's wife, Cherelle Griner, attempted to call her. Cherelle Griner reportedly called 11 times on June 18 on the couple's fourth anniversary but was unable to reach her wife due to what the State Department claimed to be a "logistical error."
While the resolution is being heralded by its supporters, it contains no provisions intended to enforce the House's demands for the release and humane treatment of Griner and others held by Russia. With less than one percent of criminal defendants in Russia being acquitted, it is unclear whether the resolution will do anything to persuade the country's courts to permit Griner's release.
Griner appeared in Russian court on Monday for a preliminary hearing prior to her trial that has now been scheduled to begin on July 1. It was also confirmed by Griner's attorney on Monday that her detention had been extended for six months pending her trial. 
If convicted, she could face up to 10 years in prison.
"We must keep Brittney's case on the forefront and make clear to the White House that her release should be one of the highest priorities for our government," Cherelle Griner said in May.