January 4, 2012 at 9:30 pm EST | by Phil Reese
National news in brief: Jan. 6
Washington guv to support marriage rights
OLYMPIA, Wash. — Gov. Christine Gregoire, a longtime LGBT rights supporter, announced Wednesday that she supports extending full marriage rights to same-sex couples in Washington state, according to Reuters.
Several Democrats are expected to introduce a bill extending full marriage rights to same-sex couples in the next legislative session. Democrats hold a sizable majority in both houses in the state whose domestic partnerships have since 2009 offered almost all of the same state rights to same-sex couples as those offered to married opposite-sex couples.
In a historic first, that domestic partnership law was upheld by the voters of Washington state in November 2009, when they approved Referendum 71.
"The speculation is that she'll support marriage equality and we are looking forward with great anticipation to her speech," Josh Friedes, director of marriage equality for Equal Rights Washington, told Reuters.
The change in law could be a boon for Washington if it follows New York's lead. According to the Wall Street Journal, since legalizing marriage in June, the New York City clerk's office reported a 14 percent increase in new marriage licenses.
Efforts to legalize full marriage for same-sex couples in 2012 are anticipated in Maine, Maryland and California as well.
Conservative Colo. group to push for civil unions
DENVER — A self-described group of conservative Republicans has formed to help push Republican lawmakers to support an effort to pass same-sex civil unions in Colorado, according to the Denver Post.
The mostly heterosexual leadership of Coloradans for Freedom — which includes business leaders, political activists, lobbyists and former and current lawmakers — plans to lobby lawmakers in support of a civil unions bill in 2012. A similar bill passed the Colorado Senate but died in the House in 2011.
"The point is not to create conflict within the Republican Party," Republican Jefferson County attorney Mario Nicolais, who believes the ability to form a civil union is a matter of personal freedom, told the Post. "It's to provide resources to people interested in the conservative argument for civil unions."
Tenn. group wants exemption from bullying law
NASHVILLE — The Family Action Council of Tennessee is seeking a religious exemption from an anti-bullying law in that state, an exemption LGBT advocates call a "license to bully."
According to the state's most prominent newspaper, the Tennessean, the changes to the law would protect religious speech that some may consider offensive or insulting, which LGBT advocates charge is aimed at giving a pass to anti-gay rhetoric in the classroom. Teachers and administrators in Tennessee are already barred from discussing LGBT issues in the classroom.
In addition, the proposed changes would remove the protected classes in the state's anti-bullying law, and instead focus on specific behaviors, which opponents of the changes say is another blow to protecting students bullied for either real or perceived sexual orientation or gender identity.
"We need to be focusing on ways to ensure that Tennessee students receive an education free from bullying, harassment and intimidation," Tennessee Equality Project board president Jonathan Cole wrote on the group's website in regard to the proposed legislation. "The health and welfare of Tennessee children may depend on it."
Detroit LGBT activist and MCC pastor dies
DETROIT — Former Detroit Metropolitan Community Church pastor Mark Bidwell — who stepped down in September after a scandal involving a drug overdose death at his home — died on Tuesday, according to Michigan's LGBT weekly, Between the Lines. He was 52.
Bidwell was also forced to resign from his position as Ferndale police chaplain at the time of the death of Steven Michael Fitch.
Bidwell took over the Ferndale-based church in 1989. Detroit's MCC was founded in the 1970s and flourished in the gay-friendly Detroit suburb under Bidwell. The pastor was well known for performing same-sex union ceremonies on the steps of the Ferndale City Hall during Motor City Pride throughout the 2000s.
In 2011, Motor City Pride moved from Ferndale to the Detroit riverfront, returning to the city for the first time in 10 years. According to MCC's website, funeral services are set for Saturday.
Weir rings in New Year with NYC wedding
LOS ANGELES — Ringing in an especially joyful new year, on Jan. 1 at midnight in New York City, Olympic skater Johnny Weir said 'I do' to his partner Victor Voronov, whom the skater has known for many years, but only began dating this summer.
"[Victor is] kind of everything that I've ever looked for and aspired to be in a relationship with," the 27-year-old Weir told Icenetwork.com in late December, during an interview about his plans to return to competition. "I'm very happy with my personal life and also my professional life, and I thank God I can be exactly where I'm at."
The second season of "Be Good Johnny Weir" returns to the Logo network this year.
Gay Games leader resigns over reunification
SEATTLE — The former Federation of Gay Games communications co-chair, has resigned his position on a crucial planning group for the 10th global LGBT sports event to take place in 2018, over a major impasse, according to the Bay Area Reporter in San Francisco.
Kelly Stevens left the 1 Quadrennial Event Working Group — which is planning an event that will bring back together for the first time since 2006 the International Gay Games and the Outgames — over the decision to bring athletes together to choose the 2018 city at the 2013 Outgames in Antwerp, rather than the 2014 Gay Games in Cleveland. Stevens believes holding the vote in Antwerp rather than Cleveland will detract from the 2014 event. The schism between the Federation of Gay Games — which hosts the Gay Games — and the Gay and Lesbian International Sports Association — which hosts the Outgames — stems from a disagreement between the FGG and the Montreal 2006 planning committee, leading to the 2006 games being revoked from Montreal and awarded to second choice, Chicago.
The two organizations have been at odds for many years, but overtures of reconciliation have led to the possibility of hosting a combined event at the end of this decade.
Washington, D.C. was a finalist for the 2014 games, but lost out to Cleveland in the vote at the 2010 games in Cologne.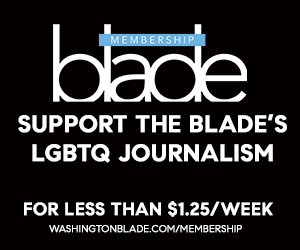 Sign Up for Blade eBlasts