January 5, 2012 at 8:47 am EST | by Valerie Blake
Is your house sick?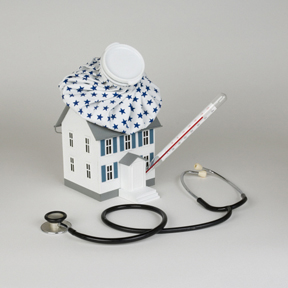 In 1998 Robert Redford had us whispering to skittish horses. In 2004 we began to watch Cesar Millan whisper to dogs with behavioral problems. Then in 2005 Jennifer Love Hewitt started whispering to the ghosts of our past.
I often whisper to my home. Sometimes it answers. With the holiday season now over, I recently asked it, "How did you get so dirty?" It just giggled and coughed up another dust bunny.
For some people, "home" means a hub of social or family activity. For others, it might be a calming retreat from the pressures of daily life. Or perhaps it's just a place to drop your gear or catch a nap between hard work and hard play.
Whether condo or coop, rowhouse or detached, new or historic, your home says a lot about you and can greatly contribute to your overall health and happiness, so as I begin a new home search with a buyer I always ask, "What do you like and dislike about your current home?"
Asking this question is akin to taking a medical history. Like the basis for a differential diagnosis, the answers help me attain my goal: to find each buyer a place that encompasses his likes while carving away at his dislikes within the confines of his budget. And like a delicate surgical operation, it's not always easy, it sometimes takes a while and insurance doesn't always cover it.
Over the years I have found several answers to my question surfacing so often that I have amassed what I refer to as my "Book of Home Maladies." I'm sure you and your real estate agent will recognize the most popular ones below.
Tom Thumb Syndrome: Symptoms include not being able to fit your bed in the bedroom and still walk around the room, the inability to completely open the kitchen refrigerator, stove and dishwasher simultaneously, the constant bruising of hips from bumping against sharp corners and closet bloat. Diagnosis: the home is too small. Short-term treatment involves immediate decluttering with long-term results dependent on the surgical removal of the resident and reattachment to a larger home.
Incredible Hulk Disorder: My own house suffers from this malady, which becomes increasingly uncomfortable with age, particularly for the Boomer generation. Symptoms include a dining room that hasn't hosted a dinner party since 2008, an expensively redone basement recreation room where nobody recreates, two guest rooms that have seen only one guest each since 2007 and more space than I will ever again want to clean (see dust bunnies above). Diagnosis: the home is too big. I'm on the donor list for a new one and my name should come up this year or next.
Methuselah Infection: The most notable symptoms include jaundiced appliances, whole-house fever and psoriasis of the walls. Diagnosis: the home is outdated or is missing desired features. Effective treatment of existing homes may include immediate transplant of infected gold or green-tinted appliances with stainless steel, a transfusion of central air conditioning and curettage of offending wallpaper. If such operations are cost-prohibitive, however, then it may be best to trade the infected home for a newer model.
Situational Avoidance Affliction: Like personality disorders that can take years of psychotherapy to uncover, symptoms of this malady may not present themselves at first glance. Upon further evaluation, however, we find a series of emotional extremes or undesirable traits. The current home may suffer from too much or not enough noise or activity. Feelings of isolation may result if it is too far from transportation, dining, shopping or work. Proximity to major highways, power lines or liquor stores may leave us feeling depressed. Diagnosis: the home is in the wrong location and may be contributing to an overall feeling of malaise and disassociation. Begin treatment with your local mortgage loan officer and then add a liberal dose of open houses on a weekly basis.
Whatever your home's malady, you will find that early detection is critical to successful treatment. Self-examination is the first step, so if your home is whispering any of these common symptoms to you, please consult your local real estate agent immediately.
In the meantime, take two parking spaces and call me in the morning.
Valerie M. Blake can be reached at 202-246-8602 or at Valerie@DCHomeQuest.com. Prudential PenFed Realty is an independently owned and operated member of Prudential Real Estate Affiliates, Inc., a Prudential Financial company. Equal Housing Opportunity.