Maryland to take up marriage, trans bills
Lawmakers return next week; supporters plan Feb. lobbying events

Bills calling for legalizing same-sex marriage and banning discrimination against transgender persons are among the hot-button issues set to emerge next week when the Maryland State Legislature begins its 2012 session.
Officials with an expanded coalition backing the marriage bill and a new transgender advocacy group leading the effort on behalf of the Gender Identity Non-Discrimination Act say they are hopeful that the legislature will pass both measures before it adjourns for the year in April.
"It's all hands on deck with both bills," said Carrie Evans, executive director of the statewide LGBT group Equality Maryland. "We're talking to many lawmakers, including Republicans."
Evans and others working on the two bills were cautious about predicting when leaders of the Maryland Senate and House of Delegates will bring the measures up for a vote, saying control over the timing of the bills was exclusively in the hands of the lawmakers.
Supporters were also cautious about disclosing strategy for defeating an expected voter referendum that experts say will almost certainly be brought before the electorate in November – in the midst of the U.S. presidential election – if the Maryland Legislature passes a marriage bill this spring.
Public opinion polls show voters in the state are evenly divided over whether to vote for or against same-sex marriage.
Under rules of the Maryland Legislature, the committees with jurisdiction over the bills must hold a public hearing on the marriage and gender identity bills, even though the two bills were the subject of lengthy and contentious hearings less than a year ago during the legislature's 2011 session.
The Democratic-controlled Senate approved the marriage bill last March in what supporters called an historic 25-21 vote. But the Democratic-controlled House of Delegates killed the measure for the year by voting to send it back to committee after supporters determined they were a few votes short of the 71 votes needed to pass it in the 141-member House.
In what some called an ironic twist, the House of Delegates passed the transgender bill last year before the Senate killed it by voting to send it back to a Senate committee. Senate President Thomas V. Mike Miller (D-Prince George's and Calvert Counties) reportedly orchestrated the decision to hold off on a Senate vote, saying a number of key supporters changed their minds and threatened to vote against the bill.
Shortly after the defeat of the marriage bill last year, supporters led by the Human Rights Campaign formed Marylanders for Marriage Equality, an expanded coalition of organizations with a track record of political clout with state lawmakers. Among the coalition partners are the NAACP of Baltimore, the Maryland ACLU, and the Service Employees International Union (SEIU). The National Gay and Lesbian Task Force, Equality Maryland and HRC are also members of the coalition.
Coalition spokesperson Kevin Nix of HRC has said each coalition partner brings unique skills and expertise to the lobbying effort on behalf of the marriage bill.
But coalition officials haven't disclosed which, if any, lawmakers who were uncommitted or against the bill last year have indicated support this time around.
"The good news and the bad news is the legislators are the same," said Mark McLaurin, a gay man who serves as political director for the Local 500 of the SEIU of Maryland.
He noted that having the same players is helpful to a degree because they are already informed on the marriage and transgender bills. But McLaurin cautioned that with no election taking place since the 2011 legislative session, it may be hard to line up the additional supporters needed to pass the bills.
"Quite frankly, despite the great work that's been done since the last session, I haven't heard very many announced conversions from no to yes," he said. "So in many respects I feel we're in the same place that we were."
Like others lobbying for the marriage bill, McLaurin said he is hopeful that Gov. Martin O'Malley's decision to include the marriage and transgender bills as part of his legislative package this year will provide an important boost for both measures.
McLaurin, a former board member of Equality Maryland, criticized LGBT advocates and supportive lawmakers last year for their decision to withdraw the marriage bill from the House rather than bring it up for a vote. He said a vote would have helped in the lobbying efforts this year by identifying for certain where lawmakers stand on the marriage measure.
Other supporters disagree with that view, saying a vote last year would have forced wavering House members to take a position, possibly against the bill, making it more difficult for them to vote for it this year without being labeled as "flip-floppers."
Veteran transgender advocate Dana Beyer, executive director of Gender Rights Maryland, the newly formed statewide group, said a number of important developments since the transgender bill died in the legislature last year have given the bill "great momentum" this year.
Among the developments are O'Malley's strong endorsement of the bill and his pledge to make it one of his legislative priorities, said Beyer. She noted that O'Malley responded, in part, to the flurry of publicity surrounding the beating of transgender woman Chrissy Lee Polis at a McDonald's restaurant outside Baltimore in April. The beating, which was captured on video taken by a McDonald's employee, created a national sensation and boosted support in Maryland for transgender non-discrimination legislation.
In two other developments, the Howard County, Md., legislature passed a gender identity non-discrimination bill in December and the Eleventh Circuit U.S. Court of Appeals ruled that same month that a transgender woman fired from her job in Georgia was protected from discrimination by the U.S. Constitution's equal protection clause barring gender-related discrimination.
"All of these things are giving this bill tremendous momentum," Beyer said. "I feel really good about where things stand."
Opposition to the marriage bill, coordinated last year by the National Organization for Marriage, is being spearheaded this year by the Maryland Marriage Alliance, a state coalition with ties to NOM.
"Special interest groups are pressuring politicians in Annapolis to redefine marriage in Maryland – despite the strong opposition of a majority of Maryland citizens," the group says on its website. "A large outcry throughout the state convinced our elected officials last year to reject this drastic action, but the threat is raising its head again," the web message says.
The group is calling on Marylanders to send contributions to support its effort to oppose the marriage equality bill and to "protect" marriage as a union of "one man and one woman."
It has announced plans for a rally against the bill in Annapolis early this year and is encouraging churches to call on their congregations to oppose the bill on a regular basis during Sunday sermons.
Supporters of the marriage bill say the approval of a similar bill by the New York Legislature last year, under the strong leadership of New York's Democratic governor, Andrew Cuomo, would also help the effort in Maryland.
Leaders of Marylanders for Marriage Equality, including HRC officials involved with the coalition, have yet to disclose their views on possible changes in the wording of the Maryland bill. But speculation has surfaced that O'Malley and supportive lawmakers in the legislature might follow Cuomo's decision to add a new provision to expand the bill's exemption for religious organizations.
Cuomo reportedly persuaded some wavering lawmakers to support the New York marriage bill by agreeing to add a provision that allows religious organizations other than churches, including some businesses, to refuse to rent their facilities or provide services, such as catering or the sale of wedding gowns, for same-sex marriages.
Gay rights groups that had been opposed to such exemptions went along with Cuomo's backing of the exemptions.
When asked about a possible broadening of the religious exemption provision of the Maryland marriage bill, Nix, the spokesperson for Marylanders for Marriage Equality, said only, "Governor O'Malley is committed to ensuring that religious institutions are protected under Maryland law."
Equality Maryland, meanwhile, announced this week a series of events and activities it will sponsor to push for the marriage bill. Among them are nightly phone banks staffed by volunteers across the state; a Feb. 1 prayer breakfast and Clergy Lobby Day in Annapolis; and a Feb. 13 lobby day in Annapolis in which LGBT advocates from across the state will visit their representatives to urge support for the marriage bill.
"Equality Maryland will also work with Gender Rights Maryland to pass a bill that will add protections in existing anti-discrimination laws for transgender individuals," according to a statement issued this week by Equality Maryland.
Pride flags vandalized, stolen in Loudoun County town
'Bigoted efforts to terrorize members of our community will not stand'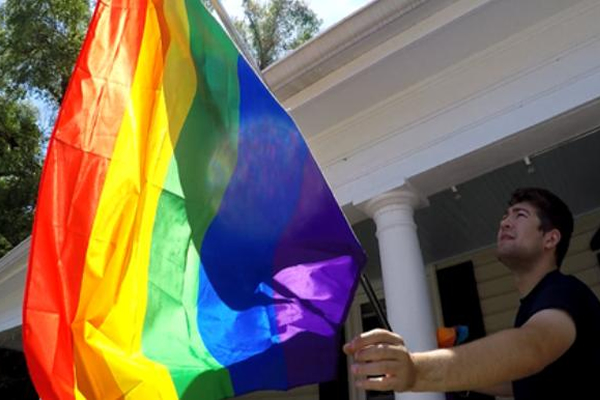 Vandals this week destroyed or stole Pride flags that Lovettsville residents had displayed on their homes.
Calvin Woehrie told WUSA the vandals used a blade to slash the Pride flag that was hanging from his house. The D.C. television station reported the vandals also targeted Woehrie's neighbors who are a lesbian couple with four children.
The Loudoun County's Sheriff's Office said the vandals damaged five Pride flags from three homes and they stole two more. A spokesperson for the Loudoun County's Sheriff's Office told WUSA the vandalism is being investigated as a possible hate crime.
"I wanted to address events that happened over the weekend, that are deplorable and devastating to the entire community," said Lovettsville Mayor Nate Fontaine in a letter he sent to town residents on June 16. "Over the weekend, there was destruction of property that specifically targeted our LGBTQ community. To make this even more heinous is that the destruction of property was done during Pride Month. To have property destroyed targeting members of our community is horrible and can be frightening for those targeted."
"For the individuals who committed these crimes, know that your bigoted efforts to terrorize members of our community will not stand," added Fontaine. "We are working closely with the Loudoun County Sheriff's Office and this has also been added as an agenda item for our June 24th Council meeting."
Glenn Youngkin, the Republican nominee to succeed Virginia Gov. Ralph Northam, on Saturday described the vandalism as "absolutely unacceptable."
"Whether someone is voicing an opinion or flying a flag, as Virginians — and as human beings — we must be respectful of one another," wrote Youngkin in a Facebook post.
"Politicians always seem to be pitting neighbor against neighbor, but I am committed to bringing people together around our shared values, like treating others the same way you want to be treated," he added. "We must all do better by respecting others' right to live their lives freely, without being targeted because of who they are."
WUSA reported Lovettsville residents bought Pride flags to replace the ones that had been vandalized and stolen.
Transgender man murdered in Va.
EJ Boykin was shot outside Lynchburg store on June 14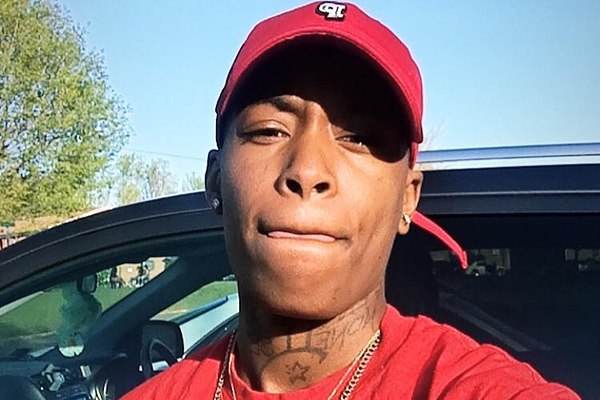 A transgender man was murdered in Lynchburg, Va., on June 14.
The News and Advance, a local newspaper, reported EJ Boykin, who was also known as Novaa Watson, was shot outside a Family Dollar store on the city's Fort Avenue at around 6 p.m. Boykin passed away at Lynchburg General Hospital a short time later.
A spokesperson for the Lynchburg Police Department told the News and Advance the shooting may have been the result of a domestic dispute. Authorities added there is no evidence to currently suggest the shooting was a hate crime based on Boykin's gender identity.
Pittsburgh Lesbian Correspondents reported Boykin was born and raised in Baltimore and was a student at Morgan State University. The blog said Boykin celebrated his 23rd Birthday on June 10, four days before his murder.
Tori Cooper, the director of community engagement for the Human Rights Campaign's Transgender Justice Initiative, in a statement notes Boykin is the fifth trans man reported killed in 2021. HRC notes at least 29 trans or gender non-conforming people are known to have been murdered so far this year.
"The level of fatal violence we've recorded this year is higher than we've ever seen," said Cooper. "All of these individuals deserved to live. We must strike at the roots of racism and transphobia, and continue to work toward justice and equality for trans and gender non-conforming people."
Comings & Goings
Jarvis lands lead consultant role at Meridian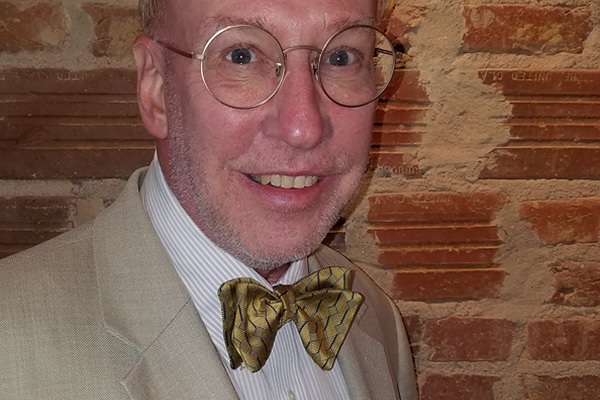 The Comings & Goings column is about sharing the professional successes of our community. We want to recognize those landing new jobs, new clients for their business, joining boards of organizations and other achievements. Please share your successes with us at: [email protected].
The Comings & Goings column also invites LGBTQ+ college students to share their successes with us. If you have been elected to a student government position, gotten an exciting internship, or are graduating and beginning your career with a great job, let us know so we can share your success.
Congratulations to Ted Jarvis on his new position as Lead Consultant with Meridian Compensation Partners, in D.C. He will work on executive compensation, governance research and development. When asked for a response to news of his new role, Jarvis told this story: "I was on the prowl for a new job, I contacted the CEO of Meridian, who worked closely with me during our years at Towers Perrin. After half an hour on the phone, he asked: 'Send me a list of things you really like to do.' I followed up with a list of activities that continually engage my interest. Within a few days he mailed me a job description that reiterated my list almost word-for-word. I feel truly blessed to have a job so aligned with what I enjoy doing. This is going to be great."
Prior to working for Meridian, Jarvis worked as Managing Director with Main Data Group in D.C. and Wilton Manors, Fla. He has also worked as Global Director of Executive Compensation Data, Research & Publications, Mercer, in D.C.; principal with Willis Towers Watson; and as a research consultant with McKinsey & Company. Jarvis is a member of the Lotos Club (New York); a benefactor at Drew University (Morristown, N.J.). He funded two undergraduate prizes (Wettstein Drama Prize; Norton Wettstein and Jane Brown Memorial Prize for Outstanding Academic Achievement); a benefactor, Woodmere Art Museum (Philadelphia): funded William Joseph Coverley-Smith Prize, awarded annually at the Juried Art Competition; and a benefactor, St. Thomas's Episcopal Church (Rochester, N.Y.).
Jarvis earned his MBA from The University of Chicago, Booth School of Business; his bachelor's (cum laude); his Ph.D. (ABD) major in music history, literature and theory from NYU. He earned a Fulbright Scholarship to the University of Vienna.