Maryland to take up marriage, trans bills
Lawmakers return next week; supporters plan Feb. lobbying events

Bills calling for legalizing same-sex marriage and banning discrimination against transgender persons are among the hot-button issues set to emerge next week when the Maryland State Legislature begins its 2012 session.
Officials with an expanded coalition backing the marriage bill and a new transgender advocacy group leading the effort on behalf of the Gender Identity Non-Discrimination Act say they are hopeful that the legislature will pass both measures before it adjourns for the year in April.
"It's all hands on deck with both bills," said Carrie Evans, executive director of the statewide LGBT group Equality Maryland. "We're talking to many lawmakers, including Republicans."
Evans and others working on the two bills were cautious about predicting when leaders of the Maryland Senate and House of Delegates will bring the measures up for a vote, saying control over the timing of the bills was exclusively in the hands of the lawmakers.
Supporters were also cautious about disclosing strategy for defeating an expected voter referendum that experts say will almost certainly be brought before the electorate in November – in the midst of the U.S. presidential election – if the Maryland Legislature passes a marriage bill this spring.
Public opinion polls show voters in the state are evenly divided over whether to vote for or against same-sex marriage.
Under rules of the Maryland Legislature, the committees with jurisdiction over the bills must hold a public hearing on the marriage and gender identity bills, even though the two bills were the subject of lengthy and contentious hearings less than a year ago during the legislature's 2011 session.
The Democratic-controlled Senate approved the marriage bill last March in what supporters called an historic 25-21 vote. But the Democratic-controlled House of Delegates killed the measure for the year by voting to send it back to committee after supporters determined they were a few votes short of the 71 votes needed to pass it in the 141-member House.
In what some called an ironic twist, the House of Delegates passed the transgender bill last year before the Senate killed it by voting to send it back to a Senate committee. Senate President Thomas V. Mike Miller (D-Prince George's and Calvert Counties) reportedly orchestrated the decision to hold off on a Senate vote, saying a number of key supporters changed their minds and threatened to vote against the bill.
Shortly after the defeat of the marriage bill last year, supporters led by the Human Rights Campaign formed Marylanders for Marriage Equality, an expanded coalition of organizations with a track record of political clout with state lawmakers. Among the coalition partners are the NAACP of Baltimore, the Maryland ACLU, and the Service Employees International Union (SEIU). The National Gay and Lesbian Task Force, Equality Maryland and HRC are also members of the coalition.
Coalition spokesperson Kevin Nix of HRC has said each coalition partner brings unique skills and expertise to the lobbying effort on behalf of the marriage bill.
But coalition officials haven't disclosed which, if any, lawmakers who were uncommitted or against the bill last year have indicated support this time around.
"The good news and the bad news is the legislators are the same," said Mark McLaurin, a gay man who serves as political director for the Local 500 of the SEIU of Maryland.
He noted that having the same players is helpful to a degree because they are already informed on the marriage and transgender bills. But McLaurin cautioned that with no election taking place since the 2011 legislative session, it may be hard to line up the additional supporters needed to pass the bills.
"Quite frankly, despite the great work that's been done since the last session, I haven't heard very many announced conversions from no to yes," he said. "So in many respects I feel we're in the same place that we were."
Like others lobbying for the marriage bill, McLaurin said he is hopeful that Gov. Martin O'Malley's decision to include the marriage and transgender bills as part of his legislative package this year will provide an important boost for both measures.
McLaurin, a former board member of Equality Maryland, criticized LGBT advocates and supportive lawmakers last year for their decision to withdraw the marriage bill from the House rather than bring it up for a vote. He said a vote would have helped in the lobbying efforts this year by identifying for certain where lawmakers stand on the marriage measure.
Other supporters disagree with that view, saying a vote last year would have forced wavering House members to take a position, possibly against the bill, making it more difficult for them to vote for it this year without being labeled as "flip-floppers."
Veteran transgender advocate Dana Beyer, executive director of Gender Rights Maryland, the newly formed statewide group, said a number of important developments since the transgender bill died in the legislature last year have given the bill "great momentum" this year.
Among the developments are O'Malley's strong endorsement of the bill and his pledge to make it one of his legislative priorities, said Beyer. She noted that O'Malley responded, in part, to the flurry of publicity surrounding the beating of transgender woman Chrissy Lee Polis at a McDonald's restaurant outside Baltimore in April. The beating, which was captured on video taken by a McDonald's employee, created a national sensation and boosted support in Maryland for transgender non-discrimination legislation.
In two other developments, the Howard County, Md., legislature passed a gender identity non-discrimination bill in December and the Eleventh Circuit U.S. Court of Appeals ruled that same month that a transgender woman fired from her job in Georgia was protected from discrimination by the U.S. Constitution's equal protection clause barring gender-related discrimination.
"All of these things are giving this bill tremendous momentum," Beyer said. "I feel really good about where things stand."
Opposition to the marriage bill, coordinated last year by the National Organization for Marriage, is being spearheaded this year by the Maryland Marriage Alliance, a state coalition with ties to NOM.
"Special interest groups are pressuring politicians in Annapolis to redefine marriage in Maryland – despite the strong opposition of a majority of Maryland citizens," the group says on its website. "A large outcry throughout the state convinced our elected officials last year to reject this drastic action, but the threat is raising its head again," the web message says.
The group is calling on Marylanders to send contributions to support its effort to oppose the marriage equality bill and to "protect" marriage as a union of "one man and one woman."
It has announced plans for a rally against the bill in Annapolis early this year and is encouraging churches to call on their congregations to oppose the bill on a regular basis during Sunday sermons.
Supporters of the marriage bill say the approval of a similar bill by the New York Legislature last year, under the strong leadership of New York's Democratic governor, Andrew Cuomo, would also help the effort in Maryland.
Leaders of Marylanders for Marriage Equality, including HRC officials involved with the coalition, have yet to disclose their views on possible changes in the wording of the Maryland bill. But speculation has surfaced that O'Malley and supportive lawmakers in the legislature might follow Cuomo's decision to add a new provision to expand the bill's exemption for religious organizations.
Cuomo reportedly persuaded some wavering lawmakers to support the New York marriage bill by agreeing to add a provision that allows religious organizations other than churches, including some businesses, to refuse to rent their facilities or provide services, such as catering or the sale of wedding gowns, for same-sex marriages.
Gay rights groups that had been opposed to such exemptions went along with Cuomo's backing of the exemptions.
When asked about a possible broadening of the religious exemption provision of the Maryland marriage bill, Nix, the spokesperson for Marylanders for Marriage Equality, said only, "Governor O'Malley is committed to ensuring that religious institutions are protected under Maryland law."
Equality Maryland, meanwhile, announced this week a series of events and activities it will sponsor to push for the marriage bill. Among them are nightly phone banks staffed by volunteers across the state; a Feb. 1 prayer breakfast and Clergy Lobby Day in Annapolis; and a Feb. 13 lobby day in Annapolis in which LGBT advocates from across the state will visit their representatives to urge support for the marriage bill.
"Equality Maryland will also work with Gender Rights Maryland to pass a bill that will add protections in existing anti-discrimination laws for transgender individuals," according to a statement issued this week by Equality Maryland.
Bomb threat shuts down Takoma Park holiday drag show
MotorKat evacuated when Tara Hoot was performing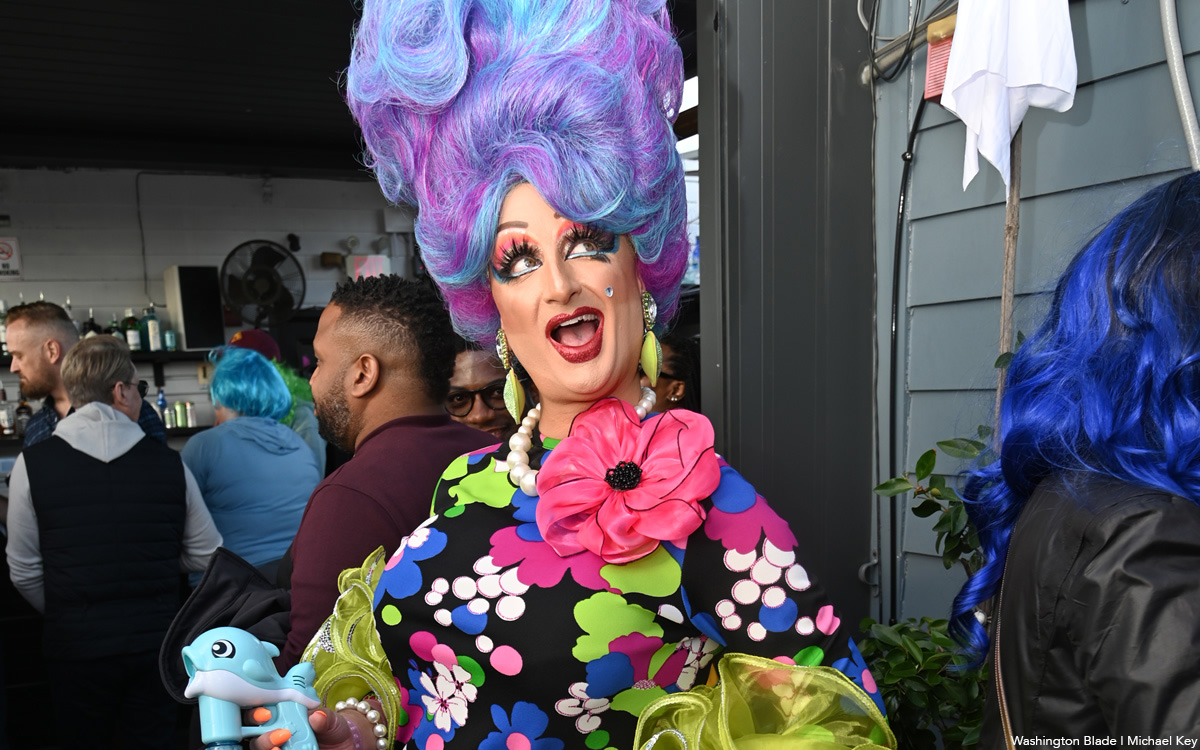 Police cordoned off a popular strip in Takoma Park on Saturday after a bomb threat shut down businesses, including a holiday performance by drag artist Tara Hoot.
MotorKat General Manager Mike Rothman told the Washington Blade that Takoma Park police notified them of a bomb threat to their business around noon.
Tara Hoot was delivering a holiday brunch performance at the MotorKat when the evacuation order came in.
Rothman said they were notified "five minutes into her final performance." Tara Hoot herself told the audience to leave for their safety.
Police proceeded to tape off the area and evacuated all businesses between Eastern and South Carroll Avenues, including TakomaBevCo, which is co-owned by MotorKat Wine Director Seth Cook.
Cook told the Blade that police brought in "bomb-sniffing dogs" to clear the area before allowing businesses to reopen around 2 p.m.
"The timing is unfortunate as this is one of the busiest weekends before the holidays," Cook said.
Rothman was also disappointed by the lost revenue due to what ultimately was a false threat, but he was firm that the Takoma Park LGBTQ community is resilient and would continue to thrive despite this setback.
"Takoma Park is a pretty proud and resilient community," he said. "I don't expect people to lay down and be scared by this."
MotorKat and TakomaBevCo reopened for business around 3 p.m.
Comings & Goings
Jimmy Alexander joins WTOP News as a feature reporter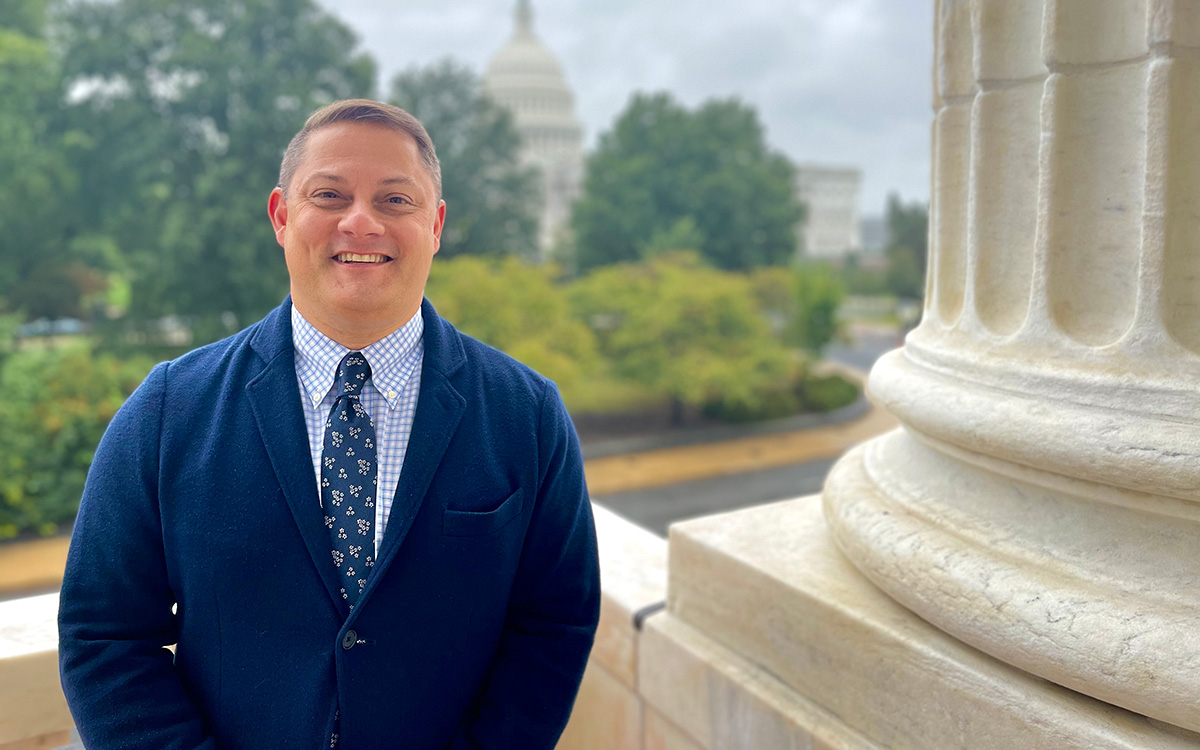 The Comings & Goings column is about sharing the professional successes of our community. We want to recognize those landing new jobs, new clients for their business, joining boards of organizations, and other achievements. Please share your successes with us at: [email protected]. 
Congratulations to Jimmy Alexander who has been hired at WTOP News as a feature reporter. Over the last four years Alexander has been covering stories as varied as the Jan. 6 insurrection to the 17th Street High Heel Race. He has been working as a co-host on the Jack Diamond Morning show on Cumulus Media, Manning Media. On his acceptance of the new position Alexander said, "I'm thrilled that at WTOP News, I will be able to focus on events and people that bring hope to your heart and a smile to your face."
Alexander is a versatile multimedia broadcaster with more than two decades of experience covering both major news events in Washington D.C., and important human-interest stories outside the Beltway. He is an engaging interviewer with a track record of having compelling conversations with the biggest names in government and show business, from presidents to Paul McCartney. Prior to this he worked as a freelance feature reporter with WDCW50-DC News Now. He is also with Writer-20, Twenty Country Countdown, United Stations Radio Networks. There he developed a concept for a countdown show featuring country music's weekly top songs on-air and online and prepared weekly scripts for a three-hour show.
Alexander conducted the only Jan. 6, 2021 interview with "The QAnon Shaman" Jacob Chansley. Since 2016, he has served by request of the D.C. mayor as official host of the 17th Street High Heel Race, the city's second largest LGBTQ event of the year. He is featured in the documentary "Joan Rivers: A Piece of Work," and is a frequent guest on CNN's Morning Show "New Day." He covered White House visits by Queen Elizabeth, the Pope, and the yearly Easter Egg Roll. He also won $10,000 on the game show "Pyramid."
LGBTQ University of Maryland students prepare to celebrate Hanukkah
Eight-day festival to begin Thursday night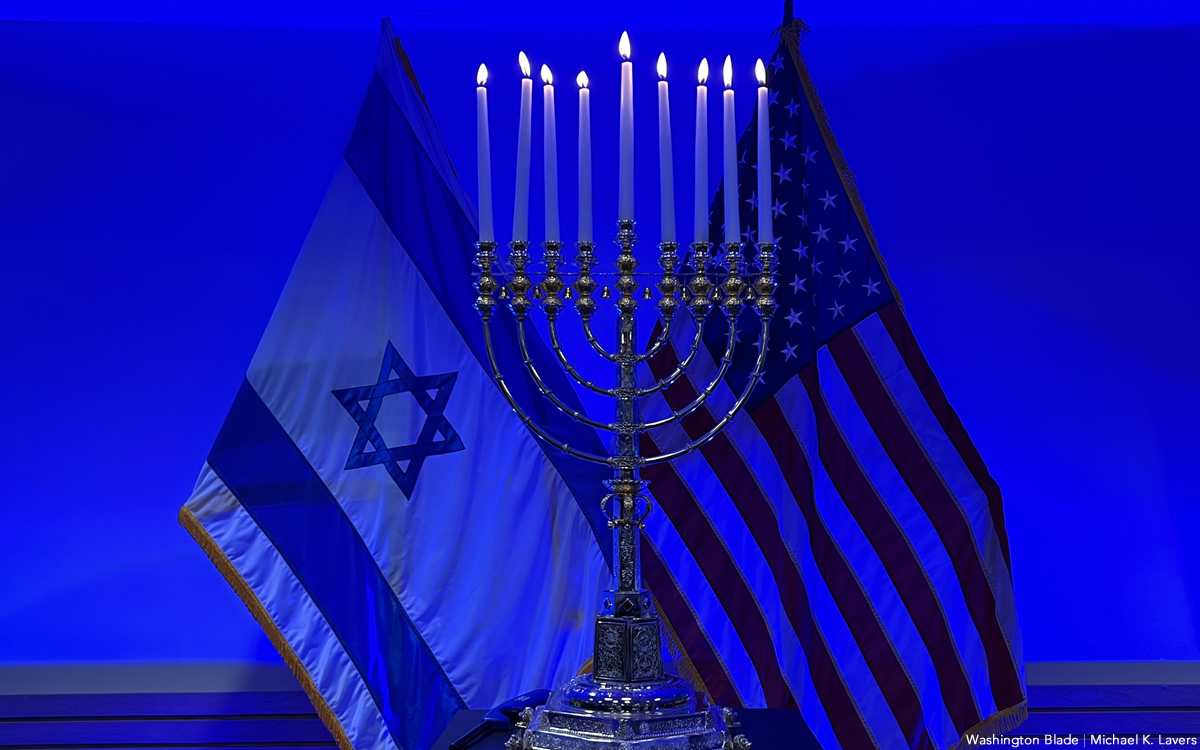 A number of Hanukkah events for LGBTQ students will take place at the University of Maryland this week.
Queer Jewish students and allies are welcome to attend Crazy Cozy Chill Chanukah Celebration on Sunday at the University of Maryland Hillel. Hamsa, home to queer Jewish life on campus, hosted a study break with hot drinks, snacks and games and a chance to welcome Hanukkah early. 
The first night of Hanukkah is Thursday.
Chabad UMD is hosting a menorah lighting on Thursday in front of McKeldin Library and plans to mention the war between Israel and Hamas, according to Rabbi Eli Backman of Chabad UMD. The event is going to be a focus on the positivity and the message of the Hanukkah story.  
"We've been around for thousands of years and all those who've tried to make sure that we didn't live to see the next generation (is) no longer here," Backman said. "That message will really resonate at home for the holiday."
The story of the Maccabees is one of the few stories where Jewish people fought, Backman said. In Jewish history, people don't see a military response in many of the other holiday moments.
"It should give us a boost of energy," Backman said. "A boost of strength (and) a boost of hope."
Part of the Hanukkah story's message is that Jewish people were in a position that they needed to form a military to secure their borders, Backman said. And they succeeded. 
For some, celebrating Hanukkah depends on the people they're around, Florence Miller, a sophomore English and Women, Gender and Sexuality Studies who is Hamsa's president, said.
Miller is agnostic and does not find themself to be a religious person, but the thing that has kept their Jewish faith is the people about whom they care are Jewish and the sense of community that comes from being Jewish.
"I just wanted to do a Hanukkah event," Miller said. "It's been a good refresher with how the semester has been."
Miller last year attended a Hanukkah party and played a game of dreidel, a spinning top with four sides marked with a Hebrew letter. The people who were in attendance wanted to bet something, but the only thing they could find were pinto beans.
"When I took them out of my pocket one got stuck in there," Miller said. "I still have that bean."
For some Jewish students it's important to go to Hanukkah events like Hamsa's celebration to be around like-minded Jewish people, Yarden Shestopal, a sophomore American Studies major, said.
"Which is why I like Hamsa," Shestopal said. "Since we're all queer people or allies we kind of share that mentality of acceptance."
Being part of the Jewish community at the University of Maryland has opened Shestopal up to how diverse the LGBTQ and Jewish communities are. Shestopal this year, however, debated whether or not to put his menorah up on the windowsill of his apartment because of the rise in anti-Semitism due to the war in Israel.  
"I'm pretty sure I am going to put the menorah in my window," Shestopal said. "The only way to combat anti-Semitism is to stay visible." 
Several University of Maryland students lived in Israel before or during their time at the university.
Elisheva Greene, a junior animal science major, went to seminary, a school for women to learn about Torah, during the pandemic. Greene said celebrating Hanukkah while a war is happening is going to be a similar feeling. 
"I'm able to do what I can from over here by supporting my family and friends," Greene said. "The biggest thing I can be doing is living my life as a Jewish person and showing that I express my Judaism and I'm not afraid."
Greene recalled they could not go more than 1,000 feet from home for two months and Hanukkah took place during that time. While it was difficult, Greene said people still put their menorahs on their windowsill.
"Knowing the resilience the Israelis have and the fact people like to show their Jewishness (is not) gonna stop me," Greene said. "Like there's a war going on but you're gonna be a Jew and you're gonna flaunt that."