January 5, 2012 at 10:00 pm EST | by Kathi Wolfe
Mind your manners for a more civil society
Recently, I jumped away from the spit gushing from a fellow Metro passenger; didn't say "I'm sorry" when, rushing to catch an Amtrak train, I nearly knocked over an elderly woman with my backpack; and narrowly ducked a woman begging me to accept her pamphlet offering tips on how I could "pray away" my sin (being lesbian).
Then there's the inescapable bickering of our politicians. Such lapses of civility can impact our life and community as much as any law. As tempting as it is to ridicule etiquette as being outmoded and frou-frou (who cares if we wear white before Memorial Day?), manners matter.  Perhaps, never more so, than in the midst of the great recession and an election year.
Two new books by two gay authors  – "Social Q's: How to Survive the Quirks, Quandaries and Quagmires of Today" by Philip Galanes, who writes the advice column Social Q's in the Sunday "New York Times," and "Would It Kill You to Stop Doing That: A Modern Guide to Manners" by Henry Alford, a writer and humorist – illuminate why courtesy and civility, far from being old-fashioned relics, are the fabric that keeps life running smoothly and with kindness.
Without this essential ingredient, we'd be like Neanderthals (with iPhones and Blackberries).  (Steven Petrow's "Complete Gay & Lesbian Manners: The Definitive Guide to LGBT Life," released in June covers everything from coming out to why your straight friend shouldn't say "dyke.")
It's possible to be self-righteous about civility. Alford writes about how he conducted an "experiment in retaliatory manners" in which he said he was sorry to people such as discourteous pizza parlor servers. (Their offense: they hadn't apologized to Alford for their rudeness.) But "reverse apologizing is usually as rude if not ruder than the incident that inspires it," Alford concluded at the end of the day.
Manners can be carried to a ridiculous extreme. Years ago, a co-worker videotaped me as I apologized to a desk after I'd bumped into it.
Yet few things are as important as how to politely (and kindly) decline a co-worker's Facebook friend request; break-up with a lover; fend off rude queries about one's income, health or sexual orientation; or escape from Aunt Matilda who's a Michele Bachmann fan. "No one cares about what fork we eat with what food," my friend Sybille told me the other day, "but we care about manners of the heart – about doing even unpleasant things with kindness."
Many questions and problems in our lives and in our society are hard (sometimes not solvable), from trying to eradicate poverty to understanding the situation in Afghanistan and Pakistan, Galanes wrote in his Times column on Nov. 4. "Still others are so complicated that we avert our eyes rather than take stock of them," he said, "… some questions simply defy explanations. When I was barely a man, just after college, my father took a shotgun from a locked closet in our basement and killed himself … How could he do such a thing?"
Over time, Galanes said he found himself drawn to "complicated questions with definitive answers … I would grapple with online daters, and 15-minutes-of-fame bridezillas – all in lieu of the questions that are simply too hard for us to answer."
We shouldn't give up on seeking marriage equality, fighting homophobia, coming to terms with our personal issues (whether it be the suicide of a family member, the loss of a spouse or other trauma) or any of the "complicated" questions.
But manners are important to this effort. With the presidential campaign swinging into full gear and different viewpoints struggling to co-exist in our country and in our LGBT community, civility is needed more than ever. Let's be mannerly and respectful to one another.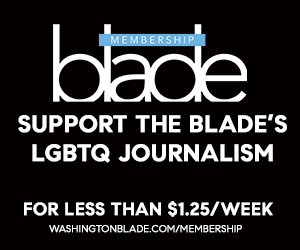 Sign Up for Blade eBlasts