A melodic farewell
Locals lament closure of Dupont Circle record shop

With the rising popularity of downloading music from places like iTunes and online stores like Amazon, more and more record stores are closing, surrendering to the convenience of not having to leave the house to get both new and old albums.
Melody Records, an institution in Dupont Circle since the late '70s, is just another casualty in that unfortunate trend. Local gays are lamenting its impending closure. It was always popular with Blade readers — it won several "Best of Gay D.C." awards in the early '00s, which still hang in the store above the new releases.
"Melody Records was one of my first discoveries when I moved to D.C. more than 11 years ago," Michael Collins, a gay D.C. resident, says. "I stopped there about once a week, sometimes more often than that, and I seldom left empty handed."
The owners, Suzy and Jack Menase, opened the store in 1977 before moving to Dupont two years later after having to vacate their previous location on E Street when developers wanted to redevelop the area.
"We just found Dupont Circle to be a busy area and thought it would be a good location for us," Suzy Menase says.
They've been in the business so long, they've always tried to stay on top of things, and seen all the trends come and go, then come again.
"It's been like a full circle. We started with vinyl and now we're ending with vinyl," Suzy says. "It's neat to see young kids coming in … they're not excited about CDs but they're excited about vinyl."
"I think the sound quality that they heard made it very attractive," Jack Menase says.
The store has always held a wide selection of genres, including large sections of seemingly less popular genres such as opera, new age and more.
"The opera queens would squeal while the uber cool disco boys looked for the German imports of what would later be called 'industrial' in the specialty bins," says Stephen Yasko, general manager of WTMD 89.7 in Baltimore.
The Menases have always worked to make sure they have a full selection with a little bit of something for everyone.
"If we don't have it in stock, we order it for them," Jack Menase says.
"With CDs, if you can't sell something, you can return it," Suzy says. "It's not one person deciding what we carry."
The Menases announced they were closing through a letter on their website, saying, "technology, the internet and the economy has taken its toll."
"In the past two or three years, sales have been declining … we saw it coming, but we were just trying to hold on," Suzy says. "We have such a strong, loyal customer base, we wanted to stay as long as possible."
They both remember a time when there was an abundance of record stores in the D.C. area that all survived until the early 90s.
"One by one, everybody closed down," Jack says.
Being in Dupont, the store automatically became a favorite spot for gay customers.
"Where else could you run across a copy of Ethel Merman's disco album from the '70s?" Collins says.
Also, Lambda Rising — a gay bookstore and staple of Dupont Circle — used to be next door.
"We were very sorry to see them go," Jack says.
"Whoever came to them, whoever came to us went to them," Suzy says. "They were great neighbors to have."
Some music lovers continued to purchase CDs — at least in some genres — even into the digital music era.
"I loved Melody," says Kevin Lees, a gay Washington resident. "I still typically buy classical and sometimes jazz in physical CD format for the copious liner notes and anytime I was looking for something in particular, I would always look at Melody first as my contribution to local stores in the face of Amazon. I'm surprised it lasted so long and that it outlasted Lambda Rising but sadly, the record store is clearly destined to be a thing of the past."
There are a few members of the staff who have been working at the store for years, including a few who have been around for more than 10 years.
There are a lot of people who have been going to the store for years and some are even on a first-name basis with the Menases.
"They know my whole family and I know theirs," Suzy says. "It's not customers, they're family."
"I was heartbroken when I saw the going-out-of-business sign on the window," Collins says. "What a regrettable loss for Dupont Circle and for all Washington music lovers."
The shop is at 1623 Connecticut Ave., N.W. No firm closing date has been set. For now, it's open seven days a week from 11 a.m. to 8 p.m.
Drew Pisarra's 'dangerously funny and queerly inventive brain'
'You're Pretty Gay' shatters expectations and social mores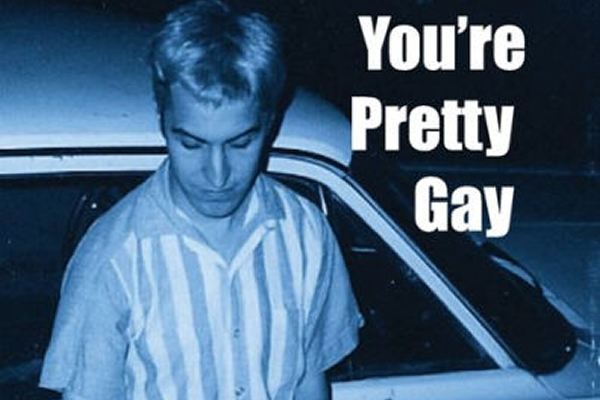 Is there anything more absurd than this, wondered gay poet and writer Drew Pisarra. Pisarra, then, was an assistant to a paralegal at a toothpaste company.
Fiercely protective of the pattern on its toothpaste, they wrote letters to rivals who, they felt, were infringing on their copyright.
Even when their competitors were in countries in the middle of a civil war, "They would write back, 'we can't respond now, we're in a war,'" Pisarra said.
But that didn't soften the heart of the toothpaste company. They'd insist that "this most important matter be dealt with as soon as the war ends," Pisarra said.
If you think that authors don't encounter the absurdity and grit of everyday life or that all writers do is drink coffee (or sip stronger libations) while looking at the sunset, you haven't met Pisarra.
Pisarra, 56, whose new short story collection "You're Pretty Gay" is just out from Chaffinch Press, has worked at everything from ventriloquism to domestic work.
The word "unique" is so hackneyed that it's a cliche to say it's a cliche. But there's no other way to describe "You're Pretty Gay."
This collection "is a prime example of Drew Pisarra's dangerously funny and queerly inventive brain," said Kevin Sampsell, author of "This Is Between Us." "Each story is its own performance, its own shattering of expectations and social mores."
Pisarra, who lives in Manhattan, gives readers a mosaic of wit, surrealism, sex, queerness, memory, mortality and self-discovery.
In "You're Pretty Gay," there are gay bars in New York and New Orleans.
You'll find everything from adolescent bullies fighting over a rare caterpillar to a character taking an AIDS test and, later, meeting up with Mrs. Claus.
"Mrs. Claus I didn't even know you were alive," says the narrator of "Arctic Chill." "I didn't even know you were real. I haven't received a gift from you or your husband in ten years."
Another of Pisarra's tales revolves around a trip to hell. "I love traveling," says the narrator of "The Hat from Hell, "I got this hat when I was in Hell back in 1992."
In "Granny," siblings gather after their mother's death. "All anyone could remember of her was that chair, how she sat in it for the last 40 years," Pisarra writes, "immobile as 'Jeopardy' and the 'Wheel of Fortune' glared at her night after night."
Pisarra's characters yearn to find love, sex, and who they really are.
"In my quest to bed mankind, I tended to avoid perfection's rejection," says the narrator of "Every Man for Myself."
Pisarra, whose first short story collection "Publick Spanking" was published in 1996, was born in Orange, N.J. When he was in the third grade, he moved to Maryland. There, except for living in Oxon Hill for a year, he grew up in Silver Spring.
When Pisarra was growing up, being gay wasn't even remotely on the horizon. "There was such denial in the culture then," Pisarra said.
From early on, he had feelings for men. "I had a crush on a boy in kindergarten," Pisarra said.
He consulted books and a priest, which wasn't helpful. They said he'd grow out of it.
"As a teenager, I recognized that I hadn't outgrown it," Pisarra said.
Pisarra was a college freshman when he came out. "I sobbed the night I came out," he said.
He was out in college, Pisarra said, "but I wasn't getting laid." That changed when he moved to New Orleans after college.
Pisarra graduated from Hofstra University in 1987 with a bachelor's degree in theater.
In college, a professor had the students sit in a circle. Then, the teacher told them how she thought they'd be cast.
"She told me, 'you're a grotesque,'"Pisarra said, "'You won't work until you're in your fifties. Because your face and body don't match.'"
Pisarra was relieved to hear this. His sense of relief was related to being a young gay man in the late 1980s.
"I wasn't interested in being closeted," Pisarra said, "I wrote. I wanted to perform. I wasn't interested in conforming."
Since then, Pisarra has been creating – performing and writing his own material. Some of the stories in "You're Pretty Gay" were originally created for the stage.
"I don't write that often," Pisarra said, "I started writing the stories in 'You're Pretty Gay' 20 years ago."
A prodigious reader, Pisarra has always "written to some degree," he said.
Pisarra got turned on to writing poetry when he went to a meeting of a gay and lesbian writers group.
"There were, like, 10 people in this apartment," Pisarra said, "there was a terrible woman sitting next to me."
He would have dropped out of the group, if he hadn't met writer Mare Davis, now his close friend.
"I said to her, 'I never want to see any of these people again except you,'" Pisarra said, "She inspired me to get into poetry."
Davis wrote the introduction to Pisarra's poetry collection "Infinity Standing Up" (Capturing Fire Press).
Released in 2019, the volume of sexy, playful sonnets received glowing reviews from the Washington Post, the Blade and other outlets.
"Devour me! Think me not some crazy nut!," Pisarra writes in one of his sonnets.
With lines like these, he gives Shakespeare a run for his money.
Pisarra has held a variety of jobs – many of which have involved the arts. He has helped homeless people with mental health issues to find housing.
"I ran a writers group for them," Pisarra said, "I encouraged a super-talented woman to send her work out."
The woman and Pisarra submitted their work to the same magazine. "Her work was accepted. Mine wasn't," he said, "I was thrilled!"
In an unusual career twist, Pisarra, who received a literary grant from the Café Royal Cultural Foundation, toured a ventriloquist act entitled "Singularly Grotesque." He created the act after the Portland Institute for Contemporary Art commissioned him to develop a new solo piece.
"I was wandering around the library aisles and I found two (self-help) pamphlets on talking with 'multiple' selves,'" Pisarra said, "and I thought this is ventriloquism in a nutshell."
Pisarra hadn't watched much TV. But that didn't keep him from interviewing with AMC to be its director of digital media.
"I thought why not," Pisarra said, "it would be a chance to see what else is out there in the world."
He worked on the websites for "Mad Men" and "Breaking Bad." "It was a pleasure to be part of the online team for these cultural phenomena!" Pisarra said.
With Molly Gross, Pisarra co-founded Saint Flashlight. In this project, he and Gross find inventive ways to get poetry into public spaces.
One of the project's most innovative efforts has been putting haiku on movie marquees. It's fun to see people, looking up, counting the syllables, Pisarra said. You sweat when you put the letters up on the marquee, he added.
"It's part of the fun! It makes you feel like you're making something matter," Pisarra said.
He doesn't want poetry to be confined to "The New Yorker." "It should push the envelope," Pisarra said, "It's not just for the upper crust."
Calendar: July 23-29
Events in the week to come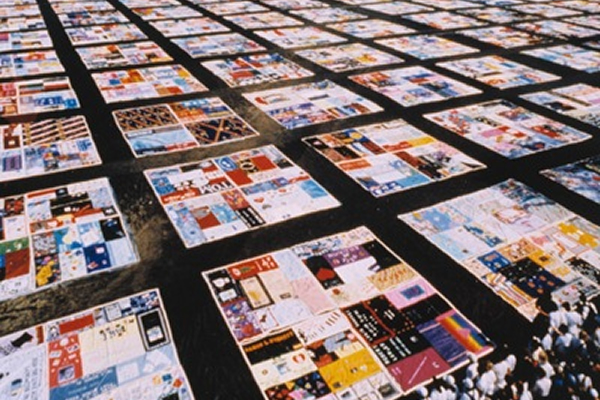 Friday, July 23
Friday Tea Time and social for older LGBTQ adults will be at 2 p.m. on Zoom. You are welcome to bring your own beverage. For access to the Zoom link, email [email protected].
"Trans Support Group" will be hosted on Zoom at 7 p.m. This event is intended to provide emotionally and physically safe space for transgender people and those who may be questioning their gender identity/expression to join in community and learn from one another. All who identify under the trans umbrella or are unsure, and seek to continually reinforce principles of respect, acceptance, and protection through ongoing input from our attendees are welcome.
Saturday, July 24
The "Gay District Meeting" will be at 8 p.m. via Zoom. Gay District is a community-based organization focused on building understanding of gay culture and personal identity, awareness of community events and civil rights for gay, bi, trans, queer, questioning and inter-sexed men between the ages of 18 and 35 in the D.C. metropolitan area. For more information, visit gaydistrict.org. 
Join the DC Center in volunteering at Food & Friends from 9 a.m. to 12 p.m. at 219 Riggs Road, N.E. Food and Friends prepares and delivers meals and groceries to people living with HIV, cancer, and other life challenging illnesses. Up to five volunteers are needed every month. If you need a ride from the Fort Totten Metro, call the Food and Friends shuttle at 202- 669-6437.
Sunday, July 25
"Crafternoons with Shop Made in DC!" will be at 12 p.m. at 1353 Wisconsin Ave., N.W. Guests are encouraged to bring a project or come and make one at Shop Made in DC's classroom table. There will be various art supplies available. For more information, visit Eventbrite.
Monday, July 26
The Center Aging Coffee Drop-in will be at 10 a.m. at the DC Center. LGBT Older Adults and friends are invited for friendly conversations and current issues that you might be dealing with. For more information visit Center Aging's Facebook or website.
Tuesday, July 27
Join Center Faith for Intersectional Faith Forums at 7 p.m. online. In this Forum, attendees will hear from panelists who participated in the LGBT history event "Stepping OUT on Faith" in 2014. These pioneers will speak about their interfaith spiritual experiences of the AIDS Memorial Quilt of the Names Project Foundation displayed on the National Mall 1987 that led to establishing Center Faith. For more information, visit Center Faith's Facebook page.
Genderqueer DC support group will be on Zoom at 7 p.m. All those who identify as bigender, agender, genderfluid, or are not 100% cisgender are welcome to attend. For more information visit genderqueerdc.org or Genderqueer DC's Facebook. 
Wednesday, July 28
Join the DC Center for its virtual job club, a weekly job support program to help job entrants and seekers, including the long-term unemployed, improve self-confidence, motivation, resilience and productivity for effective job searches and networking. The event begins on Zoom at 6 p.m. For more information, email [email protected]. 
Friendship Place's LGBTQ+ will host the final session of a free webinar series titled "Advocacy, Resistance, and LGBTQ+ Resilience" at 12 p.m. This event will be a panel conversation focused on the vital work of advocacy and resistance to ensure access and rights for the LGBTQ+ community. The panel will also touch on the importance of self-care in the work of advocacy and resilience that comes from community. For more information, visit capitalpride.org.
Thursday, July 29
"Queer Book Club" will be at 7 p.m. via Skype. This month's book discussion will be "Black Boy Out of Time" by Hari Ziyad. If you are interested in participating, please email [email protected]. 
The Mayor's Office will host a "Veterans Roundtable" on Thursday, July 29 at 12 p.m. This event aims to connect the District's veterans with information, resources, and organizations that may be beneficial to a successful military transition.
It will be an informal discussion that revolves around varying topics including housing, employment, healthcare, and legal services. Upon conclusion of the discussion, all resource providers in attendance offer feedback on any topics discussed or how they can assist the veteran or their family in a positive capacity.
The event will be hosted in person and will highlight BIPOC Veteran Mental Health Awareness with speakers from the DC VA Medical Center. For more information, visit Eventbrite.
Meet Theater J's new managing director
David Lloyd Olson strives to create equitable, inclusive space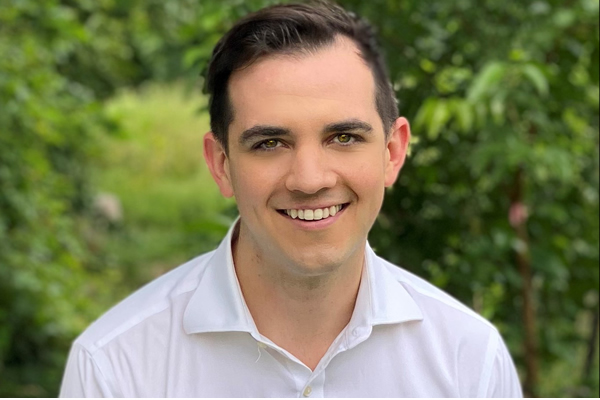 Beginning in mid-August, David Lloyd Olson will be Theater J's new managing director. As such, he's charged with getting butts in seats, but there's more to it than that. He explains via phone from Puerto Vallarta, Mexico, where he was vacationing last week, "My goal is to create a space that's equitable, inclusive, and everyone is supported with the resources they need to create the best art possible in their current circumstances that means I'm doing my job well."
Housed in the Edlavitch DC Jewish Community Center (EDCJCC) on 16th Street in Dupont Circle, Theater J, the nation's largest and most prominent Jewish theater, is slated to reopen in late September. While new hire Olson will focus on financial matters and marketing, veteran artistic director Adam Immerwahr is responsible for what happens on stage. Neither of the co-executives reports to each other but rather to EDJCC's CEO Dava Schub. "It's a leadership model that works," says Olson, "because you don't have the business leading the arts."
Olson likes Schub's vision for creating safe space at EDCJCC for LGBTQI+ and people of color, especially Jews of color, and her belief that more energy is made when a company is housed in a community center. "It meshes with my idea of what a theater should be more than a transactional relationship, but rather creating dialogue with community and using the platform – literally our stage – to participate in the conversation with the community."
Additionally, Olson's getting on board with Theater J allows for a geographical reunion with his husband Jonah Richmond. Over the last two years, Olson has been managing director at Quintessence Theatre Group in Philadelphia while Richmond has remained at the couple's place in D.C. and worked at EPA. Olson says "Philadelphia was a great experience but it was tough going back and forth. It's good to be home."
Olson's career has been mostly Washington area-based, and his vitae boasts stretches at GALA Hispanic Theatre, Arena Stage, the Shakespeare Theatre Company, and Pointless Theatre.
While at University of Maryland, he spent a lot of time making theater with fellow theater majors. Olson was curious how to lift fellow artists and identify resources that would assist them in reaching their greatest potential.
He was interested in directing, acting, and puppetry (UMD is Jim Henson's alma mater). After scoring a terrific success performing in the Fringe Festival with "Sleeping Beauty: A Puppet Ballet," a beautiful, well received piece, he became part of the Pointless Theatre where he took on the role of managing director, producer, and nonprofit administrator.
With puppetry, the work speaks for itself. If the puppeteer is doing their job expertly, they fall away and the puppet takes center stage. Similarly, very much of what Olson does as managing director is behind the scenes — essential to the production taking place, but audiences don't see him.
Growing up in the suburbs of Atlanta, young Olson was part of a Jewish community that frowned on his sexuality. He later found acceptance at Adas Israel Congregation, the Washington synagogue where he married his husband in 2014.
As a kid, he was encouraged to be as assimilated as possible. Despite being partly of Mexican ancestry, there was no Spanish spoken at home "It's reflective of the national conversation we're having now," he says. "Same goes with heteronormativity. The idea that the more you can pass as a straight white man, the more opportunities that come your way."
At Theater J, the job of storytellers is not to say one side or another is right but to tell the story of what it means to be Jewish, says Olson. Differences might include religious practices, ideology, and one's stand on Palestinian self-determination. But ultimately, he thinks, though divided, a community can remain unbroken.
Looking forward, Olson is eager to see Theater J's in-person, fall season opener "Becoming Dr. Ruth" starring Naomi Jacobson, a local actor he greatly admires, and staged by talented out actor/director Holly Twyford. He's also excited about Theater J's Yiddish Theater Lab dedicated to commissioning English translations and adaptations of Yiddish plays to be presented as readings and possibly productions.
In closing, he adds, "I pinch myself every day about how lucky I am to work in theater, to be among great artists and part of a community."