January 19, 2012 at 10:00 pm EST | by Phil Reese
National news in brief: Jan 20
Gay critics pick 'Weekend' as best film
HOLLYWOOD — The Gay and Lesbian Entertainment Critics Association announced the recipients of its third annual Dorian Awards this week, which included the much buzzed about film, "Weekend."
The British film about a brief love story won the top prize in the awards, given by a panel of 50 critics and entertainment journalists. Other honorees included AIDS chronicle, "We Were Here," television series "American Horror Story," and "Modern Family," and performances by Meryl Streep in "The Iron Lady," and Michael Fassbender in "Shame." Betty White was honored with a "timeless" actress award.
A tie in the "TV Musical Program" of the year was shared between "Glee" and "Lady Gaga Presents the Monster Ball Tour."
N.J. lawmaker under fire for anti-gay tweet
JERSEY CITY, N.J. — A New Jersey lawmaker has released a hasty apology after sending out an anti-gay tweet on Sunday, according to OutSports.com.
"We are not going to just lay down, we come to play," tweeted assemblyman and Jersey City police officer, Charles Mainor. "Who the hell do you think we are the DALLAS COWGIRLS OR THOSE GAYBIRDS FROM PHILLY…NO WE ARE THE NEW YORK GIANTS."
Mainor claims that a friend sat down at his computer, where he was logged into Twitter, and posted the message under his account.
"I have to take full responsibility because it was under my name," Mainor told The Star-Ledger on Monday. "I have no excuse, other than me not looking before he did send the post."
Trans candidate in bid for Fla. commission
ORLANDO, Fla. — Gina Duncan, a transgender woman who serves as the Orlando-area Metropolitan Business Association president, has decided to seek a seat on the Orange County Commission.
"I have been interacting with so many business owners and major corporations, and it showed me there's a need for new voice in Orange County government," Duncan said. "Someone who knows how to create a welcoming environment to attract corporations."
Illinois law targets 'cyber bullying'
SPRINGFIELD, Ill. — A law has gone into effect in Illinois that will allow school administrators to intervene in cases when one student is harassing or threatening another on the Internet, according to the Advocate.
LGBT students are often the target of 'cyber bullying,' which was brought to national attention in 2010 with the suicide of Rutgers freshman Tyler Clemente.
Illinois gay activists are also examining the possibility of expanding the state's civil unions law to allow for full marriage rights for same-sex couples. Since passage, organizations have expressed confusion over the law, including the Illinois Department of Revenue in the case of filing joint taxes, as well as employers offering spousal insurance benefits to employees in civil unions.
"I do not delude myself into thinking this will be an easy process. But we need to take the first step," said gay state Rep. Greg Harris, who believes the marriage legislation will not be introduced until 2013, at the earliest. "We have to be ready to stand up and defend the gains that we've made and to look toward the next steps," he told the Advocate.
As an example of the confusion over civil unions, the Springfield Joint Labor/Management Insurance Committee unanimously voted this week to offer spousal insurance benefits to employees in civil unions, reversing an earlier decision not to do so.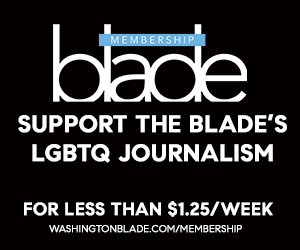 Sign Up for Blade eBlasts