Mixed reaction to Obama's SOTU address
LGBT policy initiatives absent from speech

President Obama called on Americans to work toward a brighter future during a State of the Union address on Tuesday that hit on issues ranging from the economy, foreign policy and the environment — but lacked any substantial mention of LGBT-related policy issues.
In his speech before a joint session of Congress, Obama urged cooperation as he laid out a series of policy initiatives aimed at bolstering the nation's standing both at home and abroad.
"As long as we're joined in common purpose, as long as we maintain our common resolve, our journey moves forward, our future is hopeful and the state of our Union will always be strong," Obama said.
On the economic front, Obama outlined a blueprint built on four pillars: manufacturing, energy, skills for workers and a renewal of values.
Among the initiatives he identified were doubling tax deductions for high-tech companies that make products in the United States; creating a Trade Enforcement Unit charged with investigating unfair practices in countries like China; and proposing a Veterans Job Corps to encourage communities to hire veterans as cops and firefighters.
Obama also said he'd continue his pledge to work toward deficit reduction and make sacrifices in programs like Medicare and Medicaid in exchange for making sure millionaires pay at least 30 percent in taxes.
"Now, you can call this class warfare all you want," Obama said. "But asking a billionaire to pay at least as much as his secretary in taxes? Most Americans would call that common sense."
Foreign policy was also a major component of the speech. Obama touted the death of Osama bin Laden under his watch and the end to the U.S. military presence in Iraq. The president also said he "will take no options off the table" in preventing Iran from obtaining nuclear weapons, although he prefers a peaceful resolution to the issue.
Coming off his decision to nix the Keystone Pipeline that would have carried oil from Canada to the Gulf Coast, Obama acknowledged environmental groups by calling for alternative energy development.
"I will not cede the wind or solar or battery industry to China or Germany because we refuse to make the same commitment here," Obama said. "We've subsidized oil companies for a century.  That's long enough."
But any reference to LGBT policy issues were absent from the speech. Obama only mentioned "gay" as part of a list of categories of people who could serve in uniform — a reference to  "Don't Ask, Don't Tell" repeal.
"When you put on that uniform, it doesn't matter if you're black or white; Asian or Latino; conservative or liberal; rich or poor; gay or straight," Obama said.
A mention of LGBT issues wasn't expected in the speech, although state advocates said an endorsement of marriage equality in the address could help with efforts to pass such legislation in Washington State and Maryland.
The president also faced calls to declare his intent to issue an executive order barring federal dollars from going to companies that lack LGBT-inclusive non-discrimination policies.
John Aravosis, who's gay and editor of AMERICAblog, said Obama could have gone further in his speech to address LGBT issues.
"I didn't really expect him to come out for marriage equality or even announce his support for an executive order on ENDA," Aravosis said. "But at the very least he could have, should have, mentioned 'Don't Ask, Don't Tell' and recognized the two lesbians invited to sit with the first lady. It was far more understated than I think it should have been."
The lesbians that Aravosis referenced were two guests that attended the speech in the first lady's box with Michelle Obama after receiving invitations from the White House. The president made no mention of them in his address.
Lorelei Kilker, a 31-year-old analytical chemist from Brighton, Colo., was among a class of women benefiting from the Equal Employment Opportunity Commission's investigation of alleged sex discrimination at her former employer, the Western Sugar Cooperative. In October, those who were involved in the case received an award of $550,000, which was achieved through a cooperative process between the employer and EEOC.
The other invitee was Air Force Col. Ginger Wallace, who's 43 and lives in McLean, Va. She's currently training to deploy to Afghanistan in the spring through the Afghanistan-Pakistan Hands program. The Blade reported in December on Wallace's partner Kathy Knopf participating in Wallace's "pinning-on" promotion ceremony.
Also in the address, Obama called for comprehensive immigration reform legislation and passage of the DREAM ACT, which would give young, undocumented immigrants a path to citizenship if they pursue military service or a college education.
"If election-year politics keeps Congress from acting on a comprehensive plan, let's at least agree to stop expelling responsible young people who want to staff our labs, start new businesses, defend this country," Obama said. "Send me a law that gives them the chance to earn their citizenship. I will sign it right away."
Steve Ralls, spokesperson for Immigration Equality, commended the president for reissuing his call for immigration reform, but said that vision should be inclusive of binational LGBT families.
"The president laid out an eloquent vision this evening of an America where everyone plays by the same rules, and shares the same opportunities and chances," Ralls said. "The tens of thousands of LGBT binational couples who live every day with the threat of separation, or are already separated or in exile, want nothing more than that."
Under current law, straight Americans can sponsor their foreign spouses for residency in the United States. That option isn't available to gay Americans seeking marriage-based green cards for foreign same-sex partners. Legislation known as the Uniting American Families Act would rectify this situation.
"It also time for the president to endorse, and call for the passage of, the Uniting American Families Act," Ralls said. "The administration has taken important steps forward in recent months, including exercising discretion to keep some couples together. We're prepared, and ready, to work with the White House to make that progress permanent, and pass UAFA, whether alone or as part of a comprehensive bill."
LGBT groups on the right and left responded to the State of the Union speech in accordance with their political views.
Chris Barron, chief strategist of the gay conservative group GOProud, said gay and straight Americans alike know that policies like those Obama advocates for in his speech have been a disaster for the country.
"Barack Obama used tonight's State of the Union to stoke the fires of class warfare," Barron said. "It is clear that this president fundamentally doesn't understand how jobs are created. Instead of taking responsibility for the failures of his presidency, he has instead decided to double down on his failed policies that will undermine our free market economic system that is responsible for making America the greatest country on the planet."
Barron was at the National Press Club during the State of the Union address with former Republican presidential candidate and former Godfather's Pizza CEO Herman Cain, who delivered the Tea Party response to the speech.
Jerame Davis, executive director of the National Stonewall Democrats, said Obama's speech was "a bold and clear vision for the future" and distinct from what he called the "tired and disproven schemes" advocated by Republican presidential candidates.
"Equality is a value at the heart of our movement and tonight, the president described a blueprint for America that is undeniably pro-equality — everyone should have an equal opportunity to succeed and everyone should pay their fair share," Davis said. "From a sensible and fair tax policy to rebuilding America's infrastructure, the president's blueprint for a lasting economy is exactly what our country needs to put millions back to work and make the American Dream a reality for generations to come."
Yet another national LGBT group urged Obama to continue work on his LGBT advocacy.
Rea Carey, executive director of the National Gay & Lesbian Task Force, said Obama should "urge his administration and Congress to work together to ensure that everybody — including lesbian, gay, bisexual and transgender people — have an opportunity to offer their unfettered best to America."
"This is a challenge right now, in a nation where the rich are getting richer and everyone else is struggling to tread water," Carey said. "Many families are hurting, and LGBT families are just as vulnerable to economic hardship. The fact is, the state of the union for LGBT people remains largely one of inequality. In many parts of the country, we can still be fired from or denied employment for simply being who we are, and marriage inequality relegates our families to second-class status."
U.S. orders 2.5 million more monkeypox vaccine doses
CDC has reported roughly 350 cases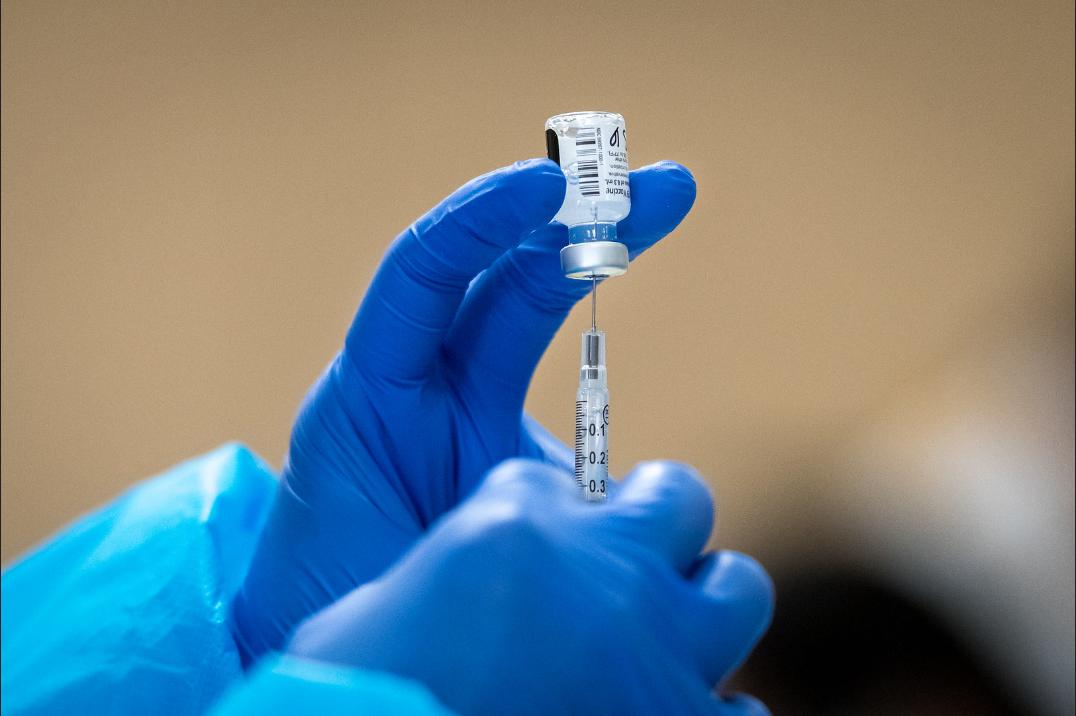 The U.S. Department of Health and Human Services announced Friday that it has ordered an additional 2.5 million doses of Bavarian Nordic's JYNNEOS, an FDA-licensed vaccine indicated for prevention of smallpox and monkeypox, for use in responding to current or future monkeypox outbreaks and as part of U.S. smallpox preparedness.
Deliveries from this latest order of the Bavarian Nordic's Jynneos vaccine will begin arriving at the Strategic National Stockpile (SNS) later this year and will continue through early 2023 HHS said in a statement.
"We are working around-the-clock with public health officials in states and large metro areas to provide them with vaccines and treatments to respond to the current monkeypox outbreak," said HHS Secretary Xavier Becerra. "This order of additional JYNNEOS vaccine will help us push out more vaccine quickly, knowing that we have more doses on the way in the coming months — and is only possible because of our longstanding investment in smallpox and monkeypox preparedness."
The order announced today is in addition to the 500,000 doses of government-owned vaccine the company is producing in 2022 for use in the current response to monkeypox in the U.S and brings the total vaccine doses to be delivered in 2022 and 2023 to more than 4 million.
The company will produce these doses in liquid frozen form using vaccine already manufactured in bulk under an existing 10-year contract with the Biomedical Advanced Research and Development Authority, within the HHS Office of the Assistant Secretary for Preparedness and Response; that contract was part of ongoing national preparedness efforts against smallpox.
"The medical countermeasures available to help respond to the current outbreak are the result of years of investment and planning made possible through the ongoing work between HHS and private industry," said Gary Disbrow, director of the Biomedical Advanced Research and Development Authority. "We are pleased that we have been able to work with our partners at Bavarian Nordic to accelerate delivery of vaccines that can help keep people safe and stem the spread of the virus."
BARDA supported the development of JYNNEOS, which is approved by the FDA to prevent smallpox and monkeypox. The U.S. government owns enough smallpox vaccine — JYNNEOS and ACAM2000 — to vaccinate millions of Americans, if needed.
As of June 24, ASPR's SNS held approximately 65,000 doses of JYNNEOS in immediate inventory with delivery of an additional 300,000 doses in the coming days. On June 28, HHS announced that it would immediately make available 56,000 doses and soon after would make available 240,000 additional doses. The SNS also has more than 100 million doses of ACAM2000 which was developed with SNS support and is approved by FDA for use in preventing smallpox. The Centers for Disease Control and Prevention currently has an expanded access Investigational New Drug protocol which allows use of ACAM2000 for monkeypox.
In addition, the SNS has over 1.7 million treatment courses of the smallpox antiviral drug TPOXX, which was developed with BARDA support and can be used to treat individuals with monkeypox under an appropriate regulatory mechanism. CDC currently has an expanded access Investigational New Drug protocol which allows its use for monkeypox.

As of June 29, the CDC has received reports of approximately 350 cases of monkeypox in the U.S., primarily among men who have sex with men.
To learn more about monkeypox, visit cdc.gov/monkeypox.
Florida 'Don't Say Gay' law goes into effect, impact already felt
LGBTQ youth, already at higher risk of depression, anxiety, & suicide than their peers, report their mental health being negatively impacted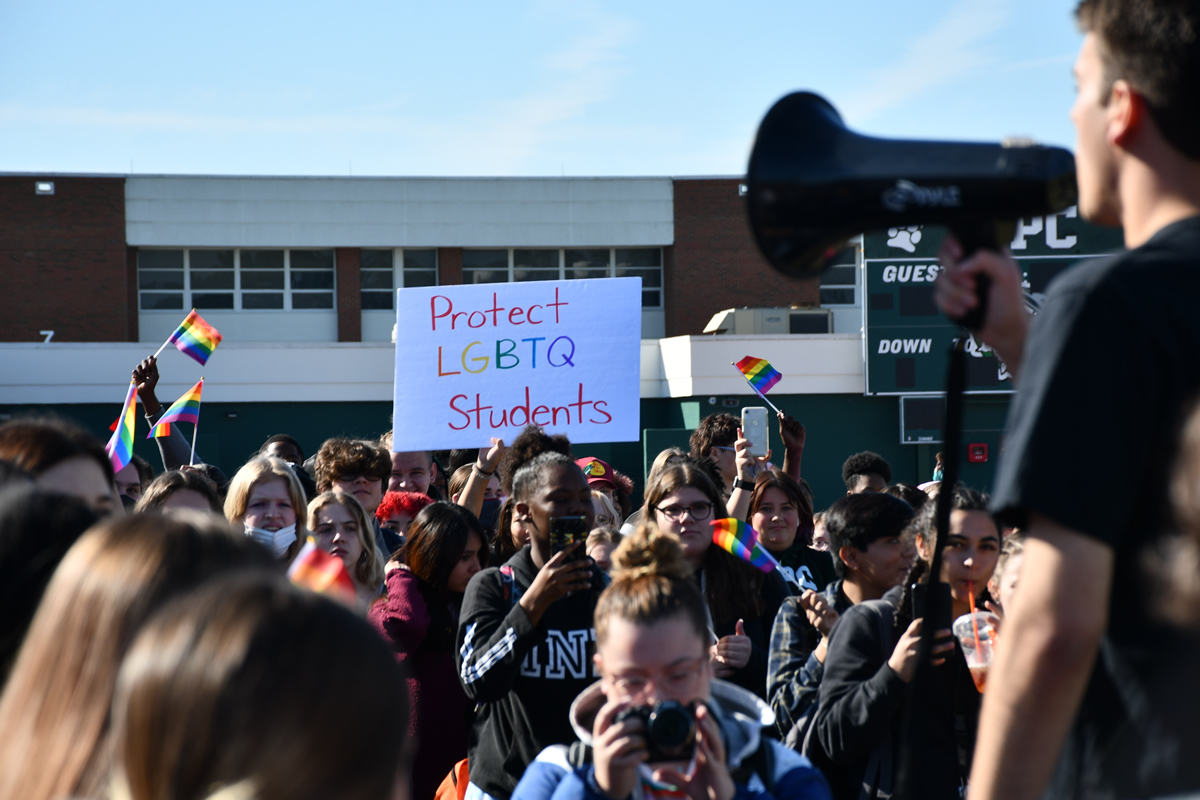 Florida's HB 1557, known as the Don't Say LGBTQ law, took effect today. The law, which bans classroom instruction on sexual orientation and gender identity in grades K-3 and restricts that instruction in grades 4-12, will immediately begin impacting efforts to make Florida classrooms more inclusive.
But its impacts have already been felt for months. Educators and school staff have shared the chilling effects they are experiencing across the state. Books with LGBTQ characters are being pulled from shelves. Rainbow "safe space" stickers are being peeled from classroom windows. LGBTQ educators are being asked to avoid speaking about their families. As the law officially goes into effect, these impacts will escalate.
In the same district, teachers in queer relationships are being advised to remove any family portraits. Staff can't even wear rainbow clothing.

We always knew what this was about, silencing LGBTQ+ people.

— Jack Petocz (@Jack_Petocz) June 28, 2022
"Since the inception of this hateful policy, lawmakers have assured the public that it would not lead to censorship or erasure of LGBTQ people," said Joe Saunders, Equality Florida Senior Political Director. "But our community has always known the truth. The Don't Say LGBTQ law has always been fueled by anti-LGBTQ animus and designed to further stigmatize the LGBTQ community, ban books about us, erase us from classrooms, and force us back into the closet. It is a bigoted and dangerous law that is making Florida less safe for students and families, and we will work tirelessly to see it repealed."
Throughout the legislative process, lawmakers scoffed at the suggestion that HB 1557 would have negative impacts on the LGBTQ community, even as they refused to clarify its dangerously vague language and prevent the eventual law from doing harm.
A bipartisan contingent of lawmakers offered up dozens of amendments to the bill, attempting to narrow its overly-broad scope and clarify the most vague components. These amendments came after assertions from their colleagues that the bill's intent was narrow. However, those reasonable amendments were rejected by bill sponsors Representative Joe Harding, Senator Dennis Baxley, and their allies, leaving its language broad and discriminatory.
As a result, the chilling effects were swift and sweeping. Across the state, censorship of LGBTQ lives began in earnest and has continued until today. In Palm Beach County, School Superintendent Mike Burke began by circumventing the district's material review process to remove multiple books featuring LGBTQ characters, citing concern about the implications of the Don't Say LGBTQ law. He followed the move in recent weeks by issuing guidance to educators across the district for them to remove books currently being challenged and place them "in a classroom closet" and scour their shelves for other titles that may include LGBTQ characters or mention topics like racism or oppression.
Growing up, I spent countless nights trying to change who I am. Praying to God I could wake up different, what I had preconceived as "normal."

Today, "Don't Say Gay" goes into effect, but I'll keep proudly expressing my identity, so no child feels lesser than or not worthy. ❤️ pic.twitter.com/3LzAIAjg1i

— Jack Petocz (@Jack_Petocz) July 1, 2022
Districts statewide have taken drastic steps in response to the Don't Say Gay law. Graduation speeches have been scrubbed of references to LGBTQ advocacy. Yearbook pages have had images of Don't Say LGBTQ walkouts blacked out. Conservative religious activists have successfully initiated challenges to dozens of books in multiple school districts. Rainbow-colored COEXIST banners and Pride flags have been stripped from school walls.
In total, LGBTQ+ equality rights advocacy group Equality Florida has received over 50 complaints of censorship aimed at the LGBTQ community since the bill was signed into law in March.
I wrote an OP ED for @nytopinion about my experience growing up gay and non-binary and how the #DontSayGay bill would effect people like me. https://t.co/UPjmtExjnu

— Will Larkins☮️ (@ProudTwinkie) March 12, 2022
Most recently, Orange County Public Schools garnered national attention after reports emerged that during seminars designed to discuss the potential implementation of the Don't Say LGBTQ law, school administrators were advised to begin removing rainbow "safe space" stickers from classroom windows, ask LGBTQ educators to remove family photos from their desks, and avoid talking about their loved ones at work for fear of running afoul of the new law. While exactly what advocates for equality had warned of, the revelation shocked educators across the district, who took to the next board meeting to express their deep concerns and demand written clarification.
All of these chilling effects come as LGBTQ youth, those already at higher risk of depression, anxiety, and suicidal ideation than their peers, report their mental health being negatively impacted by anti-LGBTQ policies and the debates that surround them. And they come amidst a surge in online harassment against LGBTQ people nationwide and threats of violence against LGBTQ spaces and Pride celebrations fueled by the dehumanizing anti-LGBTQ+ rhetoric launched by the DeSantis Administration in defense of the Don't Say LGBTQ bill.
In March, the governor's spokeswoman Christina Pushaw took to Twitter to traffic in age-old, anti-LGBTQ tropes to rescue the mired legislation, tropes that have since been parroted by Fox News hosts, right-wing influencers, and have exploded into the digital harassment and threats of violence running rampant across the country.
Equality Florida hosted a virtual press conference with lawmakers and those directly impacted on Friday morning. Those who have been impacted by the Don't Say LGBTQ law can share their stories at freetosaygay.org.
White House Press Secretary Karine Jean-Pierre released a statement as Florida's "Don't Say Gay" Law took effect Friday:
Today, some of Florida's most vulnerable students and families are more fearful and less free. As the state's shameful "Don't Say Gay" law takes effect, state officials who claim to champion liberty are limiting the freedom of their fellow Americans simply to be themselves. Already, there have been reports that "Safe Space" stickers are being taken down from classrooms. Teachers are being instructed not to wear rainbow clothing. LGBTQI+ teachers are being told to take down family photos of their husbands and wives—cherished family photos like the ones on my own desk.

This is not an issue of "parents' rights." This is discrimination, plain and simple. It's part of a disturbing and dangerous nationwide trend of right-wing politicians cynically targeting LGBTQI+ students, educators, and individuals to score political points. It encourages bullying and threatens students' mental health, physical safety, and well-being. It censors dedicated teachers and educators who want to do the right thing and support their students. And it must stop.

President Biden has been very clear that every student deserves to feel safe and welcome in the classroom. The Department of Education will be monitoring this law, and any student or parent who believes they are experiencing discrimination is encouraged to file a complaint with the Department's Office for Civil Rights. Our Administration will continue to fight for dignity and opportunity for every student and family—in Florida and around the country.
U.S. Supreme Court ruling allows Biden administration to end MPP
Trump-era policy placed LGBTQ asylum seekers at increased risk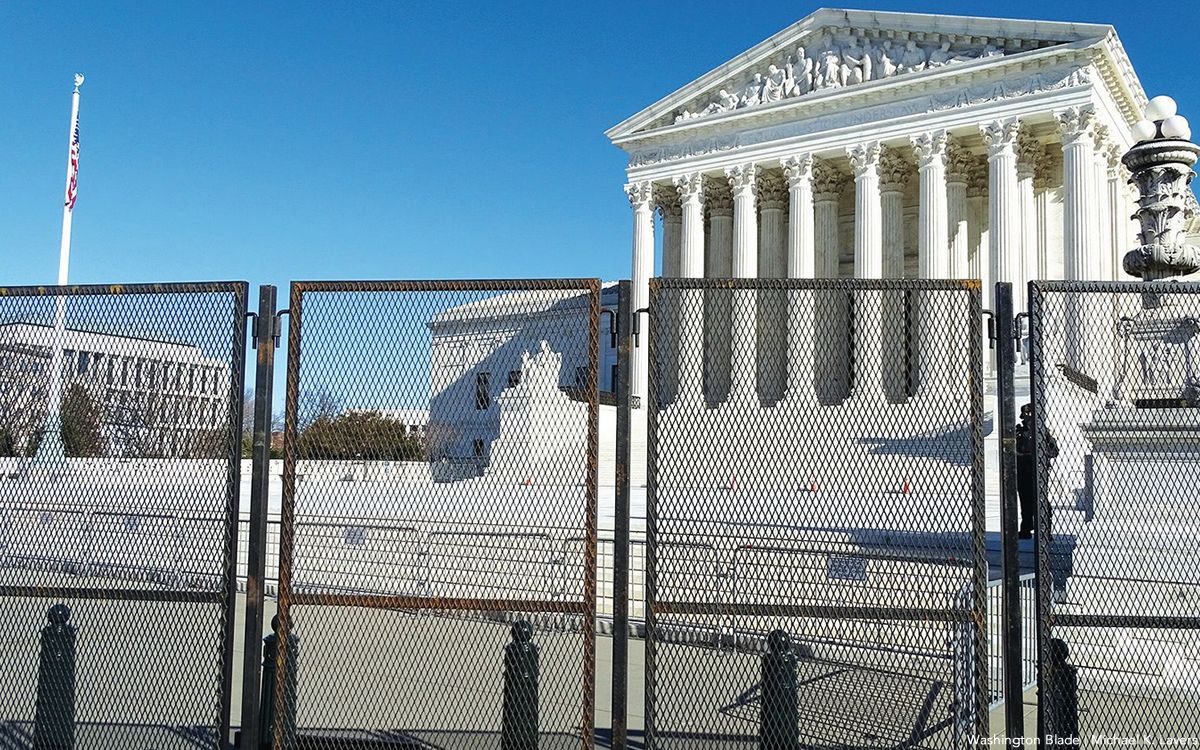 The U.S. Supreme Court on Thursday in a 5-4 ruling said the Biden administration can end a policy that forced asylum seekers to pursue their cases in Mexico.
The previous White House's Migrant Protection Protocols program, which became known as the "Remain in Mexico" policy, took effect in 2019.
The Biden administration suspended MPP enrollment shortly after it took office in January 2021. The program was to have ended six months later, but a federal judge in Texas ordered MPP's reinstatement after the state and Missouri filed suit against the Biden administration.
Thursday's ruling sends the Texas and Missouri case back to lower courts.
"As Secretary Mayorkas concluded in October 2021 after a thorough review, the prior administration's Migrant Protection Protocols (MPP) has endemic flaws, imposes unjustifiable human costs and pulls resources and personnel away from other priority efforts to secure our border," said the Department of Homeland Security in a statement. "We welcome the Supreme Court's decision affirming that the Secretary has the discretionary authority to terminate the program, and we will continue our efforts to terminate the program as soon as legally permissible."
U.S. Sen. Alex Padilla (D-Calif.) also welcomed the ruling.
"Today's Supreme Court decision correctly acknowledges the Biden administration's authority to end the unlawful and cruel 'Remain in Mexico' program," he said in a statement. "For more than three years, this horrifying policy has denied asylum seekers their right to due process and subjected them to crimes like rape, kidnapping and torture in northern Mexican border cities while they await their court hearings."
Advocates sharply criticized MPP, in part, because it made LGBTQ and intersex asylum seekers who were forced to live in Tijuana, Ciudad Juárez, Reynosa, Matamoros and other Mexican border cities even more vulnerable to violence and persecution based on their sexual orientation and gender identity.
[email protected] Coalition President Bamby Salcedo on Thursday told the Washington Blade the Supreme Court ruling "will certainly impact our community in a positive way."
"We know that people who have to remain in Mexico to wait continue to be victims of violence," said Salcedo. "This is definitely a step in the right direction and we're grateful that this happened in this way."
Emilio Vicente, communications and policy director of Familia: TQLM, an organization that advocates on behalf of transgender and gender non-conforming immigrants, echoed Salcedo.
"We're glad to finally have some good news from the Supreme Court after horrible rulings on abortions, climate change, Native American rights," said Vicente. "Ending 'Remain in Mexico' will allow LGBTQ+ asylum seekers who face increased discrimination and abuse during the journey to the U.S., to be able to seek asylum here."
Abdiel Echevarría-Cabán is a South Texas-based immigration attorney and human rights law and policy expert who the LGBTQ+ Bar in 2021 recognized as one of its 40 best LGBTQ lawyers who are under 40.
He told the Blade on Thursday the Supreme Court ruling is "a victory we must celebrate." Echevarría-Cabán also said MPP placed LGBTQ and intersex asylum seekers at increased risk.
"Refugees in general, but especially LGBT refugees, are extremely vulnerable to other type of harms such as kidnappings by cartel members, extortion, physical and psychological abuses from Mexican law enforcement authorities and third parties given the high levels of discrimination for LGBT refugees in Mexico," said Echevarría-Cabán.
The Supreme Court issued its ruling a day after the Justice Department filed charges against four people in connection with the deaths of 53 migrants who were found in the back of a tractor trailer truck in San Antonio.
The Biden administration in April announced its plans to terminate Title 42, a Centers for Disease Control and Prevention rule that closed the Southern border to most asylum seekers and migrants because of the pandemic. Title 42 was to have ended on May 23, but a federal judge ruled against the White House.
"This decision isn't the end of the fight for ensuring that people seeking asylum get asylum but it's an important step in protecting vulnerable people," Vicente told the Blade after Thursday's ruling. "President Biden must follow through on his commitment to end MPP and protect all asylum seekers."
Salcedo noted to the Blade the "system, as it is, particularly when it comes to trans women, needs to be completely changed so that we can be at a better place as a community." Padilla in his statement urged the Biden administration "to do everything in its power to swiftly end 'Remain in Mexico' once and for all."
"Misguided and inhumane Trump-era policies like 'Remain in Mexico' and Title 42 have only decimated an already broken immigration system," he said. "We must keep working to restore the lawful processing of asylum seekers at the border, in keeping with America's most deeply held values as a nation of immigrants."
The Department of Homeland Security in its statement notes Title 42 remains in place.
"The department also continues to enforce our immigration laws at the border and administer consequences for those who enter unlawfully, and will continue the court-mandated enforcement of the Centers for Disease Control and Prevention's Title 42 public health order," it reads.