O'Malley signs marriage bill
Same-sex couples, gay law makers join jubilant supporters in ceremony at State House
With a crowd of same-sex couples and the eight openly gay and lesbian members of the Maryland Legislature standing behind him, Maryland Gov. Martin O'Malley Thursday afternoon signed the Civil Marriage Protection Act, which calls for legalizing same-sex marriage in the state.
House of Delegates Speaker Michael Busch (D-Anne Arundel County) and Senate President Thomas V. Mike Miller (D-Prince George's and Calvert Counties) joined O'Malley in signing the bill before a crowd of hundreds of supporters who packed the lobby of the state capital building in Annapolis.
"We are all Americans. And all of us at end of the day want the same thing for our children. We want them to live in a loving, caring, and committed home that is protected equally under the law," O'Malley said minutes before signing the bill.
O'Malley made no mention of a voter referendum expected to be placed on the ballot in November calling for killing the bill before it becomes law. But his brief remarks at the bill signing ceremony appeared to reflect the themes that Annapolis observers expect O'Malley to use to defend the bill before voters in the fall.
"For a free and diverse people, for people of many faiths, for a people committed to the principle of religious freedom, the way forward is always found through greater respect for the equal rights of all, for the eminent dignity of all," O'Malley said.
"Religious freedom was the very reason for our state's founding and the heart of religious freedom is the freedom of individual conscience," he said. "If there is a thread that unites all of our work here it is the thread of human dignity, the dignity of work, the dignity of the job, the dignity of every child's health, the dignity of every individual."
After signing the bill at a table placed at the foot of a curved, marble staircase where dozens of supporters stood, O'Malley handed the legislation to Busch and Miller, who placed their signature on the document.
Miller voted against the bill; Busch voted for it.
"The bill is signed," O'Malley declared, triggering a burst of applause and cheers from the crowd.
Many of the same-sex couples in the audience held young children in their arms and embraced one another as O'Malley handed a collection of pens he used to sign the measure to well-wishers who rushed up to the governor to shake his hand.
Officials with Marylanders for Marriage Equality, the coalition of LGBT and straight allied groups that coordinated the effort to pass the bill in the legislature said that, while celebrating their legislative victory on Thursday, they were gearing up for the referendum fight.
Most agreed that O'Malley's signature on the Civil Marriage Protection Act was the kick-off for what political observers predict will be an acrimonious referendum campaign in which opponents, as they have in other states, will warn that legalizing same-sex marriage would result in the "teaching" of homosexuality in elementary schools.
Joe Solmonese, president of the Human Rights Campaign, which initiated the Marylanders for Marriage coalition, said he was hopeful that the same-sex marriage law would survive a referendum. He pointed to public opinion polls showing Maryland voters support legalizing same-sex marriage by a slim majority over those who oppose it.
"We recognize there is a great deal of work to do between now and November and we stand ready and committed to do the work," he said.
"The changes in the hearts and minds of people on this issue are moving so rapidly. A year now is like a decade in this fight," he said. "So the strength of this legislative victory and this being a presidential election year and the turn out being what it will be, I'm optimistic about the prospects for winning."
Lesbian House of Delegates member Heather Mizeur (D-Montgomery County) and her gay colleagues, Del. Peter Murphy (D-Charles County) and Del. Luke Clippinger (D-Baltimore City) agreed with Solmonese's assessment.
The state Board of Elections on Wednesday approved the language for the referendum petition; opponents are awaiting written confirmation from the board to begin gathering signatures, according to an AP report. Petition drafts filed by opponents Del. Neil Parrott and the Maryland Marriage Alliance contain typos but are otherwise compliant, according to the AP.
Opponents were expected to gather the required number of petition signatures needed to place the referendum on the ballot for the November election.
The referendum campaign received a boost last Friday, when the Fox TV station in Baltimore, WBFF, posted a prominent link to the website gathering signatures for the referendum on its homepage.
Scott Livingston, news director at WBFF, denied any corporate involvement in promoting the referendum campaign.
"We are not endorsing any element of this debate," Livingston told the Blade. "We see it as a political process. Our goal is letting viewers understand they have a voice in the debate." He added that the site has now been "modified."
The link that previously sent readers directly to the petition site now goes to a new page within the WBFF site that also includes a link to Equality Maryland's website. The change followed what Livingston characterized as a "handful" of complaints from WBFF viewers.
The governor's bill signing ceremony took place one week after the Maryland Senate voted 25 to 22 to approve the marriage bill. The vote came after senators supporting the bill defeated six hostile amendments introduced by opponents.
The previous week, the state's House of Delegates passed the bill with a razor-thin two-vote margin.
Rainbow History Project to honor LGBTQ 'Pioneers'
Virtual celebration to take place on Dec. 9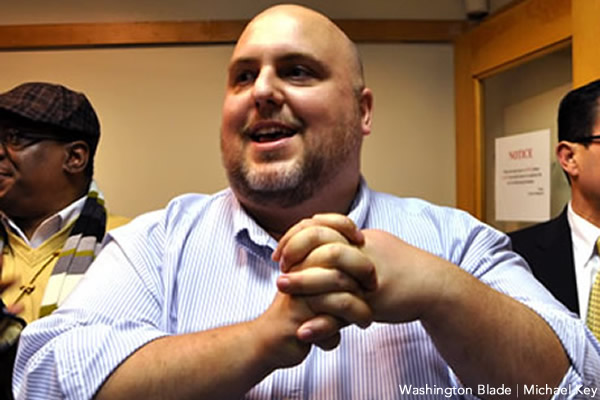 D.C.'s Rainbow History Project says it will honor and recognize 12 individuals and one organization by designating them as Community Pioneers "for their diverse contributions to the Washington-area LGBTQ community" at a Dec. 9 virtual celebration.
"Rainbow History Project is an all-volunteer organization dedicated to collecting, preserving and sharing the LGBT history of metropolitan Washington, D.C.," the group says in a statement announcing the event. "The Pioneers awards recognize diverse community leaders for their roles as organizational founders, innovators, advocates and volunteers," the statement says.
"The Pioneers celebration will be held virtually and is designed with special features that reproduce the feeling of attending in-person, such as live streaming and video chatting with other attendees and Pioneers before and after the core awards programing," according to the statement.
"Celebrating our Community Pioneers has been a cherished tradition since Rainbow History Project's founding 21 years ago," said Rob Berger, the organization's chairperson. "It's always an inspiring event, and we are happy that our virtual platform will still allow participants to meet and talk with the Pioneers," Berger said in the statement.
The virtual event is free and open to the public, the statement says. Organizers released this link for those interested in attending, saying a short registration process may require registering in advance.
Following is the list of Community Pioneers scheduled to be honored at the Dec. 9 event as released by Rainbow History Project along with the project's description of their backgrounds.
– Arlington Gay and Lesbian Alliance, a local group that since its founding has addressed equal rights issues for LGBTQ Virginians from a state and local perspective.
– Eboné F. Bell, founder and editor-in-chief of Tagg Magazine and Tagg Communication LLC.
– Bart Forbes, founding member of "Gay Fairfax," a pioneering television newsmagazine program in Northern Virginia.
– Ellen Kahan, youth and family advocate, president of Rainbow Families, former director of the Lesbian Services Program at Whitman-Walker Health, and currently senior director of programs and partnerships at the Human Rights Campaign Foundation.
– Theodore Kirkland (deceased), a co-founder of D.C. Black Pride in 1991, member of the Gay Liberation Front and Skyline Faggots, active community health volunteer and advocate.
– Paul Marengo, community leader through LGBTQ organizations including Reel Affirmations, Cherry Fund, and Pride celebrations for youth, Latino, Black and Transgender communities.
– David Mariner, executive director of CAMP Rehoboth, and former executive director of the D.C. Center for the LGBT Community.
– Mark Meinke founder longtime chair, Rainbow History Project, and co-founder of Rainbow Heritage Network, a national organization for the recognition and preservation of sites, history and heritage associated with sexual and gender minorities.
– Michael "Micci" Sainte Andress, artist, health educator and advocate and an early leader in bringing African Americans into HIV/AIDS clinical trials.
– Boden Sandstrom, founder and owner of Woman Sound (later City Sound), the first all-woman sound company, which makes LGBTQ rights rallies and the women's music scene possible.
– Casse Culver (deceased), nationally acclaimed D.C. lesbian feminist singer-songwriter, and partner of Boden Sandstrom, whose followers said her love songs and feminist lyrics moved audiences from foot stomping to silent reflection.
– Alan Sharpe, playwright, director and co-founder of the African American Collective Theater in Washington, D.C., in 1976, which now focuses on LGBTQ life and culture in the Black community.
Long-time LGBTQ activist running for Md. House of Delegates
Patrick Paschall is former FreeState Justice executive director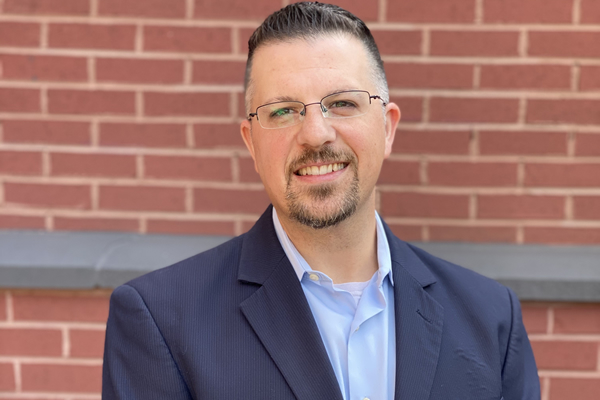 Former FreeState Justice Executive Director Patrick Paschall last week announced via social media that he is running for the Maryland House of Delegates.
"As a proud parent of two kids in Prince George's County public schools, former Hyattsville City Council member, and lifelong civil rights advocate and policy analyst, I've spent my life and career working for equity, community and sustainability for my family," Paschall said in a statement posted to Facebook on Nov. 23.
Paschall, who currently is the American Rescue Plan Program Manager for the city of Hyattsville, previously served as executive director for FreeState Justice from 2015 to 2017.
His LGBTQ advocacy work also includes serving as senior policy counsel for the National LGBTQ Task Force, as an organizer for Pride at Work and as a policy fellow for the National Center for Transgender Equality.
He also worked for Family Equality Council, an organization advocating for the rights of same-sex couples and their children.
"One of the things I'm running on is being a parent," Paschall told the Washington Blade. "We can provide more opportunities for families to succeed in our communities."
Paschall is running to represent District 22, which includes Hyattsville, where he has lived for over 10 years with his two children, who currently attend Hyattsville Elementary School, and his wife, who identifies as pansexual.
He told the Blade he views his family as a "rainbow family," but pointed out he and his wife did not have to endure the same difficulties as his friends who are married same-sex couples when they wanted to adopt children.
"When I became a parent, no one stopped by my house to make sure it was an adequate living situation for my child, no one checked to make sure I had a room dedicated to the child and for no other purpose," he said. "But my friends Jamie and Sean went through all of that when they tried to adopt a kid."
Paschall explained that even though he and his wife didn't go through these experiences, there was still room for Maryland to improve in the areas of adoptions and civil rights.
"It strikes me how much privilege I have because the state doesn't design to make it hard for me like it does for so many same-sex couples," he explained.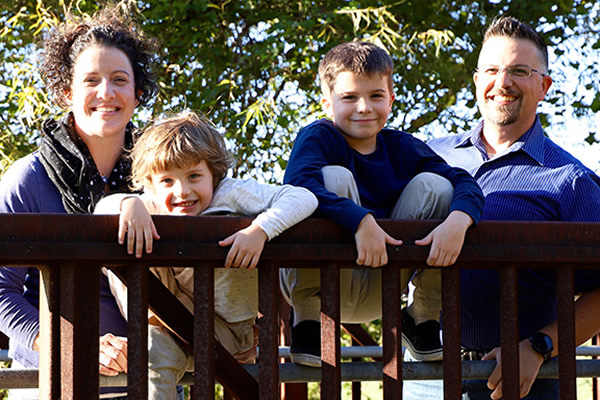 Much like with the recent elections in neighboring Virginia, Paschall said helping parents is an important issue for him — one he wants to carry to Annapolis — if elected "because my district deserves better schools for our kids, more child care options and family support like paid family leave."
"I think that District 22 needs a voice in Annapolis to represent progressive parents and to exercise policy expertise in achieving the values of our community," he added. "And I have the experience to get it done."
D.C. area LGBTQ bars, eateries receive $100K COVID-19 relief grant
Pitchers, League of Her Own received NGLCC, Grubhub funds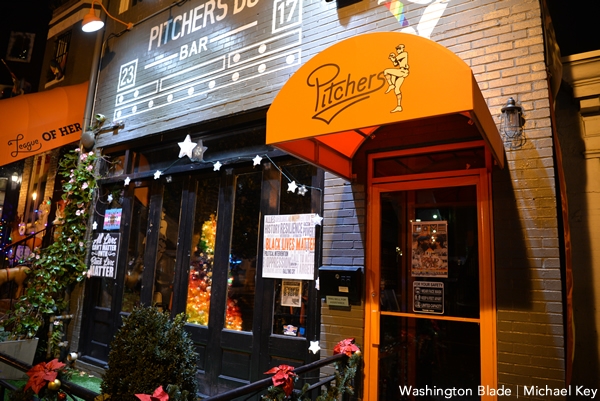 The D.C. LGBTQ sports bar Pitchers and League of Her Own, its adjoining lesbian bar, are among the nation's first LGBTQ bars that serve food as well as alcoholic beverages to receive a $100,000 COVID-19 relief grant under a $2 million Community Impact Grant Program.
The program, aimed at supporting LGBTQ-owned and LGBTQ-allied small businesses struggling from the pandemic, was launched in September as a joint project of the National LGBT Chamber of Commerce, which goes by the initials NGLCC, and the global online food delivery company Grubhub.
In a Tuesday announcement, NGLCC and Grubhub said Pitchers and League of Her Own, which operate as one business in adjoining buildings in D.C.'s Adams Morgan neighborhood, are among the first three recipients of $100,000 grants under the Community Impact Grant Program. The other two recipients are FOODE + Mercantile of Fredericksburg, Va., and Café Gabriela of Oakland, Calif.
"Following this initial round of recipients, more grants will be issued in late 2021 and early 2022," the announcement by the two groups says. In an earlier announcement, the groups said the application period for the grants program took place from September through Oct. 12, and the grants would range in amounts from $5,000 to $100,000.
"The impact of COVID-19 has been debilitating for countless restaurant and bar owners, including the many LGBTQ+-owned restaurants across the country who have persisted through lockdowns, operational changes and labor supply shortages," said NGLCC Co-Founder and President Justin Nelson. "We're grateful to have partnered with Grubhub to offer real lifelines to support businesses throughout the nation," Nelson said.
"Building community in a fun and safe place has been our mission since the very beginning," said David Perruzza, the owner of Pitchers and League of Her Own. "We're relieved and thankful for these funds, and are looking forward to more stable days ahead," Perruzza said.
"As a trans masculine and queer immigrant person of color, I've worked hard and put all my love and energy into building a beautiful and welcoming space in Café Gabriela," said owner Penny Baldado. "I've remained resilient through COVID, and this grant is the injection of funds that we need to continue along our journey to full recovery," Baldado said.
The statement announcing the first three grant recipient says funds for the $2 million grant program were generated by Grubhub's "Donate the Change" program of which NGLCC became a partner in June. Grubhub says the program asks customers receiving food delivered by Grubhub "to round out their order and donate the difference" to the charitable fund.
"COVID has turned the restaurant industry on its head the last 18 months, and at Grubhub, we've been working hard every day to support our restaurant partners across the country," said Amy Healy, Grubhub's vice president of government relations. "As the world starts to return to a new normal, we're proud to partner with the NGLCC and provide these grants to LGBTQ+-owned and LGBTQ+ ally-owned restaurants across the country that are pillars of their communities."