Marine calls fellow Marine anti-gay slur, stabs him to death near 8th St. barracks
D.C. police report says incident wasn't a hate crime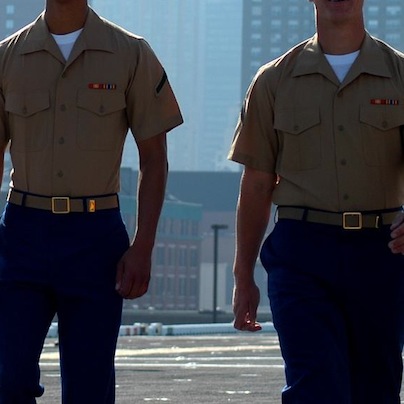 D.C. police chose not to list as a hate crime an April 21 incident in which one U.S. Marine allegedly stabbed another Marine to death after reportedly calling him an anti-gay slur on a D.C. street, according to a police incident report.
The commander of the D.C. Police Homicide Branch, Lt. Robert Alder, said the department's Gay and Lesbian Liaison Unit and the police hate crimes coordinator were reviewing information about the case and a hate crime designation could be added to the report sometime later.
Police said the incident took place about 2:30 a.m. on the sidewalk along the 700 block of 8th Street, S.E., across the street from the historic Marine Corps Barracks where the man charged in the killing is stationed.
Michael Joseph Poth, 20, has been charged with second-degree murder while armed for the stabbing death of Marine Lance Cpl. Philip Bushong, 23, police said in a statement released on Saturday.
"Information uncovered during the course of the preliminary investigation indicates that there was a verbal exchange, and during the exchange a homophobic slur was heard from the suspect prior to the stabbing," the police statement says.
Alder told the Blade on Monday that a Marine guard stationed across the street outside the Marine Barracks witnessed the incident. Police said one or more of the guards apprehended Poth before D.C. police and D.C. Fire and Emergency Medical Services personnel arrived on the scene.
According to Alder, police investigators are looking for more witnesses who may have heard what Poth and Bushong were arguing about just prior ot the stabbing. He said evidence so far indicates the two did not know each other and likely met for the first time when they crossed paths on the sidewalk on 8th Street minutes before a verbal altercation turned violent.
"From what we know, the argument was not over sexual orientation," Alder told the Blade. "And I would say at this time the information that we have appears to show that it was an insult in the heat of their argument and did not have anything to do with any perceived sexual orientation," he said.
The police report says Bushong was taken to the Med Star unit at Washington Hospital Center, where he was pronounced dead a short time later.
The police report, known as the 251 Incident Based Event Report, says the stabbing took place on the sidewalk in front of 727 8th St., S.E., a sporting goods store located two doors away from the Ugly Mug restaurant and bar.
The Washington Post reports that friends of Bushong said Bushong visited the Ugly Mug earlier that night and was a regular customer and former employee of the bar.
The location where Bushong was stabbed is three doors away from the Dignity Center, a building owned by the gay Catholic group Dignity Washington. The site of the stabbing is also located less than a block from the residence of Gen. James F. Amos, the Marine Corps commandant.
"He was a very lighthearted, good young man," the Post quoted the Ugly Mug's general manager, Brent McCaslin, as saying of Bushong. "He was an outstanding employee. I never saw him angry. He was always happy," the Post quoted McCaslin as saying.
Some additional information about the case was expected to emerge at a D.C. Superior Court presentment hearing for Poth scheduled for Monday afternoon.
"Bushong's friends said Bushong was not gay, nor was he homophobic," the Post reported.
"You could have called him gay and he wouldn't have cared," the Post quoted Nishith Pandya, one of Bushong's friends, as saying. "He would have laughed," the paper quoted her as saying.
Assistant D.C. Police Chief Diane Groomes told the Blade in an email that the police report stating the incident was not a hate crime may have been prepared before witnesses were interviewed and additional information became known.
"When things first happen, not all facts are sorted out immediately on the scene," Groomes said.
Even if the police listed the incident as a hate crime, the final decision on whether to charge Poth with a hate crime is made by the United States Attorney's office, which prosecutes most cases in the city involving a violent crime.
The city's hate crimes law calls for charging a person with committing a hate crime if he or she commits a violent act against another person based on the victim's actual or perceived sexual orientation, gender identity or several other factors such as race, religion, or ethnicity.
William Miller, a spokesperson for the U.S. Attorney's office, said the office doesn't comment on pending cases.
Miller declined to say in general whether prosecutors with the U.S. Attorney's Office would charge someone with a hate crime if he or she hurled an anti-gay slur with the intent of insulting a victim whose sexual orientation was unknown or believed to be straight.
"We have veteran prosecutors who review cases to determine if they meet the criteria for hate-crime enhancements," Miller told the Blade in an email. "We decline to address your specific questions. We can say that we weigh the evidence very carefully in making the charging decisions."
Zeke Stokes, a spokesperson for the Servicemembers Legal Defense Network (SLDN), a national LGBT organization that represents gay members of the military, said the group is not aware of an increase in anti-LGBT violence in the military as a result of the recent repeal of "Don't Ask, Don't Tell," which cleared the way for gays to serve openly in the military.
"All reports from the field are that implementation of DADT repeal is going very well across all services," Stokes said.
Concerning the murder of Marine Corps member Bushong outside the Marine Barracks in D.C., Stokes said, "We understand that an investigation is underway by the appropriate authorities and it would be premature for SLDN to comment on this homicide until more of the facts are known."
D.C. man charged with 2020 anti-gay death threat rearrested
Defendant implicated in three anti-LGBTQ incidents since 2011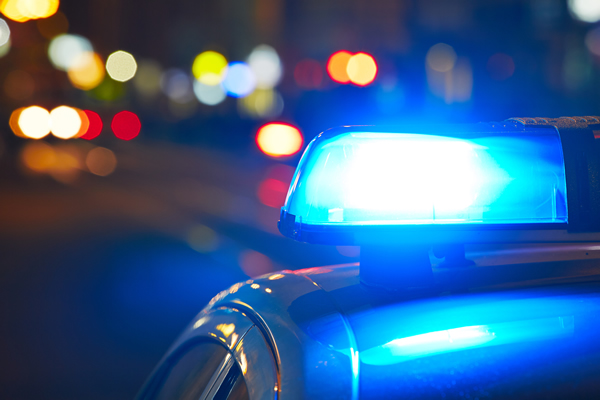 A D.C. man arrested in August 2020 for allegedly threatening to kill a gay man outside the victim's apartment in the city's Adams Morgan neighborhood and who was released while awaiting trial was arrested again two weeks ago for allegedly threatening to kill another man in an unrelated incident.
D.C. Superior Court records show that Jalal Malki, who was 37 at the time of his 2020 arrest on a charge of bias-related attempts to do bodily harm against the gay man, was charged on May 4, 2021 with unlawful entry, simple assault, threats to kidnap and injure a person, and attempted possession of a prohibited weapon against the owner of a vacant house at 4412 Georgia Ave., N.W.
Court charging documents state that Malki was allegedly staying at the house without permission as a squatter. An arrest affidavit filed in court by D.C. police says Malki allegedly threatened to kill the man who owns the house shortly after the man arrived at the house while Malki was inside.
According to the affidavit, Malki walked up to the owner of the house while the owner was sitting in his car after having called police and told him, "If you come back here, I'm going to kill you." While making that threat Malki displayed what appeared to be a gun in his waistband, but which was later found to be a toy gun, the affidavit says.
Malki then walked back inside the house minutes before police arrived and arrested him. Court records show that similar to the court proceedings following his 2020 arrest for threatening the gay man, a judge in the latest case ordered Malki released while awaiting trial. In both cases, the judge ordered him to stay away from the two men he allegedly threatened to kill.
An arrest affidavit filed by D.C. police in the 2020 case states that Malki allegedly made the threats inside an apartment building where the victim lived on the 2300 block of Champlain Street, N.W. It says Malki was living in a nearby building but often visited the building where the victim lived.
"Victim 1 continued to state during an interview that it was not the first time that Defendant 1 had made threats to him, but this time Defendant 1 stated that if he caught him outside, he would 'fucking kill him.'" the affidavit says. It quotes the victim as saying during this time Malki repeatedly called the victim a "fucking faggot."
The affidavit, prepared by the arresting officers, says that after the officers arrested Malki and were leading him to a police transport vehicle to be booked for the arrest, he expressed an "excited utterance" that he was "in disbelief that officers sided with the 'fucking faggot.'"
Court records show that Malki is scheduled to appear in court on June 4 for a status hearing for both the 2020 arrest and the arrest two weeks ago for allegedly threatening to kill the owner of the house in which police say he was illegally squatting.
Superior Court records show that Malki had been arrested three times between 2011 and 2015 in cases unrelated to the 2021 and 2020 cases for allegedly also making threats of violence against people. Two of the cases appear to be LGBTQ related, but prosecutors with the U.S. Attorney's Office did not list the cases as hate crimes.
In the first of the three cases, filed in July 2011, Malki allegedly shoved a man inside Dupont Circle and threatened to kill him after asking the man why he was wearing a purple shirt.
"Victim 1 believes the assault occurred because Suspect 1 believes Victim 1 is a homosexual," the police arrest affidavit says.
Court records show prosecutors charged Malki with simple assault and threats to do bodily harm in the case. But the court records show that on Sept. 13, 2011, D.C. Superior Court Judge Stephen F. Eilperin found Malki not guilty on both charges following a non-jury trial.
The online court records do not state why the judge rendered a not guilty verdict. With the courthouse currently closed to the public and the press due to COVID-related restrictions, the Washington Blade couldn't immediately obtain the records to determine the judge's reason for the verdict.
In the second case, court records show Malki was arrested by D.C. police outside the Townhouse Tavern bar and restaurant at 1637 R St., N.W. on Nov. 7, 2012 for allegedly threatening one or more people with a knife after employees ordered Malki to leave the establishment for "disorderly behavior."
At the time, the Townhouse Tavern was located next door to the gay nightclub Cobalt, which before going out of business two years ago, was located at the corner of 17th and R Streets, N.W.
The police arrest affidavit in the case says Malki allegedly pointed a knife in a threatening way at two of the tavern's employees who blocked his path when he attempted to re-enter the tavern. The affidavit says he was initially charged by D.C. police with assault with a dangerous weapon – knife. Court records, however, show that prosecutors with the U.S. Attorney's Office lowered the charges to two counts of simple assault. The records show that on Jan. 15, 2013, Malki pleaded guilty to the two charges as part of a plea bargain arrangement.
The records show that Judge Marissa Demeo on that same day issued a sentence of 30 days for each of the two charges but suspended all 30 days for both counts. She then sentenced Malki to one year of supervised probation for both charges and ordered that he undergo alcohol and drug testing and undergo treatment if appropriate.
In the third case prior to the 2020 and 2021 cases, court records show Malki was arrested outside the Cobalt gay nightclub on March 14, 2015 on multiple counts of simple assault, attempted assault with a dangerous weapon – knife, possession of a prohibited weapon – knife, and unlawful entry.
The arrest affidavit says an altercation started on the sidewalk outside the bar when for unknown reasons, Malki grabbed a female customer who was outside smoking and attempted to pull her toward him. When her female friend came to her aid, Malki allegedly got "aggressive" by threatening the woman and "removed what appeared to be a knife from an unknown location" and pointed it at the woman's friend in a threatening way, the affidavit says.
It says a Cobalt employee minutes later ordered Malki to leave the area and he appeared to do so. But others noticed that he walked toward another entrance door to Cobalt and attempted to enter the establishment knowing he had been ordered not to return because of previous problems with his behavior, the affidavit says. When he attempted to push away another employee to force his way into Cobalt, Malki fell to the ground during a scuffle and other employees held him on the ground while someone else called D.C. police.
Court records show that similar to all of Malki's arrests, a judge released him while awaiting trial and ordered him to stay away from Cobalt and all of those he was charged with threatening and assaulting.
The records show that on Sept. 18, 2015, Malki agreed to a plea bargain offer by prosecutors in which all except two of the charges – attempted possession of a prohibited weapon and simple assault – were dropped. Judge Alfred S. Irving Jr. on Oct. 2, 2015 sentenced Malki to 60 days of incarnation for each of the two charges but suspended all but five days, which he allowed Malki to serve on weekends, the court records show.
The judge ordered that the two five-day jail terms could be served concurrently, meaning just five days total would be served, according to court records. The records also show that Judge Irving sentenced Malki to one year of supervised probation for each of the two counts and ordered that he enter an alcohol treatment program and stay away from Cobalt.
Comings & Goings
Lane named senior counsel at Brady United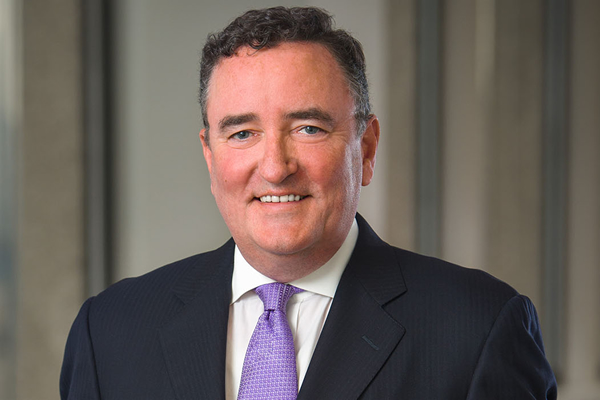 The Comings & Goings column is about sharing the professional successes of our community. We want to recognize those landing new jobs, new clients for their business, joining boards of organizations and other achievements. Please share your successes with us at [email protected].
Congratulations to Thomas Patrick Lane the new Senior Litigation Counsel and Director of Affirmative Litigation with Brady United. According to its website, Brady's mission is, "To unite all Americans against gun violence. We work across Congress, the courts, and our communities with over 90 grassroots chapters, bringing together young and old, red and blue, and every shade of color to find common ground in common sense. In the spirit of our namesakes Jim and Sarah Brady, we have fought for over 45 years to take action, not sides, and we will not stop until this epidemic ends. It's in our hands."
Jonathan Lowy, chief counsel and vice president of legal at Brady said, "The whole Brady team is thrilled to welcome Tom's skills as a trial lawyer and his leadership as a champion for justice and a voice for inclusivity and equal rights. Tom is one of the top litigators in the country, and has been a fighter his whole life who has proven himself undaunted by any challenge, including taking on the gun industry for its role in causing gun violence in America. Tom's expertise and insights into complex litigation involving emerging technologies, such as 3-D printed guns, "smart" technology, and online commerce, will bolster our fight for industry-wide change by holding companies accountable and forcing reforms that will make all Americans safer."
Upon accepting the position Lane said, "From my time as a prosecutor to private practice, I have seen the effects of gun violence and the importance of defending victims and survivors and upholding common-sense laws that keep our families and communities safe. I am excited to bring that background to Brady and to continue this important work nationwide."
Prior to joining Brady, Lane was a partner in the New York office of Winston & Strawn, LLP. Before that he was a partner in Thelen Reid Brown Raysman & Steiner LLP. He is recognized as one of the country's top intellectual property and new media lawyers. He tried the first Internet music case and the first Digital Millennium Copyright Act safe harbor case before juries. He has also served as a senior trial attorney in the office of the New York Kings County District Attorney.
Lane represented the City of New York in litigation against major gun manufacturers in the early 2000s. LawDragon named him as one of the 500 Leading Lawyers in America.
Lane earned his undergraduate degree from Hamilton College, Clinton, N.Y.; and his J.D. from Tulane University School of Law in New Orleans. He has created an endowed scholarship there for LGBTQ students to help law firms realize the importance of hiring diverse rosters of attorneys, and to honor the courage of his uncles Bernard Lane (an Army Ranger decorated with two Bronze Stars) and Richard Morrison (a recovered alcoholic who devoted his life to counseling others).
Both men were known for their toughness tendered by humor and both lived openly in loving relationships with same-sex partners in the 1970s. Lane is a former board member of the National LGBT Bar Association. He directs all external legal matters for the Tyler Clementi Foundation, whose mission is to end bullying in schools, workplaces, and faith communities.
100th anniversary celebration of Dupont Circle fountain set for May 17
GWU student creates tribute video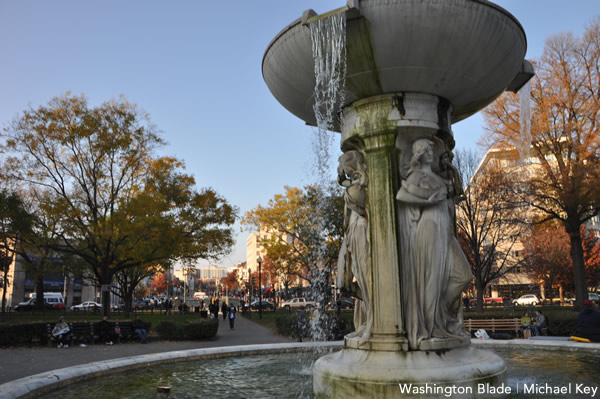 LGBTQ residents and longtime visitors to D.C.'s Dupont Circle neighborhood are expected to be among the participants in the 100th anniversary celebration of the installation of the Dupont Circle fountain scheduled to be held at the circle on Monday, May 17.
Aaron DeNu, president of Dupont Festival, a nonprofit arts and cultural programming group that's organizing the celebration, says it will take place from noon to at least sunset inside Dupont Circle.
The celebration will take place one week after the May 10 release of a YouTube video, "How Dupont Circle Evolved as a Hub for LGBTQ+ Life in the District," produced by George Washington University student Dante Schulz. Schulz is the video editor for the G.W. student newspaper The Hatchet.
Among those appearing in the documentary video are veteran LGBTQ rights activists Deacon Maccubbin and his husband Jim Bennett, who owned and operated the Dupont Circle LGBTQ bookstore Lambda Rising beginning in the 1970s, which is credited with contributing to Dupont Circle's reputation as the epicenter of D.C.'s LGBTQ community for many years.
Also appearing in the video is longtime D.C. gay activist and Dupont Circle area resident Craig Howell, a former president of the Gay and Lesbian Activists Alliance.
"At this point in time due to COVID restrictions we're not going to be doing any particular formal gathering of folks," DeNu told the Washington Blade in describing the May 17 celebration. "But we'll have a soundtrack that's playing throughout the day from that original ceremony – the same songs they used in the original dedication a hundred years ago," he said.
DeNu said the event will also feature "historic imagery" related to Dupont Circle and the people who have gathered there over the years.
"So, we're really just inviting people to come and have lunch, stop by the park after work, and just stop and reflect on 100 years of Dupont Circle fountain, take a look at the imagery and see some old friends and hopefully stop by and see the Dupont businesses that are around the area," DeNu said.
The LGBTQ video produced by Dante Schultz can be accessed here.