ExxonMobil to consider barring anti-LGBT job discrimination
Resolution pushed by N.Y. official not likely to succeed: sources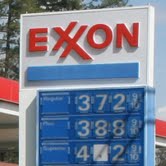 All eyes will be on one of the nation's largest publicly traded companies next week when shareholders will vote on whether the company should make LGBT protections part of its formal non-discrimination policy.
At a meeting set for May 30 in Dallas, shareholders for the ExxonMobil Corp. will vote on a resolution to include sexual orientation and gender identity in the equal employment opportunity policy for its estimated 82,000 workers — a change the company has resisted.
The resolution is being put before shareholders by New York State Comptroller Thomas DiNapoli. He's trustee of the New York State Common Retirement Fund, which owns more than 16 million shares of ExxonMobil at an estimated market value of $1.3 billion.
In an interview with the Washington Blade, DiNapoli said he introduced the resolution because of the large investment the New York State Common Retirement Fund has in ExxonMobil. In the past three years, DiNapoli has reached agreements with 27 companies to adopt new non-discrimination policies.
"By ExxonMobil not having a clear policy based on sexual orientation and gender identity, it really leaves the corporation to not getting access to the best talent that's available," DiNapoli said. "We're looking at it very much from the point of view of shareholding and wanting our companies to do very well, and we think that this lack of addressing this issue of discrimination is an impediment to ExxonMobil getting the best performance that will benefit our shares."
ExxonMobil hasn't included protections for LGBT workers in its equal employment opportunity policy — nor has it offered domestic partnership benefits for employees with same-sex partners — since the company was created as a result of the merger between Exxon and Mobil in 1999.
Mobil protected employees on the basis of sexual orientation and offered domestic partner benefits prior to the merger, but Exxon didn't. Once the companies joined, the sexual orientation protections were rescinded and new employees were barred from receiving domestic partner benefits.
A vote on reinstating domestic partner benefits within the company won't take place on May 30 because no such resolution has been proposed.
LGBT advocates are pushing for ExxonMobil shareholders to adopt a more LGBT-friendly policy at the shareholders meeting next week.
Tico Almeida, president of Freedom to Work, called on all private companies like ExxonMobil to adopt LGBT-inclusive non-discrimination policies because they're "morally right and good for business."
"Non-discrimination policies improve worker productivity, worker retention, worker recruitment and increase profits — and that's why a vast majority of Fortune 500 companies have adopted LGBT non-discrimination rules, and that's why it's so jarring that ExxonMobil continues to be such an outlier with such outdated policies," Almeida said.
Almeida discounted the importance of having a shareholder vote on whether to adopt the policy and said the board should skip the vote and on its own accord make LGBT protections part of the company's equal employment opportunity policy.
One of the chief advocates of an executive order barring federal contractors from discriminating against LGBT workers, Almeida said the situation with ExxonMobil also speaks to the need for the Obama administration to pursue administrative action against workplace discrimination. The White House announced last month it wouldn't at this time take such action.
"As taxpayers, we have a right to demand that companies that profit from our taxpayer money do not discriminate against LGBT Americans," Almeida said. "It is our money as American citizens, and we should exercise that right because LGBT discrimination is not only morally wrong, it's inefficient."
According to Freedom to Work, ExxonMobil has raked in more than $1 billion in federal contracts over the course of the last decade. In the last fiscal year, ExxonMobil won $158 million in federal contracts.
But Almeida is taking the matter a step further and saying the White House should call on ExxonMobil to adopt the LGBT protections as part of its policy. Almeida said he's had conversations with White House staff on this matter.
As evidence that the administration has promised to educate companies on the need for non-discrimination protections, Almeida pointed to a news conference on the day after the White House announced it wouldn't issue the executive order for federal contractors.
During the briefing, White House press secretary Jay Carney said the administration was committed to "directly engaging with and educating all sectors of the business community — from major corporations to contractors to small business — and raising public awareness about the human and financial costs of discrimination in the work force."
Almeida said, "We are urging them to take a strong stand in the next week or two to push ExxonMobil to accept the New York State shareholder resolution, which is a promise that Jay Carney made at that press briefing."
The White House didn't respond to a request for comment on the call for ExxonMobil to add non-discrimination protections as part of its policy.
Additionally, Freedom to Work set up an online petition at Change.org to encourage ExxonMobil to update its policy. As of early Tuesday, the petition had 200 signatures.
"The corporation ExxonMobil takes millions of dollars in American taxpayers' hard-earned dollars every year through federal contracts, but Exxon's corporate bosses refuse to follow American values – like judging their employees based on their talent and hard work rather than whom they love," the petition letter states.
Cece Cox, CEO of Resource Center Dallas, a local LGBT and HIV/AIDS organization, said she wants to see the Dallas-based company change its policy because the company operates in close proximity of her organization.
"It's the only remaining Fortune 10 company that doesn't have an inclusive policy of sexual orientation, and they're right here in our backyard," Cox said. "As our neighbors, we would like to encourage and be in conversation with ExxonMobil about this issue."
Cox said the Resource Center has contacted ExxonMobil's vice president of human resources, M.A. Farrant, to encourage the company to adopt an LGBT-inclusive policy and sent a letter to Marilyn Carlson Nelson, an ExxonMobil board member and CEO of Carlson Companies whom they think may be amendable to the resolution because she wrote an op-ed against the proposed anti-gay amendment in Minnesota.
The company has sought to block the vote on adopting an LGBT-inclusive non-discrimination policy from taking place. The company's board had asked the Securities & Exchange Commission to block the resolution from coming before shareholders, but the agency rejected the request in March.
According to ExxonMobil, the company already has protections for LGBT workers. An ExxonMobil spokesperson referred to protections based on sexual orientation and gender identity that are already included in the employment policies and practices page on the company's website, which specifically states the company has a "zero-tolerance policy" for discrimination based on sexual orientation or gender identity.
A letter dated Jan. 20, 2012 from James Parsons, ExxonMobil's coordinator for corporate securities and finance, suggests this policy statement is sufficient protection for LGBT employees.
"To be clear, in my opinion the statement of our employment policy specifically referencing sexual orientation and gender identity set forth on ExxonMobil's internet employment policy page gives employees and potential employees precisely the same legal standing and access to rights and remedies — including the internal enforcement remedies available for violations of ExxonMobil policy, up to and including termination of the offending employee — as would be the case if these categories were instead referenced in the Standards of Business Conduct booklet," Parsons writes.
In response, DiNapoli said this policy isn't enough and noted the Securities & Exchange Commission denied that inclusion of sexual orientation and gender identity in this policy was a reason to block the resolution.
"We really think that they should have it stated in their policies, not just something on the website," DiNapoli said. "[The EEO policy] is part of their written policies and procedures that follow from it. Obviously, the SEC made a resolution that our determination could go ahead because they basically found that what we were suggesting wasn't in effect at ExxonMobil. So, I think that they are not accurate in what they're portraying."
ExxonMobil, the largest company in the world in terms of revenue, is known for having anti-gay policies. The most recent Corporate Equality Index from the Human Rights Campaign scored the company at "-25" — the lowest rating of any company.
LGBT advocates speaking with the Washington Blade couldn't identify any incidents of LGBT job discrimination at ExxonMobil, but nonetheless said a change in company policy is necessary.
Paul Guequierre, an HRC spokesperson, emphasized the importance of ExxonMobil adopting an LGBT-inclusive equal employment opportunity policy as a way to make it more competitive with other companies.
"It's important that non-discrimination policies include sexual orientation and gender identity," Guequierre said. "We know the vast majority of Fortune 500 companies — including ExxonMobil's competitors in the oil industry — offer these protections."
Crosby Burns, research associate on LGBT issues at the Center for American Progress, said the adoption of an LGBT-inclusive policy is particularly important for ExxonMobil because the company is based in Texas, which has no statutory protections against LGBT job bias.
"ExxonMobil is one of the largest employers in Texas, and adding sexual orientation and gender identity to its EEO policy would give LGBT workers significant employment protections in a state where there sadly are none," Burns said.
The upcoming meeting won't be the first time ExxonMobil shareholders have had to vote on adopting an LGBT-inclusive non-discrimination policy. The New York State Common Retirement Fund has been the sponsor of similar resolutions each year since 2008.
According to ExxonMobil, votes cast in favor of the proposal have declined in recent years, from a high of 39.6 percent in 2008 to 19.9 percent at last year's annual meeting. Still, the 2011 vote represented more than 500 million shares at a market value of more than $42.4 billion.
While emphasizing the need for ExxonMobil to adopt the policy, advocates weren't confident about whether shareholders would ultimately vote to approve the LGBT non-discrimination resolution next week.
DiNapoli said "we're always optimistic" that shareholders will adopt the new policy as opposed to rejecting it and the chances are better that they'll support it this year.
"As a nation generally, and certainly in terms of shareholders being informed about what's going on, the prospects are better than they were in other years, but obviously, we'll have to wait and see what the vote is," DiNapoli said. "I'm certainly confident at some point we're going to have success in regard to ExxonMobil's policies; I'm hoping it will be this year."
The Resource Center's Cox said she doesn't think shareholders will approve the resolution — just as they've rejected it in years past — but said she isn't normally in the business of predicting.
"I don't have reason to think that it's going to get approved," Cox said. "I'd be surprised if it does this year, but I think there's opportunity to work with Exxon leadership, and that's what we're trying to do."
Almeida said he thinks the shareholder resolution will face a close vote, but added if it fails, the outcome will be another reason for Obama to issue an executive order barring workplace discrimination for federal contractors.
"That will increase the need for President Obama to fulfill his campaign promise of signing the executive order for federal contractors because there's no way ExxonMobil would risk losing lucrative federal contracts in order to keep its antiquated anti-LGBT policies," Almeida said. "If the president signs the executive order, they will immediately cave."
Biden, Harris, deliver remarks for White House Office of Gun Violence Prevention
Pulse survivor Brandon Wolf among those who spoke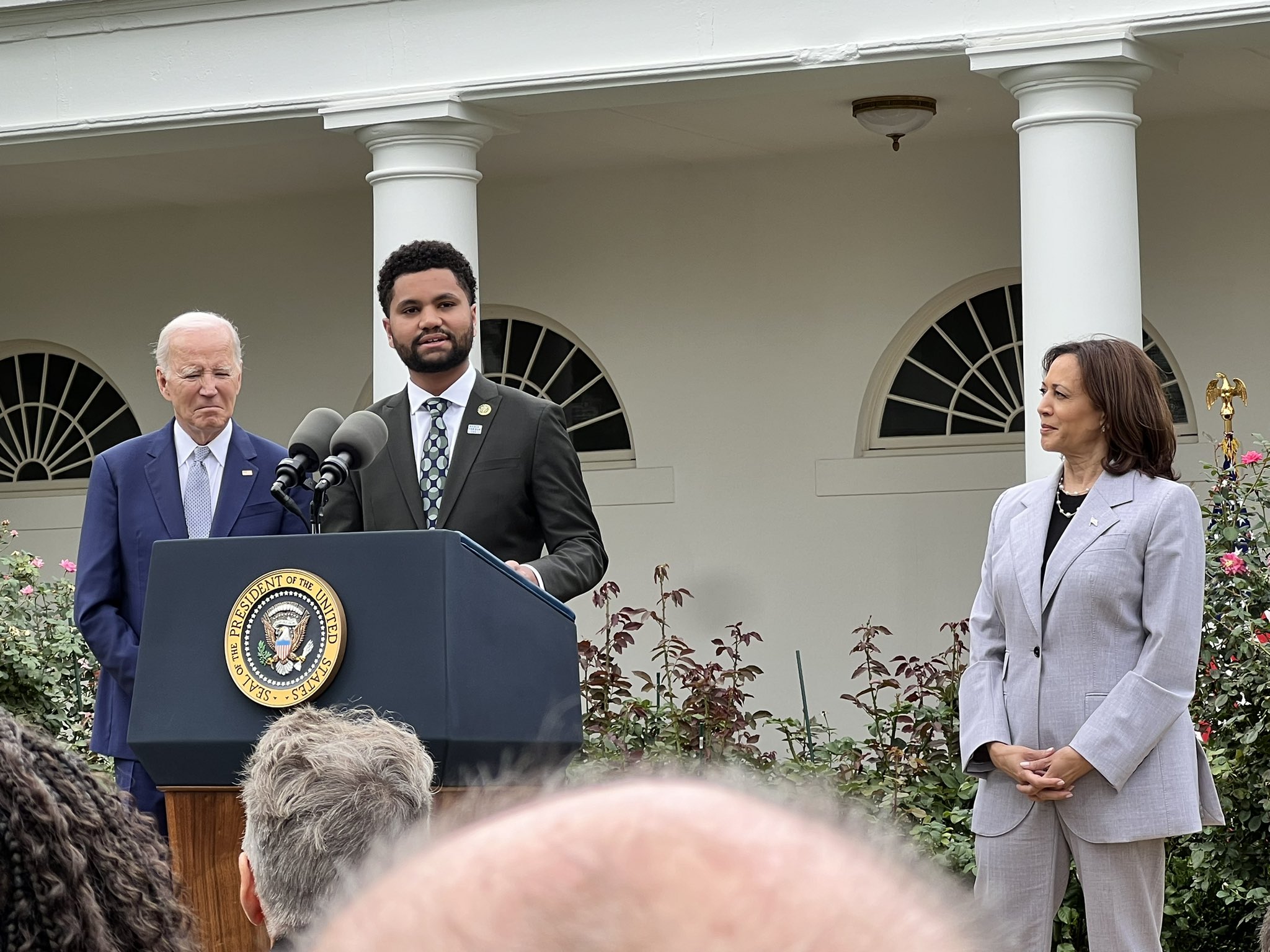 President Joe Biden, Vice President Kamala Harris, and U.S. Rep. Maxwell Frost (D-Fla.) addressed an audience from the Rose Garden of the White House on Friday to honor the establishment of a first-ever White House Office of Gun Violence Prevention.
In a press release Thursday announcing the move, the administration said its aim is to implement and expand the provisions of last year's Bipartisan Safer Communities Act along with those contained in the president's executive orders targeting issues of gun violence.
Additionally, Biden explained in his remarks, the office will coordinate more support for survivors, families and communities, including mental health services and financial aid; identify new avenues for executive action; and "expand our coalition of partners in states and cities across America" given the need for legislative solutions on the local and state level.
Harris, who will oversee the office, pledged to "use the full power of the federal government to strengthen the coalition of survivors and advocates and students and teachers and elected leaders to save lives and fight for the right of all people to be safe from fear and to be able to live a life where they understand that they are supported in that desire and that right."
The vice president noted her close experiences with the devastating consequences of gun violence in her work as a federal prosecutor, San Francisco district attorney, California attorney general and in her current role.
Biden's comments also included highlights of his administration's accomplishments combatting gun violence and a call to action for Congress to do more. "It's time again to ban assault weapons and high capacity magazines," he told lawmakers.
The president also credited the the work of advocates including those who were gathered at the White House on Friday: "all of you here today, all across the country, survivors, families, advocates — especially young people who demand our nation do better to protect all; who protested, organized, voted, and ran for office, and, yes, marched for their lives."
Taking the stage before introducing Biden, Frost noted that "Right before I was elected to Congress, I served as the national organizing director for March for Our Lives, a movement that inspired young people across the nation to demand safe communities."
"The president understands that this issue especially for young people, especially for marginalized communities, is a matter of survival," the congressman said. And the formation of this office, "comes from Pulse to Parkland," he said, adding, "we fight because we love."
Human Rights Campaign National Press Secretary Brandon Wolf, a survivor of the 2016 Pulse nightclub shooting, which was America's second deadliest mass shooting and the deadliest against the LGBTQ community, shared a comment with the Washington Blade after Friday's ceremony:
"Seven years ago, when my best friends and 47 others were murdered at our safe place — Pulse Nightclub — we promised to honor them with action. This is what that looks like. This deep investment in the fight to end gun violence matters, and I cannot wait to see Vice President Harris lead these efforts. We can blaze the path toward a future free of gun violence. And today marked an important step in that direction."
Federal judge: drag is 'vulgar and lewd,' 'sexualized conduct'
Ruling 'bristles with hostility toward LGBTQ people'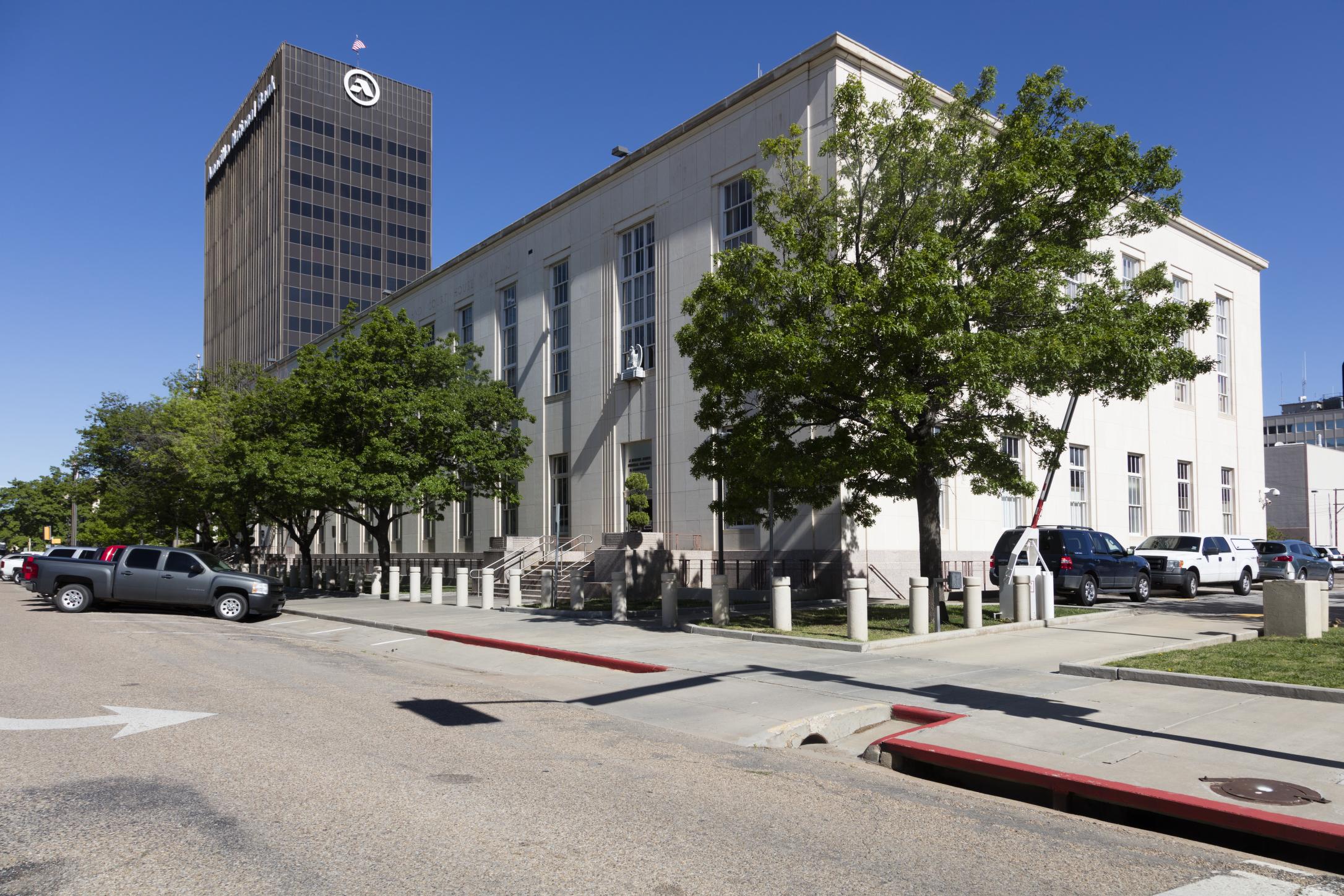 Judge Matthew Kacsmaryk of the U.S. District Court for the Northern District of Texas issued a ruling Thursday denying relief to a group of university students who sought to host a drag show over the objections of their school's president.
A Trump appointed jurist with deep ties to anti-LGBTQ and anti-abortion conservative legal activists, Kacsmaryk argued that drag performances probably do not constitute speech protected by the First Amendment.
As Slate Senior Writer Mark Joseph Stern wrote on X, this conclusion "conflicts with decisions from Texas, Florida, Tennessee and Montana which held that drag is constitutionally protected expression."
"It also bristles with undisguised hostility toward LGBTQ people," he added.
Kacsmaryk's 26-page decision describes drag performances as lewd and licentious, obscene and sexually prurient, despite arguments the plaintiffs had presented about the social, political, and artistic merit of this art form.
Judge Matthew Kacsmaryk refuses to grant relief to Texas college students who may be punished for hosting a drag show.

His condemns drag as "vulgar and lewd" "sexualized conduct" that harms children and is likely unprotected by the First Amendment. https://t.co/UPeolMfGON

— Mark Joseph Stern (@mjs_DC) September 22, 2023
As the Human Rights Campaign recently wrote, "drag artists and the spaces that host their performances have long served as a communal environment for queer expression."
The group added, "It is a form of art and entertainment, but, historically, the performances haven't only served to entertain, but also to truly advance the empowerment and visibility of LGBTQ+ people."
Nevertheless, anti-LGBTQ conservative activists and organizations have perpetuated conspiracy theories about members of the community targeting children for sexual abuse including by bringing them to drag performances.
Among these is a group with ties to the Proud Boys that was cited by Kacsmaryk in his ruling: Gays Against Groomers, an anti-LGBTQ and anti-transgender extremist group, according to the Anti-Defamation League and Southern Poverty Law Center.
Harris to oversee White House Office of Gun Violence Prevention
Goal is to implement and expand upon legislation, executive actions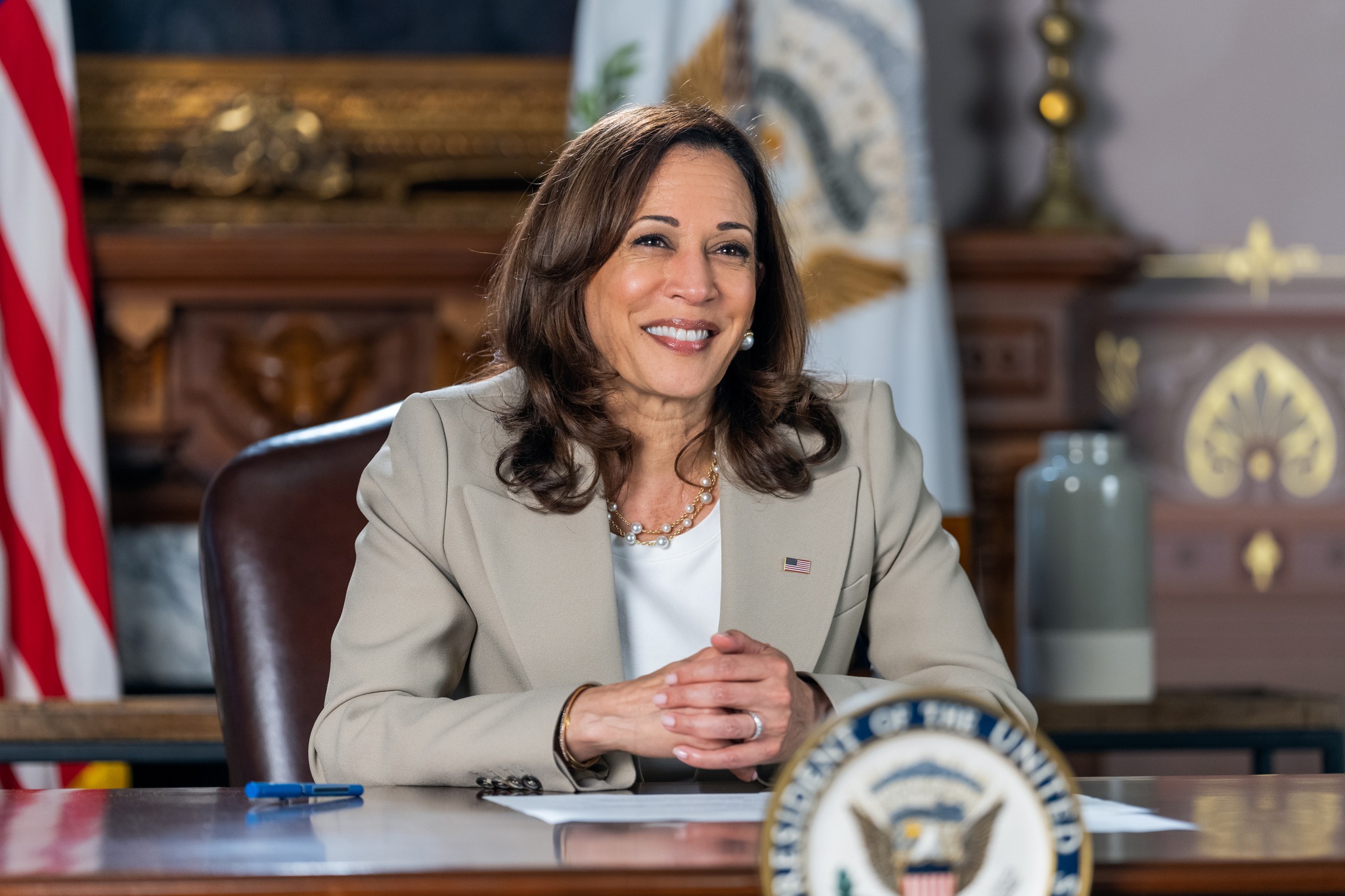 The White House announced Thursday evening that President Joe Biden on Friday will establish the first-ever White House Office of Gun Violence Prevention, to be overseen by Vice President Kamala Harris.
The office will focus on implementing and expanding upon executive and legislative actions, including the Bipartisan Safer Communities Act, "to reduce gun violence, which has ravaged communities across the country."
Serving under Harris will be Stefanie Feldman, "a longtime policy advisor to President Biden on gun violence prevention," and "leading gun violence prevention advocates Greg Jackson and Rob Wilcox."
"Every time I've met with families impacted by gun violence as they mourn their loved ones, and I've met with so many throughout the country, they all have the same message for their elected officials: 'do something,'" Biden said in a statement.
The president noted his signing of last year's bipartisan gun violence prevention law, a flagship legislative accomplishment for the administration, along with his issuance of more executive actions than any president in history to address this problem.
Calling these "just the first steps," Biden said the establishment of the White House Office on Gun Violence Prevention will "build upon these measures and keep Americans safe."
He also urged Congress to do more by passing legislation requiring universal background checks, and baning assault weapons and high capacity magazines.
In a statement, Harris said, "This epidemic of gun violence requires urgent leadership to end the fear and trauma that Americans experience every day."
"The new Office of Gun Violence Prevention will play a critical role in implementing President Biden's and my efforts to reduce violence to the fullest extent under the law," she said, "while also engaging and encouraging Congressional leaders, state and local leaders, and advocates to come together to build upon the meaningful progress that we have made to save lives."
"Our promise to the American people is this: we will not stop working to end the epidemic of gun violence in every community, because we do not have a moment, nor a life to spare," the vice president said.