May 23, 2012 at 5:39 pm EDT | by Michael K. Lavers
Likely NYC Council candidate attends D.C. fundraiser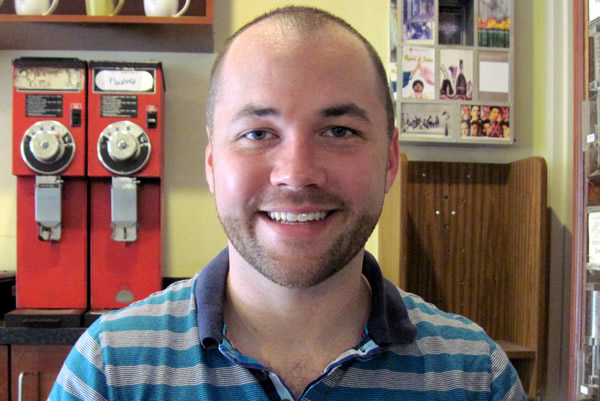 More than 40 people attended a fundraiser for gay presumptive New York City Council candidate Corey Johnson in Washington, D.C., on Tuesday night.
Gay Reps. Barney Frank (D-Mass.) and Jared Polis (D-Colo.) co-chaired the event that took place at gay Democratic lobbyist Steve Elmendorf's home. Virginia state Sen. Adam Ebbin (D-Alexandria) and columnist and Democratic strategist Karl Frisch were among those who attended.
"It was a real moving show of support for me from friends and allies down here in the District that I've been able to work with over the years," Johnson, 30, told the Blade on Wednesday.
Elmendorf praised the likely candidate.
"Corey is a close personal friend and I offered to help him because I admire the guts he showed when he first came out as a high school quarterback; the dedication he has shown to the LGBT community and his passion for public service," he said in an e-mail. "I have met a lot of candidates during my time in politics and government and he is one of the best."
The former Gay and Lesbian Alliance Against Defamation staffer has not officially declared his candidacy, but he launched an exploratory committee in early April. Three of Johnson's likely challengers in the 2013 Democratic primary—lawyer Yetta Kurland, Manhattan Community Board 2 Chair Brad Hoylman and Andrew Berman—are gay.
He would succeed lesbian New York City Council Speaker Christine Quinn if elected.
"It says a lot on how far we've come," said Johnson when asked about the fact that all three of his likely opponents are gay. "In many places in this country there aren't LGBT elected officials. … In New York City things have progressed to such a point that I believe in certain parts of the city, voters no longer look at what a person's sexual orientation is, they look at their history, their track record, their biography and what their vision is for the district. I believe all of us will be judged on that, so I think it shows tremendous progress that we've gotten to that point."
Johnson, who has chaired Manhattan's Community Board 4 since last July, attended the D.C. fundraiser three days after Quinn married her long-time partner Kim Catullo.
He acknowledged that he does not always agree with the likely 2013 mayoral candidate, but Johnson said that Quinn and her predecessor, gay New York State Sen. Tom Duane (D-Manhattan) are well known outside the district. He also pointed out that he has publicly disagreed with Mayor Michael Bloomberg over the New York Police Department's controversial stop and frisk policy, a law that requires contractors that receive at least $1 million in tax breaks and low-interest financing to pay their employees at $10 an hour and a measure that would provide paid sick leave to New Yorkers who don't already receive it from their employers.
Johnson also described Bloomberg's decision to appeal a New York State Supreme Court judge's 2005 decision that struck down a ban on nuptials for gays and lesbians as disappointing. The mayor has subsequently backed marriage rights for same-sex couples.
"I'm always happy to welcome anyone that wants to come to our side and help fight for our rights," said Johnson. "The mayor has done that most recently and he's someone that we should use as an ally as we move forward."
Johnson first rose to prominence in 2000 when the New York Times published a story about him playing on his Massachusetts high school's football team. He worked as former New York City Public Advocate Mark Green's political director during his unsuccessful 2006 state attorney general campaign. Johnson has also written for the gay blog Towleroad.
"Since I was 17 years old, I've always been engaged and involved in political advocacy and working for non-profits to try to affect real change in the world," he said.
Johnson said he does not have any higher political aspirations if elected to the City Council.
"My goal is just to be on the City Council," he said. "My sole focus is to be elected to the City Council and be the best Council member possible in the West Side of Manhattan with all the neighborhoods that encompass this district."