Trans advocate testifies before Senate on ENDA
'I still sit here today with almost tears in my eyes'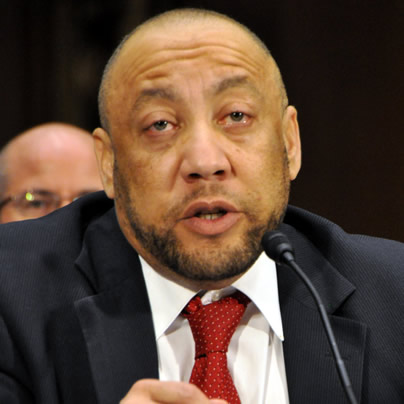 The Senate heard for the first time ever testimony from a transgender witness in a hearing dedicated to highlighting workplace discrimination experienced by LGBT people.
Kylar Broadus, founder of the Columbia, Mo.-based Trans People of Color Coalition, discussed job discrimination he faced as a transgender man before the Senate Health, Education, Labor & Pensions Committee on Tuesday as he called for passage of the Employment Non-Discrimination Act.
In the early 1990s, Broadus worked for a major financial institution, although he didn't disclose its name during the hearing. After announcing in 1995 he would undergo gender transitioning, Broadus said he was forced out of his role.
"At work, when I decided to actually transition, I had been there for a number of years, and I'm a workaholic, and it was disheartening to me that all this could be pulled out from under me because people weren't comfortable with the person that I am," Broadus said.
His written testimony details receiving harassing phone calls, receiving assignments after hours that were due early the next morning and being forbidden from talking to certain people.
"I still sit here today with almost tears in my eyes," Broadus said. "It's devastating, it's demoralizing and dehumanizing to be put in that position."
Broadus said his treatment at work and being forced out impacted him emotionally, causing him post-traumatic stress disorder, and led to a period of unemployment for about a year from which he still hasn't financially recovered.
Noting other transgender workers who face discrimination and lose their jobs are unable to regain employment, Broadus called on Congress to pass ENDA to put into place workplace non-discrimination protections.
"I think it's extremely important that this bill be passed to protect workers like me," Broadus said. "There are many cases that I hear everyday, and people call me everyday with these cases around the country because I'm also an attorney that practices and deals with people that suffer employment discrimination."
Chairman Tom Harkin (D-Iowa) confirmed during the hearing that Broadus was the first openly transgender person to testify before the Senate and commended him for his courage in speaking before the committee, saying he's going to "give courage to a lot of other people."
ENDA, sponsored by Rep. Barney Frank (D-Mass.) in the House and Jeff Merkley in the Senate (D-Ore.), would bar job bias against LGBT people in most situations in the public and private workforce. Firing someone for being gay is legal is 29 states; firing someone for being transgender is legal in 34 states.
Others who testified in favor of ENDA were M.V. Lee Badgett, research director of the Williams Institute at the University of California, Los Angeles; Samuel Bagenstos, a law professor at the University of Michigan; and Ken Charles, vice president of diversity and inclusion at the breakfast foods company General Mills.
The Republican witness who testified against ENDA was Craig Parshall, senior vice president and general counsel for the Manassas, Va.-based National Religious Broadcasters Association. Parshall previously testified against ENDA before the Senate in 2009.
Harkin called ENDA "important civil rights legislation" that would build off strides already made against workplace discrimination in the past 45 years.
"Many states and businesses are already leading the way toward ensuring full equality for all our fellow citizens," Harkin said. "However, the harsh reality is that employers in most states can still fire, refuse to hire, or otherwise discriminate against individuals because of their sexual orientation or gender identity — and, shockingly, they can do so within the law."
Merkley expressed the need for passing ENDA, saying without it on the books, LGBT workers would continue to face workplace discrimination.
"Let us not lose sight that each and every day, American citizens are discriminated against in their employment or their potential employment in ways that have a profound impact on their opportunity fully live their lives, to fully contribute, to fully pursue happiness, to be all that they can be, all that they are — which is a benefit to them and a benefit to our nation," Merkley said. "This discrimination is absolutely wrong. It is morally wrong and we must end it."
The hearing takes places after the White House announced in April it won't issue at this time an executive order requiring federal contractors to have their own non-discrimination policies based on sexual orientation and gender identity. The directive didn't come up during the hearing.
No Republican committee members attended the hearing. The only GOP co-sponsor who serves on the committee is Sen. Mark Kirk (R-Ill.). He's been recovering from a stroke he suffered in late January. A minority committee spokesperson didn't immediate respond to a request to comment on why all Republican committee members were absent.
Democrats who attended the hearing in addition to Harkin and Merkley were Sens. Patty Murray (D-Wash.), Al Franken (D-Minn.) and, briefly, Michael Bennet (D-Colo.).
LGBT advocates commended Harkin for bringing more attention to the lack of federal non-discrimination protections for LGBT people by holding an ENDA hearing.
Rea Carey, executive director of the National Gay & Lesbian Task Force, said ENDA reflects core American values of "giving everyone a fair shake and allowing them to fully and freely contribute their skills and talents" in the workforce.
"Many people think these protections already exist, but that's not the case," Carey said. "There is no clear federal law, and there are no such laws in over half the states. This jeopardizes our ability to have or keep employment, housing and feed our families. ENDA will level the playing field once and for all."
LGBT advocates have been calling on the committee to markup the legislation to send it to the Senate floor. All 12 Democrats on the panel — in addition to Sen. Mark Kirk (R-Ill.) — are co-sponsors of the bill, so it should have no problem getting out of committee.
Murray was explicit in calling for a markup of the bill during her committee remarks, saying she wants to see ENDA pass out of committee "expeditiously." In response, Harkin said, "I hope so."
But speaking with the Washington Blade after the hearing, Harkin was more hesitant about the idea of holding a markup, saying, "I'm going to poll my committee and see. Right now, I'm kind of up to here in getting [Food & Drug Administration] bill through, as you know.   We got it through the Senate; we've got to work with the House on that trying to get that put to bed, and then I'm going to poll the committee and see what we want to do."
Another organization is taking the call to advance ENDA a step further. On the same day of the hearing, Tico Almeida, president of Freedom to Work, sent a letter to Senate Majority Leader Harry Reid (D-Nev.), calling on him to schedule a floor vote on the legislation.
"[W]e respectfully urge you to bring ENDA to a vote on the floor of the U.S. Senate this summer so that LGBT Americans do not have to wait any longer to know which of their Senators support their freedom to work without harassment or discrimination on the job, and which Senators still find it acceptable for Americans to be unjustly fired simply because of whom they love or their gender identity," Almeida writes.
Reid's office didn't respond to a request to comment on the letter. The writing cites the Washington Blade's questioning of White House Press Secretary Robert Gibbs in January 2011 in which the spokesperson acknowledged that "there's no doubt that whenever you get something done in one [chamber], you're closer to certainly seeing it come to fruition."
Harkin told the Blade he'd like to see a floor vote on ENDA, although he acknowledged he doesn't control the schedule for the Senate.
"I wish we could have a floor vote, yes," Harkin said. "I would like to see a floor vote on this because I think it's something the American people ought to where we stand on this issue. This is not an issue that bothers me. As I said, it's not difficult for me. It might be difficult for some people; it's not difficult for me."
The most significant point of contention during the hearing between supporters of ENDA and Parshall, who alone expressed opposition to the legislation. Section 6 of ENDA, titled "Exemption for religious organizations," says the bill won't apply to institutions that are exempt from the religious discrimination provisions of Title VII of Civil Rights Act of 1964.
Parshall targeted the religious exemption as his reasons for his opposition to the legislation, saying ENDA "would impose a substantial unconstitutional burden on religious organizations" and "interfere with their ability to effectively pursue their missions."
"It creates huge problems for future courts to iron out which organizations and under what conditions would be exempted, and which ones would not. I think that kind of uncertainty, obviously, raises constitutional problems," Parshall said.
Bagenstos took Parshall's objections to ENDA head on during the later question-and-answer portion of the hearing, saying Parshall's assertions are without merit because the legislation clearly states which religious organizations are exempt from ENDA.
"Like any legal tests, there are sometimes cases at the edges, but employers have over 40 years of case law to enable them to understand what is covered and what is not covered here," Bagenstos said. "There is no particular reason to believe that under ENDA, there would be any difficulty in understanding what the scope of the application of that exemption would be."
But social conservatives aren't the only ones unhappy with ENDA's religious exemption. The American Civil Liberties Union says the exemption is too broad and should be narrowed to be more similar to Title VII of the Civil Rights Act of 1964.
Ian Thompson, the ACLU's legislative representative, said the current exemption "would provide a license for a religious organization to discriminate" against LGBT people for any reason and not just based on the organization's religious teachings.
"We believe that the existing Title VII exemption — which allows religious organizations the ability to restrict their hiring based on religion, but not to engage in race, sex, or national origin discrimination, for example, offers sufficient protection to religious organizations," Thompson said. "As we argue, there is no reason to adopt a different exemption for LGBT discrimination by those organizations."
Thompson also called for the elimination of Section 8(c) of ENDA, which he said would allow employers in states where same-sex couples can legally marry to treat married gay and lesbian employees as unmarried for purposes of employee benefits.
"As more states continue to move in the direction of extending the freedom to marry to gay and lesbian couples and the ongoing legal challenges to DOMA work their way through the judicial process, Congress should not, in our view, pass legislation that expands the reach of a discriminatory and unconstitutional law," Thompson said.
The committee didn't immediately respond to a request to comment on the proposed changes, but Merkley expressed awareness of the proposed change during the hearing.
No Obama administration official testified at the hearing. A White House official had earlier said the administration wasn't invited to testify, and committee spokesperson Justine Sessions said the panel had already heard from the administration in testimony from earlier hearings.
State Department spokesperson criticizes new Russia propaganda law
Statute 'pushes LGBTQI+ persons further to the margins of Russian society'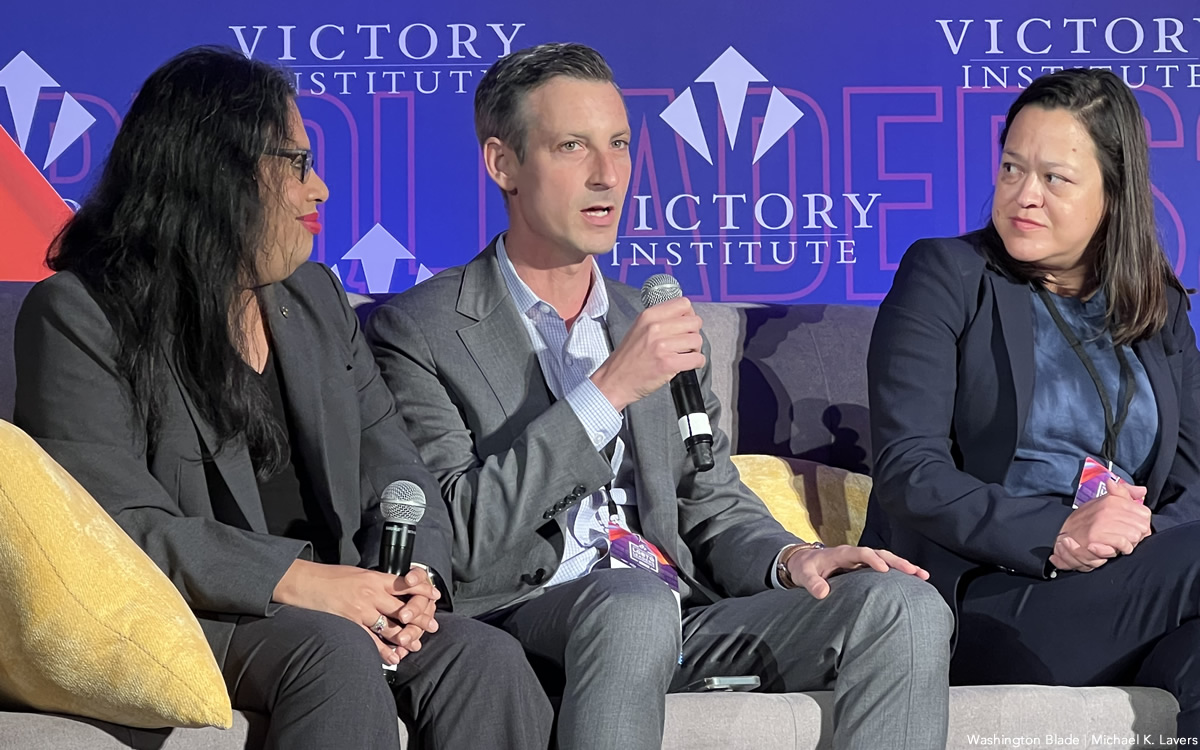 State Department spokesperson Ned Price on Tuesday sharply criticized the anti-LGBTQ propaganda law that Russian President Vladimir Putin signed the day before.
Price, who is openly gay, noted to reporters during a press briefing the law "further criminalizes the sharing of information about LGBTQI+ persons."
"The law is another serious blow to freedom of expression in Russia, and a continuation of the Kremlin's broader, long-running crackdown against marginalized persons, dissenting voices, civil society and independent media that it has intensified, as it has failed to achieve its objectives in its unconscionable war against Ukraine," said Price.
"The law pushes LGBTQI+ persons further to the margins of Russian society, fueling and amplifying the prejudice, discrimination, violence and stigma they face. The legislation is a clear attempt by the Kremlin to distract from its own failures by scapegoating vulnerable communities and creating phantom enemies," he added. "We stand in solidarity with LGBTQI+ persons in Russia and around the world who seek to exercise the rights enshrined in the Universal Declaration of Human Rights, which recognizes that all human beings are free and equal in dignity and rights."
The law that Putin signed on Monday expands the existing "Protecting Children from Information Advocating a Denial of Traditional Family Values" statute that took effect in Russia in 2013.
The new law will ban so-called LGBTQ propaganda and materials that discuss gender reassignment surgery and LGBTQ and intersex issues to minors, which it categorizes as the promotion of pedophilia. Russian media reports indicate the new law will apply to films, books, commercials, media outlets and computer games.
Anyone who violates the law could face a fine of up to 10 million rubles ($165,152.80.) Authorities could also force businesses and organizations to temporarily close, and foreigners who violate the law could face arrest, incarceration for up to 15 days, a fine of up to 5,000 rubles and deportation.
Putin signed the law against the backdrop of Russia's continued war against Ukraine.
Club Q suspect indicted on 305 charges
22-year-old charged with first-degree murder, bias-motivated crime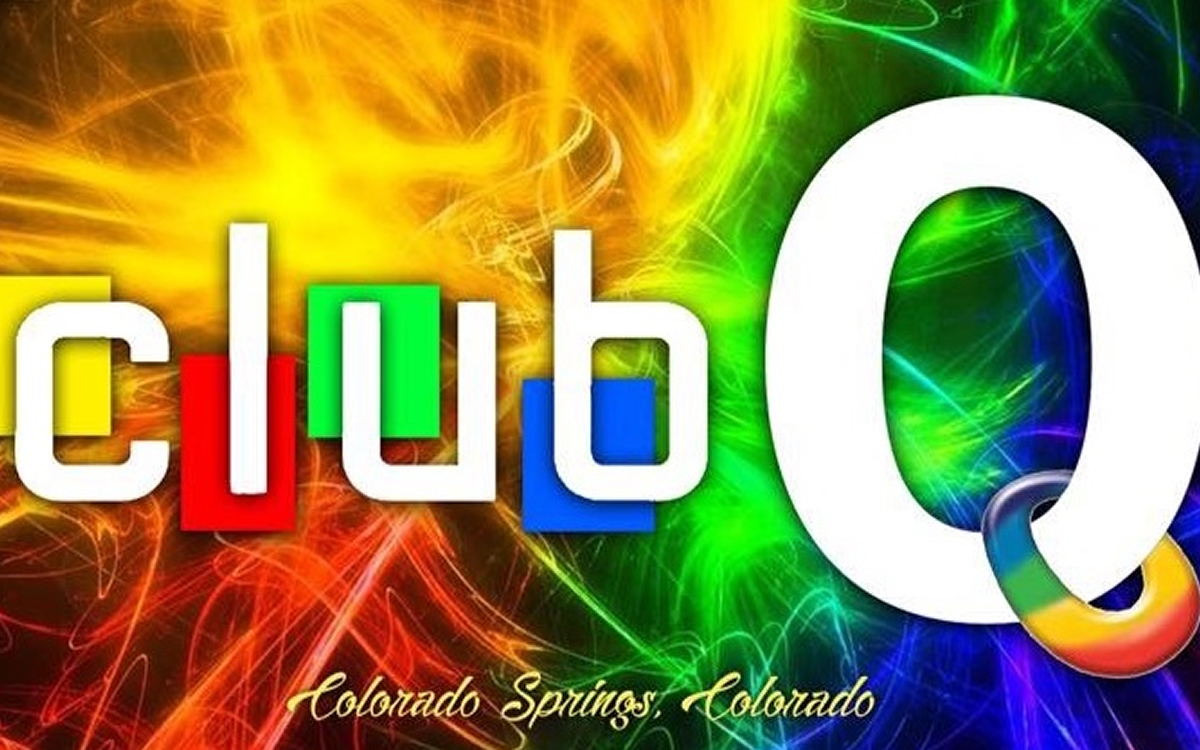 El Paso County (Colo.) District Attorney Michael Allen announced in the first in-person hearing on Tuesday that the 22-year-old suspect in the mass shooting at the LGBTQ nightclub Club Q, which killed five and wounded dozens of others, will face 305 charges including first-degree murder, attempted first-degree murder and bias-motivated crime.
The Colorado Springs Gazette newspaper reported Anderson Aldrich appeared in a Colorado Springs courtroom wearing a green jumpsuit and handcuffs. Aldrich's facial bruising had significantly healed since a video hearing two weeks ago. 
The total list of charges according to the Gazette is as follows:
• 10 counts of first-degree murder.
• 86 counts of attempted first-degree murder.
• 86 counts of first-degree assault.
• Four counts of second-degree assault.
• 48 counts of bias-motivated crime. 
• 71 counts of violent crime causing death and using a weapon.
Allen said the prosecution may request to amend the charges in the future.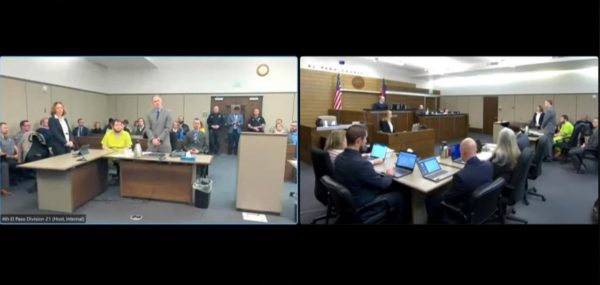 "We are not going to tolerate actions against community members based on their sexual identity," Allen said at a news conference after the hearing. "Members of that community have been harassed and intimated and abused for too long. And that's not going to occur in the 4th Judicial District."
During the hearing Judge Michael McHenry, following the filing of formal charges, granted a request from Allen for the suspect's arrest affidavit to be unsealed. The court papers should be available to the public by the end of the day Wednesday, the judge noted according to the Gazette.
Allen said that while he couldn't talk about what is in the affidavit, he told reporters that it might contain "much less information than you might expect."
Suspect in Club Q shooting appears in court:
Supreme Court hears oral arguments in 303 Creative case
Dangerous implications for LGBTQ consumers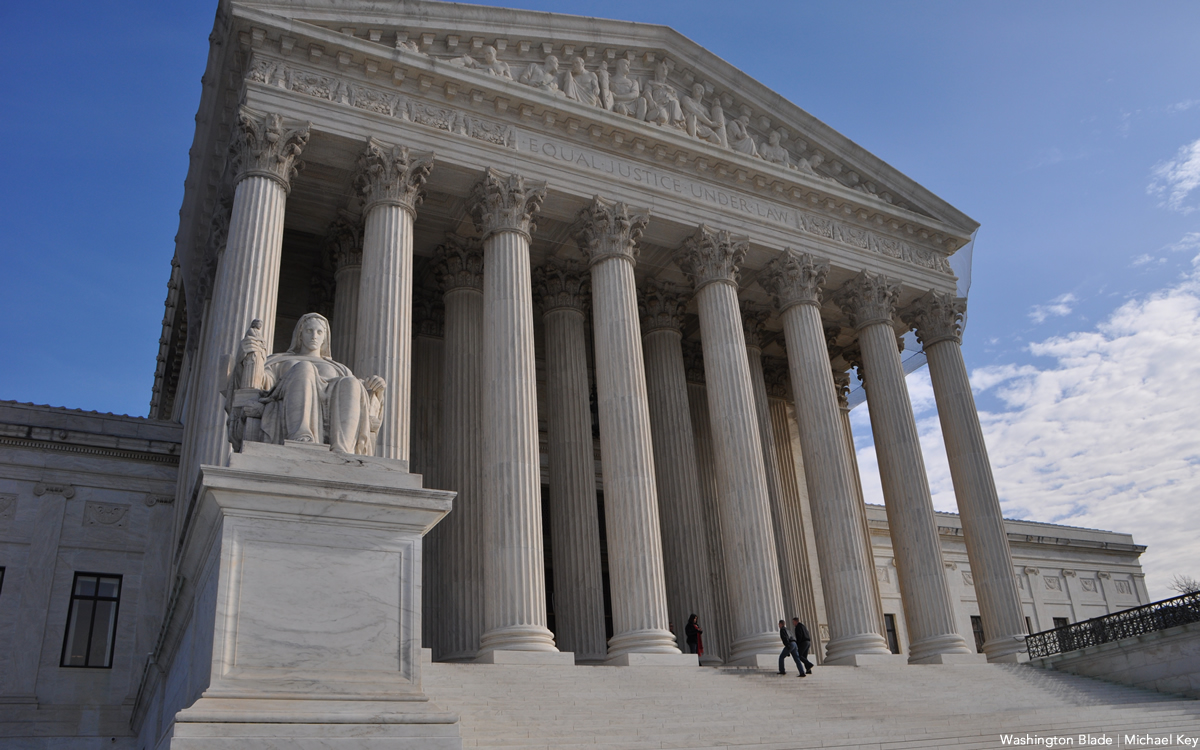 The U.S. Supreme Court on Monday heard oral arguments in 303 Creative v. Elenis, a case that could carry broad implications for whether and in which circumstances states may enforce certain nondiscrimination rules against purveyors of goods and services.
The case was brought by website designer Lorie Smith, who sought to include a disclaimer that her company 303 Creative would not develop wedding announcement websites for LGBTQ couples, but discovered that such a notice would violate Colorado's anti-discrimination laws, which include sexual orientation as a protected class.
Her lawsuit against the state of Colorado, argued by counsel from the anti-LGBTQ group Alliance Defending Freedom (ADF), reaches the Supreme Court following the ruling against Smith from the 10th Circuit Court of Appeals, which created a circuit split with decisions from the 8th Circuit and Arizona Supreme Court. A ruling is expected to come in June.
The fact pattern in 303 Creative closely mirrors the 2018 case Masterpiece Cakeshop v. Colorado Civil Rights Commission, where the Supreme Court declined to rule on the broader legal questions because it found the Commission exhibited hostility toward the religious views of the bakery that refused to design a custom wedding cake for a same-sex couple.
The high court has since moved substantially to the right, with a 6-3 conservative supermajority. Colorado is one of 20 states that enforces laws prohibiting businesses from discrimination based on sexual orientation, and a ruling that would allow for broadly construed exemptions to be carved out for firms based on their First Amendment protections would carry implications well beyond the context of same-sex marriage.
Monday's oral arguments focused on preexisting and hypothetical cases that were presented by counsel from both parties as well as by the justices, examples whose scope and fact patterns reinforced the breadth of the legal issues at play in 303 Creative.
Colorado Solicitor General Eric Olson and U.S. Principal Deputy Solicitor General Brian Fletcher pointed to the Supreme Court's ruling in Rumsfeld v. Forum for Academic and Institutional Rights, 2006, which found that the federal government may withhold funding from universities that, based on their objections to "Don't Ask, Don't Tell," refuse to grant military recruiters access to their resources.
ADF CEO, President and General Counsel Kristen Waggoner cited the Supreme Court's decision in Hurley v. Irish American Gay, Lesbian, and Bisexual Group of Boston, 1995, which upheld the right of private organizations to exclude participation by certain groups without interference by the state, even if that intervention by the government was for the purpose of preventing discrimination.
Much of the discussion during Monday's oral arguments centered on what kinds of goods and services may be considered public accommodations and which constitute artistic speech or expression by the business provider. Also at issue were questions such as whether their refusal to accommodate certain events – i.e., same-sex weddings – are tantamount to refusing goods and services to members of a protected class of people under the state's non-discrimination laws.
LGBTQ rights groups fear the implications of a ruling in favor of 303 Creative
ADF is designated an anti-LGBTQ extremist group by the Southern Poverty Law Center. An amicus brief was filed in support of the government by the corporate law firm White & Case along with a coalition of LGBTQ rights groups and legal advocacy groups: the National LGBTQ Task Force, GLAD, the National Center for Lesbian Rights, Lambda Legal, and the Human Rights Campaign.
"Just two weeks after a shooter killed 5 people, injured 18, and traumatized so many others at Club Q in Colorado Springs, the United States Supreme Court prepares to hear oral arguments in an anti-LGBTQ public accommodations discrimination case from Colorado," wrote the National LGBTQ Task Force in a statement addressing Monday's oral arguments.
Liz Seaton, the group's policy director, highlighted the importance of public accommodations laws and condemned efforts by the opposition to legalize discrimination and segregation in the marketplace. "The brief's most important argument lifts up the powerful amicus briefs of the NAACP Legal Defense and Educational Fund and of the Lawyers' Committee for Civil Rights Under Law," Seaton said. "Those two briefs by venerable civil rights organizations provide a detailed history of public accommodations discrimination against Black and Brown people in this country."
HRC's statement on Monday touched on similar themes:
"Granting the unprecedented 'free speech exemption' sought by petitioners in 303 Creative v. Elenis would be a dangerous change to long standing constitutional and civil rights law. It would inevitably lead to increased discrimination not only related to LGBTQ+ people or weddings, but also for other vulnerable populations including women, people with disabilities, and people of minority faiths. It's crucial that justices of the Supreme Court reject discrimination and affirm the equal dignity of every American."
Likewise, the Congressional LGBTQ+ Equality Caucus released a statement exploring the broad implications that could result from the Court's ruling on 303 Creative:
"…the Supreme Court could issue a broad ruling that not only implicates nondiscrimination laws' applications to graphic designers but to a wide range of businesses providing goods and services that have an artistic component. A broad ruling for the graphic designer could not only provide a constitutional basis for discriminating against same-sex couples, but also for discriminating against all marginalized people currently protected by public accommodations nondiscrimination laws."