Trans advocate testifies before Senate on ENDA
'I still sit here today with almost tears in my eyes'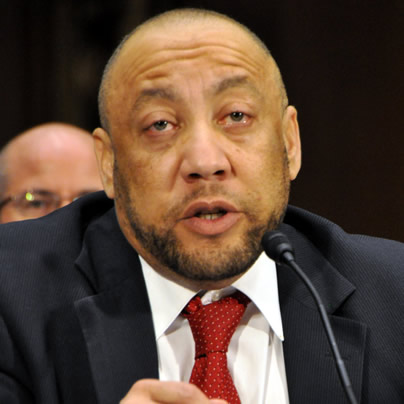 The Senate heard for the first time ever testimony from a transgender witness in a hearing dedicated to highlighting workplace discrimination experienced by LGBT people.
Kylar Broadus, founder of the Columbia, Mo.-based Trans People of Color Coalition, discussed job discrimination he faced as a transgender man before the Senate Health, Education, Labor & Pensions Committee on Tuesday as he called for passage of the Employment Non-Discrimination Act.
In the early 1990s, Broadus worked for a major financial institution, although he didn't disclose its name during the hearing. After announcing in 1995 he would undergo gender transitioning, Broadus said he was forced out of his role.
"At work, when I decided to actually transition, I had been there for a number of years, and I'm a workaholic, and it was disheartening to me that all this could be pulled out from under me because people weren't comfortable with the person that I am," Broadus said.
His written testimony details receiving harassing phone calls, receiving assignments after hours that were due early the next morning and being forbidden from talking to certain people.
"I still sit here today with almost tears in my eyes," Broadus said. "It's devastating, it's demoralizing and dehumanizing to be put in that position."
Broadus said his treatment at work and being forced out impacted him emotionally, causing him post-traumatic stress disorder, and led to a period of unemployment for about a year from which he still hasn't financially recovered.
Noting other transgender workers who face discrimination and lose their jobs are unable to regain employment, Broadus called on Congress to pass ENDA to put into place workplace non-discrimination protections.
"I think it's extremely important that this bill be passed to protect workers like me," Broadus said. "There are many cases that I hear everyday, and people call me everyday with these cases around the country because I'm also an attorney that practices and deals with people that suffer employment discrimination."
Chairman Tom Harkin (D-Iowa) confirmed during the hearing that Broadus was the first openly transgender person to testify before the Senate and commended him for his courage in speaking before the committee, saying he's going to "give courage to a lot of other people."
ENDA, sponsored by Rep. Barney Frank (D-Mass.) in the House and Jeff Merkley in the Senate (D-Ore.), would bar job bias against LGBT people in most situations in the public and private workforce. Firing someone for being gay is legal is 29 states; firing someone for being transgender is legal in 34 states.
Others who testified in favor of ENDA were M.V. Lee Badgett, research director of the Williams Institute at the University of California, Los Angeles; Samuel Bagenstos, a law professor at the University of Michigan; and Ken Charles, vice president of diversity and inclusion at the breakfast foods company General Mills.
The Republican witness who testified against ENDA was Craig Parshall, senior vice president and general counsel for the Manassas, Va.-based National Religious Broadcasters Association. Parshall previously testified against ENDA before the Senate in 2009.
Harkin called ENDA "important civil rights legislation" that would build off strides already made against workplace discrimination in the past 45 years.
"Many states and businesses are already leading the way toward ensuring full equality for all our fellow citizens," Harkin said. "However, the harsh reality is that employers in most states can still fire, refuse to hire, or otherwise discriminate against individuals because of their sexual orientation or gender identity — and, shockingly, they can do so within the law."
Merkley expressed the need for passing ENDA, saying without it on the books, LGBT workers would continue to face workplace discrimination.
"Let us not lose sight that each and every day, American citizens are discriminated against in their employment or their potential employment in ways that have a profound impact on their opportunity fully live their lives, to fully contribute, to fully pursue happiness, to be all that they can be, all that they are — which is a benefit to them and a benefit to our nation," Merkley said. "This discrimination is absolutely wrong. It is morally wrong and we must end it."
The hearing takes places after the White House announced in April it won't issue at this time an executive order requiring federal contractors to have their own non-discrimination policies based on sexual orientation and gender identity. The directive didn't come up during the hearing.
No Republican committee members attended the hearing. The only GOP co-sponsor who serves on the committee is Sen. Mark Kirk (R-Ill.). He's been recovering from a stroke he suffered in late January. A minority committee spokesperson didn't immediate respond to a request to comment on why all Republican committee members were absent.
Democrats who attended the hearing in addition to Harkin and Merkley were Sens. Patty Murray (D-Wash.), Al Franken (D-Minn.) and, briefly, Michael Bennet (D-Colo.).
LGBT advocates commended Harkin for bringing more attention to the lack of federal non-discrimination protections for LGBT people by holding an ENDA hearing.
Rea Carey, executive director of the National Gay & Lesbian Task Force, said ENDA reflects core American values of "giving everyone a fair shake and allowing them to fully and freely contribute their skills and talents" in the workforce.
"Many people think these protections already exist, but that's not the case," Carey said. "There is no clear federal law, and there are no such laws in over half the states. This jeopardizes our ability to have or keep employment, housing and feed our families. ENDA will level the playing field once and for all."
LGBT advocates have been calling on the committee to markup the legislation to send it to the Senate floor. All 12 Democrats on the panel — in addition to Sen. Mark Kirk (R-Ill.) — are co-sponsors of the bill, so it should have no problem getting out of committee.
Murray was explicit in calling for a markup of the bill during her committee remarks, saying she wants to see ENDA pass out of committee "expeditiously." In response, Harkin said, "I hope so."
But speaking with the Washington Blade after the hearing, Harkin was more hesitant about the idea of holding a markup, saying, "I'm going to poll my committee and see. Right now, I'm kind of up to here in getting [Food & Drug Administration] bill through, as you know.   We got it through the Senate; we've got to work with the House on that trying to get that put to bed, and then I'm going to poll the committee and see what we want to do."
Another organization is taking the call to advance ENDA a step further. On the same day of the hearing, Tico Almeida, president of Freedom to Work, sent a letter to Senate Majority Leader Harry Reid (D-Nev.), calling on him to schedule a floor vote on the legislation.
"[W]e respectfully urge you to bring ENDA to a vote on the floor of the U.S. Senate this summer so that LGBT Americans do not have to wait any longer to know which of their Senators support their freedom to work without harassment or discrimination on the job, and which Senators still find it acceptable for Americans to be unjustly fired simply because of whom they love or their gender identity," Almeida writes.
Reid's office didn't respond to a request to comment on the letter. The writing cites the Washington Blade's questioning of White House Press Secretary Robert Gibbs in January 2011 in which the spokesperson acknowledged that "there's no doubt that whenever you get something done in one [chamber], you're closer to certainly seeing it come to fruition."
Harkin told the Blade he'd like to see a floor vote on ENDA, although he acknowledged he doesn't control the schedule for the Senate.
"I wish we could have a floor vote, yes," Harkin said. "I would like to see a floor vote on this because I think it's something the American people ought to where we stand on this issue. This is not an issue that bothers me. As I said, it's not difficult for me. It might be difficult for some people; it's not difficult for me."
The most significant point of contention during the hearing between supporters of ENDA and Parshall, who alone expressed opposition to the legislation. Section 6 of ENDA, titled "Exemption for religious organizations," says the bill won't apply to institutions that are exempt from the religious discrimination provisions of Title VII of Civil Rights Act of 1964.
Parshall targeted the religious exemption as his reasons for his opposition to the legislation, saying ENDA "would impose a substantial unconstitutional burden on religious organizations" and "interfere with their ability to effectively pursue their missions."
"It creates huge problems for future courts to iron out which organizations and under what conditions would be exempted, and which ones would not. I think that kind of uncertainty, obviously, raises constitutional problems," Parshall said.
Bagenstos took Parshall's objections to ENDA head on during the later question-and-answer portion of the hearing, saying Parshall's assertions are without merit because the legislation clearly states which religious organizations are exempt from ENDA.
"Like any legal tests, there are sometimes cases at the edges, but employers have over 40 years of case law to enable them to understand what is covered and what is not covered here," Bagenstos said. "There is no particular reason to believe that under ENDA, there would be any difficulty in understanding what the scope of the application of that exemption would be."
But social conservatives aren't the only ones unhappy with ENDA's religious exemption. The American Civil Liberties Union says the exemption is too broad and should be narrowed to be more similar to Title VII of the Civil Rights Act of 1964.
Ian Thompson, the ACLU's legislative representative, said the current exemption "would provide a license for a religious organization to discriminate" against LGBT people for any reason and not just based on the organization's religious teachings.
"We believe that the existing Title VII exemption — which allows religious organizations the ability to restrict their hiring based on religion, but not to engage in race, sex, or national origin discrimination, for example, offers sufficient protection to religious organizations," Thompson said. "As we argue, there is no reason to adopt a different exemption for LGBT discrimination by those organizations."
Thompson also called for the elimination of Section 8(c) of ENDA, which he said would allow employers in states where same-sex couples can legally marry to treat married gay and lesbian employees as unmarried for purposes of employee benefits.
"As more states continue to move in the direction of extending the freedom to marry to gay and lesbian couples and the ongoing legal challenges to DOMA work their way through the judicial process, Congress should not, in our view, pass legislation that expands the reach of a discriminatory and unconstitutional law," Thompson said.
The committee didn't immediately respond to a request to comment on the proposed changes, but Merkley expressed awareness of the proposed change during the hearing.
No Obama administration official testified at the hearing. A White House official had earlier said the administration wasn't invited to testify, and committee spokesperson Justine Sessions said the panel had already heard from the administration in testimony from earlier hearings.
U.S. Supreme Court ruling allows Biden administration to end MPP
Trump-era policy placed LGBTQ asylum seekers at increased risk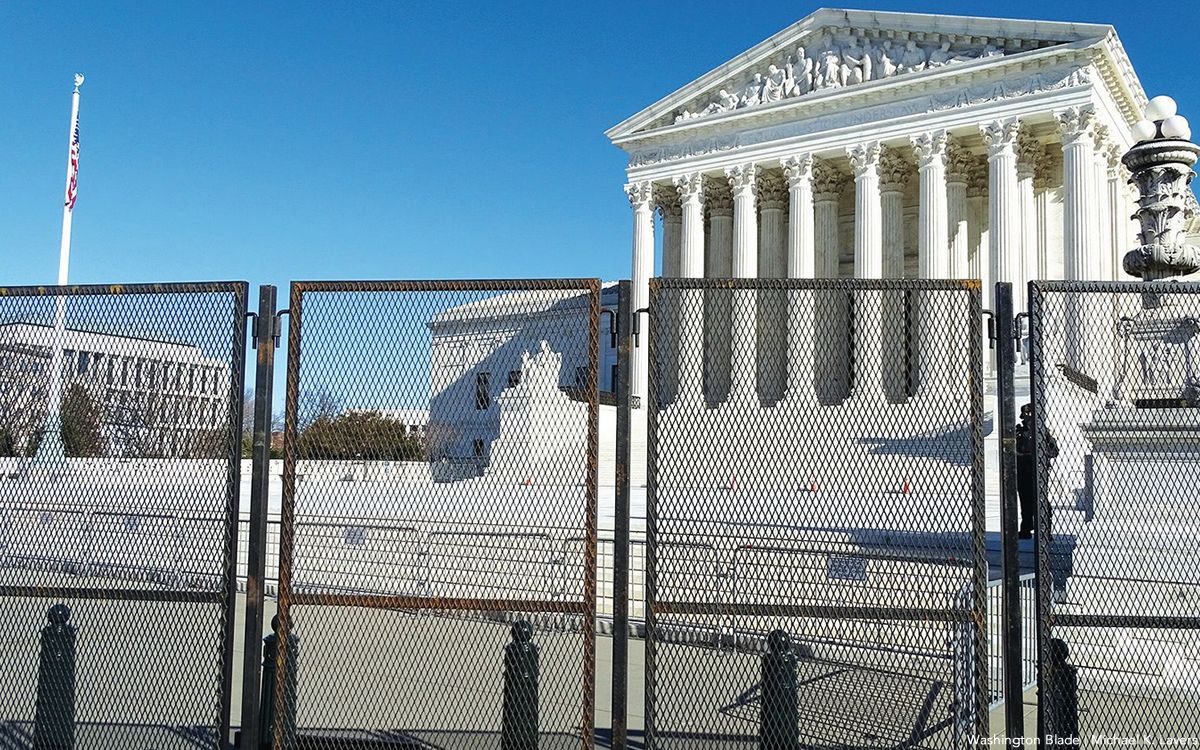 The U.S. Supreme Court on Thursday in a 5-4 ruling said the Biden administration can end a policy that forced asylum seekers to pursue their cases in Mexico.
The previous White House's Migrant Protection Protocols program, which became known as the "Remain in Mexico" policy, took effect in 2019.
The Biden administration suspended MPP enrollment shortly after it took office in January 2021. The program was to have ended six months later, but a federal judge in Texas ordered MPP's reinstatement after the state and Missouri filed suit against the Biden administration.
Thursday's ruling sends the Texas and Missouri case back to lower courts.
"As Secretary Mayorkas concluded in October 2021 after a thorough review, the prior administration's Migrant Protection Protocols (MPP) has endemic flaws, imposes unjustifiable human costs and pulls resources and personnel away from other priority efforts to secure our border," said the Department of Homeland Security in a statement. "We welcome the Supreme Court's decision affirming that the Secretary has the discretionary authority to terminate the program, and we will continue our efforts to terminate the program as soon as legally permissible."
U.S. Sen. Alex Padilla (D-Calif.) also welcomed the ruling.
"Today's Supreme Court decision correctly acknowledges the Biden administration's authority to end the unlawful and cruel 'Remain in Mexico' program," he said in a statement. "For more than three years, this horrifying policy has denied asylum seekers their right to due process and subjected them to crimes like rape, kidnapping and torture in northern Mexican border cities while they await their court hearings."
Advocates sharply criticized MPP, in part, because it made LGBTQ and intersex asylum seekers who were forced to live in Tijuana, Ciudad Juárez, Reynosa, Matamoros and other Mexican border cities even more vulnerable to violence and persecution based on their sexual orientation and gender identity.
[email protected] Coalition President Bamby Salcedo on Thursday told the Washington Blade the Supreme Court ruling "will certainly impact our community in a positive way."
"We know that people who have to remain in Mexico to wait continue to be victims of violence," said Salcedo. "This is definitely a step in the right direction and we're grateful that this happened in this way."
Emilio Vicente, communications and policy director of Familia: TQLM, an organization that advocates on behalf of transgender and gender non-conforming immigrants, echoed Salcedo.
"We're glad to finally have some good news from the Supreme Court after horrible rulings on abortions, climate change, Native American rights," said Vicente. "Ending 'Remain in Mexico' will allow LGBTQ+ asylum seekers who face increased discrimination and abuse during the journey to the U.S., to be able to seek asylum here."
Abdiel Echevarría-Cabán is a South Texas-based immigration attorney and human rights law and policy expert who the LGBTQ+ Bar in 2021 recognized as one of its 40 best LGBTQ lawyers who are under 40.
He told the Blade on Thursday the Supreme Court ruling is "a victory we must celebrate." Echevarría-Cabán also said MPP placed LGBTQ and intersex asylum seekers at increased risk.
"Refugees in general, but especially LGBT refugees, are extremely vulnerable to other type of harms such as kidnappings by cartel members, extortion, physical and psychological abuses from Mexican law enforcement authorities and third parties given the high levels of discrimination for LGBT refugees in Mexico," said Echevarría-Cabán.
The Supreme Court issued its ruling a day after the Justice Department filed charges against four people in connection with the deaths of 53 migrants who were found in the back of a tractor trailer truck in San Antonio.
The Biden administration in April announced its plans to terminate Title 42, a Centers for Disease Control and Prevention rule that closed the Southern border to most asylum seekers and migrants because of the pandemic. Title 42 was to have ended on May 23, but a federal judge ruled against the White House.
"This decision isn't the end of the fight for ensuring that people seeking asylum get asylum but it's an important step in protecting vulnerable people," Vicente told the Blade after Thursday's ruling. "President Biden must follow through on his commitment to end MPP and protect all asylum seekers."
Salcedo noted to the Blade the "system, as it is, particularly when it comes to trans women, needs to be completely changed so that we can be at a better place as a community." Padilla in his statement urged the Biden administration "to do everything in its power to swiftly end 'Remain in Mexico' once and for all."
"Misguided and inhumane Trump-era policies like 'Remain in Mexico' and Title 42 have only decimated an already broken immigration system," he said. "We must keep working to restore the lawful processing of asylum seekers at the border, in keeping with America's most deeply held values as a nation of immigrants."
The Department of Homeland Security in its statement notes Title 42 remains in place.
"The department also continues to enforce our immigration laws at the border and administer consequences for those who enter unlawfully, and will continue the court-mandated enforcement of the Centers for Disease Control and Prevention's Title 42 public health order," it reads.
Kamala Harris hosts Pride month reception
Upwards of 200 people attended Naval Observatory event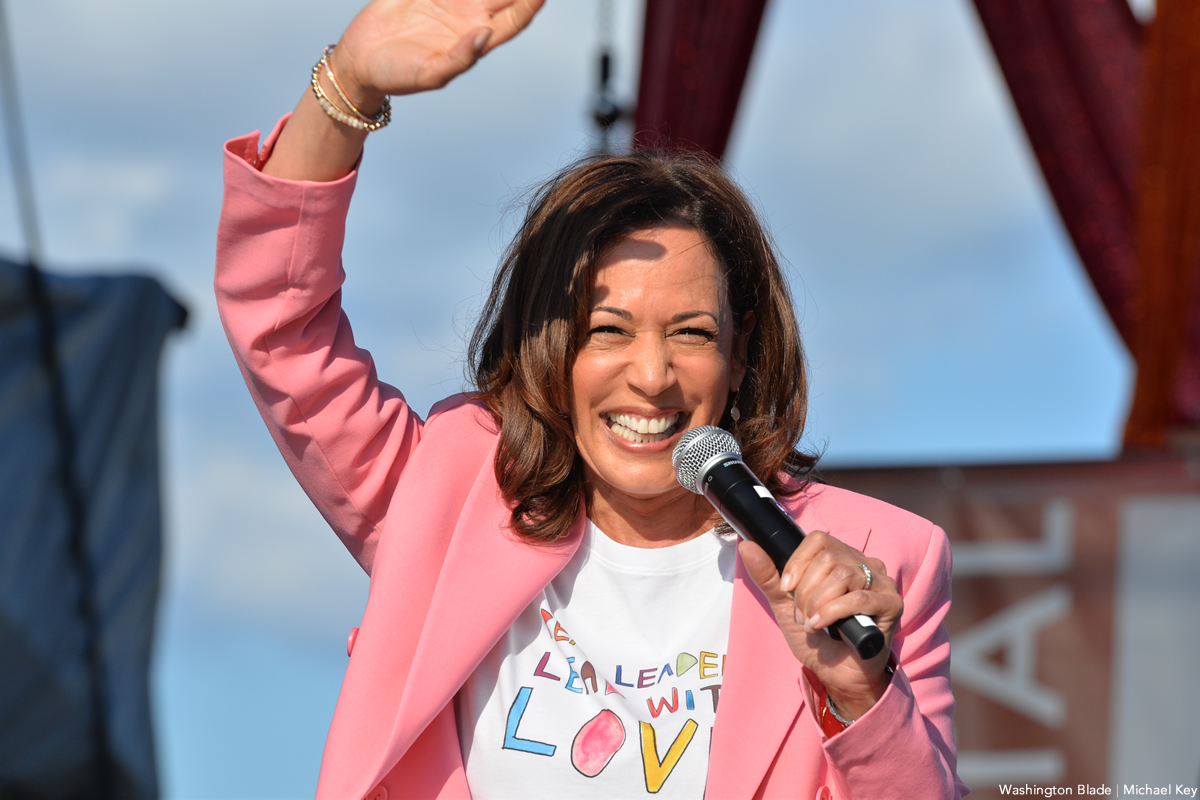 Vice President Kamala Harris helped bring Pride Month to a close Tuesday at her residence with a celebration for high-profile members of the LGBTQ community, recognizing successes achieved but also urging continued movement.
"When we celebrate Pride, it's because we understand not only the strength of what we have accomplished, and the fight for equality, but we [also] understand the fragility of these gains, and so we know what we must do to be vigilant and maintain [those rights]," Harris said.
The Advocate reported in coverage of the event the Pride celebration was the first ever to take place at the vice president's residence, but that's incorrect.
President Biden as vice president hosted a Pride event with LGBTQ leaders in 2014. Harris also said during the event her understanding was it was a first for a sitting vice president.
An estimated 200 attendees were present for the event at the Naval Observatory in D.C., which serves as the vice president's official residence. Guests at the party mingled by the pool and partook of drinks served on a spinning wheel placed just outside.
High-profile officials from the Biden administration who were present included Transportation Secretary Pete Buttigieg and Interior Secretary Deb Haaland. Neither delivered remarks. Also at the event was "RuPaul's Drag Race" star Shangela, who addressed the crowd.
Kris Perry and Sandy Stier, who were among in plaintiffs in the litigation against California's Proposition 8, were also present at the event. Harris married the couple in 2013 as soon as the U.S. Supreme Court issued a ruling restoring marriage equality to the state.
Perry and Stier spoke before the crowd and urged them to continue to stand strong in the aftermath of the Supreme Court's recent decision overturning Roe v. Wade.
Ketanji Brown Jackson sworn in as first Black woman Supreme Court justice
Roe v. Wade struck down last Friday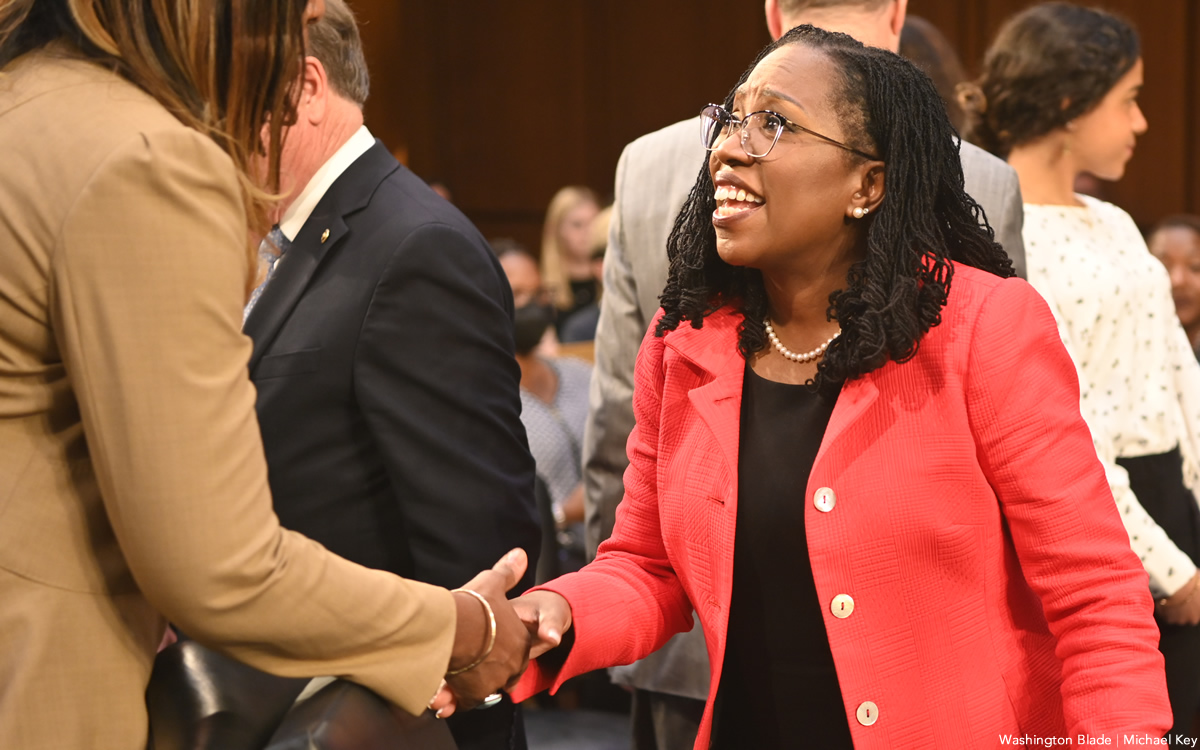 Ketanji Brown Jackson was sworn in Thursday as the newest member of the U.S. Supreme Court, representing a welcome change on the bench for progressives who are still outraged after the decision last week overturning the right to abortion found in Roe v. Wade.
Jackson, who's now the first Black woman to serve on the high court, has replaced Justice Stephen Breyer, a Clinton appointee who is retiring upon the end of the Supreme Court's term. Breyer announced his forthcoming departure months ago as progressives urged him to stop to ensure a replacement appointed a Democratic president and confirmed by a Democratic Senate.
The briefing swearing-in was conducted by Chief Justice John Roberts, who administered the oath of office for Brown before a small gathering of Jackson's family, including her two daughters, according to a report in the New York Times.
GLAAD CEO Sarah Kate Ellis said in a statement the beginning of Jackson's tenure on the Supreme Court "will bring long-needed representation to the Supreme Court at a critical juncture in our nation's history, and after the court's disastrous term dismantling personal liberty."
"It bears repeating the obvious that women, people of color and LGBTQ people are Americans deserving of equal protection under law," Ellis said. "Justice Jackson will be a visible and inspiring presence on a court currently dominated by extremists, reminding all that America should always be moving forward to expand freedom."