Trans advocate testifies before Senate on ENDA
'I still sit here today with almost tears in my eyes'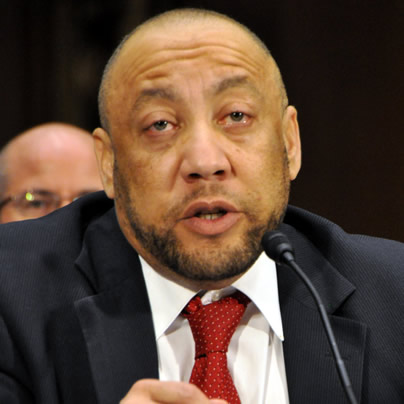 The Senate heard for the first time ever testimony from a transgender witness in a hearing dedicated to highlighting workplace discrimination experienced by LGBT people.
Kylar Broadus, founder of the Columbia, Mo.-based Trans People of Color Coalition, discussed job discrimination he faced as a transgender man before the Senate Health, Education, Labor & Pensions Committee on Tuesday as he called for passage of the Employment Non-Discrimination Act.
In the early 1990s, Broadus worked for a major financial institution, although he didn't disclose its name during the hearing. After announcing in 1995 he would undergo gender transitioning, Broadus said he was forced out of his role.
"At work, when I decided to actually transition, I had been there for a number of years, and I'm a workaholic, and it was disheartening to me that all this could be pulled out from under me because people weren't comfortable with the person that I am," Broadus said.
His written testimony details receiving harassing phone calls, receiving assignments after hours that were due early the next morning and being forbidden from talking to certain people.
"I still sit here today with almost tears in my eyes," Broadus said. "It's devastating, it's demoralizing and dehumanizing to be put in that position."
Broadus said his treatment at work and being forced out impacted him emotionally, causing him post-traumatic stress disorder, and led to a period of unemployment for about a year from which he still hasn't financially recovered.
Noting other transgender workers who face discrimination and lose their jobs are unable to regain employment, Broadus called on Congress to pass ENDA to put into place workplace non-discrimination protections.
"I think it's extremely important that this bill be passed to protect workers like me," Broadus said. "There are many cases that I hear everyday, and people call me everyday with these cases around the country because I'm also an attorney that practices and deals with people that suffer employment discrimination."
Chairman Tom Harkin (D-Iowa) confirmed during the hearing that Broadus was the first openly transgender person to testify before the Senate and commended him for his courage in speaking before the committee, saying he's going to "give courage to a lot of other people."
ENDA, sponsored by Rep. Barney Frank (D-Mass.) in the House and Jeff Merkley in the Senate (D-Ore.), would bar job bias against LGBT people in most situations in the public and private workforce. Firing someone for being gay is legal is 29 states; firing someone for being transgender is legal in 34 states.
Others who testified in favor of ENDA were M.V. Lee Badgett, research director of the Williams Institute at the University of California, Los Angeles; Samuel Bagenstos, a law professor at the University of Michigan; and Ken Charles, vice president of diversity and inclusion at the breakfast foods company General Mills.
The Republican witness who testified against ENDA was Craig Parshall, senior vice president and general counsel for the Manassas, Va.-based National Religious Broadcasters Association. Parshall previously testified against ENDA before the Senate in 2009.
Harkin called ENDA "important civil rights legislation" that would build off strides already made against workplace discrimination in the past 45 years.
"Many states and businesses are already leading the way toward ensuring full equality for all our fellow citizens," Harkin said. "However, the harsh reality is that employers in most states can still fire, refuse to hire, or otherwise discriminate against individuals because of their sexual orientation or gender identity — and, shockingly, they can do so within the law."
Merkley expressed the need for passing ENDA, saying without it on the books, LGBT workers would continue to face workplace discrimination.
"Let us not lose sight that each and every day, American citizens are discriminated against in their employment or their potential employment in ways that have a profound impact on their opportunity fully live their lives, to fully contribute, to fully pursue happiness, to be all that they can be, all that they are — which is a benefit to them and a benefit to our nation," Merkley said. "This discrimination is absolutely wrong. It is morally wrong and we must end it."
The hearing takes places after the White House announced in April it won't issue at this time an executive order requiring federal contractors to have their own non-discrimination policies based on sexual orientation and gender identity. The directive didn't come up during the hearing.
No Republican committee members attended the hearing. The only GOP co-sponsor who serves on the committee is Sen. Mark Kirk (R-Ill.). He's been recovering from a stroke he suffered in late January. A minority committee spokesperson didn't immediate respond to a request to comment on why all Republican committee members were absent.
Democrats who attended the hearing in addition to Harkin and Merkley were Sens. Patty Murray (D-Wash.), Al Franken (D-Minn.) and, briefly, Michael Bennet (D-Colo.).
LGBT advocates commended Harkin for bringing more attention to the lack of federal non-discrimination protections for LGBT people by holding an ENDA hearing.
Rea Carey, executive director of the National Gay & Lesbian Task Force, said ENDA reflects core American values of "giving everyone a fair shake and allowing them to fully and freely contribute their skills and talents" in the workforce.
"Many people think these protections already exist, but that's not the case," Carey said. "There is no clear federal law, and there are no such laws in over half the states. This jeopardizes our ability to have or keep employment, housing and feed our families. ENDA will level the playing field once and for all."
LGBT advocates have been calling on the committee to markup the legislation to send it to the Senate floor. All 12 Democrats on the panel — in addition to Sen. Mark Kirk (R-Ill.) — are co-sponsors of the bill, so it should have no problem getting out of committee.
Murray was explicit in calling for a markup of the bill during her committee remarks, saying she wants to see ENDA pass out of committee "expeditiously." In response, Harkin said, "I hope so."
But speaking with the Washington Blade after the hearing, Harkin was more hesitant about the idea of holding a markup, saying, "I'm going to poll my committee and see. Right now, I'm kind of up to here in getting [Food & Drug Administration] bill through, as you know.   We got it through the Senate; we've got to work with the House on that trying to get that put to bed, and then I'm going to poll the committee and see what we want to do."
Another organization is taking the call to advance ENDA a step further. On the same day of the hearing, Tico Almeida, president of Freedom to Work, sent a letter to Senate Majority Leader Harry Reid (D-Nev.), calling on him to schedule a floor vote on the legislation.
"[W]e respectfully urge you to bring ENDA to a vote on the floor of the U.S. Senate this summer so that LGBT Americans do not have to wait any longer to know which of their Senators support their freedom to work without harassment or discrimination on the job, and which Senators still find it acceptable for Americans to be unjustly fired simply because of whom they love or their gender identity," Almeida writes.
Reid's office didn't respond to a request to comment on the letter. The writing cites the Washington Blade's questioning of White House Press Secretary Robert Gibbs in January 2011 in which the spokesperson acknowledged that "there's no doubt that whenever you get something done in one [chamber], you're closer to certainly seeing it come to fruition."
Harkin told the Blade he'd like to see a floor vote on ENDA, although he acknowledged he doesn't control the schedule for the Senate.
"I wish we could have a floor vote, yes," Harkin said. "I would like to see a floor vote on this because I think it's something the American people ought to where we stand on this issue. This is not an issue that bothers me. As I said, it's not difficult for me. It might be difficult for some people; it's not difficult for me."
The most significant point of contention during the hearing between supporters of ENDA and Parshall, who alone expressed opposition to the legislation. Section 6 of ENDA, titled "Exemption for religious organizations," says the bill won't apply to institutions that are exempt from the religious discrimination provisions of Title VII of Civil Rights Act of 1964.
Parshall targeted the religious exemption as his reasons for his opposition to the legislation, saying ENDA "would impose a substantial unconstitutional burden on religious organizations" and "interfere with their ability to effectively pursue their missions."
"It creates huge problems for future courts to iron out which organizations and under what conditions would be exempted, and which ones would not. I think that kind of uncertainty, obviously, raises constitutional problems," Parshall said.
Bagenstos took Parshall's objections to ENDA head on during the later question-and-answer portion of the hearing, saying Parshall's assertions are without merit because the legislation clearly states which religious organizations are exempt from ENDA.
"Like any legal tests, there are sometimes cases at the edges, but employers have over 40 years of case law to enable them to understand what is covered and what is not covered here," Bagenstos said. "There is no particular reason to believe that under ENDA, there would be any difficulty in understanding what the scope of the application of that exemption would be."
But social conservatives aren't the only ones unhappy with ENDA's religious exemption. The American Civil Liberties Union says the exemption is too broad and should be narrowed to be more similar to Title VII of the Civil Rights Act of 1964.
Ian Thompson, the ACLU's legislative representative, said the current exemption "would provide a license for a religious organization to discriminate" against LGBT people for any reason and not just based on the organization's religious teachings.
"We believe that the existing Title VII exemption — which allows religious organizations the ability to restrict their hiring based on religion, but not to engage in race, sex, or national origin discrimination, for example, offers sufficient protection to religious organizations," Thompson said. "As we argue, there is no reason to adopt a different exemption for LGBT discrimination by those organizations."
Thompson also called for the elimination of Section 8(c) of ENDA, which he said would allow employers in states where same-sex couples can legally marry to treat married gay and lesbian employees as unmarried for purposes of employee benefits.
"As more states continue to move in the direction of extending the freedom to marry to gay and lesbian couples and the ongoing legal challenges to DOMA work their way through the judicial process, Congress should not, in our view, pass legislation that expands the reach of a discriminatory and unconstitutional law," Thompson said.
The committee didn't immediately respond to a request to comment on the proposed changes, but Merkley expressed awareness of the proposed change during the hearing.
No Obama administration official testified at the hearing. A White House official had earlier said the administration wasn't invited to testify, and committee spokesperson Justine Sessions said the panel had already heard from the administration in testimony from earlier hearings.
Gay journalist murdered inside Philadelphia home
Josh Kruger's death has left city 'shocked and saddened'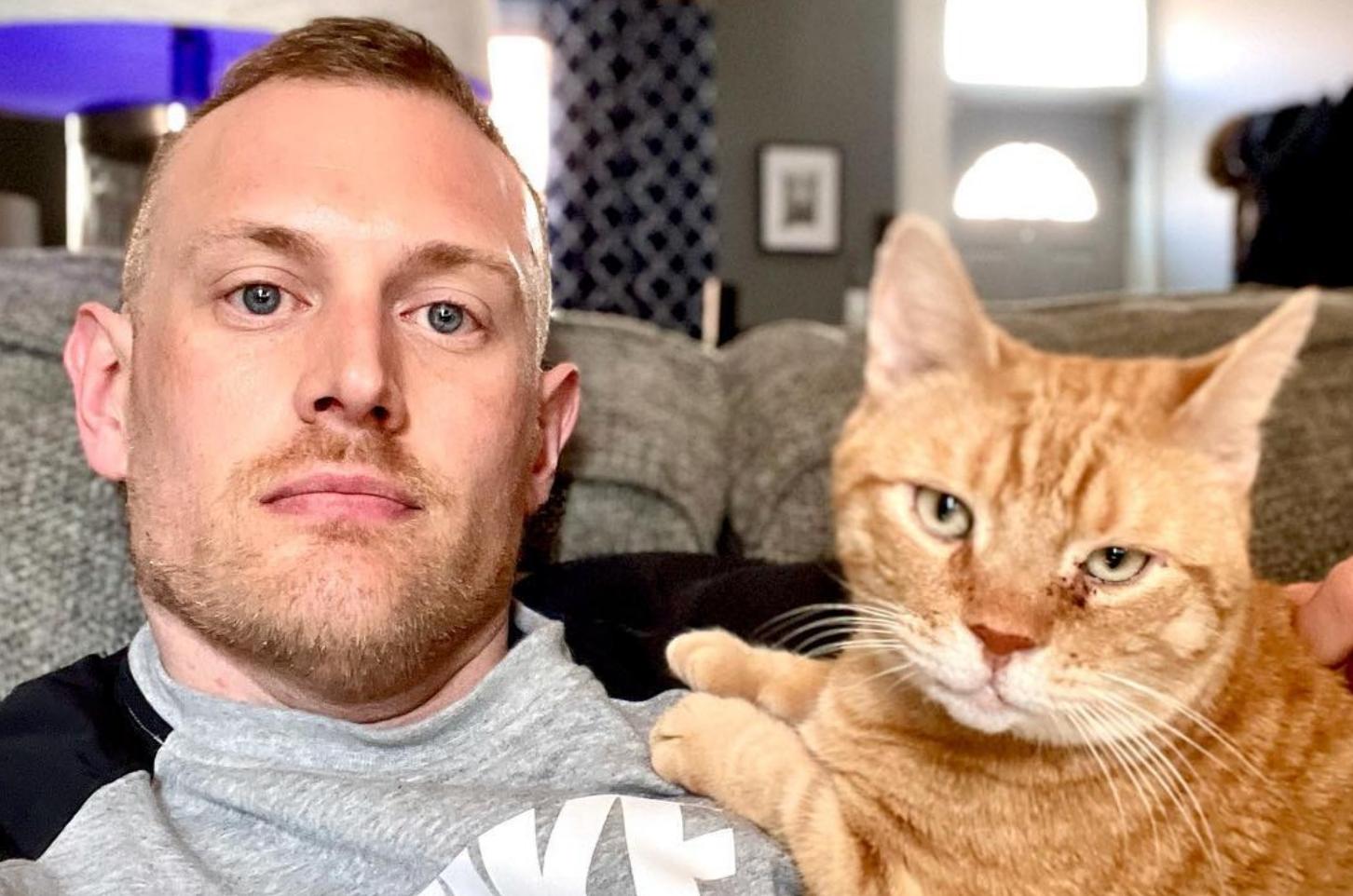 An openly gay journalist was shot to death in his Point Breeze neighborhood home in the 2300 block of Watkins Street in South Philadelphia early Monday morning.
According to Officer Shawn Ritchie, a spokesperson for the Philadelphia Police Department, 39-year-old Josh Kruger was shot at about 1:30 a.m. and collapsed in the street after seeking help. Kruger was transported to Penn Presbyterian Hospital where he was pronounced dead at 2:13 a.m.
Police said that Kruger was shot seven times throughout the chest and abdomen and that no weapons were recovered nor have any arrests been made. Homicides investigators noted that there was no sign of forced entry and the motive remains unclear.
Philadelphia District Attorney Larry Krasner said in a statement:
"Josh Kruger lifted up the most vulnerable and stigmatized people in our communities — particularly unhoused people living with addiction. As an openly queer writer who wrote about his own journey surviving substance use disorder and homelessness, it was encouraging to see Josh join the Kenney administration as a spokesperson for the Office of Homeless Services.
Josh deserved to write the ending of his personal story. As with all homicides, we will be in close contact with the Philadelphia police as they work to identify the person or persons responsible so that they can be held to account in a court of law. I extend my deepest condolences to Josh's loved ones and to all those mourning this loss."
WHYY reported Kruger had written extensively with bylines in multiple publications, including the Philadelphia Inquirer, Philadelphia Magazine, the Philadelphia Citizen, WHYY, and Billy Penn.
CBS News reported that Kruger overcame homelessness and addiction to work for five years in city government, handling Mayor Jim Kenney's social media and serving as the communications director for the city's Office of Homeless Services.
He left city government in 2021 to return to journalism, according to his website.
"He was more than just a journalist," Kendall Stephens, who was a friend and neighbor of Kruger's, told CBS News. "He was more than just a community member. He was somebody that fought that great fight so many of us are not able to fight that fight because we're too busy sheltered in our own homes wondering if someone is going to knock down our doors and kill us the same way they killed him. The same way they tried to kill me. And we're tired of it."
Kenney said in a statement that he is "shocked and saddened" by Kruger's death.
"He cared deeply about our city and its residents, which was evident in his public service and writing. Our administration was fortunate to call him a colleague, and our prayers are with everyone who knew him."
Shocked and saddened by Josh Kruger's death. He cared deeply about our city and its residents, which was evident in his public service and writing.

Our administration was fortunate to call him a colleague, and our prayers are with everyone who knew him. https://t.co/dnRxQ0Ic3W

— Mayor Jim Kenney (@PhillyMayor) October 2, 2023
The District Attorney's LGBTQ+ Advisory Committee issued the following statement:
"Many of us knew Josh Kruger as a comrade who never stopped advocating for queer Philadelphians living on the margins of society. His struggles mirrored so many of ours — from community rejection, to homelessness, to addiction, to living with HIV, to poverty — and his recovery, survival, and successes showed what's possible when politicians and elected leaders reject bigotry and work affirmatively to uplift all people. Even while Josh worked for the mayor, he never stopped speaking out against police violence, politicized attacks on trans and queer people, or the societal discarding of homeless and addicted Philadelphians.
We are devastated that Josh's life was ended so violently. We urge anyone who has information that could lead to an arrest and prosecution for Josh's murder to contact the Philadelphia Police or the DA's Office directly. LGBTQ+ Philadelphians experience violence of all kinds every day; few people used their platforms to remind powerful people in government of that reality as effectively as Josh Kruger did. Josh and the communities he advocated for every day of his life deserve nothing less than justice and accountability for this outrageous crime."
Lesbian mother from El Salvador released from ICE custody
Jessica Barahona-Martinez arrested on June 26, 2017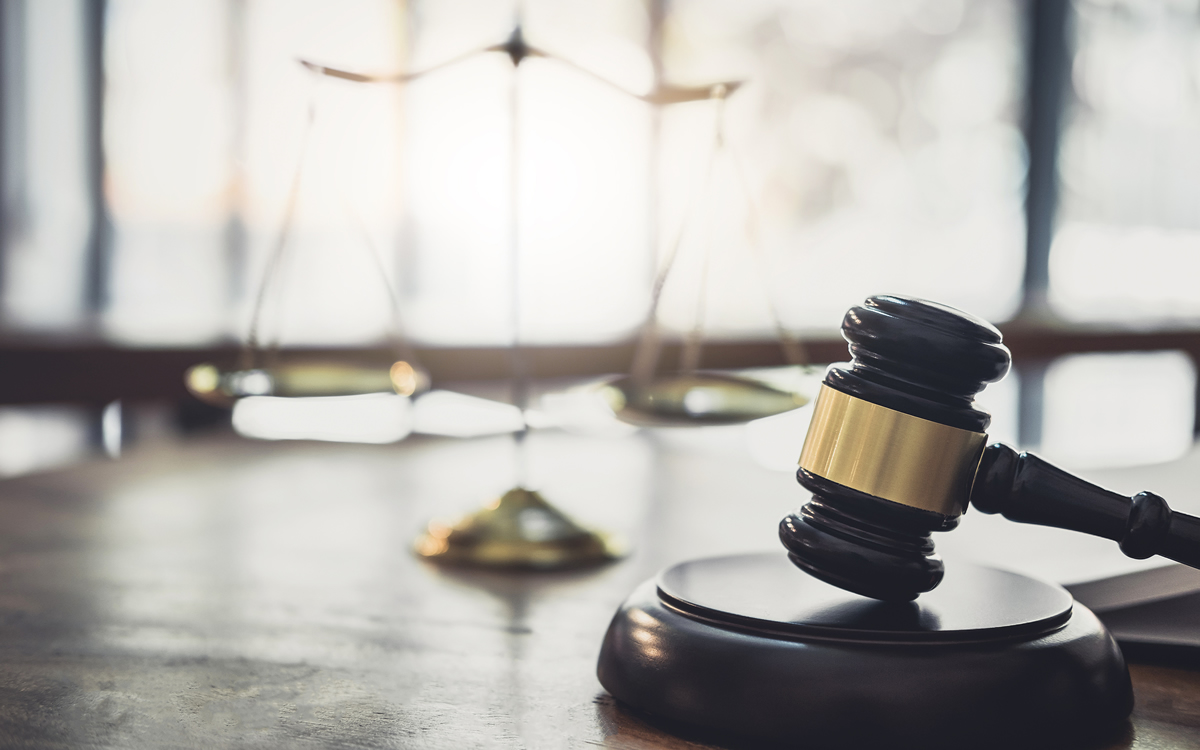 A federal judge last week ordered the release of a lesbian mother from El Salvador who had been in U.S. Immigration and Customs Enforcement custody since June 2017.
Jessica Patricia Barahona-Martinez and her three children entered the U.S. on May 31, 2016. A court filing notes she fled "persecution she faced in El Salvador as a lesbian, and because the government had falsely identified her as a gang member."
Barahona-Martinez lived with her sister and other relatives in Woodbridge, Va., until ICE arrested and detained her on June 26, 2017. She was housed at two ICE detention centers in Virginia until her transfer to the South Louisiana ICE Processing Center, a privately-run facility the GEO Group, a Florida-based company, operates in Basile, La., in October 2020.
An immigration judge in November 2019 granted Barahona-Martinez asylum for the second time. The government appealed the decision and the Board of Immigration Appeals, which the Justice Department oversees, ruled in their favor.
The American Civil Liberties Union and the ACLU of Louisiana last month filed a writ for habeas corpus petition in the U.S. District Court for the Western District of Louisiana's Lafayette Division that asked for Barahona-Martinez's release. U.S. District Judge Terry A. Doughty on Sept. 27 ruled in her favor.
"Petitioner (Barahona-Martinez) ultimately argues that her prolonged detention violates due process; she moves that this court issues a temporary restraining order, requests release, a bond hearing, an expedited hearing and costs and attorney fees," wrote Doughty.
"This court finds that petitioner has plausibly alleged her prolonged detention violates due process," added Doughty.
An ACLU spokesperson on Monday told the Blade that ICE has released Barahona-Martinez and she is once again in Virginia with her children and sister.
State Department hosts intersex activists from around the world
Group met with policy makers, health officials, NGOs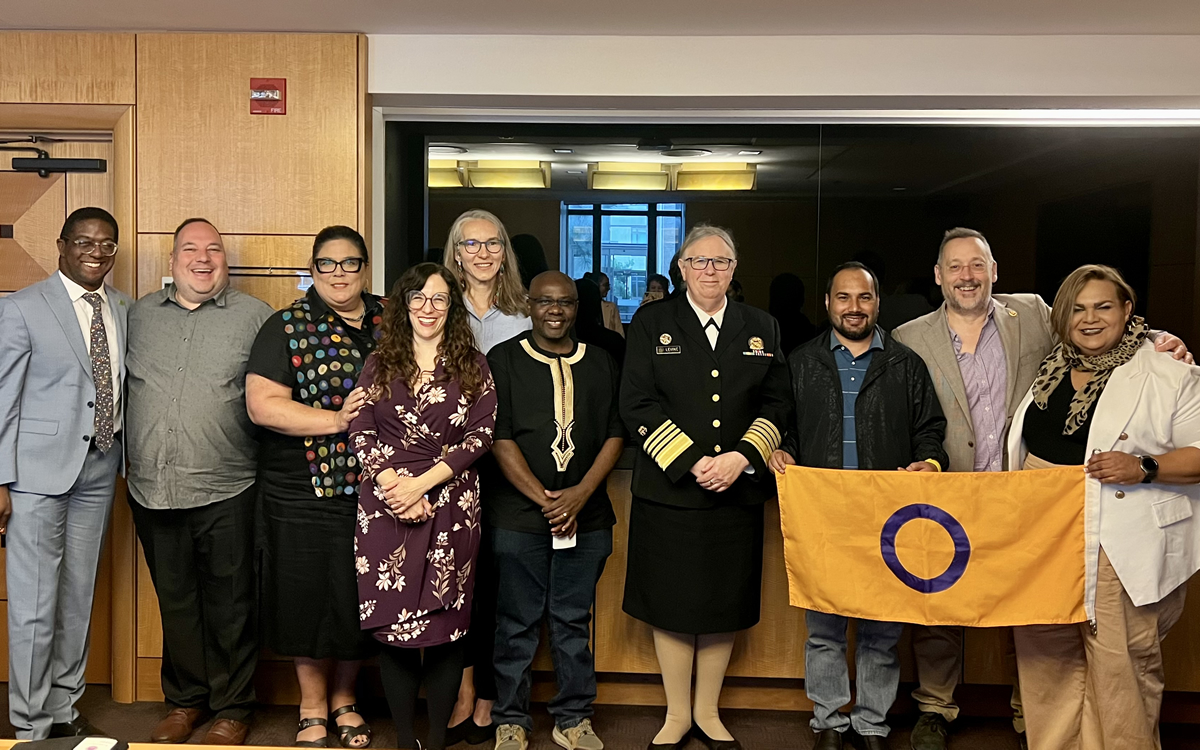 The State Department last week hosted five intersex activists from around the world.
Kimberly Zieselman, a prominent intersex activist who advises Jessica Stern, the special U.S. envoy for the promotion of LGBTQ and intersex rights abroad, brought the activists to D.C.
• Morgan Carpenter, co-founder and executive director of Intersex Human Rights Australia
• Natasha Jiménez, an intersex activist from Costa Rica who is the general coordinator of Mulabi, the Latin American Space for Sexualities and Rights
• Julius Kaggwa, founder of the Support Initiative for People with Atypical Sex Development Uganda
• Magda Rakita, co-founder and executive director of Fujdacja Interakcja in Poland and co-founder of Interconnected UK
• Esan Regmi, co-founder and executive director of the Campaign for Change in Nepal.
Special U.S. Envoy for Global Youth Issues Abby Finkenauer and Assistant Health Secretary Rachel Levine are among the officials with whom the activists met.
Zieselman told the Washington Blade on Sept. 21 the activists offered State Department officials an "intersex 101" overview during a virtual briefing.
More than 60 Save the Children staffers from around the world participated in another virtual briefing. Zieselman noted the activists also met with Stern, U.N. and Organization of American States officials, funders and NGO representatives while in D.C.
"The people we met were genuinely interested," Rakita told the Blade.
Stern in an exclusive statement to the Blade said "the visiting intersex activists clearly had an impact here at State, sharing their expertise and lived experience highlighting the urgency to end human rights abuses, including those involving harmful medical practices against intersex persons globally." Andrew Gleason, senior director for gender equality and social justice at Save the Children US, in a LinkedIn post he wrote after attending his organization's meeting with the activists echoed Stern.
"There are many learnings to recount from today's discussion, but one thing is clear, this is unequivocally a child rights issue, and one that demands attention and action at the intersection of LGBTQI+ rights, reproductive rights and justice, disability justice and more," wrote Gleason. "Gratitude to the panelists for sharing such poignant testimonies and providing insights into what organizations like ours can do to contribute to the broader intersex movement; and thank you to Kimberly for your leadership and bringing this group together."
The activists' trip to D.C. coincided with efforts to end so-called sex "normalization" surgeries on intersex children.
Greek lawmakers in July passed a law that bans such procedures on children under 15 unless they offer their consent or a court allows them to happen. Doctors who violate the statute face fines and prison.
Germany Iceland, Malta, Portugal and Spain have also enacted laws that seek to protect intersex youth.
A law that grants equal rights and legal recognition to intersex people in Kenya took effect in July 2022. Lawmakers in the Australian Capital Territory earlier this year passed the Variation in Sex Characteristics (Restricted Medical Treatment) Bill 2023.
Intersex Human Rights Australia notes the law implements "mechanisms to regulate non-urgent medical care to encourage child participation in medical decisions, establish groundbreaking oversight mechanisms and provide transparency on medical practices and decision making." It further points out the statute "will criminalize some deferrable procedures that permanently alter the sex characteristics of children" and provides "funding for necessary psychosocial supports for families and children."
"It's amazing," Carpenter told the Blade when discussing the law and resistance to it. "It's not perfect. There was some big gaps, but physicians are resisting every step of the way."
The State Department in April 2022 began to issue passports with an "X" gender marker.
Dana Zzyym, an intersex U.S. Navy veteran who identifies as non-binary, in 2015 filed a federal lawsuit against the State Department after it denied their application for a passport with an "X" gender marker. Zzyym in October 2021 received the first gender-neutral American passport.