OPM to extend health coverage to gay couples' children
Agency reinterprets definition of 'stepchild' as it pertains to federal workers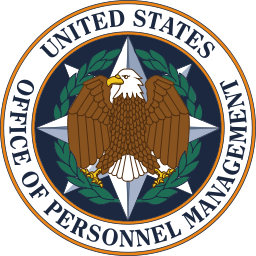 Gay federal employees will be able to cover the children of their same-sex partners under the federal health insurance plan once a proposed rule published Friday by the U.S. Office of Personnel Management is enacted.
Under the proposed regulation, children will be eligible for coverage if a parent is in a domestic same-sex relationship with a federal employee who receives coverage through federal programs. These children would be eligible for coverage — both under the Federal Employees Health Benefits Program and the Federal Employees Dental & Vision Program — regardless of whether or not they've been legally adopted by the federal employee.
The same rule also brings federal health program rules into compliance with the Affordable Care Act, which stipulates insurers providing dependent coverage extend that coverage to the children of individuals they insure until the age of 26.
Emily Hecht-McGowan, the Family Equality Council's public policy director, said the proposed rule is important because many LGBT families throughout the country live in states without legal protections.
"Most of the two million children raised by LGBT parents live in states where their parents cannot marry, cannot secure legal ties to their own kids and cannot get their children covered under a health insurance plan," Hecht-McGowan said. "This rule change means that federal workers can now be assured that a high fever, broken arm or debilitating illness won't jeopardize their child's health or their family's finances."
Now that the rule has been proposed, OPM will take public comment on its implementation, which must be received by the agency within 60 days. The rule would be made final at some later time, but there's no required or definitive timeline for publication of the final rule. Typically regulations become effective 30 days after they're issued.
Right now, federal employees can obtain coverage for the children of their same-sex partners if he or she adopts their partner's children. But adoption isn't available to same-sex couples everywhere: only in 18 states and D.C. is second-parent adoption available statewide.
Brian Moulton, legal director for the Human Rights Campaign, said the proposed rule change is important because of this limited availability of second-parent adoption.
"In the absence of fair adoption laws, thousands of same-sex parents across the country remain legal strangers to the children they have raised from birth," Moulton said. "By issuing this proposed rule, OPM will ensure that fewer children of federal workers will be denied health care coverage simply because their parents are a same-sex couple."
According to the proposed rule, the change is being made because of a memorandum that President Obama issued on domestic partner benefits. On June 17, 2009, Obama extended limited partner benefits to gay federal employees and called on U.S. agencies to determine additional benefits could be extended. The results of that review were compiled by OPM and sent to the White House as recommendations. A subsequent memo from Obama on June 2, 2010 instructed agencies to implement them.
But since the time OPM made its recommendations, the agency determined that the definition of the term "stepchild" in U.S. code dealing with federal employees could be interpreted as a child of a same-sex partner of a federal employee.
"This regulatory action is necessary to implement fully the Presidential Memoranda cited above and is consistent with OPM's policy determination that extension of coverage is appropriate," the proposed rule says. "Accordingly, this proposed rule extends FEHB and FEDVIP coverage to children of same-sex domestic partners of enrolled employees and annuitants."
The proposed rule isn't expected to have a significant economic impact because it only adds additional groups to the list of groups eligible for coverage under the federal health care system.
As part of the proposed rule change, federal health program regulations would be amended so that if a federal employee doesn't establish that insuring their partner's child qualifies for favorable tax treatment under applicable tax laws, the employee can be taxed on the fair market value of the coverage. As part of the process for seeking comments, OPM is specifically seeking input on how the fair market value might be calculated for different plans, including, for example, a high deductible health plan with a health reimbursement arrangement.
The proposed rule change means the children of same-sex partners of federal employees would have access to benefits unavailable to the same-sex partners themselves. The Obama administration has said it cannot extend major benefits — health and pension benefits — to the same-sex partners of federal employees because of the Defense of Marriage Act. Legislation that would extend those benefits, called the Domestic Partnership Benefits & Obligations Act, was reported out of the Senate committee of jurisdiction in May, but hasn't yet come to a floor vote.
GOP majority city council to repeal LGBTQ+ law in Pennsylvania
"I don't know of any reasons for repealing it other than a political move […] This issue should not be politicized"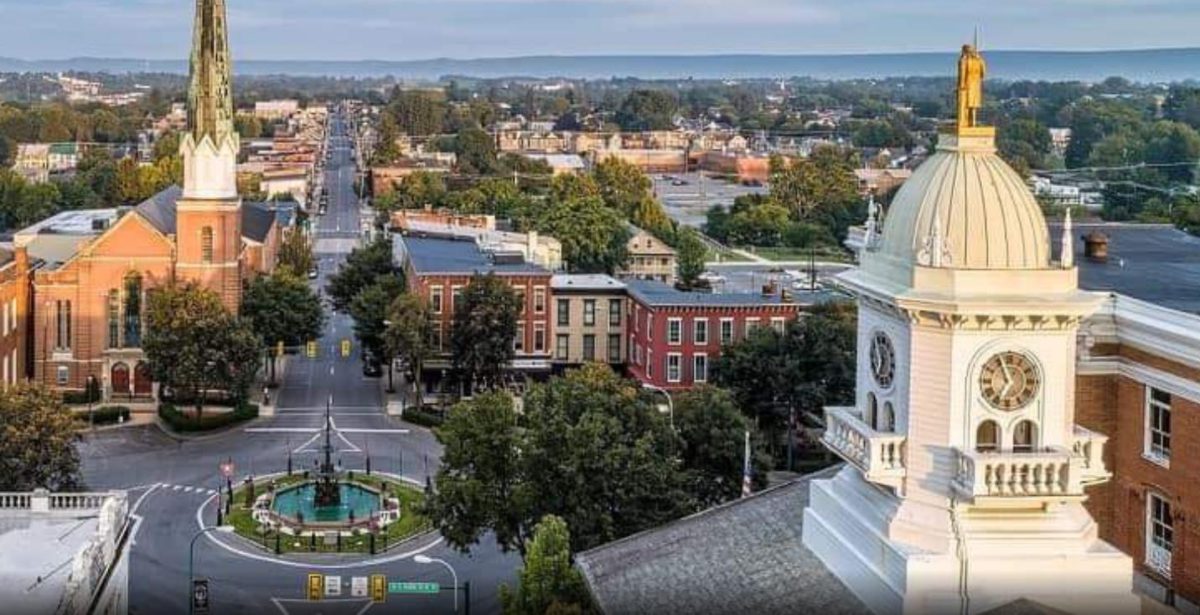 The council of this central Pennsylvania borough (town) will meet on Monday, January 24 for a likely vote to repeal an ordinance passed this last October that safeguards residents against discrimination based on their sexual orientation, ethnicity or gender identity.
Opposition to the ordinance is led by newly installed borough council president Allen Coffman, a Republican. In an interview with media outlet Penn Live Saturday, Coffman said, "All of us that ran in this election to be on council we think we got a mandate from the people," he said. "People we talked to when we were campaigning did not like this ordinance at all. I don't know what the vote will be, but I have a pretty good idea."
The political makeup of the council changed with the November municipal election, which ushered in a 7-3 Republican majority.
The ordinance, which extends protections against discrimination to gay, transgender or genderqueer people in employment, housing and public accommodations, was passed in October by the then-Democratic majority council, Penn Live reported.
"I don't know of any reasons for repealing it other than a political move," said Alice Elia, a Democrat and the former Chambersburg borough council president. "This issue should not be politicized. It's an issue of justice and having equal protection for everybody in our community. It shouldn't be a political or a Democratic or Republican issue. This should be something we are all concerned about."
Coffman told Penn Live that the ordinance serves no purpose and is redundant. He points out that Pennsylvania's Human Relations Commission handles discrimination complaints from residents across the state.
"There are no penalties, no fines," he said. "There's nothing that the ordinance can make someone do. The most they can hope for is that the committee request the two parties to sit down with a counselor or mediator and talk about it. Quite frankly there is nothing that compels them to. There's no teeth in this."
Penn Live's Ivey DeJesus noted if Chambersburg succeeds in repealing the ordinance, it would mark the first time an LGBTQ inclusive law is revoked in Pennsylvania. To date, 70 municipalities have ratified such ordinances.
The Commonwealth of Pennsylvania is one of the 27 states in the nation that have no explicit statewide laws protecting people from discrimination on the basis of sexual orientation or gender identity in employment, housing and public accommodations.
Central Pa. borough poised to become first to repeal LGBTQ protections https://t.co/ZFpDOfRivw

— PennLive.com (@PennLive) January 22, 2022
Florida House committee passes "Don't Say Gay" bill
Equality Florida quickly condemned the measure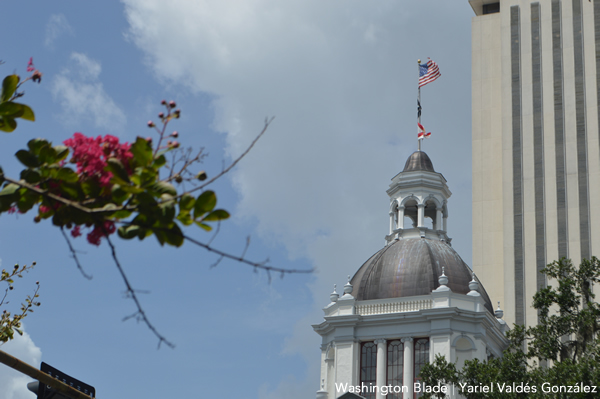 The Republican majority Florida House Education and Employment Committee on Thursday passed House Bill 1557, the Parental Rights in Education bill, colloquially referred to as the "Don't Say Gay" bill advancing the measure to the full House.
HB 1557 and its companion bill, Senate Bill 1834, would ban classroom discussions about sexual orientation and gender identity in schools, erasing LGBTQ identity, history, and culture — as well as LGBTQ students themselves.
The bill also has provisions that appear to undermine LGBTQ support in schools and include vague parental notification requirements which could effectively "out" LGBTQ-identifying students to their parents without their consent.
"The Trevor Project's research has found that LGBTQ youth who learned about LGBTQ issues or people in classes at school had 23 percent lower odds of reporting a suicide attempt in the past year. This bill will erase young LGBTQ students across Florida, forcing many back into the closet by policing their identity and silencing important discussions about the issues they face," said Sam Ames, director of advocacy and government affairs at the Trevor Project. "LGBTQ students deserve their history and experiences to be reflected in their education, just like their peers."
In an email to the Los Angeles Blade, Brandon J. Wolf, the press secretary for Equality Florida noted; "Governor DeSantis' march toward his own personal surveillance state continues. Today, the Don't Say Gay bill, a piece of legislation to erase discussion of LGBTQ people from schools in Florida, passed its first committee and became another component of an agenda designed to police us in our classrooms, doctor's offices, and workplaces. Make no mistake — LGBTQ people are your neighbors, family members, and friends. We are a normal, healthy part of society and we will not be erased."
This will kill kids, @RonDeSantisFL. You are purposefully making your state a harder place for LGBTQ kids to survive in. In a national survey (@TrevorProject), 42% of LGBTQ youth seriously considered attempting suicide last year. Now they can't talk to their teachers? https://t.co/VtfFLPlsn3

— Chasten Buttigieg (@Chasten) January 20, 2022
The Trevor Project's 2021 National Survey on LGBTQ Youth Mental Health found that more than 42 percent of LGBTQ youth seriously considered attempting suicide in the past year, including more than half of transgender and non-binary youth.
According to a recent poll conducted by Morning Consult on behalf of The Trevor Project, 85 percent of transgender and non-binary youth — and two-thirds of all LGBTQ youth (66 percent) — say recent debates about state laws restricting the rights of transgender people have negatively impacted their mental health.
When asked about proposed legislation that would require schools to tell a student's parent or guardian if they request to use a different name/pronoun or if they identify as LGBTQ at school, 56 percent of transgender and non-binary youth said it made them feel angry, 47 percent felt nervous and/or scared, 45 percent felt stressed, and more than 1 in 3 felt sad.
If you or someone you know needs help or support, the Trevor Project's trained crisis counselors are available 24/7 at 1-866-488-7386, via chat at TheTrevorProject.org/Get-Help, or by texting START to 678678.
NCAA adopts new policy amid fervor over transgender athletes
Sport-by-sport approach requires certain levels of testosterone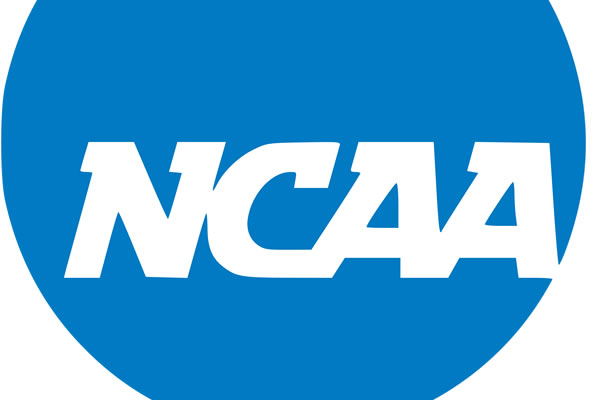 The National Collegiate Athletic Association has announced it has adopted new procedures on competition of transgender athletes, creating a "sport-by-sport" approach that also requires documentation of testosterone levels across the board amid a fervor of recently transitioned swimmers breaking records in women's athletics.
The NCAA said in a statement its board of governors voted on Wednesday in support of the "sport-by-sport" approach, which the organization says "preserves opportunity for transgender student-athletes while balancing fairness, inclusion and safety for all who compete."
Although the policy defers to the national governing bodies for individual sports, it also requires transgender athletes to document sport-specific testosterone levels beginning four weeks before their sport's championship selections. The new policy, which consistent with rules for the U.S. Olympics, is effective 2022, although implementation is set to begin with the 2023-24 academic year, the organization says.
John DeGioia, chair of the NCAA board and Georgetown president, said in a statement the organization is "steadfast in our support of transgender student-athletes and the fostering of fairness across college sports."
"It is important that NCAA member schools, conferences and college athletes compete in an inclusive, fair, safe and respectful environment and can move forward with a clear understanding of the new policy," DeGioia said.
More specifically, starting with the 2022-23 academic year, transgender athletes will need to document sport-specific testosterone levels beginning four weeks before their sport's championship selections, the organizational. These athletes, according to the NCAA, are also required to document testosterone levels four weeks before championship selections.
In terms of jurisdiction, the national governing bodies for individual sports are charged determines policies, which would be under ongoing review and recommendation by the NCAA, the organizational says. If there is no policy for a sport, that sport's international federation policy or previously established International Olympics Committee policy criteria would be followed.
The NCAA adopts the policy amid controversy over University of Pennsylvania swimmer Lia Thomas smashing records in women's swimming. Thomas, which once competed as a man, smashed two national records and in the 1,650-yard freestyle placed 38 seconds ahead of closest competition. The new NCAA policy appears effectively to sideline Thomas, who has recently transitioned and unable to show consistent levels of testosterone.
Prior to the NCAA announcement, a coalition of 16 LGBTQ groups, including the Human Rights Campaign and Athlete Ally, this week sent to a letter to the collegiate organization, urging the organizations strengthen non-discrimination protections as opposed to weakening them. The new policy, however, appears to head in other direction, which the LGBTQ groups rejected in the letter.
"While decentralizing the NCAA and giving power to conferences and schools has its benefits, we are concerned that leaving the enforcement of non-discrimination protections to schools will create a patchwork of protections rather than a comprehensive policy that would protect all athletes, no matter where they play," the letter says. "This would be similar to the patchwork of non-discrimination policies in states, where marginalized groups in some states or cities are protected while others are left behind by localities that opt not to enact inclusive policies."
JoDee Winterhof, vice president of policy and political affairs for the Human Rights Campaign, said in a statement after the NCAA announcement the new policy was effectively passing the buck.
"If the NCAA is committed to ensuring an environment of competition that is safe, healthy, and free from discrimination, they cannot dodge the question of how to ensure transgender athletes can participate safely," Winterhof said. "That is precisely why we and a number of organizations across a wide spectrum of advocates are urging them to readopt and strengthen non-discrimination language in their constitution to ensure the Association is committed to enforcing the level playing field and inclusive policies they say their values require. Any policy language is only as effective as it is enforceable, and with states passing anti-transgender sports bans, any inclusive policy is under immediate threat. We are still reviewing the NCAA's new policy on transgender inclusion and how it will impact each and every transgender athlete."