AIDS 2012: Clinton announces 'blueprint' for 'AIDS-free generation'
Identifies new funding streams to confront global epidemic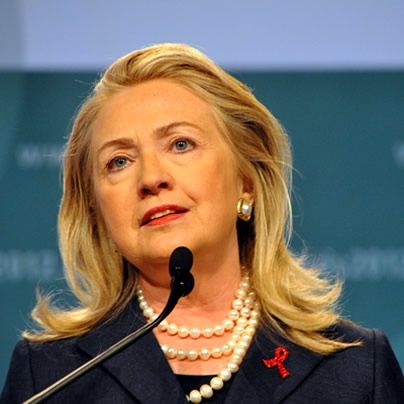 Secretary of State Hillary Clinton announced on Monday that the United States would prepare a "blueprint" to confront the global AIDS epidemic and realize her previously stated vision of an "AIDS-free generation."
In a speech before attendees in D.C. at the 19th International AIDS Conference, Clinton said she directed U.S. Global AIDS Coordinator Eric Goosby to develop the plan and said it would be unveiled before Dec. 1 on World AIDS Day.
"I have asked Ambassador Dr. Goosby to take the lead on developing and sharing our blueprint of the goals and objectives for the next phase of our effort and to release this blueprint by World AIDS Day this year," Clinton said. "We want the next Congress, the next secretary of state, and all of our partners here at home and around the world to have a clear picture of everything we've learned and a roadmap that shows what we will contribute to achieving an AIDS-free generation."
Clinton first articulated the idea of an "AIDS-free generation" during remarks she delivered on World AIDS Day last year.
A number of HIV/AIDS advocates praised the idea of a blueprint in the global fight against HIV/AIDS as they called for the strategy to include certain enumerated provisions.
Chris Collins, vice president of policy for amFAR, said he's hoping the plan would articulate the way forward in confronting the global AIDS epidemic, which has claimed the lives of more than 25 million across the globe.
"When you want to accomplish a complex goal you need a clear plan of action," Collins said. "Creation of a blueprint is an important step forward because it directs our planning, policy and funding toward achieving clear outcomes and goals and will help everyone engaged monitor progress toward an AIDS-free generation."
In a joint statement, 65 advocacy and implementation organizations said the blueprint needs to contain several key points to succeed, such as defining specific outcome targets for HIV incidence, morbidity and mortality; requiring full transparency of U.S. government budgets; and requiring detailed annual reporting on progress.
During the same speech, Clinton unveiled five new funding streams aiming to target populations that are particularly affected by HIV/AIDS overseas, touting a "combination prevention" strategy of treatment and prevention.
The five new funding streams total $157 million:
• an additional $80 million to support approaches that ensure HIV-positive pregnant women receive treatment to protect themselves and prevent them from spreading the disease to their children and partners;
• an additional $40 million to support South Africa's plans to provide voluntary medical male circumcisions for almost half a million boys and men in the next year;
• $15 million for implementation research to identify the specific interventions that are most effective for reaching key populations;
• $20 million to launch a challenge fund to support country-led plans to expand services for key populations; and
• a $2 million investment in the Robert Carr Civil Society Networks Fund to bolster the efforts of civil society groups in addressing key populations.
Clinton said keeping women in Africa with HIV healthy is important to keep them from transferring the disease to their unborn children, which she said the United States is committed to ending by 2015.
A number of female HIV/AIDS advocates at the conference called for greater attention to the disease's impact on children. In sub-Saharan Africa, which has been particularly affected by AIDS, an estimated 60 percent of those living with HIV are women.
"When women are identified as HIV-positive and eligible for treatment, they are often referred to another clinic, one that may be too far away for them to reach," Clinton said. "As a result, too many women never start treatment. Today, I am announcing that the United States will invest an additional $80 million to fill this gap. These funds will support innovative approaches to ensure that HIV-positive pregnant women get the treatment they need to protect themselves, their babies and their workers."
Clinton's speech was highly anticipated among the estimated 25,000 people in attendance at the conference. Organizers sent attendees to overflow rooms a full half-hour before she came on stage because the large room in which she was set to speak was already filled to capacity.
Upon her arrival, Clinton was greeted with a standing ovation from attendees. But not everyone received her favorably.
A group of protesters could be heard shouting at the secretary as she approached the podium. They held up a sign calling on Clinton to take "Trans Pacific" action against AIDS — apparently out of concern of insufficient funds for trans people affected by AIDS overseas. Clinton responded, "What would an AIDS conference be without a little protesting? We understand that."
Some HIV/AIDS advocates have criticized the Obama administration for not doing enough to fight the global epidemic. The president's budget request for fiscal year 2013 cuts half a billion dollars from the President's Emergency Plan for AIDS Relief, a program established by President George W. Bush to confront the global epidemic, as the White House maintained the program is doing more with less because of the reduced cost of drugs.
Despite this proposed cut, Clinton emphasized new accomplishments for PEPFAR under the Obama administration, saying the program is funding 600,000 more people since December. She said this increase means PEPFAR is reaching nearly 4.5 million people and is on track to meet the administration's goal of treating 6 million people by the end of 2013, which President Obama announced on World AIDS Day last year.
"Now since that time I've heard a few voices from people raising questions about America's commitment to an AIDS-free generation, wondering whether we are really serious about achieving it," Clinton said. "Well, I am here today to make it absolutely clear: the United States is committed and will remain committed to achieving an AIDS-free generation. We will not back off, we will not back down, we will fight for the resources necessary to achieve this historic milestone."
Additionally, Clinton said PEPFAR is reaching more than 370,000 women globally and has supported more than 400,000 male circumcisions, which has been shown to reduce HIV transmission, since December.
"You know and we want the world to know that this procedure reduces the risk of female-to-male transmission by more than 60 percent and for the rest of the man's life, so the impact can be phenomenal," Clinton said. "In Kenya and Tanzania, mothers asked for circumcision campaigns during school vacations so their teenage sons could participate. In Zimbabwe, some male lawmakers want to show their constituents how safe and virtually painless the procedure is, so they went to a mobile clinic and got circumcised. That's the kind of leadership we welcome."
But as she emphasized U.S. efforts in confronting the epidemic, Clinton also called for partner nations to step up their game to confront the disease in their own countries, saying reaching the goal "is a shared responsibility."
"I spoke earlier about how the United States is supporting country ownership, but we also look to our partner countries and donors to do their part," Clinton said. "They can follow the example of the last few years in South Africa, Namibia, Botswana, India and other countries who are able to provide more and better care for their own people because they are committing more of their own resources to HIV/AIDS. And partner countries also need to take steps like fighting corruption and making sure their systems for approving drugs are as efficient as possible."
As part of this commitment, Clinton called on other countries to contribute to the Global Fund to Fight AIDS, Tuberculous and Malaria. Obama's most recent budget request affirms the administration's commitment to provide $4 billion over three years to the fund, and Clinton said Saudi Arabia, Japan, Germany, the Gates Foundation and others have stepped up their efforts.
Paul Zeitz, vice president of policy for the D.C.-based ACT V: The End of AIDS, joined in the call for other countries to step up their efforts in confronting HIV/AIDS as he commended Clinton for announcing her plan to produce a blueprint in the global fight.
"As we all know, money is the oxygen for action for creating an AIDS-Free Generation," Zeitz said. "Action speaks louder and we need to make sure that governments around the world step up to pay their fare share, including my own government. U.S. leadership in the global battle to end AIDS is an essential catalyst."
Kemp signs Georgia's healthcare ban targeting trans and nonbinary youth
LGBTQ, legal, and civil rights groups condemn the healthcare ban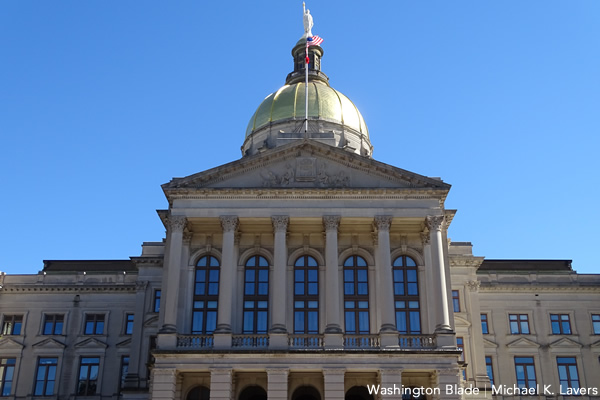 Georgia's Republican Gov. Brian Kemp on Thursday signed a ban on guideline-directed gender-affirming healthcare for transgender and nonbinary youth that was passed earlier this week by the GOP-controlled state legislature.
The law threatens to revoke the medical licenses of physicians who administer treatments for gender dysphoria in minor patients that are overwhelmingly considered safe, effective, and medically necessary by every scientific and medical society with relevant clinical expertise.
A previous version of S.B. 140 applied exclusively to surgical interventions, but the version signed into law Thursday also prohibits hormone replacement therapies, although treatment with puberty blockers is still allowed.
The move by GOP legislators to expand the healthcare interventions covered by the legislation follows pressure from conservatives like far-right U.S. Rep. Marjorie Taylor Greene, who represents Georgia's 14th Congressional District in the House and urged the state's lawmakers last week to make the bill more restrictive.
At the time, Greene also objected to the draft bill's "limited exceptions" carved out for cases where patients are treated for conditions other than gender dysphoria, including those diagnosed with "a medically verifiable disorder of sex development," provided the physician can attest they are medically necessary.
These provisions were kept intact in the bill's final iteration, which contains additional exceptions for the treatment of partial androgen insensitivity syndrome and in circumstances where the minor patient was being treated with hormone replacement therapies prior to July 1 2023.
A chorus of objections to and condemnations of the legislation have come from LGBTQ groups, along with legal and civil rights advocacy organizations and medical societies, clinicians, and scientists, including the Georgia Psychological Association.
The Human Rights Campaign, America's largest LGBTQ advocacy group, issued a statement shortly after Kemp signed the bill Thursday, declaring that Georgia had become "the largest state to legislatively enact such a discriminatory ban."
"Governor Kemp should be ashamed of himself — taking life-saving care away from vulnerable youth is a disgusting and indefensible act," Human Rights Campaign State Legislative Director and Senior Counsel Cathryn Oakley said in the statement. "This law harms transgender youth and terrorizes their families, but helps no one."
Despite the wave of legislation across the country barring access to or criminalizing gender affirming care, in most cases for minor patients, the group noted in Thursday's release that "polling by Patinkin Research Strategies released this month shows that only 26 percent of likely November 2024 voters in Georgia supported the legislation, while 66 percent opposed it" including 63 percent of independent and 59 percent of likely Republican voters.
According to the findings of a Human Rights Campaign study that were announced Wednesday, "more than half (50.4%) of transgender youth (ages 13-17) have lost or are at risk of losing access to age appropriate, medically necessary gender-affirming care in their state" – care, the group stressed, that "can be lifesaving."
Following the Georgia legislature's passage of the S.B. 140 earlier this week, the ACLU warned it would "[interfere] with the rights of Georgia parents to get life-saving medical treatment for their children" and prevent "physicians from properly caring for their patients."
The Southern Poverty Law Center released a statement by Beth Littrell, the organization's senior supervising attorney for its LGBTQ and Special Litigation Practice Group, calling the bill a "cynical partisan attack on transgender youth, medical autonomy, and parental rights" and urging Kemp to "leave personal healthcare decisions in the capable hands of parents, children, and their doctors."
Families with trans kids sue Florida over trans youth healthcare ban
Ban stands 'in direct contrast to evidence & science'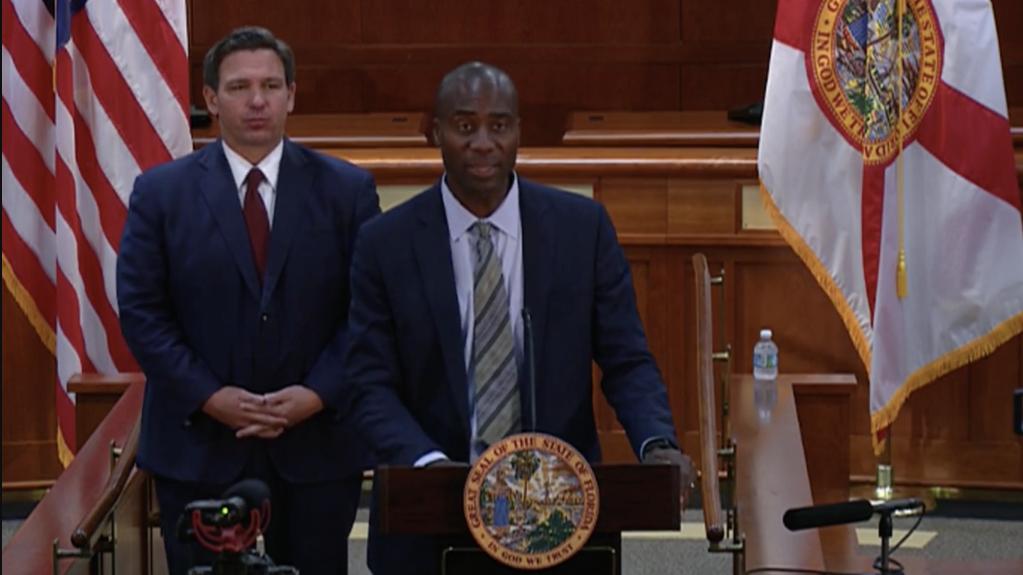 A lawsuit on behalf of four families with transgender children was filed Thursday in U.S. District Court for the Northern District of Florida, challenging the state's Boards of Medicine and Osteopathic Medicine's ban on gender affirming healthcare for minors.
The legal groups representing the four families, GLBTQ Legal Advocates & Defenders (GLAD), the National Center for Lesbian Rights (NCLR), the Human Rights Campaign and the Southern Legal Counsel, Inc. (SLC) noted in the suit that the bans contradict guidelines established through years of clinical research and recommended by every major medical association including the American Academy of Pediatrics, the American Medical Association, and the American Academy of Child and Adolescent Psychiatry.
The lawsuit also spells out that the policies unlawfully strips parents of the right to make informed decisions about their children's medical treatment and violates the equal protection rights of transgender youth by denying them medically necessary, doctor-recommended healthcare to treat their gender dysphoria.
The enactment of Florida's transgender healthcare ban, which went into effect on March 16, 2023, has faced considerable scrutiny as a politically-motivated process instigated at the urging of the governor and ignoring established medical and scientific consensus on medical care for transgender youth.
Statewide LGBTQ Equality rights advocacy group Equality Florida has decried the ban saying it was little more than a cultural war maneuver by Republican Governor Ron DeSantis who is widely expected to announce a run for the presidency in 2024.
In the summer of 2022, Florida Surgeon General Joseph Ladapo and the Department of Health asked the state Boards of Medicine and Osteopathic Medicine to adopt a categorical ban on all treatment of gender dysphoria for people under eighteen years of age.
In February and March of 2023, respectively, the Boards adopted formal rules prohibiting all access to safe, effective medical treatments for transgender youth who have received a gender dysphoria diagnosis but who have not yet begun puberty delaying medication or hormone treatments. Surgeon General Ladapo and all members of the Florida Boards of Medicine and Osteopathic Medicine are defendants in the families' suit challenging the ban.
"This policy came about through a political process with a predetermined conclusion, and it stands in direct contrast to the overwhelming weight of the evidence and science," said Simone Chriss, Director of Transgender Rights Initiative, Southern Legal Counsel. "There is an unbelievable degree of hypocrisy when a state that holds itself out as being deeply concerned with protecting 'parents' rights' strips parents of their right to ensure their children receive appropriate medical care. I have worked with families and their healthcare providers in Florida for many years. They work tirelessly every day to ensure the best health outcomes for their kids and patients, and they are worried sick about the devastating impacts that this ban will have."
"The Florida Boards of Medicine chose to ignore the evidence and science in front of them and instead put families in the unthinkable position of not being able to provide essential healthcare for their kids," said Jennifer Levi, Senior Director of Transgender and Queer Rights, GLBTQ Legal Advocates & Defenders.
"Parents, not the government, should make healthcare decisions for their children," said Shannon Minter, Legal Director of the National Center for Lesbian Rights. "This policy crosses a dangerous line and should concern anyone who cares about family privacy or the ability of doctors to do their jobs without undue government interference."
"It's alarming to see such a concerted, top-down effort to target a small and vulnerable population," said Sarah Warbelow, Human Rights Campaign Legal Director. "The Florida Surgeon General, Department of Health and Boards of Medicine should be focused on the real and serious public health issues Florida faces, not on putting transgender kids and their families in harm's way."
In a press statement by the legal teams representing them, the four families also weighed in:
"Like most parents, my husband and I want nothing more than for our daughter to be healthy, happy, and safe," said Jane Doe speaking about her 11-year-old daughter, Susan. "Being able to consult with our team of doctors to understand what our daughter is experiencing and make the best, most informed decisions about her care has been critically important for our family. She is a happy, confident child, but this ban takes away our right to provide her with the next step in her recommended treatment when she reaches puberty. The military doctors we work with understand the importance of providing that evidence-based, individualized care. We're proud to serve our country, but we are being treated differently than other military families because of a decision by politicians in the state where we are stationed. We have no choice but to fight this ban to protect our daughter's physical and mental health."
"This ban puts me and other Florida parents in the nightmare position of not being able to help our child when they need us most," said Brenda Boe, who is challenging the ban on behalf of herself and her fourteen-year-old son, Bennett Boe. "My son has a right to receive appropriate, evidence-based medical care. He was finally getting to a place where he felt hopeful, where being prescribed testosterone was on the horizon and he could see a future for himself in his own body. That has been ripped away by this cruel and discriminatory rule."
"Working with our healthcare team to understand what my daughter is experiencing and learning there are established, effective treatments that are already helping her to thrive has been an incredible relief," said Fiona Foe, who is challenging the ban on behalf of herself and her ten-year-old daughter, Freya Foe. "I know everyone may not understand what it means to have a transgender child, but taking away our opportunity to help our daughter live a healthy and happy life is cruel and unfair."
"Our daughter has been saying she is a girl since she was three – it hasn't gone away," said Carla Coe, a plaintiff in the lawsuit along with her nine-year-old daughter, Christina Coe. "Since she started being able to live as a girl she has been so much happier and better adjusted. Having the resources and support to make the best decisions for her wellbeing has been so important for our family. I'm scared this ban will take away the essential medical care she may need when she gets older. We just want to do what's right for our kid."
DeSantis eyes expansion of anti-LGBTQ "Don't Say Gay" law
White House Press Secretary Karine Jean-Pierre condemned the move Wednesday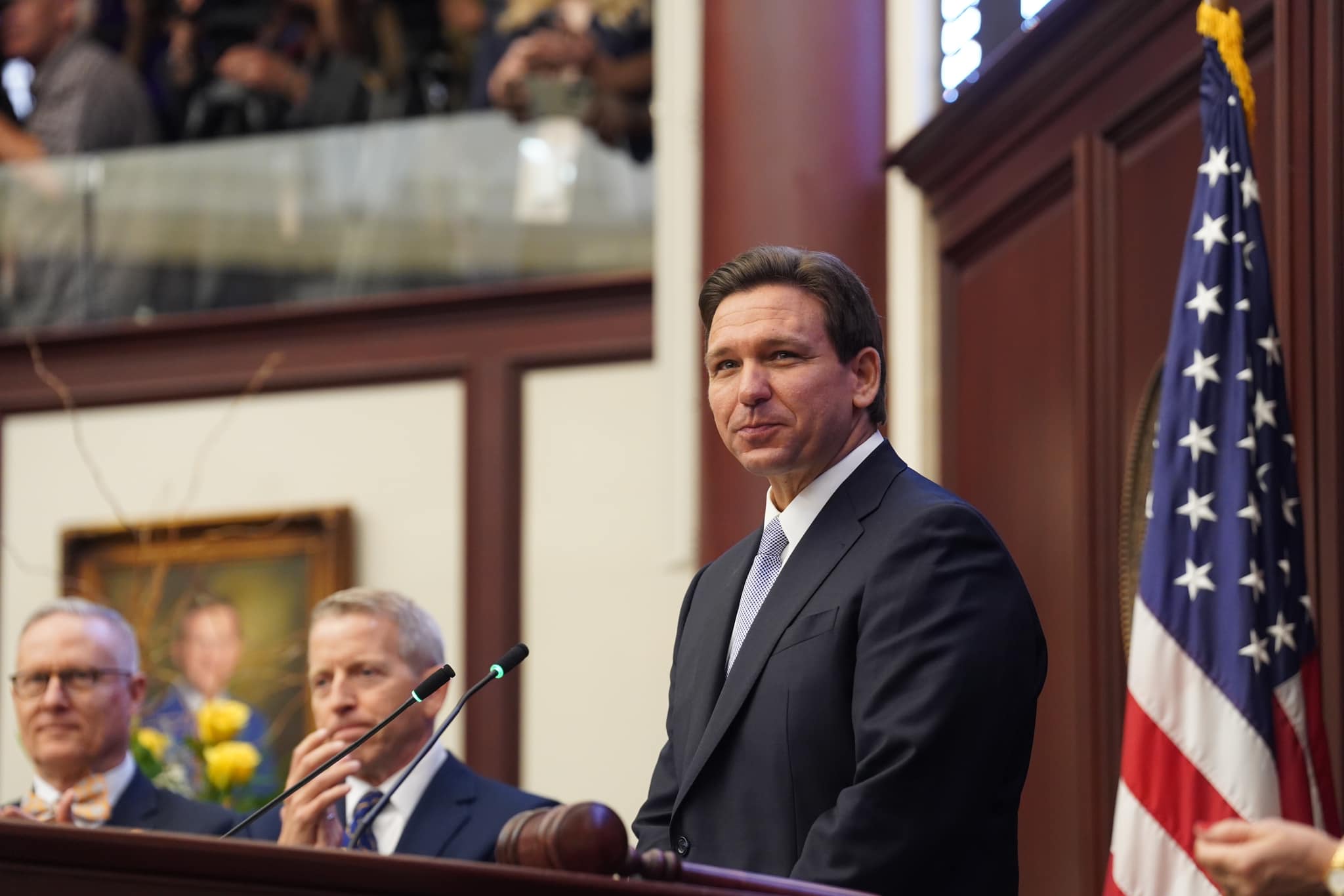 Florida's Republican Gov. Ron DeSantis is aiming to expand the state's controversial "Don't Say Gay" law, officially known as the Parental Rights in Education Act, such that it would apply to public school classrooms from pre-K through grade 12.
The existing law, which was enacted last year, prohibits discussion or classroom instruction on sexual orientation and gender identity for public school students from kindergarten through third grade.
The Orlando Sentinel first reported the proposal to expand the statute, which was made at the behest of Florida's DeSantis appointed and avowedly anti-LGBTQ Education Commissioner Manny Diaz Jr.
Exemptions are carved out in cases where otherwise prohibited materials are included in existing state standards or constitute part of reproductive health instruction, provided that parents or students are able to opt-out.
Asked for a reaction to DeSantis's proposed expansion of the "Don't Say Gay" law during a press briefing Wednesday, White House Press Secretary Karine Jean-Pierre spoke out against the move by the Florida Governor:
"Yeah.  It's wrong.  It's completely, utterly wrong.  And we've been crystal clear about that, when it comes to the 'Don't Say Gay' bill and other — other actions that this governor has taken in the state of Florida."
But make no mistake, this is a part of a disturbing and dangerous trend that we're seeing across the country of legislations that are anti-LGBTQI+, anti-trans, anti the community in a way that we have not seen it in some time. And so — and it's not just the LGBTQI+ community.  We're talking about students.  We're talking about educators.  We're talking about, just, individuals."
The President has been very clear, this administration has been very clear: We will continue to fight for the dignity of — of Americans, for the dignity and respect of the community, of opportunity that should be given to students and families in Florida and across the country."
So, again, this is just plain wrong, and we're going to continue to speak against — speak out against it," Jean-Pierre said.
Brandon Wolf, Press Secretary for Equality Florida, the largest state-wide LGBTQ+ equality rights and advocacy organization, released the following statement:
"After a year's worth of gaslighting and assurances that the Don't Say LGBTQ law was narrowly focused, the DeSantis Administration is now saying the quiet part out loud: they believe that it is never appropriate to acknowledge the existence of LGBTQ people, or our contributions to society, in schools. This time, the governor is placing the crosshairs squarely on individual educators, threatening their professional licenses for making mention of the LGBTQ community in any grade level.
The Board of Education's proposed rule would see more books with LGBTQ characters ripped from school shelves, more discussion of diverse families muzzled, and further character assassination of hardworking teachers in Florida. Free states don't ban books. Free states don't censor communities out of classrooms. Free states don't copy/paste their political agendas from the likes of Vladimir Putin."
This proposed rule is yet more government power being perverted to serve Ron DeSantis' desperation to run for President. And its consequences will weigh most heavily on those who have already been forced to bear the brunt of his insatiable lust for power."
Equality Florida also noted that while the DeSantis Administration has rejected requests to clarify the law's vague, unconstitutional language, its proposal would add legal liability for individual educators, threatening their professional licenses for violations. The proposed rule is scheduled for a vote by the State Board of Education at their meeting on April 19 in Tallahassee.
DeSantis is considering a run for the presidency and has made culture war issues the forefront of his administration's policies.
Former openly gay Florida Democratic State Rep. Carlos Guillermo Smith tweeted: "It was never, ever, ever, ever about kindergarten thru 3rd grade. It was always about demonizing us and censoring LGBTQ people out of existence in our schools."