Eckington 'Safety walk' and rally planned to protest anti-gay attacks
Thursday night event backed by GLOV, neighborhood activists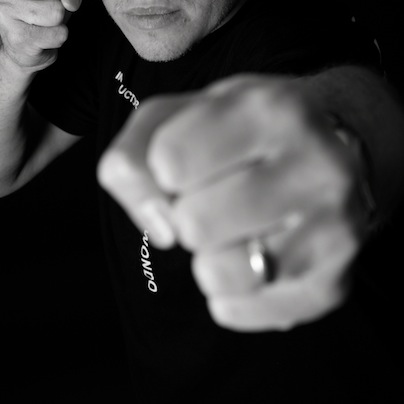 Gay activist Nick McCoy, a resident of the city's Eckington neighborhood, is calling on the LGBT community to join him at 7 p.m. Thursday, Aug. 9, for a "safety walk" and rally at the site where a gay male couple was attacked and beaten on July 22.
"I live in that neighborhood," McCoy told the Blade on Tuesday. "In light of the July 22nd attack on 3rd and T, N.E., and the increasing tension in our neighborhood, Amy Loudermilk and I have been working on putting together a rally and Safety Walk in the Eckington-Bloomingdale neighborhood," McCoy said in a Facebook posting.
"No one should have to walk in fear on the streets of D.C. because of hate," he said. "Whenever any community is targeted, we all have a duty to stand together."
McCoy and other organizers have called on supporters to meet at 7 p.m. Thursday night at the Big Bear Café at 1700 1st Street, N.W., which is near 1st and R Street, N.W. He said plans call for participants to walk from the Big Bear to 3rd and T Streets, N.E., where police say gay yoga instructor Michael Hall Jr. and his partner Michael Roike were punched in the face and body by three unidentified male youths.
A police report says the youths shouted anti-gay names at Hall and Roike before they fled the scene. Roike said the suspects fled when a woman who lives in a nearby house and a male friend shouted at the suspects. The report lists the incident as a suspected anti-male homosexual hate crime.
Roike said he and Hall live about two blocks from where they were attacked. He said the two men had just gotten out of an Uber car, which they hired to take them home after a night out at a restaurant and bar on Capitol Hill.
Hall suffered a broken facial bone and fractured jaw at the hands of the attackers which required surgery to treat.
Officials with the local group Gays and Lesbians Opposing Violence (GLOV), who say they will participate in the Thursday night walk, said the July 22 attack was the latest in a series of recent anti-LGBT assaults that have taken place in the city this year.
"We're organizing a rally and safety walk through this neighborhood to say no to violence and WE SHALL NOT BE MOVED!" McCoy wrote in his Facebook announcement.
"We will have a start up rally at Big Bear Café and walk down R Street north towards North Capital [Street] in the direction of Lincoln Street toward T Street," his message says. "We will end where we began at Big Bear Café. We are asking for your support."
McCoy said representatives GLOV, the D.C. police department's Gay and Lesbian Liaison Unit, the D.C. Coalition Against Domestic Violence, and the police department's Critical Incident Team were scheduled to participate in the event.
DC Front Runners Pride 5K to take place as scheduled
Air quality improved overnight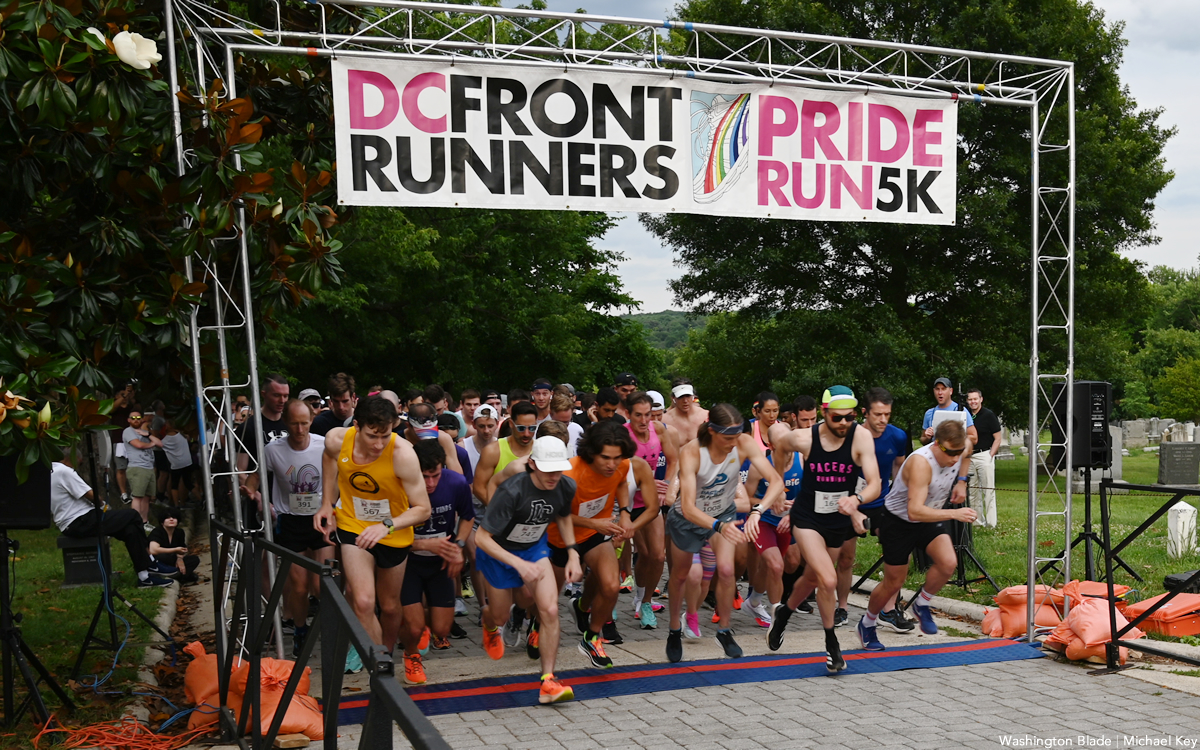 The D.C. Front Runners' annual Pride Run 5K will take place as scheduled at Congressional Cemetery on Friday.
The Blade Foundation, SMYAL, the Wanda Alston Foundation, Team DC, Teens Run DC, Pride 365 and Ainsley's Angels of America are among the race's beneficiaries. Wegmans, Shake Shack, Knead Hospitality and Design, Choice Hotels and Capital One Café are among the sponsors.
Rooftop Pool Party postponed
Capital Pride Alliance moves official event to June 22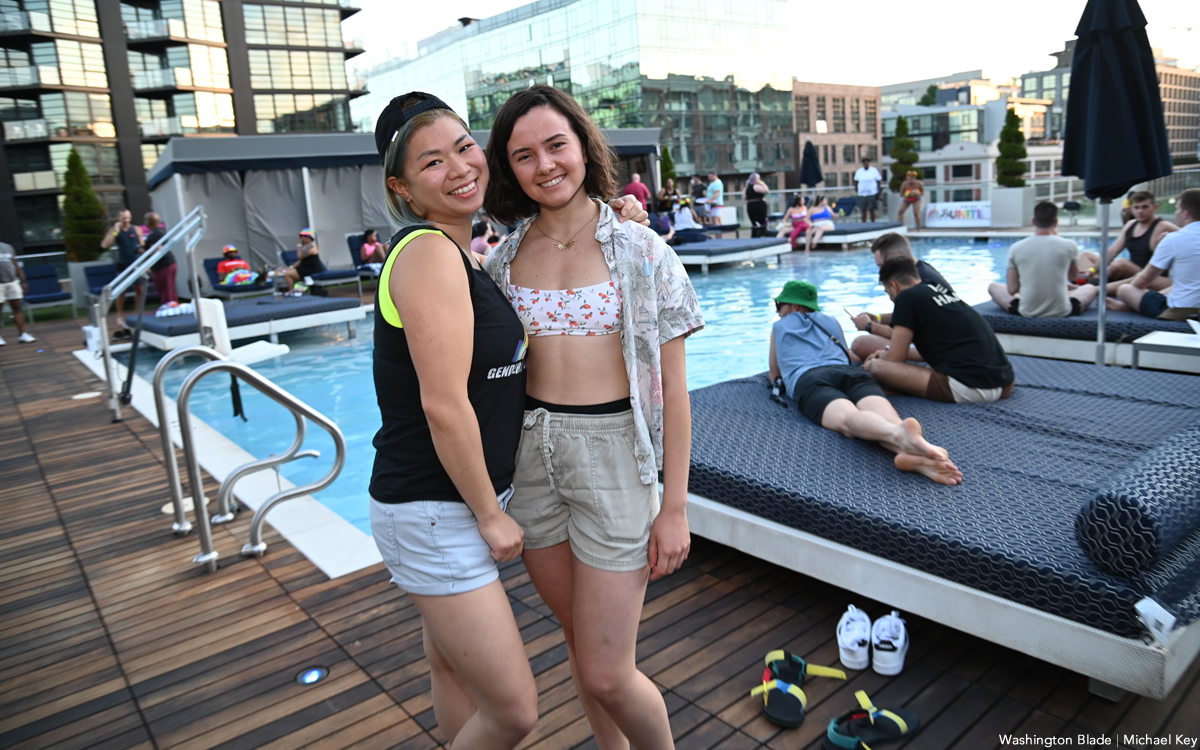 The Capital Pride Rooftop Pool Party, originally scheduled to begin at 8 p.m. tonight, has been postponed until Thursday, June 22, according to a statement released by the Capital Pride Alliance on Instagram. This action comes amid an international climate event created by the Canadian wildfire that has resulted locally in poor air quality and a haze around the region.
The Capital Pride Alliance Instagram account posted, "As with all concerns regarding health and safety issues, the Capital Pride Alliance will closely monitor the air quality situation resulting from Canadian wildfire smoke and take necessary precautions in consultation with our partners in the DC government."
"What does this mean for the pool party?" a question one private Instagram account user posed in the comment section.
"Important Update:" A representative of the Capital Pride Alliance responded through the group's official Instagram account. "Tonight's Capital Pride RoofTop Pool Party at VIDA The Yards is being postponed until Thursday, June 22 at 8:00 pm, due to the current air-quality situation resulting from the Canadian wildfires smoke. Please note that this postponement only applies to today's event."
The Capital Pride Alliance has yet to cancel or postpone any further events.
The White House earlier today rescheduled a large outdoor Pride reception planned for this evening to Saturday.
White House postpones Pride event due to wildfire smoke
Thousands expected for celebration bumped to Saturday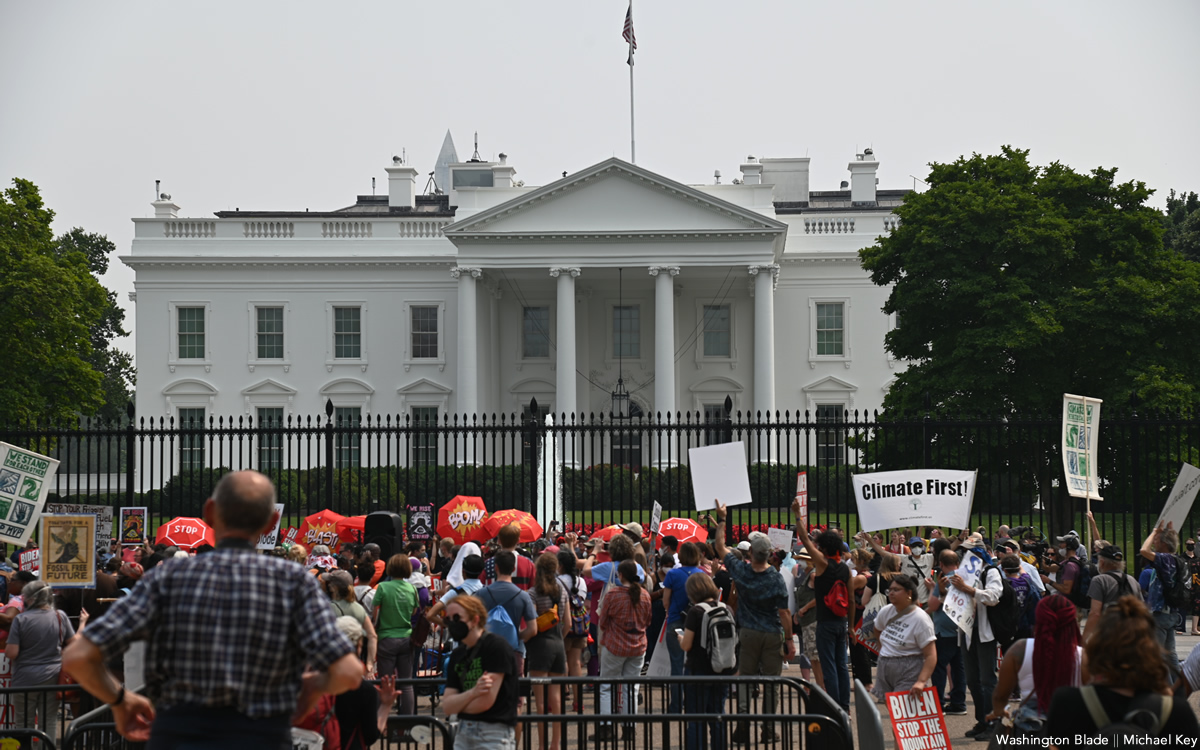 The White House announced Thursday that a Pride event scheduled for this evening has been postponed to Saturday due to the lingering Canadian wildfire smoke.
The smoke has enveloped D.C. in a dangerous haze that triggered a "purple alert" on Thursday, considered worse than a "red alert."
The event, expected to draw thousands of invited LGBTQ advocates and supporters to D.C., has been rescheduled for 1 p.m. on Saturday on the South Lawn of the White House, the same day as D.C.'s Capital Pride Parade, which kicks off at 3 p.m., and Pride on the Pier celebration, which starts at 2 p.m.