D.C. Dept. of Health reaches out to 'all communities'
New gay interim director has worked on AIDS, substance abuse issues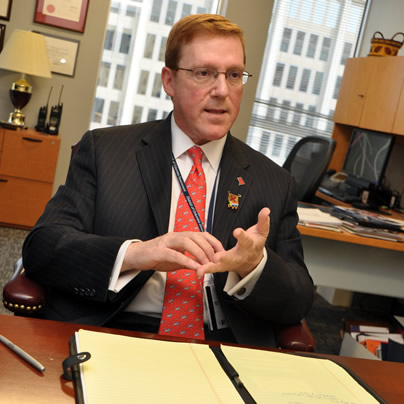 Dr. Saul Levin, the newly appointed interim director of the D.C. Department of Health, says his mission during his expected one-year tenure as head of the department is to educate the city's diverse communities, including the LGBT community, about the wide range of services DOH offers to keep people healthy.
"One of the things I would like to put on the table is each and every one of us working here essentially comes from the community," he told the Blade in an interview in his office. "My vision is that every one of us at some time is out in the community doing service work that really shows we are out there for the community."
D.C. Mayor Vincent Gray on July 17 announced he had appointed Levin, a psychiatrist and senior deputy director of the DOH, as interim director, making him the first known out gay person to serve as head of a city department of that size.
A DOH spokesperson said the department has about 800 employees and a budget of about $268 million.
Gray said Levin would fill in for DOH Director Dr. Mohammad Akhter, who the mayor said is taking an unpaid leave of absence to become head of the executive board of the city's newly created Health Benefit Exchange Authority, which is part of the Obama administration's health insurance reform program.
In his role as senior deputy director of the DOH, Levin was in charge of the department's Addiction Prevention and Recovery Administration, which operates the city's programs to combat drug and alcohol abuse. He is expected to return to that post if Akhter resumes his role as DOH director.
A native of South Africa, Levin received his medical degree at a leading medical school in Johannesburg before completing his residency in psychiatry at the University of California's Davis Medical Center.
Levin then joined the staff of the U.S. Department of Health and Human Services and later became coordinator of a special program within the department's Substance Abuse and Mental Health Services Administration. The program integrated primary care, substance abuse, mental health and HIV/AIDS as part of an effort to improve treatment and care for people with both medical and substance abuse problems.
From there Levin returned to school, receiving a master's degree in public administration from Harvard University's Kennedy School of Government in 1994. Upon completion of his studies he started a health care consulting company for which he served as president for the next 10 years.
He said around 2004 he accepted an offer to become president and CEO of Medical Education for South African Blacks, a U.S.-based anti-apartheid educational trust that had provided scholarships to South African blacks prior to the end of country's apartheid government in 1994.
Levin said leaders of the organization continued its work in the years following the apartheid system to ensure that black candidates would have the opportunity to enter jobs in the medical profession before improved educational institutions had been established in the country.
"It educated one-third of all black doctors up until six years ago," he said. "It gave out 11,000 grants. It was truly about how someone can make a difference."
Prior to coming to the D.C. DOH, earlier this year Levin served as vice president of the American Medical Association for Science, Medicine, and Public Health.
Levin said his involvement in AIDS-related work and the gay community began in the early 1980s during his medical school years in South Africa, when he helped to open the country's first hospice for people dying of what was then known as "wasting disease."
"You would just have these people who would waste away," he said. "Their immune system would just go to pieces. So I got very involved in that way."
Noting that he came out as gay in South Africa, Levin added, "In some ways today when you look at South Africa they have a huge problem both in the African community as well as in the white gay community" concerning AIDS. "Had they begun to see the early warning signs they could have really maybe have begun to do something a little differently to address the problem."
Levin said the DOH's HIV/AIDS, Hepatitis, Sexually Transmitted Disease and Tuberculosis Administration (HAHSTA) is redoubling its HIV prevention efforts directed toward black men in D.C., both gay and straight, who have the highest infection rate among all the groups at risk for HIV.
He noted that HAHSTA is headed by Dr. Greg Pappas, a gay physician with extensive experience in AIDS-related medicine and public health.
"I would say this," Levin said in discussing the city's programs to combat AIDS for all at-risk groups, including the gay men. "We would go anywhere and everywhere to try to get education and services to those who need it. Treatment is prevention. Prevention is treatment."
His background in substance abuse issues and mental health has made him especially aware of substance abuse issues affecting the LGBT community, Levin said.
"I used to have a research project when I had my company, and NIH wanted me to try to get to the guys in the gym, the gay gyms," he said. "They were exercise fanatics and the next thing I would see was photos of them out at all these parties where crystal meth and ecstasy – you name it – was used.
"And I would try to say why is it that you have so divorced yourself from your healthy bodies? You spend a lot of your life in the gym and yet you are still doing this to yourself," he said. "Addiction is just like diabetes, hypertension or HIV. It's a chronic relapsing treatable disease."
Levin added that DOH offers a "full choice" treatment program for people with substance abuse problems that he highly recommends.
"Any LGBT person can come to our assistance center at 51 N St.," he said. "It's at the corner of First Street and N streets in Northeast. You go in there – anyone can walk in. You will be evaluated. And we will then say this is the level of care you will need," Levin said.
"If you don't have insurance, we will pay for it. And you will choose the program you go to."
When told of how the recent suicide of a popular D.C. gay bartender shocked friends and co-workers, who perceived the bartender as happy and upbeat, Levin said suicide is a "difficult" issue to address.
"Someone who is clearly getting to the point of that kind of depression needs help," he said. "Your friends can help you. Your friends and your support system and your co-workers – when you see someone becoming more depressed, not being as energetic, withdrawing from the usual things they love to do – you've got to address the issue," he said.
"You know your family," he said. "You know your partners…People do give signs when they're thinking of suicide. You should address it."
Office of National AIDS Policy Director Phillips: Congress must increase funding
'Without congressional funding we can't get there'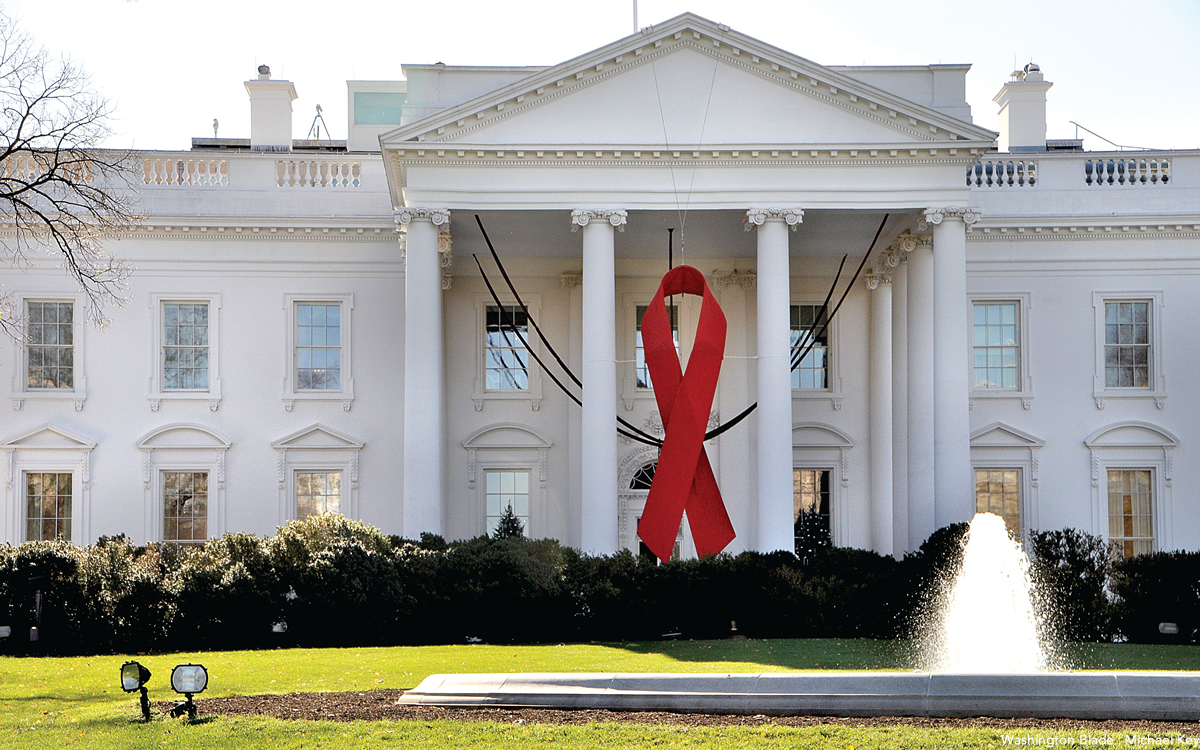 Harold Phillips, director of the White House Office of National AIDS Policy (ONAP), said Monday that Congress must increase funding to end the HIV/AIDS epidemic, including for programs designed around the lives and needs of Americans who are living with the disease.
"We have the support of the Biden-Harris administration, and we have the support at HHS, but without congressional funding we can't get there," said Phillips, who delivered his remarks during the AIDS United annual AIDSWatch conference in Washington, D.C.
Phillips echoed remarks by other speakers in calling for Congress to increase appropriations funding for the U.S. Department of Health and Human Services (HHS) Ryan White HIV/AIDS Program, but he also emphasized the importance of "making space for people living with HIV in other aspects of the budget."
Consistent with the Biden-Harris administration's focus on employing a whole-of-government approach, Phillips said stakeholders must understand that while "HIV is, yes, a public health threat," the disease is also "the result of systemic and structural racism," an intersectional problem requiring more than narrowly focused biomedical or public health responses.
Therefore, he said, these conversations about matters like HIV's impact on Black lives, or considerations for aging folks who are living with the disease, must be held at places like the White House Gender Policy Council, the National Economic Council, and the U.S. Department of Labor.
"When we talk about ending HIV as a public health threat," Phillips said, "we also want to end HIV such that it's not the defining characteristic for people living with HIV and that they can have access to housing, access to employment, good mental health and substance abuse treatment."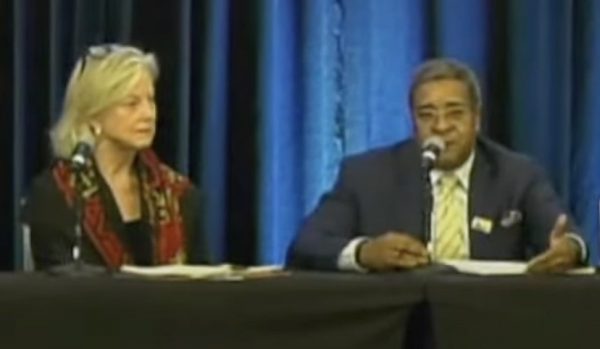 Under Phillips's leadership, data on these considerations for those living with HIV/AIDS will be measured for the first time with ONAP's rollout of new quality of life indicators in the National HIV/AIDS Strategy Federal Implementation Plan.
"There's an indicator in there that's self-reported quality of life," Phillips said, which asks respondents to consider, "how do I feel?" This is important, he added, because people living with HIV may have positive lab results but still feel poorly.
Phillips advised those AIDSWatch participants who are slated to meet with members of Congress and their staffs after hosting a rally on the grounds of the U.S. Capitol Tuesday morning to "build a common bond" with lawmakers by emphasizing the human impact of the appropriations funding for which they are advocating.
An AIDS United spokesperson told the Washington Blade by email Monday that 187 congressional meetings have been scheduled for Tuesday.
Phillips also noted that while "conversations need to happen in Washington, there's also conversations that need to happen on the state and local level," where "we're finding a level of hate and stigma and discrimination that's on course to try to either stop our progress or take us backwards."
Speaking before Phillips, Equality Federation Public Health Policy Strategist Mike Webb stressed the importance of policies under consideration by state and local lawmakers. "Our access to PrEP shouldn't be based on a patchwork of laws by the states," they said, and HIV-related legislative proposals in many cases would "add criminalizing aspects."
Laws already on the books that "criminalize the transmission of, or perceived exposure to, HIV and other infectious diseases," the Movement Advancement Project writes, "create a strong disincentive for being tested for HIV, and result in adverse public health outcomes."
Phillips and the Biden administration have made modernizing or repealing those laws a top priority.
Biden budget earmarks funds for HIV along with new programs for PrEP, hepatitis C
Budget seen as preview of Biden's reelection campaign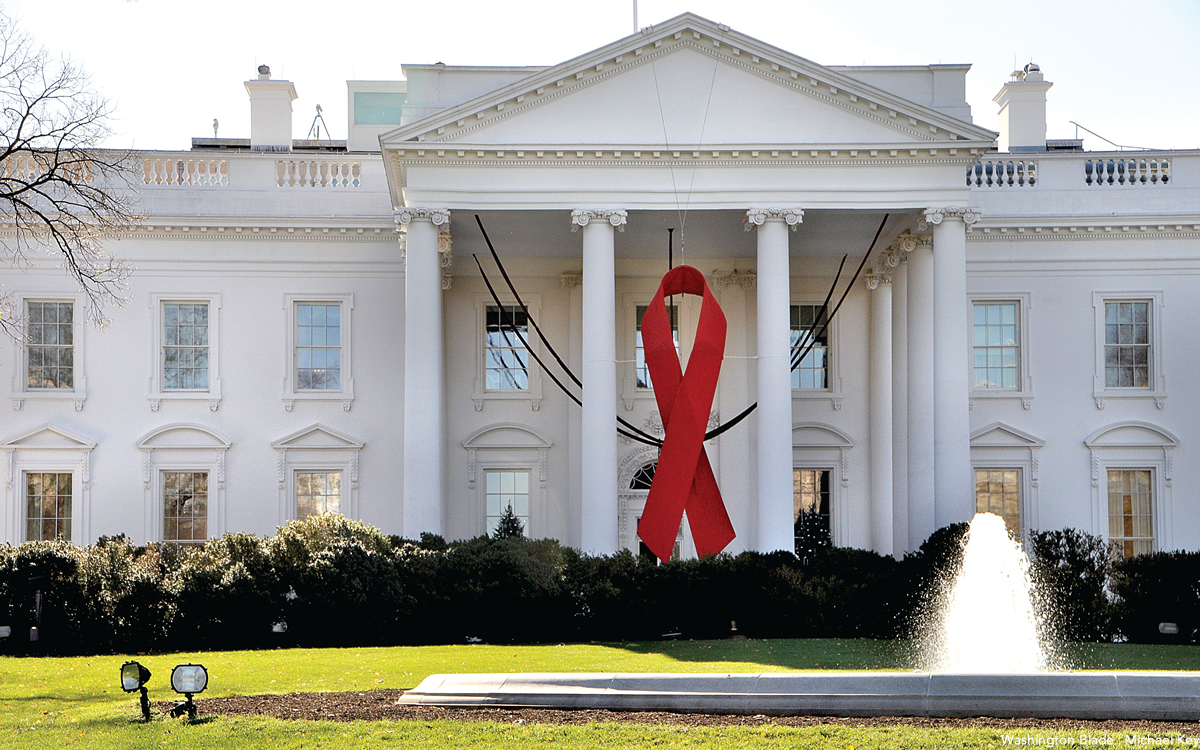 The $6.8 trillion budget unveiled by President Joe Biden on Thursday includes increased investment in existing programs to fight HIV/AIDS, along with new initiatives to expand access to HIV prevention medications and eliminate hepatitis C.
U.S. House Republicans are expected to kill the proposal, which is nevertheless seen as a possible blueprint for the major themes to come in Biden's expected reelection campaign.
Major focus areas of the plan include deficit reduction, increased taxes for the wealthy, and increased spending on the military and other endeavors to compete with China.
The HIV + Hepatitis Policy Institute praised the budget in a press release Thursday, writing that it will "significantly increase the federal resources necessary to end both HIV and hepatitis C."
The group's president, Carl Schmid, said Biden "recognizes the historic role the federal government must play, and the investments needed to end infectious diseases."
First, the plan would bolster funding for the Trump-era Ending the HIV Epidemic in the United States initiative by $313 million, bringing the total to $850 million. Second, it would debut a "ten-year $9.7 billion nationwide PrEP delivery program" and a "historic initiative to eliminate hepatitis C."
PrEP, or preexposure prophylaxis, is a medication regimen that reduces the risk of contracting HIV. According to the HIV + Hepatitis Policy Institute, only 30 percent of patients who could benefit from the drug are taking it.
The new hepatitis C program "seeks to provide outreach, testing, and curative medications to the estimated 2.4 million people living with hepatitis C, many of whom are unaware of their infection."
Gov. Newsom: Calif. will not do business with Walgreens after decision to not distribute abortion pill
20 Republican state attorneys general threatened to sue Walgreens for offering mifepristone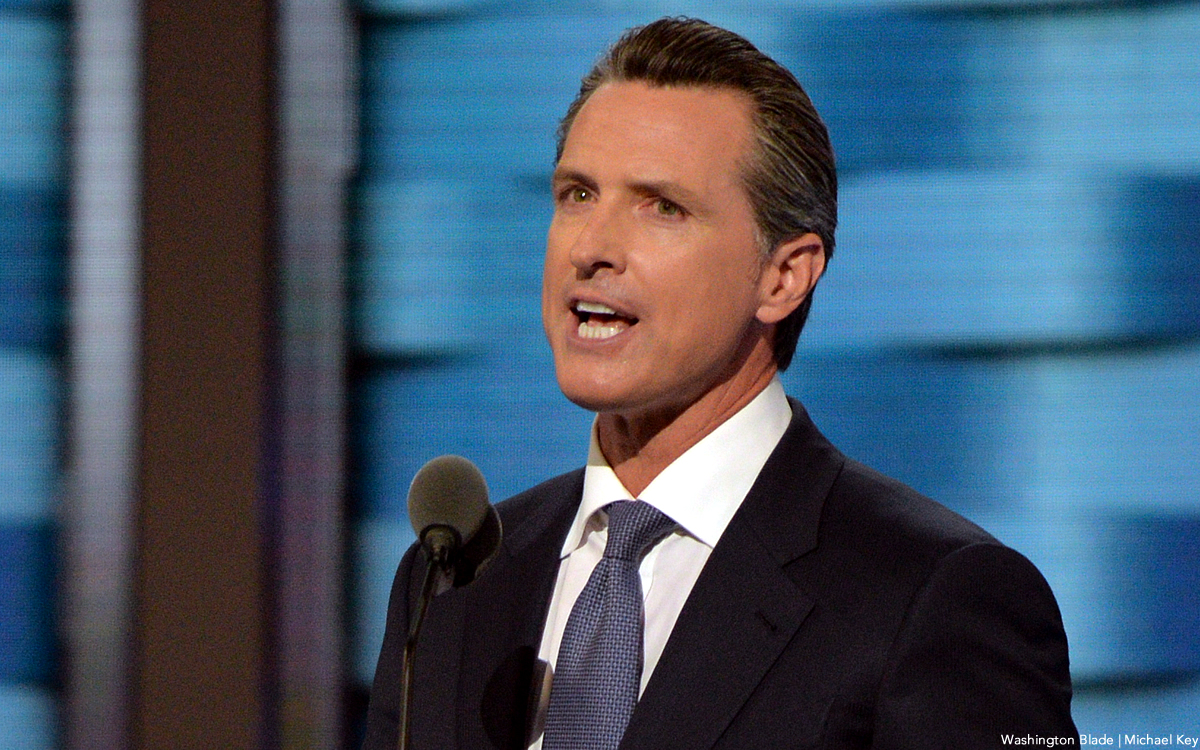 Gov. Gavin Newsom (D-Calif.) announced on Monday that California will not do business with Walgreens following the company's announcement of its decision on Friday to not distribute the abortion pill mifepristone in 20 states.
The move comes amid pressure from conservative lawmakers and threats of legal action against Walgreens and CVS from 20 Republican state attorneys general, who claimed in a Feb. 1 press release that selling mifepristone is "unsafe and illegal."
Mifepristone is still legal in several of the states where Walgreens has decided to stop providing it in response to the specter of lawsuits from state attorneys general: Alaska, Iowa, Kansas and Montana.
Newsom's office told NPR that California will review "all relationships between Walgreens and the state," but declined to provide more specifics.
"California won't be doing business with @walgreens – or any company that cowers to the extremists and puts women's lives at risk," Newsom wrote in the tweet. "We're done."
California won't be doing business with @walgreens — or any company that cowers to the extremists and puts women's lives at risk.

We're done.https://t.co/OB10cYfm8H

— Gavin Newsom (@GavinNewsom) March 6, 2023
"Elected officials targeting pharmacies and their ability to provide women with access to safe, effective, and FDA-approved medication is dangerous and just unacceptable," White House Press Secretary Karine Jean-Pierre said during a briefing on March 3.
"The administration will continue to stand by the FDA's expert judgment in approving and regulating medications. And in the face of barriers to access and concerns about safety of patients, healthcare providers, and pharmacists, we will continue to support access to this critical medication within the limits of the law," Jean-Pierre said.
Meanwhile, Judge Matthew Kacsmaryk of the U.S. District Court for the Northern District of Texas is expected to soon rule on a case challenging the safety of mifepristone that advocates for reproductive justice fear could lead to a nationwide injunction prohibiting the sale and distribution of the abortion drug.
Medical experts have slammed the Texas plaintiffs' lawsuit, arguing that mifepristone's safety and efficacy have been well demonstrated for years. Kacsmaryk, who was appointed by former President Donald Trump, is nevertheless expected to rule in their favor.
"The plaintiffs who have no legitimate standing have hand-picked him to hear this case that has no merit because they know what they're getting with Judge Kacsmaryk," Sen. Ron Wyden (D-Ore.) said last month.
Jean-Pierre addressed the case during a press briefing on March 1: "The decision would be unprecedented, as you know, and devastating to women's health. And we may find ourselves in uncharted territory," she said.
"And so, we're closely — closely working with the Justice Department and DHS — HHS on this, on how to be prepared for any range of outcome or potential outcomes," Jean-Pierre added.