Milestones in LGBT parenting history
From TV's first gay dad in 1972 to 'Kids Are All Right' success

October is LGBT History Month, so I want to celebrate with a look at some of the historical milestones—of laws, visibility and community—related to LGBT parents. This is not meant to be a comprehensive look at the 40-year history of out LGBT parents, but simply a brief list of a few LGBT parenting "firsts." These items may show only part of the story, but I hope they will give readers a sense of the rich history of which we are part.
1972: "That Certain Summer," the first television movie to depict a gay dad, airs on ABC, starring Martin Sheen as a dad who comes out to his teenage son, and Hal Holbrook as his partner. Scott Jacoby, who played the son, won a Best Supporting Actor Emmy.
1973: "Sandy and Madeleine's Family" becomes the first U.S. documentary about a lesbian-headed family.
1973: A Colorado court issues the country's first known opinion involving a transgender parent, upholding his right to retain child custody.
1974: A New Jersey superior court judge rules that a father's sexual orientation is not in itself a reason to deny him child visitation, the first time a U.S. court has acknowledged the constitutional rights of gay fathers.
1974: Several lesbian mothers and friends in Seattle form the Lesbian Mothers National Defense Fund to help lesbian mothers in custody disputes.
1976: Washington, D.C. becomes first jurisdiction in the country to prohibit judges from making custody decisions based solely on sexual orientation.
1977: Lawyers Donna Hitchens and Roberta Achtenberg in San Francisco form the Lesbian Rights Project (LRP), which evolves into the National Center for Lesbian Rights (NCLR), still helping LGBT parents (and others) today.
1978: The Washington Supreme Court issues the country's first custody ruling in favor of a lesbian couple (Sandy Schuster and Madeleine Isaacson of the 1973 film above).
1978: New York becomes the first state to say it will not reject adoption applicants solely because of "homosexuality."
1979: A gay couple in California becomes the first in the country known to have jointly adopted a child.
1979: Jane Severance's When Megan Went Away becomes the first picture book in the U.S. to show a lesbian relationship.
1982: The Sperm Bank of California begins operations, the first in the country to serve lesbian couples and single women.
1985: A court for the first time allows a non-biological mother to adopt the biological child of her female partner. The ruling, in Alaska, also allows the biological father to maintain a relationship with the child.
1988: A group of youth with LGBT parents meets at a conference organized by a precursor to the Family Equality Council, and begins the organizing that in 1999 leads to Children of Lesbians and Gays Everywhere (COLAGE) as an independent national organization.
1989: Author Lesléa Newman self-publishes "Heather Has Two Mommies," the first children's book in the U.S. to show a lesbian couple planning and raising a child together.
1990: LGBT publisher Alyson Publications launches the Alyson Wonderland imprint for children's titles. It publishes "Daddy's Roommate," by Michael Willhoite, the first children's book to depict gay male parents, and mass produces "Heather Has Two Mommies."
1997: New Jersey becomes the first state to allow same-sex couples to adopt jointly.
2008: Marcus Ewert publishes "10,000 Dresses," the first children's book to show a clearly transgender child.
2009: First explicit mention of same-sex parents in a presidential proclamation. In announcing Sept. 28 as Family Day, President Obama says, "Whether children are raised by two parents, a single parent, grandparents, a same-sex couple, or a guardian, families encourage us to do our best and enable us to accomplish great things."
2010: "The Kids Are All Right," starring Annette Bening and Julianne Moore, becomes the first major feature film to focus on an LGBT couple and their children.
2010: President Obama revises hospital visitation rules so patients may designate their own visitors, including same-sex partners.
2011: The U.S. State Department updates passport applications to say "Mother or Parent 1″ and "Father or Parent 2" instead of just "Mother" and "Father."
(I have compiled these items from a number of sources; special recognition goes to Carlos Ball's The Right to Be Parents and Jaime Campbell Naidoo's Rainbow Family Collections.)
Dana Rudolph is the founder and publisher of Mombian (mombian.com), an award-winning blog and resource directory for LGBT parents.
Leather and lace in your home decor
From couches to countertops, add some flair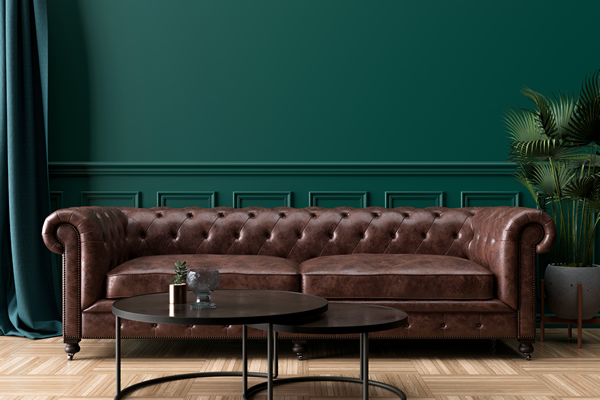 When I was very young, I would visit my maternal grandmother and marvel at the hand-tatted and crocheted doilies that adorned the arms and backs of her sofa and chairs. They were also found on her dressers and side tables, and on the dining table as coasters and placemats, to prevent scratches on the furniture. Like snowflakes, the designs of the doilies were both intricate and individual.
I'm convinced that people had better posture in the early 20th century, because I never saw the remnants of men's hair tonic, Macassar oil, or pomade on Nana's doilies, even though they were there to keep the furniture from absorbing those hair products. Certainly, people weren't the couch potatoes lounging on sofas then that we are today. Being able to Netflix and chill was a long way off.
I was impressed with the amount of work that had gone into such a little piece of fabric, so I later tried to learn to crochet. Sadly, all I was able to accomplish was string after string, never having been taught how to join those strings together to resemble a doily. At least with knitting, I was able to form squares large enough to be blankets for my Barbie.
In my mid-century childhood, doilies were put away and saved for grandchildren who, years later, would neither want them nor appreciate their historical value. The '50s saw polyvinyl chloride (PVC) go from a commercial substance used frequently in post-WWII construction to a residential fabric that we now refer to fondly as "pleather." I can still remember the sound of my thighs peeling off the vinyl banquette at the diner when I would get up to leave a booth.
To be without a leather couch in the '60s was déclassé and, although styles have changed, such a couch remains a timeless piece. These days, if you are looking for a little more leather in your life and in your home, you can look beyond that couch and chair, where options range from the subdued to the highly decorative.
While vinyl is still the least expensive leather-look fabric, we now have "bonded" leather, made with scraps that are bonded together using polyurethane or latex. As you can tell from the prices of such furniture, the actual leather used in the process can vary from 10-90 percent.
Of course, top grain leather is the most expensive, and we have suede, die cut, embossed, patent, and a variety of other techniques used to change the look of a hide. In addition, there is now vegan leather.
For something unique for your kitchen or bar, check out the tooled leather countertop from Kosel Saddlery (koselsaddles.wixsite.com/marty) in Montana. They also make saddles and chaps.
Instead of the shiny granite counters that we all know, MSI Surfaces (msisurfaces.com) makes honed and leathered granite finishes for a more subtle appearance and has dealers throughout the DMV. 
For a do-it-yourself application, Amazon sells the Aspect brand eight-pack of leather glass, peel and stick subway tiles for backsplashes in five neutral colors for less than $20 each.
EcoDomo (ecodomo.com) in Gaithersburg offers a variety of custom leather treatments, including countertops, door and cabinet panels, floor planks and tiles, and wall systems. Your color choices aren't limited to black or brown either. They can manufacture pieces in blue, red, green, and even in custom colors to match other items in your décor.
Many online stores such as Wayfair and Overstock carry real and faux leather headboards, footstools, poufs and benches at affordable prices.
There's always something in leather at Pottery Barn, even for the conservative budget: pieced leather pillows, tufted stools, basket collections, and even a leather-bound coffee table book for cigar aficionados.
If you're looking for small accent pieces, try a leather coaster, placemat, napkin ring, or my personal favorite, a cutlery pouch for your tableware collection from Lucrin Geneva (lucrin.com). They also offer office accessories such as crocodile desk sets, wastebaskets and storage boxes.
And for the connoisseur of leather, vinyl, rubber, or even neoprene items of a more personal nature, head to the Capitol Hill Hyatt Regency this Friday through Sunday for Mid-Atlantic Leather weekend. With plenty of specialty items, high-impact fashion, toys and games for all ages and yes, even custom-made furniture among the vendor exhibitions, you're sure to find something that will tickle your fancy.
Just remember that you (and your puppy) must both be vaccinated and masked to attend. We take COVID (and rabies) very seriously here in D.C.
Valerie M. Blake is a licensed Associate Broker in D.C., Maryland, and Virginia with RLAH Real Estate.  Call or text her at 202-246-8602, email her via DCHomeQuest.com, or follow her on Facebook at TheRealst8ofAffairs.
Winter Restaurant Week a welcome escape from the cold
Enjoy D.C.'s diverse culinary scene at great prices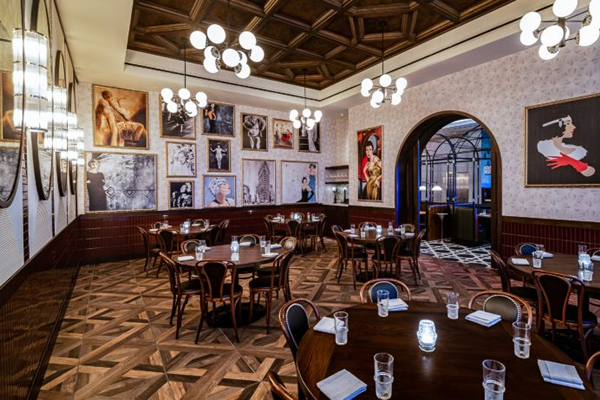 Saving Washington, D.C. diners from winter doldrums, RAMW Winter Restaurant Week is back in action. It returns Jan. 17-23 with the motto of "Dine Out. Take Out. Eat Up."
The city's signature winter dining event is back as a one-week promotion focused on dining out and tasting the city's diverse culinary scene. Yet it also is providing diners with newer programs that they have grown to love over the past few cycles. These include the popular "RW-To-Go" takeout dinner meals, outdoor dining spaces, as well as cocktail pairings, allowing diners to take advantage of a range of indoor/outdoor comfort levels and dining opportunities.
Participating restaurants are set to offer multi-course brunch and lunch menus for $25 per person, and multi-course dinner menus for $40 or $55 per person for on-premises dining. Most are offering the traditional three-course meals, while others may include extras.
Many restaurants will also offer the RW-To-Go dinner meals, a program introduced in 2019, available at two price points: $70 or $100 for two people and $140 or $200 for four people.
More than 200 restaurants across the area are participating.
"Our restaurants have shown resilience, creativity, and perseverance over the past two years, and they continue to count on the amazing support of loyal diners and newcomers through promotions like Restaurant Week," said RAMW President & CEO Kathy Hollinger. "Designed to get diners out to experience all our great food scene has to offer, we have evolved this turnkey promotion to help meet diners where they are in terms of comfort. With offerings to include RW-To-Go, curbside pickup and delivery, heated patios, cozy igloos and indoor dining, there is truly something for anyone looking to support their favorite spot or try something new."
New restaurants participating in Winter Restaurant Week include Ala, Bar Chinois, Bistro Du Jour, The Mayflower Club, Officina Cafe, Penny Royal Station, and Urban Roast in the District; Diabolo's Cantina at MGM and Rosa Mexicano at National Harbor; North Italia Tysons; and the newest The Capital Grille location in Fairfax.
2021 RAMMYS Winners and finalists participating include Convivial, Cranes (also Michelin-starred), Espita, Estadio, iRicchi, and Sababa.
In the 14th Street and Dupont Circle areas, popular participating restaurants include Agora, Cork, Duke's, Floriana, and Sushi Taro, among others.
Winter Restaurant Week also extends beyond core neighborhoods, stretching far past the city's borders. Areas like Takoma Park and Bethesda in Maryland, and Alexandria and National Landing in Virginia, are also hosting participating restaurants.
Some spots are offering additional deals, extended timelines, and other options. "I'm excited about the creativity of our local restaurants," says Hollinger, "with their offers and spaces that give diners great experiences during the promotion, and the flexibility to dine in the way that works for them whether indoor, in heated outdoor dining spaces or at home with our Restaurant Week To-Go program."
For example, Ambar (both the D.C. and Clarendon locales) will have a $70 seven-course to-go menu for two people. The deal includes a bottle of wine in addition to the food.
Schlow Restaurant Group has a $40 gift card for more than three meals at any of its restaurants, including NAMA Sushi Bar and TICO in D.C. and Alta Strada Italian Restaurants in D.C. and Fairfax. 
James Beard Award-winning Chef Michael Schlow says, "This is a great way for Restaurant Week diners to experience more of our menu offerings, and perhaps explore some of our restaurants they haven't tried yet. Plus, with [our] Restaurant Week extended an additional week through Jan. 30, there's ample time to dine."
Gay-owned KNEAD Hospitality + Design group is involving all its restaurants in the promotion. The group's restaurants include Gatsby, Mi Vida, The Grill, and more. Owner Jason Berry notes that he is "excited to participate in this year's winter restaurant week. Each year Restaurant Week brings new diners to our doors to experience the creativity and talent our staff continues to showcase at our restaurants."
Recall that the city has reinstated mask mandates for indoor spaces. In addition, On Jan. 15, 2022, per Mayor's Order 2021-148, the District of Columbia adopts a citywide vaccination entry requirement that requires COVID-19 vaccination to enter indoor facilities within the city. This includes restaurants and bars.
What to know if you're buying or selling in 2022
Research interest rates, contractors now before spring arrives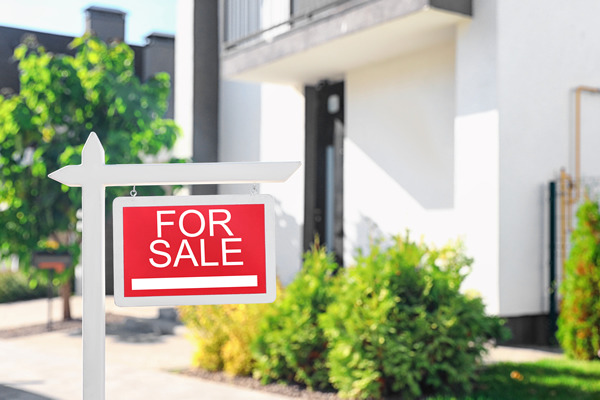 The years 2020 and 2021 were wild on the books for real estate. Many successfully sold a house, bought a house, or sold a smaller residence and bought a larger one due to the new "needs" that they realized they had.
After a year or more of staying home, working from home, dining out (at home), studying from home, many just realized they needed a different home than the one they were sitting in. Many experts are saying that 2022 might be the year we go back to our "normal cycles" in real estate. If that is the case, then what does that mean?
It means that right now, first time buyers can find deals on one- or two-bedroom condos that are sitting on the market, and the single family home market is going to be ramping up in the spring, when more buyers are out in the streets and more homes are getting ready to go on the market. So, if you are thinking of selling this year, you might already need to be calling painters, carpenters, and other contractors to do those little projects that make a home ready for photographs and to be shown in its best light. Now that the holidays are over, many of the contractors we hire start getting calls, and their schedules start to fill up. As a Compass agent, we have the "Concierge" program that helps sellers to finance, at zero interest, projects that spruce up their home, and then it gets paid back when the home sells. I know other brokerages have some similar programs, also.
If you are going to buy a home this year, you might want to seriously look at how long homes have been sitting in the market in the neighborhoods that interest you. If the "days on market" are more than 20, 30, 40 or even 50 days, this might be your time to strike. Call a local lender or two and see what interest rate you can get and how much you can get approved for a loan. Interest rates could be going up this year, so you might want to get this done in the first half of the year, if your current situation allows.
At any rate, if you are thinking of making a move this year, feel free to sign up for one of my homebuyer seminars, or give me (or your favorite Realtor) a call and find out what you need to do to get ready to make this move.
Joseph Hudson is a Realtor with the Rutstein Group of Compass. Reach him at [email protected] or 703-587-0597.